Top Recipes of 2022
Published Dec 15, 2022•Updated Jan 03, 2023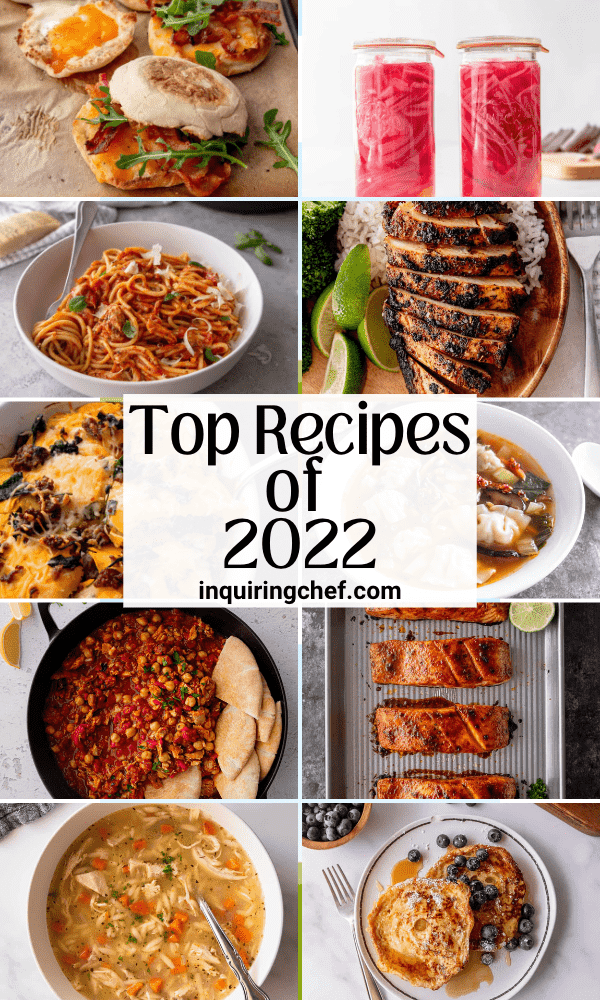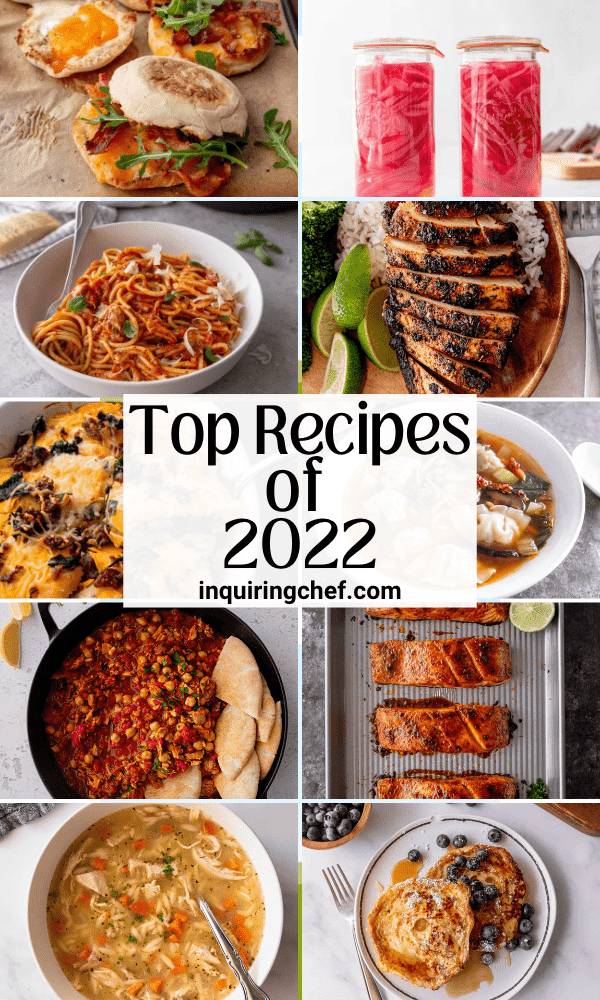 Here we are in the final days of 2022, and I'm excited to be sharing the ten most popular recipes on Inquiring Chef. These are determined by reader views and ratings, and I loved how diverse this year's top recipes are. Everything from soup to salmon to a variation on French Toast that is my household's #1 requested dish.
I hope that this year has been good to you. It truly was a delicious year, and I'm so thankful that you were here to share in it!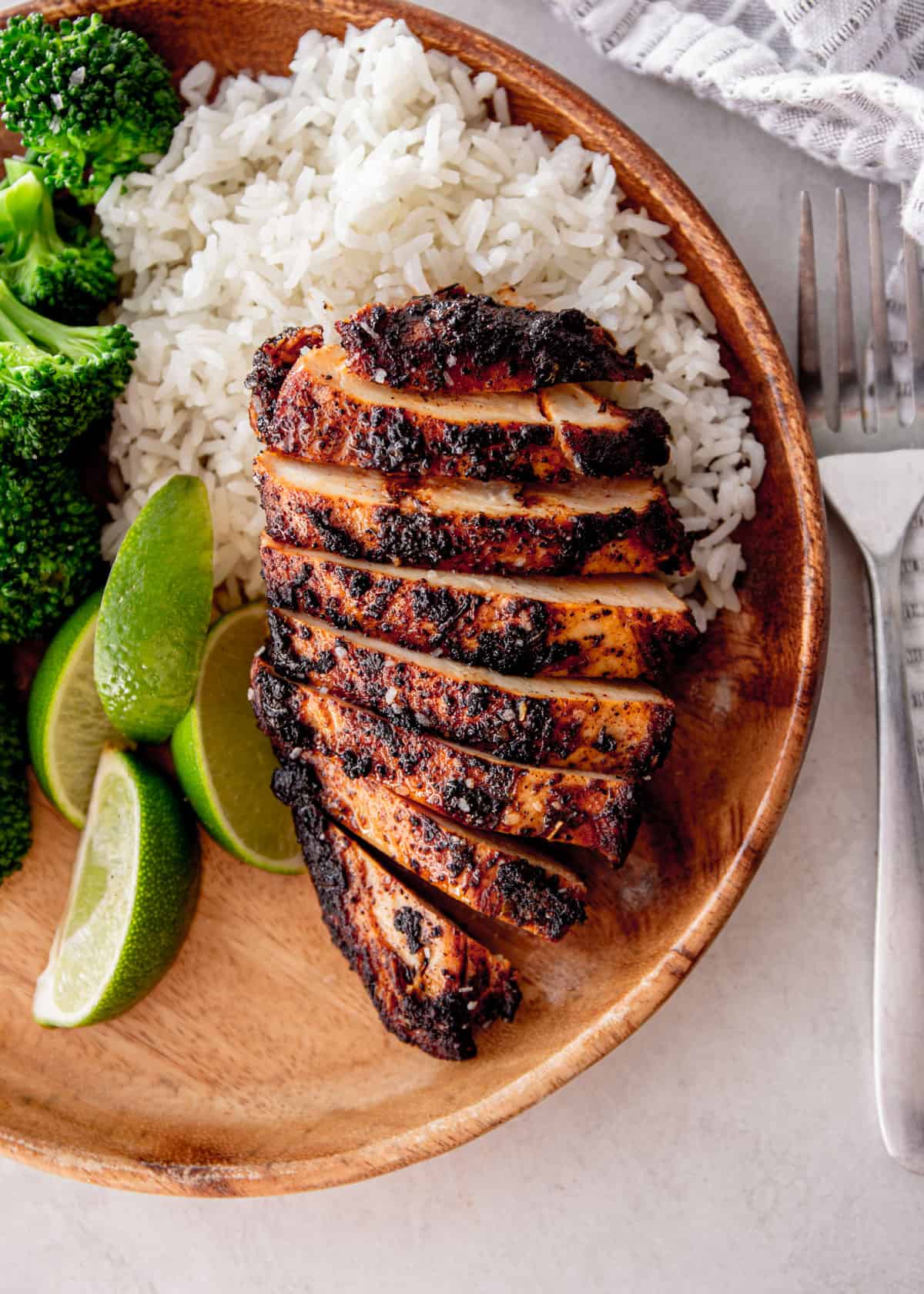 With zesty, bold spices and a dark, seared crust, Blackened Chicken is a flavorful protein to serve on its own or over salad, pasta, or rice. This recipe includes instructions for the stovetop, grill, or air fryer.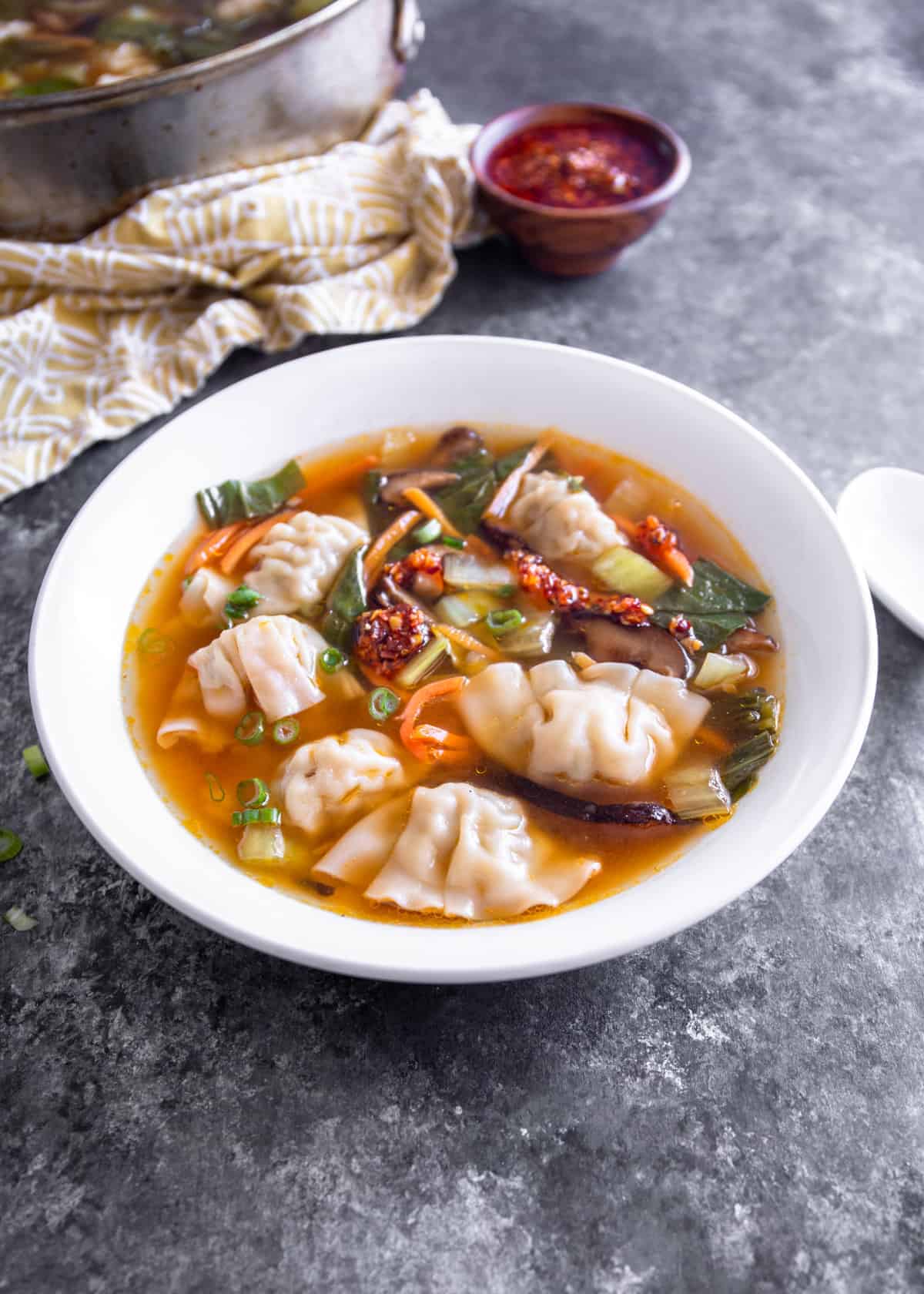 With frozen wontons and mostly pre-chopped vegetables, this easy Wonton Soup comes together fast. (Like under 30 minutes fast.)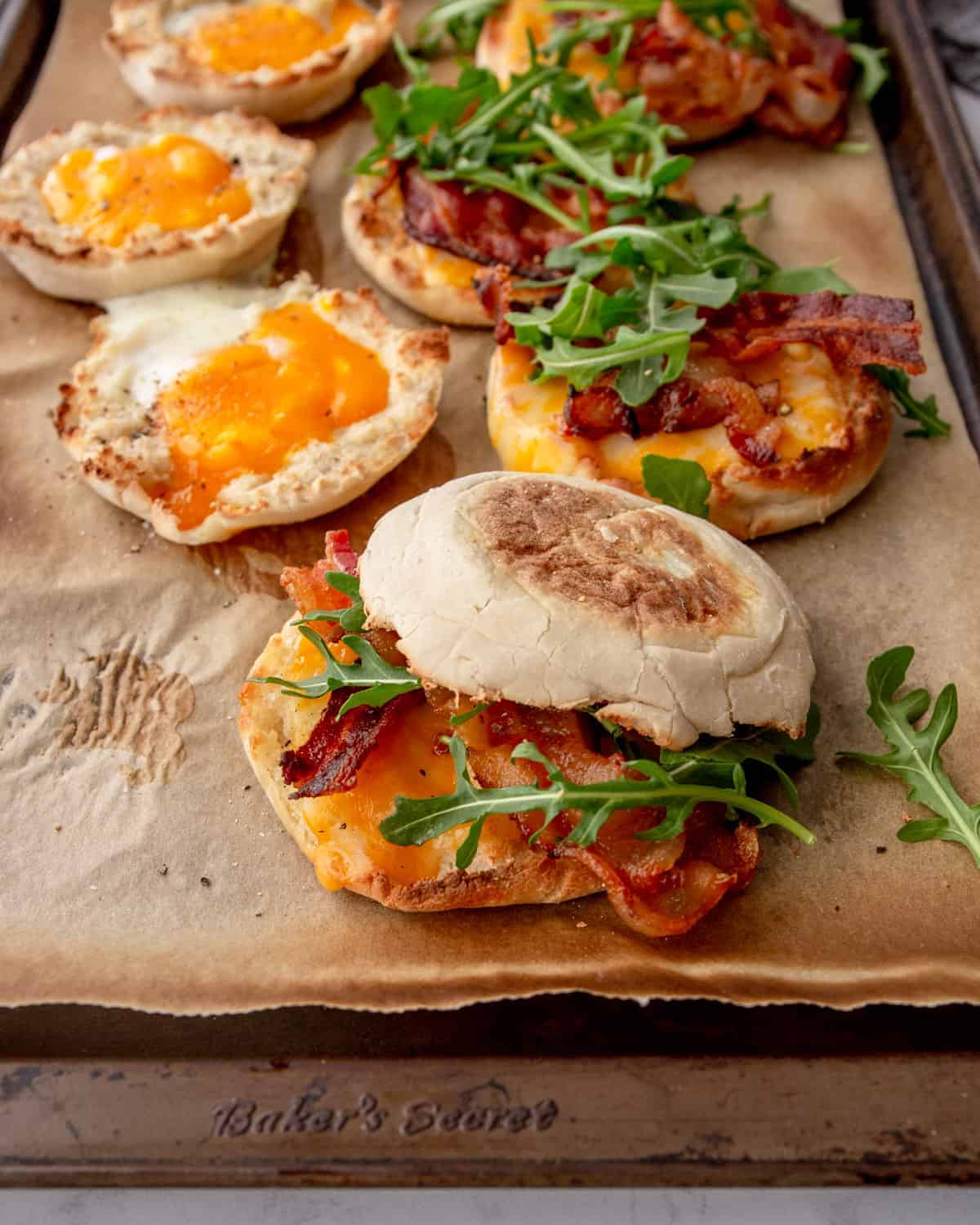 Toasted English Muffins, eggs, cheese, and crispy bacon come together on a single sheet pan in this easy recipe. Sheet Pan Breakfast Sandwiches are the perfect no-fuss breakfast for a crowd.
A Pinterest user commented: "Thank you! Love this! I love breakfast sandwiches and have been trying to come up with some ideas."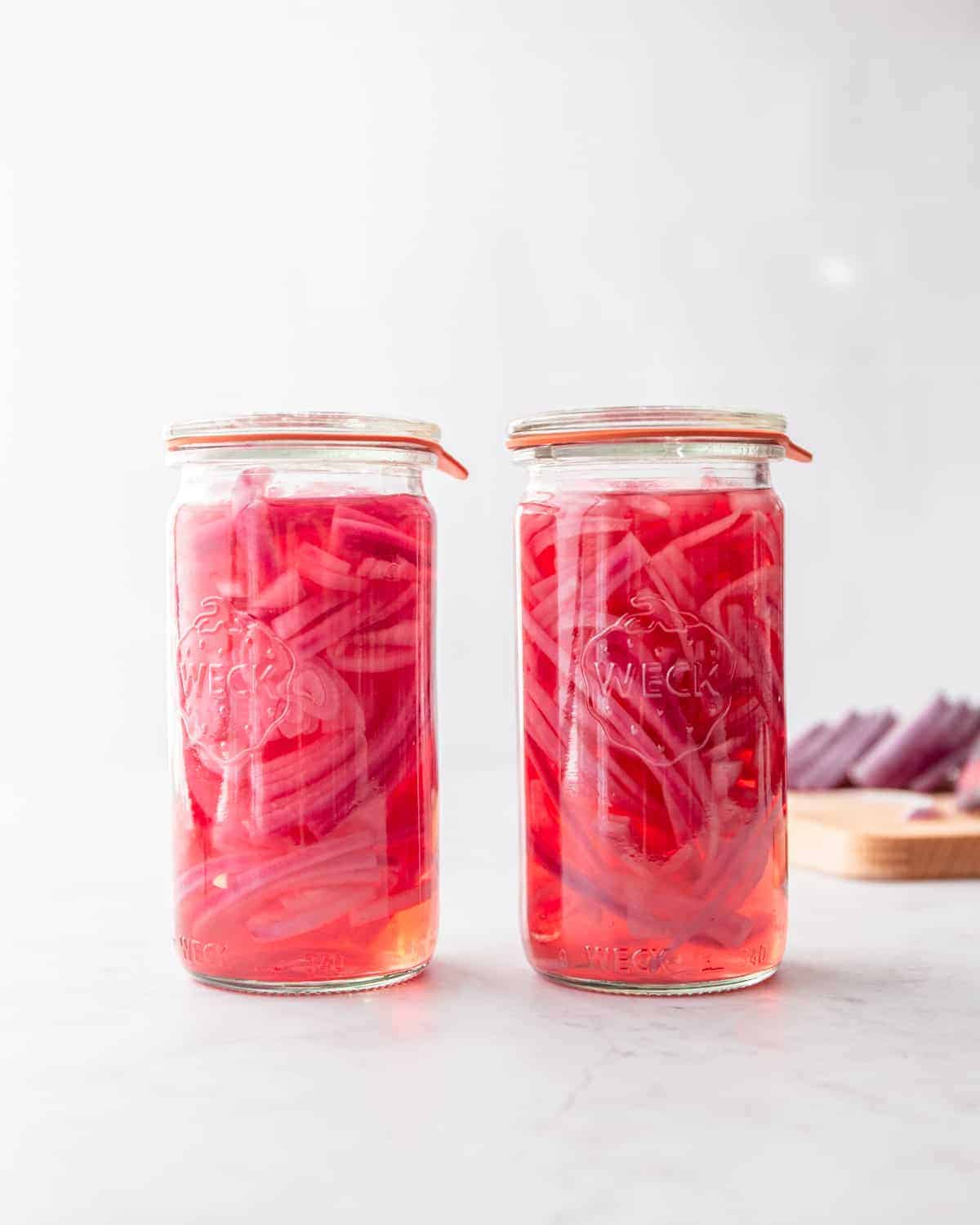 Looking for the perfect quick homemade condiment to use on tacos, nachos, pizza, salads, and just about anything you can dream up? Look no further than these quick Pickled Red Onions in Apple Cider Vinegar.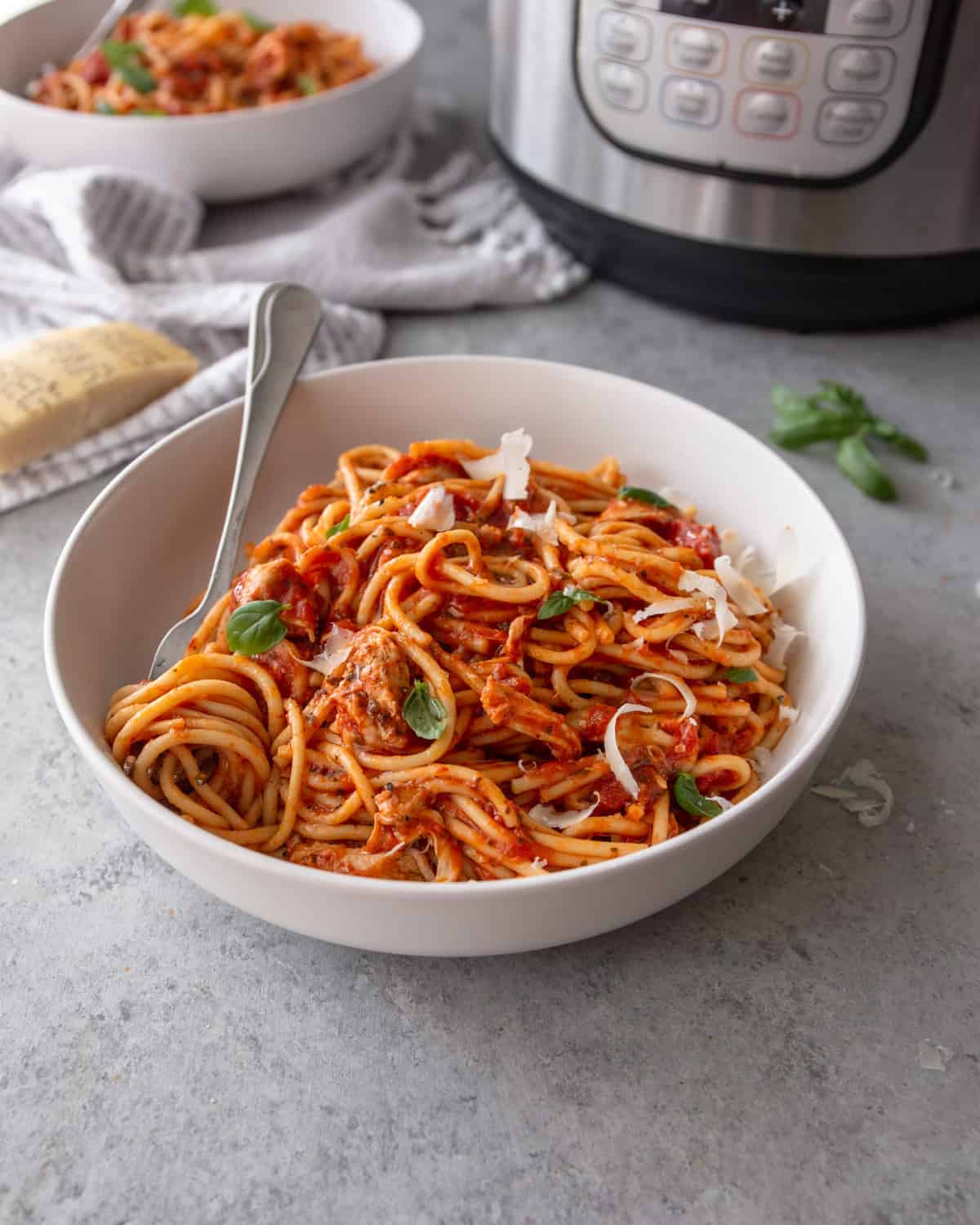 Skip the stovetop and make Instant Pot Chicken Pasta in your pressure cooker for a fun, easy dinner. Marinara sauce thickens and coats the noodles and tender chicken that all comes together fast with just one pot to clean.
Laura commented: "Just unpacked my Instant Pot this afternoon. This was the first recipe I tried. Seemed simple enough. I used boneless, skinless thighs, and a full pound of linguine. Doubled the sauce, but not the water. WOW! The pasta was infused with the sauce, and perfectly al dente. I think I'm an Instant Pot convert for life."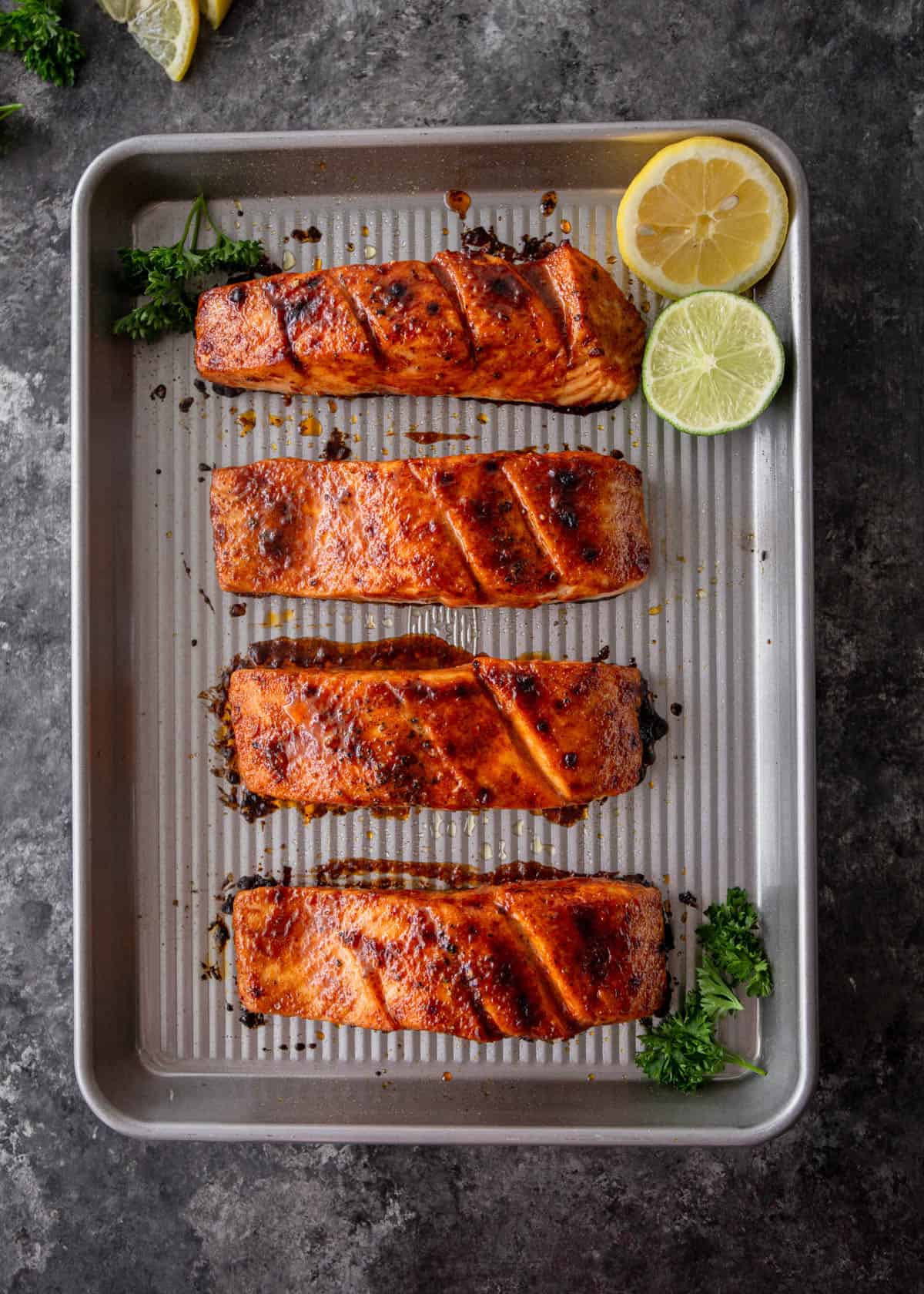 With an easy glaze, Honey Paprika Broiled Salmon is tender, juicy, and full of flavor. Best of all, it comes together in under 20 minutes. This is truly the best way to cook salmon.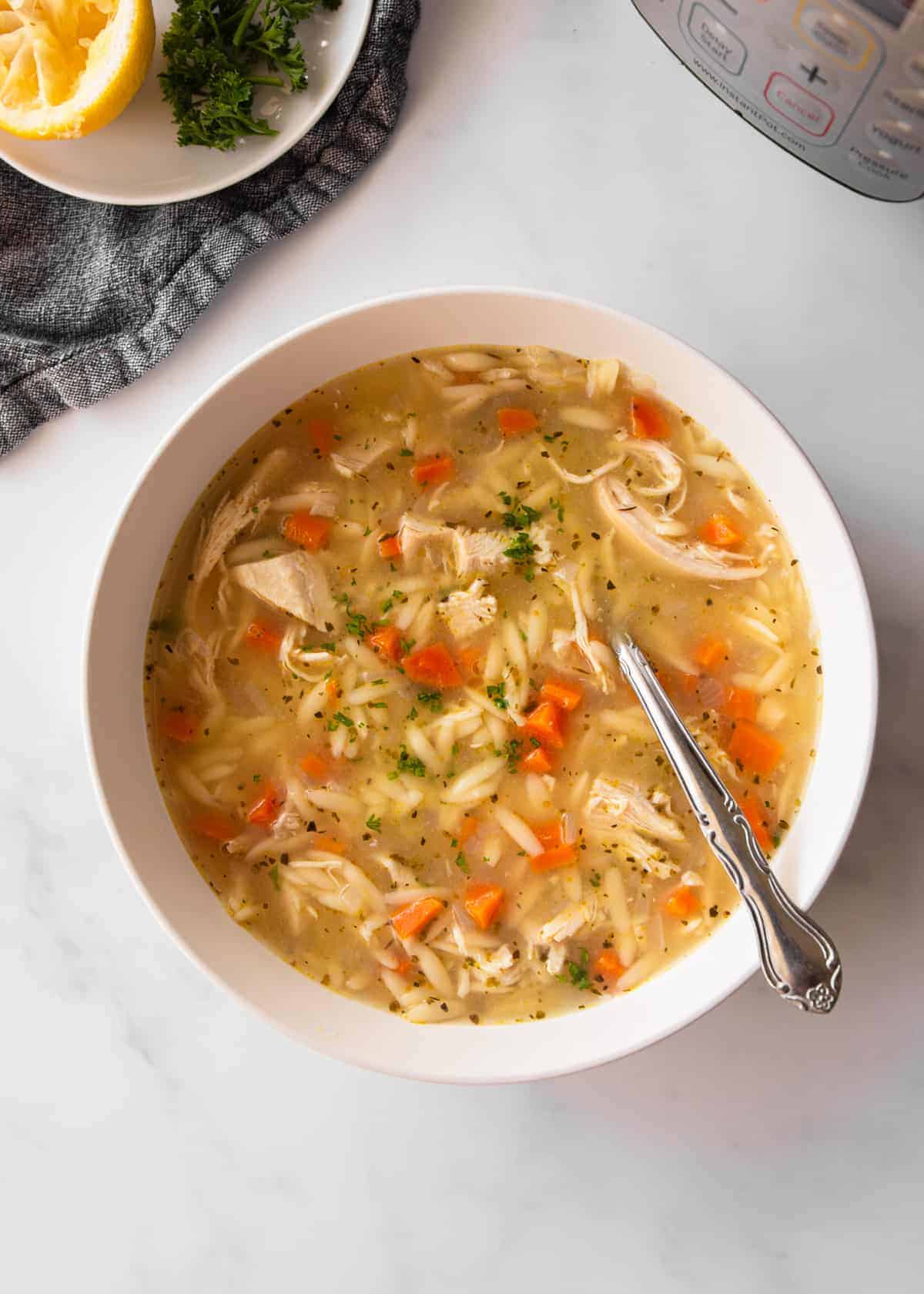 With tender chicken and orzo in every bite, Instant Pot Lemon Chicken Orzo Soup comes together fast. Lemon makes it a fresh twist on classic chicken noodle soup.
Cindy commented: "I made this tonight for dinner and it was a hit! I made the stove top variation and it was a filling meal with enough for lunches tomorrow. I also made your garlic Hawaiian rolls to go with it and everything was perfect! Thank you!"
(Here's the link for those Garlic Hawaiian Rolls.)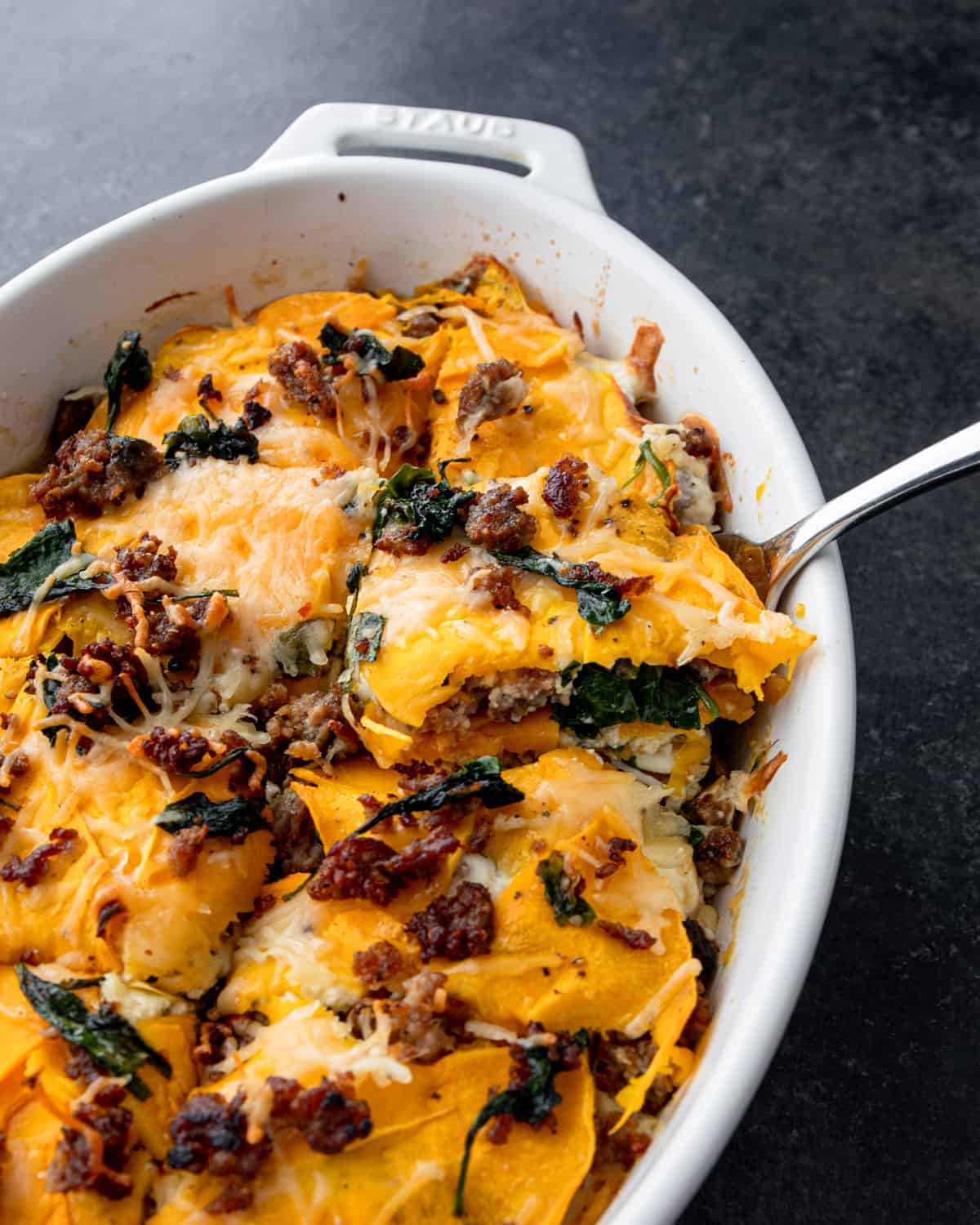 Get your cheesy, vegetable-packed, cozy fix with this lasagna-inspired casserole that uses tender slices of butternut squash in place of traditional noodles. The result is colorful layers of Italian sausage, fresh spinach, creamy ricotta, and melty mozzarella.
Grab a pan and a few pantry staples to make this Chicken and Chickpea Stew that delivers big with a tomato base, fragrant cumin, and a good dose of lemon juice. The flavor only improves with time, so make a big batch and enjoy it all week.
Dan commented: "A superb dish. Easy to make and produces a rich, deep flavor."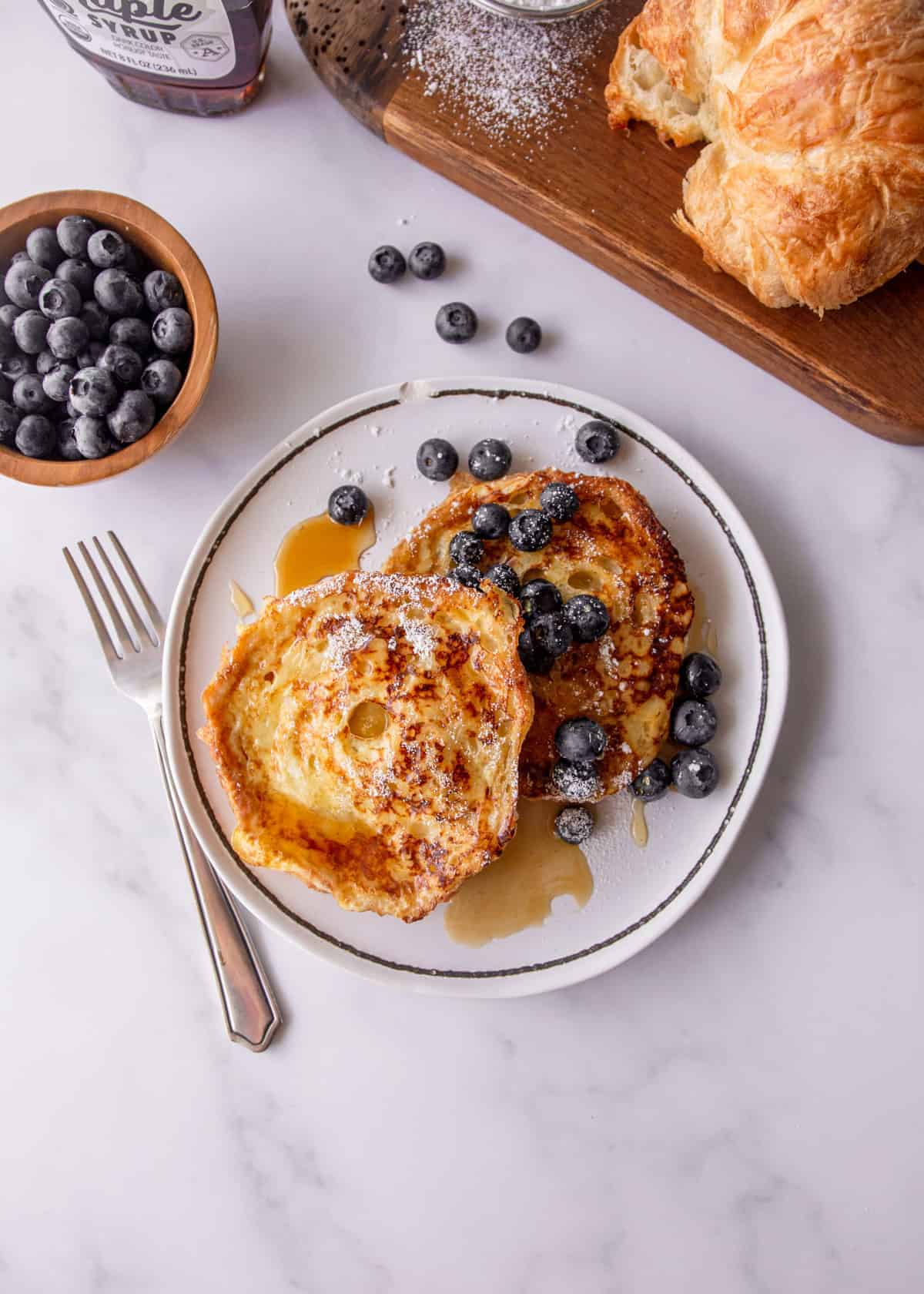 Get ready to give your brunch game an upgrade. This simple recipe for Croissant French Toast turns stale croissants into a crowd-pleasing breakfast or brunch.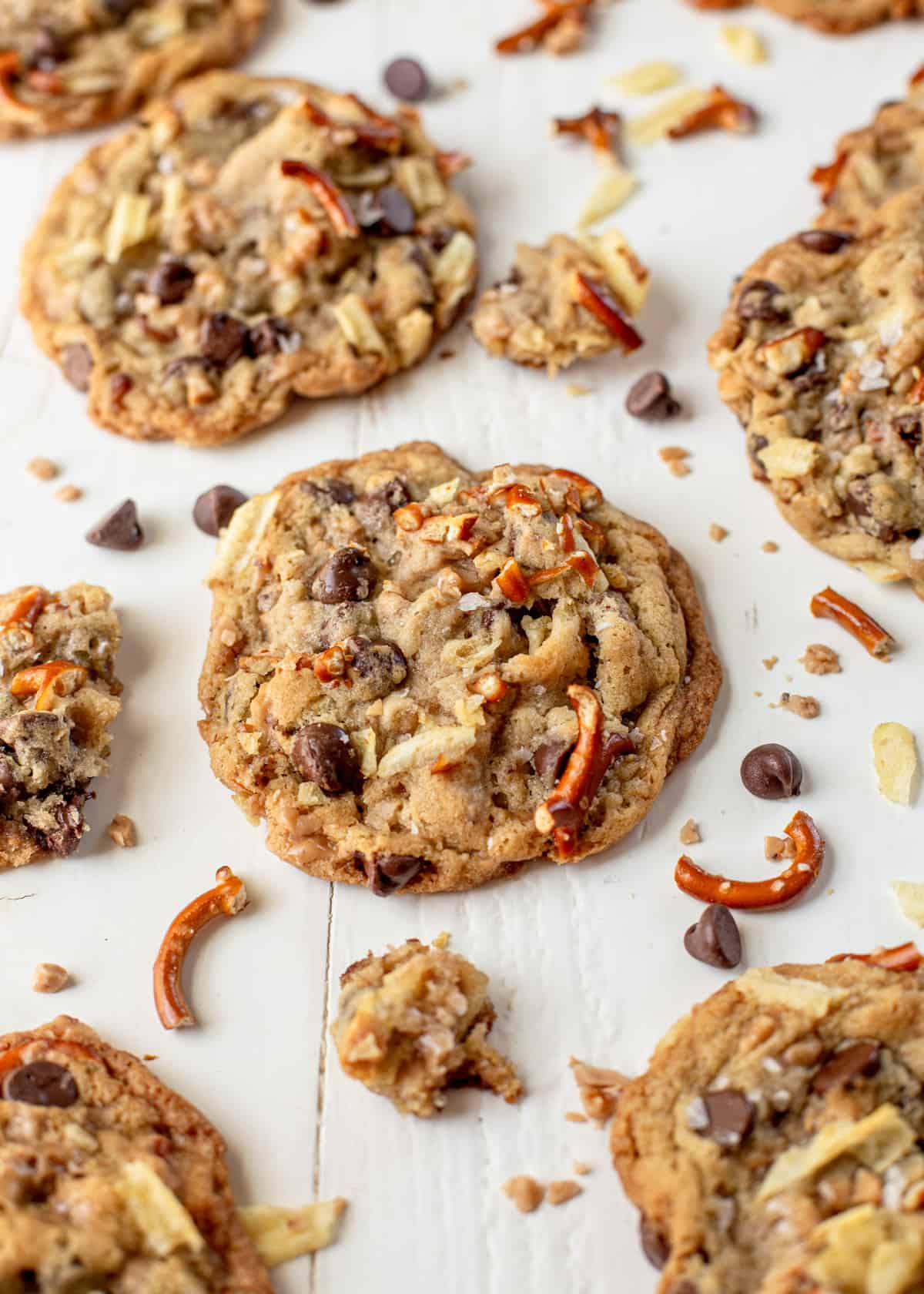 Kitchen Sink Cookies are soft and chewy cookies packed with chocolate chips, pretzels, potato chips, and toffee ("everything but the…"). Make them as written, or swap in your favorite mix-ins.
Bellaview commented: "These cookies are amazing! My whole family loved them and the kids didn't believe all the fun ingredients that were inside. I even added pecans and shredded coconut the second time I made them. I am amazed that these cookies stay soft – even days after baking. Delicious, Thanks!!"
This was the twelfth year of sharing my favorite recipes here on the pages of this blog. Past top recipes can be found below.