We believe that anyone can make fast, healthy, delicious meals at home. We believe in your inner cook!
Want to jump right in? Check out our favorite Weeknight Meals.
Hi there! We are Jess and Frank. We live in Kansas City, Missouri in a 90 year old house with a tiny kitchen where Jess cooks and photographs everything you see on the pages of this site. We started Inquiring Chef in 2010 when we moved to Bangkok, Thailand. We worked for the U.S. government by day and learned everything we could about Thai food by night. It was the adventure of a lifetime and gave us a passion for creative home cooking. Our toughest kitchen critics these days are our twin daughters, Molly and Clara and baby sister June who taste (and have an opinion about) everything we cook.
About Jess
Jess Smith is a recipe developer, food stylist, and photographer specializing in quick and easy meals that make weeknights a bit more fun. Her recipes and photography have been featured in print magazines as well as online in publications including Parade, Honest Cooking, and She Knows. In addition to creating all of the recipes on InquiringChef.com, Jess develops recipes and photographs meals for the family-friendly meal planning site Cook Smarts. Contact Jess at jess@inquiringchef.com.
About Frank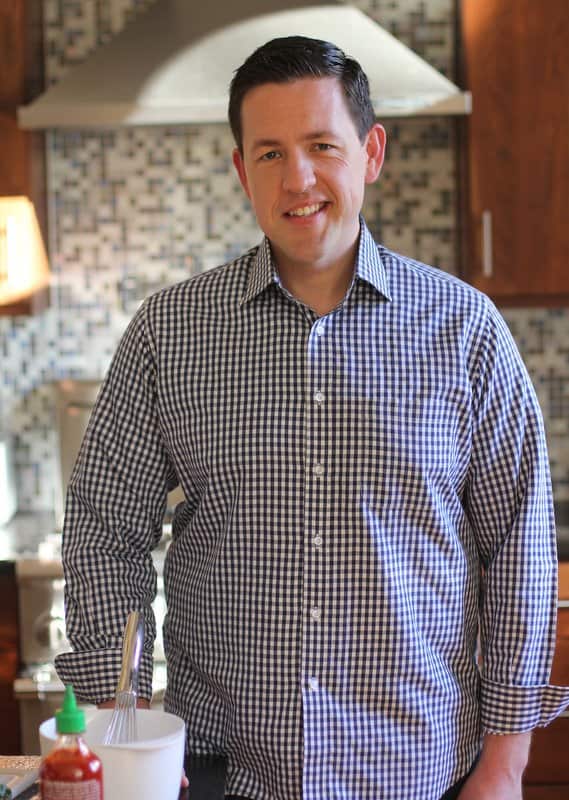 Frank Smith has a degree in International Affairs, an MBA and has been traveling the world on his stomach for the better part of a decade. Frank's wanderlust and desire to make a difference led him to a career in international development where he was fortunate to work with communities in the Balkans, the Caucasus, Central and Southeast Asia. Frank manages social media for Inquiring Chef, develops content, and works behind the scenes as "official taster" helping Jess to develop recipes. It's a tough job, but (sigh) someone has to do it. He also contributes pieces for on food and travel. Contact Frank at frank@inquiringchef.com and follow him on Twitter @smithfj.
Frequently Asked Questions
I'm new here. Where do I start?
The Beginning
A Week in Beijing
Two Years in Bangkok, Two Years of Blogging
and then, Glenburn
Expat Living / 3 Years in Bangkok
Molly and Clara – 12 Months
A Bangkok Farewell
5 Years
Sweet, Sweet Summer
A Baby, A House, and A Vacation
What camera do you use?
Since 2010, I have used and loved a Canon EOS 6D
. Until 2013 I used this bargain 50mm f/1.8 lens which is the best deal around for anyone just getting started with food photography. Now I use a 50mm f/1.4 lens which works great in all conditions, even very low light.
How did you learn to cook?
We both come from families that value dinners together, love trying new things, and have serious kitchen skills. Many of the recipes you find here are from our parents or inspired by them. Jess' mom is her focaccia muse. Frank's mom made the first ever batch of Stuffing Balls. Jess' dad was the first to discover Light and Fluffy Whole Wheat Pancakes, which is one of the most popular recipes on the site. Jess spent as much time as she could studying Thai cooking in Thailand.
How did you meet?
We have no idea how we met. It's true! Read our story here.
I want to make Thai food at home. Help me!
It's easier than you think to make authentic Thai food at home! Browse our Thai recipes or start with the mother of all Thai dishes – Pad Thai. Check out our Thai archives because we have lots of your favorite Thai recipes with helpful tips, easy directions, resources for ingredients, and lots of photos. We *might* (wink, wink) even be working on a cookbook that will help you to become a Thai superstar chef at home. More soon!
Where do you get inspiration for your recipes?
Five years in Bangkok and all the travel we did while there provided an enormous source of inspiration. We love easy weeknight meals that are inspired by diverse cuisines but find just as much inspiration across town as we do across the world. We travel, go for bike rides, try new restaurants, and love being invited into other people's kitchens. When time and budgets don't allow us to travel, we read any and every food magazine and column we can get our hands on. Favorites are Food and Wine, Garden & Gun, Bon Appetit, Cook's Illustrated, L.A. Times, N.Y. Times, and Serious Eats.
What are your favorite recipes?
The most popular recipe on the site is 20-Minute Chicken Ramen Stir-Fry, and it is one of our family's favorite, fast weeknight meals. Light and Fluffy Whole Wheat Pancakes has become a favorite of many of our readers and we still make a batch of these almost every weekend.
We post a list of top recipes at the end of every year:
2011 Top Recipes
2012 Top Recipes
2013 Top Recipes
2014 Top Recipes
2015 Top Recipes
2016 Top Recipes
2017 Top Recipes
2018 Top Recipes
I'm going to Bangkok – any tips?
YES! We're so glad you asked. You can check out all of our tips and a list of our favorite restaurants here.
Partnership
We collaborate with a small number of companies that align closely with our mission and style. If you think your organization or product might be a good fit, we'd love to hear from you! Contact Frank at frank@inquiringchef.com.
Forget the food. I'm here for the kids.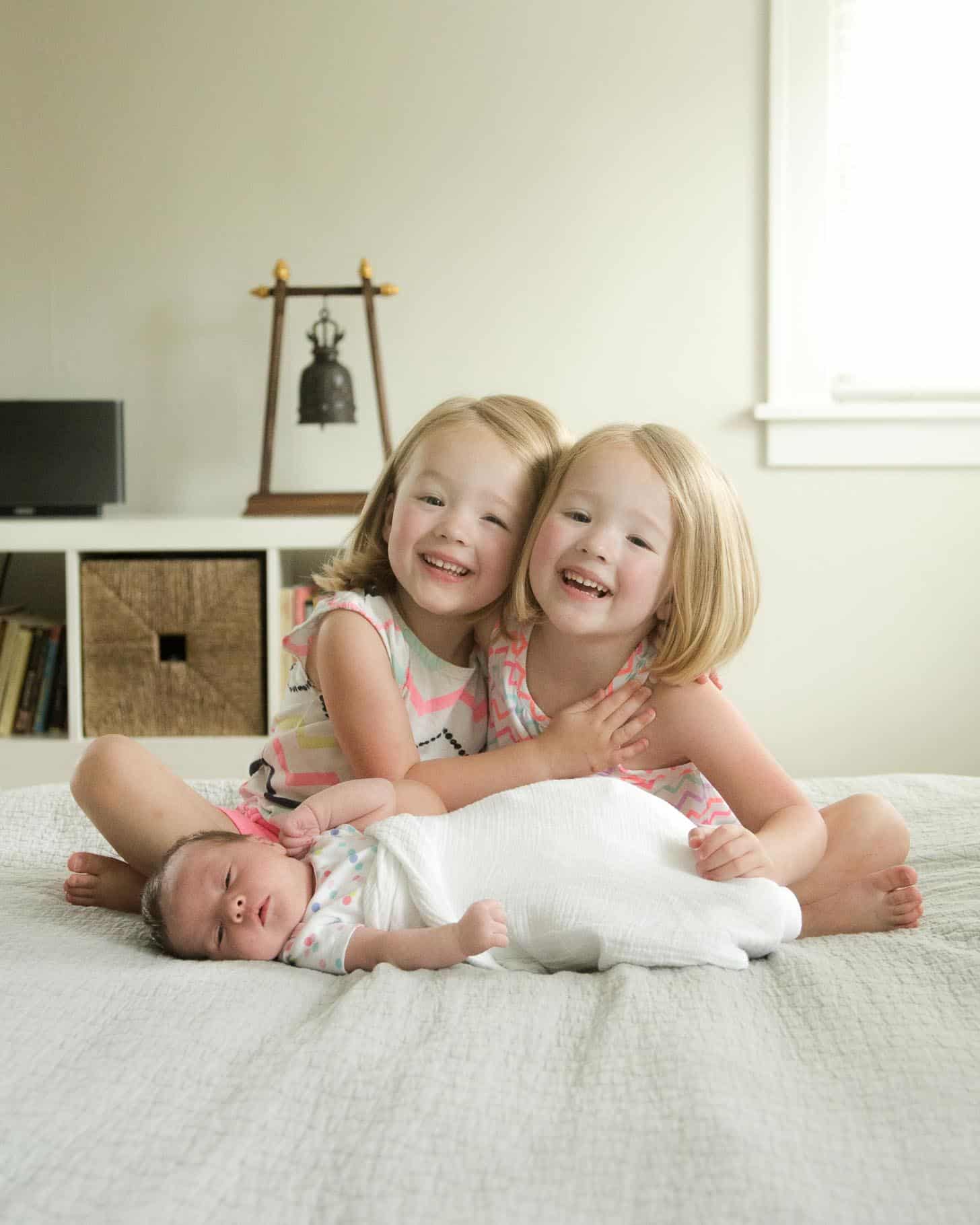 We think they're pretty awesome! Molly and Clara were born in Bangkok, Thailand in April 2014 (on Jess' birthday!). June was born in July 2018. And even though dinner time is as chaotic as you can imagine with three girls running around underfoot, our kids have made us even more passionate about cooking real food and sharing it.
Blog posts about our girls can be found here:
June
Introducing June
Weekenders (June at 6 Weeks)
June – 4 Months
Summer Roundup (June at One Year)
Molly and Clara
Introducing Molly and Clara
Molly and Clara – 1 Month
Molly and Clara – 2 Months
Molly and Clara – 3 Months
Molly and Clara – 4 Months
Molly and Clara – 5 Months
Molly and Clara – 6 Months
Molly and Clara – 7 Months
Molly and Clara – 8 Months
Molly and Clara – 9 Months
Molly and Clara – 10 Months
Molly and Clara – 11 Months
Molly and Clara – 12 Months
Molly and Clara – 15 Months
Molly and Clara – 22 Months
Molly and Clara – Two Years
Molly and Clara – Three Years
Twin Pregnancy
We have news!
State of the Bump: 24 Weeks
State of the Bump: 31 Weeks
State of the Bump 36 Weeks
For all posts about our family, click here.