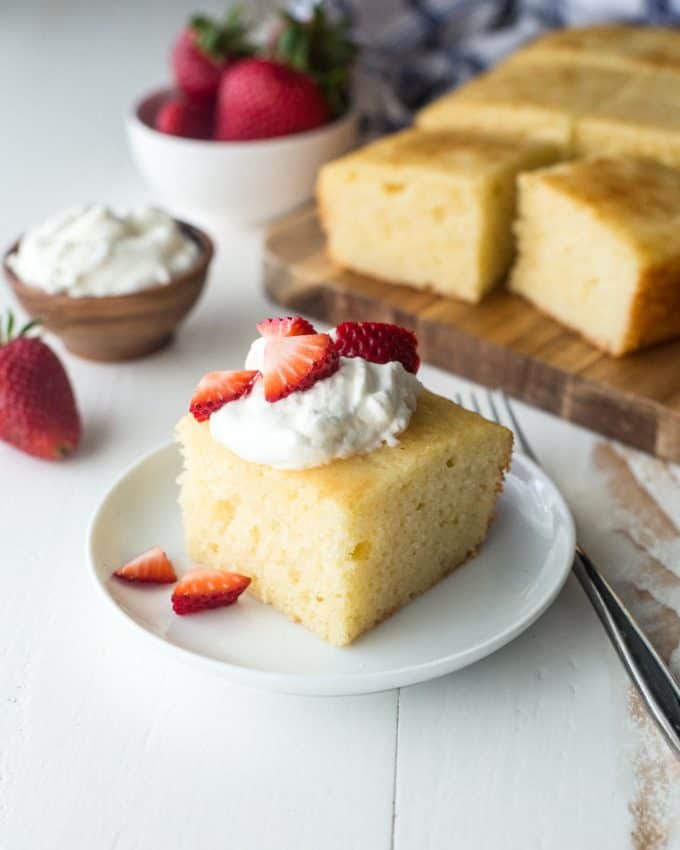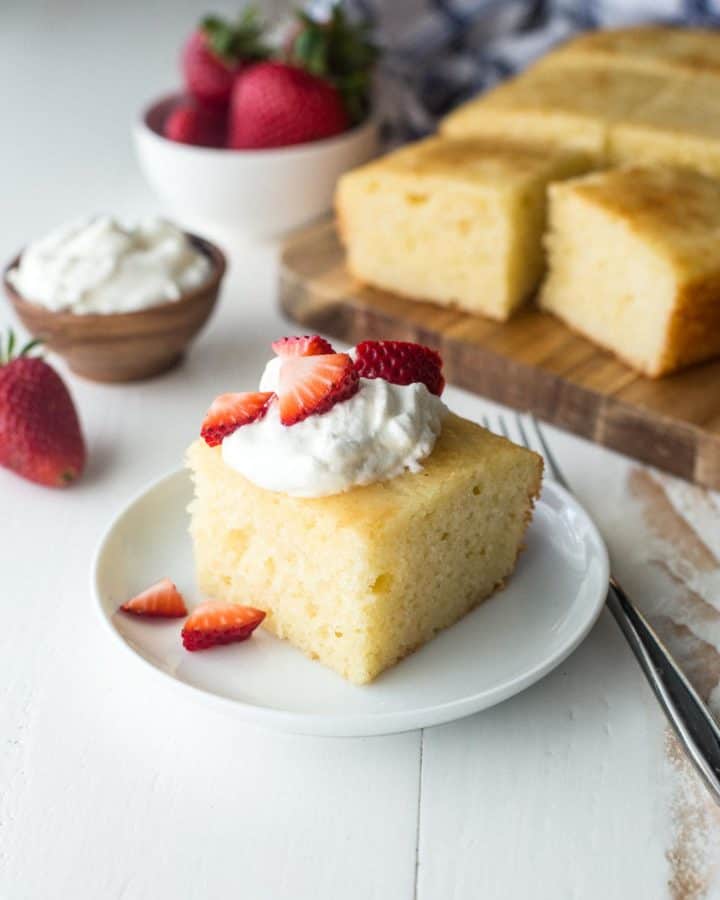 Semolina Yogurt Cake is made with semolina flour and yogurt and comes together in just one bowl - no mixer required. A simple syrup poured over the top keeps the cake moist for several days after baking.
Today I'm revisiting one of the all-time most popular dessert recipes on this site! Semolina Yogurt Cake. I've added all new photos, variation ideas, tips and tricks, and converted all of the measurements to include metric. But this remains the same, well-loved recipe.
What's unique about this easy, no-mixer cake is that it is made almost entirely with semolina flour. (That's the flour that is often used to make pasta.) Semolina gives the cake a uniquely light, crumbly texture. This is a cake that stays moist and delicious for days and is great this time of year (or really, any time of year) because the slices are wonderful served just with fresh berries and a big spoonful of whipped cream.
I slice this into 9 very generous portions for dessert, or 12 smaller portions to serve as a lightly sweet snack with coffee or tea.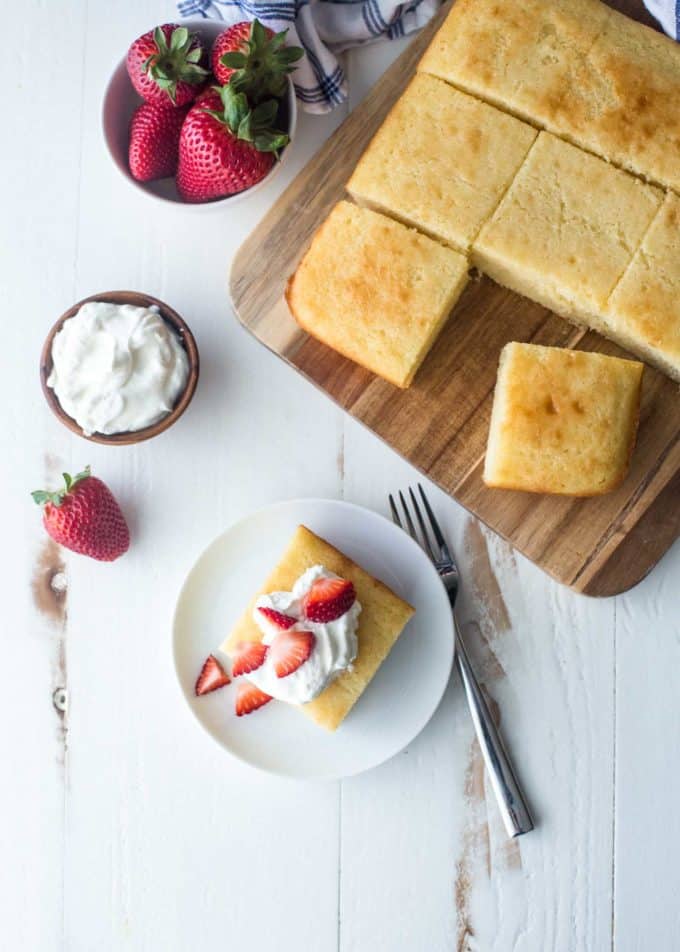 Grab some semolina on your next grocery store run and add this simple, delicious cake to your rotation. You likely already have all of the other ingredients in your fridge or pantry.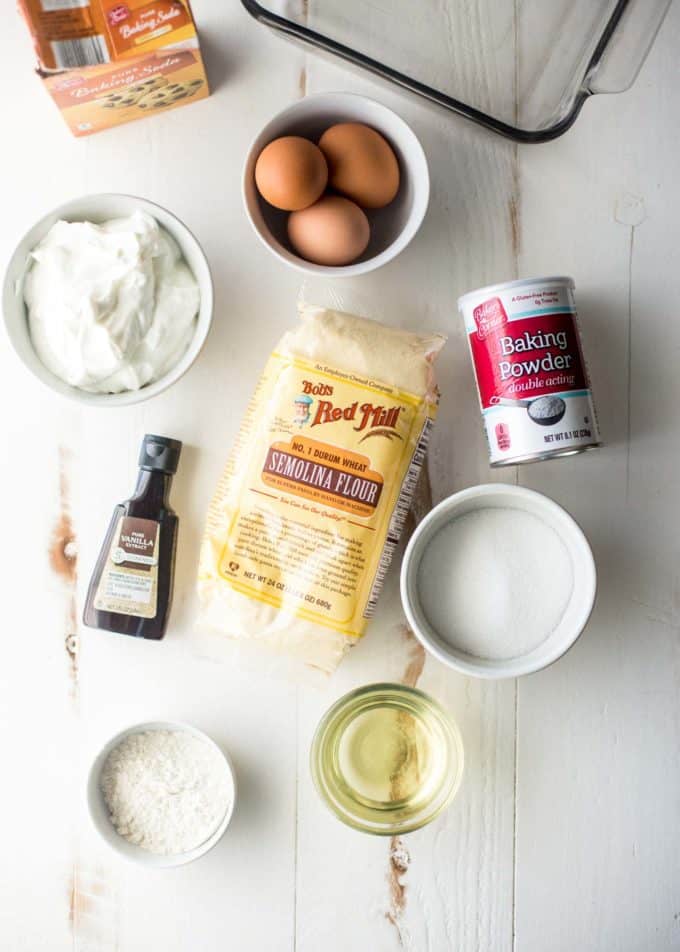 Ingredients in Semolina Yogurt Cake
Semolina

- Semolina is flour made from durum wheat. It's most commonly used in making pasta, but lends a nice crumb and slightly nutty / buttery flavor to this cake.

Plain Yogurt

- Plain yogurt works best in this recipe. I have made it with nonfat Greek yogurt as well and had good results. Do not use a full fat Greek yogurt - it's too thick for this cake to bake according to the instructions below. I've heard that it's great with flavored yogurt like blueberry or strawberry.

All-Purpose Flour

- You need just a small amount of all-purpose flour to bind the other ingredients and give the cake the right texture.

White Sugar

- I use classic white sugar here, but have heard from others who had great success using Stevia or honey.

Vegetable Oil

- I nearly always make this with vegetable oil for a neutral flavor, but it would be great with olive oil, coconut oil, safflower oil, or grapeseed oil.

Eggs, Pure Vanilla Extract, Baking Soda, Baking Powder, and Salt

- Standard baking ingredients that you hopefully already have on hand.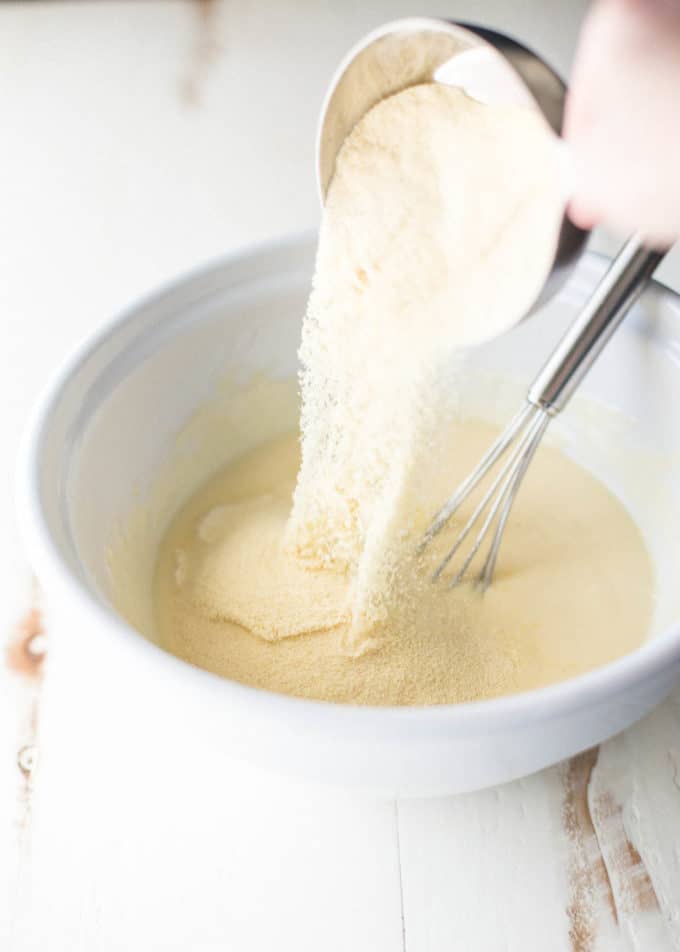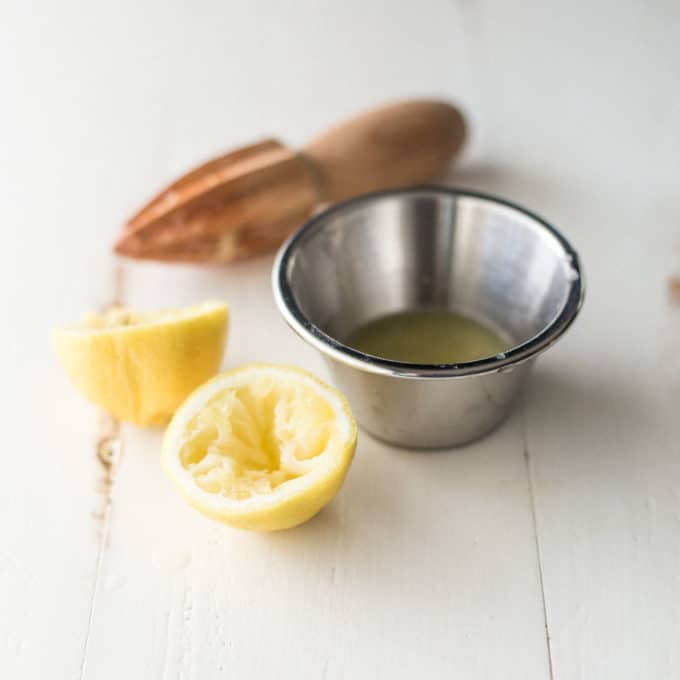 How to Make Simple Syrup
Much of the sweetness and moisture in Semolina Yogurt Cake comes from simple syrup poured over top of the warm, freshly-baked cake.
To make simple syrup, combine equal parts water and white sugar. Bring to a simmer (you can do this on the stovetop or in the microwave) and simmer until the sugar completely dissolves. Allow simple syrup to cool completely and then store in the refrigerator. Use within a month.
It's worth pointing out here that you can adjust the amount of simple syrup you use on Semolina Yogurt Cake. If you'd like a less sweet cake, reduce the measurements in the simple syrup by a third or even by half.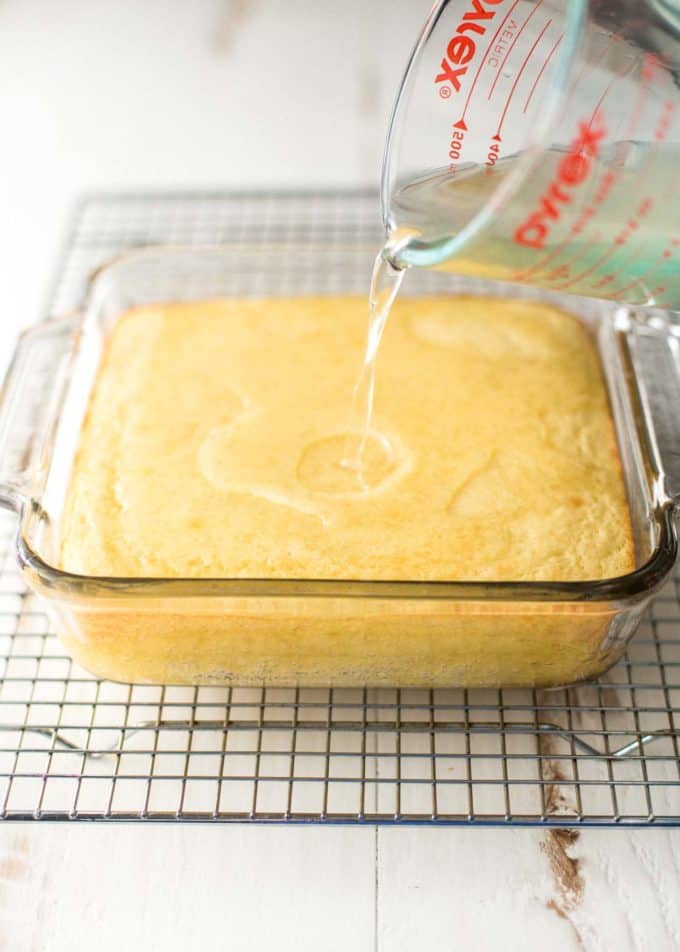 Variations on Semolina Yogurt Cake
Many of these ideas came from readers who made this cake and mixed things up! Here are a few ways to add your own twist on this cake:
Stir fresh fruit into the batter (I love it with

strawberries

)

Increase (or skip) the lemon juice

Stir chopped dark chocolate into the batter

Add dried apricots and pistachios

Replace the sugar in the simple syrup with honey (this change makes the cake similar to a classic Greek-style Semolina Cake)

Stir poppy seeds and lemon zest into the batter

Use orange or lime juice instead of lemon juice

Replace the sugar with a sugar substitute like Stevia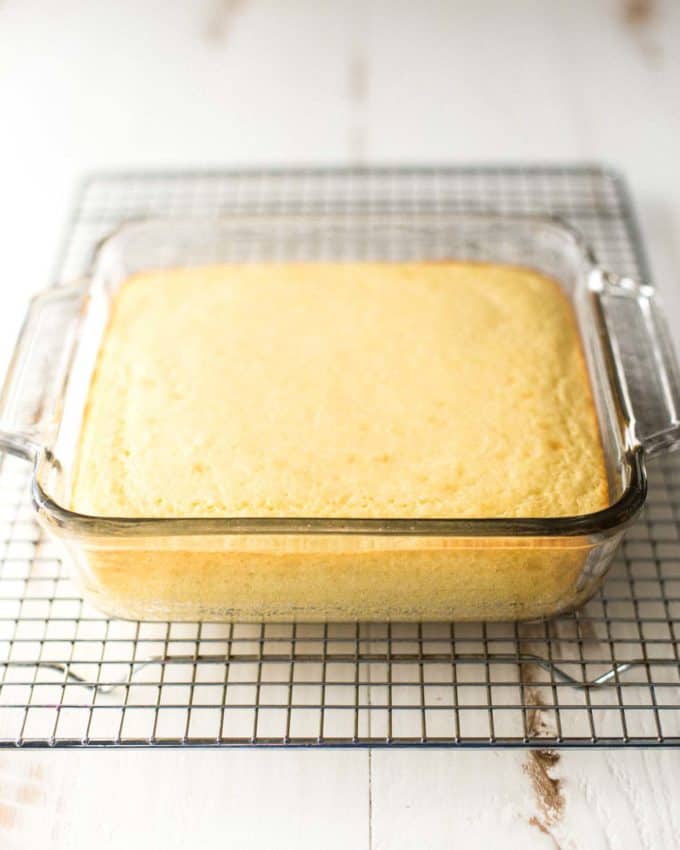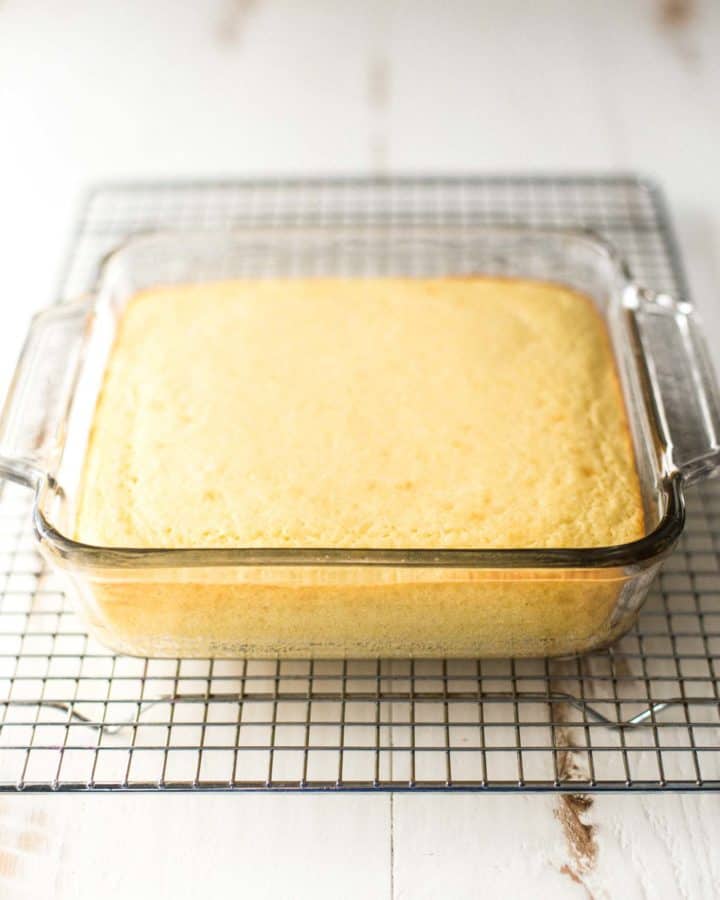 More Simple 8x8 Cakes
Easy Vanilla Snack Cake - This Easy Vanilla Snack Cake makes a celebration possible any day of the week with just a little bit of effort! This is a no-mixer-required cake that is baked in an 8×8 pan and comes out tender and soft.
One-Bowl Chocolate Cake - This quick and easy chocolate cake is made in only one bowl. No mixer needed. The result is an 8×8 cake that is rich, moist, and even better a day or two after baking.
Favorite Tools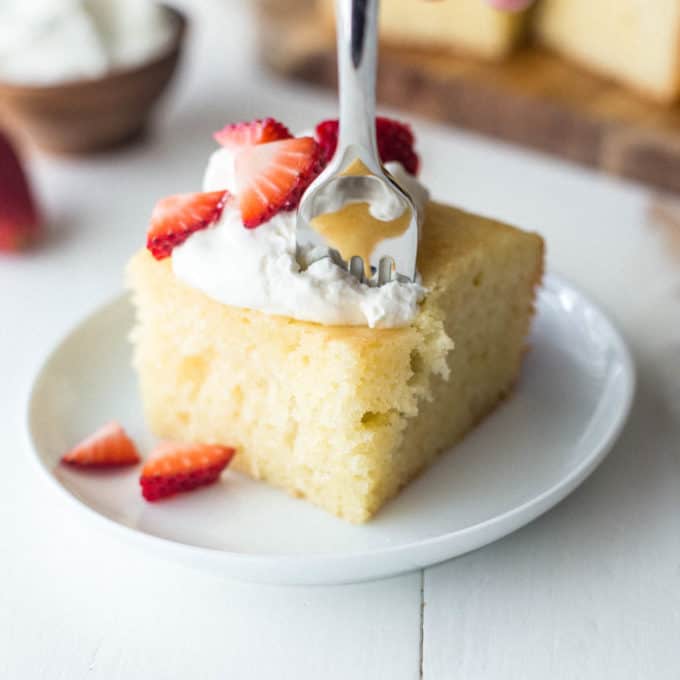 Print Recipe
Semolina Yogurt Cake
Made with yogurt and semolina flour, Semolina Yogurt Cake is a one-bowl dessert or snack that doesn't require a mixer and comes out moist, tangy, and delicious.
Equipment
Mixing Bowls

Square Baking Dish
Ingredients
For the syrup:
¾

cup (180 mL)

Water

¾

cup (150g)

White Sugar

1 ½

Tbsp (22 mL)

Lemon Juice

(optional)
For the cake:
3

Large Eggs

½

cup (100g)

White Sugar

1 ½

cups (350 mL)

Plain Yogurt

(see note)

½

cup (120 mL)

Vegetable Oil

1

cup (167g)

Semolina

(see note)

3

Tbsp (23g)

All-Purpose Flour

1

teaspoon

Pure Vanilla Extract

1

teaspoon

Baking Powder

½

teaspoon

Baking Soda

¼

teaspoon

Salt
Instructions
Preheat the oven to 350°F / 177°C

Lightly grease an 8"x8" (20 cm x 20 cm) baking dish with cooking spray or lightly rub it with cooking oil.

Make syrup: Combine water and ¾ cup sugar in a small saucepan. Bring to a boil over medium-high heat and boil for 1 minute to fully dissolve the sugar. Remove from heat and stir in lemon juice (if using). Set aside to cool completely.

Make the cake: In a large mixing bowl, whisk together eggs and ½ cup sugar until sugar dissolves. Add yogurt and vegetable oil and whisk again until evenly combined. Add semolina, all-purpose flour, vanilla extract, baking powder, baking soda, and salt. Stir just until everything is combined (do not overmix). Pour batter into prepared pan.

Bake: Bake until the center of the cake is set and the edges are golden brown and start to pull away from the sides, 30 to 34 minutes. (Note: Gently press on the cake in the center to be sure that it has cooked all the way through - it should have a springy but firm texture.)

Add syrup: Remove the cake from the oven and slowly pour the syrup over top, making sure to pour syrup evenly over the entire surface. (Note: much of the syrup will drip down the sides which is fine. The cake will absorb the syrup from the bottom as it sits.)

Let the cake cool completely before slicing and serving. (The cake is also great served chilled. If not serving immediately, store it in the refrigerator for up to 3 days.)
Notes
Semolina - Semolina is flour made from durum wheat. It's most commonly used in making pasta, but lends a nice crumb and slightly nutty flavor to this cake. Yogurt - Plain yogurt works best in this recipe. I have made it with nonfat Greek yogurt as well and had good results. Do not use a full fat Greek yogurt - it is too thick for a properly baked cake. I've never tried it with flavored yogurt, but I'm sure it would be great that way! Syrup - Pouring the sweetened syrup over the finished cake makes the resulting cake super moist. Many reviewers have made this cake without the syrup (or have reduced the syrup), and loved the result. If you're looking for a lighter, less-sweet cake, feel free to adjust the amount of syrup you use. If you're planning to stir in mix-ins or just want to skip the lemon flavor, feel free to leave out the lemon juice.
Nutrition
Serving:
1
slice
|
Calories:
314
kcal
|
Carbohydrates:
45
g
|
Protein:
4
g
|
Fat:
14
g
|
Saturated Fat:
11
g
|
Cholesterol:
5
mg
|
Sodium:
220
mg
|
Potassium:
143
mg
|
Fiber:
1
g
|
Sugar:
30
g
|
Vitamin A:
40
IU
|
Vitamin C:
1
mg
|
Calcium:
72
mg
|
Iron:
1
mg
Even though the photos for this post have been updated, the original photos really do show off the great texture of this cake, so I couldn't resist keeping them here. (Originally photographed in 2013.)