Honey Paprika Broiled Salmon
Published Jul 11, 2022•Updated Jul 21, 2023
With an easy glaze, Honey Paprika Broiled Salmon is tender, juicy, and full of flavor. Best of all, it comes together in under 20 minutes. This is truly the best way to cook salmon.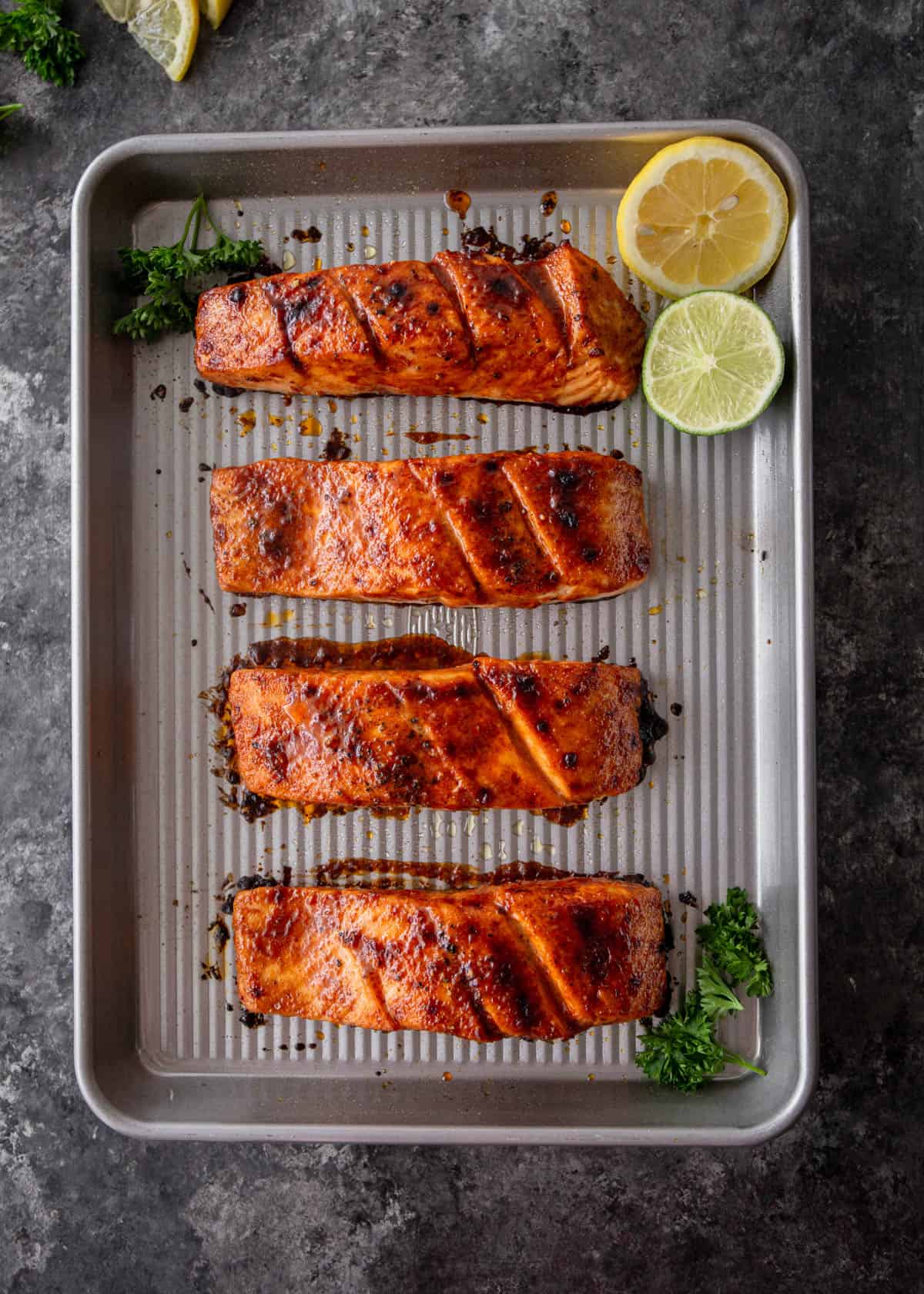 Broiled salmon fillets are incredibly versatile and they cook fast. It is officially my favorite way to cook salmon. You get that golden crust on top without having to break out a skillet. And you can easily cook this salmon for a crowd. I recently made 4 pounds of salmon cooked this way for a big family gathering. I served it right on the sheet pan and the only clean-up I had to do was pull the foil off the sheet pan after dinner.
If you're wondering what to serve with broiled salmon, I've got a few ideas. Truly, all it needs is a vegetable like roasted broccoli or broiled asparagus (toss it with some oil and salt and broil it on the same pan as the salmon). It's also delicious served over a salad like a classic Caesar, arugula salad (use it instead of steak). Or try a fresh side dish like Panzanella or lemony potato salad. And don't forget to whip up some Garlic Bread Hawaiian Rolls to complete the meal (I promise you will be glad you did).
Super easy! Here's how.
How to Broil Salmon
Oven broiled salmon gets a golden, seared top and a tender, perfectly cooked center. Here's how to do it.
Prepare the broiler. Preheat the broiler about 10 minutes before cooking. Move an oven rack so that it is about 6 to 8 inches beneath the broiler.
Prepare a sheet pan. Line a sheet pan with foil. Spray it lightly with nonstick cooking spray. Don't skip this step as it will make clean-up super easy.
Score salmon. Place salmon skin-side down on the sheet pan. Use a sharp knife to score the salmon a few times, slicing about halfway through the flesh. (See below for more details.)
Add seasoning. Generously season the salmon, pressing some of the seasoning down into the slits.
Turn on the oven / exhaust fan. Fish cooked under the broiler can splatter and smoke.
Broil. Broil the salmon until it flakes easily with a fork in the thickest part, 6 to 12 minutes.
Enjoy!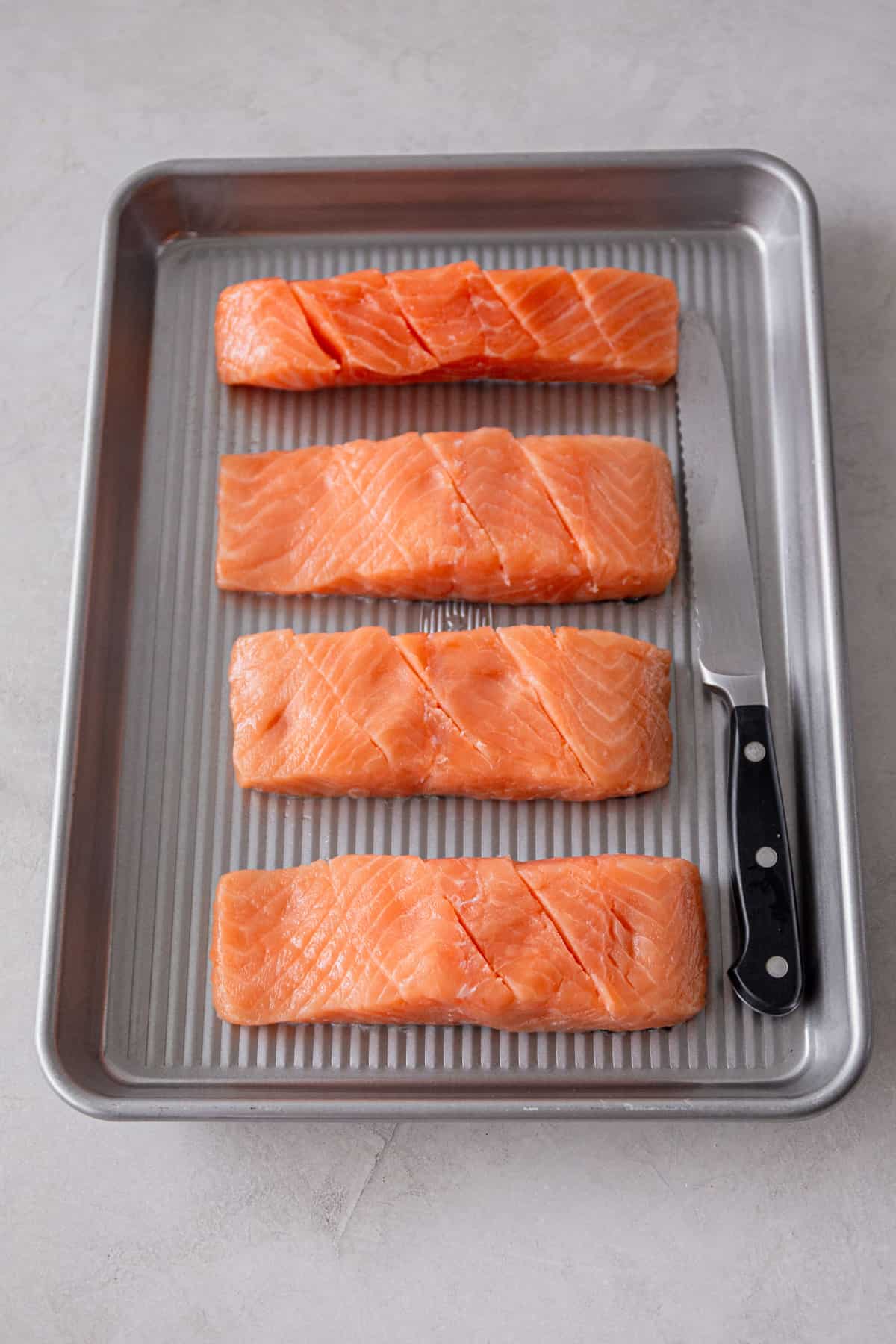 Why Score Salmon
Scoring salmon (or any fish) before cooking it is one of the best secrets for cooking great fish. Focus on cutting about halfway through the fish in the thickest parts of the fillet.
This works well for two reasons:
Even cooking. By making cuts in the thicker parts of the fish, you help the heat to penetrate the fish there more quickly, insuring that the thicker parts finish cooking at the same time as the thinner parts of the fillet.
More flavor. When you season the fish, you can press some extra seasoning down into the slices, getting more flavor into the center of the fish.
How Long to Broil Salmon
Most salmon fillets will broil in 6 to 12 minutes. The cooking time will vary depending on the thickness of the fillet. Check the thickest part of the fish to know if it is finished cooking. It should flake easily with a fork and should register about 130°F.
If making glazed salmon, be sure to watch the glaze as the salmon cooks to prevent burning.
Ideal Temperature for Cooked Salmon
The USDA recommends cooking salmon to 145°F. I find that you should actually remove the salmon when an instant read thermometer registers 130°F. This avoids overcooking. It will continue to cook for another minute or two in the residual heat of the sheet pan and will usually reach nearly the USDA recommendation.
Ingredients
Salmon – Any type of salmon will work. Use either one large cut of salmon or with small pre-cut fillets.
Mayonnaise – This may seem like an unusual ingredient, but trust me. The mayonnaise acts as a binder, holding the seasonings onto the fish as it cooks and helping the fish to stay moist and tender. The finished dish does not taste like mayonnaise.
Paprika – This is great any type. I tested it both ways and didn't have a preference between paprika vs smoked paprika. The smoked paprika just adds extra smoky flavor.
Honey – A touch of sweetness balances the tangy, savory flavor of the paprika.
Worcestershire Sauce – This adds great savory flavor to the marinade. It's okay to skip it if you don't have it, but the flavor is great.
Salt, Black Pepper, Garlic Powder – Use these to add even more flavor. Be sure to use garlic powder (not garlic salt which will make the dish too salty).
Lemon or Lime Wedges – Salmon is always best when it's finished with fresh lemon juice or lime juice, so be sure to serve it with some wedges and / or squeeze them over the top of the finished dish.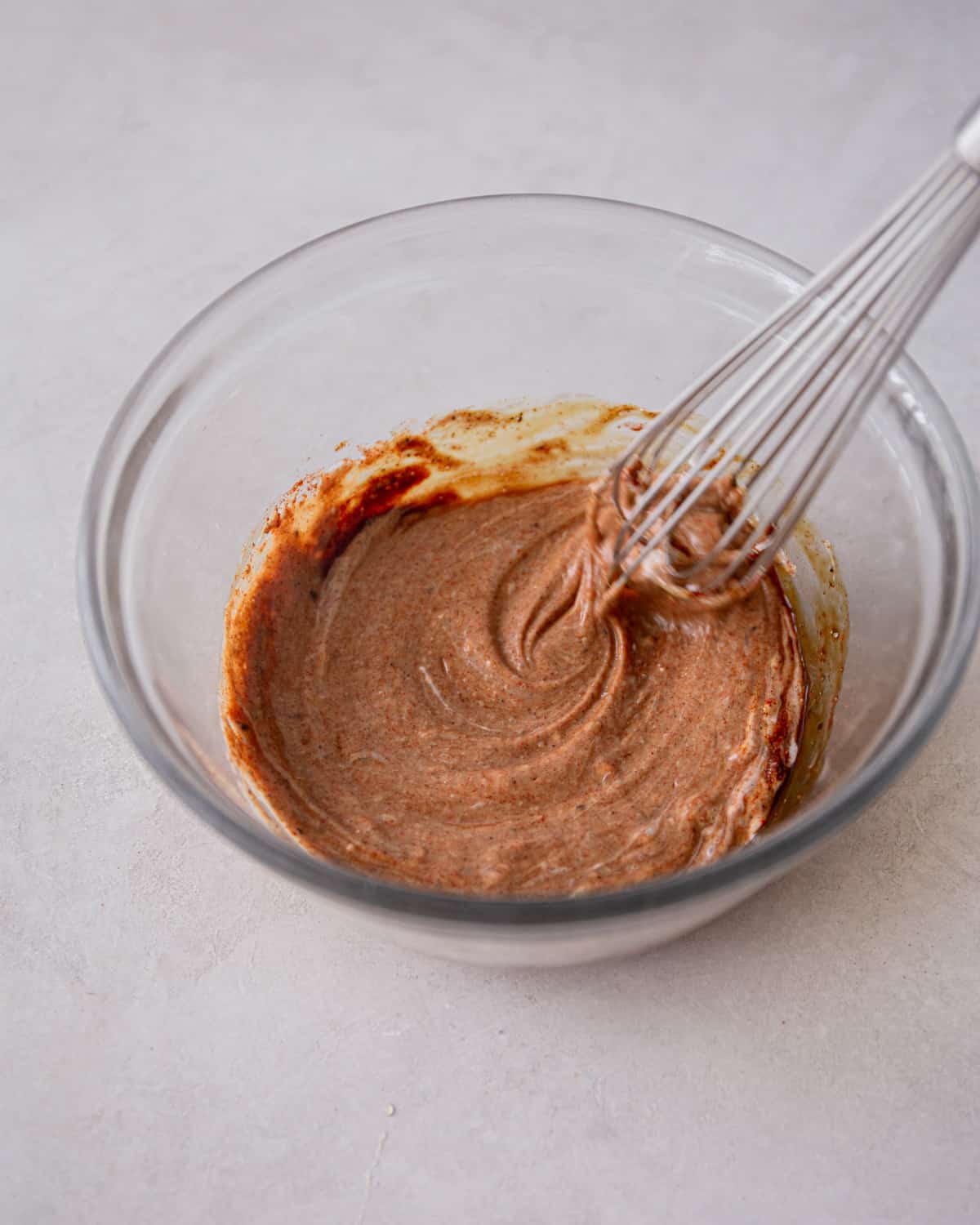 A word about Mayonnaise
Let's just address the elephant in the kitchen here. Mayonnaise. Trust me on this. The mayonnaise works better than any ingredient I tested to help the flavorful ingredients to stick and the salmon to stay tender. Any trace of mayonnaise flavor cooks off and anyone you serve this to would never guess it's in there. Kenji López-Alt calls mayonnaise "the secret ingredient that improves meat [including fish] every time", and it is now my "secret" marinade weapon.
FAQs
Can I use different seasonings?
Yes! The mayonnaise acts as a binder for the seasonings and helps to tenderize the fish, but feel free to mix in any combination of dried herbs and spices or spice blends. (I have tried it with Tex Mex seasoning for salmon tacos or blackening seasoning.)
Should I eat salmon skin?
When salmon is broiled or baked, the skin is usually not crisp, and it's best to discard it. If you sear the salmon on the stovetop, the skin can be cooked until crisp and is delicious to eat.
Can I prep the salmon ahead?
Yes! You'll get even more flavor if you top the salmon with the seasoning mixture up to 4 hours ahead of time.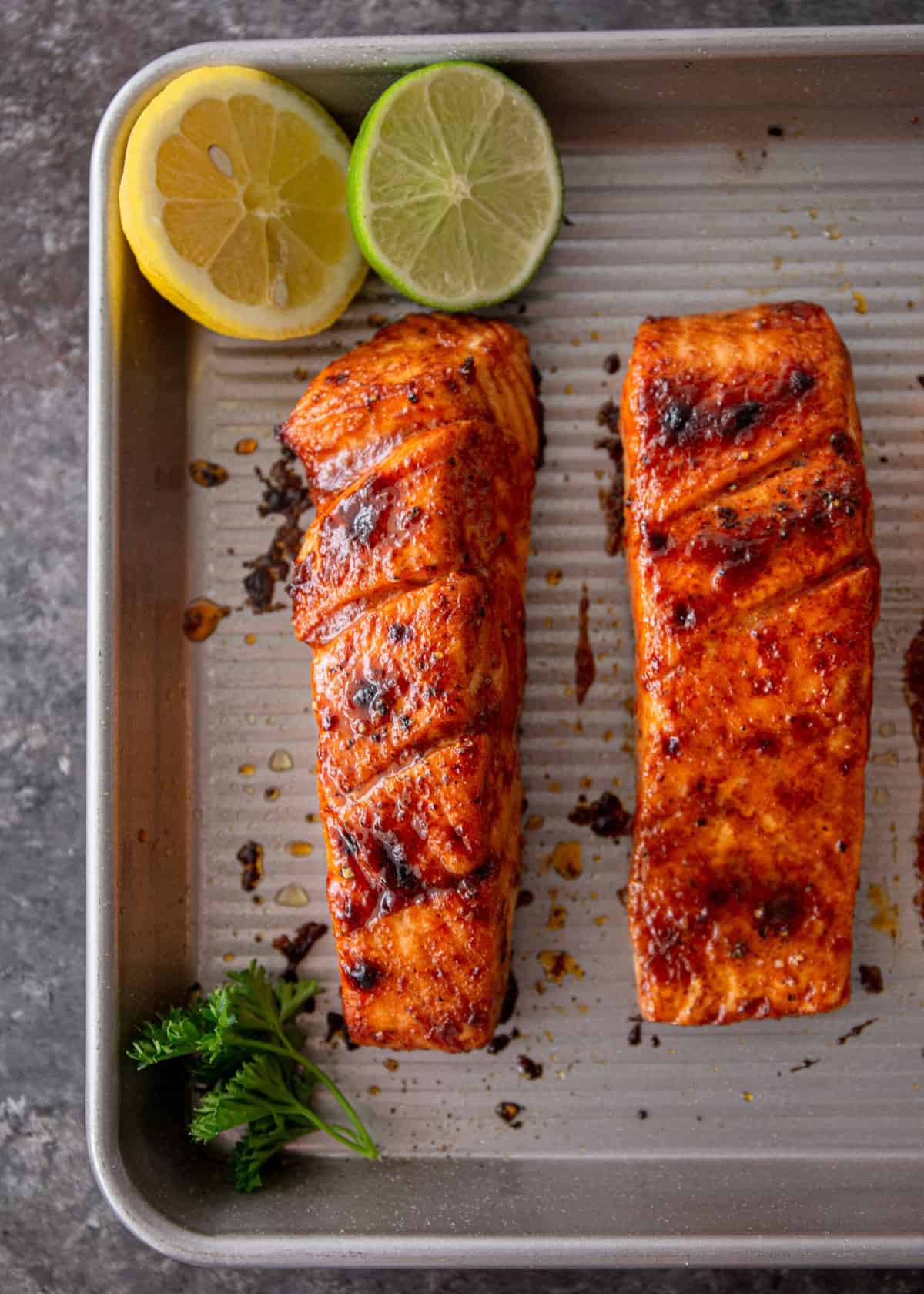 More recipes for broiled salmon
Once you start cooking salmon this way, you'll be hooked. Here are some more recipes that use this technique.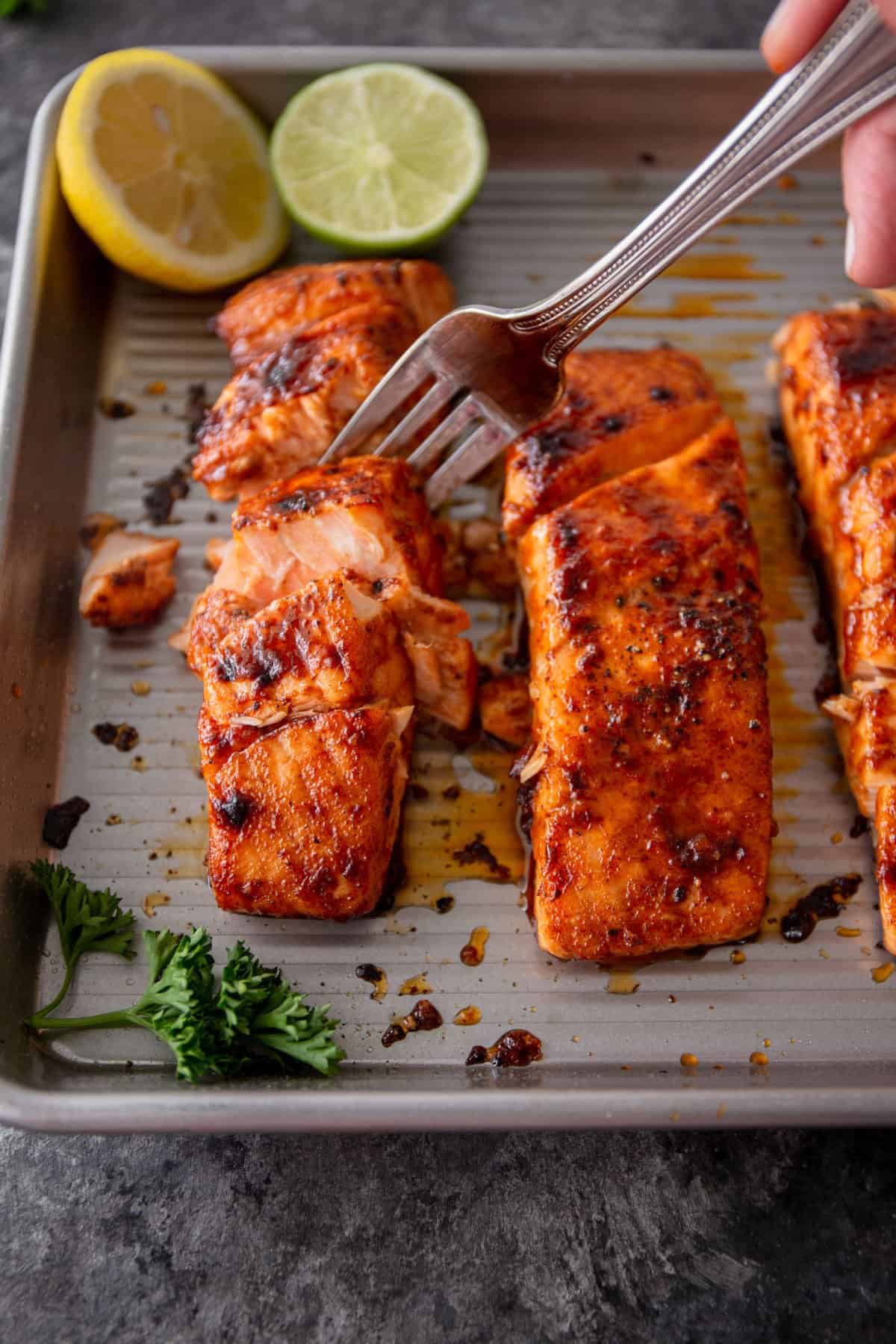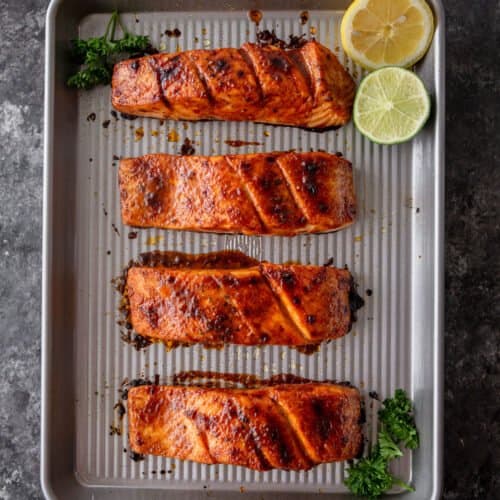 Honey Paprika Broiled Salmon Recipe
With an easy glaze of honey, paprika, and a few pantry staples, this salmon is tender, juicy, and full of flavor. Don't skip the mayonnaise in the glaze which helps the seasonings to adhere to the fish and keeps it moist during cooking. (Don't worry – the finished dish does not taste like mayonnaise.)
To adjust the servings in this recipe, click on the number next to servings.
Equipment
Half Sheet Pan

Mixing Bowls

Sharp Knife
Ingredients
1 1/2

pounds

salmon

(one large piece of salmon or small center-cut salmon fillets will work)

1/4

cup

mayonnaise

2

teaspoons

paprika

1 1/2

teaspoons

honey

1

teaspoon

kosher salt

1/2

teaspoon

Worcestershire sauce

(substitute soy sauce)

1/4

teaspoon

garlic powder

(be sure to use garlic powder, not garlic salt)

1/4

teaspoon

black pepper

lemon or lime wedges, for serving
Instructions
Preheat the oven's broiler. Place an oven rack about 6 to 8 inches beneath the broiler.

Line a sheet pan with foil. Spray it lightly with nonstick cooking spray. (This will make clean-up easy.)

Arrange salmon fillets skin-side down on the sheet pan. Use a sharp knife to cut / score the salmon a few times. (Note: Focus the slices on the thickest part of the salmon and slice about halfway through. This step will help the salmon to cook evenly and will allow more flavor to reach the center of the fish.)

Whisk together mayonnaise, paprika, honey, salt, Worcestershire sauce, garlic powder, and black pepper.

Brush or rub the mayo blend over the top and sides of the fish, including pressing some down into the slits.

Turn on the oven / exhaust fan. (Oil from the salmon can sputter up as it cooks and will occasionally cause smoking, so keep an eye on it as it cooks and make sure your kitchen has ventilation.)

Broil until the salmon is golden brown on top and flakes easily with a fork, 6 to 12 minutes, depending on thickness. (An instant read thermometer inserted in the thickest part should register 130°F.)

Optional step: If you want to serve the salmon flaked (like over a salad or in tacos), gently shred it right on the pan. Remove and discard salmon skin. Gently stir salmon into cooking liquids on the pan.

Serve the salmon with lemon or lime wedges to squeeze over top.
Nutrition
Calories:
352
kcal
|
Carbohydrates:
4
g
|
Protein:
34
g
|
Fat:
21
g
|
Saturated Fat:
3
g
|
Polyunsaturated Fat:
11
g
|
Monounsaturated Fat:
6
g
|
Trans Fat:
0.03
g
|
Cholesterol:
99
mg
|
Sodium:
1047
mg
|
Potassium:
871
mg
|
Fiber:
0.4
g
|
Sugar:
3
g
|
Vitamin A:
571
IU
|
Vitamin C:
0.1
mg
|
Calcium:
26
mg
|
Iron:
2
mg
Nutrition information is automatically calculated, so should only be used as an approximation.