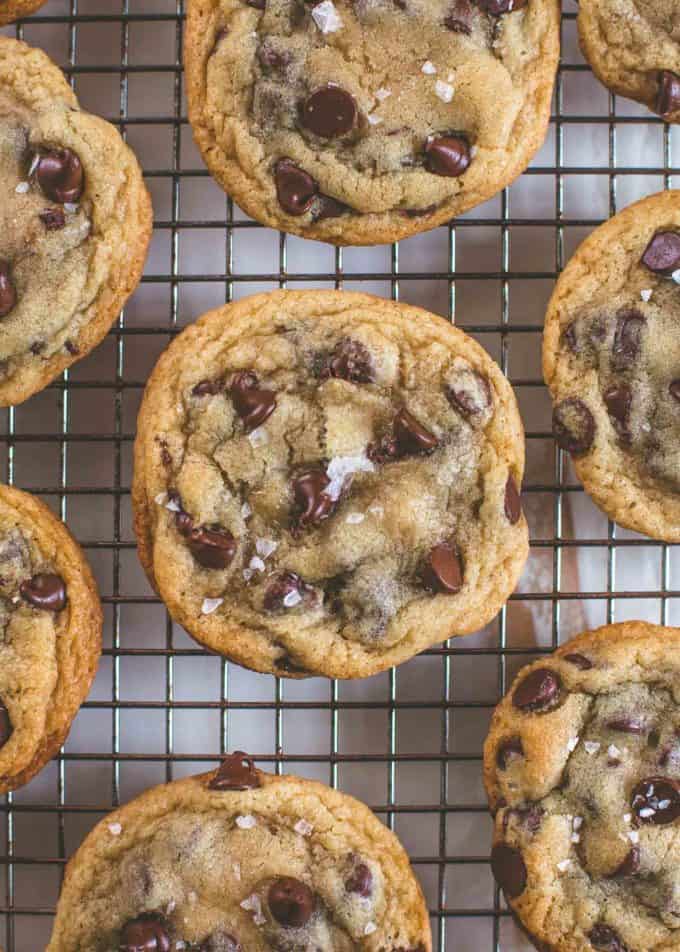 These crispy and chewy chocolate chip cookies have golden edges and soft, tender centers. Top them with a pinch of flaked sea salt.
Perhaps the internet doesn't need another chocolate chip cookie, but you, sweet friends, I bet that you need a chocolate chip cookie. If I could bring a plate of these cookies to your house right now, I'd do it in a heartbeat. I'd pack them up, still warm from the oven, drop them on your front porch, and wave through the window. But in these strange times, all I can do is send you a virtual hug in the form of my favorite, super tender chocolaty center, crisp caramel edges, warm and cozy chocolate chip cookies.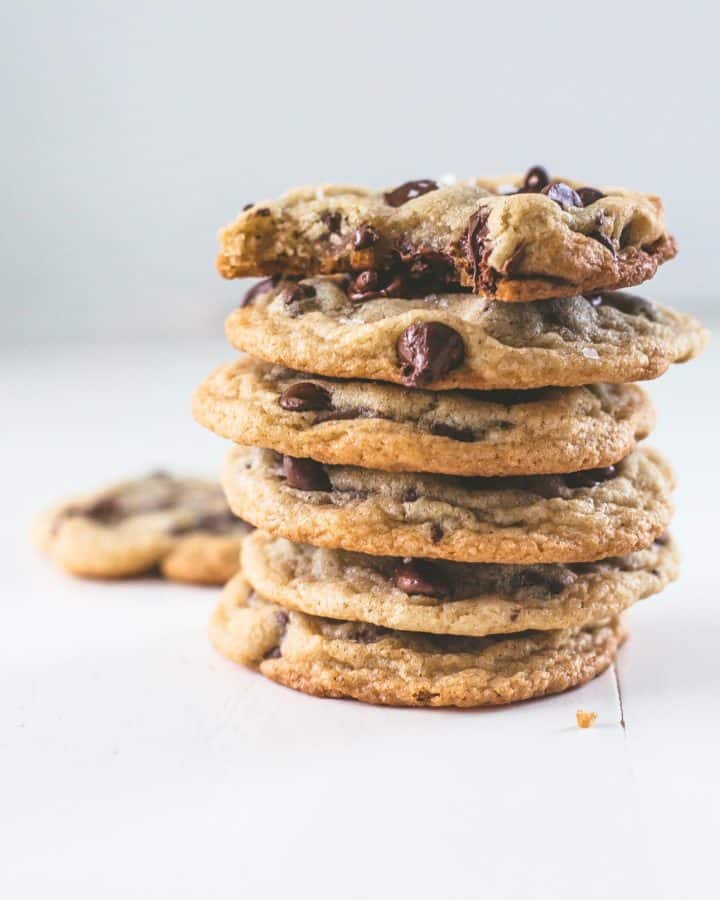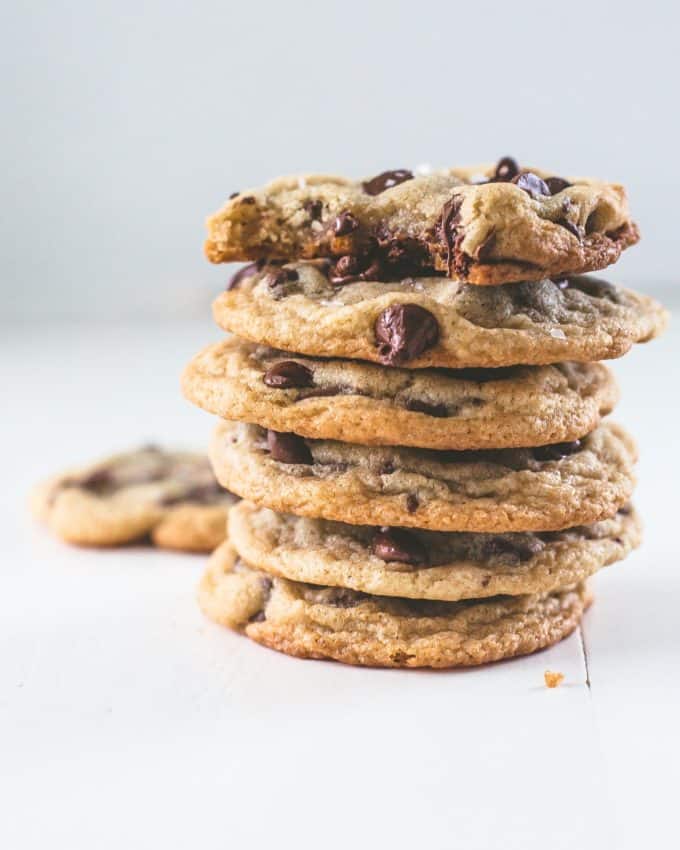 Why I Created These Cookies
This cookie recipe came from a distinct need around our house. There are, of course, hundreds (thousands?) of chocolate chip cookie recipes, but none I've found have ever delivered on precisely the right combination of things that my household wants in a chocolate chip cookie – crispy caramelized edges with super soft, lightly chewy centers. Until now!
And so it happened, that after years of my husband, Frank, requesting chocolate chip cookies for his birthday and us never quite finding the exact "right" recipe, it dawned on me that I am a professional recipe developer. I write and test recipes every day. And some recipes, like these cookies, I test every day for weeks. This recipe was tested nearly 20 times. We have enough frozen chocolate chip cookie dough to supply an elementary school bake sale.
And so, without further delay, I bring you Crispy and Chewy Chocolate Chip Cookies. (Also known as Frank's Chocolate Chip Cookies.)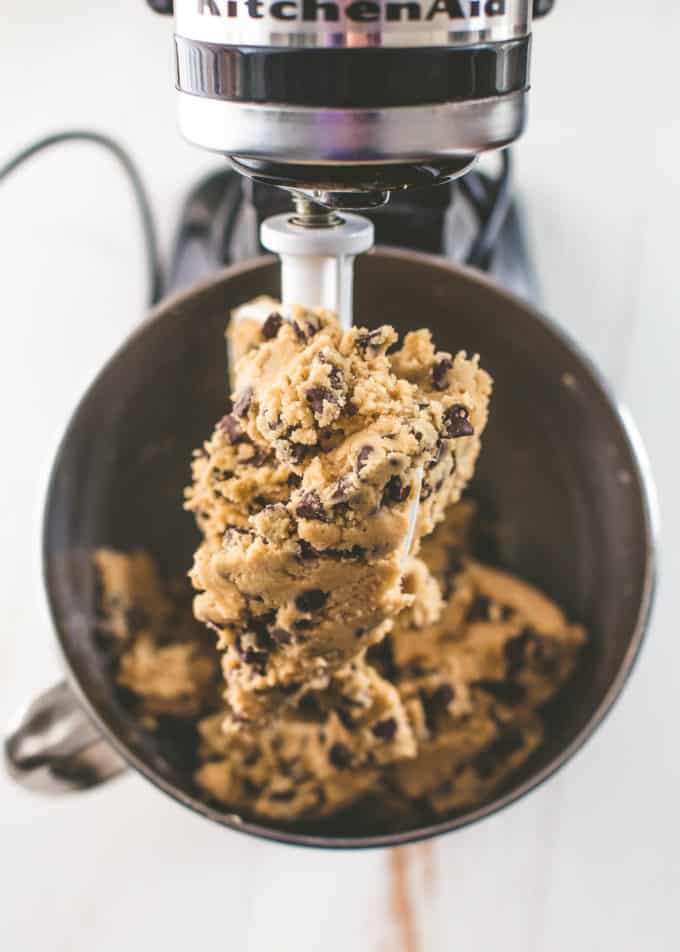 What Makes Cookies Crispy and Chewy
As it turns out, everything has to be in balance to give cookies crisp edges and soft centers. I strongly recommend using a kitchen scale if you have one. We tend to condense flour when we scoop it directly out of the bag, but weighing it insures you use just the right amount. More flour gives you taller, cakey cookies rather than crispy and chewy ones. Less flour helps the cookies to spread out slightly and stay chewy in the middle. An equal amount of light brown sugar and white (granulated) sugar, measured by weight is important too. The sugars caramelize lightly around the edges giving the edges crunch. In short – use that kitchen scale.
The other helpful step is to refrigerate the dough for 20 minutes before baking. I know, I know, you're going to be in a hurry. Once you've made the dough, you want it in the oven – stat. But trust me on this. A short stint in the fridge will give the dough a bit more stability so it doesn't spread out too quickly as it bakes.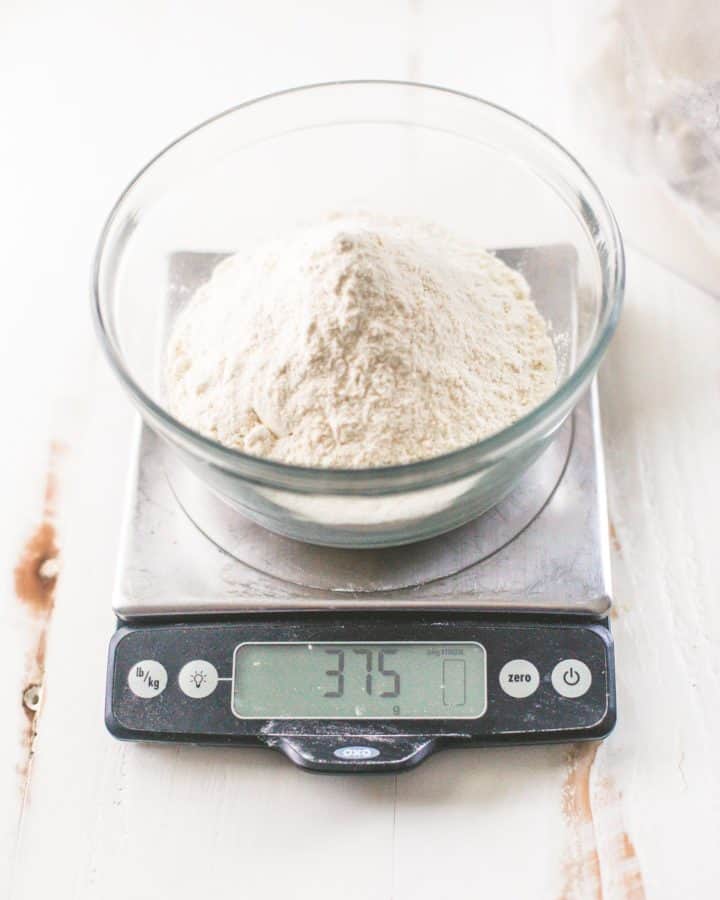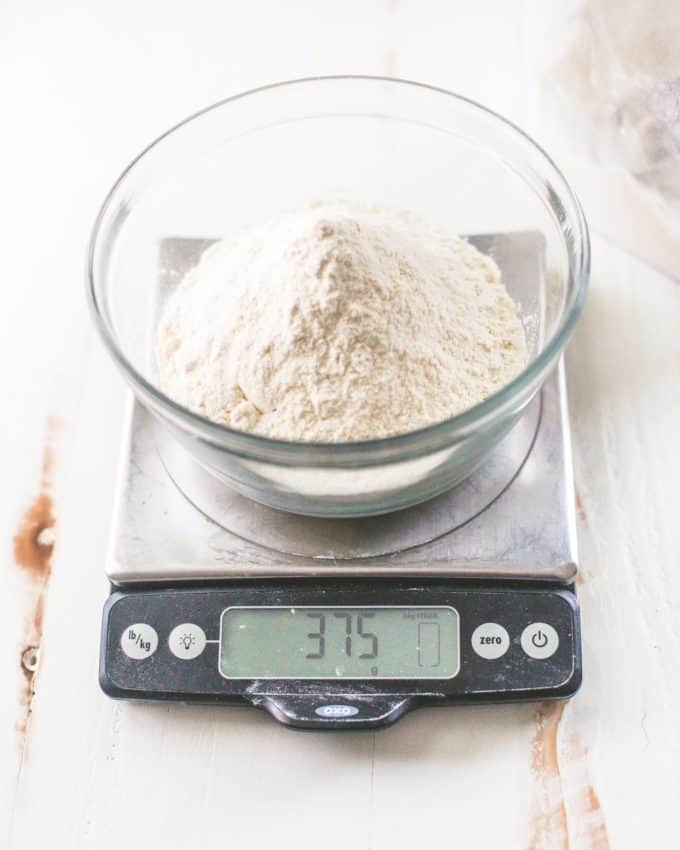 The "Right" Baking Time
Baking these cookies for the right amount of time is key to their chewy + crispy texture. These are not cookies that need to be under-baked to retain their soft, chewy centers. To tell if these cookies are done baking, look to the edges of the cookies (not the centers). The cookies are done when the edges show clear signs of being light golden brown. The centers will still be very pale and soft.
Then, and this is important, let the cookies cool on the sheet pan for about 5 minutes. As they cool, the cookies will continue to firm up and the surface will turn golden brown.
Here are what the cookies should look like right as they are pulled out of the oven. Puffy and pale in the center.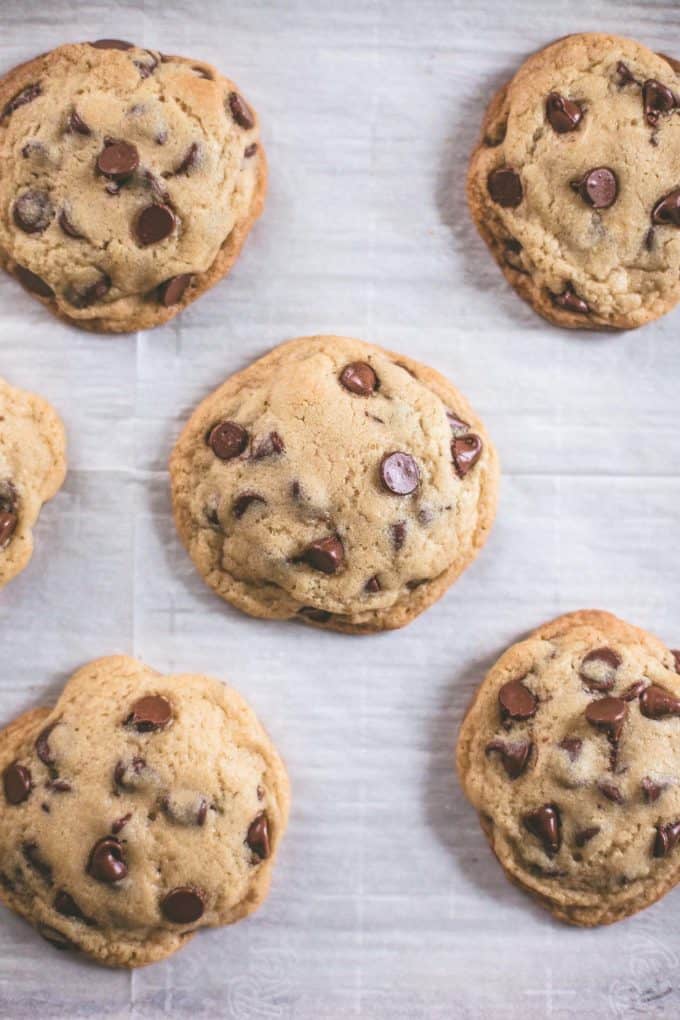 And here's what the cookies look like after cooling on the sheet pan for 5 minutes.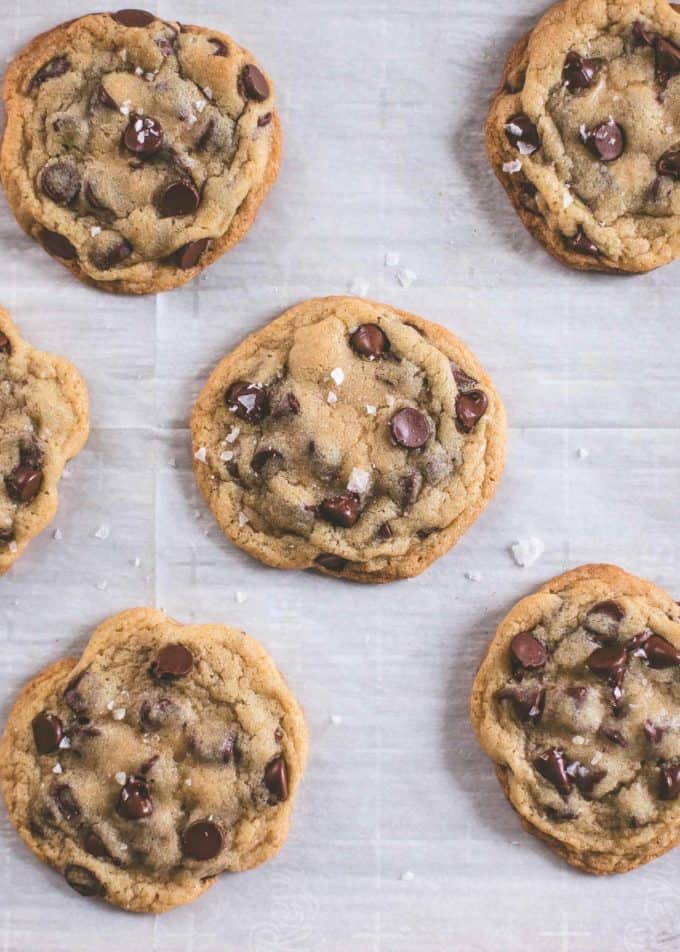 Ingredients for Chocolate Chip Cookies
The ingredients for these Chocolate Chip Cookies are classic, and are probably things you already have in a well-stocked pantry. Here's the run-down:
All-Purpose Flour

– One of my primary goals in creating this recipe was finding a great cookie that used only all-purpose flour, which most of us always have in our pantry. (Before I fine-tuned the recipe shared below, my favorite cookie was the infamous David Leit recipe from the

New York Times

. A few times a year, I would go buy bread flour and cake flour for the sole purpose of making David Leit's cookies, and then would never again touch those flours until they got far too old and had to be tossed right in the compost.)

Baking Soda

– These provide the dough with just a bit of lift, giving the cookies that soft and tender texture. Be sure to replace your baking soda every few months (yes! every few months!). Old baking soda won't give you the same results as a fresh box.

Light Brown Sugar and White Sugar

– These cookies use the same amount (measured by weight) of light brown sugar and white sugar. Those two sugars work together to give the cookies the balance of crisp edges and soft centers.

Unsalted Butter

– It is important to use unsalted butter to get the measurement for salt (see below) right. If using salted butter, it's a good idea to skip the added kosher salt in the dough so that the cookies don't become too salty. Don't forget to take the butter out of the fridge in advance. It needs to be softened while still feeling slightly cool to the touch.

Kosher Salt and Flaked Sea Salt

– A decent amount of salt in chocolate chip cookies balances (and draws out) the flavor of the sugar and chocolate chips. Be sure to use kosher salt which comes in larger grains than traditional table salt in the cookie dough. (If you only have table salt, reduce the amount listed in the recipe by half to avoid your cookies being too salty.) At our house, we also all love a light sprinkle of flaked sea salt (I use

Maldon

) on top of the warm cookies. It's totally optional but gives the cookies a hint of extra salt and a tiny bit of crunch.

Eggs and Pure Vanilla Extract

– You can't have great chocolate chip cookies without these two things. The eggs add texture, the vanilla extract adds flavor.

Semisweet Chocolate Chips

– These are the classic, but see below for other ideas!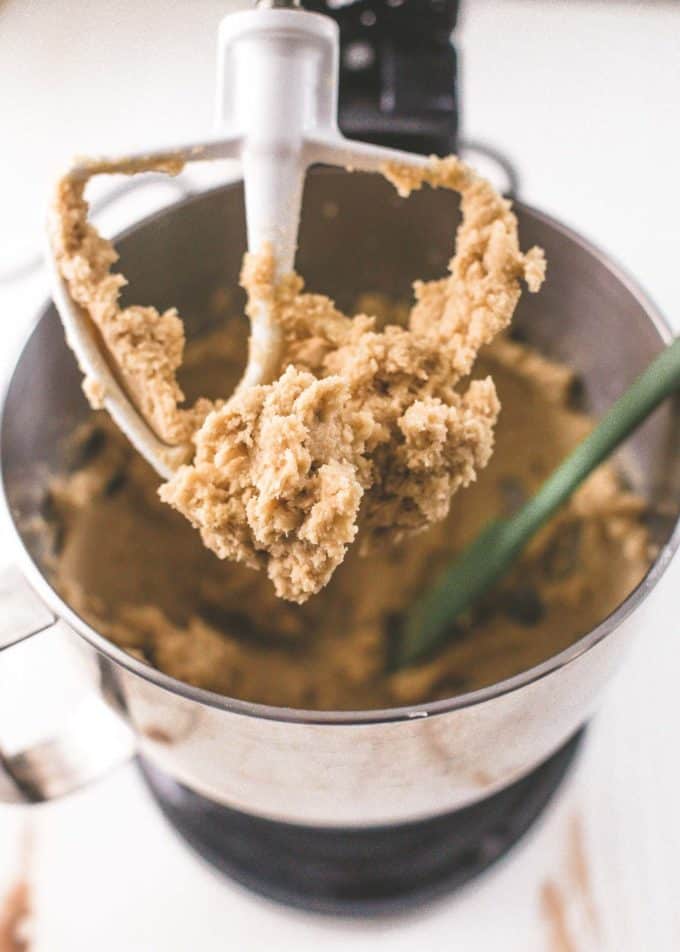 How To Shape the Chocolate Chip Cookie Dough
Use a 1 Tablespoon measuring spoon to scoop out the dough, but make them heaping spoonfuls with the dough rounded over top. The cookies will be about 3 inches across after baking.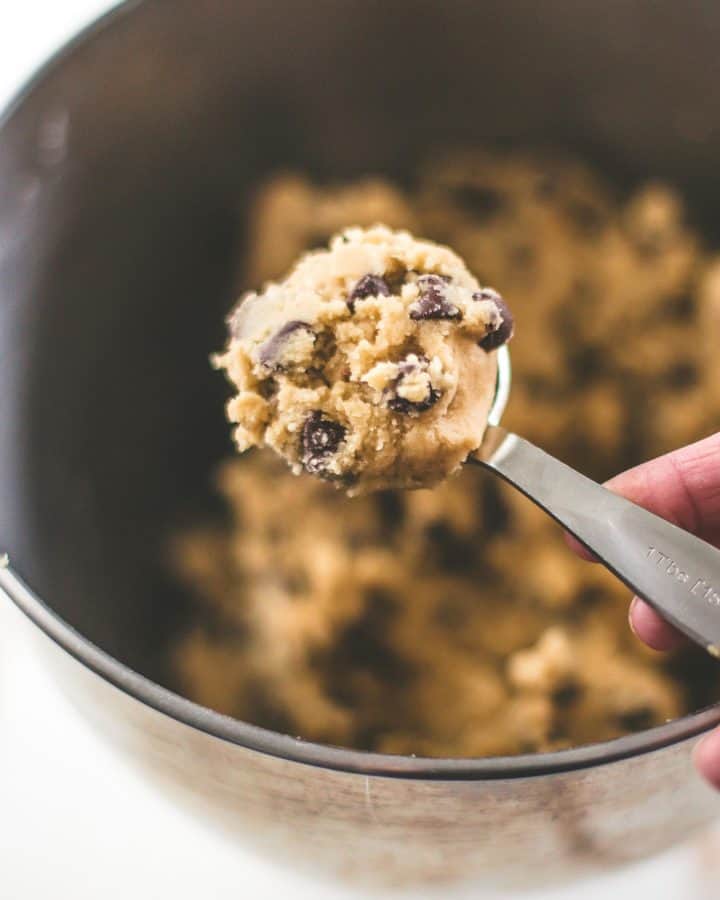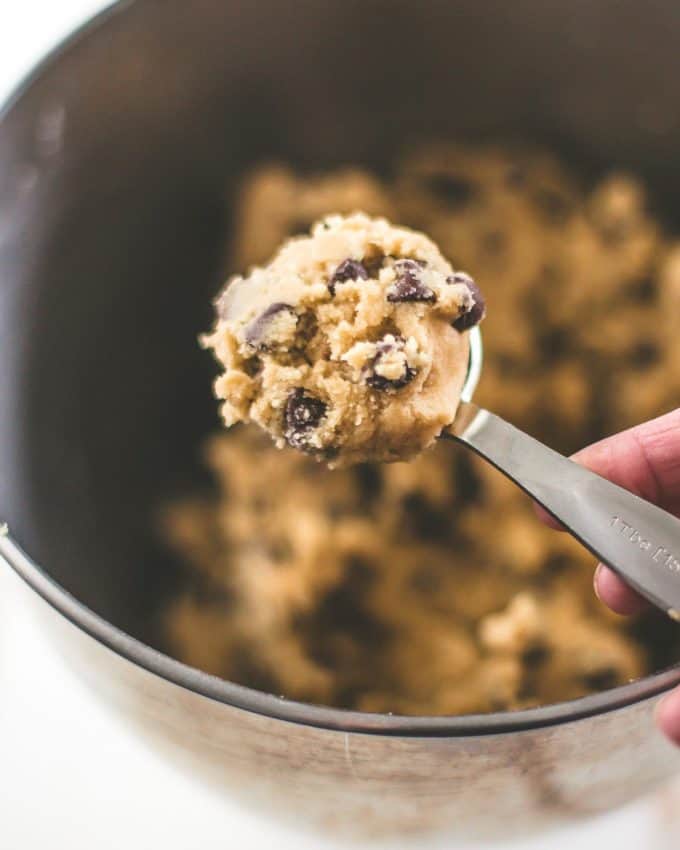 Photo-Worthy Chocolate Chip Cookies
To make your chocolate chip cookies look extra polished (you know there are few things that Instagram loves as much as a beautiful cookie shot), just press a few chocolate chips into the tops of the dough balls right before they bake.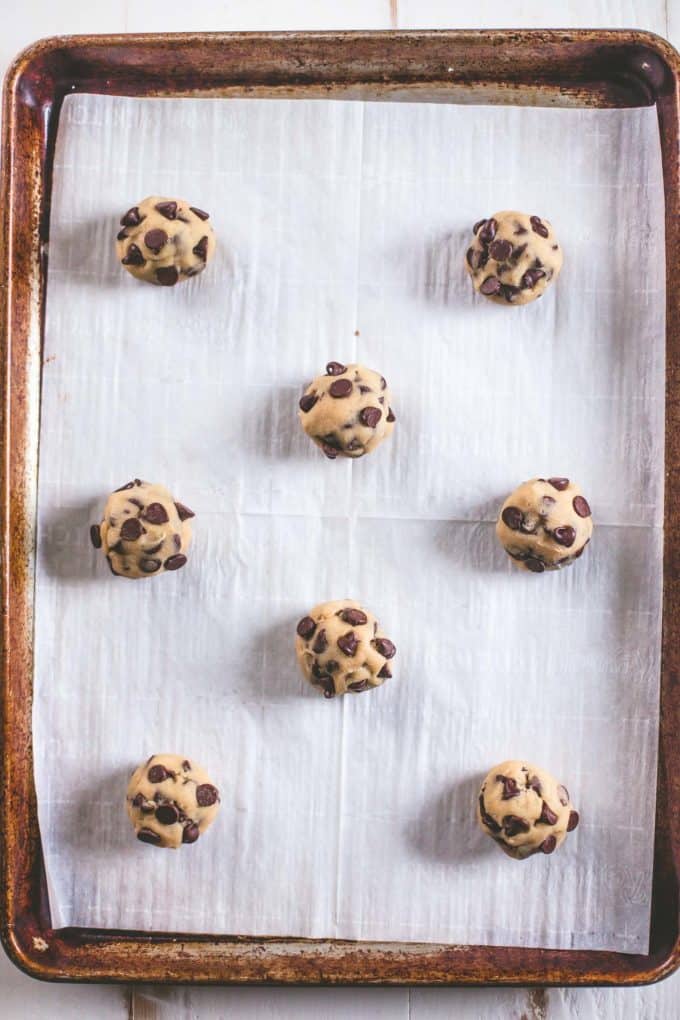 Different Fillings for Chocolate Chip Cookies
While semisweet chocolate chips are the classic, here are a few other favorite fillings:
Chocolate Chunks

High-Quality Chocolate Bars, chopped (great if you want to combine different types of chocolate – I love half bittersweet chocolate and half milk chocolate)

M&Ms

Chopped Candy (chopped Heath bar is great!)

Chopped nuts – like pecans or walnuts
How to Freeze Cookie Dough
Frozen cookie dough is like money in the bank. (Though I have to keep it in my downstairs freezer…and out of reach.) You can bake one at a time or the whole batch any time you need them. The best way to freeze cookie dough is:
Form cookie dough into balls and line up in a single layer on a sheet pan

Transfer sheet pan to freezer until dough is frozen solid, 2 to 3 hours.

Transfer dough to a freezer-safe bag and seal, removing as much air from the bag as possible.

Freeze for up to 6 months.
To bake cookies from frozen: Bake the cookie dough directly from the freezer at 325°F / 163°C for 16 to 18 minutes. (This lower temperature and longer cook time is important for the dough to defrost and cook all the way through.)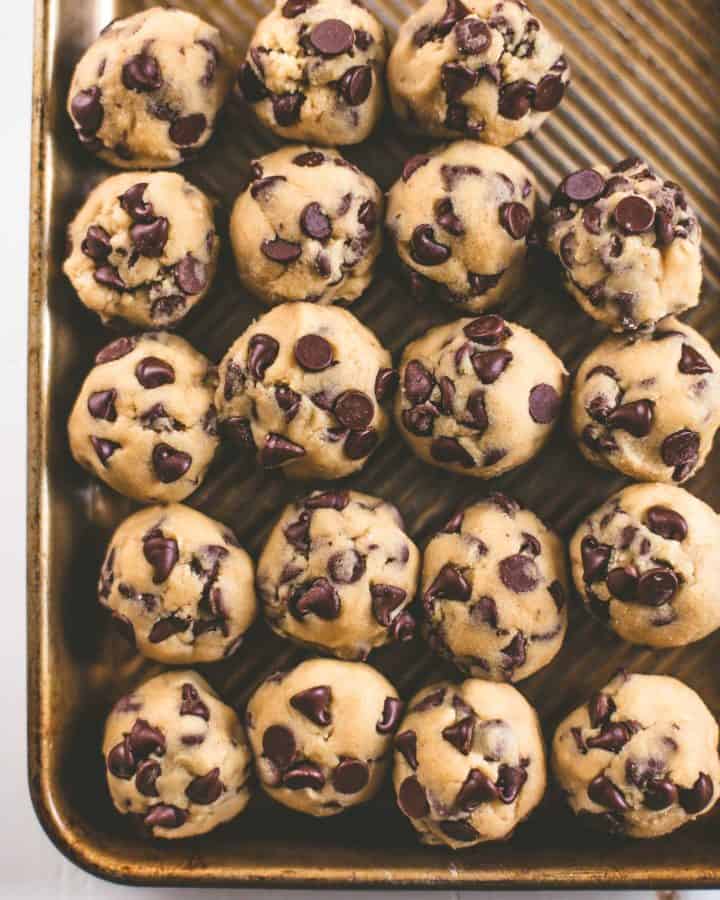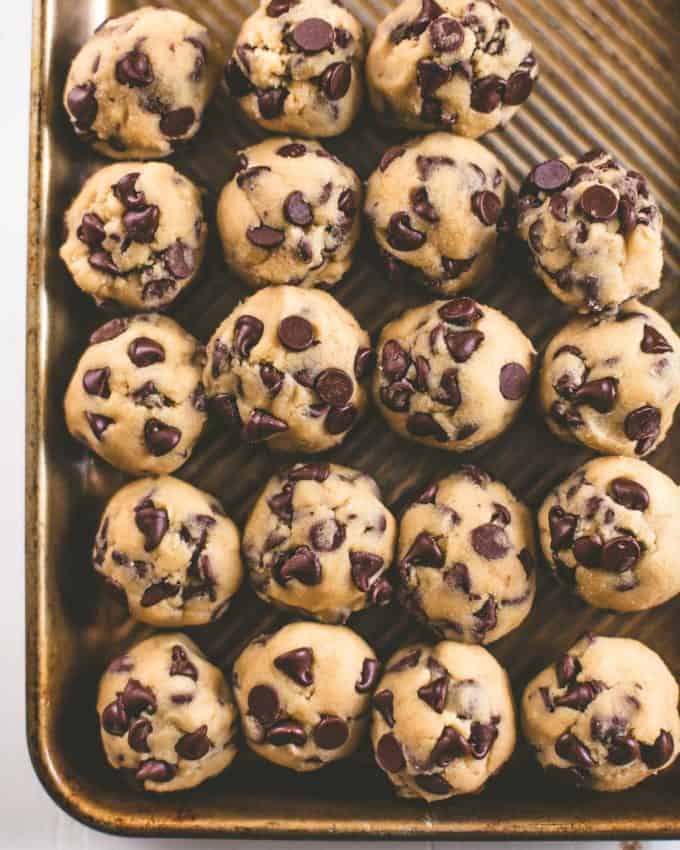 What Causes Cakey Chocolate Chip Cookies
The number one question I get asked about chocolate chip cookies is how to avoid thick, cakey cookies. The answer is almost always to reduce the flour. For best results, measure your flour by weight. If that's not possible, try spooning the flour into a measuring cup rather than using the measuring cup to scoop the flour. Compacting the flour can lead to using too much and will result in thick, cakey cookies. The other causes of cakey cookies are using too much egg or beating too much air into the butter-sugar mixture at the start of baking. Double check that you are using standard "large" size eggs and be sure to beat the butter and sugar just until it is light and fluffy (about 3 minutes) but no longer.
More Cookies to Stock Your Freezer
Peanut Butter Cookie Cups – Soft peanut butter cookie cups stuffed with chocolate peanut butter cups – these are always a crowd favorite. We keep the dough in the freezer to bake whenever we need a pick-me-up.
Salted Caramel Stuffed Chocolate Cookies – These rich dark chocolate cookies are filled with creamy caramel and topped with a sprinkle of salt. Put a plate out and they'll disappear fast (but only if you're willing to share)!
Mini Chocolate Oatmeal Cookies – Their miniature size is likely my favorite thing about these cookies, although the crunchy sprinkle of Turbinado sugar on the top is a close second.
Favorite Tools
Kitchen Aid Stand Mixer –

It's a classic, but a KitchenAid Stand Mixer makes baking cookies so easy.

Kitchen Scale – I use a kitchen scale for so many things, but it makes a baking recipe like this one very easy and precise. I just add each ingredient and zero the scale after each addition.

Anchor 3-Piece Glass Mixing Bowls

– My go-to mixing bowls for baking.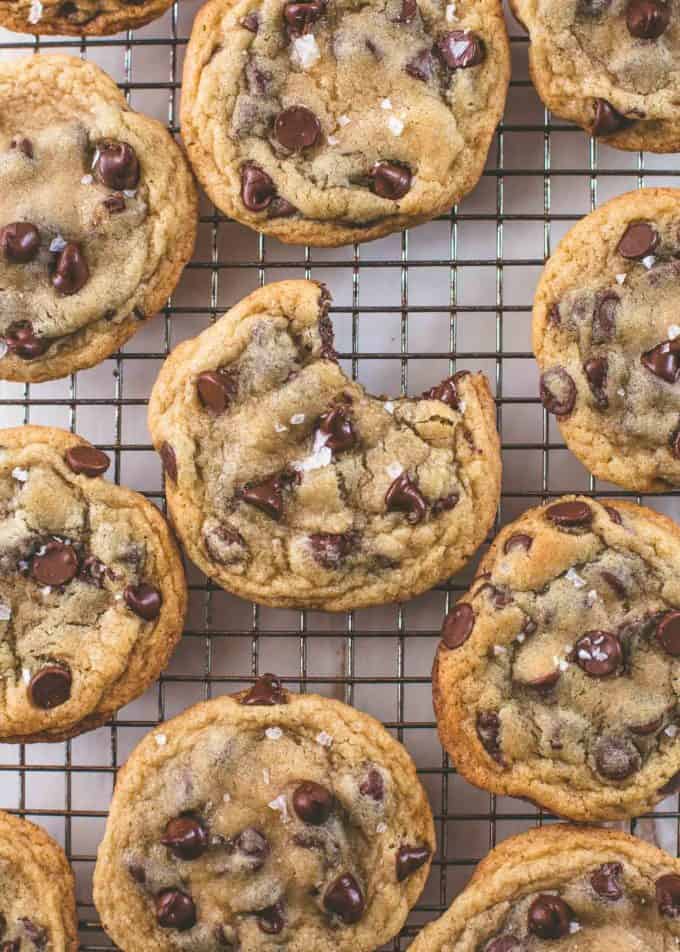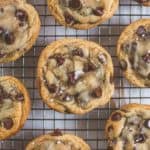 Print Recipe
Crispy and Chewy Chocolate Chip Cookies
These crispy and chewy chocolate chip cookies have golden edges and soft, tender centers. Top them with a pinch of flaked sea salt.
Equipment
Stand Mixer

Mixing Bowls

sheet pan
Ingredients
3

cups (375g)

All-Purpose Flour

1

tsp

Baking Soda

¾

tsp

Kosher Salt

2

sticks (1 cup)

Unsalted Butter, softened to room temperature

(see note)

1

cup (200g)

Light Brown Sugar, packed

1

cup (200g)

Granulated (White) Sugar

2

large

Eggs

2

tsp

Pure Vanilla Extract

2 ½

cups

Semisweet Chocolate Chips

1

tsp

Flaked Sea Salt

(totally optional, but try it if you like a salty finish on your sweets)
Instructions
In a small bowl, whisk together the flour, baking soda, and salt. Set aside.

In the bowl of a stand mixer fitted with the paddle attachment, beat the butter, brown sugar, and granulated sugar until light and creamy (about 3 minutes).

Add the eggs and vanilla and mix on low until evenly combined, scraping down the bowl as needed.

Add the flour mixture all at once and mix on low until just combined (stop mixing as soon as there are no dry spots of flour in the dough - do not overmix).

Add chocolate chips and mix into the batter on low.

Transfer the mixing bowl to the refrigerator and refrigerate for 20 minutes while the oven heats. (This step is important as the cold dough is key to the soft centers of the cookies.)

Heat oven to 350°F / 177°C.

Lightly grease a sheet pan or line with a Silpat baking mat or parchment paper.

Use a tablespoon measuring spoon (use the measuring spoon as a guide, but make these "heaping" tablespoons with dough rounded over the top) to scoop out even portions of cold cookie dough.

Arrange the cookie dough on the prepared sheet pan, leaving space for the cookies to spread out.

Bake the cookies until the edges are just starting to turn golden brown and the centers are still very pale and soft (they will continue to firm up and darken after you remove them from the oven), 10 to 13 minutes.

When you remove the sheet pan from the oven, tap it gently on the kitchen counter just to deflate the cookies (this step helps to give the cookies lightly crinkled edges).

Sprinkle the tops of the cookies with flaked sea salt (this is optional and you may not need the full amount; just add a small pinch on top of each cookie if you want that salty crunch).

Leave the cookies on the sheet pan to cool for 5 minutes before transferring them to a cooling rack.

Store cookies in a sealed container at room temperature for up to 3 days.
Notes
Kitchen scale - To get that crispy / chewy texture, it's a really good idea to measure your flour and sugars by weight. If you have a kitchen scale, pull it out for this recipe.
Softened Butter - This tends to feel like the most finicky step of making chocolate chip cookies, but it's important. The butter should be soft enough that you can easily make an indent with your finger but should still be cool to the touch. You want it to hold its shape a bit as you combine it with the sugars.
To Freeze: Cookie dough can be formed into balls and frozen on a sheet pan. Transfer the dough balls to a freezer-safe bag and freeze for up to 6 months. To cook, bake the cookie dough directly from the freezer at 325°F / 163°C for 16 to 18 minutes.
Print and attach the label below so cooking instructions are ready when you are!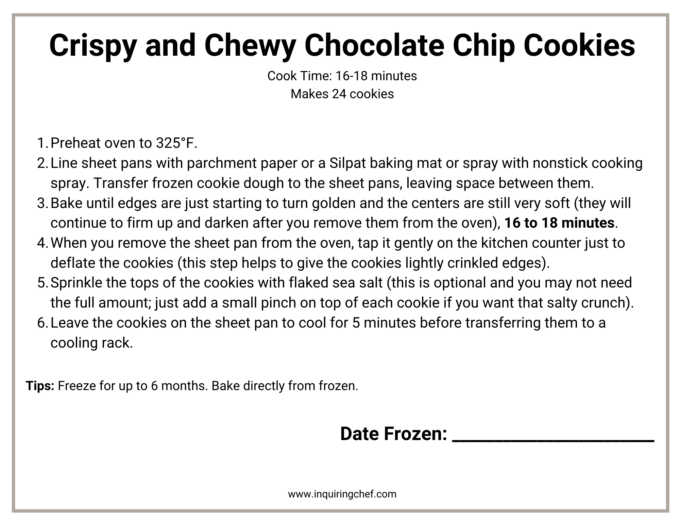 Nutrition
Serving:
1
cookie
|
Calories:
253
kcal
|
Carbohydrates:
49
g
|
Protein:
4
g
|
Fat:
8
g
|
Saturated Fat:
4
g
|
Cholesterol:
16
mg
|
Sodium:
426
mg
|
Potassium:
115
mg
|
Fiber:
2
g
|
Sugar:
24
g
|
Vitamin A:
27
IU
|
Calcium:
21
mg
|
Iron:
2
mg
*This post contains affiliate links*