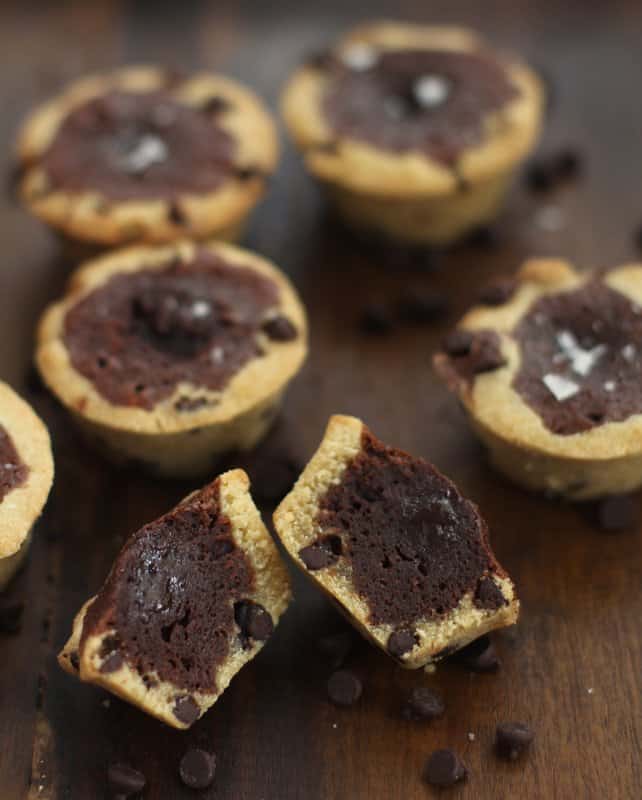 With a firm cookie shell and gooey brownie center, Chocolate Chip Brownie Tarts are quick to make and easy to pack up for friends and family.
And they start with cookie dough which makes them a surefire win in my book….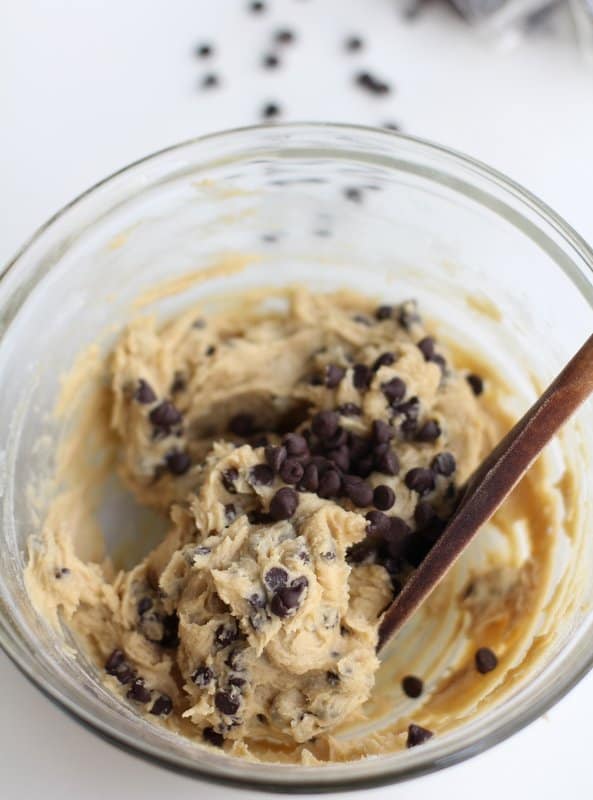 A while back I put lemon filling in a sugar cookie shell to make a dessert that looked a little fancy but was actually super simple. Those lemon tarts were so fun to make and serve that I'm always thinking up other combinations.
At Thanksgiving we had a pumpkin pie version.  One night a few months ago I attempted these tarts with a classic combination – chocolate chip cookies with rich chocolate brownie.
Formed in a mini muffin tin, as shown below.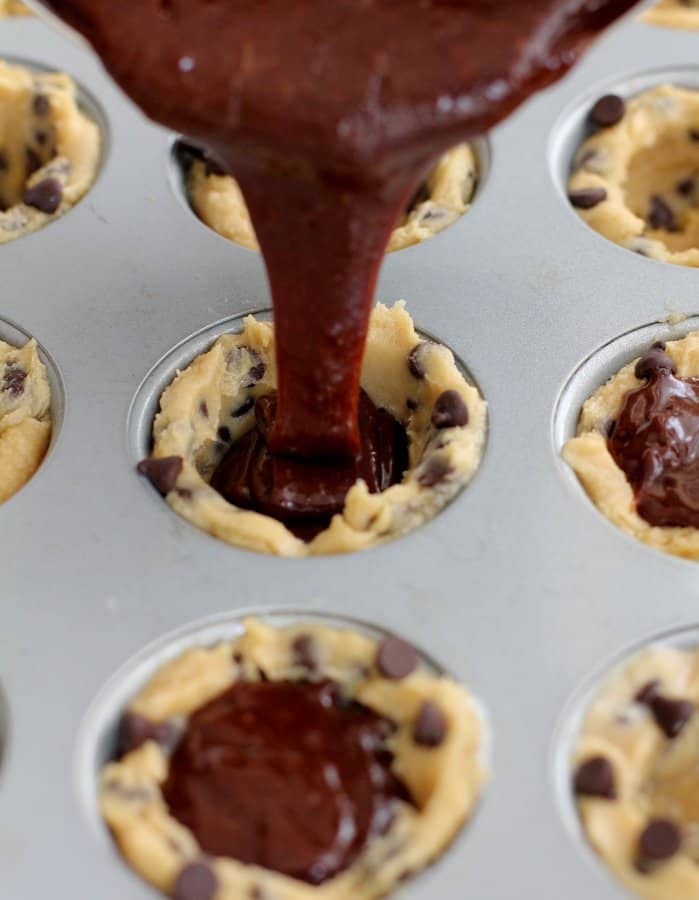 I have been tinkering with this recipe ever since, but this is finally it.  The cookie shells are buttery and loaded with mini chocolate chips.  The brownies are cooked just enough and the centers are perfectly gooey.
The tarts are as little as is the recipe.  It makes just twelve miniature, sweet bites.  And trust me, they'll go fast.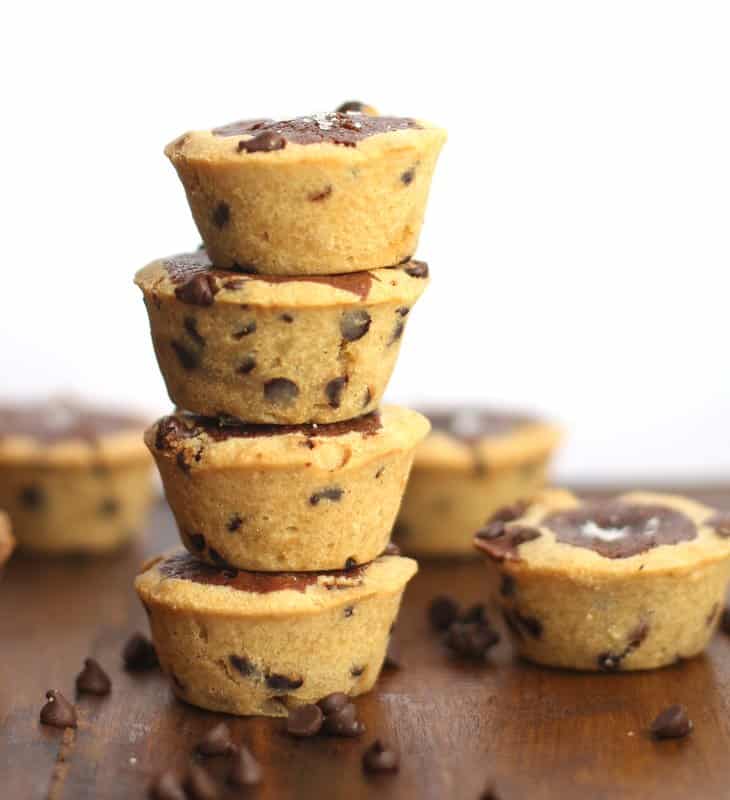 I'm excited to share these, and they'd be perfect in case you need a sweet treat this weekend.
Enjoy!
Update 12/5/16: I have received great feedback on this recipe since it was first published! I'm so glad that so many people are loving this family favorite as much as we do. However, many readers have reported that this recipe does not work well when scaled up (doubled, tripled, etc.), so I no longer recommend making more than the 12 mini tarts in the original recipe. We are working on a new version that will make a larger batch. I will post a note here when that recipe is ready to share. Thanks so much for reading – we wouldn't be here without you.
Update: 9/16/18: Looking to make these mini tarts for a bigger crowd? While this recipe does not double/triple/etc very easily, our Thick and Chewy Chocolate Chip Cookie Brownies are bigger, easier, and produce more dessert for a larger crowd. Check 'em out!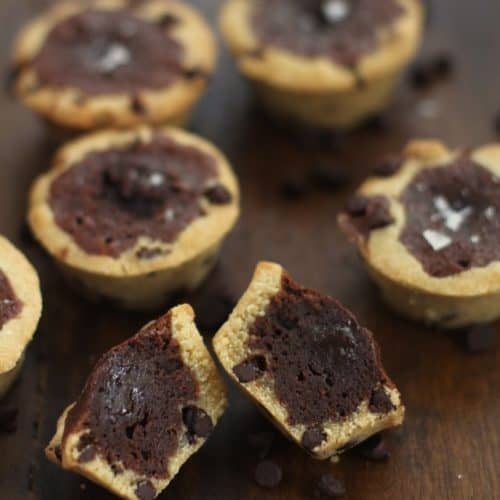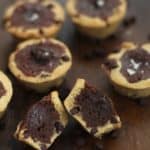 Print Recipe
Chocolate Chip Brownie Tarts
A chocolate chip cookie shell with gooey brownie filling. So simple, these can be made in 30 minutes - no mixer required.
This recipe makes 12 mini chocolate chip brownie tarts.
Ingredients
Cookie Crust:
5

Tablespoons

unsalted butter, softened

1/4

cup

light brown sugar

1

egg yolk (from a large egg)

1/2

cup

plus 1 tbsp all purpose flour

scant pinch salt

1/3

cup

mini chocolate chips
Brownie Filling:
6

Tablespoons

unsalted butter

1/2

cup

granulated sugar

1/4

cup

unsweetened cocoa powder

1

large egg

1/4

teaspoon

vanilla extract

3

Tablespoons

all purpose flour

Maldon or other large-grain salt, for topping (optional)
Instructions
Preheat the oven to 325 F. Grease a mini muffin tin.

To make the cookie crust, in a small bowl beat together the butter and sugar until light and fluffy (do this by hand with a wooden spoon or in a standing mixer). Add the egg yolk and mix. Add the flour and salt and mix until well combined. Stir in mini chocolate chips. Put the bowl in the refrigerator to chill while making the brownie filling (this will make it easier to handle).

For the brownie filling, heat the butter on the stove or in the microwave, just until melted. Whisk in sugar and cocoa powder until smooth. Set aside until only slightly warm to the touch, about 5 minutes. Using a wooden spoon stir in the egg and vanilla until evenly encorporated. Add flour and stir until smooth.

Divide the cookie dough into 12 even portions (about 2 teaspoons each) and press them into the prepared muffin tin to form tart shells. Pour the brownie filling into each of the shells.

Bake for 9-10 minutes, just until the brownie starts to set around the edges (the centers will still be gooey). Be careful not to overtake these - pull them from the oven as soon as you see that the brownie edges are setting.

Let cool at room temperature in the muffin tin (Note: be sure to let these cool completely or they will crumble - patience is key!). Sprinkle with salt (optional).