Brownie Bites with Cookie Crust
Published Jul 24, 2020•Updated May 20, 2023
Brownie Bites or "Two-Bite Brownies" are chewy brownies baked in a mini muffin pan. This version has a chocolate chip cookie crust so you get the best of both worlds worlds in an easy, no-mixer-required dessert.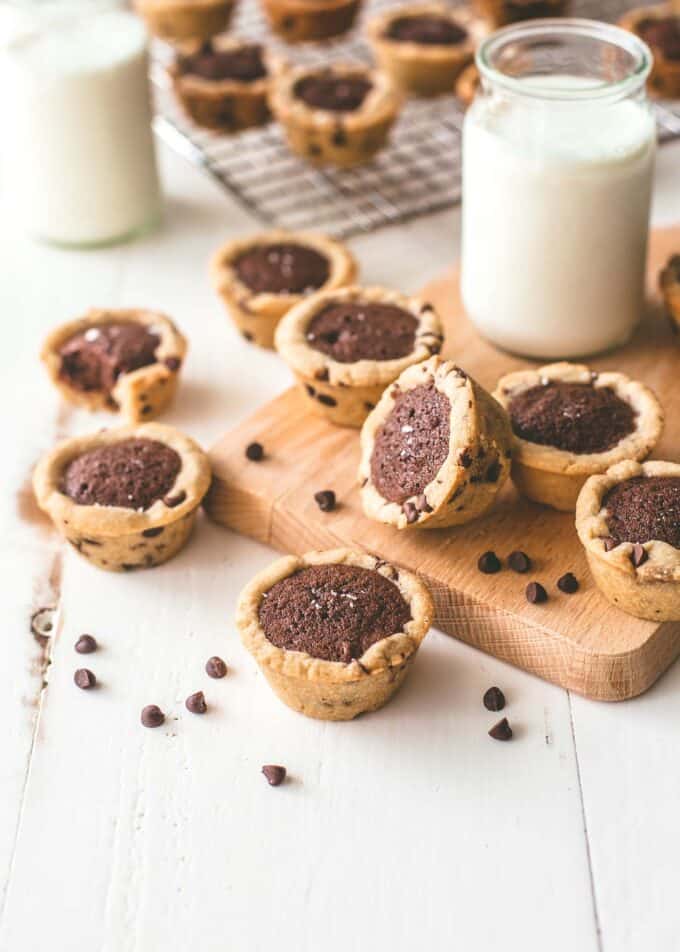 Before we go on vacation this week, I wanted to leave you with one of my all-time favorite dessert recipes. Chocolate Chip Brownie Tarts! This is an updated version of a recipe that I first shared here on the site in 2015 (when my now six-year-olds were just 9 months old). Over the years, I've received so many comments and questions about this fun recipe that I wanted to revisit it. The post below has been completely updated to answer all of the most commonly asked questions. I've also added all new photos! And if you love chocolate chips, don't miss my most popular dessert recipe (with over 800 positive reviews), Crispy and Chewy Chocolate Chip Cookies or my incredibly Easy Banana Bread.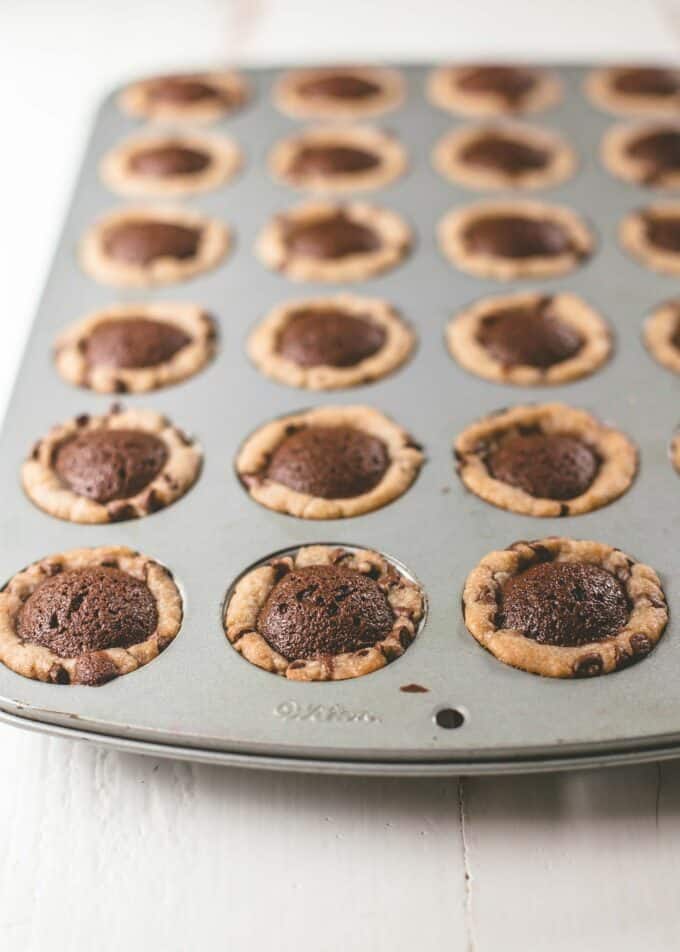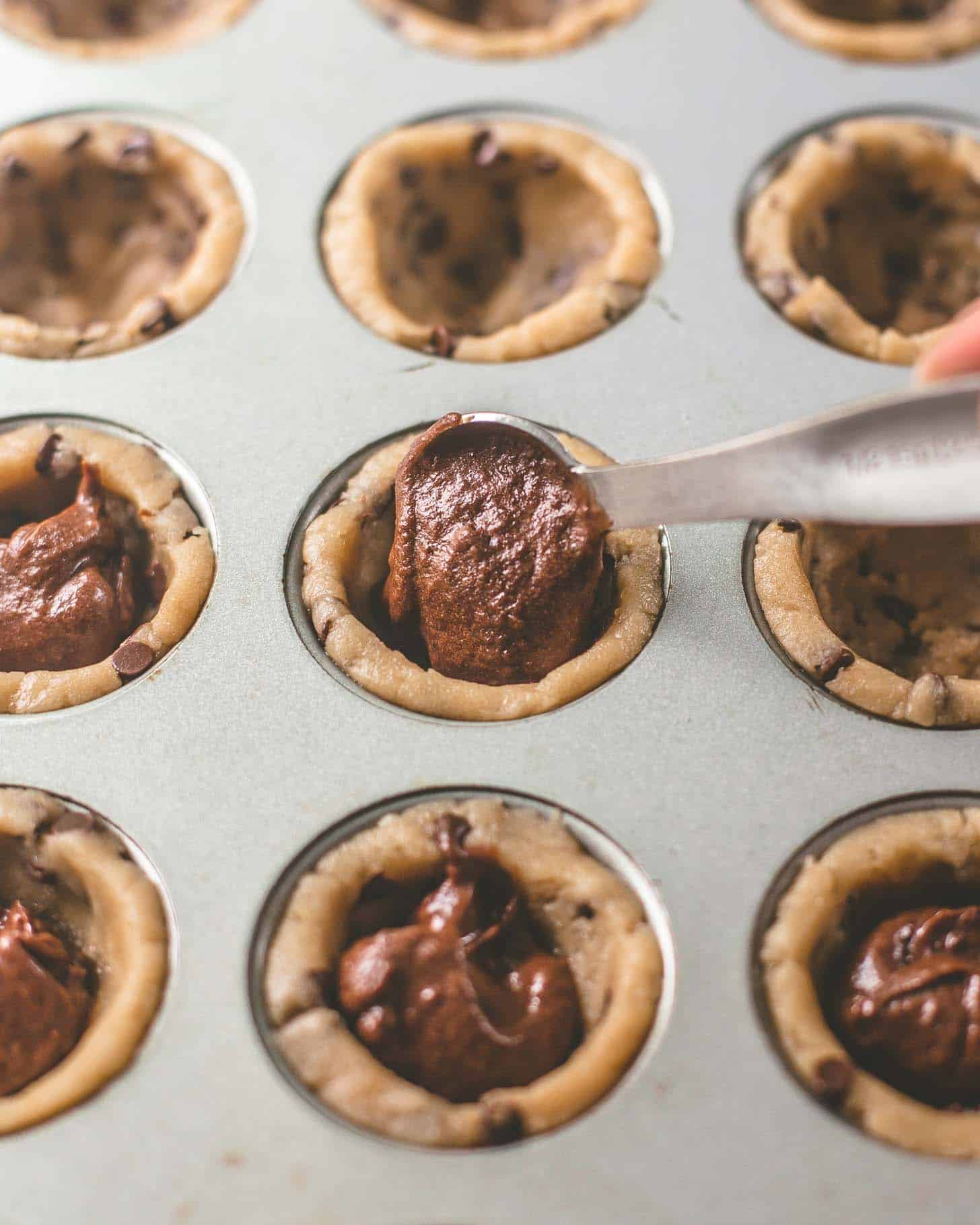 The biggest change to the recipe is that I updated it to create 24 mini tarts. The original version made only 12 mini tarts which I heard over and over, just wasn't enough! This has been re-worked from the ground up to give you a brand new version of the brownie bites that is even better than the original.
Here's how to make these sweet bite-sized brownie desserts.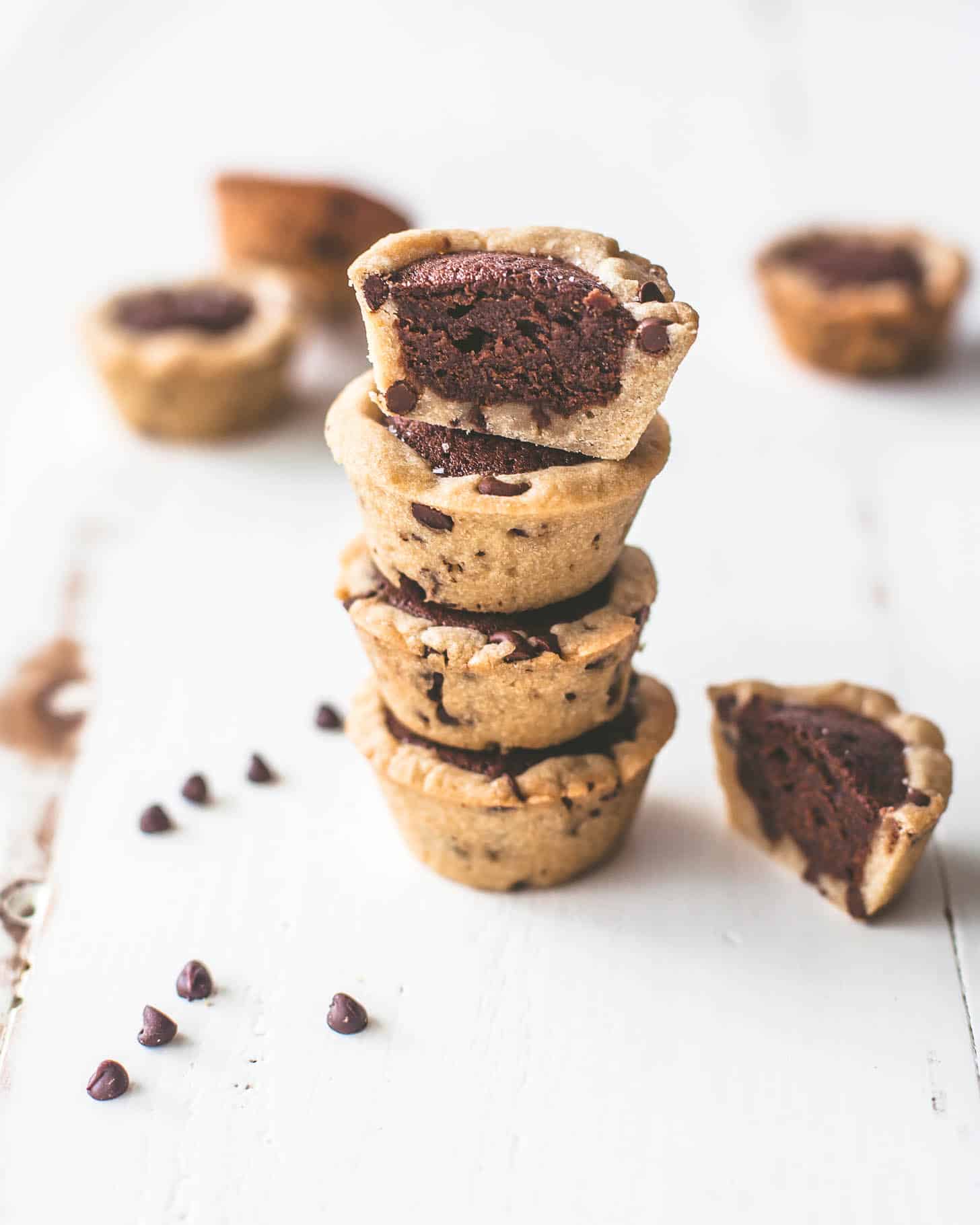 Step 1: Make Chocolate Chip Cookie Crust
The base of these tarts is a basic chocolate chip cookie recipe. To keep things simple, I wanted to be sure that you could dive right into baking these. No need to wait for butter to soften. The cookie crust starts with melted butter. You can easily mix this all by hand – no need to pull out the mixer.
In order to make the crust easy to work with, refrigerate it while making the brownie filling. There's no set time required for refrigerating the crust, but cold dough is much easier to work with, making the crust easier to form.
Step 2: Make the Brownie Filling
The filling for the tarts is a rich, chocolate brownie. You'll need a saucepan to melt the butter and can mix all of the other brownie ingredients right inside the saucepan. Just be sure to follow the instructions provided to give the batter some time to cool off before adding the egg. You don't want the egg to start cooking before these get transferred to the oven!
And don't sneak any spoonfuls of the brownie batter! This recipe makes exactly enough to fill the tarts.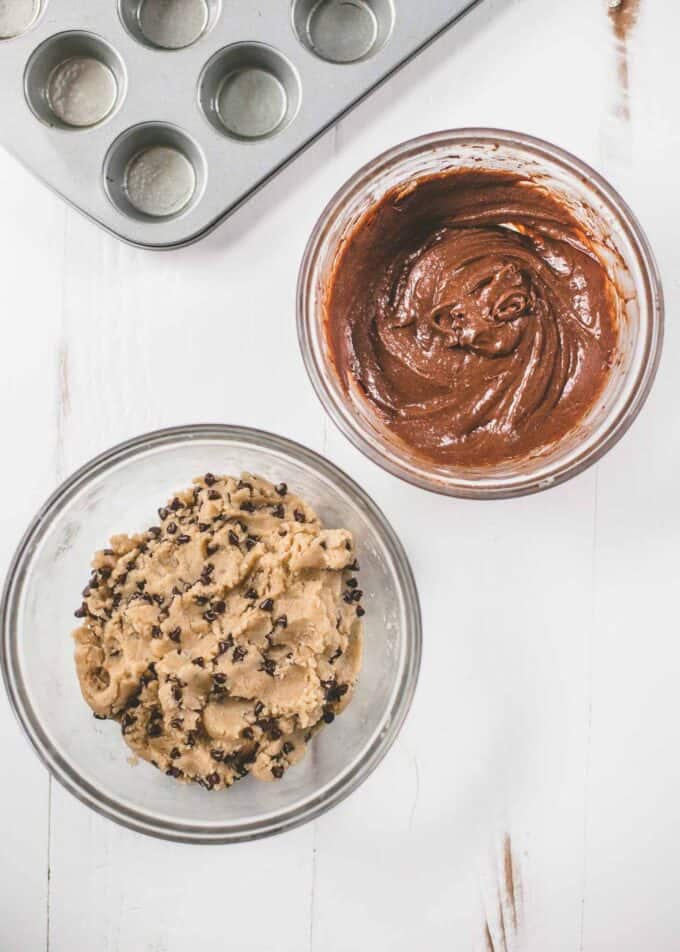 Step 3: Assemble the Brownie Bites
This step is the only one that takes a bit of time, but they'll come out great with these steps and tips:
To start, divide the chocolate chip cookie dough between all 24 spaces of the pan, moving dough around as needed until it looks even.

Next, roll all of the chocolate chip cookie dough into balls (this will set you up to easily form the tart shells).

Using your fingers press down on the center of the dough balls until they are spread out over the entire inside of the muffin tin spaces. If the dough is too sticky to work with, dip the tips of your fingers in water.

Fill the cookie crusts evenly with brownie batter. There is just enough batter to fill the tart shells about ¾ full. It will rise nearly to the top of the shells during baking.

Look to the center of the brownie filling to tell if these are done baking. The center should look a tiny bit shiny and wobbly but will set up as it cools.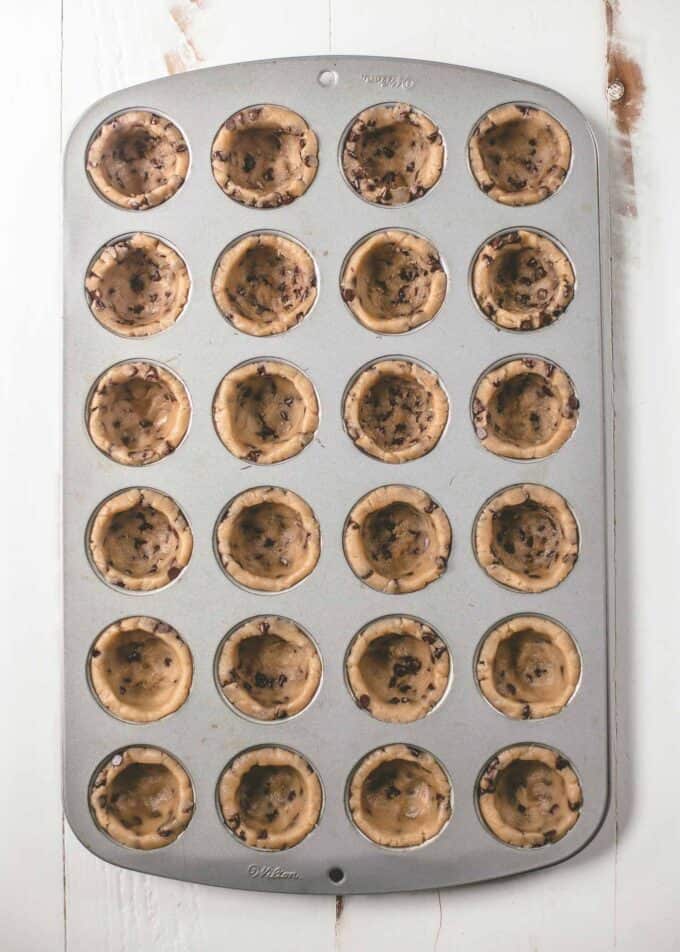 Why Use Unsalted Butter
It's important to use unsalted butter in these desserts so that you have control over how much salt they contain. If all you have is salted butter, you can definitely still make these, but skip the pinch of salt in the cookie crust and be aware that the finished Chocolate Chip Brownie Tarts may not be as sweet.
Can these be baked in a regular muffin tin?
Yes! One of the most common questions I get about these brownie tarts is if they can be baked in a regular muffin tin. If you don't have a mini muffin tin, I've got you covered! See the notes section in the recipe for alternative baking instructions, but the ingredients and process for shaping the tarts is the same. You'll need to make a single batch of chocolate chip cookie crust but a double batch of brownie filling.
This makes 12 tarts in a regular muffin tin (below is an image of the recipe in a regular muffin tin).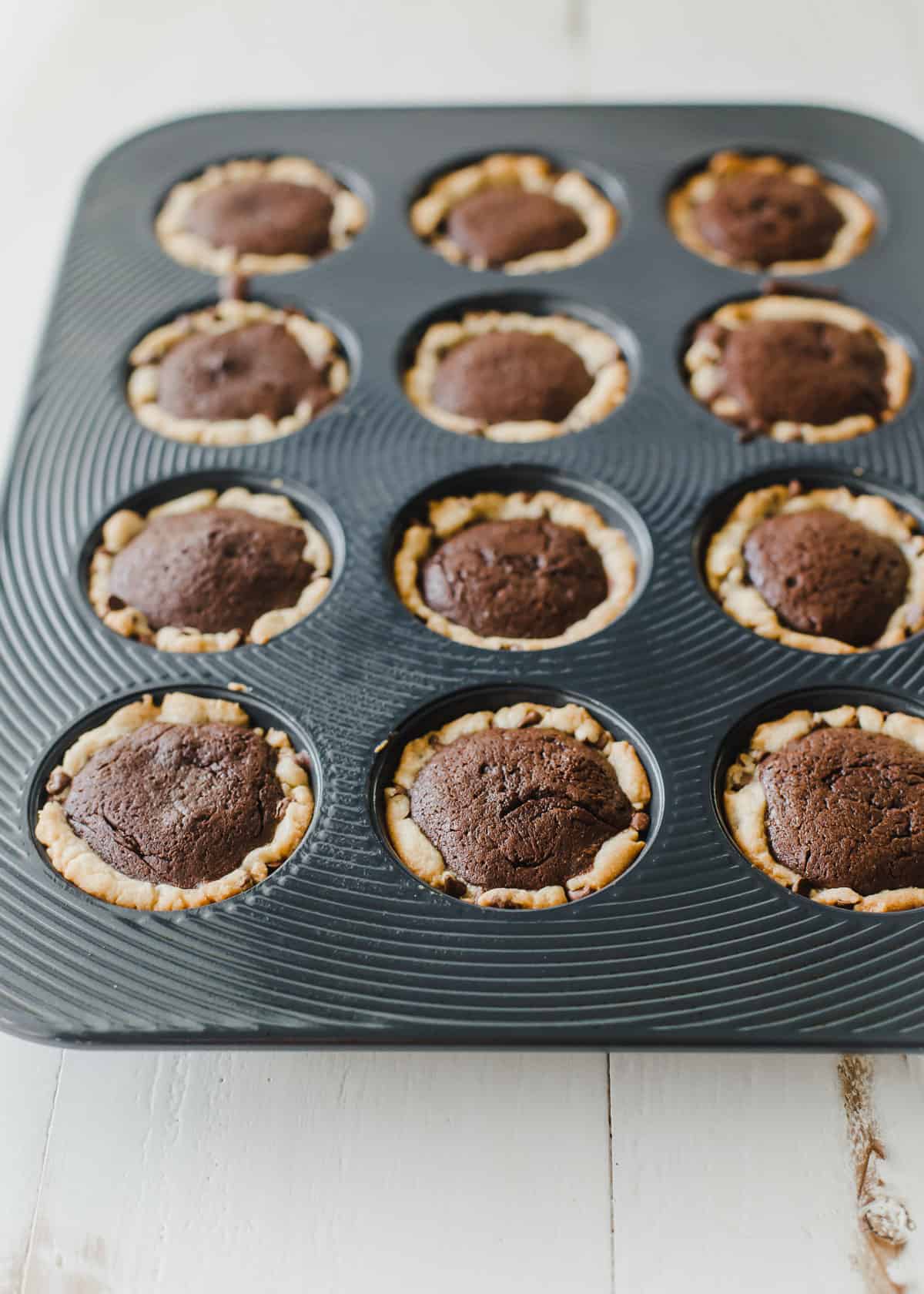 More of our Favorite Chocolate Desserts
Favorite Tools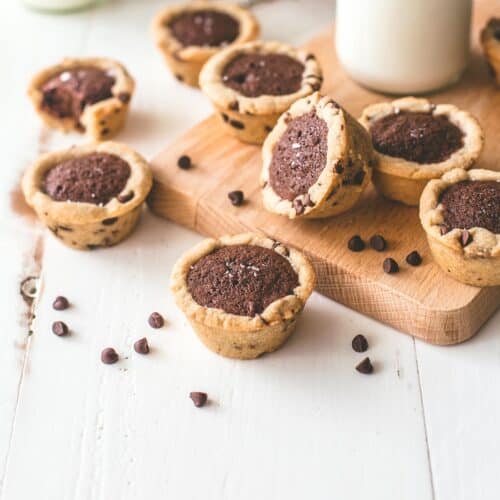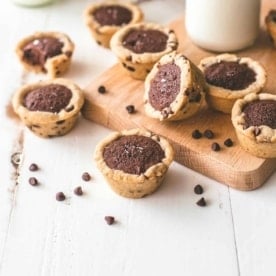 Brownie Bites with a Cookie Crust
Brownie Bites are bite-sized desserts with a tender chocolate chip cookie crust and a soft, rich brownie center. This recipe combines two beloved desserts into one beautiful baked treat.
This recipe makes 24 mini tarts (baked in a mini muffin pan). See recipe notes to use a regular muffin tin.
Equipment
Mixing Bowl

Small Saucepan

Mini Muffin Tin
Ingredients
Chocolate Chip Cookie Crust:
Instructions
Preheat oven to 325 F. Grease a mini muffin tin (you'll need one that has 24 spaces or will need to bake these in batches; see note if using a regular muffin tin).

Prepare Crust: In a medium mixing bowl, beat together butter (just the portion for the cookie crust) and both sugars until smooth. (Note: you can do this by hand or using a mixer.) Add egg and vanilla and stir to combine. Add flour and salt and mix well. Stir in mini chocolate chips.

Put the chocolate chip cookie dough in the refrigerator to chill while making the brownie filling (chilling the dough briefly will make it easier to work with).

Prepare Brownie Filling: In a small saucepan, heat butter (portion for the filling) just until melted. Remove from heat and whisk in sugar and cocoa powder until smooth. Whisk in egg and 1 Tbsp flour. Set mixture aside until cool enough to touch (this should take about 10 minutes; you can transfer the batter to a mixing bowl and put it in the refrigerator if you want to cool it more quickly.)

Assemble the Brownie Bites: Divide the cookie dough evenly between the spaces of a muffin tin. (Just drop the dough into the spaces to start, and rearrange as needed utnil each space contains about the same amount.) Roll each ball of dough into an even round. Use your fingers to press the dough out into the sides of the muffin tin, creating a thin tart shell. (Note: if the dough sticks, dip your fingertips in water first.)

Divide brownie batter evenly between tart shells.

Bake until the brownie filling is puffed and just barely set in the middle, 9 to 11 minutes.

If you'd like, add a tiny pinch of flaked sea salt (like Maldon) to the top of each tart as soon as they come out of the oven. (This is optional, but I always love the balance and texture that comes from a tiny pinch of salt on sweet baked goods.)

Let tarts cool in the muffin pan.

Store in a sealed container at room temperature for up to 3 days.
Notes
Regular Muffin Pan
– If you don't have a mini muffin pan, you can make these in a regular muffin pan. To do this, you need to make the chocolate chip cookie crust as written but
double
the ingredients for the brownie filling. Prepare the tarts according to the instructions in a regular muffin pan, making sure that the chocolate chip cookie shell is quite thin. Bake the tarts at 325 F until the brownies are puffed and just barely set in the middle, 16 to 18 minutes. This makes 12 tarts in a regular muffin tin.
Nutrition
Calories:
114
kcal
|
Carbohydrates:
14
g
|
Protein:
1
g
|
Fat:
6
g
|
Saturated Fat:
4
g
|
Cholesterol:
31
mg
|
Sodium:
8
mg
|
Potassium:
26
mg
|
Fiber:
1
g
|
Sugar:
8
g
|
Vitamin A:
199
IU
|
Calcium:
9
mg
|
Iron:
1
mg
Nutrition information is automatically calculated, so should only be used as an approximation.