Easy Vanilla Cake (with oil, no butter)
Published Oct 20, 2022•Updated Jun 27, 2023
An Easy Vanilla Cake recipe makes a celebration possible any day of the week! Especially because this cake is made without butter or buttermilk. All you need is oil to give the cake a tender, moist crumb.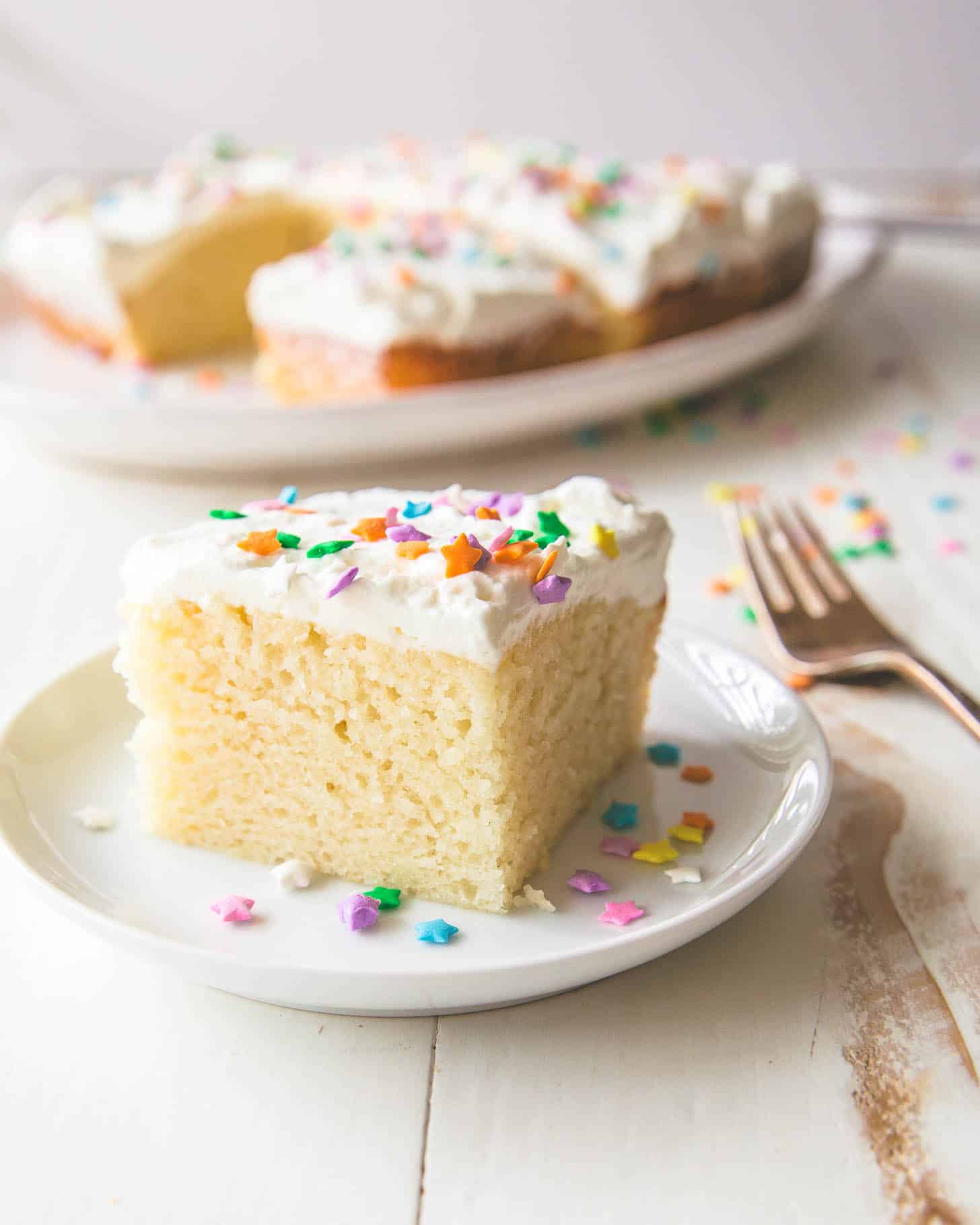 To know me is to know that I love baking, but do not love a big baking project. I love a cake that can be whisked up while dinner is in the oven and enjoyed immediately after. And once I started making this Easy Chocolate Cake (also made with oil and no butter), I knew I needed a similar vanilla version. And this no-butter easy vanilla cake is the best vanilla cake recipe if you want oil instead of butter or buttermilk to give it a delicious, moist crumb.
Perhaps best of all, this cake makes just enough to serve a small group – like our family of five and a few dinner guests. It makes nine generous servings. I've used it to make birthday cakes for family members and friends. It's great with just a dusting of powdered sugar, but is extra fun with my whipped cream frosting and a few sprinkles.
This cake has many fans!
My family makes this cake so often— one of a kind!! So simple and delicious & ADDICTING!

– Elizabeth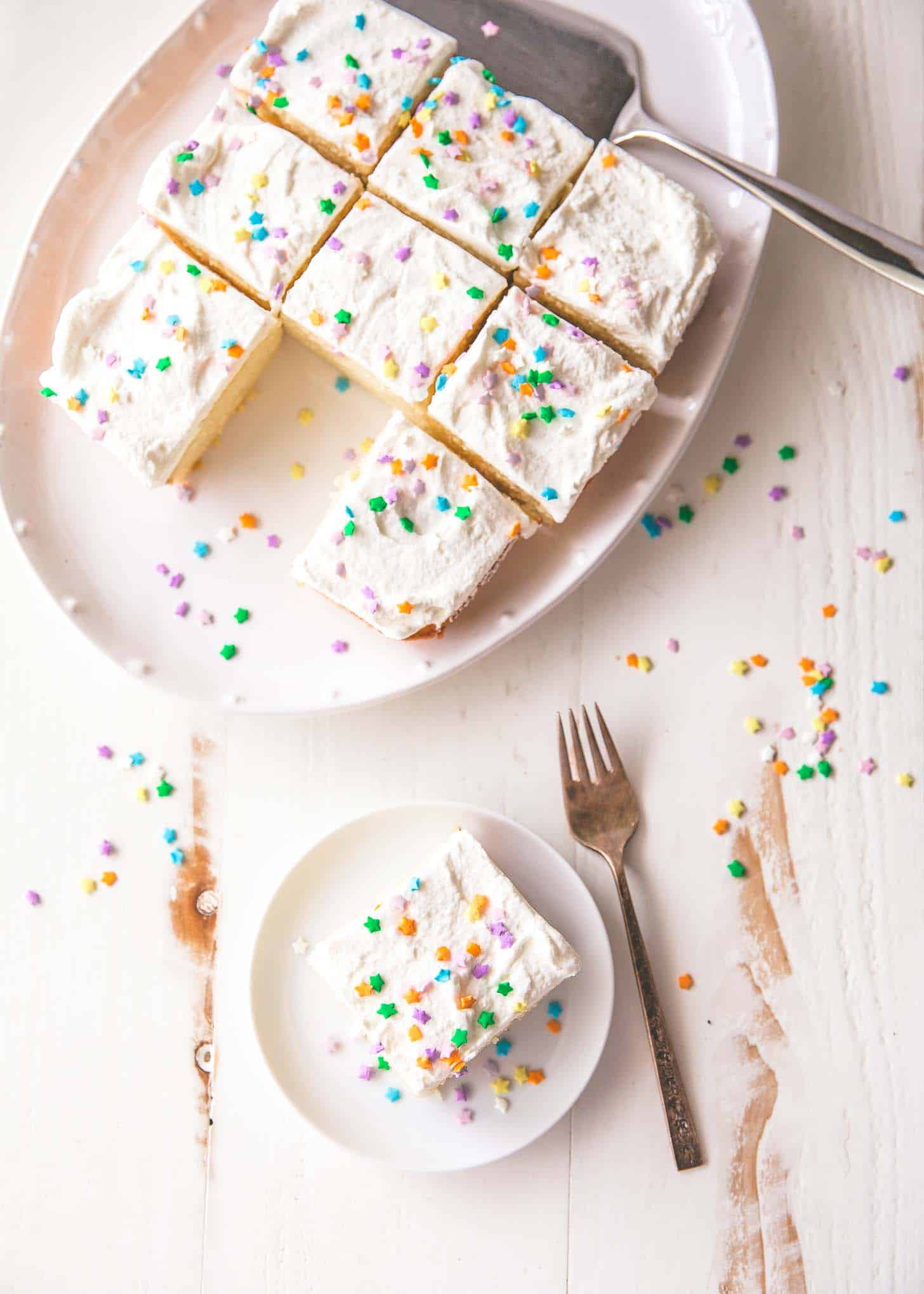 Why Bake a Cake with Oil
Convenience is a great reason to make a cake with oil instead of butter. Oil is easy to measure and doesn't need to be softened first. And although oil doesn't have the same rich flavor as butter, it makes for a very moist cake.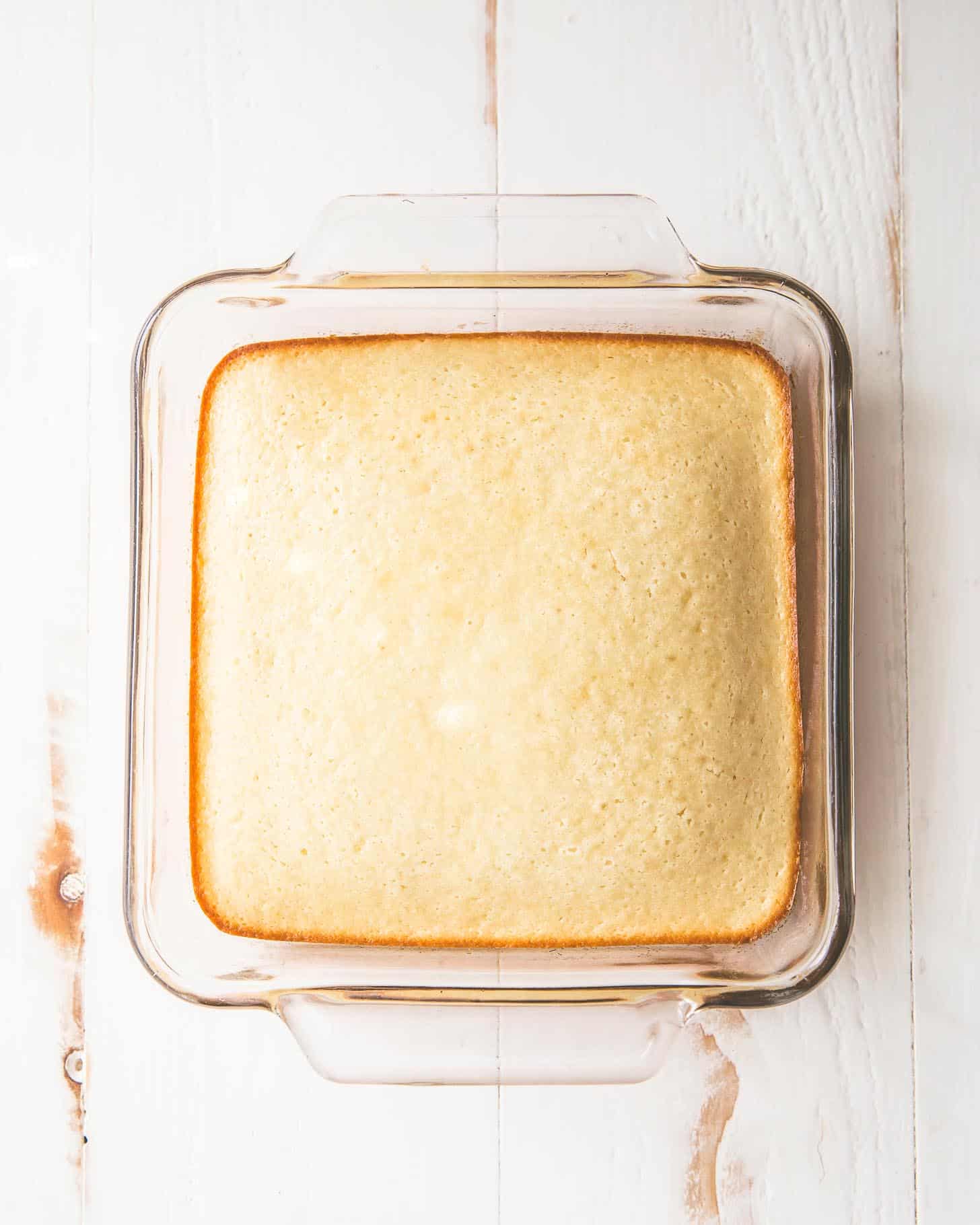 Ingredients
All-Purpose Flour –

Just the regular all-purpose white flour that you likely already have in your pantry. To get the most accurate results (and minimize dishes!), I like to measure it on a scale by weight.

Sugar

– Use granulated white sugar for this cake. Like the flour, I prefer to do this on a scale by weight, right inside the mixing bowl.

Baking Powder

– Double check that your baking powder is fresh. If it has been hiding in the back of your pantry for a few months, it might not sufficiently help the cake to rise.

Egg, Milk, Vegetable Oil, Pure Vanilla Extract, pinch of salt – You'll also need these other common ingredients that you probably already have in your kitchen.
Sour Cream – Keeps the cake moist and gives it a tender crumb.
How to Make Vanilla Cake
Whisk together dry ingredients in a large mixing bowl – flour, baking powder, sugar, and salt.
Whisk together wet ingredients in a separate bowl – egg, vanilla, milk, sour cream, and vegetable oil. (Note: Don't worry if they are cold. The ingredients do not need to be at room temperature for this recipe to work.)
Pour wet ingredients over dry ingredients and stir just until evenly combined (don't overmix, but make sure no dry spots remain).
Pour batter into a greased 8×8 baking pan. (It's not necessary, but you can opt to line it with parchment paper for extra easy removal from the pan.)
Bake at 350 degrees F until a tester inserted in the center comes out clean and the center of the cake springs back lightly when pressed, 30 to 33 minutes.
Cool, slice, and serve!
Tips
Don't overmix. Stir the batter just until smooth. Overmixing can make your cake tough instead of light and fluffy.
Let the cake cool completely before frosting. If you're going to add frosting (see below for ideas), be sure to let the cake cool completely. If the cake is still warm, your frosting will melt right off.
Store the cake in the pantry (if not frosted) or in the refrigerator (if frosted) for up to 3 days.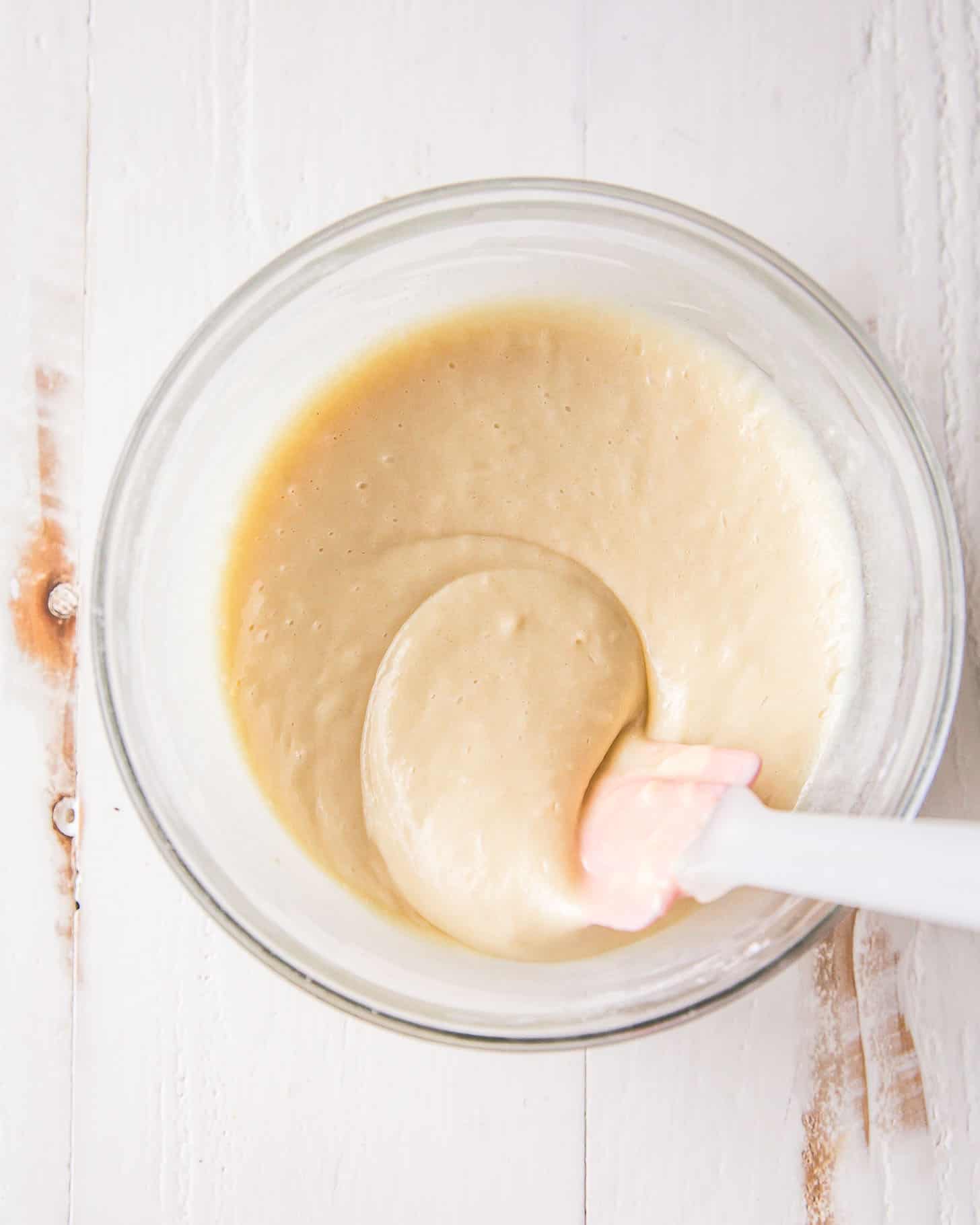 Toppings for Easy Vanilla Cake
Any easy vanilla cake is great topped with any of the options below. Just be sure to let the cake cool completely before adding any frosting, or the frosting will melt right off.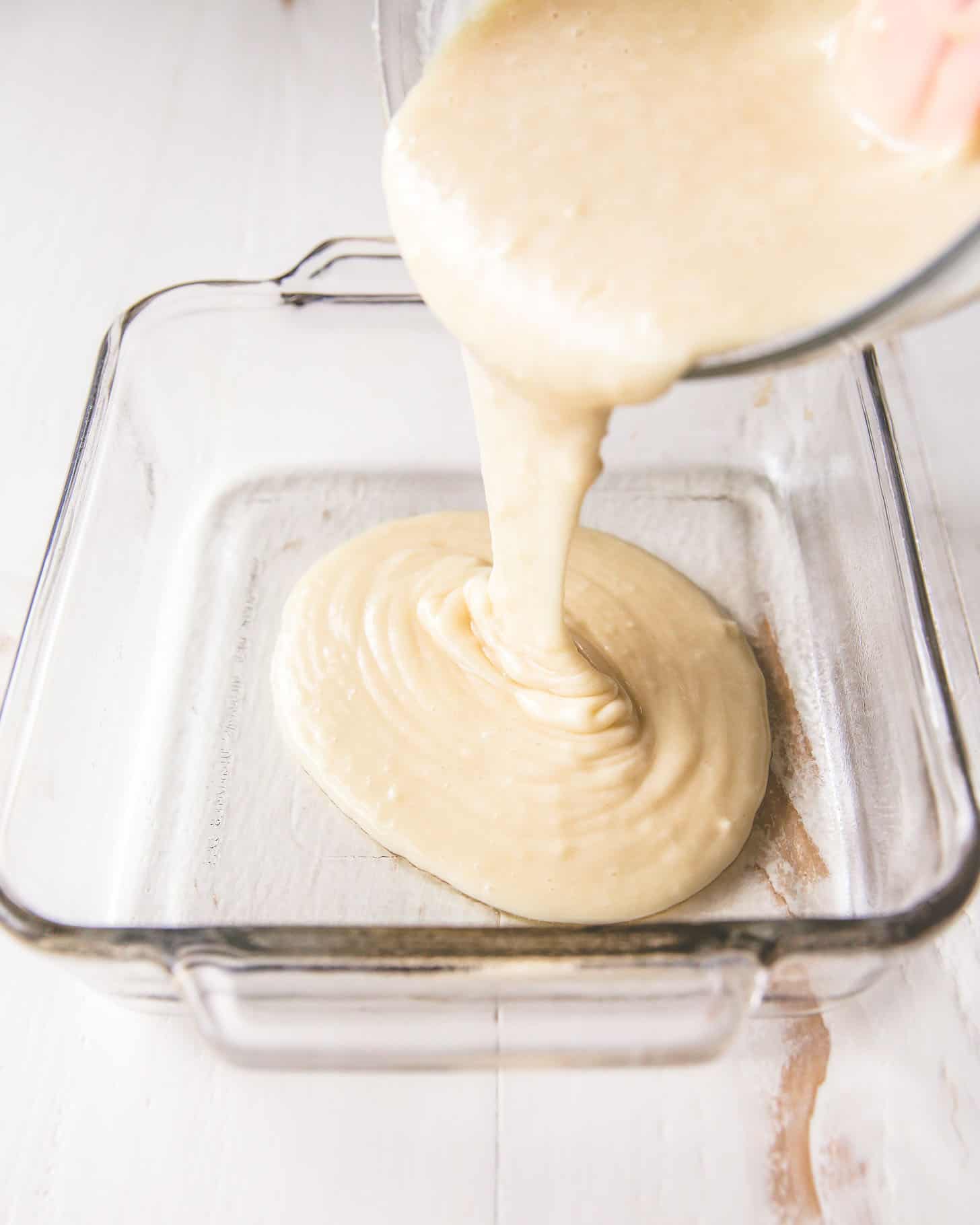 Frequently Asked Questions
Can I use olive oil?
Yes! Olive oil will work fine, but keep in mind that olive oil does have a flavor that will be noticeable in the finished cake.
How should I store leftovers?
If the cake is unfrosted, you can store it at room temperature for 3 days or in the refrigerator for 5 days. If it is frosted, it's best to keep it in the refrigerator. (Cold slices of this cake are delicious!)
How can I make it ahead?
The best way to make this cake ahead is to bake it up to 3 days ahead and store it, unfrosted, wrapped tightly in plastic wrap, in the refrigerator. Let it come to room temperature a few hours ahead of time and then frost right before serving.
Can I use a glass baking dish?
Yes, but the cake will take 3 to 5 minutes longer to cook than the times listed below. (The cake was tested in an aluminum baking pan.)
Can I make this in a 9×13 pan?
Yes. Many reviewers have tried this and doubled the recipe to bake in a 9×13 pan. The cake may take a few minutes longer to cook.
Can I use cake flour?
I don't find that this cake needs cake flour. All-purpose flour yields a tender, light crumb. If you do try it with cake flour, I'd love to hear about it in the comments.
Can I bake it in a round pan?
Yes. You can bake this cake in round cake pans. If using a 9-inch round pan, the baking time should be about the same as listed in the recipe card. If using an 8-inch round pan, it should take about 5 minutes more to bake.
Can I make it into a layered cake?
Yes. These layers are sturdy enough to stack into layers. Just bake as many individual cakes as you would like in round pans as outlined above.
Other Easy Desserts
One Bowl Chocolate Cake

– This is my go-to weeknight cake because it can be made in one bowl!

Peanut Butter Cup Cookie Bars

– These peanut butter bars loaded with chocolate peanut butter cups are made in an 8×8 baking pan which is great for a weeknight dinner, packing in lunches, or freezing for later.

Smash Cake for Baby's First Birthday – If you happen to have a baby in your life that is about to turn one (or just want a small cake to serve your family!), check out this sweet vanilla smash cake.
Favorite Tools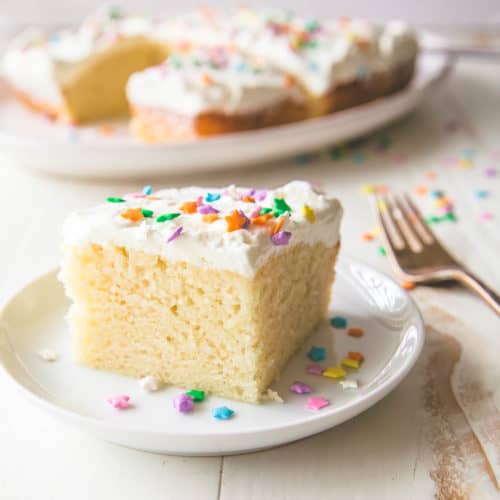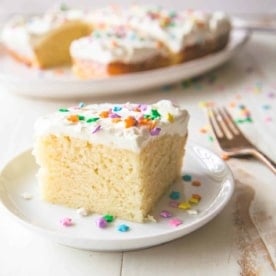 Vanilla Cake Recipe (made with oil, not butter)
An Easy Vanilla Cake recipe makes a celebration possible any day of the week! This is a truly simple cake that doesn't require a mixer and is made without butter or buttermilk. You just need oil to give the cake a tender, moist crumb.
Equipment
Mixing Bowls

8×8 baking dish
Ingredients
1 1/2

cups

all-purpose flour

(190 g)

3/4

cup

sugar

(150 g)

2

teaspoons

baking powder

1/8

teaspoon

kosher salt

1

large egg

2

teaspoons

pure vanilla extract

1/2

cup

milk, any type

1/2

cup

sour cream

3

tablespoons

vegetable oil

(see note)
Instructions
Heat the oven to 350 degrees F. Spray an 8×8 pan with nonstick cooking spray. (Note: I often also like to line it with parchment paper before spraying it for super easy removal, but this is optional.)

In one medium mixing bowl whisk together flour, sugar, baking powder, and salt.

In a smaller mixing bowl whisk together the egg and vanilla until smooth. Add the milk, sour cream, and vegetable oil and mix again until smooth.

Pour the wet ingredients over the dry ingredients and gently stir them together until no dry spots remain. Be careful not to overmix the batter – you'll know it's ready when it still looks slightly lumpy but all of the dry ingredients are mixed in.

Pour the cake batter into the prepared pan.

Bake until a tester inserted in the center comes out clean and the cake is golden on top, 30 to 33 minutes.

Let the cake cool before slicing and serving. (Note: If adding frosting, be sure that the cake is completely cool before adding frosting.)
Notes
Vegetable Oil – A neutral oil like vegetable oil will give you the best texture and moisture in this easy cake. It will have plenty of flavor from the vanilla extract. You can also use another neutral oil like grapeseed or avocado oil. Olive oil will work too, but will give the cake a subtle flavor.
Nutrition
Serving:
1
slice
|
Calories:
232
kcal
|
Carbohydrates:
47
g
|
Protein:
5
g
|
Fat:
3
g
|
Saturated Fat:
2
g
|
Polyunsaturated Fat:
0.3
g
|
Monounsaturated Fat:
1
g
|
Trans Fat:
0.002
g
|
Cholesterol:
26
mg
|
Sodium:
65
mg
|
Potassium:
290
mg
|
Fiber:
1
g
|
Sugar:
23
g
|
Vitamin A:
128
IU
|
Vitamin C:
0.2
mg
|
Calcium:
136
mg
|
Iron:
2
mg
Nutrition information is automatically calculated, so should only be used as an approximation.