Guide to Thai Ingredients
Published Feb 04, 2020•Updated May 29, 2022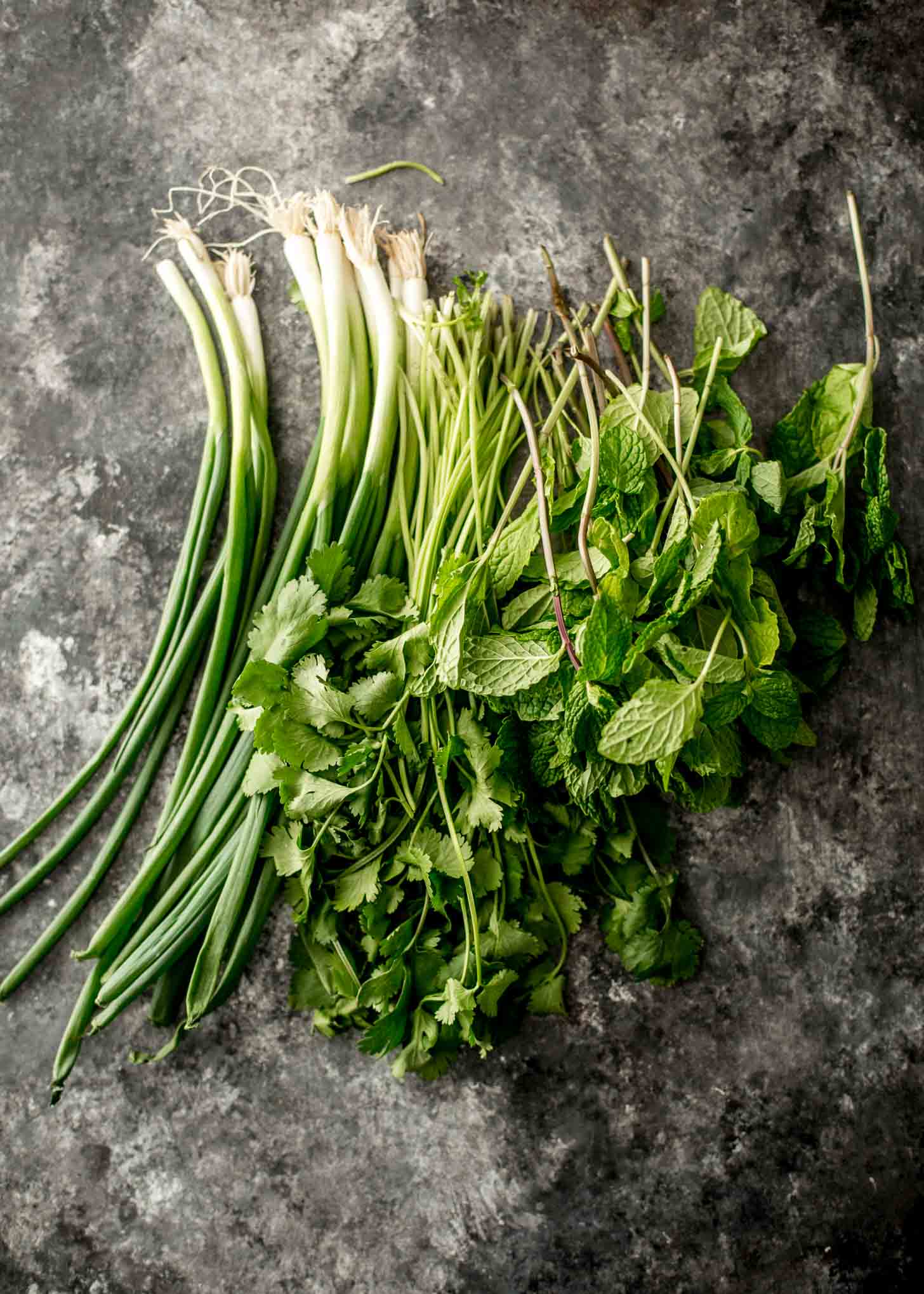 Want to make authentic Thai Food at home? This Guide to Essential Thai Ingredients explains some of the most common ingredients used in Thai cooking like soy sauce, coconut milk, curry paste, spices, and fresh herbs.
Many ingredients used in Thai cooking are easy to find, but some require a trip to the international grocery store and we all know that can be intimidating! This basic overview includes photos of the essential Thai ingredients that are used to make some of the most common Thai dishes. Head to the international grocery store with this guide as a reference, and you'll be ready to make authentic Thai restaurant favorites in your own kitchen!
Essential Thai Seasoning Sauces
Walk into any Asian / international grocery store and you will find hundreds of types and brands of soy sauce, but there are three that are common in Thai cooking. Purchasing these soy sauces that are made in Thailand (like Healthy Boy Brand shown below) will help your homemade Thai food taste just like what you have enjoyed at Thai restaurants.
Light Soy Sauce (or Thin Soy Sauce)

– This is the most common soy sauce used in Thai cooking. This is

not

the same as low-sodium, but it has a light color and more delicate flavor than other brands of soy sauce (like the Kikkoman soy sauce that is common at most grocery stores / Japanese restaurants).

Sweet Dark Soy Sauce – Thick, rich and with a slightly smoky flavor, this is a must-have in several well-loved Thai dishes, including Pad See Ew and Thai Cashew Chicken. It is also awesome drizzled over plain rice or chicken. Our Thai friends sometimes call it "kid sauce", but kids are smart to love this – it's delicious.
Dark Soy Sauce (or "Black" Soy Sauce) – This soy sauce is dark and thick like molasses. It has a much more full, rich flavor than light soy sauce. This is great in marinades, and a little goes a long way.
Fish Sauce (Nam Pla)

– It's notoriously stinky on its own, but fish sauce adds fantastic savory / umami flavor to Thai dishes. There is no true substitute for its depth, so it's worth embracing. Unless you specified that you didn't want it, odds are very good that fish sauce has been a key flavor in the Thai food you've eaten over the years and will go a long way towards helping you recreate that authentic flavor. If fish sauce just isn't your thing or if you don't eat fish, you can use soy sauce or salt to replace the saltiness (though not the flavor). I love Red Boat Brand – it's widely available at many grocery stores (I buy it at Trader Joe's).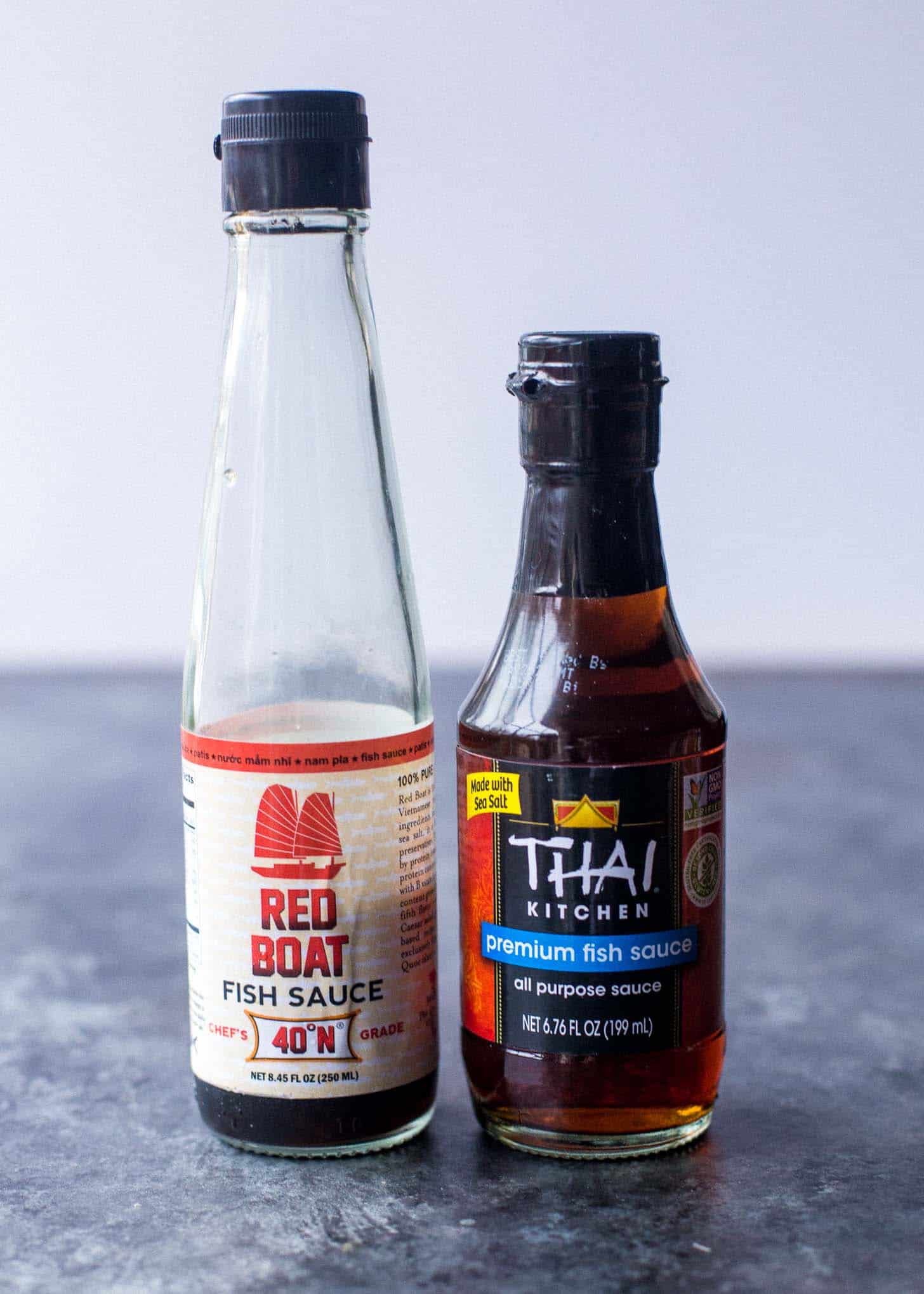 Oyster Sauce –

This thick, sweet and salty sauce made from cooking oysters (or from some other oyster flavor source) is a key ingredient in many Thai stir-fry dishes and especially adds flavor to wok-fried vegetables. Like fish sauce, unless you specifically requested it be left out, oyster sauce has probably made its way into some Thai food (and Chinese food, for that matter) you've eaten. A vegetarian substitute for oyster sauce made with mushrooms is available at all Asian / international grocery stores and is quite good.

Rice Vinegar

– Made from fermented rice, this vinegar has a refreshing, tart flavor. It is used in a variety of sauces and salads. Thai rice vinegar tends to be more mild than other Asian vinegars, but you can use just about any type of rice vinegar, just adjust the amount to taste.
Thai Pantry Basics
These are Thai ingredients that can be found unrefrigerated at the international grocery store. Though you can store them in the pantry until you use them, most should be refrigerated after they are opened (check the package for instructions, or if you're unsure – keep them in the fridge after opening just to be safe).
Coconut Milk – This unsweetened "milk" extracted from grated coconut adds creamy texture and balances the heat in Thai curries and soups. Use regular (not "light") coconut milk in Thai cooking. In Thailand it's easy to find freshly pressed coconut milk, but my recipes are tested with shelf-stable coconut milk that can be found in cans (or sometimes in boxes). I typically buy Aroy-D just because it is the brand I used when we lived in

Bangkok

. Most grocery stores have Thai Kitchen Coconut Milk, and I like the Trader Joe's brand (shown below) too. Coconut milk should separate as it sits, leaving a layer of thicker cream on top and a thinner layer of coconut milk on the bottom. For many recipes (like curries), it's a good idea to leave these layers separate in the can, so that you can saute the curry paste in the thicker layer of cream on top.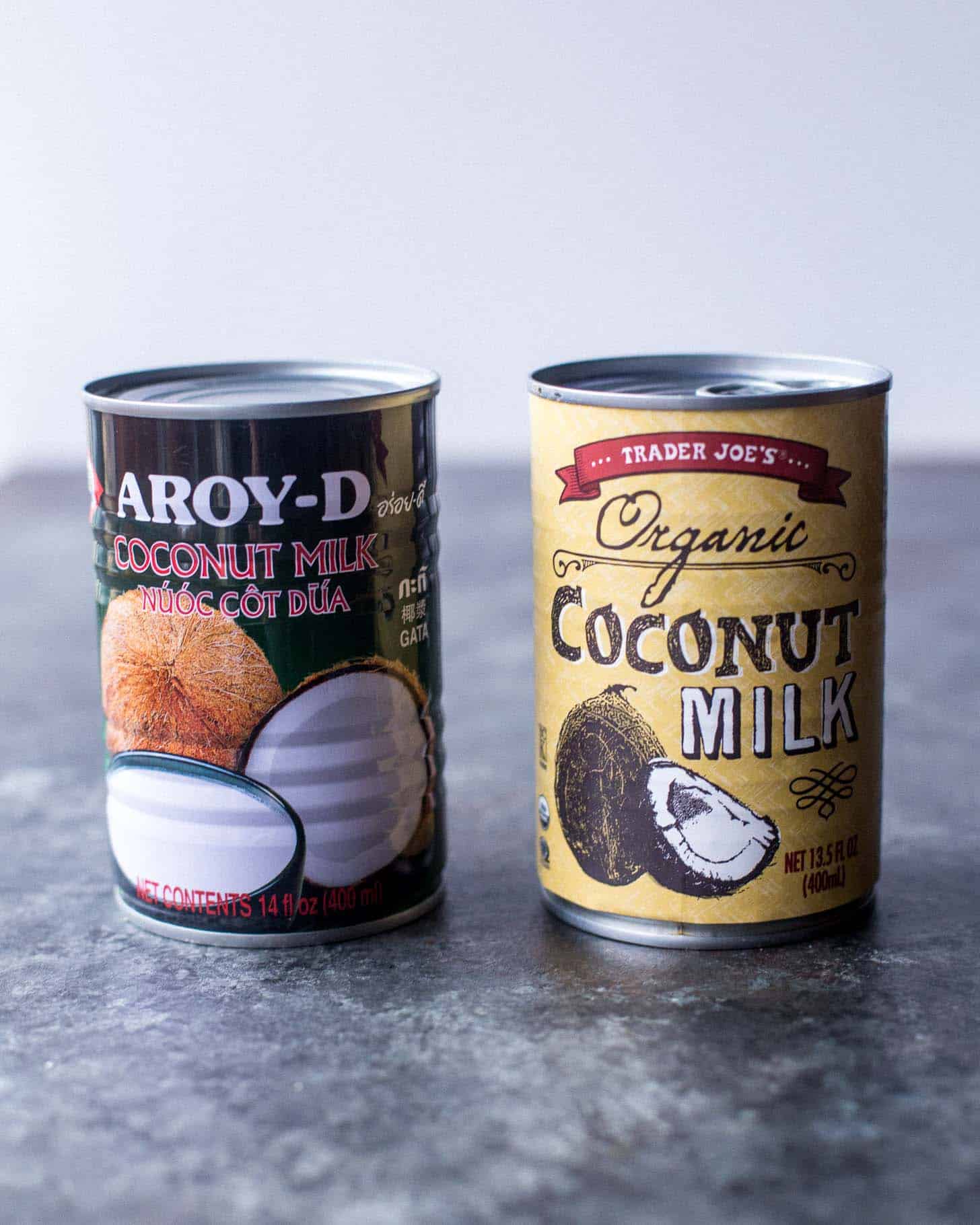 Chili Paste / Chili Jam (Nam Prik Pao)

– This super flavorful condiment can turn an ordinary stir-fry into something really spectacular. Though it is often called chili jam, it's a savory condiment used in cooking (not something you would spread on toast!). It is one of the most recognizable flavors in Thai food, and

my homemade version

is one of the most popular posts on our blog. The flavors come from chilis, garlic, shallots, shrimp paste, tamarind paste, and a bit of sugar.

Curry Pastes

– Red, Panang, Green, Yellow, and Massaman Thai curry pastes are widely available at Asian / international grocery stores. Red and Green curry pastes are now also available at many regular grocery stores in the international aisle (Thai Kitchen is the brand I see most). The US-made brands like Thai Kitchen are much less spicy than the brands that are imported from Thailand, so be sure to adjust the amount you use. Always feel free to add more or less than a recipe recommends, depending on your tolerance for spice.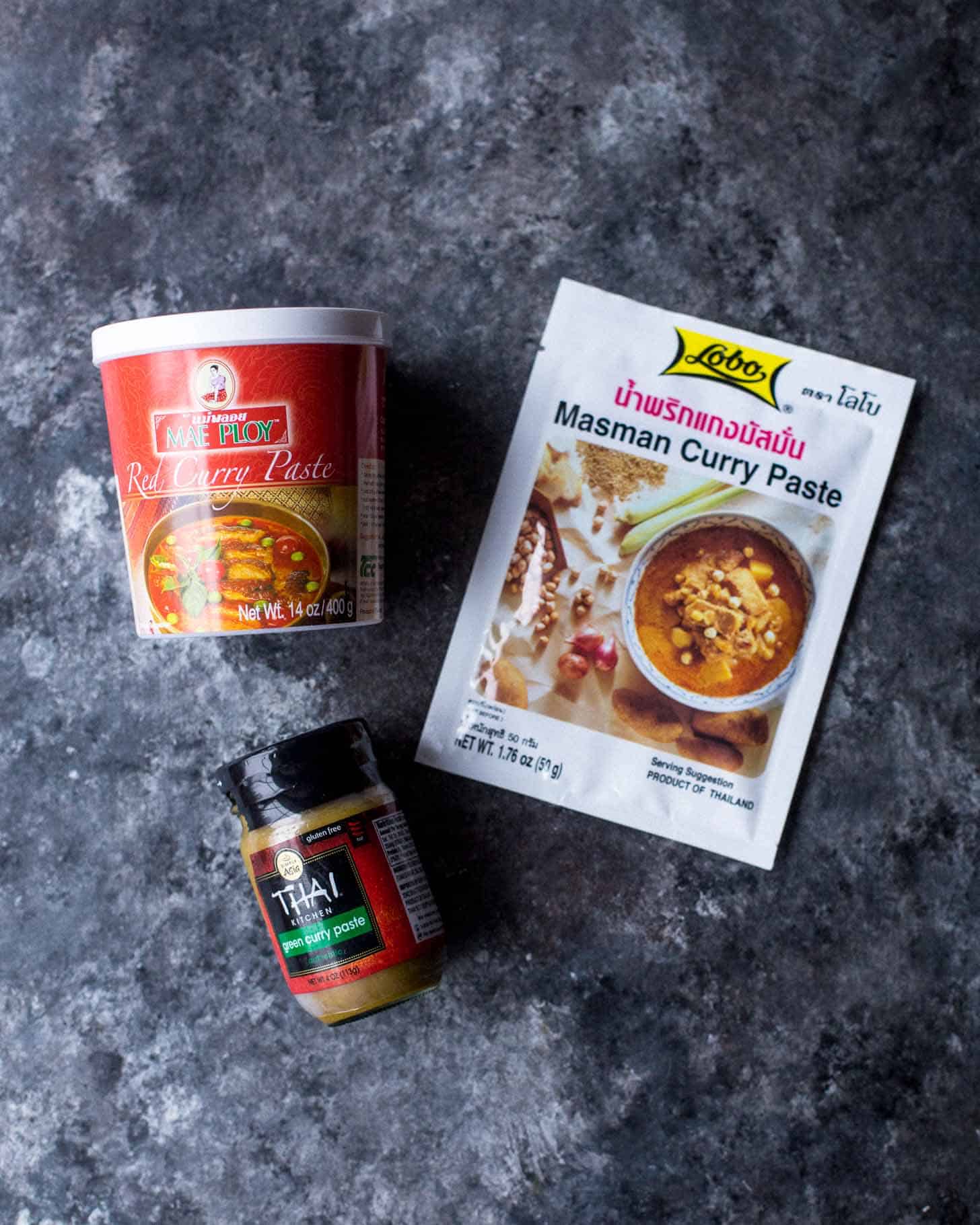 Tamarind Paste / Concentrate

– This tart, sweet, thick liquid is extracted from tamarind fruit. It is the key flavor in

Pad Thai

as well as many other Thai dishes. It can be found among other Thai ingredients, buy you can also

make it yourself using fresh tamarind

.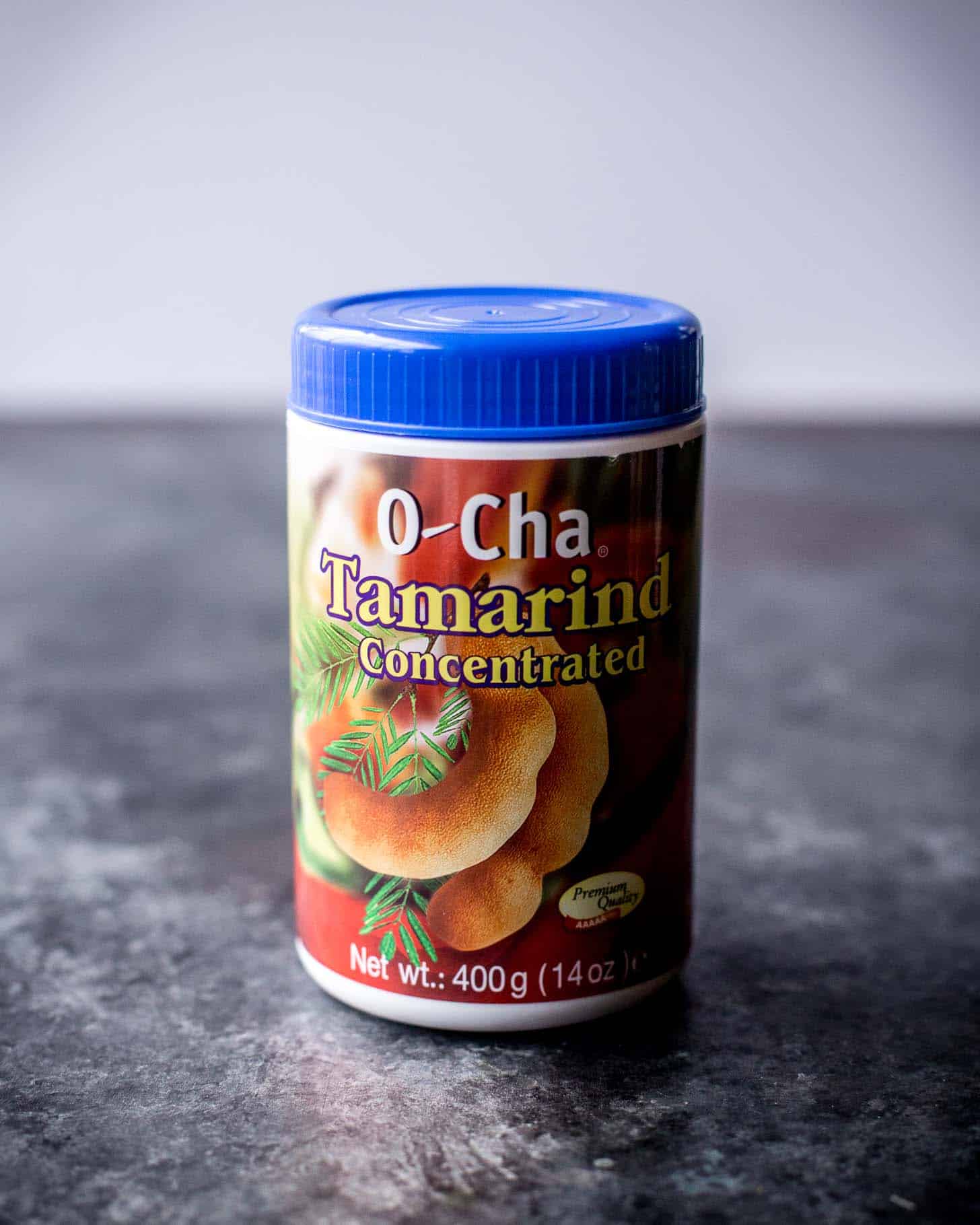 Chili Peppers (dried) – For the most part, the only reason you'll need dried chili peppers is if you are planning to make your own curry pastes or chili pastes (like Nam Prik Pao). Generally speaking, the smaller the dried chilis, the more spicy they are. We use dried chili peppers that are about 6 to 8 inches in length because these are easy to work with and are fairly mild (you can always use red pepper flakes to add more spice). Outside of Thailand, these larger chilis are typically from North America and are labeled "California Chilis", "Southwestern Chilis", or "New Mexico Chilis". We actually get them from a Mexican grocery store!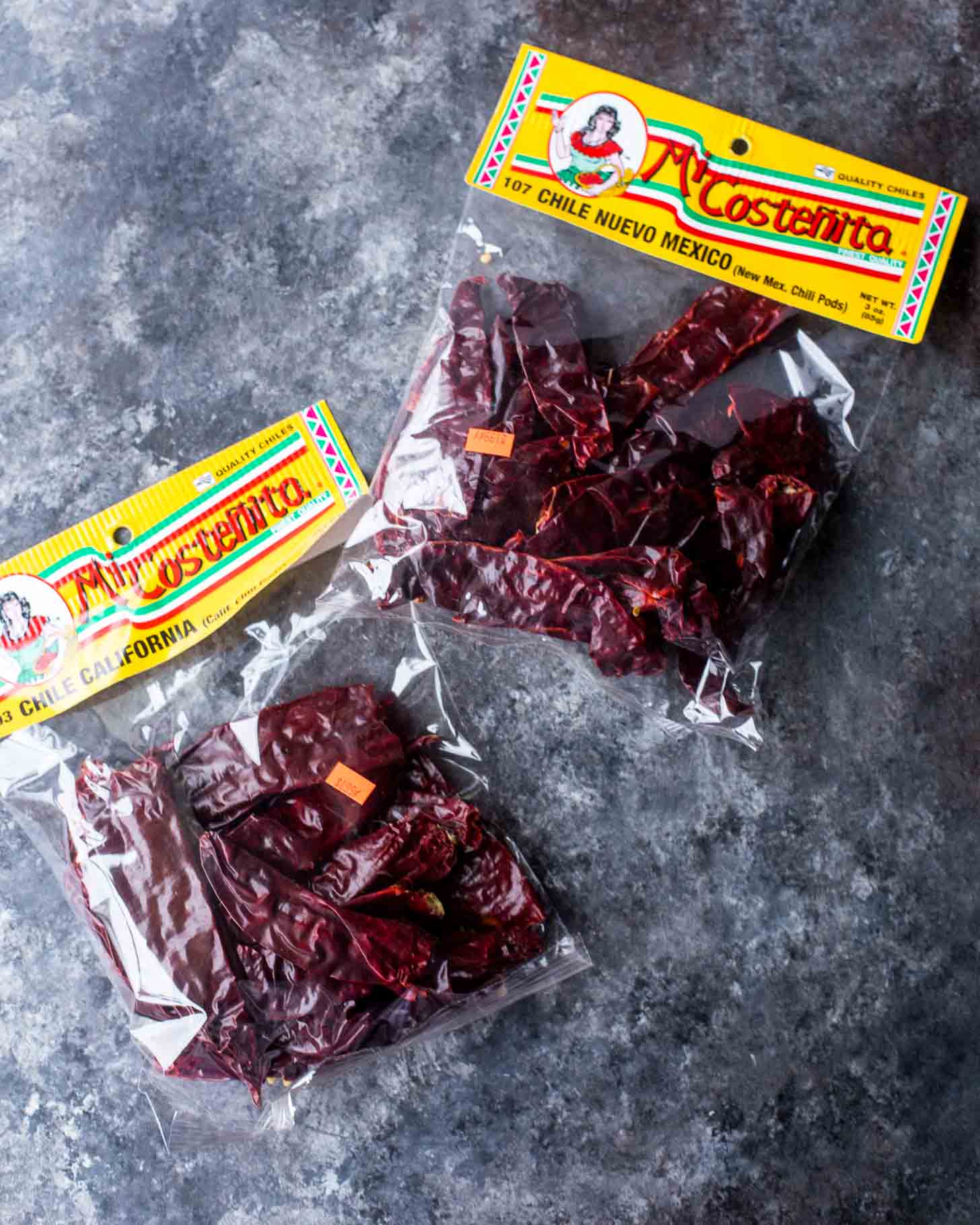 Palm Sugar –

Sugar made from coconut palm or sugar palm trees is the most common sweetener used in Thai cooking. It has an almost citrusy flavor and is not as sweet as cane sugar. Palm sugar is sold in small (often round) cakes and can be kept in the pantry for a few weeks or refrigerator for several months. Just grate a bit off at a time as you need it. Light brown sugar or white / granulated sugar will work as a substitute in most dishes, but be sure to taste and adjust as you go (since you'll likely need less regular sugar than palm sugar).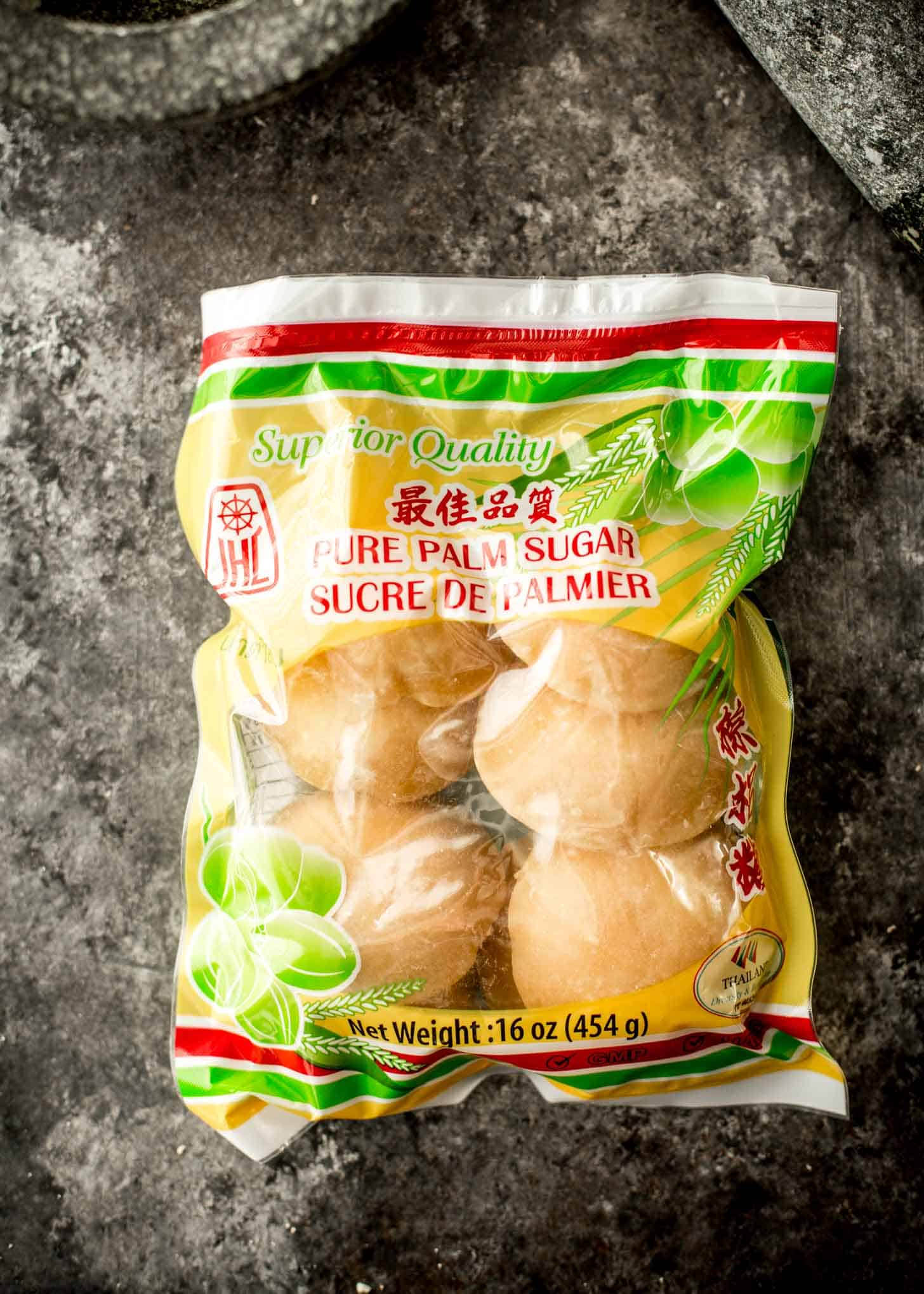 Dried Shrimp

– These tiny, dried shrimp are very common in many Thai dishes – especially in fresh dishes like Thai Salads. If you're looking to make an authentic

Thai Papaya Salad (Som Tam)

or Pomelo Salad (Yam Som O), these shrimp are worth seeking out. We typically find them in the refrigerated section at the international grocery store, but they can also sometimes be found on shelves among other dried products. Either way, these will keep best if stored in the fridge once you bring them home.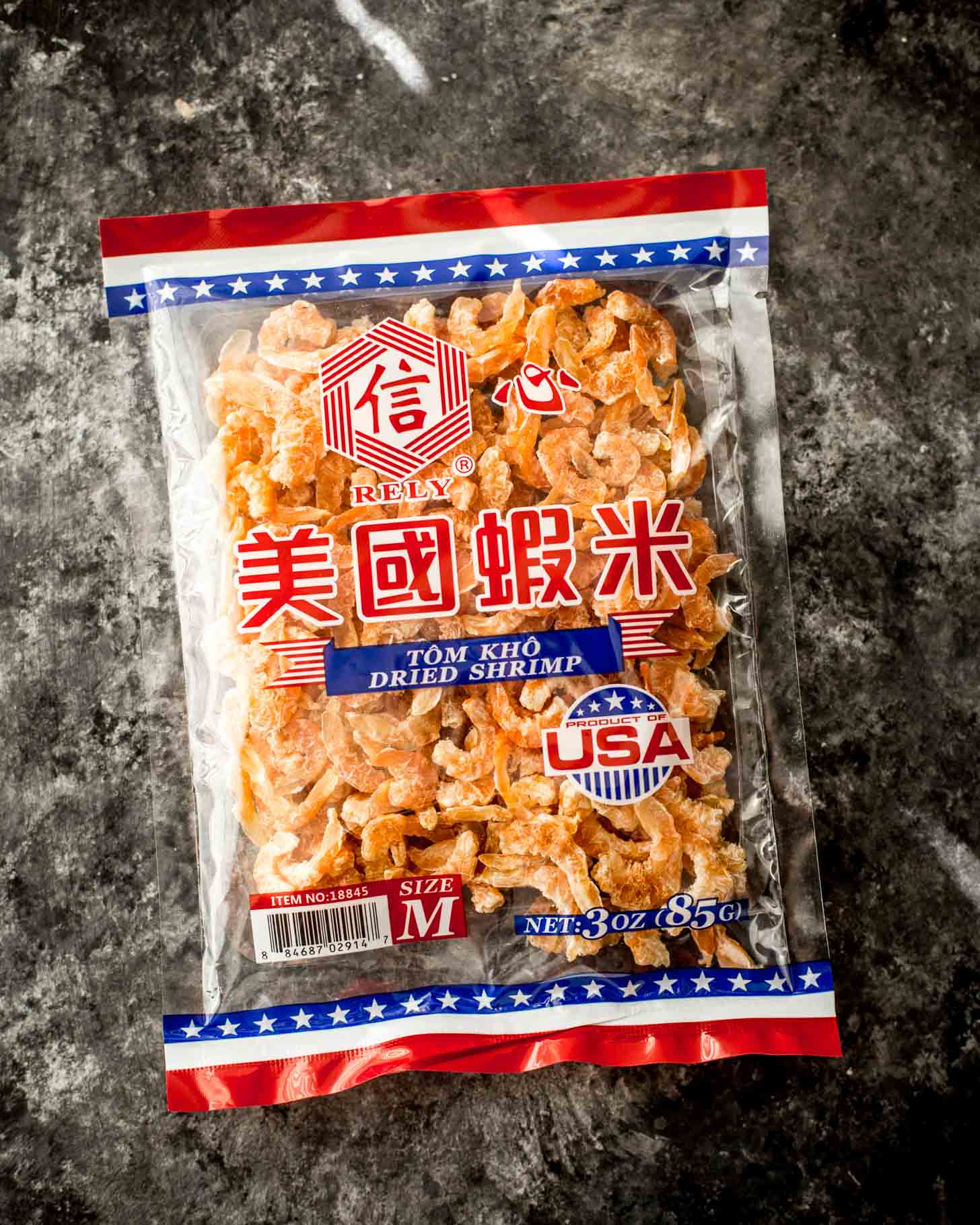 Fresh Thai Herbs and Aromatics
Galangal and Ginger

– Though these Thai ingredients look alike (in the photo below, galangal is on top and ginger is on bottom), they add different flavors to recipes. In many dishes, ginger will work just fine, but a few specify galangal and it's important to track it down to get the most authentic flavor. Galangal has a tart, citrus flavor and is more firm than ginger. Typically, you just need fresh galangal if making your own curry pastes. Both galangal and ginger are prepared by removing the outer peel (use a peeler or knife). Then they are sliced, grated, or minced.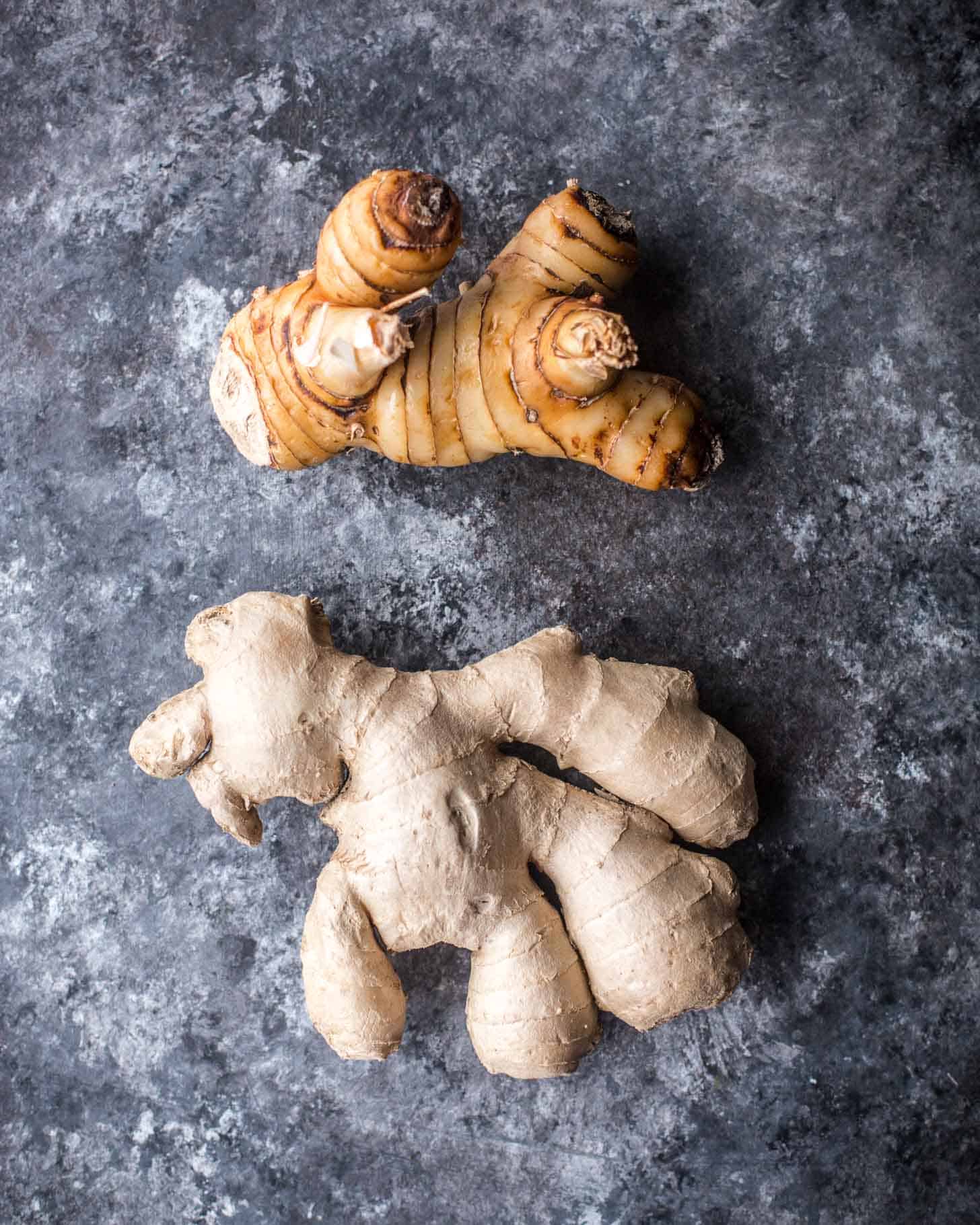 Fresh Turmeric

– Fresh turmeric has a bright orange or yellow flavor. You prepare it much like galangal and ginger as outlined above, though often you can use a spoon to just scrape off the outer peel to avoid wasting much of the colorful flesh. You'll typically only need fresh turmeric if you are making curry paste from scratch.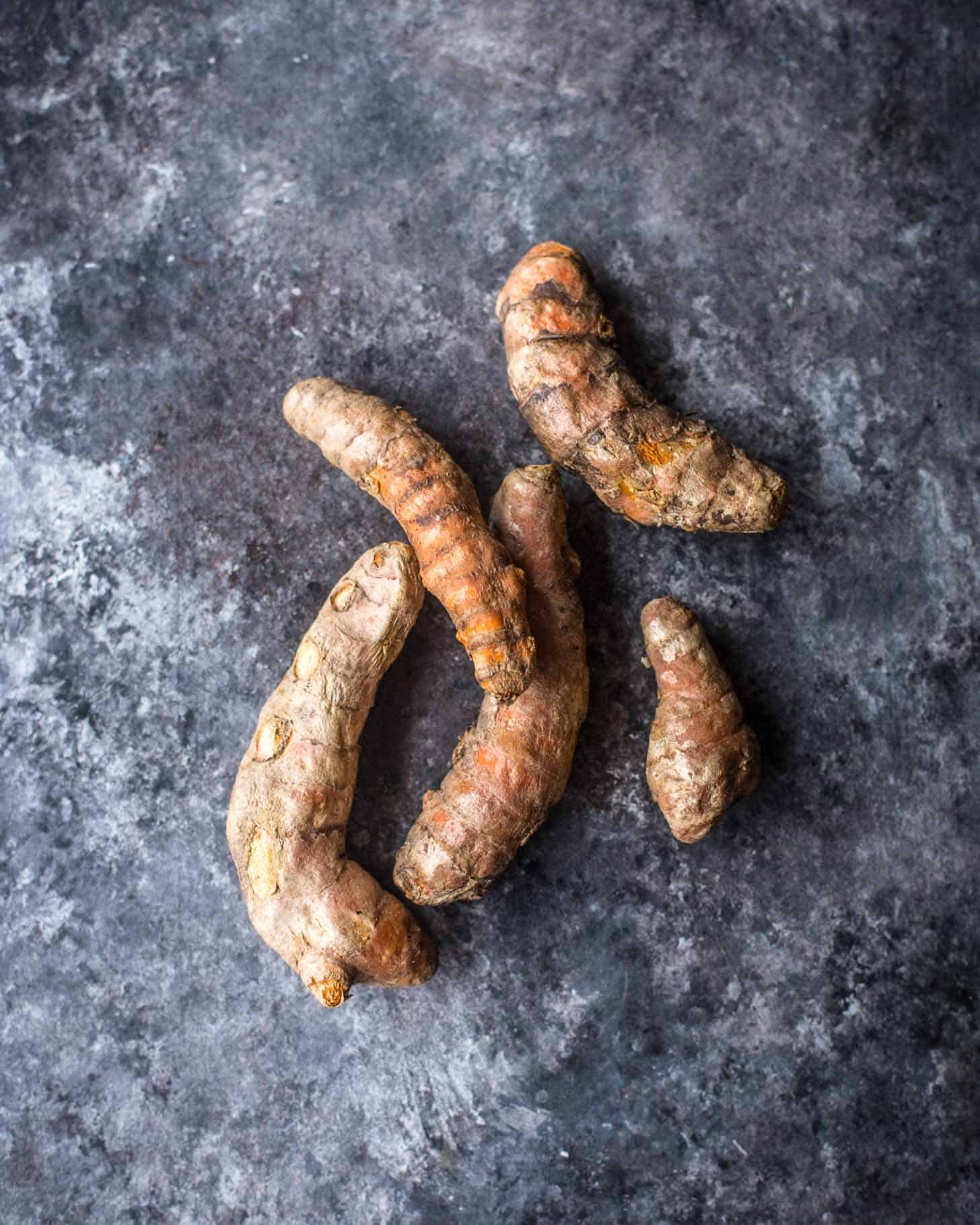 Makrut Lime Leaves – The fragrance and flavor of these lime leaves that come from makrut limes (more tart and with a different shape and texture than traditional limes) is authentically, uncompromisingly, uniquely Thai. You can get by without the limes themselves, but the leaves are worth seeking out. They can be stored in the freezer for 3-4 months. Makrut lime leaves are the key flavor in authentic Thai Panang Curry. Sometimes these are available at Whole Foods with the other fresh herbs – usually just labeled "Lime Leaves."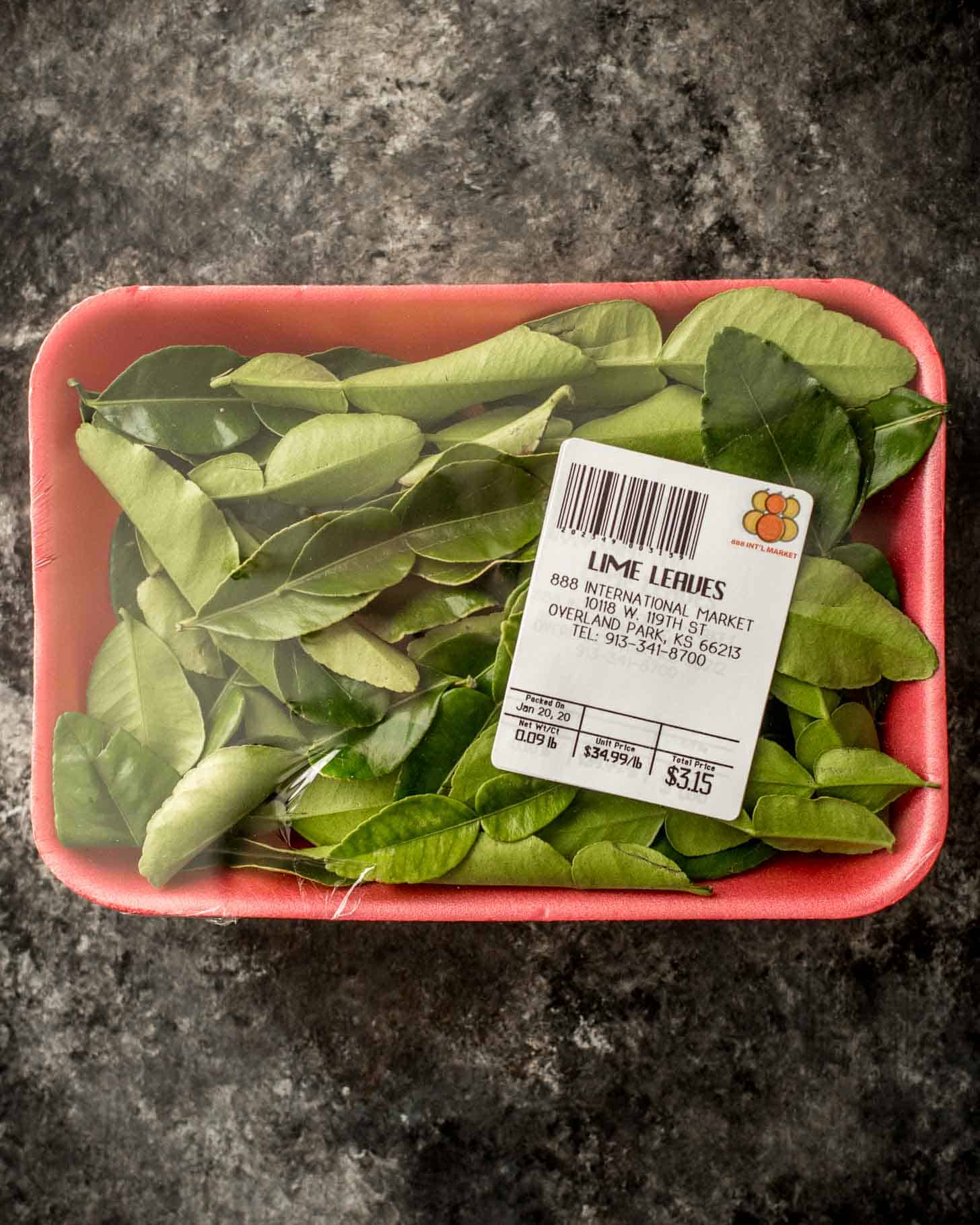 Lemongrass –

Lemongrass is a Thai ingredient that comes in long stalks that have a citrusy and herbal flavor. It adds a bright freshness to many Thai dishes. Asian / international markets usually sell big fresh bunches of the stalks that are very affordable and can be up to a foot or two in length. Discard the long green part of the stalk and the rough outer layers, so you are using only the several inches of the base with a soft pink color on the inside. Many regular grocery stores now sell fresh lemongrass with other fresh herbs in the produce section, but it's often already sliced down into short pieces that are just the base of the stalk. If you can't find fresh lemongrass, lemongrass paste (which many grocery stores sell in a tube in the refrigerated produce section) makes an okay (not great) substitute. If you use the tube, don't use the measurements provided in a recipe – just add it a little at a time and taste as you go along; some of the pastes are more intense than others.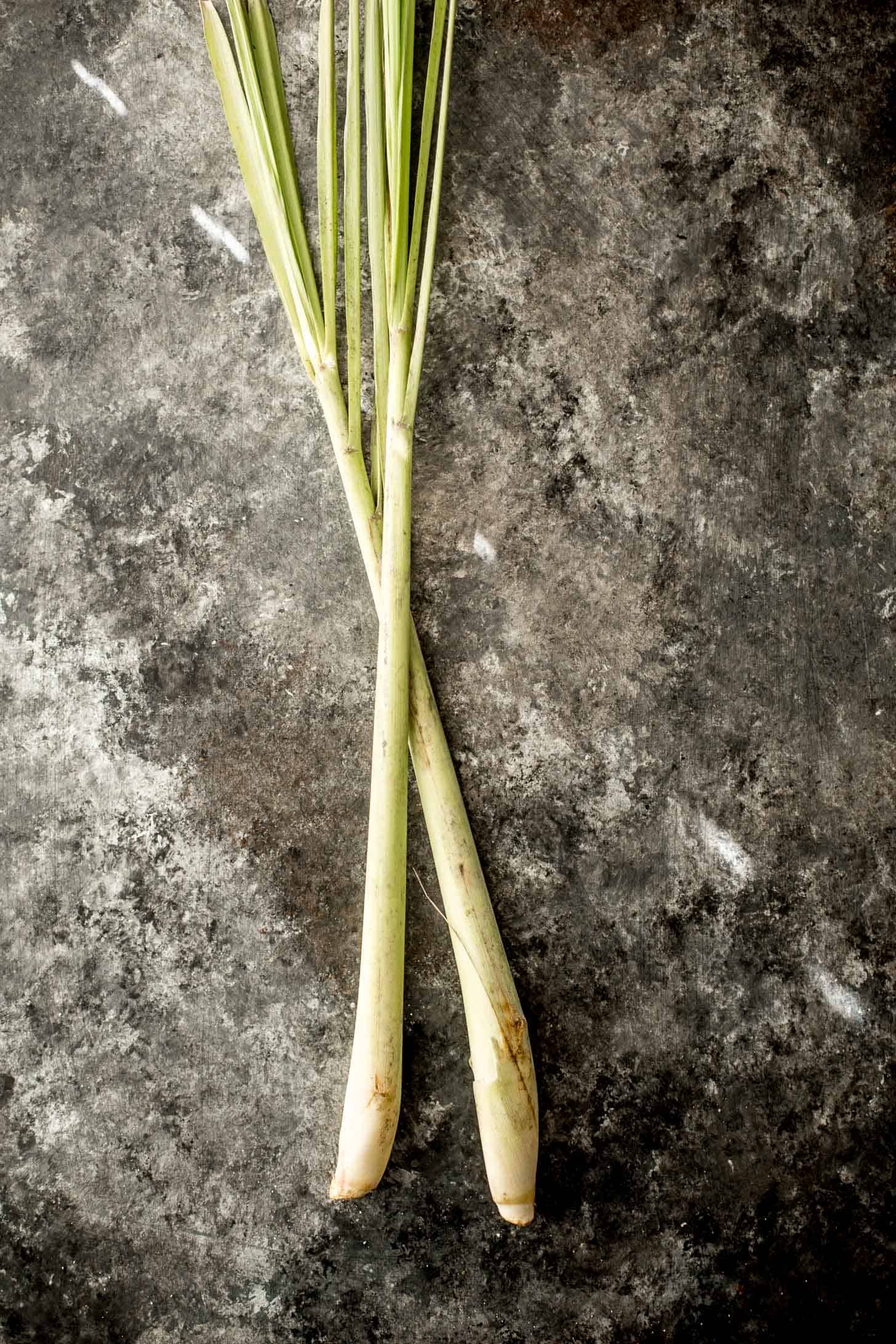 Thai Basil

– Asian / international grocery stores sell two types of Thai Basil (both of which have a different flavor than the Italian Basil that is sold at regular grocery stores). Most likely you will see these Thai basil varieties labeled as 1) Thai Basil and 2) Thai Holy Basil or Holy Basil. Thai Basil has sweet leaves with smooth edges and the stems have a slight purple-red hue (shown in the photo below). Thai Holy Basil has leaves with a slightly sour, citrusy flavor and jagged edges. (Note: Don't try to use Italian Basil as a substitute in Thai dishes. Instead try using another fresh herb like cilantro or green onions to add a pop of flavor and color. Italian basil can give Thai dishes a strange….you know…..Italian flavor.)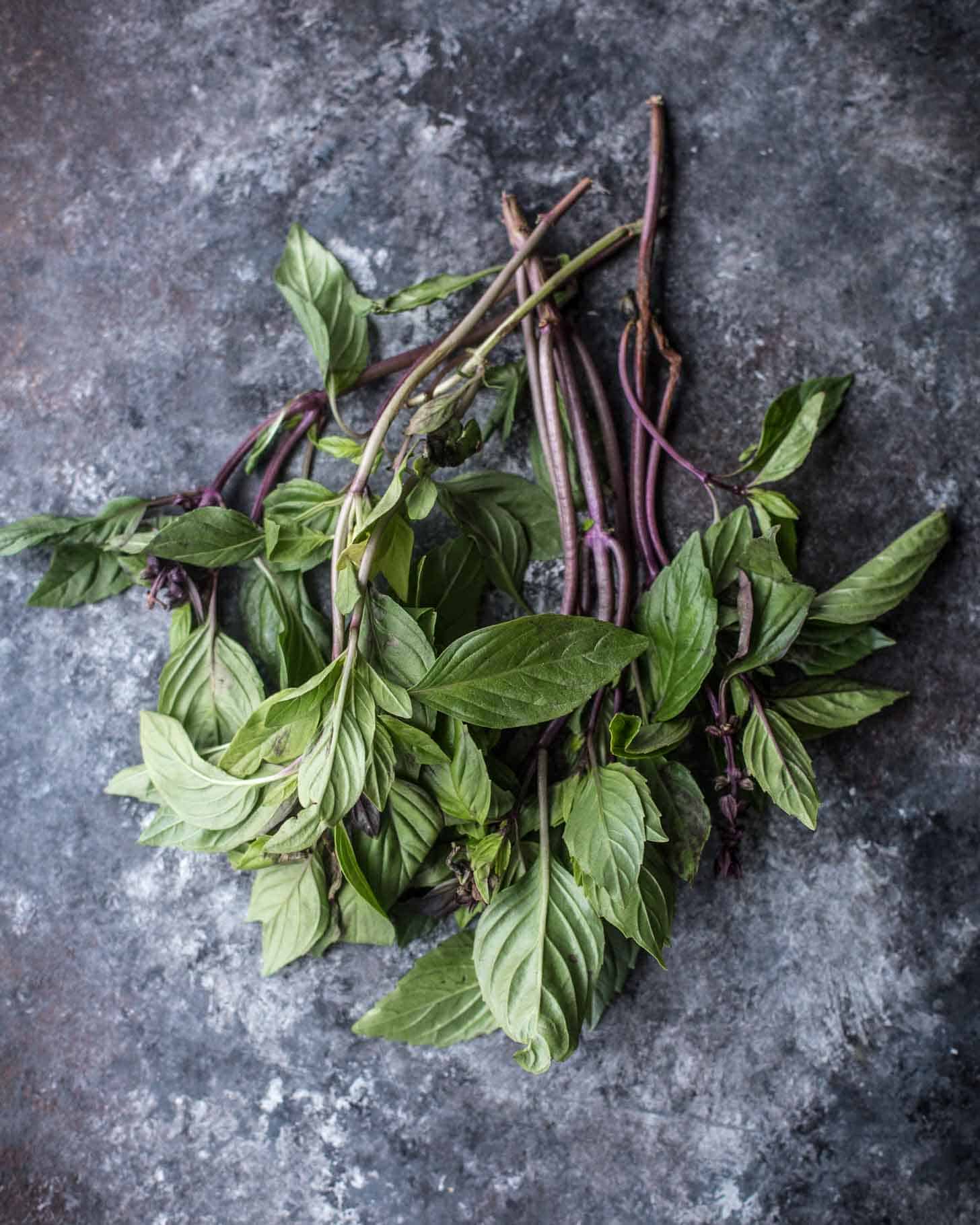 Hot Sauces Used in Thai Cooking
Three spicy sauces find their way into many Thai dishes or are served on the side. From left to right, these are:
Chili-Garlic Sauce

– This is actually a Chinese hot sauce that, as the name implies, includes chilis and garlic. It's great as a dipping sauce to serve on the side with Thai-style grilled meats.

Sriracha

– This sauce, sometimes referred to as "rooster sauce" is spicy with a subtle hint of smoke. If you're looking to add more spice to a Thai curry, stir-fry or drizzle over

Thai Fried Rice

, this is a great option. It's also great to just have on the table so that you can add more spice to a dish as you taste it.

Sweet Chili Sauce

– Sweet and spicy, this is the classic dipping sauce for

Thai-Style Grilled Chicken

and is pretty much good on anything. (I like drizzling it on pizza…for real.)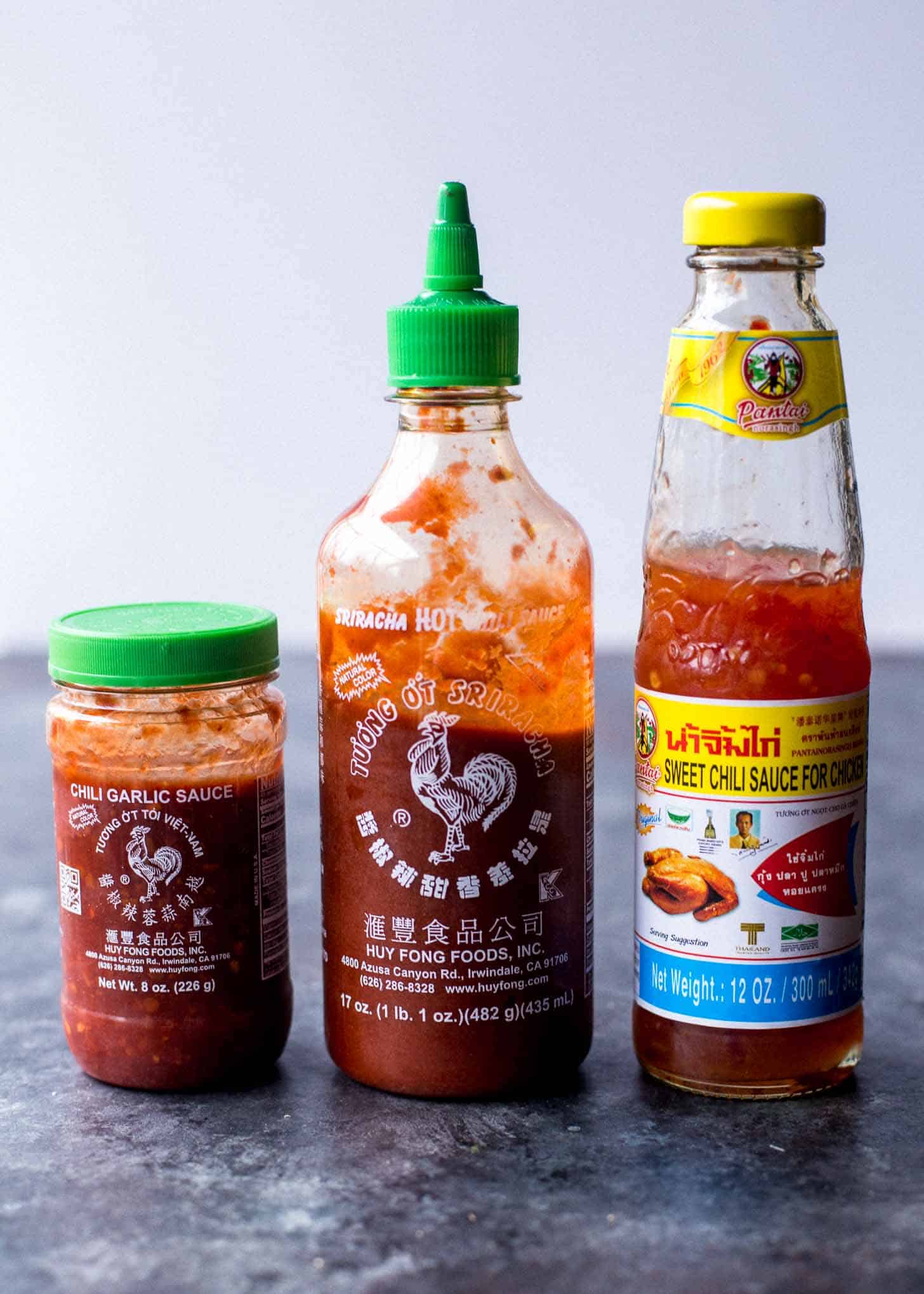 Fresh Chili Peppers
Spice is its own flavor component in many Thai dishes, so fresh chili peppers are important, but also highly adaptable. The chilis in the photo below are shown in increasing spice order, from not spicy (top) to very spicy (bottom) and can be used in any Thai recipe that calls for fresh chilis. Be careful when handling spicy chilis – the spice will linger on your fingers and can burn (and definitely do NOT touch your face after touching spicy chilis).
Bell Peppers (red or green)

– Bell peppers (just the regular grocery store variety) are great in Thai stir-fries and curries. These will not add any spice to dishes, but can be great to add some color and flavor.

Jalapeños (red or green)

– Also widely available at any grocery store, jalapeño peppers can be used in Thai dishes to add spice without being overwhelming. I also like to slice them thin and add them to the top of Thai dishes for color and fresh flavor. Removing the seeds from jalapeños will make them less spicy.

Serrano Peppers (green)

– These peppers can also be found at many regular grocery stores and are great if making Green Curry Paste from scratch. These are more mild than Bird's Eye Chilis (below), but pack some heat.

Bird's Eye Chilis (red or green)

– Spice alert! These pack a lot of heat. They are available at some specialty grocery stores and are widely available at Asian / international grocery stores. These beautiful, tiny peppers are very common in many Thai dishes. They're especially key in making spicy Thai stir-fry dishes and in Thai dressing like the one used for Thai salads (see

Papaya Salad

).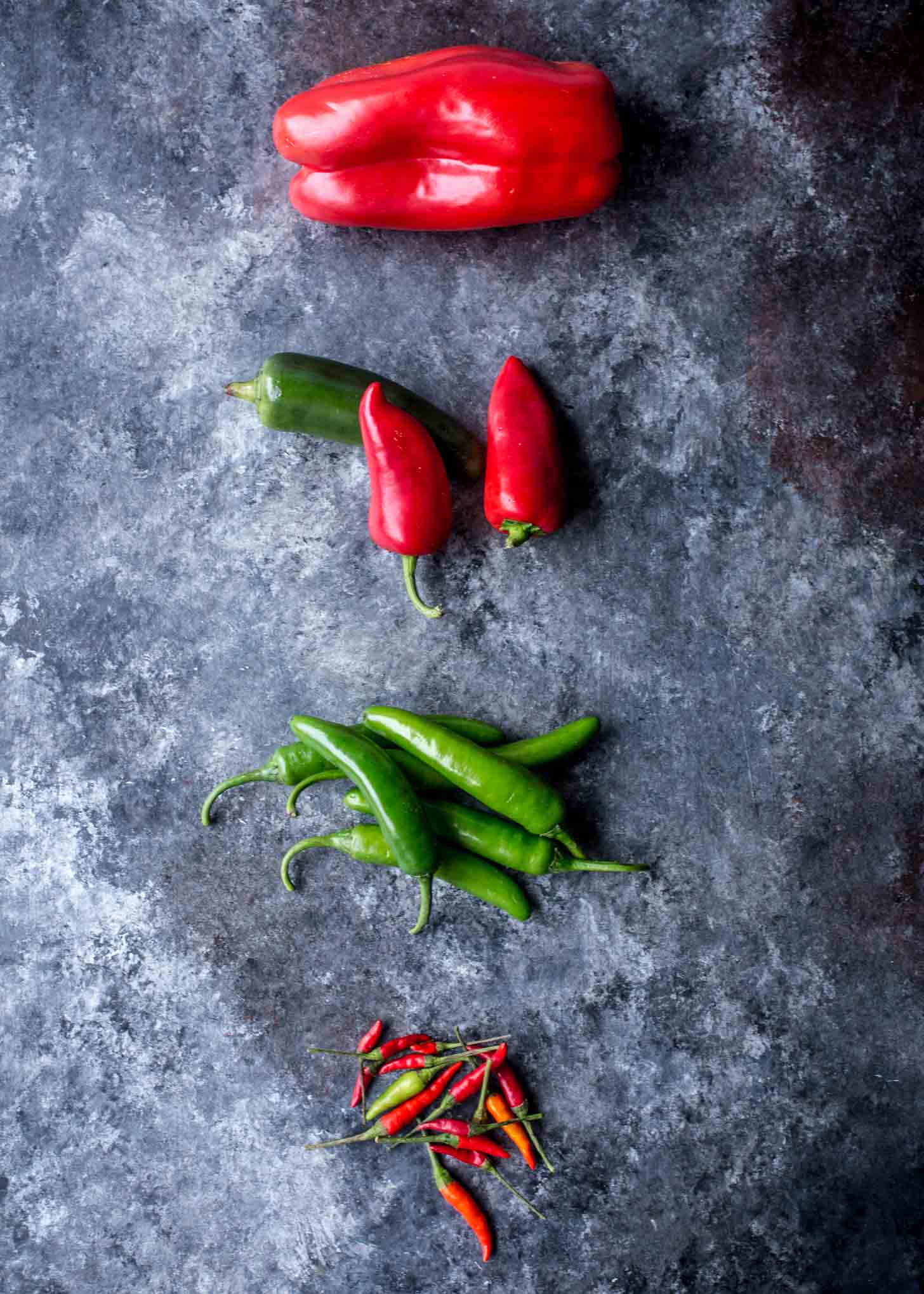 Thai Rice
Jasmine (Long-Grain) Rice

– This is the most common type of rice served with meals in Bangkok and is prevalent throughout the central and southern parts of Thailand. Prepare it in a rice cooker or on the stove-top. It should be light and fluffy and the grains should have a very slight sticky quality (though not be "sticky" like true sticky rice below). This rice is eaten with a spoon and fork and mixed with other dishes.

Sticky / Glutinous / Sweet Rice –

Though it goes by many names, this rice is not actually sweet. It is served in the northern and northeastern parts of Thailand and anywhere in the country that is serving the awesome (and often very spicy) food from those regions. It holds its shape if rolled into balls and can be used to dip in or scoop up other dishes. This rice is most often eaten with your hands / fingers. If you only make Thai food occasionally, stick to Jasmine Rice, but if you're looking to explore just how fun and delicious Thai food can be, grab a bag of sticky rice and

prepare it on the stove or in the Instant Pot.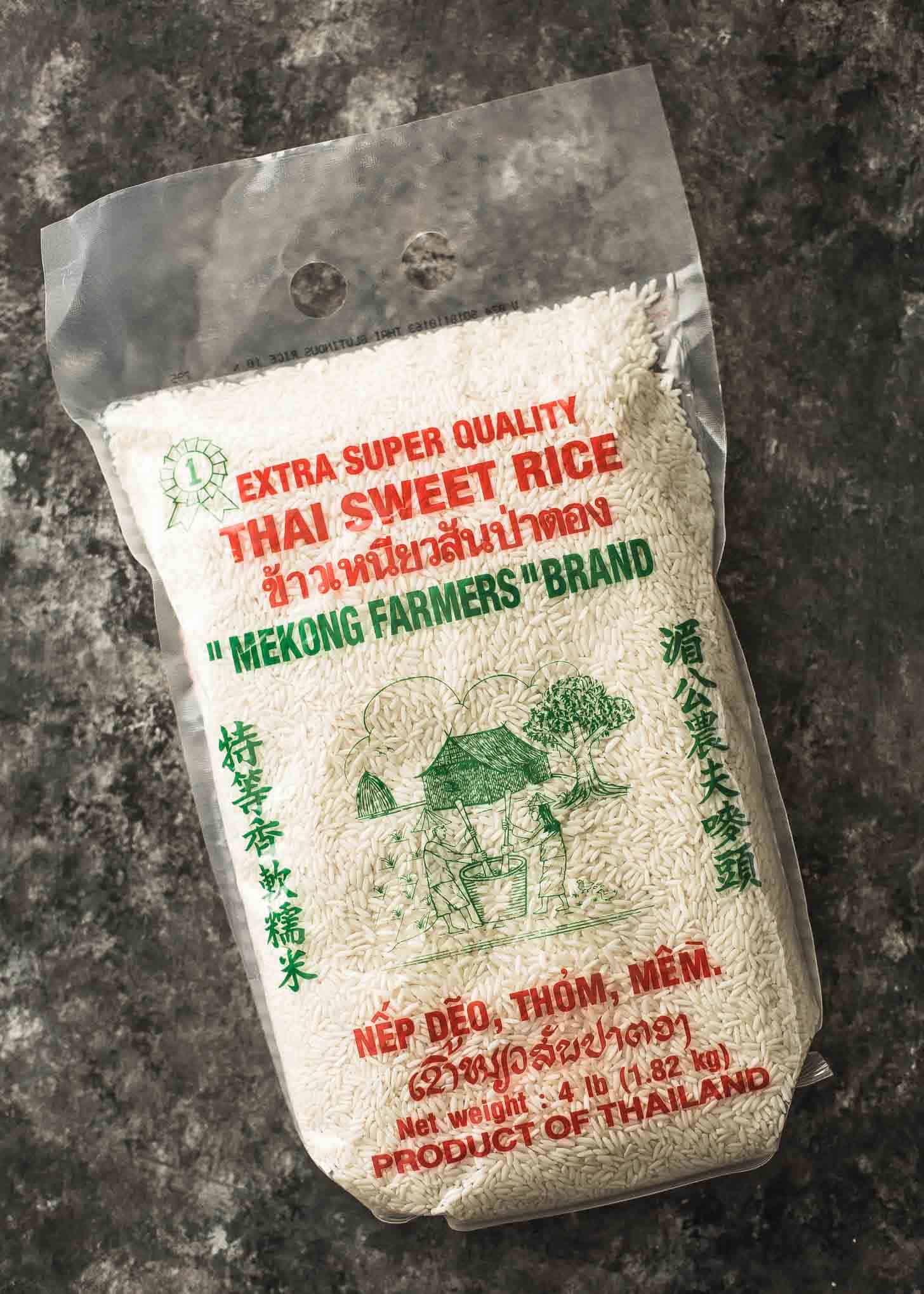 Favorite Tools for Cooking Thai Dishes
Click here for all of our Thai recipes
*This post contains affiliate links*