Ever wonder what makes Pad Thai so irresistible? This little jar holds the secret — tamarind paste. And this single ingredient is the building block for so many delicious Thai recipes. It's sweet and sour and has this mouthwatering quality that keeps you wanting more.
This wonderfully versatile ingredient is tamarind paste.
I could eat it with a spoon.
And may have. (Evidence above.)
When I first began researching Thai recipes and ingredients, I looked at lots of commercial Pad Thai sauces, and many of them didn't even list tamarind paste as an ingredient. This is stunning. Because tamarind paste is where it's all at in Pad Thai. If you want to make authentic Pad Thai at home, you'll want to follow the 5 steps below. And once you've had Pad Thai made with pure tamarind paste, you'll never go back to the store-bought stuff again.
Making tamarind paste is incredibly easy and takes only 15 minutes of hands-on time. It will keep for up 3-4 weeks in the fridge and can be frozen in ice cube trays or plastic freezer bags for 3-4 months.
Here's how to do it:
1. Start with Tamarind Pulp
Okay, though a bit confusing, tamarind pulp is the starting point for tamarind paste.
Tamarind pulp comes in blocks like those shown below. Find them at specialty grocery stores and Asian / international markets (usually for less than $5) or you can purchase this brand online. The tough seeds and shells have been removed and the fruit is concentrated into these small packets. Though labeled "without seeds", as you'll see in a minute, they still contain inedible fibers which is why tamarind pulp needs a little TLC before you can use it for cooking.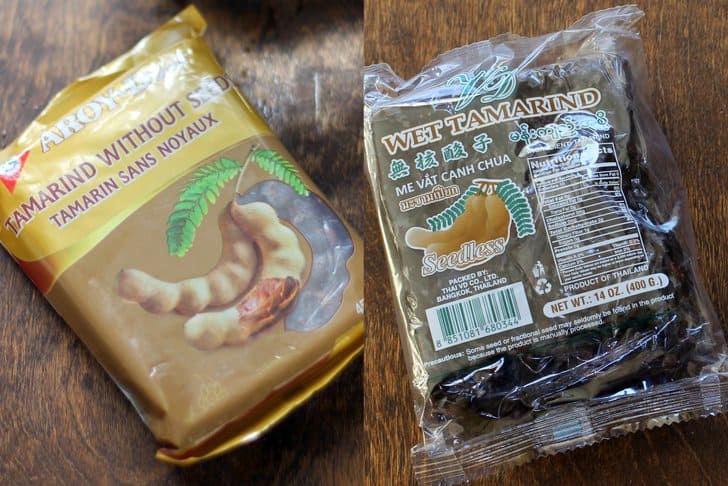 Each of these blocks yields about 2 cups of tamarind paste (enough for many servings of Pad Thai!).
16 oz / 454 g Tamarind Pulp = 2 cups Tamarind Paste
It's worth mentioning that, rather than starting with tamarind pulp, it is possible to start truly from scratch, with whole tamarind pods like those shown below and found here. The process is the same as what I'm about to show you (though they need to be broken apart into smaller pieces and soak in hot water for at least an hour). There's very little "fruit" inside each pods, so starting with tamarind pulp gets you more bang for your buck, saves a ton of time, and yields equally great flavor.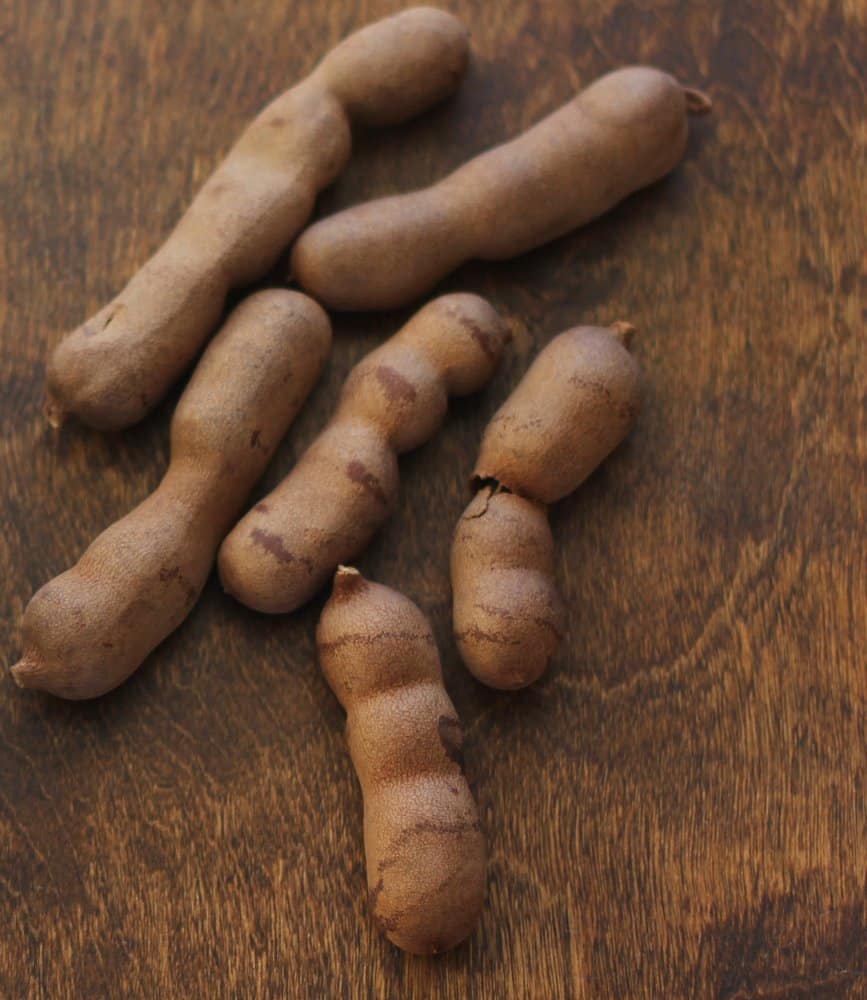 2. Soak for 30 minutes
Place 16 oz of tamarind pulp in a glass bowl and add boiling water just to cover. Soak for 30 minutes.
What can I say...it's not pretty. #foodbloggerproblems
3. Break Apart
Gently break the tamarind pulp apart with your hands and mash it so that the fruit (paste) starts to separate from the rough fibers. Leave the water in the bowl while you do this. If the tamarind pulp was just barely covered with water while it soaked in the step above, you should have the perfect amount of water to combine with the pulp. If the mixture seems water-logged, you can pour off a bit of the extra liquid.
4. Press through a Sieve
It's a good idea to use a colander with large holes like the one shown below for this next step (a mesh sieve will work too).
Place the sieve over a mixing bowl and press to separate the tamarind paste from the fibers. I like to smoosh (that's the technical term) the pulp through the sieve with a silicon spatula for best results.
The tamarind paste will separate from the fibers and collect on the other side of the sieve or in the bowl.
5. Discard fibers and store paste
Once you've separated as much of the paste as you can (note: add a bit more hot water to the fibers and press them through the sieve a second time if you think you can extract a bit more paste), discard the fibers and store the paste in a nonreactive container.
And there you have it! Delicious, fresh, super flavorful tamarind paste ready to use!
How to Make Tamarind Paste
Sweet and tart tamarind paste is the key ingredient in many delicious recipes including in Pad Thai. The most flavorful tamarind paste can easily be made at home from tamarind pulp or tamarind pods by following the step-by-step instructions below.
Ingredients
1

pound

tamarind pulp

(or about 30 tamarind pods)
Instructions
If using tamarind pods: Break open the pods and transfer the fruit and seeds to a large bowl.

If using tamarind pulp: Place the entire block of tamarind pulp in a large bowl.

Pour boiling water over the tamarind pods or pulp just until it is covered by a couple of inches of water.

When the water has cooled, use your hands to break the pods or pulp apart they are evenly combined with the water. (There will be lots of bits of seed and fibers that you'll sort out in the next step.) The finished mixture should be about the thickness of ketchup, so add some more water if needed.

Press the mixture through a mesh sieve using a spoon or silicon spatula, separating out the seeds and fibers.

Note: If it looks like there is still enough fruit in the seeds and fibers after one round of pressing them through the sieve, you can repeat the process, soaking the seeds and fibers once more in boiling water and then running them back through the sieve.

Discard the seeds and fibers. Store the tamarind paste in a container in the refrigerator for up to 2 weeks or freeze for up to 6 months.