Thai Pomelo Salad (Yam Som O)
Published Feb 11, 2020•Updated Mar 24, 2022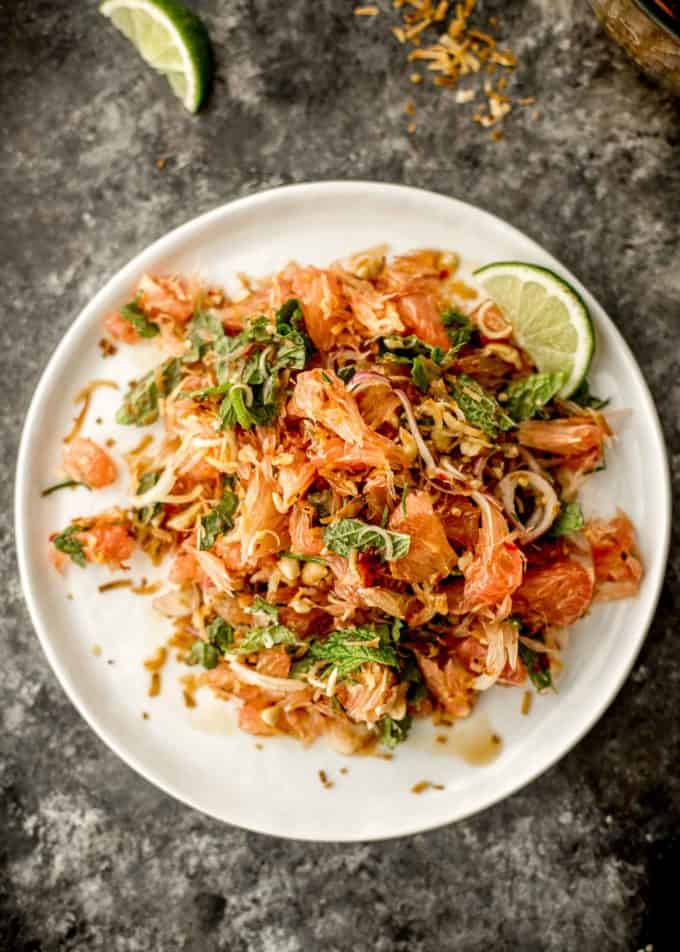 Super fresh and full of bright colors, Thai Pomelo Salad (Yam Som O) is a fruit-based salad in a tart, spicy, sweet dressing.
Now that we've got Simple Dressing for Thai Salads on the books, it's time to use that dressing on a classic Thai salad – Thai Pomelo Salad! Although Yam Som O is a "fruit salad", erase from your brain all thoughts of a Western-style fruit salad that is made with just fresh fruit (and maybe a squeeze of citrus juice).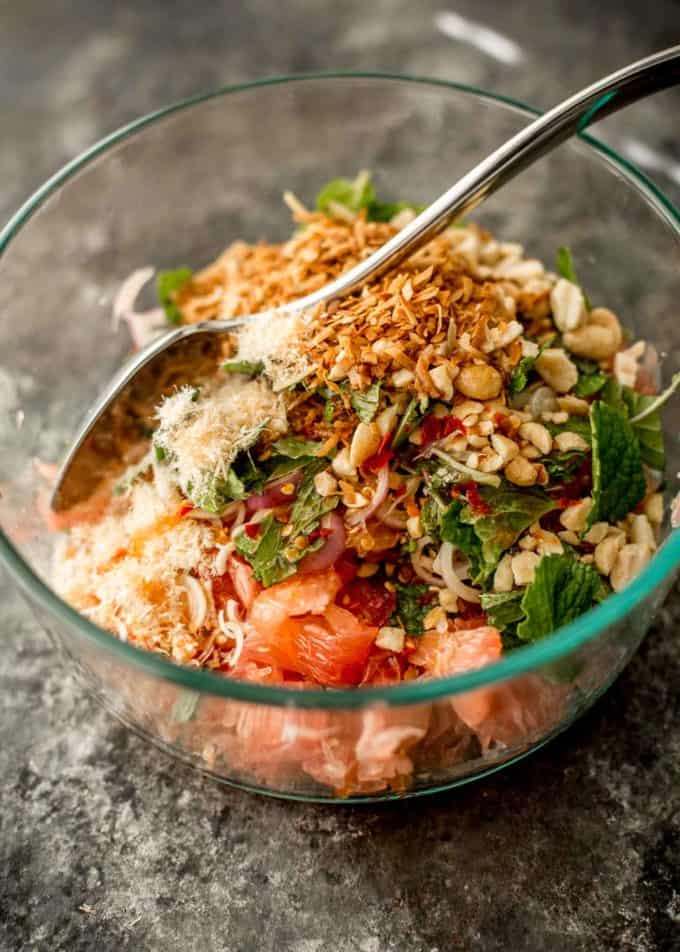 In true Thai fashion, this salad has layers of all the classic Thai flavors – sweet, sour, savory, and spicy. But it's the pomelo that makes this salad special. If you're not familiar with pomelo, read on for more about this unique fruit that is a bit like a grapefruit but much bigger. Pomelo is naturally sweet and it gives this salad a great texture. The pieces of fresh pomelo pop in your mouth as you eat the salad – giving you a burst of fresh fruit juice along with savory ingredients.
February is a great time to buy in-season, fresh pomelo in North America, so this is a perfect salad for #thaifoodmonth! Speaking of, have you entered to win the $100 prize yet?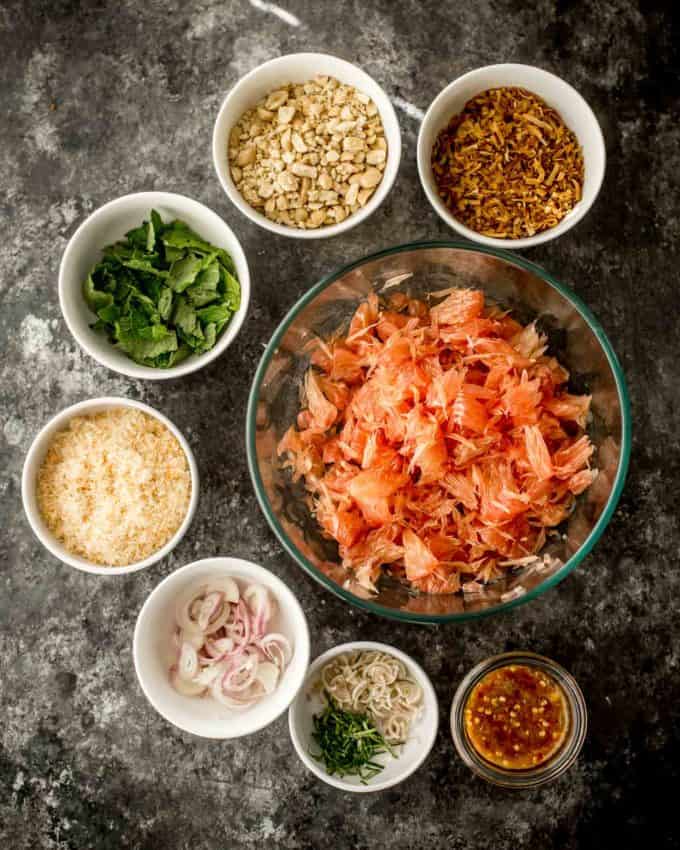 How to Prep Ingredients for Yam Som O
Yam Som O is just a simple salad with all of the ingredients tossed simply together. A few initial steps are required to get those ingredients prepped.
Simple Thai Dressing

– This dressing is just Bird's eye chili, palm sugar, fresh lime juice, and fish sauce. See this post on

Simple Dressing for Thai Salads

for all of the details.

Pomelo

– For Yam Som O, use shredded pieces of pomelo. These are best if they are uneven, giving the salad different textures in each bite. See below for everything you need to know about prepping a pomelo.

Shredded Coconut – Toast shredded, unsweetened coconut in a wok or skillet until deep golden brown. This gives the salad a toasty flavor.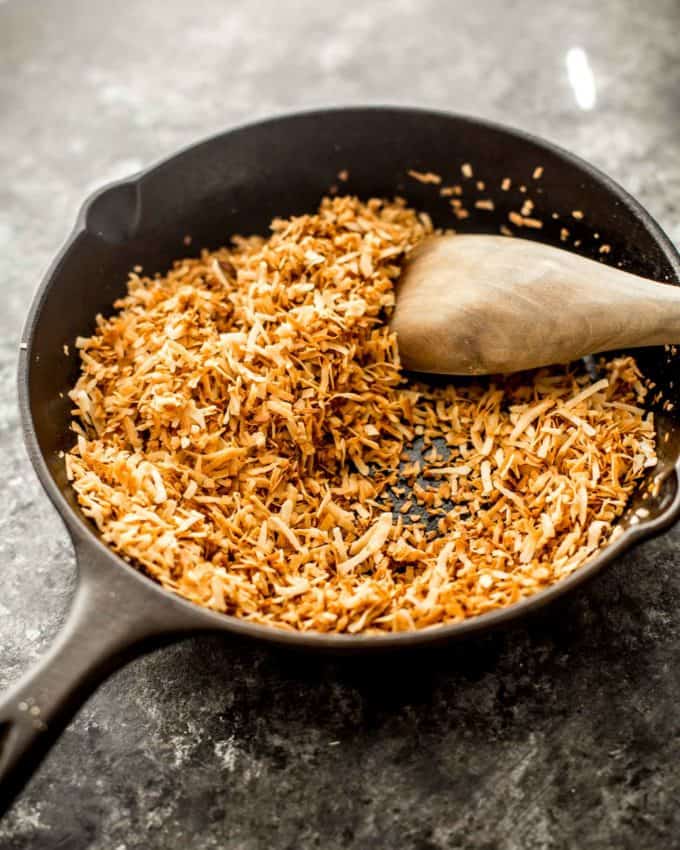 Peanuts

– For texture, use roasted peanuts that have been roughly chopped or ground into uneven pieces in a mortar and pestle.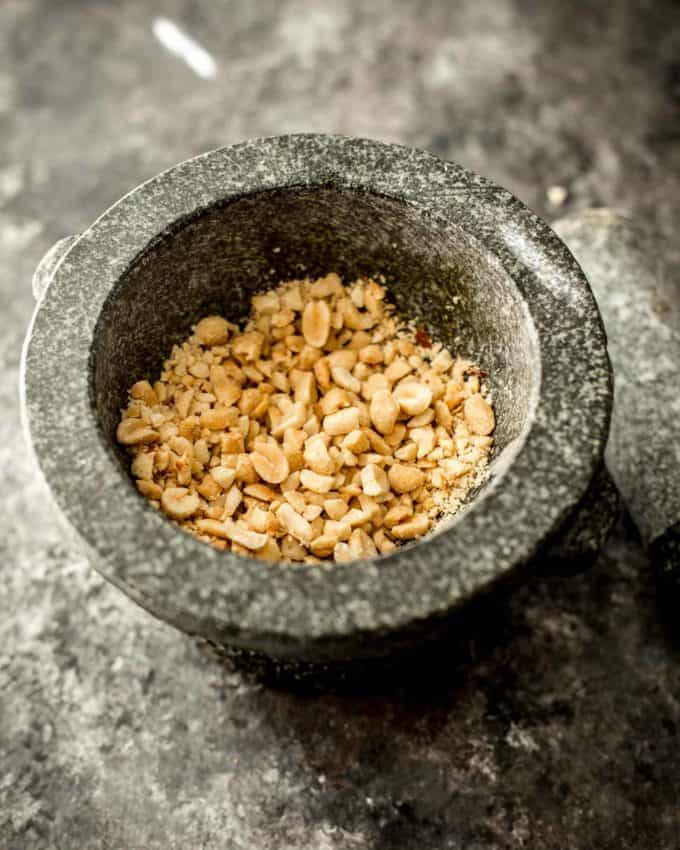 Dried Shrimp

– For this salad, these tiny dried shrimp can be left whole or ground into a light "fluff" that infuses the salad with flavor. To grind these, pulse them in a coffee / spice grinder until light and fluffy.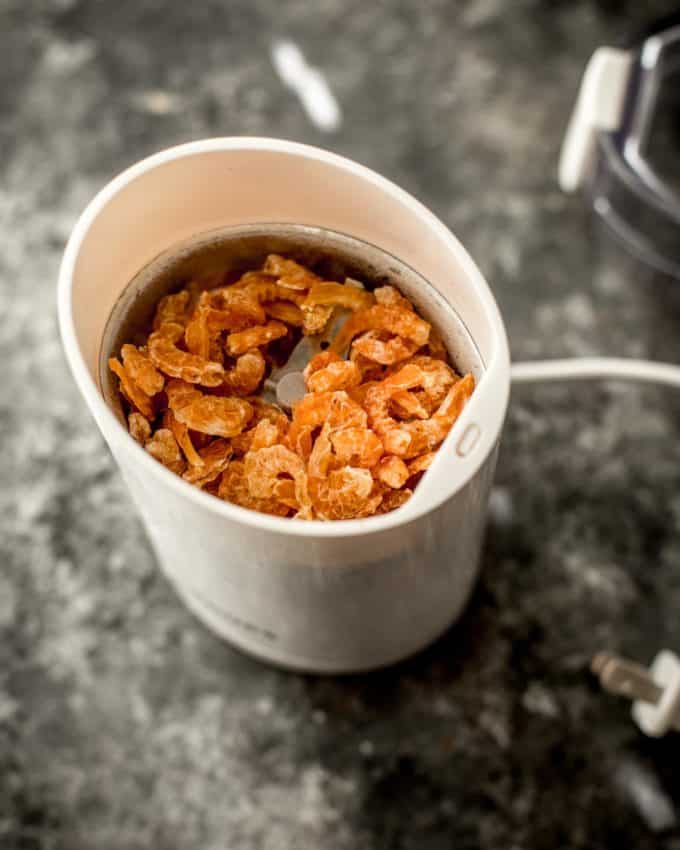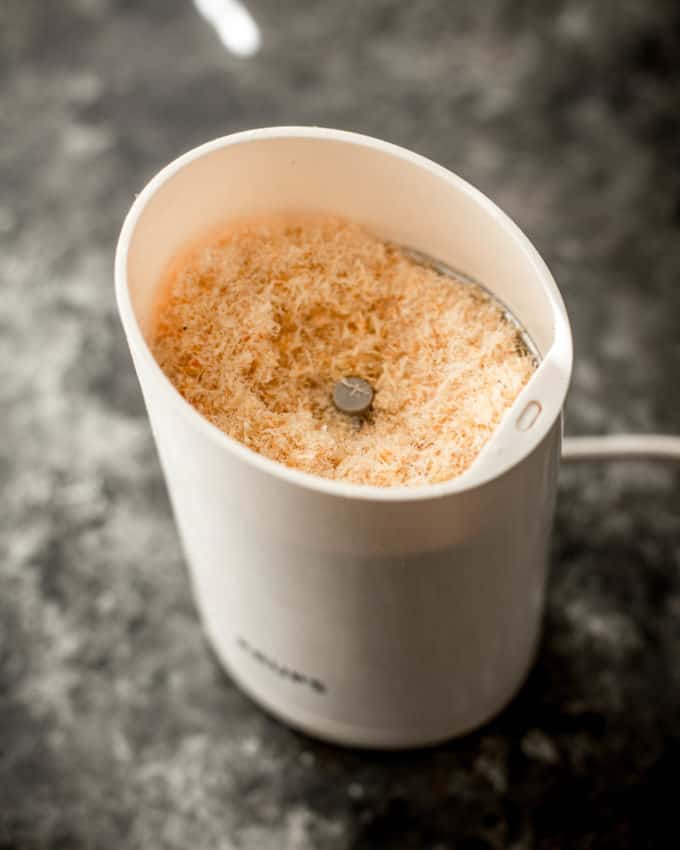 Makrut Lime Leaves and Lemongrass – These are classic Thai ingredients that may require a trip to the international grocery store, depending on where you live. See the Guide to Essential Thai Ingredients for more details. Be sure to slice these very thin because they can be slightly tough if left in large pieces.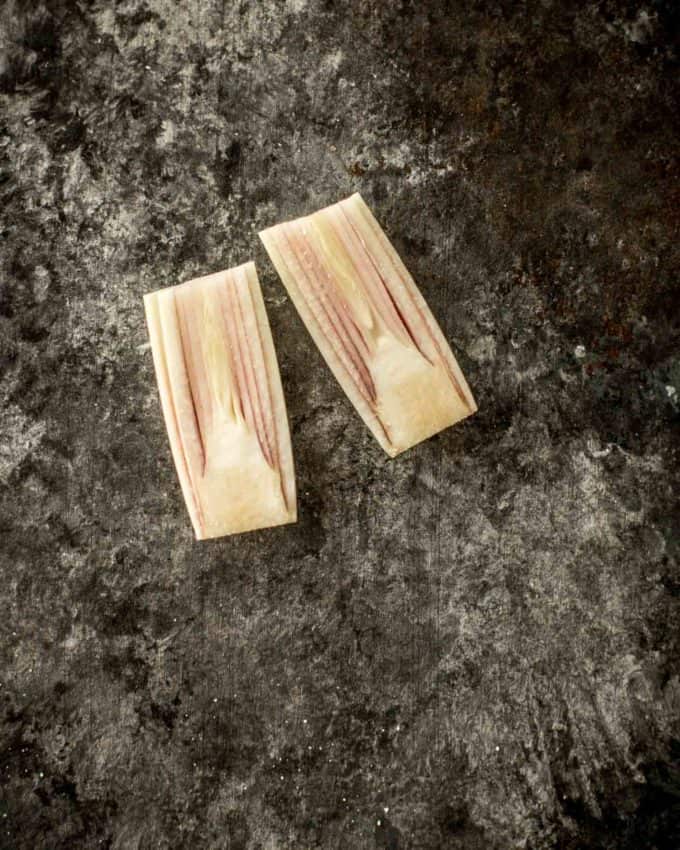 Shallots and Mint –

These add a great additional layer of fresh flavor. Thinly slice the shallots. If using small mint leaves, toss them into the salad whole. If the mint leaves are large, tear them up a bit with your hands.
How to Make Thai Pomelo Salad Ahead
Thai Pomelo Salad is great dish to make ahead. Just prep all of the ingredients and store them in their own containers in the fridge. Bring everything out about 30 minutes before serving so that the ingredients come to room temperature. Toss everything together right before serving.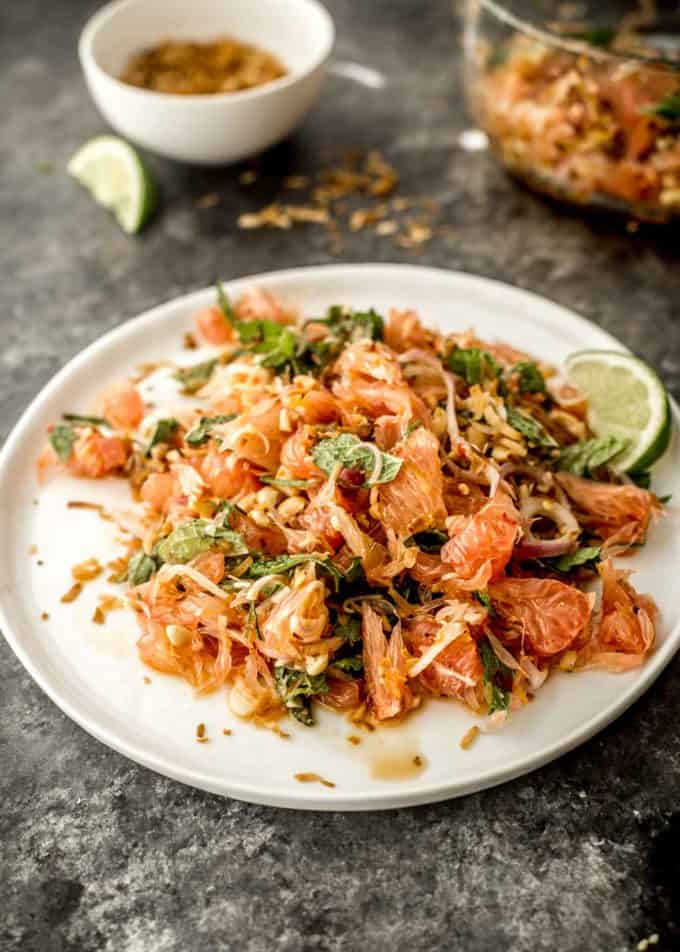 What is Pomelo?
Pomelo is the largest fruit in the citrus family and has a mild, lightly sweet flavor. It is native to Southeast Asia but can be found in other similar tropical and warm climates. It has a thick outer peel and pith. Depending on the variety, the flesh of the fruit can be pale green, yellow, or pink.
Here in Kansas City, our pomelos typically come from California, Florida, or Mexico and are usually yellow on the outside and pink on the inside. I have only ever seen them at the international grocery store. They are in peak season in February.
How to Pick a Good Pomelo
A good pomelo should be free of blemishes and have a smooth, firm skin. Pick the pomelo that is the heaviest for its size as this will be an indication that the pomelo is juicy and has a good amount of liquid inside. Store pomelo like you would other citrus fruit (oranges or grapefruit) – at room temperature for a day or two or in the refrigerator for longer.
Depending on where you live, the first time you ever buy a pomelo might be for making Yam Som O. Don't be intimidated – just pretend you're buying a giant orange!
How to Peel a Pomelo
Although pomelo has a similar shape and structure to other citrus fruit, the pith of a pomelo is much thicker and can be harder to work with than other fruits. Here are the steps for peeling a pomelo.
To get started, slice off the top and bottom pith (stop right at the top of the flesh) of the pomelo, leaving a flat surface on both sides.

Working with one segment at a time, use a sharp knife to slice off all remaining outer pith. It is okay if you slice slightly into the flesh of the fruit, but aim to leave most of the fruit intact.

Slice down the center of the pomelo, leaving two even halves.

Use your hands to work with each segment at a time, removing and discarding the membrane / pith and reserving the flesh of the fruit.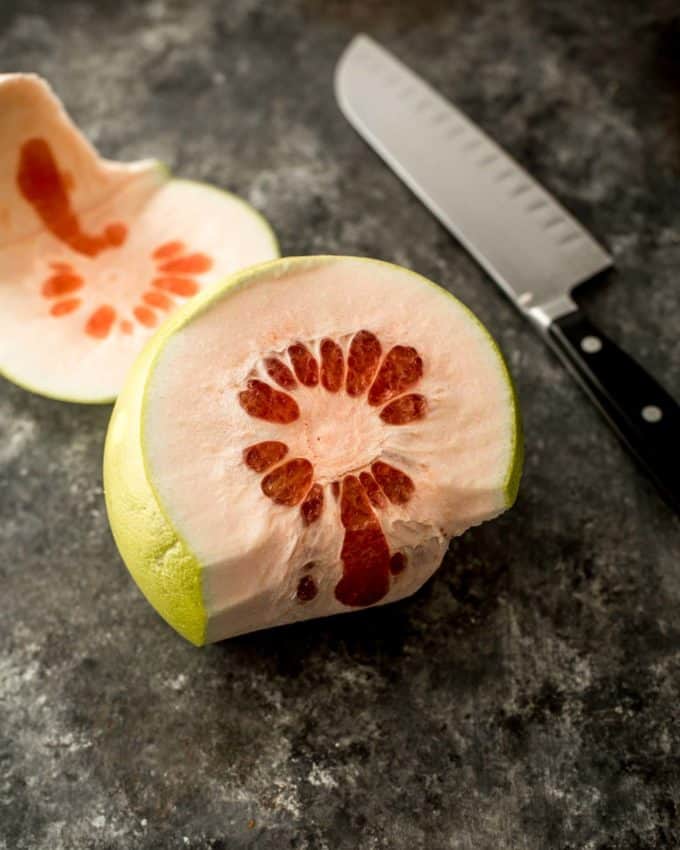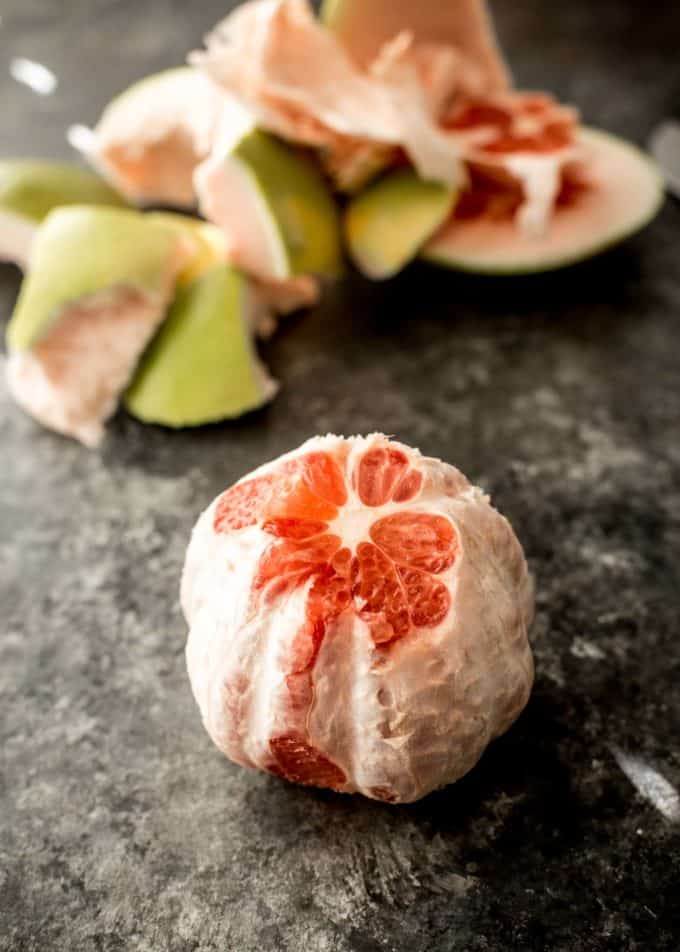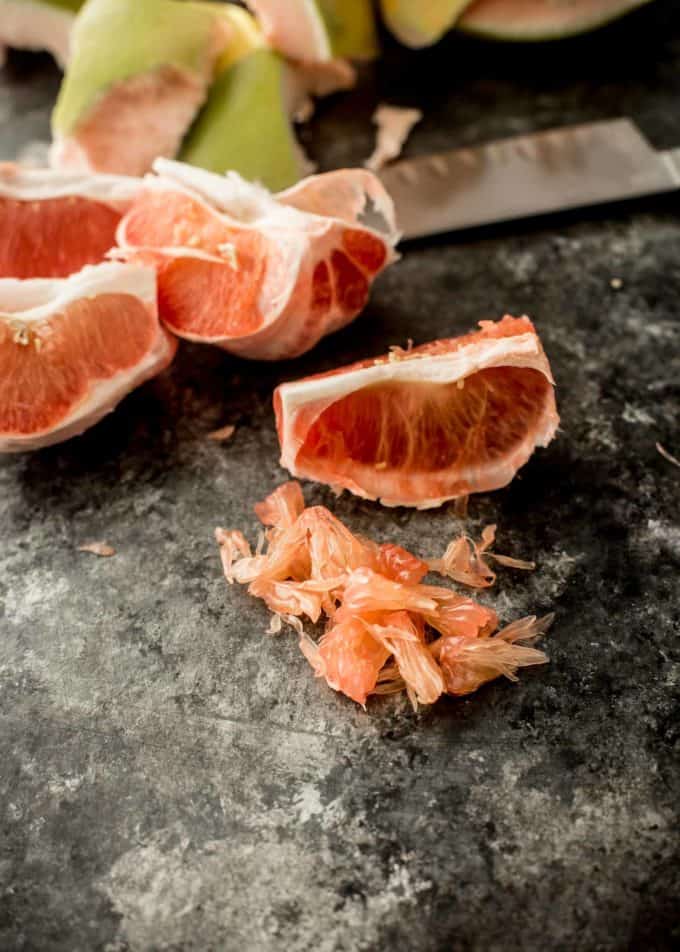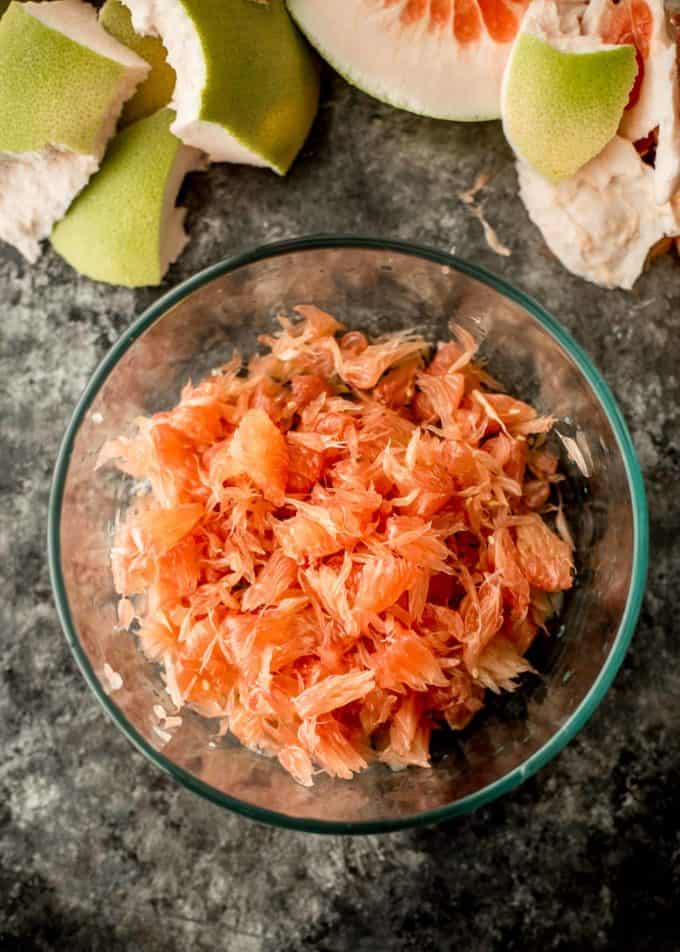 More Thai Salads
Favorite Tools
Joyce Chen Carbon Steel Wok

– Almost any Thai recipe you can think of can be made in a wok. A wok is great for toasting the coconut for this recipe, but a large heavy

skillet

works great

as well.

Spice Grinder

– A small electric grinder like this one is great for grinding fresh spices or for a variety of other uses in Thai cooking. Be sure to get a dedicated one to use for spices. Don't use the same grinder you use for coffee or your coffee might start to taste like Thai food!

Mortar and Pestle – This set is great for making the dressing for this salad and for grinding the peanuts. There are ways to work around it if you don't have a mortar and pestle, though.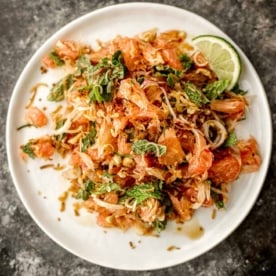 Yam Som O
Super fresh and full of bright colors, Thai Pomelo Salad (Yam Som O) is a fruit-based salad in a tart, spicy, sweet dressing.
You can prepare all of the ingredients for this flavorful salad in advance and just toss them together when you're ready to serve. Be sure to see the post above for step-by-step photos of each ingredient. Feel free to customize - adding or taking out ingredients as you'd like.
Ingredients
Pomelo Salad
3

cups

Fresh Pomelo pieces

(shredded with your hands into small chunks)

3

Tbsp

Unsweetened Shredded Coconut

1/4

cup

Peanuts, roasted and unsalted

1/4

cup

Dried Shrimp

1/4

cup

thinly sliced Shallots

2

Makrut Lime Leaves, stems removed, very thinly sliced

1

stalk

Lemongrass, bottom portion only, very thinly sliced

1/3

cup

packed Mint Leaves
Dressing
1

Thai Bird's Eye Chili

(use more or less depending on your spice preference; see note)

1

Tbsp

Palm Sugar

1 1/2

Tbsp

Lime Juice

2

tsp

Thai Fish Sauce
Instructions
Prep Ingredients
Pomelo - Peel pomelo and discard peel. Working with one section at a time, use your hands to peel off pith, leaving just the pale green or pink fruit. Gently break apart the fruit, leaving uneven bite-sized pieces.Coconut - Heat a skillet or wok over medium heat. Add coconut and toast, stirring constantly, until golden brown and fragrant, 5 to 6 minutes. Peanuts - Place peanuts in a mortar and use a pestle to grind them until they are in coarse, uneven pieces. (If you don't have a mortar and pestle, just roughly chop them with a knife.)Dried Shrimp - Place dried shrimp in a coffee / spice grinder and pulse until shrimp is light and fluffy. Shallots, Lime Leaves, Lemongrass - Finely chop these ingredients. (Note: Lime leaves and lemongrass can be a bit tough if left in large pieces, so be sure to slice these very finely.)Mint - If mint leaves are small, leave them whole. If they are large, use your hands or a knife to roughly chop them.
Make Dressing
In a mortar and pestle, grind the chilis into a paste. Add palm sugar to the mortar and grind the ingredients together until sugar is dissolved. Add fish sauce and lime juice and swirl the pestle around to mix. Taste the dressing and adjust as you'd like, adding more of any of the components. Set aside. (Note: See below if you don't have a mortar and pestle.

At this point, all of the ingredients can be stored separately for up to a day.
Assemble Salad
Just before serving, combine all salad ingredients in a large bowl. Add dressing and toss to combine. Serve immediately.
Notes
Bird's Eye Chili
- These tiny Thai chilis come in red or green and are very spicy. One chili will give this salad a decent amount of spice. You can also use ¼ tsp of Dried Red Pepper Flakes instead of the chilis. If you prefer less heat, try using half a red or green jalapeno or see the Guide to Thai Ingredients for other substitutes. Be very careful when handling Bird's Eye Chilis - if you use your bare hands to chop them, wash your hands well immediately after holding them (and be very careful not to touch your face / eyes after handling them).
Palm Sugar
- This usually comes in large, dried rounds. Use a knife to slice off a large piece that is roughly 1 Tbsp. (You can always add more or less after tasting the dressing.) If you don't have palm sugar, use light brown sugar, but start with about 2 tsp as it is sweeter than palm sugar.
Mortar and Pestle
- If you don't have a mortar and pestle, use a knife to finely chop any of the ingredients that should be ground in a mortar and pestle. For the dressing, just finely chop the chili and combine it with the palm sugar, lime juice, and fish sauce. Let the mixture sit for a few minutes so the palm sugar starts to dissolve and then whisk everything to combine.
Nutrition
Calories:
213
kcal
|
Carbohydrates:
22
g
|
Protein:
15
g
|
Fat:
9
g
|
Saturated Fat:
4
g
|
Cholesterol:
169
mg
|
Sodium:
831
mg
|
Potassium:
448
mg
|
Fiber:
3
g
|
Sugar:
3
g
|
Vitamin A:
159
IU
|
Vitamin C:
92
mg
|
Calcium:
79
mg
|
Iron:
2
mg
Nutrition information is automatically calculated, so should only be used as an approximation.
*This post contains affiliate links*