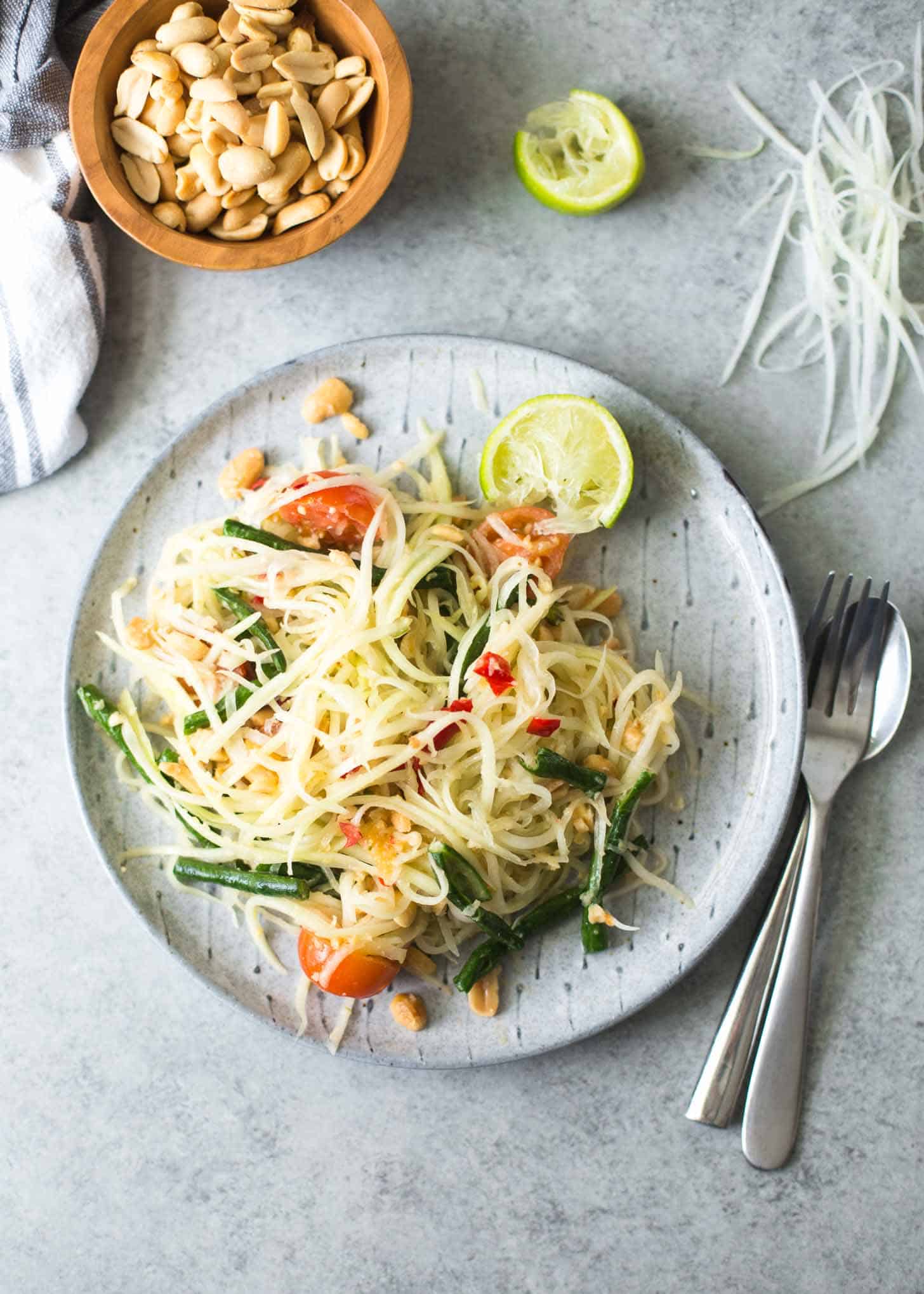 Green Papaya Salad (Som Tam) is a light, fresh, colorful salad that embodies the flavors of Northeastern Thailand. All of the ingredients are pounded together in a mortar and pestle which helps to develop the sour, savory, and spicy flavors. Once you taste this flavorful dish, it's easy to see why it's so well loved!
Like most people who have visited or lived in Thailand, Frank and I have a serious love of Som Tam. We love the spicy green papaya salad itself, but one thing we miss about our years living in Bangkok is the whole experience of the dish. When you walk around Bangkok you can hear the sound of venders making batch after batch of this spicy, tart salad. (The "pok pok" sound of the wooden pestle hitting the clay mortar is what inspired the name of Andy Ricker's Thai food empire). Eating the dish is part of a whole Thai dining experience, especially in the Northeastern (Isan) region where the dish is served everywhere – usually alongside Gai Yang and Sticky Rice (recipe coming next week!).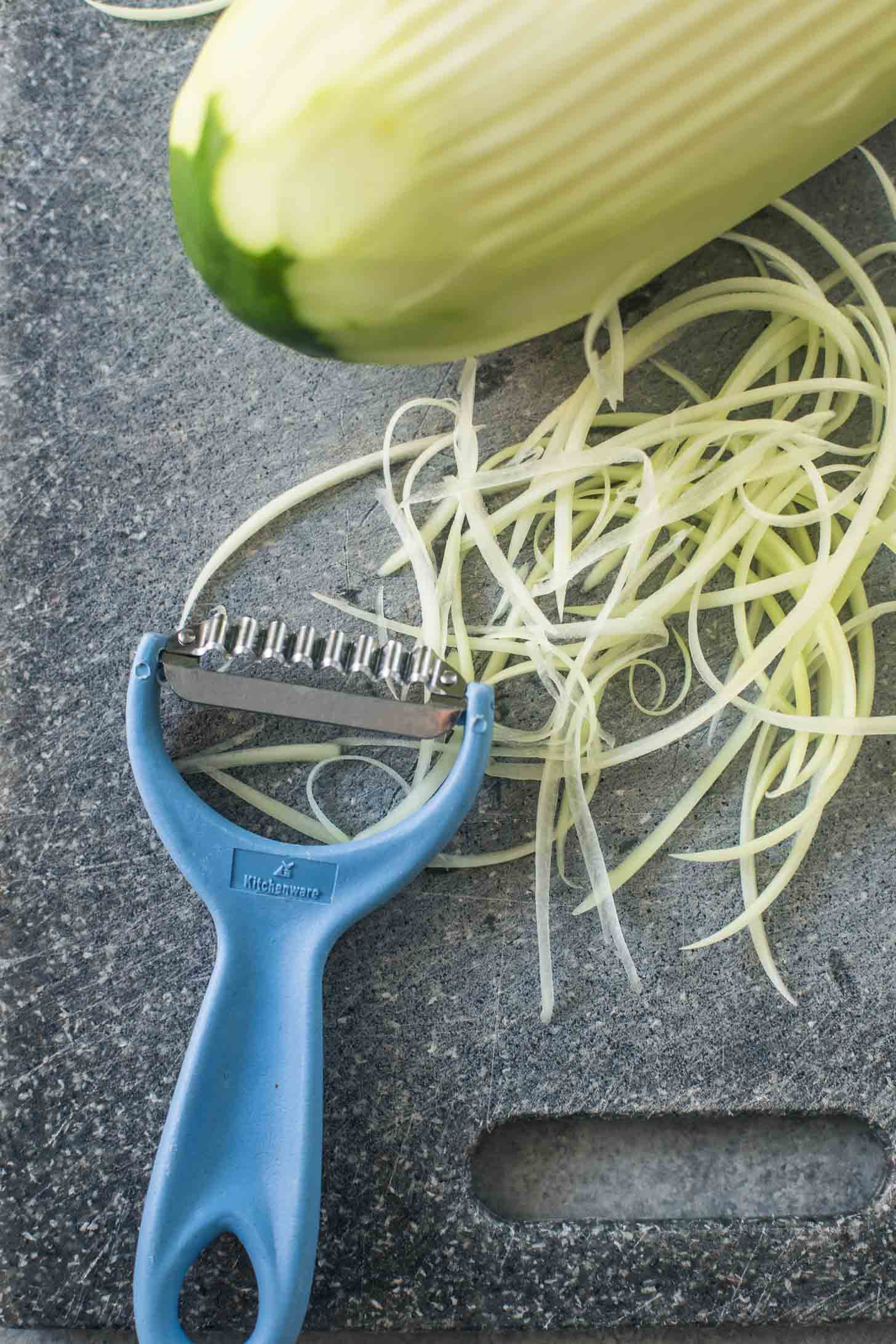 Som Tam is extremely easy to make – like, under 5 minutes easy – but it requires a bit of sourcing to get started. The first thing to source is a mortar and pestle. Not all are equal, and it's important that the version you use is a clay mortar and a wooden pestle like this one. The other thing you need is a green, unripe papaya. See below for how to choose a green papaya.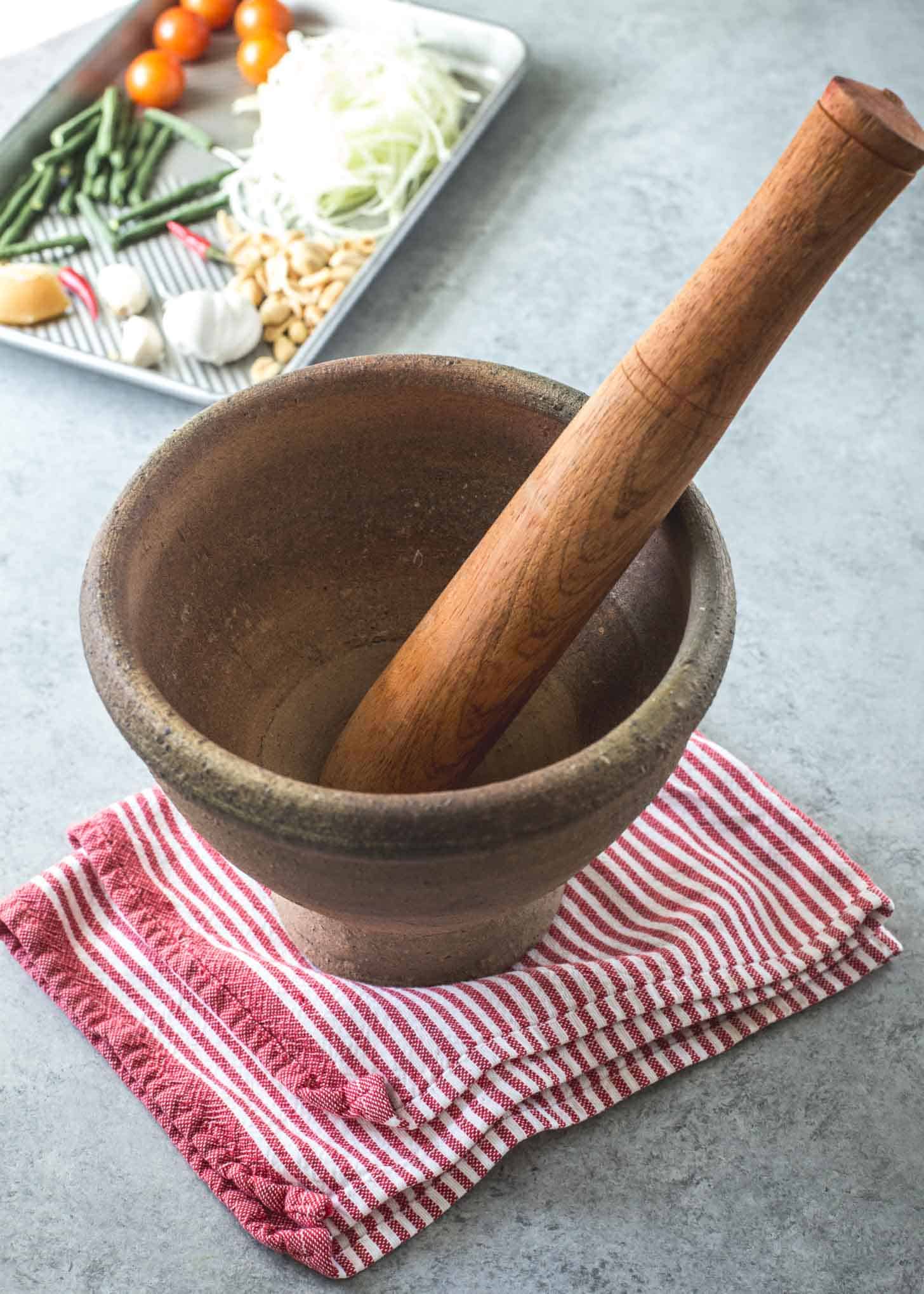 How to Choose a Green Papaya
To choose a green / unripe papaya for som tam, look for papaya that is a dark, solid green. It should feel very firm to the touch with no blemishes or soft spots. When you peel it, the fruit inside should be pale green without any hint of pink.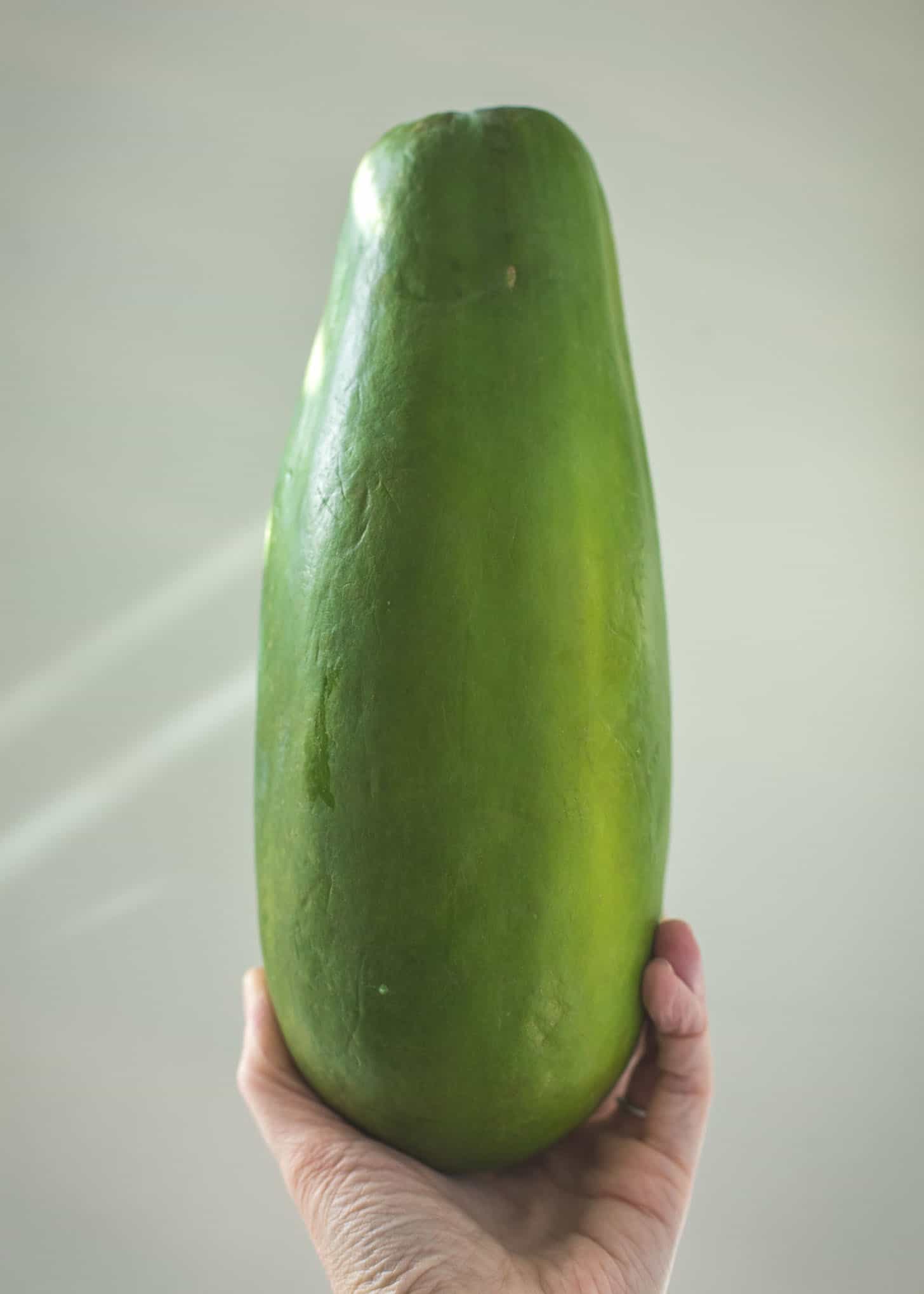 How to Make Som Tam Without a Mortar and Pestle
Don't have a mortar and pestle? No problem. The mortar and pestle used for making som tam is designed to pound the ingredients just enough that the flavors blend. As long as you keep that in mind, anything that achieves this goal will work. The easiest alternative is to combine the ingredients in a plastic bag and pound them gently with meat tenderizer or rolling pin. A sturdy wooden salad bowl and small flat-bottomed can or jar could also work.
Most important is to gently bruise the papaya so that it can absorb the aromatics and seasoning. The papaya should come out tender but also retain some crunch.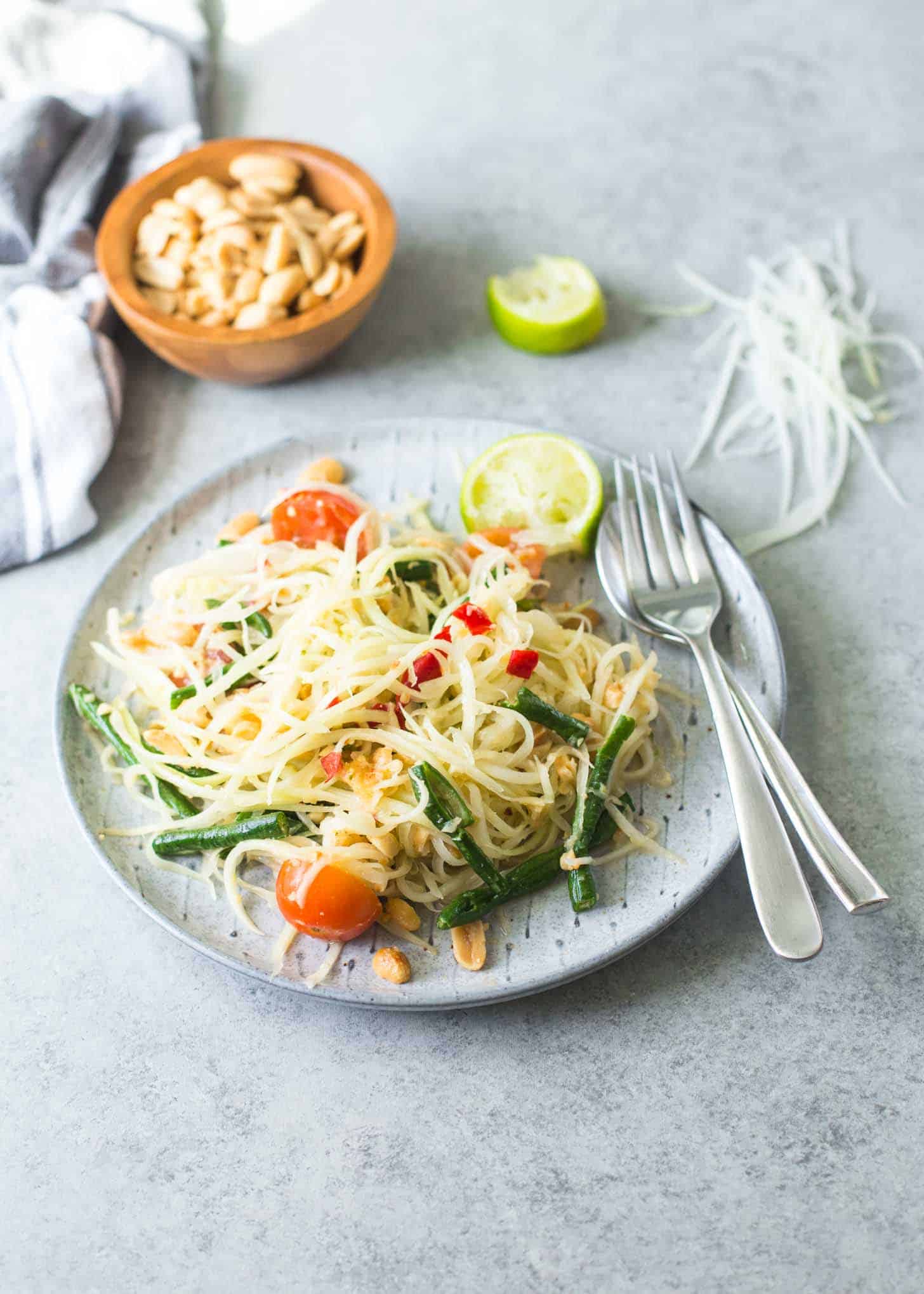 How to Make Green Papaya Salad (Som Tam)
Using a mortar and pestle, add and pound the following ingredients in order. Taste and adjust as you go, increasing the spiciness, sweetness, saltiness, and tart flavor to suit your tastes.
2 cloves Garlic
1 to 3 Bird's Eye Chilis
2 Tbsp Dried Shrimp
1 Tbsp Palm Sugar
¼ cup Roasted, Unsalted Peanuts
1 cup chopped Chinese Long / Yardlong Beans
5 Cherry Tomatoes
4 cups Shredded Green Papaya
2 tsp Fish Sauce (I prefer Red Boat)
2 tsp Lime Juice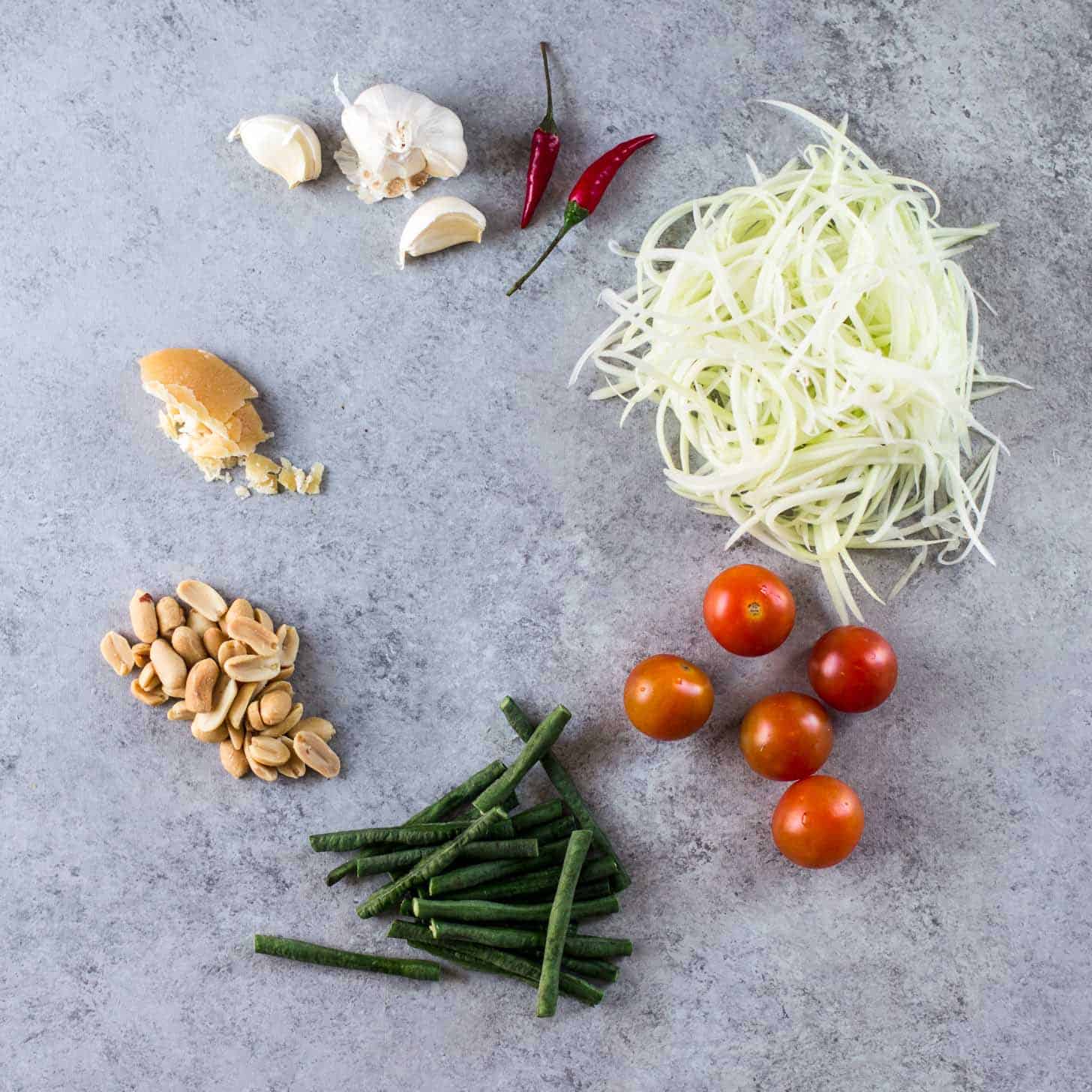 Possible Variations
Even in Thailand where all of these ingredients are readily available and classic som tam is as ubiquitous as tuk tuks on Bangkok streets, it's possible to find hundreds of variations. Here are a few I've tasted or made:
Substitute a different fruit / vegetable for the green papaya. Shredded cabbage, carrots, or green mango work well. I've even had sweeter fruit-based variations made with ripe tropical fruits.
Add or substitute another vegetable for the beans or tomatoes. While not traditional, zucchini, snow peas, or bell peppers would all be delicious!
Make a vegetarian / vegan version by skipping the dried shrimp and fish sauce. Just be sure to add a pinch of salt along with the lime juice to season the dish.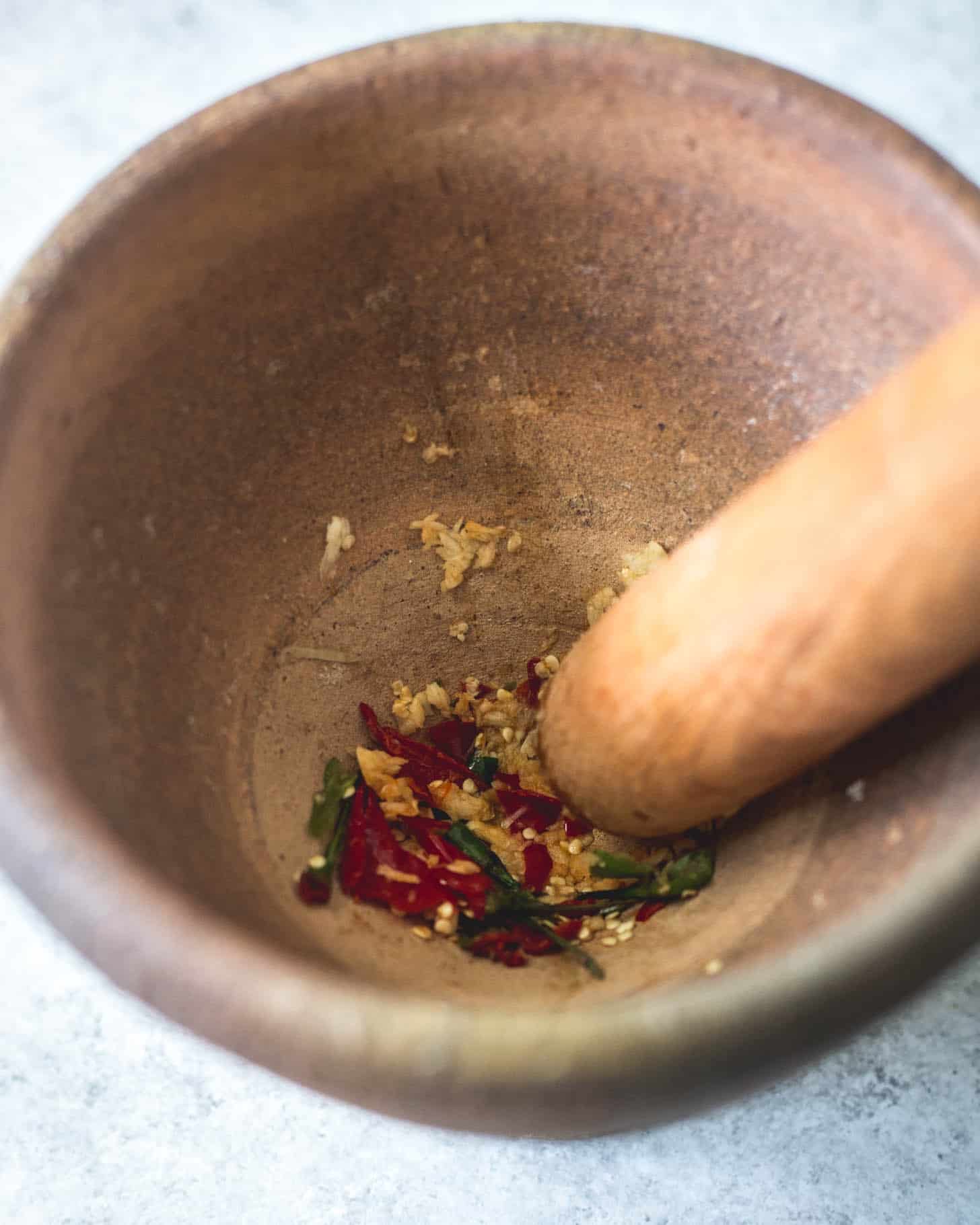 More Thai Salads
Favorite Tools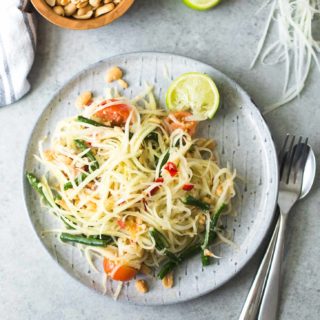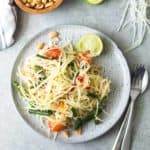 Print Recipe
Green Papaya Salad (Som Tam)
Green Papaya Salad (Som Tam) is a light, fresh, colorful salad that embodies the flavors of Northeastern Thailand. All of the ingredients are pounded together in a mortar and pestle which helps to develop the sour, savory, and spicy flavors.
Equipment
Mortar and Pestle or Spice Grinder
Ingredients
2

cloves

Garlic, peeled

1 to 3

Bird's Eye Chilis

(see note)

1

Tbsp

crumbled Palm Sugar, more to taste

(see note)

¼

cup

Peanuts, roasted and unsalted

1

cup

chopped Chinese Long / Yardlong Beans 2" / 5cm pieces

(sub 10 to 12 regular green beans, chopped)

5

Cherry Tomatoes, halved

4

heaping cups Shredded Green Papaya

(sub shredded cabbage, carrots, or green mango)

2

tsp

Fish Sauce

(I prefer Red Boat)

2

tsp

Lime Juice
Instructions
Combine garlic and chilis in a mortar and pestle. Pound until chilis are broken apart and garlic is finely ground.

Add palm sugar and pound until sugar starts to dissolve.

Add peanuts and pound until broken into small pieces.

Add beans and pound a couple times to break them apart.

Add tomatoes and green papaya together and pound, focussing on the papaya until the strands all feel tender and look slightly damp.

Add fish sauce and lime juice. Use a large spoon or spatula, alternate scooping and turning the ingredients and pounding them with the pestle so that everything gets mixed together. Be sure that you're scooping up any of the garlic, chilis, and sugar that might be stuck to the bottom.

Taste a strand of papaya and add more fish sauce or lime juice, to taste. (If you'd like it a bit more sweet, soak the palm sugar in a tiny bit of hot water to soften it first so that it gets distributed evenly.) Give everything a final mix with the spoon / pestle.

Serve immediately!
Notes
Bird's Eye Chilis - These are REALLY spicy. Even using one makes a pretty spicy dish. I did two when I was living in Bangkok and my spice tolerance was high, but living back in the US now, that stretches the limit of my spice tolerance. Serrano chilis work as a substitute and are generally less spicy. You could even play with a bit of red pepper flakes, adding a bit at a time until you reach your limit. You'll definitely want some amount of spice in the dish though - it's the balance of spicy, sweet, salty, and sour that make this so great.
Palm sugar - This has a subtle, caramel flavor that makes it unique. Brown sugar would work as a substitute, but start with less than listed in the recipe and slowly increase it.
Dried Shrimp - The recipe above does not include dried shrimp, but add up to 2 Tbsp of dried shrimp for added savory / seafood flavor with the dried peanuts if you'd like. These can be found in any international / Asian market and are shelf-stable and do not have to be cooked or prepared in any way before using them in this salad.
This is a dish that's best made in small batches. This is the most I'd recommend making at one time (and serves 2 generously or 4 as a small side), so if making it for a crowd, just repeat the steps for each batch.
For a vegetarian / vegan version, substitute soy sauce for the fish sauce.
Nutrition
Serving:
1
g
|
Calories:
600
kcal
|
Carbohydrates:
130
g
|
Protein:
28
g
|
Fat:
11
g
|
Polyunsaturated Fat:
4
g
|
Sodium:
605
mg
|
Fiber:
17
g
|
Sugar:
35
g
It's been cold, rainy, icy, snowy…all the bad weather things here in Kansas City. Thank goodness for open gyms and kid-friendly play spaces so Molly and Clara can get in their time behind the wheel.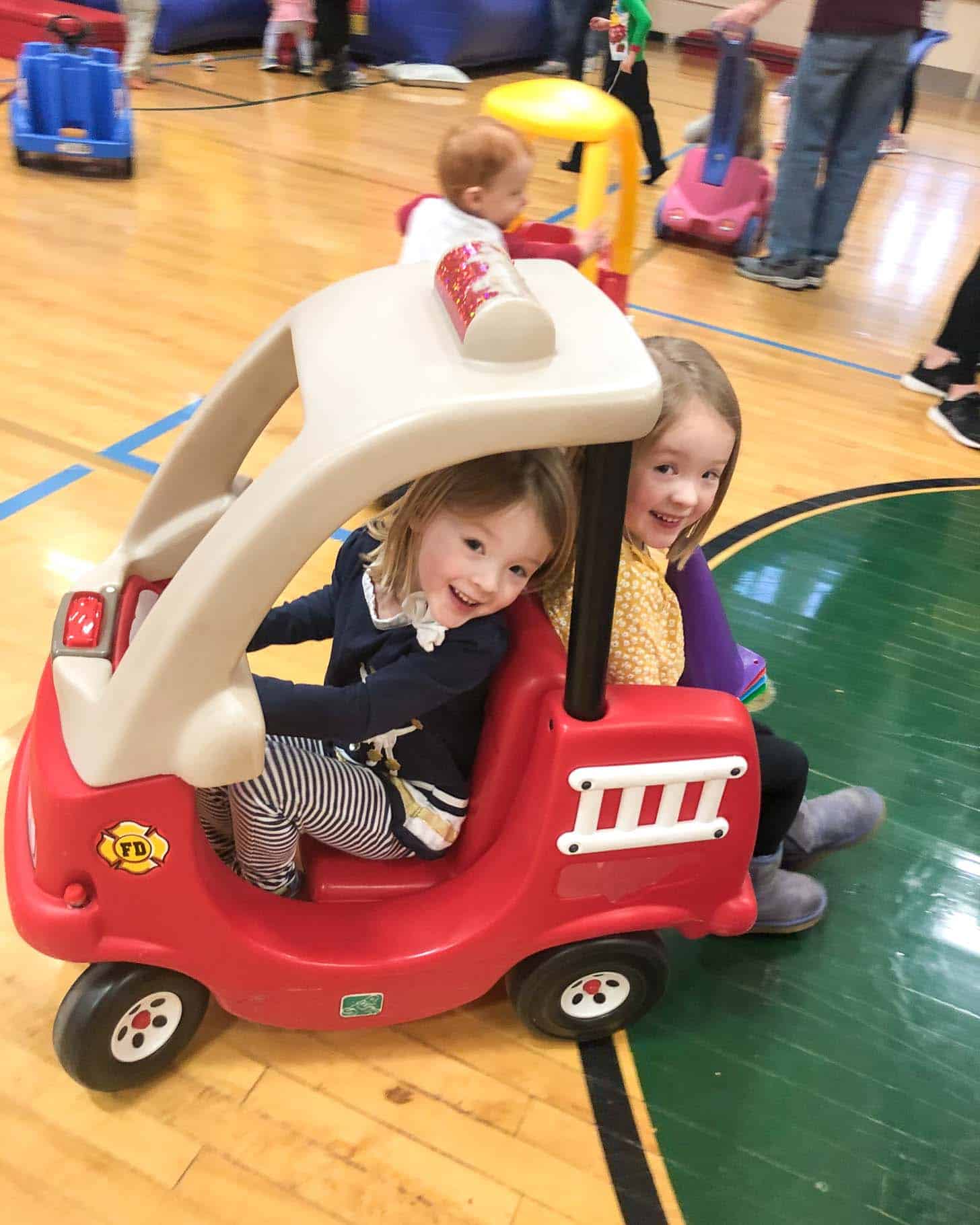 *This post contains affiliate links*