Thai Fried Rice
Published Feb 20, 2023•Updated Mar 29, 2023
Want to make Thai Fried Rice at home that tastes just like the version at your favorite Thai restaurant? Look no further.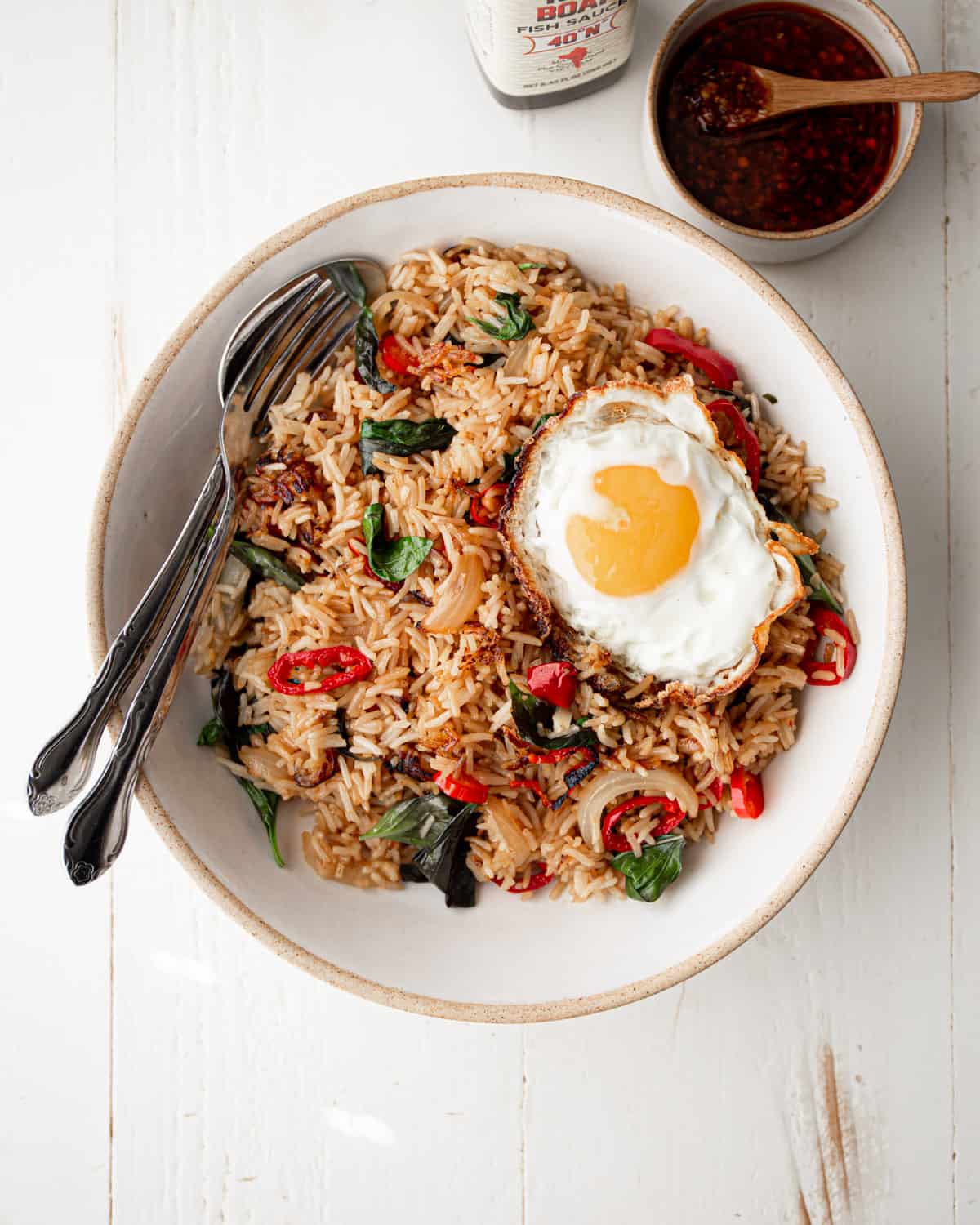 When we lived in Bangkok, the first dish we taught all of our visitors to order was fried rice. And we always recommended ordering it "kai dao" – with a fried egg on top. In Bangkok, you could get a reliable plate of fried rice almost anywhere, so we always knew our guests would be well-prepared if they found themselves hungry and out for a day of exploring. But the best versions, made on piping hot outdoor woks at food stalls in Bangkok…well, those are some of the most crave-worthy meals I've ever had. Each grain of rice is perfectly tender, with crispy, golden spots where the rice seared along the bottom of the pan.
The great news is that you can absolutely achieve an incredible version of this dish at home using my recipe and tips below. It starts with fragrant sautéed onions, garlic, and chilis and can easily be adapted by adding your favorite vegetables or protein. Add chicken for Thai chicken fried rice and if you can track down Thai basil, it will give the dish truly authentic flavor.
So let's dive in….
What is Thai fried rice?
Thai fried rice is a dish of stir-fried rice that is common in central Thailand. The Thai version of fried rice is unique because it is packed with aromatics, herbs, and spices to create layers of flavor. Thai rice is made with jasmine rice, rather than the white long-grain rice that Chinese fried rice is known for. If you are looking for additional flavor combinations, try my Pineapple Fried Rice.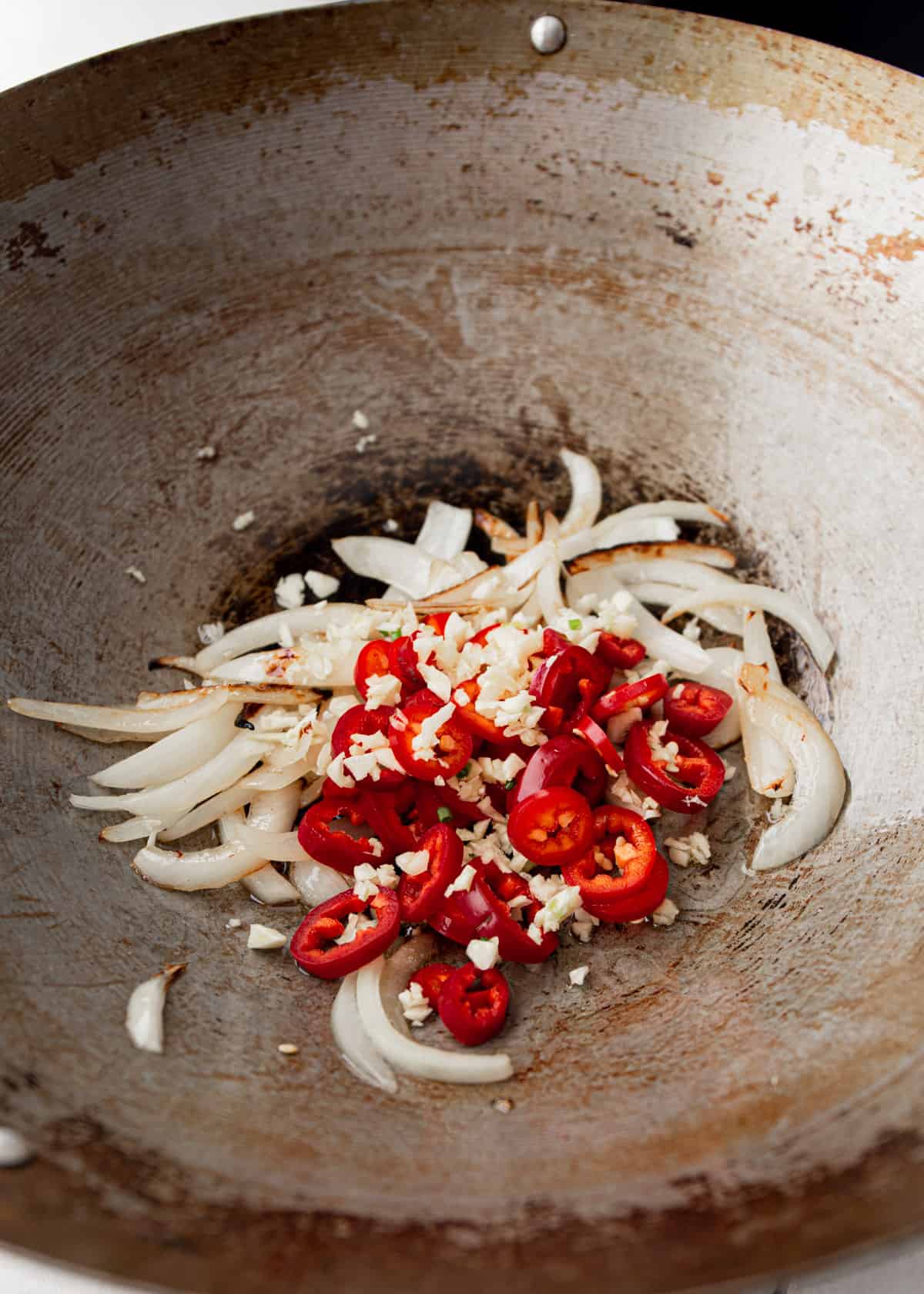 How to Make It
Start with rice that is a day or two old and has been stored in the fridge.
Prep the chilled rice by hand separating any pieces that may be sticking together, then set aside.
In a small mixing bowl, whisk the oyster sauce, soy sauce, rice vinegar, fish sauce, sugar, and toasted sesame oil.
Saute the onions for 3 to 4 minutes. Add the garlic and chilis to the wok and saute for 1 minute, or until fragrant.
Pour the sauce over the onions and bring to a simmer. Add the rice and stir to combine.
Spread the rice in a single layer in the pan to help it cook evenly. Let the rice cook undisturbed until the edges become crisp and golden brown, about 4 to 5 minutes.
Stir in the basil and cashews. Continue stirring until the basil is wilted.
Serve warm with fried eggs on top.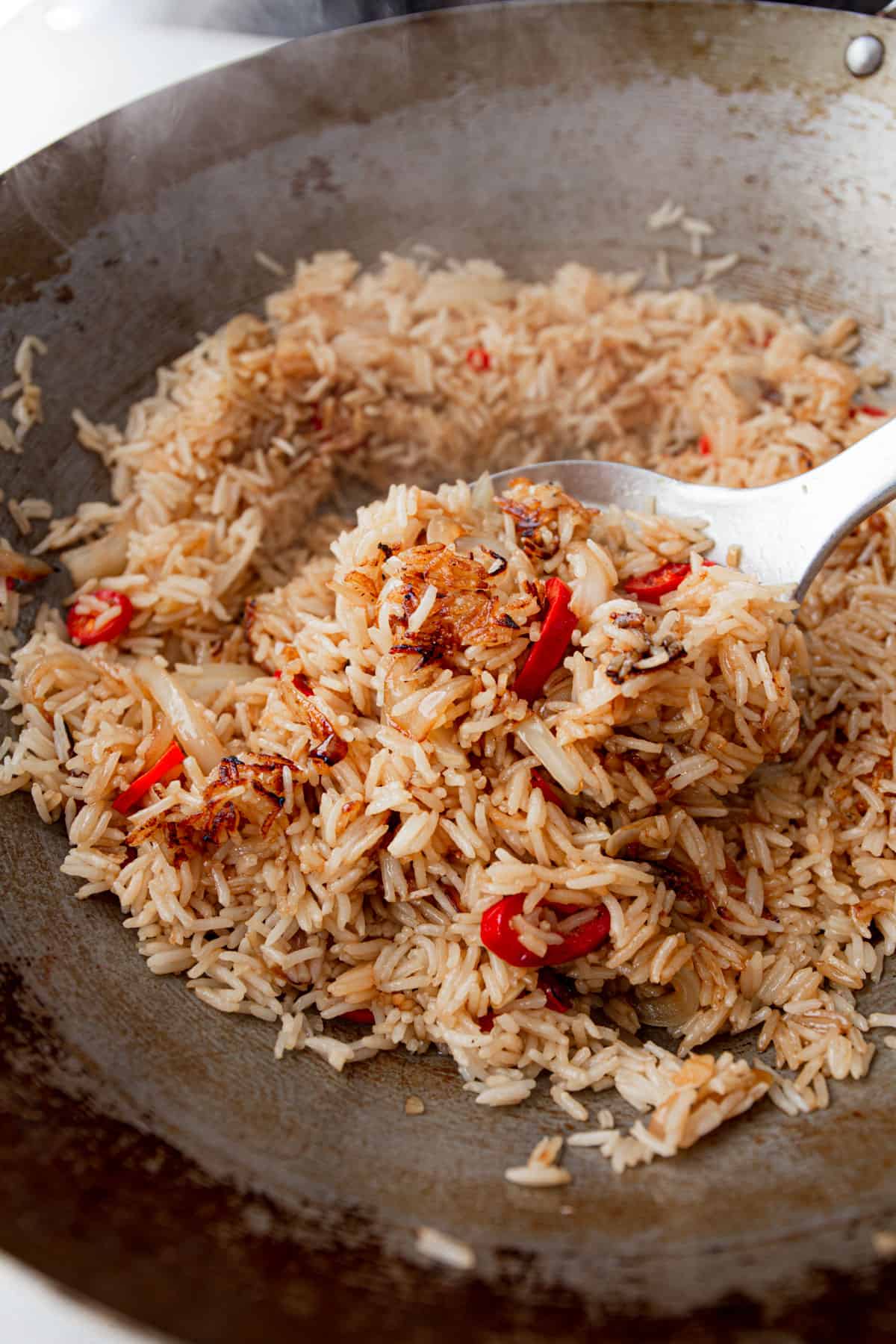 Ingredients
Cooked Jasmine Rice, chilled – Jasmine rice has a beautiful aromatic quality compared to other types of white rice, and it goes so well with the herbs and umami flavors in this recipe. If you don't have rice ready-to-go, see below for my favorite tip on using frozen rice.
Oyster Sauce, Soy Sauce, Rice Vinegar, Fish Sauce, Sugar, Toasted Sesame Oil – This mix of sauces, oil, vinegar, and sugar creates the base flavors. It's the perfect balance of tangy, sweet, toasty, and umami.
Cooking Oil – To keep the pan slick and prevent sticking.
Yellow Onion, Garlic – Sautéed aromatic garlic and yellow onions soften these flavors and go so well with the sauce mixture.
Thai Chilis – If you're sensitive to spice, go ahead and skip these. They can be pretty powerful and pack a punch.
Thai Basil Leaves – If Thai basil leaves are not available, substitute Italian basil. These sweet herbs add more complexity.
Roasted Cashews – Crunchy, nutty cashews add a great crunch to the texture.
Fried eggs, for serving – Fried eggs are totally optional, but add a yummy richness.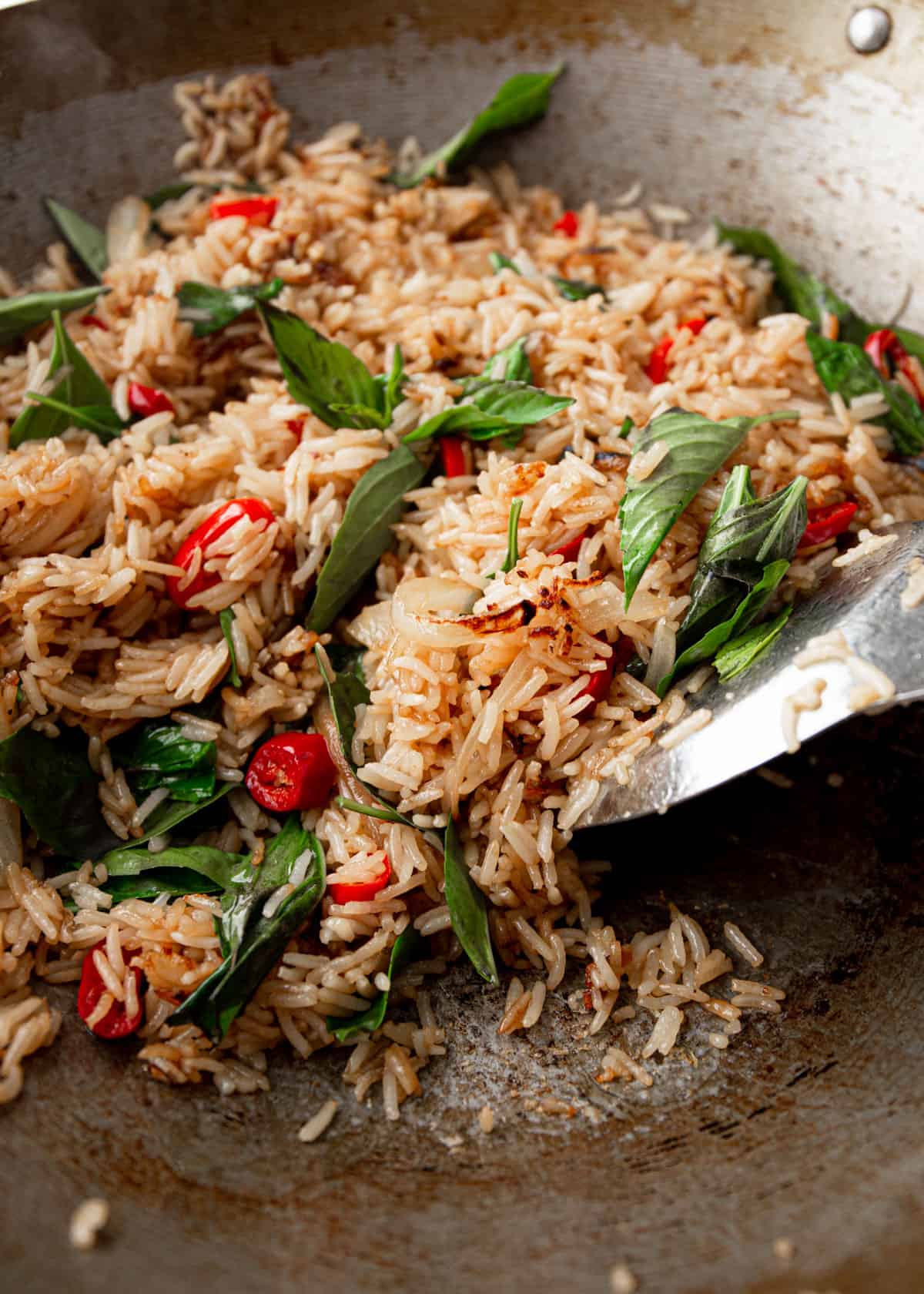 Shortcut: Use Store-bought Frozen Rice
One of my favorite fried rice shortcuts is to keep bags of microwavable Jasmine Rice in the freezer. When you're ready to cook, just microwave the frozen rice for one minute less than the package instructs. You can use this par-cooked rice immediately to make fried rice and it will finish cooking in the pan.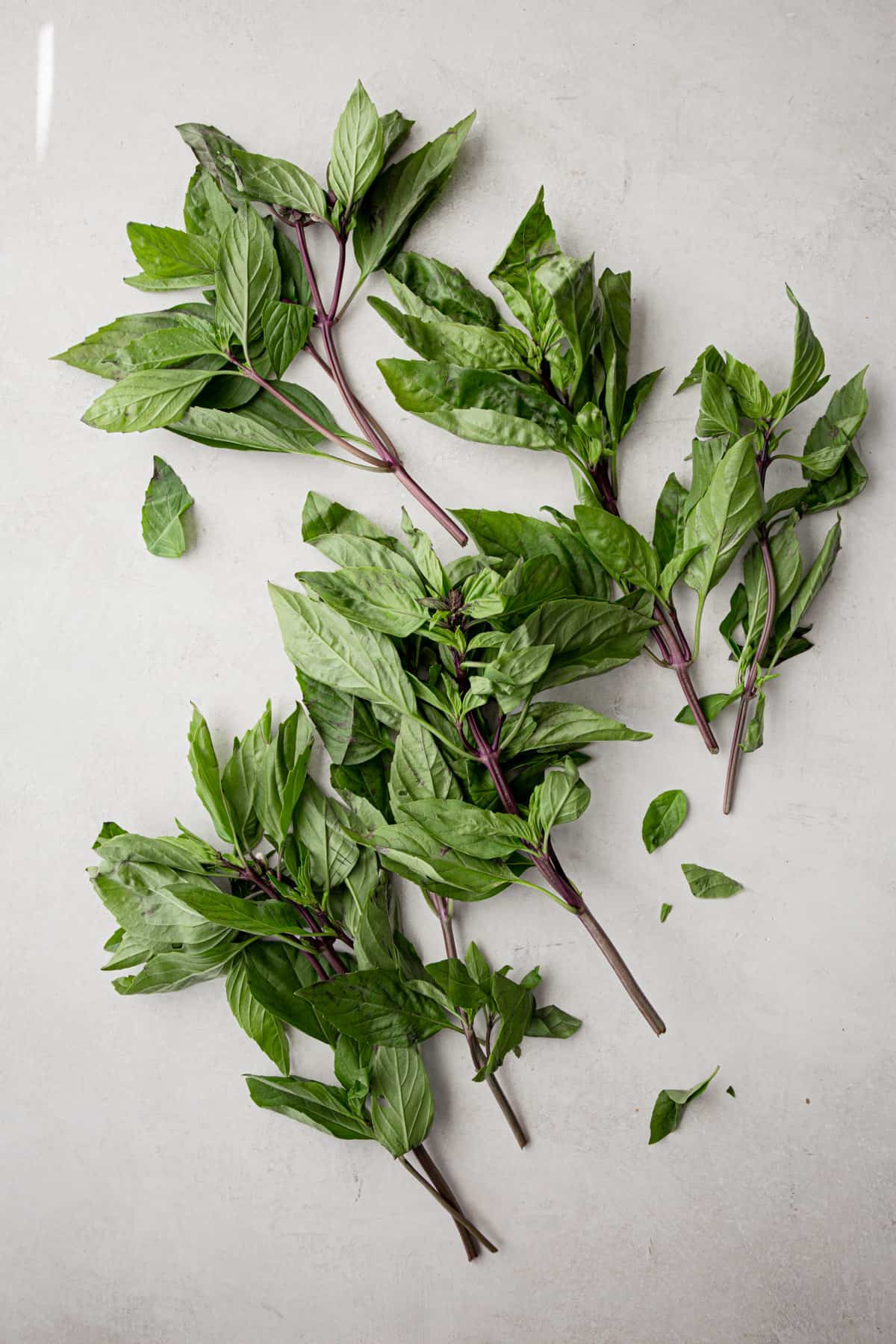 Thai fried rice vs. Chinese fried rice
The biggest difference is the type of rice used. Chinese fried rice uses long-grain rice, while Thai uses jasmine rice. Chinese fried rice sometimes includes peas, carrots, and green onions, while the Thai version includes more bold aromatics like Thai chilis and garlic. While some Chinese fried rice is served with eggs scrambled and folded into the dish, this is rare in the Thai version (though it is often topped with a fried egg).
Tips
Use day old or leftover rice. Leftover rice is perfect for soaking up the sauces in this recipe.
Tweak the sauce. Serve this dish with rice vinegar, honey, or even sriracha to allow everyone to find the balance of flavors they like.
Make the perfect veggies. To keep your veggies fork tender, cook them separately, then fold into the rice.
Variations
Add chicken – Lean chicken is a natural addition to any fried rice dish. Use leftover chicken, or saute the chicken while the other ingredients are cooking.
Mix up the veggies – Diced orange, yellow, or red bell peppers add a nice mild flavor to fried rice. Crunchy carrots, onions, even diced broccoli are great extras to include.
Try different proteins – Using shrimp, tofu, pork or beef creates more variety.
Add toppings – Aromatic scallions (green onions) and fresh cilantro add vibrant flavors.
Use brown rice – Make this dish a little healthier by using hearty brown rice.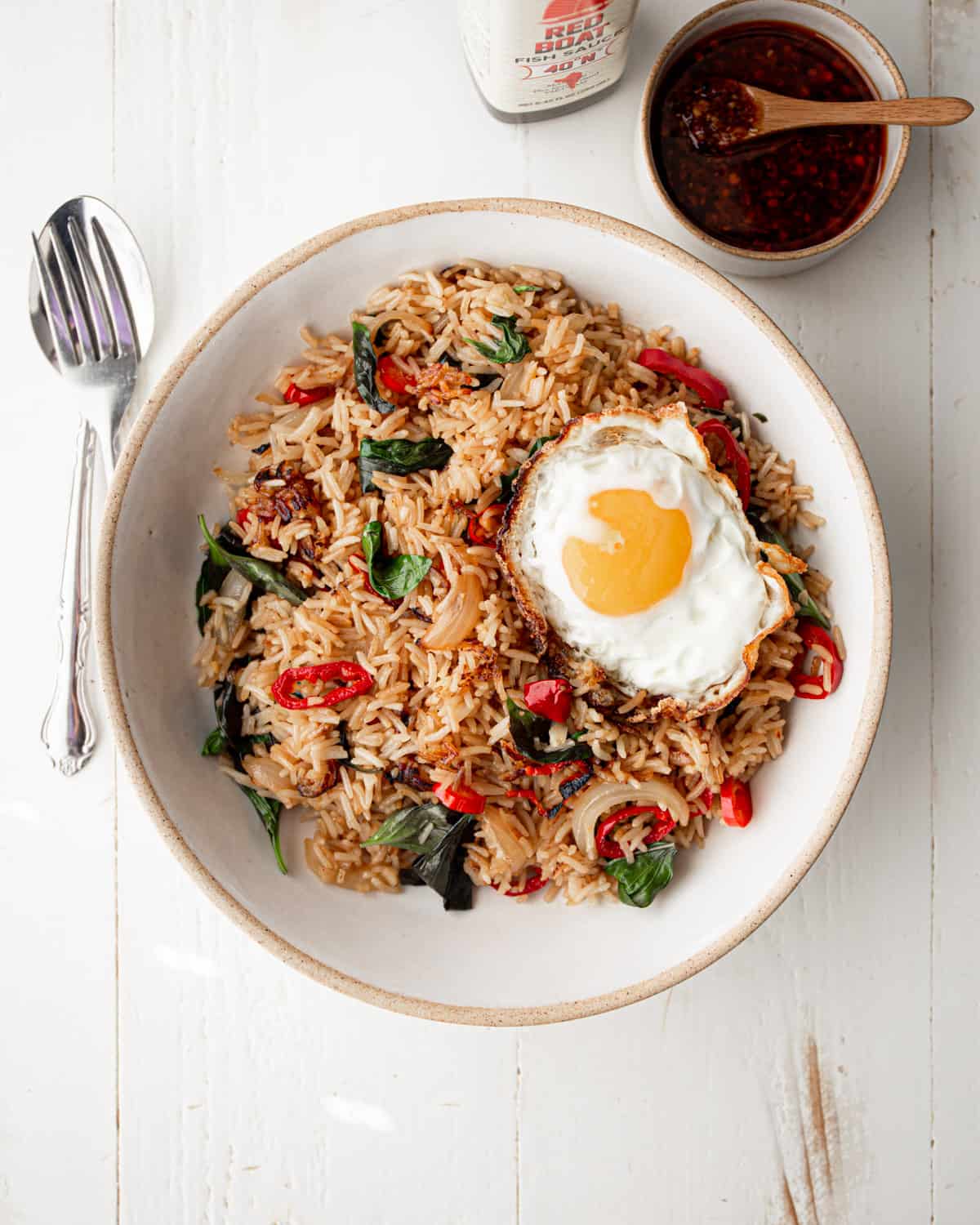 FAQs
Is Thai fried rice gluten-free?
Just substitute gluten-free Tamari for the soy sauce and be sure to get gluten-free oyster sauce. Oyster sauce often contains traces of soy sauce, but gluten-free brands are available – check the label.
Is fried rice vegetarian?
The inclusion of fish and oyster sauce in this rice means that this isn't a vegetarian or vegan dish. To make fried rice vegan and vegetarian-friendly, omit the fish sauce, and use a vegetarian oyster sauce.
Does Thai fried rice have egg?
In Thailand, it is rare for fried rice to be served with egg scrambled into the rice. However, diners often request that the dish to be served "kai dao", which means that it is served with a fried egg on top.
More Thai Recipes
Favorite Tools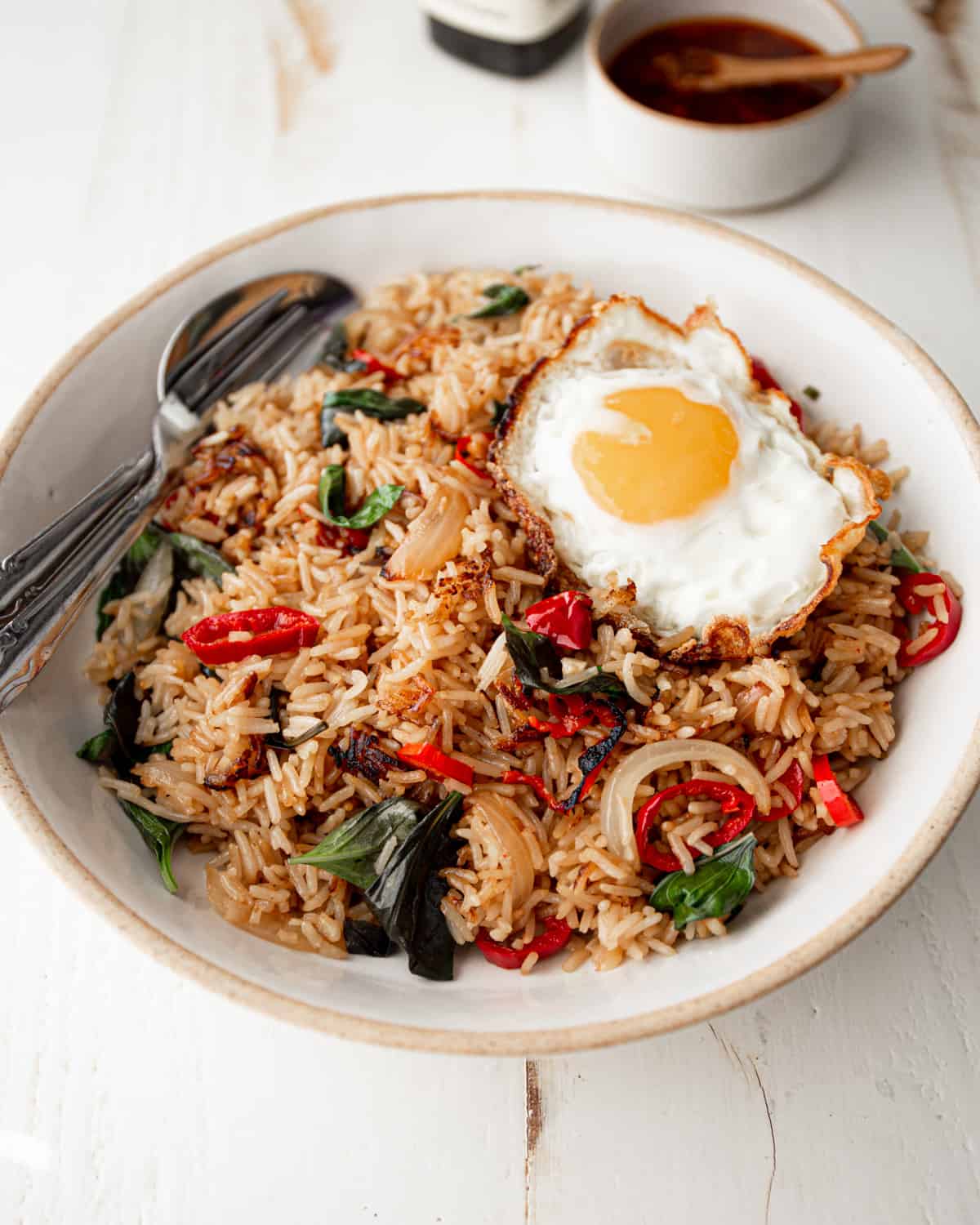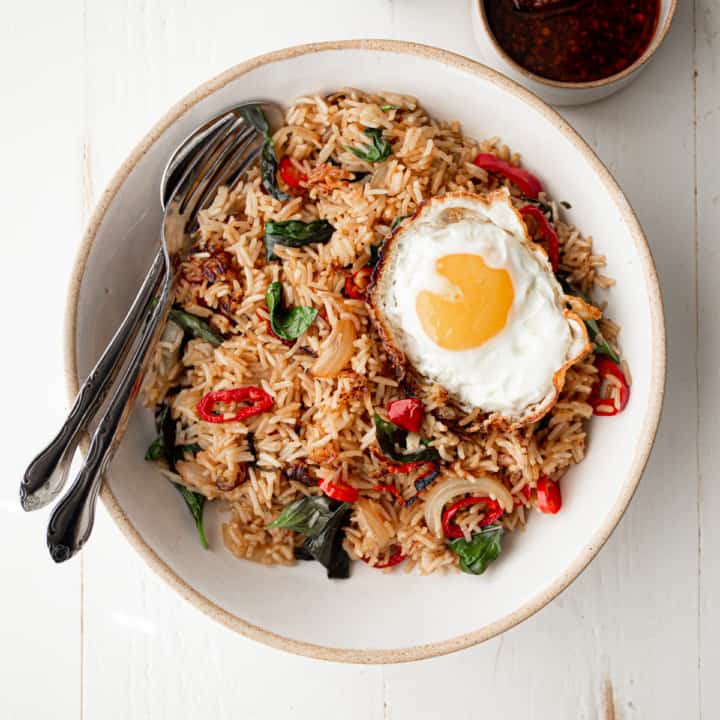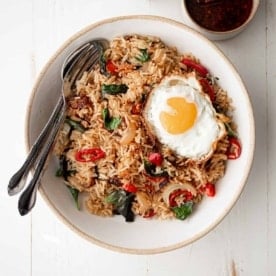 Thai Fried Rice Recipe
Make authentic Thai Fried Rice just like the versions you get at Thai restaurants. Packed with flavorful onions, garlic, chilis, and Thai basil, this dish comes together fast and is easy to customize.
Equipment
Mixing Bowl

Wok or skillet
Ingredients
3

cups

cooked jasmine rice, chilled

(see note)

2

Tablespoons

oyster sauce

(use vegetarian oyster sauce if preferred)

1

Tablespoon

soy sauce

1

Tablespoon

rice vinegar

2

teaspoons

fish sauce

1

teaspoon

sugar

2

Tablespoons

cooking oil

1/2

yellow onion, sliced

(about 3/4 cup)

3

cloves

garlic, finely chopped

2

Thai chilis, thinly sliced

(optional, only add these if you want the rice to be spicy)

1

cup

lightly packed Thai basil leaves

(substitute Italian basil leaves)

1/2

cup

roasted cashews

(optional)

fried eggs, for serving

(optional)
Instructions
Use your hands to gently separate the cold grains of rice (this will make them easier to add to the pan). Set aside.

Whisk together oyster sauce, soy sauce, rice vinegar, fish sauce, sugar, and cooking oil and set aside.

Heat oil in a wok or a nonstick skillet over medium heat. Add the onions and saute until the onions are soft, 3 to 4 minutes. Add the garlic and chilis and saute until fragrant, about 1 minute more.

Pour the sauce over the onions. When the sauce is bubbling, add the rice and stir everything together until combined.

Spread the rice out in a single layer. Let the rice cook, without stirring, until it is crisp and golden where it meets the pan, 4 to 5 minutes. (Remove a portion of the rice to check for crispness on the bottom.)

When the rice is crisp, stir in the basil leaves and cashews. Keep stirring until everything is heated through and the basil is wilted.

Serve warm with fried eggs on top if you'd like.
Notes
Rice
– One of my favorite fried rice hacks is to buy frozen White Jasmine Rice and microwave it one minute less than the package instructions. There is no need to let the rice cool before using it because it will finish cooking in the pan. If using regular (not frozen) rice that you made ahead, it's best to let it chill in the refrigerator for at least a day before using it in fried rice.
Protein – For a complete meal, stir in pre-cooked protein of choice when you add the basil and cashews. Chicken, pork, shrimp, or tofu all work well.
Nutrition
Calories:
552
kcal
|
Carbohydrates:
87
g
|
Protein:
14
g
|
Fat:
17
g
|
Saturated Fat:
3
g
|
Polyunsaturated Fat:
3
g
|
Monounsaturated Fat:
10
g
|
Sodium:
1476
mg
|
Potassium:
427
mg
|
Fiber:
3
g
|
Sugar:
6
g
|
Vitamin A:
670
IU
|
Vitamin C:
13
mg
|
Calcium:
86
mg
|
Iron:
3
mg
Nutrition information is automatically calculated, so should only be used as an approximation.