Thai Cashew Chicken is a weeknight dinner dream – better than take-out, made in 30 minutes, loaded with flavorful sauce, and less than 350 calories.
Okay, so I totally know what you're thinking of when I mention Cashew Chicken. A sort of ordinary, Chinese food buffet version, right? Good but lacking in pizzazz. This, my friends, is NOT Chinese food cashew chicken. This is the Cashew Chicken of Thailand. Cooked in a fiery hot wok in a matter of minutes, it's packed with flavor, tender peppers and onions, perfectly cooked golden brown chicken, and a sauce that will make you go back for seconds…and thirds…and get excited for leftovers at lunch.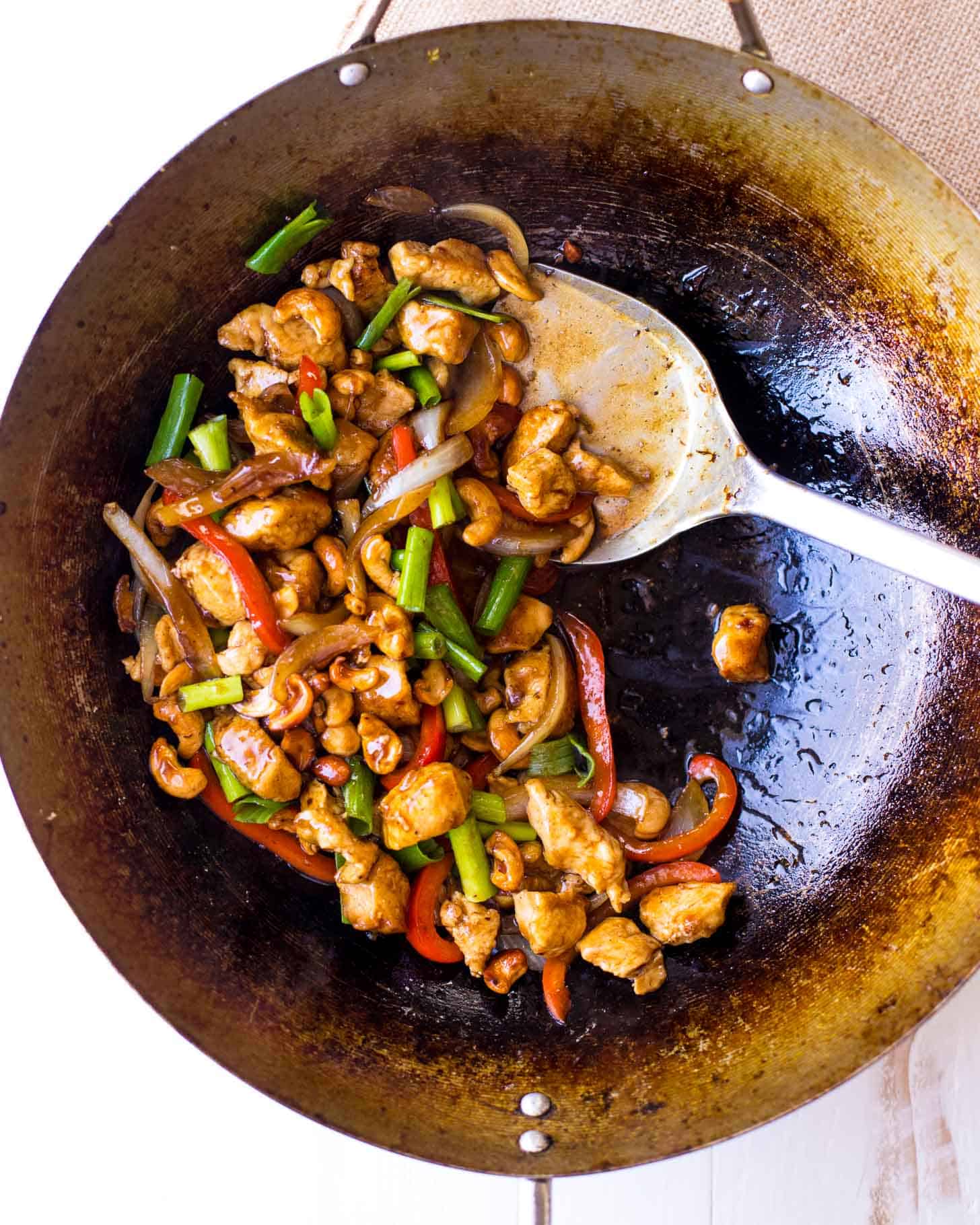 In Thailand, this is still considered a Chinese-style dish, but it is so prevalent in Bangkok that it's become Thai food in its own right. Spice is optional here, but as with most Thai food, a little heat is always welcome. When I make it for my kids, I skip the spice – the sauce is perfectly flavorful all on its own.
Like most stir-fry dishes, this is a weeknight favorite. A few minutes of prep means all of the ingredients are ready to go and the dish can be finished in the wok in 15 minutes or less. Cooking everything in the right order is key. Here we go!
Step 1: Make Sauce
Garlic, soy sauce, water, cornstarch, and red pepper flakes (optional) are things you probably already have in your pantry. This also calls for a bit of Oyster Sauce. Don't be afraid of it! You've surely had oyster sauce if you've had Thai or Chinese take-out. The finished dish won't taste like oysters, but will have a savory flavor that shouldn't be missed. You'll also need Sweet Soy Sauce. It's inexpensive and available at any Asian market. This is the brand we keep in our pantry. (Check out the Guide to Essential Thai Ingredients for more details.)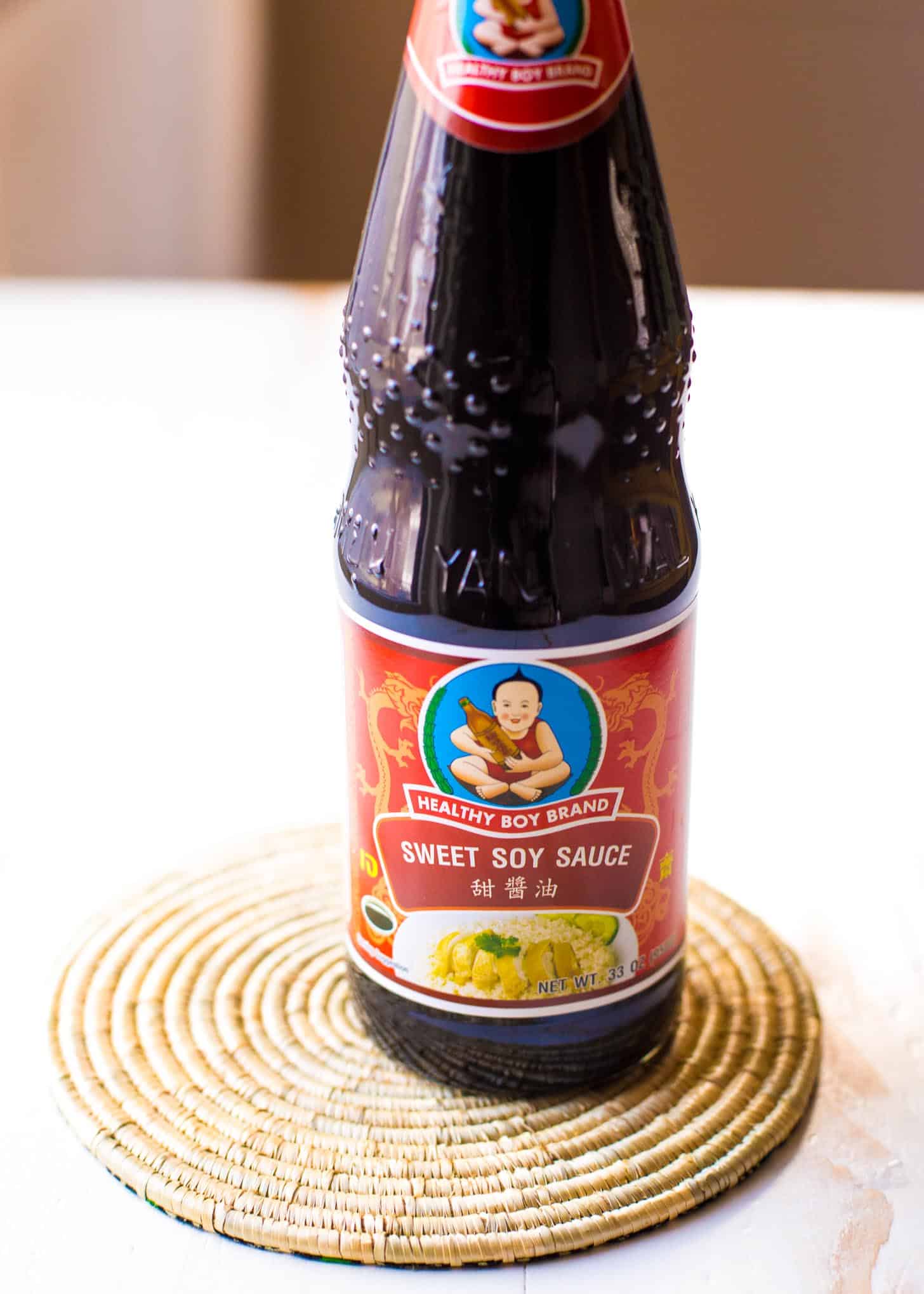 Step 2: Prep Ingredients
The ingredients list is short and sweet. Slice peppers, yellow onions, and green onions. Toss diced chicken with a bit of salt and all-purpose flour (to help it brown in the pan). Get everything ready before you start. This will cook FAST.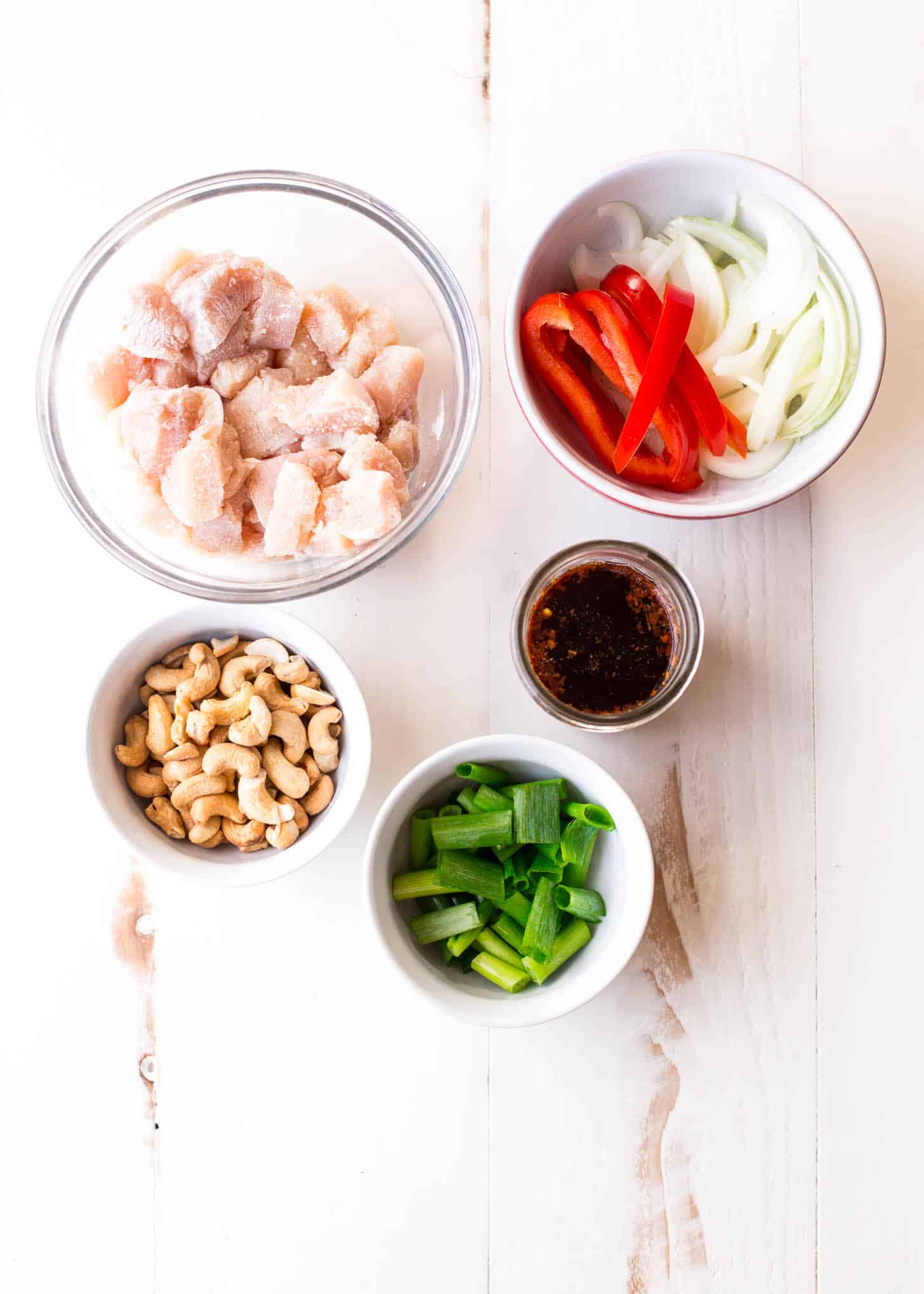 Step 3: Fry Cashews
Since cashews are the key ingredient of cashew chicken you really want them to shine. Add cashews to some hot oil and cook for about a minute until they are golden brown. You'll be amazed at how much toasty flavor and crunch this step gives the finished dish. It also gives the cooking oil a bit of extra flavor. Set cashews aside.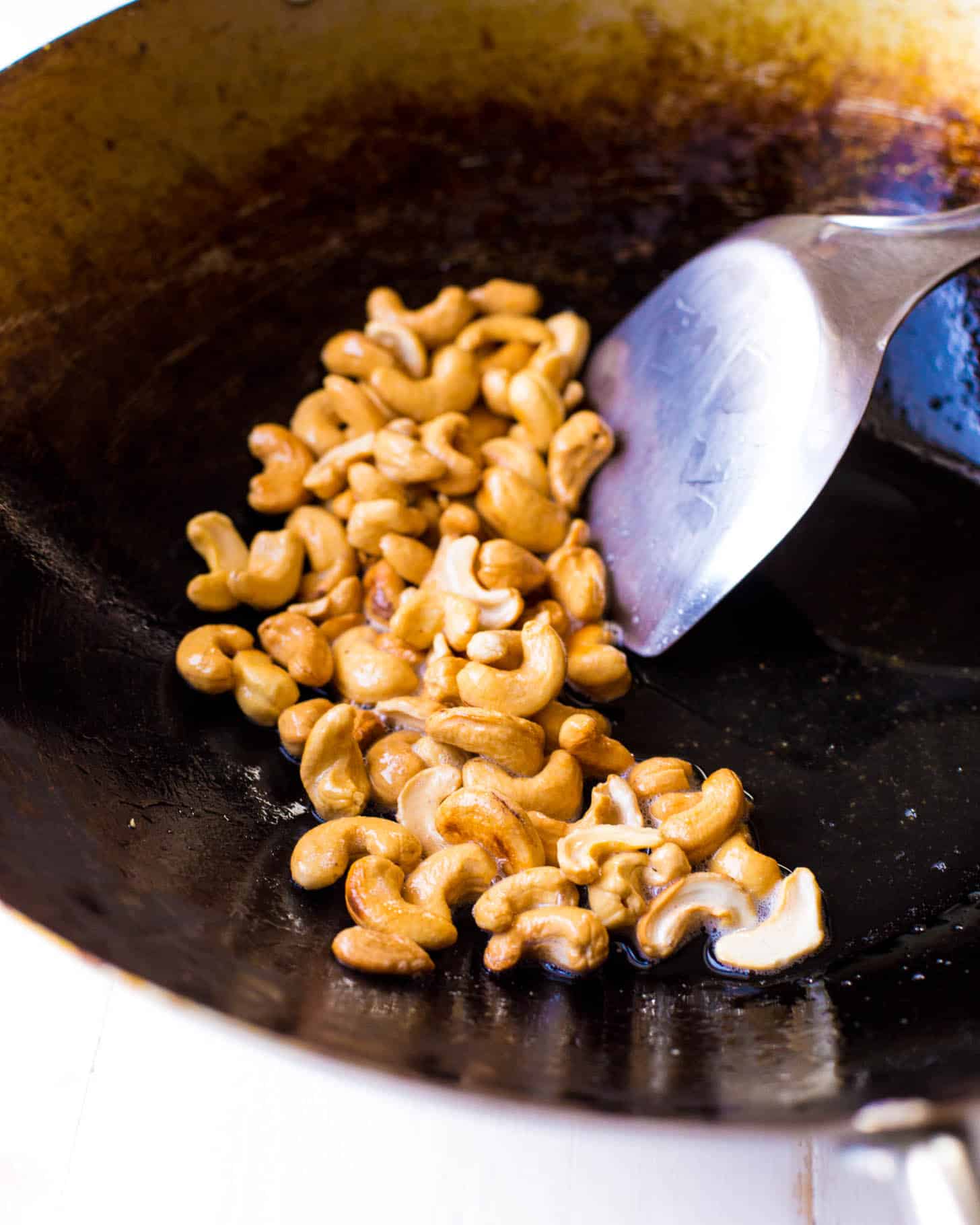 Step 4: Fry Chicken
Leave the oil from the cashews in the pan and add the flour-coated chicken. Saute until golden brown and cooked through (6 to 7 minutes). Set chicken aside with cashews.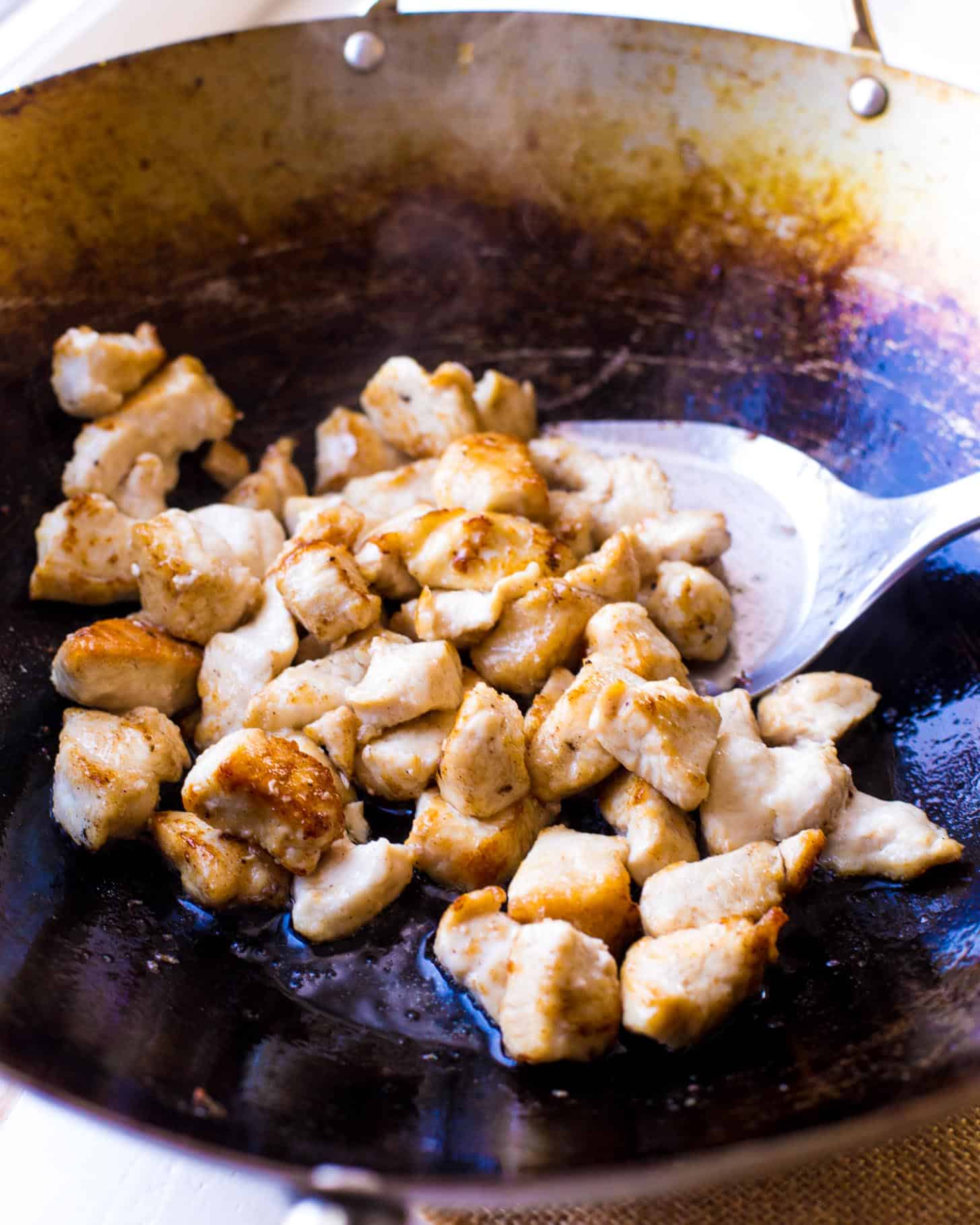 Step 5: Cook Peppers and Onions
To the hot pan, add those peppers and onions and saute until tender, 3 to 4 minutes. Add a splash of water if the pan starts to look dry.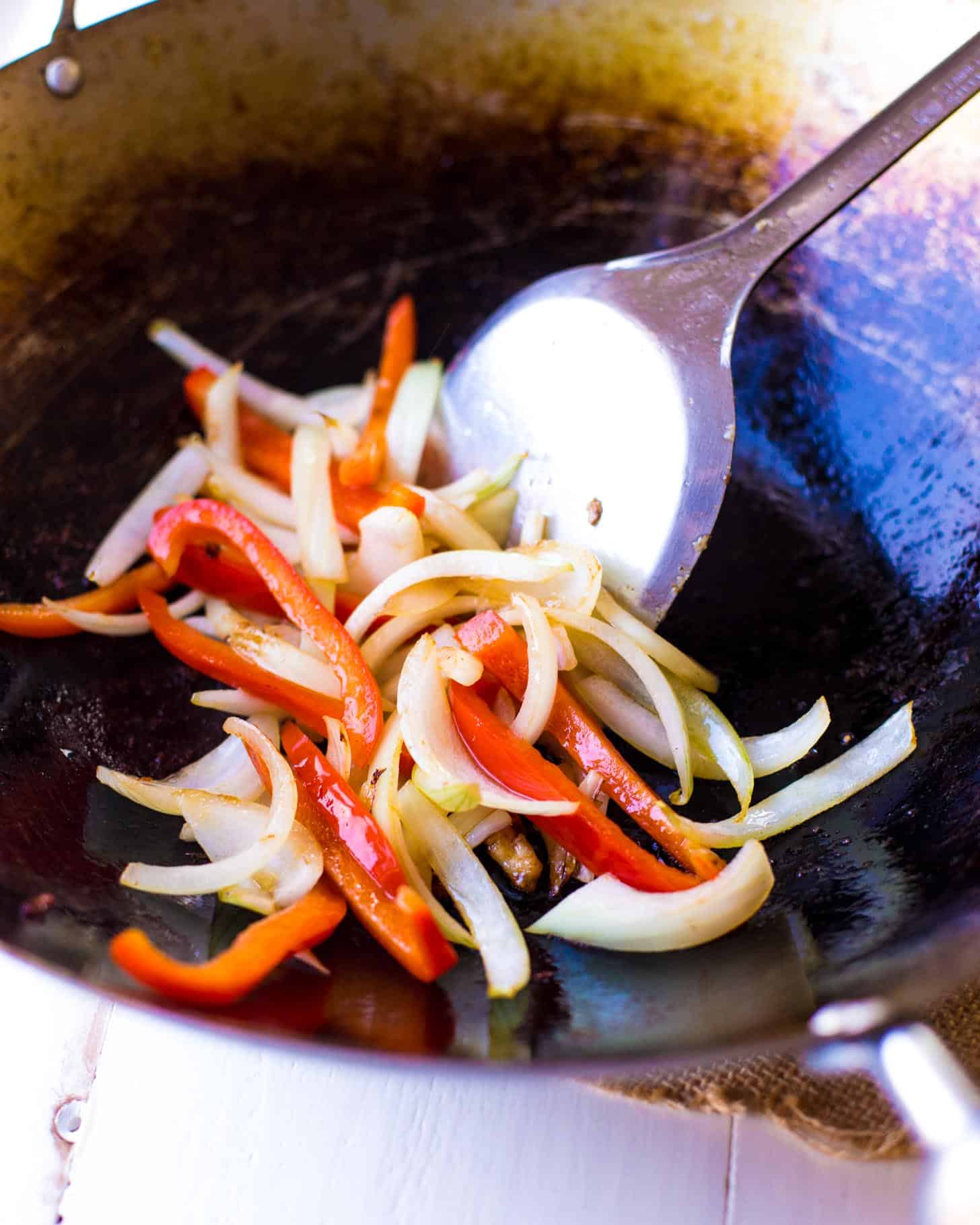 Step 6: Simmer with Sauce
And here's my favorite part of Thai Cashew Chicken. Add the sauce and let it bubble and thicken.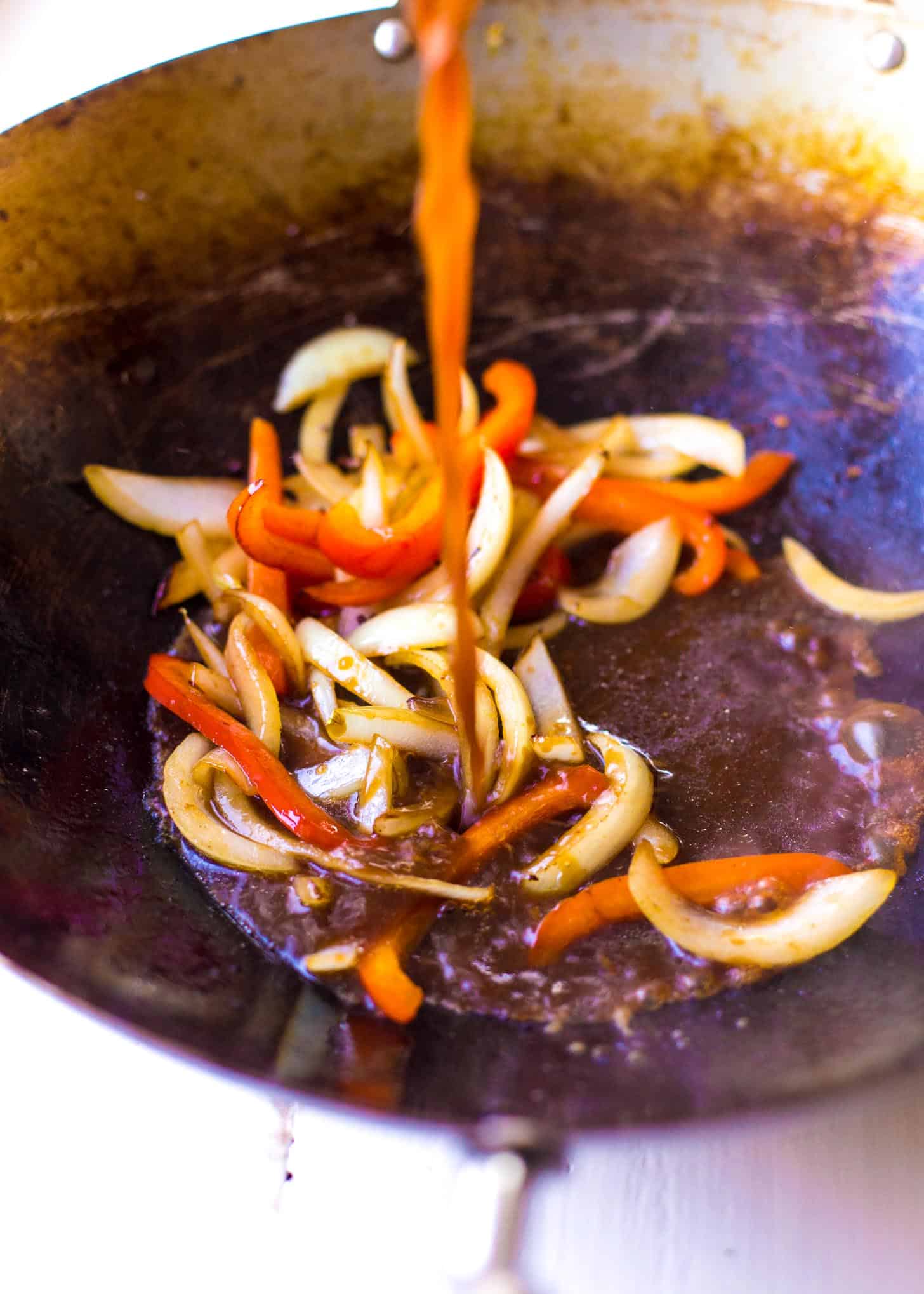 Step 7: Add Green Onions, Chicken and Cashews
Add the green onions and add chicken and cashews back to pan. Toss everything to coat in sauce.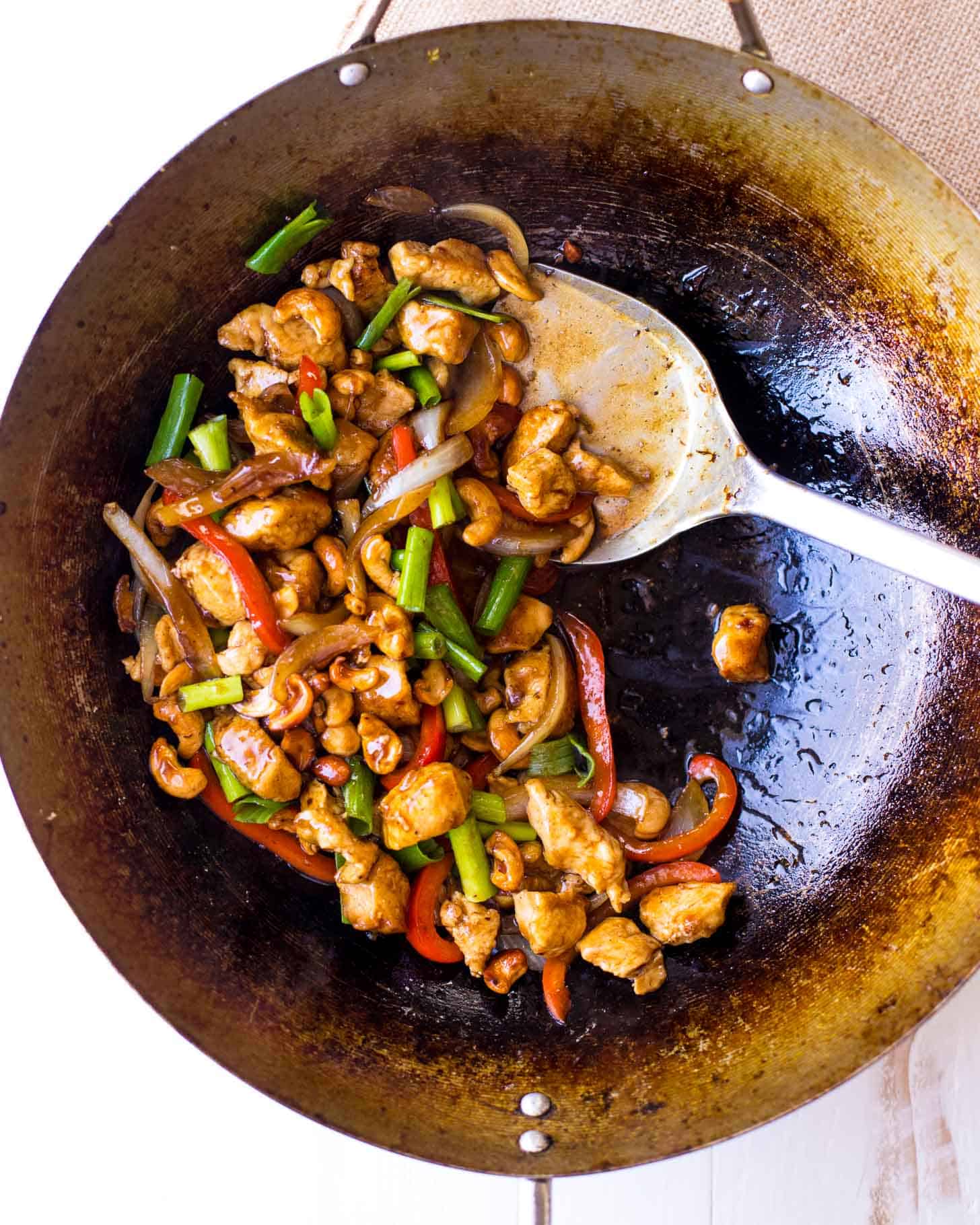 Dinner is served!
More Take-Out Fake-Out Meals
Favorite Tools
Joyce Chen Carbon Steel Wok

– I absolutely love this affordable, beautiful wok. This is the exact wok that is shown in all the photos above (after much love and use).

Wok Spatula

– This spatula is the right shape to fit in the corners of the wok, making it easy to toss everything together.
Print Recipe
Thai Cashew Chicken
Savory and sweet, this Thai Cashew Chicken is a weeknight dinner dream - better than take-out, loaded with flavorful sauce, and can be made in a matter of minutes.
Ingredients
Sauce:
2

cloves

Garlic, chopped

1/2

cup

Water

2

Tbsp

Light Soy Sauce

1

Tbsp

Dark Sweet Soy Sauce

2

tsp

Oyster Sauce

1

tsp

Cornstarch

1/2

tsp

Red Pepper Flakes

(optional - skip if you don't want the dish to be spicy)

1/4

tsp

Ground White Pepper

(optional)
Cashew Chicken:
1/2

Yellow Onion, sliced

1/2

Red Bell Pepper, sliced

3

stalks

Green Onions, chopped

1

lb

Boneless, Skinless Chicken Breast, chopped

pinch

Salt

1

Tbsp

All-Purpose Flour

1/2

cup

Raw Cashews

(or use roasted and unsalted cashews)

1/4

cup

Cooking Oil

(like vegetable or peanut oil)

Rice, for serving
Instructions
Make sauce:

Whisk together garlic, water, light soy sauce, dark sweet soy sauce, and oyster sauce. Whisk in cornstarch. Add red pepper flakes and white pepper (if using). Set aside.

Prep ingredients:

Slice onion and bell pepper and combine. Chop green onions. Dice chicken and toss with a pinch of salt and flour.

Set onions / peppers, green onions, chicken, sauce, and cashews near the stove. Place a paper towel on top of a plate and set that near the stove.

Heat cooking oil in a wok over medium-high heat.

When oil is hot, add cashews and saute until golden brown and toasted, 1 to 2 minutes (watch carefully to prevent them from burning). Set cashews on paper-towel lined plate. Leave oil in the wok.

To remaining oil in wok, add chicken. Let chicken cook for 2 minutes without stirring (this will help it to brown on the bottom).

Continue cooking, turning occasionally, until chicken is golden brown and cooked through, 6 to 7 minutes total.

Transfer chicken to the plate with the cashews and return wok to heat.

To any remaining oil in the wok, add onions and bell peppers.

Saute until tender, 3 to 4 minutes. (Add a splash of water if the pan starts to look dry.)

Pour sauce over onions and peppers.

Simmer until sauce starts to thicken, 1 to 2 minutes.

Add green onions, chicken, and cashews to pan. Cook everything together for 1 minute to coat in sauce.

Serve over rice.
Notes
I recommend using a Thai brand of light soy sauce as it will give the dish the most authentic flavor (and is what we used to test this recipe), but light soy sauce is closest to the type of Japanese or Chinese soy sauce that you most likely already have in your pantry or fridge. I find that the closest match to Thai light soy sauce is the low sodium version of mainstream brand like Kikkoman.
Dark Sweet Soy Sauce - Don't have this on hand? Instead of the dark sweet soy sauce, use 1 Tbsp light soy sauce whisked with 1 Tbsp brown sugar.
Nutrition
Calories:
377
kcal
|
Carbohydrates:
11
g
|
Protein:
29
g
|
Fat:
24
g
|
Saturated Fat:
3
g
|
Cholesterol:
73
mg
|
Sodium:
978
mg
|
Potassium:
631
mg
|
Fiber:
1
g
|
Sugar:
3
g
|
Vitamin A:
664
IU
|
Vitamin C:
24
mg
|
Calcium:
24
mg
|
Iron:
2
mg
We're SO ready for spring, but still having many days that require us to bury ourselves under blankets over here.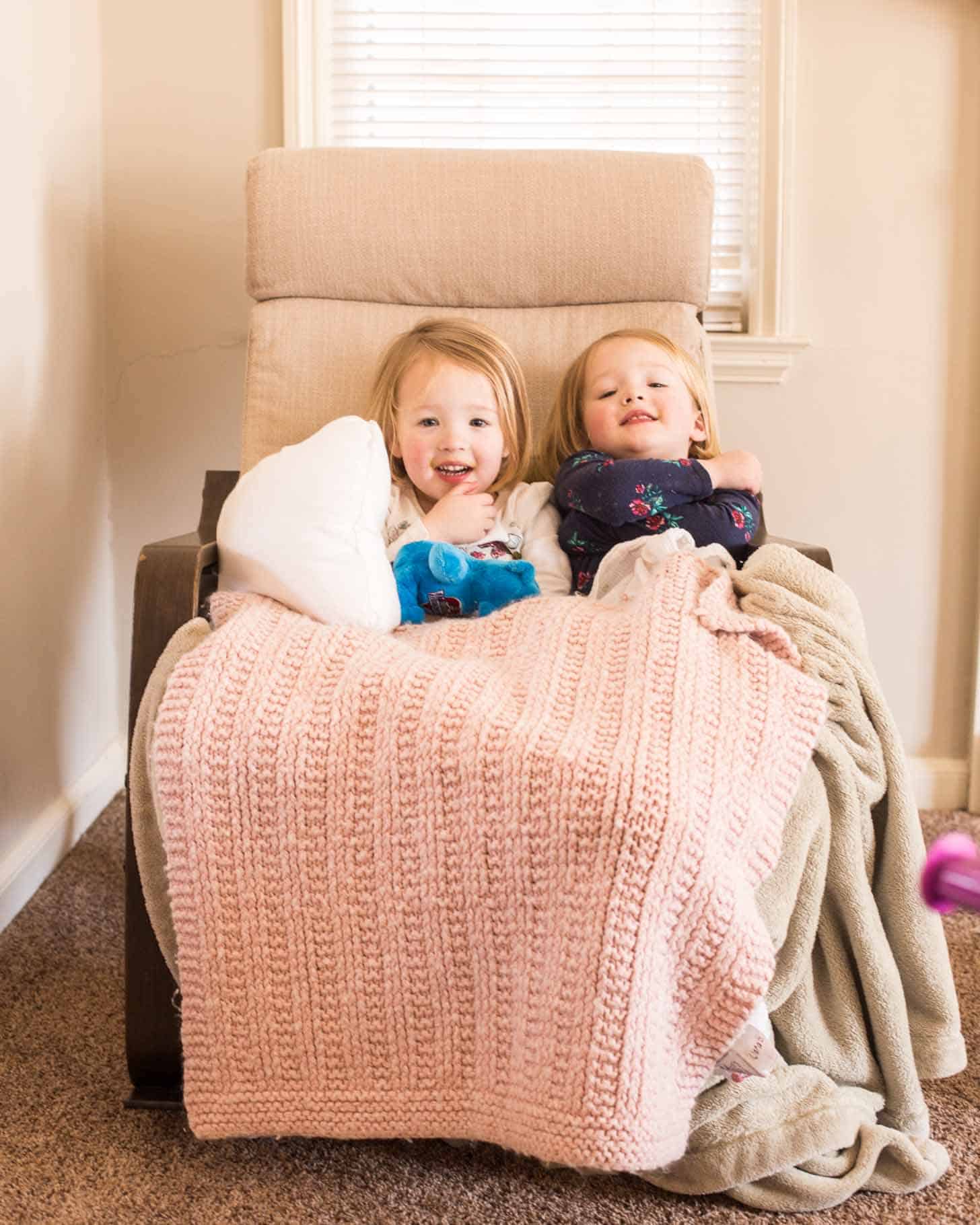 *This post contains affiliate links*
SaveSave
SaveSave
SaveSave
SaveSave