Pad Thai
Published Feb 13, 2023•Updated May 19, 2023
Once you get the hang of making Pad Thai at home, you'll never order it again. I put all of my knowledge from five years of living in Thailand into this post and recipe, and it contains all the tips, tricks, and photos you need to make a truly delicious bowl of iconic Pad Thai noodles. Let's make it!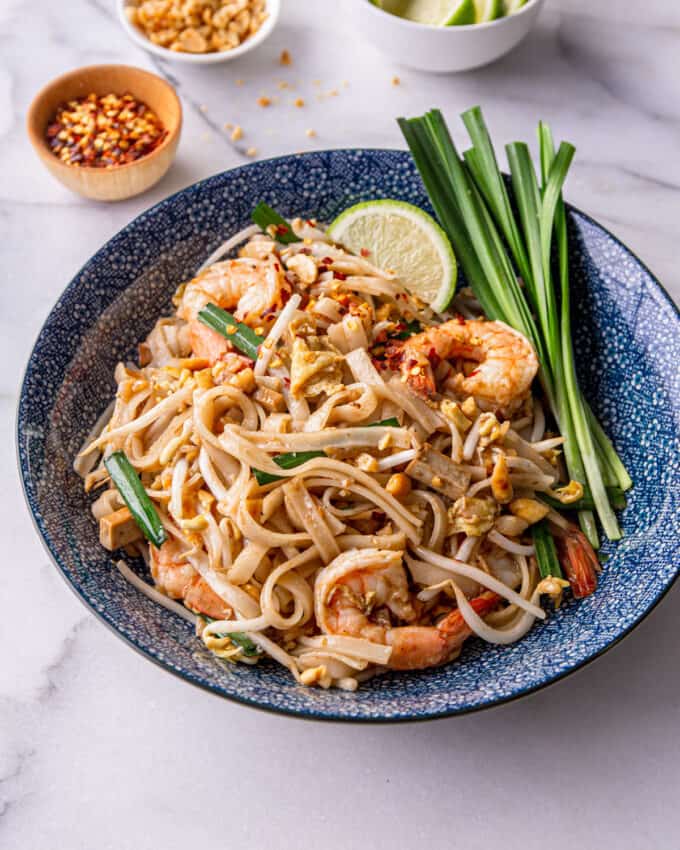 On the surface, authentic Pad Thai looks like it has a lot of moving parts. But it's actually incredibly fast and easy to make once you've gathered the right ingredients.
If you love Pad Thai (who doesn't?!), keep reading for step-by-step instructions to make an authentic version in your own kitchen. For a truly authentic version, you'll need a few specialty ingredients that you can grab at an international / Asian market. But if you want to make a version of this dish using ingredients you can find at any grocery store, I've got you covered there too. Just check out my Easy Pad Thai Recipe.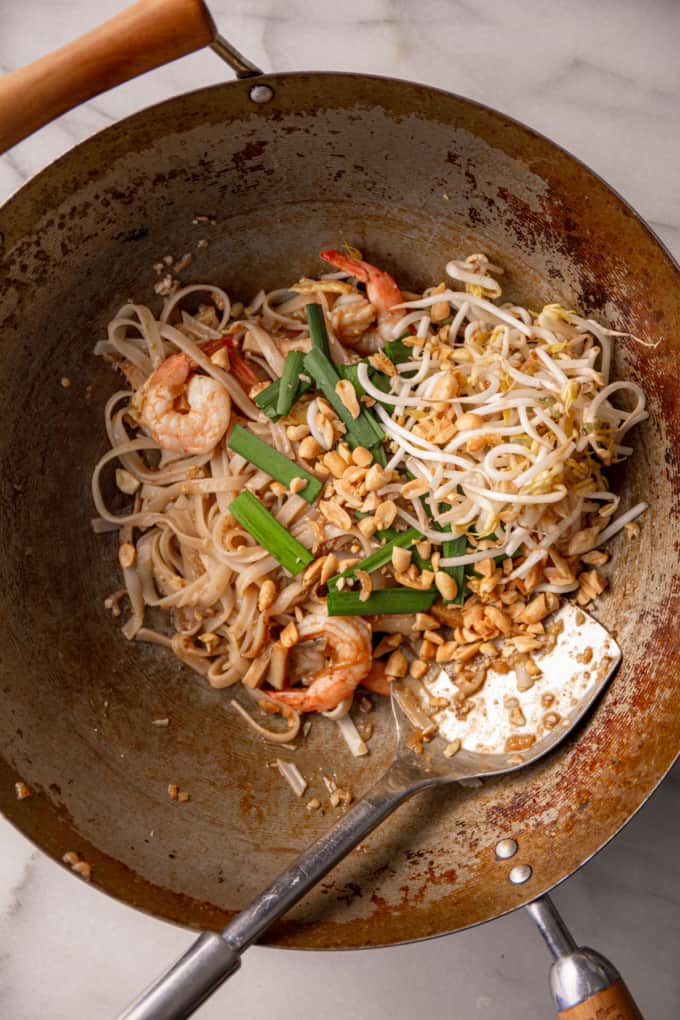 What is Pad Thai?
The authentic version of this iconic Thai noodle dish is made with stir-fried rice noodles coated in a tamarind and fish sauce-based sauce with shrimp, chopped chives, scrambled egg, firm tofu, pickled radish or turnip, and bean sprouts.
Pad Thai is a relatively recent invention in Thailand that only began showing up in the mid-20th century. While rice noodle stir-fries have been made in Thailand for centuries, the combination of flavors unique to Pad Thai are fairly new. Once the dish was exported, its easy-to-love sweet and savory flavor made it one of the most popular Thai dishes around the world.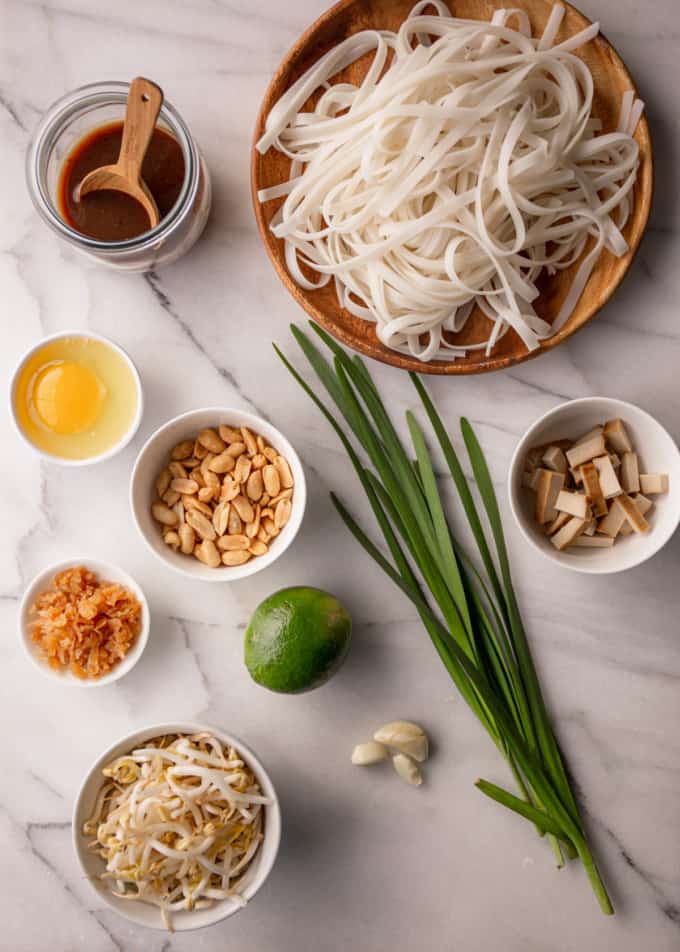 What you need to make Pad Thai
Rice Noodles: Thin rice noodles are classic foundation for Pad Thai. They are naturally gluten-free and have a nice chewy, tender texture. Many versions call for you to soak them in hot water for about 10 minutes, until they twist easily around your fingers or the tines of a fork. But be sure to check the package instructions on the noodles you use.
Protein: Use any you'd like! Shrimp, chicken, or tofu are great here.
Pad Thai Sauce: The classic sauce is tart and savory. It's made with tamarind paste, fish sauce, and sugar. See below for more ideas if you want to simplify this sauce.
Eggs: Scrambled eggs add texture and protein. Did you know that in Thailand the eggs are often made into a very thin omelet that is wrapped around the cooked Pad Thai before it's served?
Pressed Tofu: This is a common but totally optional addition to authentic Pad Thai. You just need a very small amount of this very firm tofu and it's usually chopped into small, thin slivers. This can be hard to find outside of Thailand, so feel free to skip it if it's not something readily available to you.
Pickled, Dried, or Preserved Radish / Turnip: It comes by lots of different names, but any of these will work. This is an ingredient that is often skipped in recipes for Pad Thai, and you can still make a great Pad Thai without it, but to make something that is 100% authentic you'll want to include these. They are super easy to find at Asian markets or online and have a flavor that is sweet, tart, and pickled. I think it adds subtle dimension to the dish. You can buy it pre-chopped or in large pieces (in which case you'll need to chop it before using it). Look for the variety that is labeled as "sweet". It's fine to get the "salty" variety but rinse the salt off before using.
Garlic and Chinese "Garlic" Chives: Savory ingredients that add umami to the dish. Chinese chives (or "garlic chives") are a flat variety of chives. They are different from the chives or green onions that are found in most Western grocery stores and have a subtle garlic flavor.
Roasted Peanuts: These add the classic crunch to the dish and are the reason that some people get confused and think they should add peanut butter to Pad Thai. The fresh flavor and texture of roasted peanuts is great here, but adding peanut butter results in a totally different dish. (Make my Thai Chicken Peanut Noodles if you're looking for an easy recipe that uses peanut butter.)
Bean Sprouts: These are great for adding fresh crunch. You can mix them into the noodles and / or serve some on the side.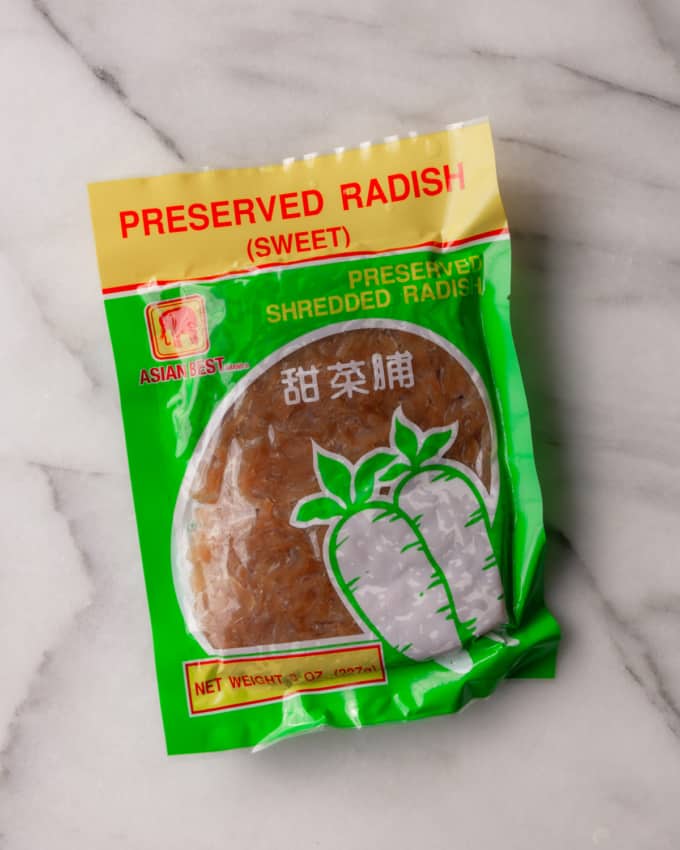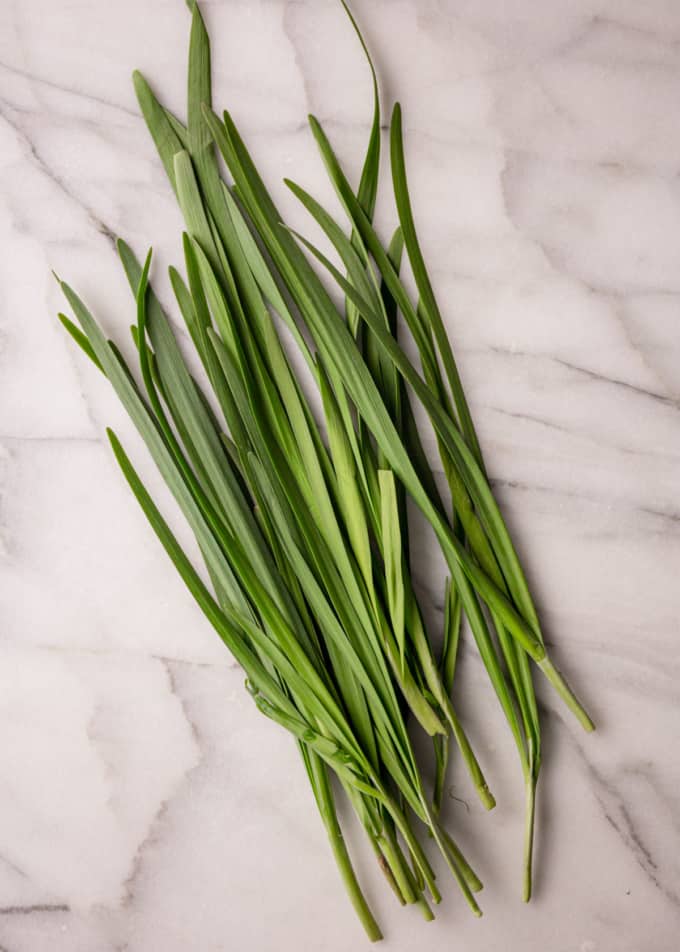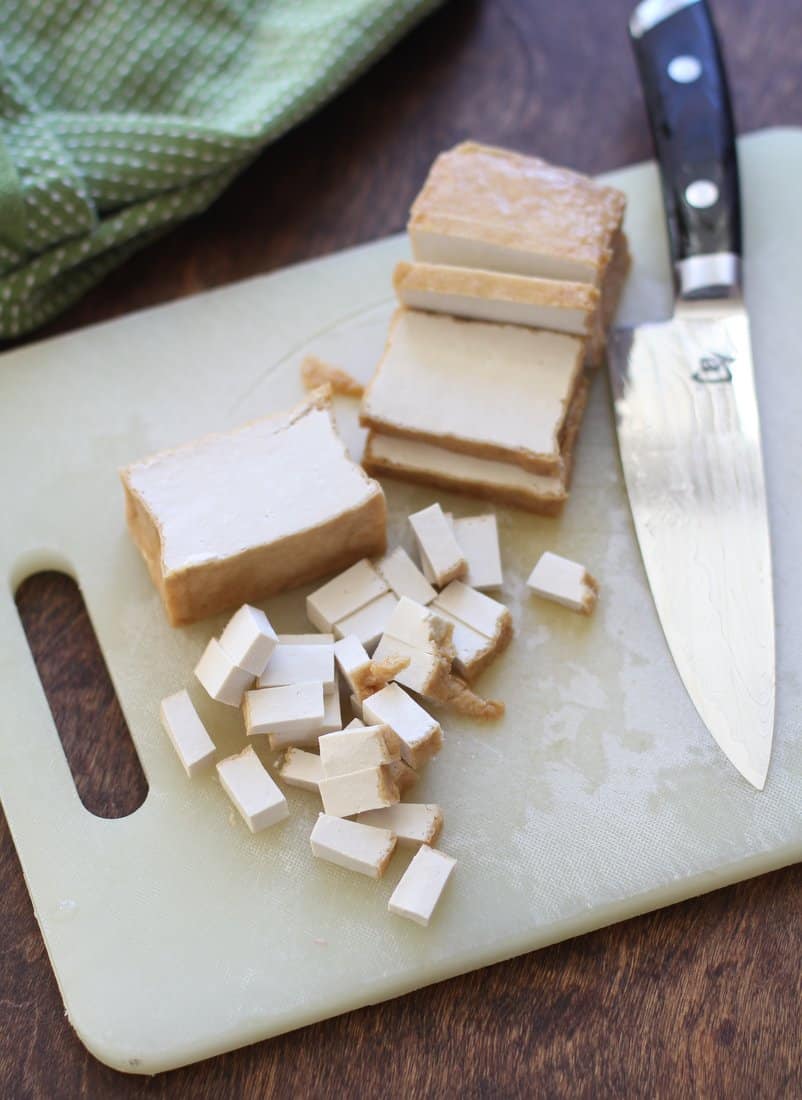 How to Make Pad Thai
Prepare the noodles. Simmer or soak the noodles just until tender and pliable. Check the package for instructions for your variety of noodles.
Make the sauce.
Prep the ingredients. Chop your ingredients and set them near the stove. Once you get cooking, things go fast!
Cook the protein. Sear your protein of choice until it is cooked on the outside, but not cooked all the way through. Add 2 tablespoons of Pad Thai Sauce to flavor the protein and then move it to the side.
Scramble the egg. Add the eggs to the pan and scramble until cooked through.
Add noodles. Add the noodles along with the pressed tofu (if using), pickled radish / turnip, garlic, and all of the remaining sauce. Cook everything together until the noodles are coated in sauce and the protein is cooked all the way through.
Add fresh ingredients. Take the pan off the heat and stir in the Chinese chives, peanuts, and sprouts.
Serve and enjoy!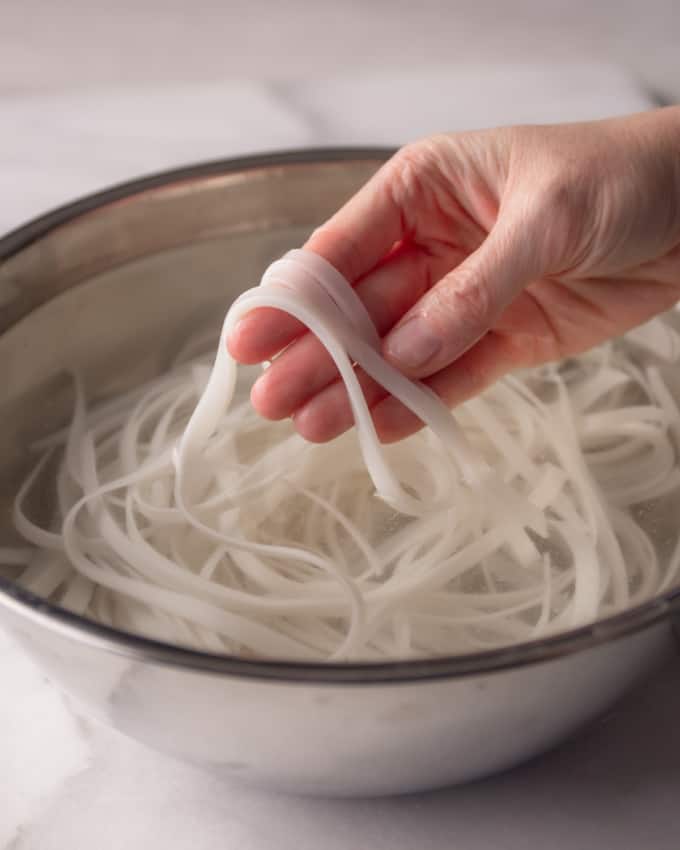 Pad Thai Sauce
The sauce is what gives Pad Thai its unique flavor. For an authentic sauce, you'll want to make Pad Thai Sauce with tamarind. But if you're short on time, I've got you covered with an easier version of Pad Thai Sauce without Tamarind.
There are also plenty of commercial sauces you can buy in the international aisle at your grocery store. For the most authentic flavor, make sure that tamarind and some kind of fish/shrimp element are high on the ingredient list.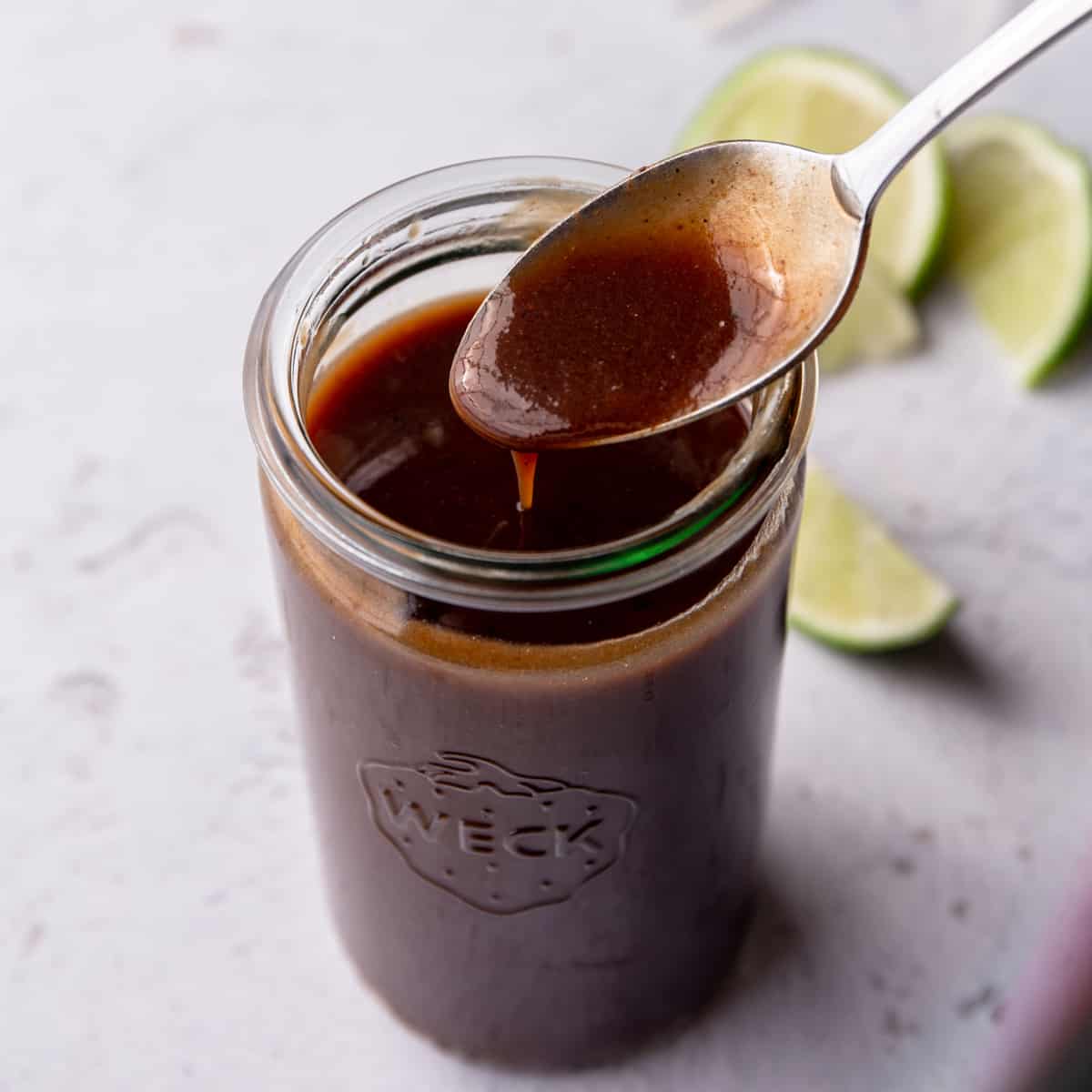 Expert Tips
Prep ingredients ahead. Chop all of your ingredients and set them out near the stove before you get started. Things will go fast once you start cooking. Then it's just a matter of cooking everything in stages until the ingredients are all tender and coated in sauce.
Use a hot pan. A hot pan is key to getting everything cooked to tender while avoiding soggy noodles.
Don't crowd the pan. If the pan is crowded the ingredients will steam instead of sear and you'll get soggy instead of tender noodles. Use a big pan, or divide the recipe in half and cook one batch at a time.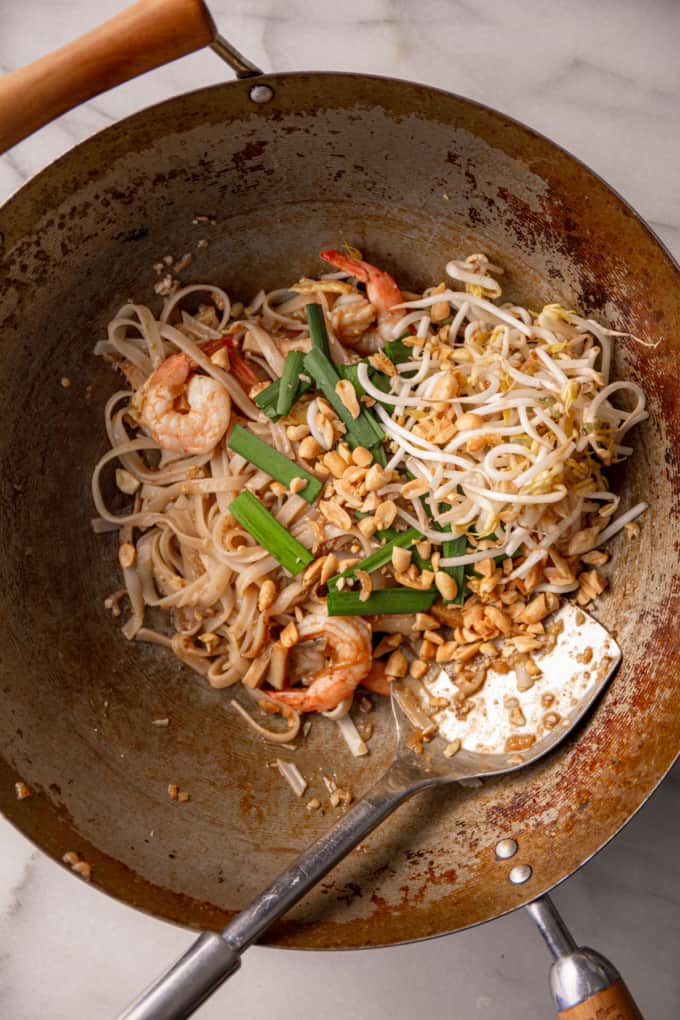 Variations on Pad Thai
Different noodles: Rice noodles come in a variety of shapes and sizes. Try mixing it up and using a thinner or thicker rice noodle. (Just be sure to follow the instructions on how to prepare them.)
Try different proteins: You can make Pad Thai with a variety of meat or vegetarian proteins. Chicken, shrimp, tofu, and pork are all great options.
Add veggies: Add any veggies you'd like! Like most stir-fries, it's easy to customize this one to your preferences.
Make it spicy: Feel free to make it spicy! Add some chili flakes to your sauce or just spice the dish up with hot sauce or chili flakes after cooking.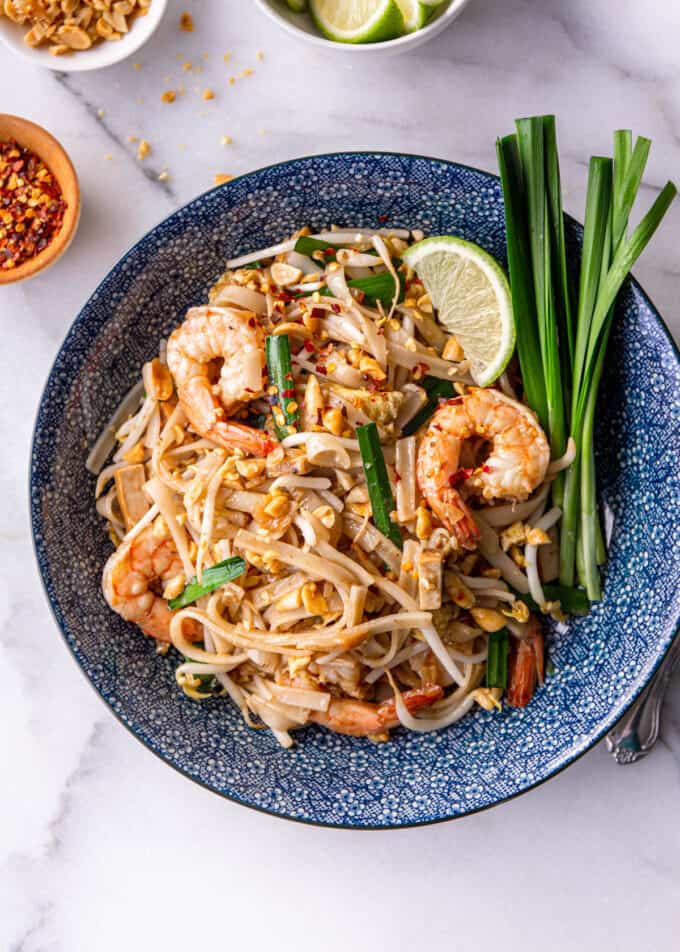 FAQs
What color is Pad Thai?
The sauce that coats noodles in Pad Thai should be a light brown color that comes from a sauce made with tamarind paste, fish sauce, and lime juice. Some authentic versions add shrimp paste which can give the dish a deeper red tint. Be on the lookout for Pad Thai recipes that include ketchup or paprika – these will also give the dish a reddish color but will not give you the traditional flavor you want.
Why are my noodles clumpy / soggy?
Pad Thai noodles (thin rice noodles) are delicate. The most common reasons that these noodles will stick together and get kind of clumpy and soggy is because they are overcooked or crowded in the pan. The best solution is to be very careful not to overcook the noodles and then make no more than two servings at a time.
Is it spicy?
Pad Thai is rarely a spicy dish. One of the most fun things about the dish is that in Thailand it is served with garnishes allow everyone to adjust the sweetness, savoriness, acidity, and spice level of their own dish. If you like a really spicy Pad Thai, pile on the red pepper flakes. If you're more into a citrusy zing, give a good solid squeeze of lime.
What do I serve with Pad Thai?
Serve your Pad Thai just like they do in Thailand with these garnishes set out so that everyone can customize their dish at the table:
Roasted, unsalted peanuts – Hello, extra crunch!
White sugar – Add sugar if you like a sweeter Pad Thai.
Fish sauce – Pad Thai fish sauce adds more umami depth.
Lime wedges – Use lime for extra acidity and brightness.
Red pepper flakes – If you like spicy food, this is how you make a spicy Pad Thai.
What is Pad Thai like in Thailand?
In the five years that we lived in Bangkok, we ate a lot of Pad Thai. It's not a dish that is available everywhere, but it's a dish that you seek out specifically when you want it. Because the restaurants that prepare it have all of the ingredients ready to go, they make it incredibly fast and customize every plate to each diners' requests. And customizing it is exactly how you should make it at home! Once you are familiar with the process, you'll know what flavors you like and will be able to highlight those flavors in your own version.
Here are photos I took at a Pad Thai restaurant and a food festival in Bangkok. In the first photos, everything is cooked together in a giant wok over a high flame in about a minute or two. In the last photo, a woman is making the dish in a large flat griddle outside (you can see the other food we ate at that festival here). The finished dish is the color of tamarind paste – a rich brown that has just a hint of red (learn about how to make your own tamarind paste in this post).
And if you've ever made a stir-fry, you can definitely master the technique. Feel free to jump right to the recipe which will walk you through the whole process. But first, here's a quick look at the ingredients.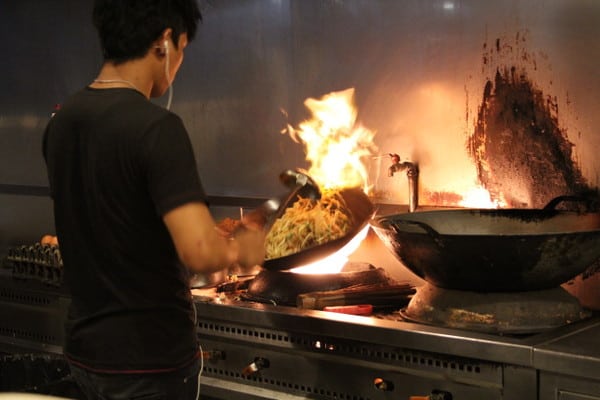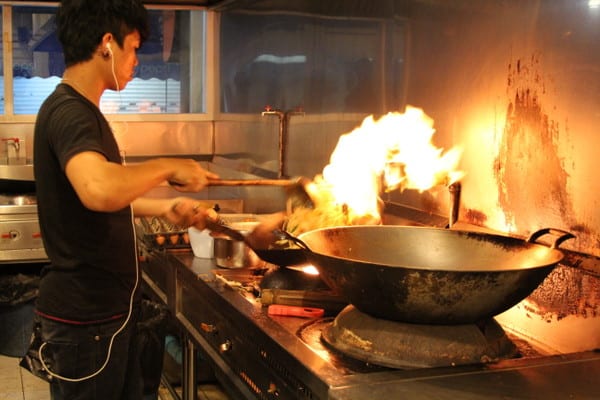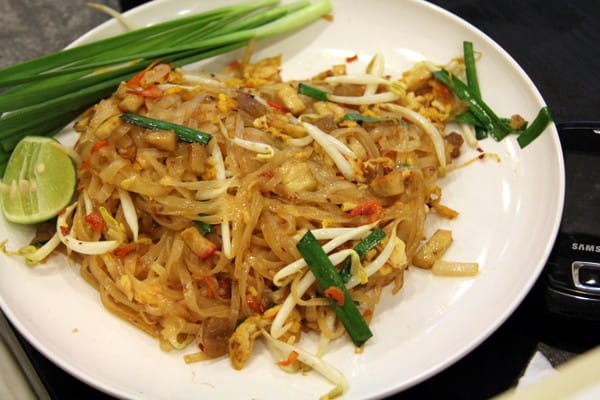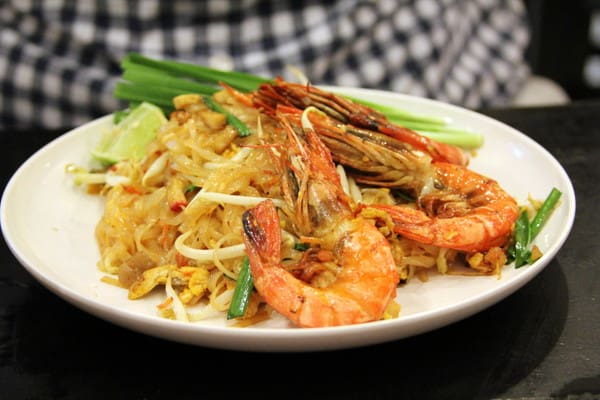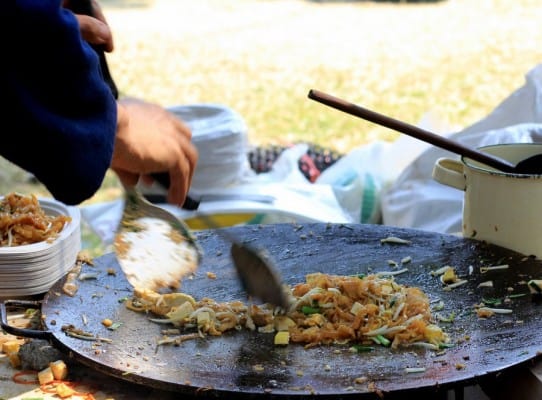 More Authentic Thai Recipes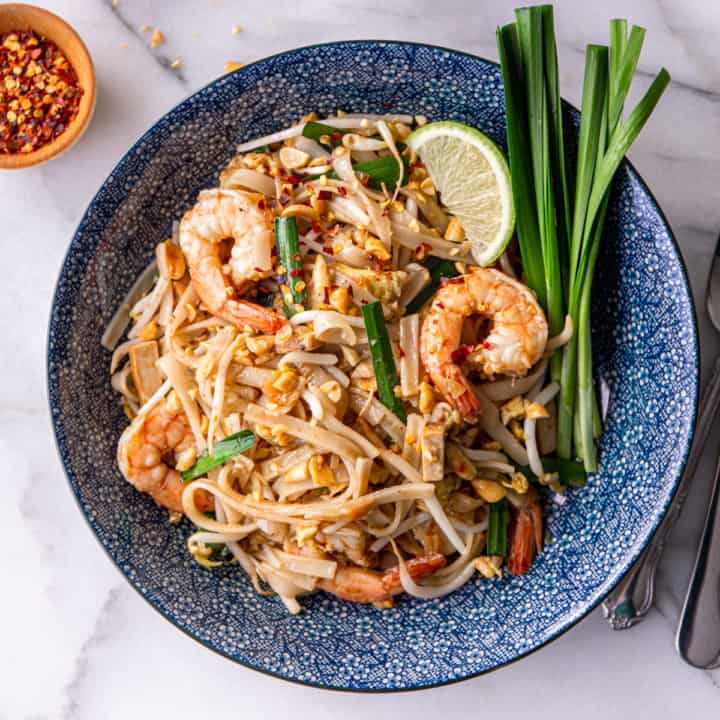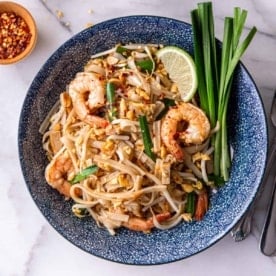 Pad Thai Recipe
This beloved sweet, sour, savory noodle dish is one of Thailand's favorite exports for good reason. Once you get the hang of making this iconic dish, you'll prefer making at home much more than ordering it out!
Equipment
Saucepan

Wok or Large Nonstick Pan

Colander
Ingredients
For Pad Thai:
6

ounces

Pad Thai rice noodles

(sometimes labeled rice stick noodles)

1

large egg

1

ounce

pressed tofu

(optional; skip if using tofu as your protein)

2

tablespoons

pickled or preserved radish or turnip

3

cloves

garlic

4

stalks

Chinese chives

1/3

cup

roasted, unsalted peanuts

1

lime

1

cup

mung bean sprouts

(optional)

1/3

cup

Pad Thai Sauce or Easy Pad Thai Sauce (made without tamarind)

(plus up to an extra 1/4 cup, to taste)

6

ounces

protein of choice (shrimp, thinly sliced chicken, or cubed extra-firm tofu)

2

tablespoons

vegetable oil, divided

(or any cooking oil)
For Serving (add at the table, to taste):
white sugar

fish sauce

red pepper flakes
Instructions
Cook the noodles according to the package directions. (Note: Be very careful not to overcook the noodles; they will continue to cook a bit when added to the stir-fry.) If you aren't quite ready to use them, you can soak them in a bowl of cool water until you're ready and drain again before using.

Prep all other ingredients as follows and set them beside the stove:

Egg – Whisk the egg.Pressed Tofu – Slice into thin, 1-inch long strips.Pickled Radish / Turnip – If using slated radish or turnip, rinse it first to remove the salt. Finely chop.Garlic – Mince.Chinese chives – Chop the top half (green parts) of each stalk into 1-inch lengths. Reserve the bottom halves for garnish.Peanuts – Roughly chop and divide in half. Set half aside to serve as a garnish.Lime – Slice into wedges.

Set the bean sprouts, Pad Thai sauce (measure out 1/3 cup and keep the extra nearby in case you want it), and vegetable oil beside the stovetop.

Place a wok or large nonstick pan over medium-high heat.

Add 1 Tablespoon of oil and when it begins to shimmer, add the protein. Cook the protein on both sides until it is browned on the outside but not cooked all the way through, about 1 minute per side for shrimp, 2 minutes per side for chicken, 3 minutes per side for tofu. Add 2 Tablespoons of Pad Thai Sauce and cook until it coats the protein. Move the protein to the side of the pan.

In the open half of the pan, add another Tablespoon of oil and then the egg. Scramble the egg until nearly cooked through, about 2 minutes.

Add the noodles, pressed tofu, pickled radish / turnip, garlic, and remaining Pad Thai Sauce to the pan and gently fold everything together until the noodles are heated through and everything is coated in sauce.

Turn off the heat and stir in the Chinese chives, peanuts, and bean sprouts. Squeeze juice from one of the lime wedges over the top of the noodles.

Transfer to serving plates and top with more peanuts and the reserved Chinese chive stems. Serve immediately with all of the garnishes listed above, so that everyone can adjust to their taste at the table.

Serve white sugar, fish sauce, and red pepper flakes on the side so that everyone can customizer their dish if they'd like.
Notes
Store-bought Pad Thai Sauce: If store-bought pad thai sauce will save you time and give you that boost you need to make Pad Thai at home, feel free to use it! Look at the ingredients and make sure that tamarind and fish sauce or shrimp paste are high on the list. I've also seen some sauces that include makrut lime which isn't in traditional Pad Thai, but is a delicious addition!
Nutrition
Serving:
1
g
|
Calories:
561
kcal
|
Carbohydrates:
84
g
|
Protein:
20
g
|
Fat:
12
g
|
Saturated Fat:
2
g
|
Polyunsaturated Fat:
4
g
|
Cholesterol:
128
mg
|
Sodium:
1117
mg
|
Fiber:
4
g
|
Sugar:
16
g
Nutrition information is automatically calculated, so should only be used as an approximation.