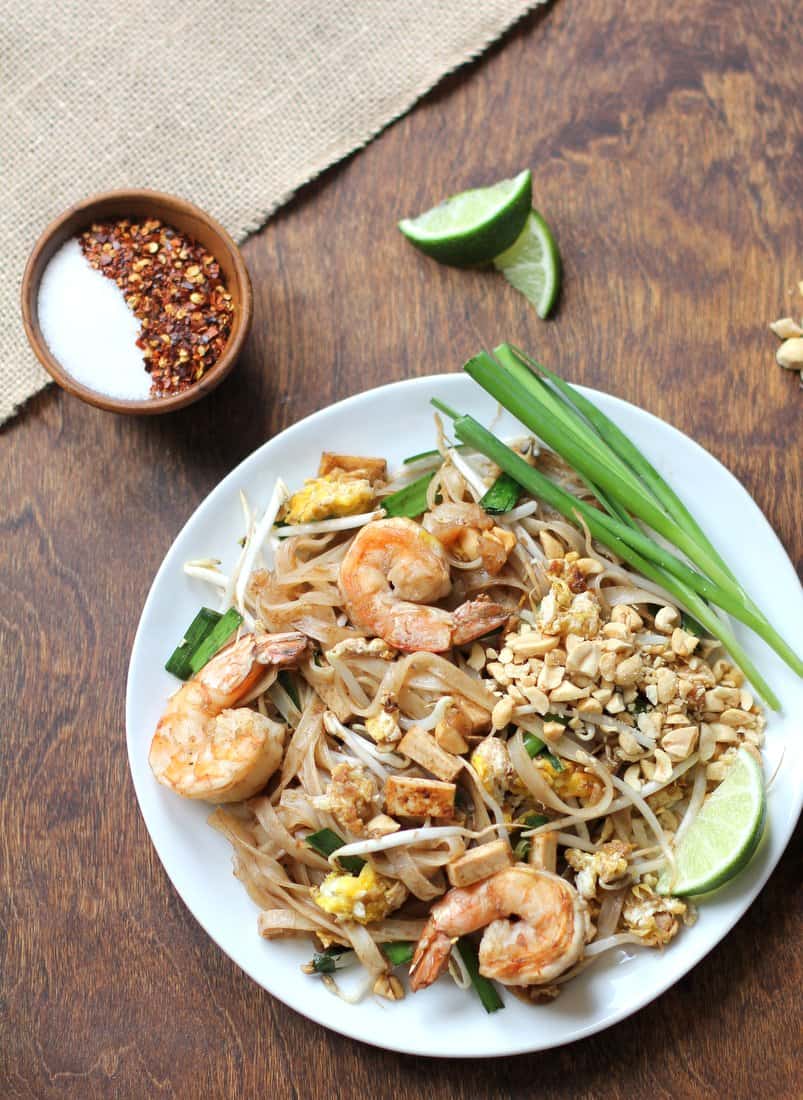 If you love Pad Thai (and who doesn't?!), you should make it at home! Rice noodles in a sweet, sour, savory, totally addictive sauce with peanuts for crunch. It's one of those dishes that makes you want more after every bite.
Making authentic Pad Thai at home is a matter of 1) Ingredients and 2) Technique.
If you get the ingredients right, the flavors you love will be there.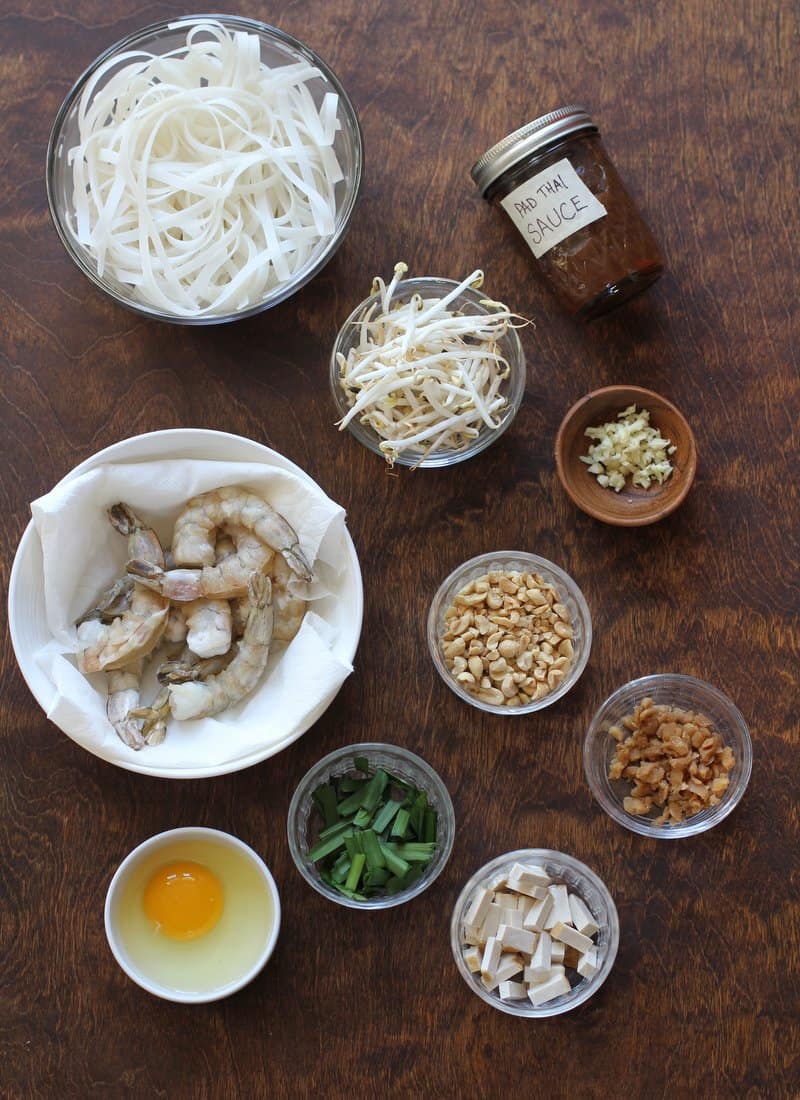 And if you've ever made a stir-fry, you can definitely master the technique. Feel free to jump right to the recipe which will walk you through the whole process. But first, here's a quick look at the ingredients.
Pad Thai Sauce

The sauce is what gives Pad Thai its unique flavor. For everything you need to know about making this delicious sauce at home, read this post. And if you're short on time, there are plenty of commercial sauces you can buy. Pad Thai purists will refute this, but if you want to buy a pre-made sauce, I say go for it! Make sure that tamarind and some kind of fish/shrimp element are high on the ingredient list.
Rice Noodles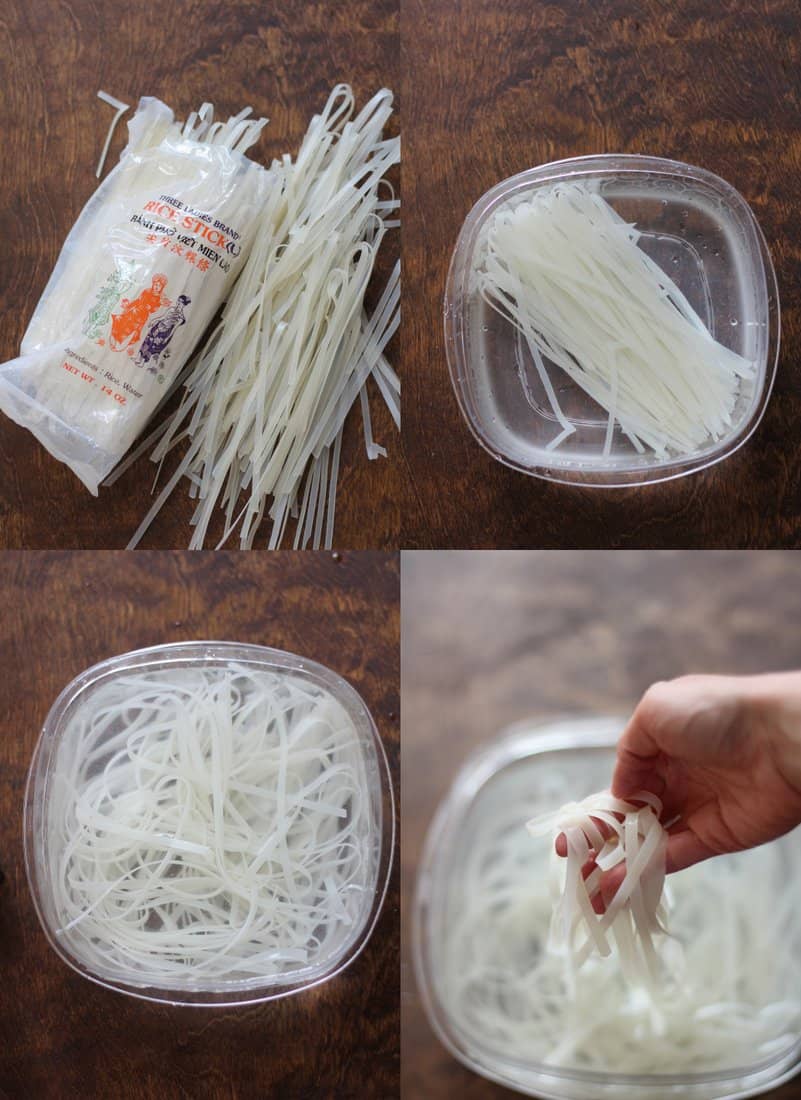 These are the base for Pad Thai. They are naturally gluten-free and have a nice chewy, tender texture. Soak them in hot water for about 10 minutes, until they twist easily around your fingers or the tines of a fork. Pad Thai is also good when made with a super thin rice noodle (in which case it needs to be soaked in hot water for about half the time.)
Pickled, Dried, or Preserved Radish / Turnip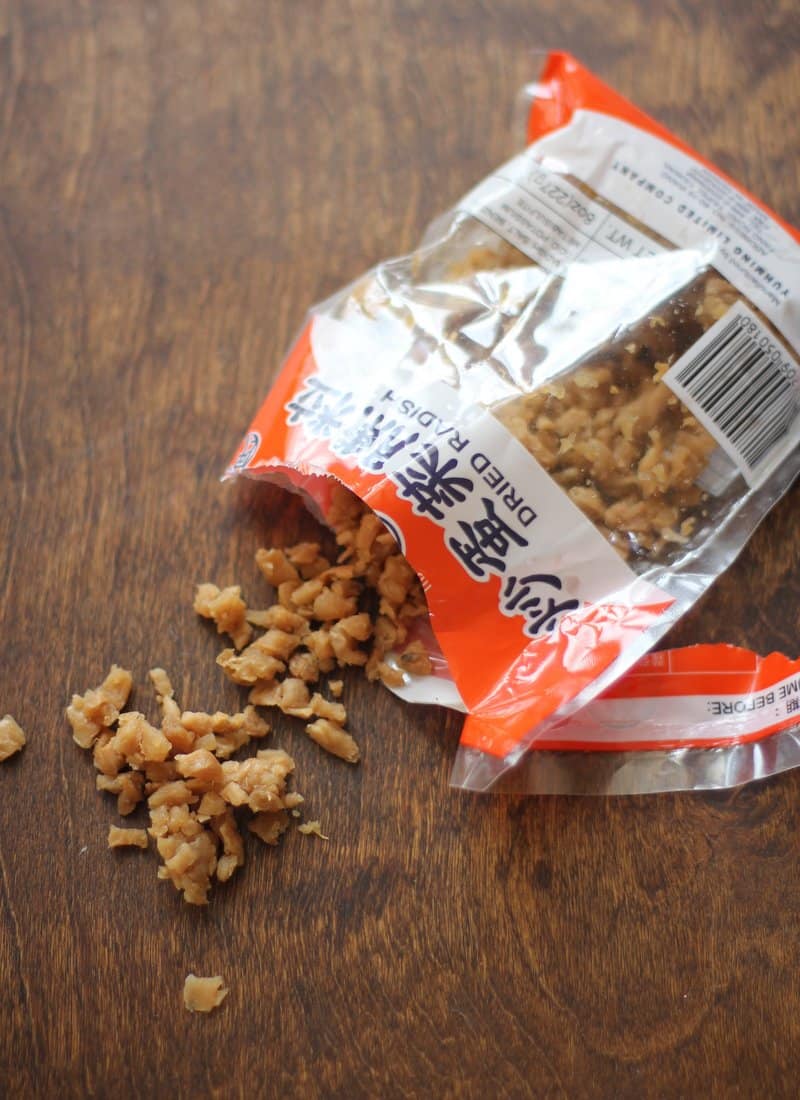 It comes by lots of different names, but any combination of those listed above will work. Pickled / Preserved / Dried and either Radish / Turnip will all work. This is an ingredient that is often skipped in recipes for Pad Thai, but don't skip it! It is super easy to find at Asian markets or online and it's flavor is sweet, tart, and pickled in a way that adds so much to Pad Thai. You can buy it pre-chopped or in large pieces (in which case you'll need to chop it before using it). Sometimes it comes coated in salt or sugar, which is fine, but rinse it before using it.
Chinese or "Garlic" Chives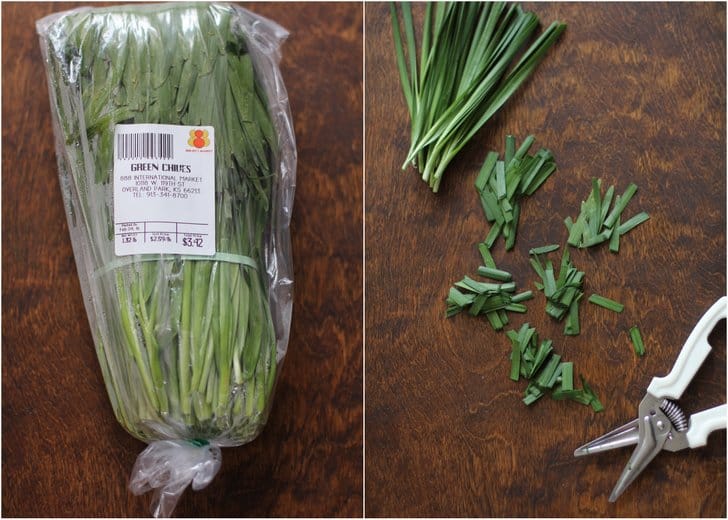 These flat chives come in huge bunches and have a great tart onion flavor when used in Pad Thai. My international market labels them as "green chives," but they are easily identified by their flat shape. Chop the top half to fold into the dish and reserve the bottom half as garnish. In a pinch you can use green onions as a substitute, though the flavor isn't quite the same.
Extra Firm Tofu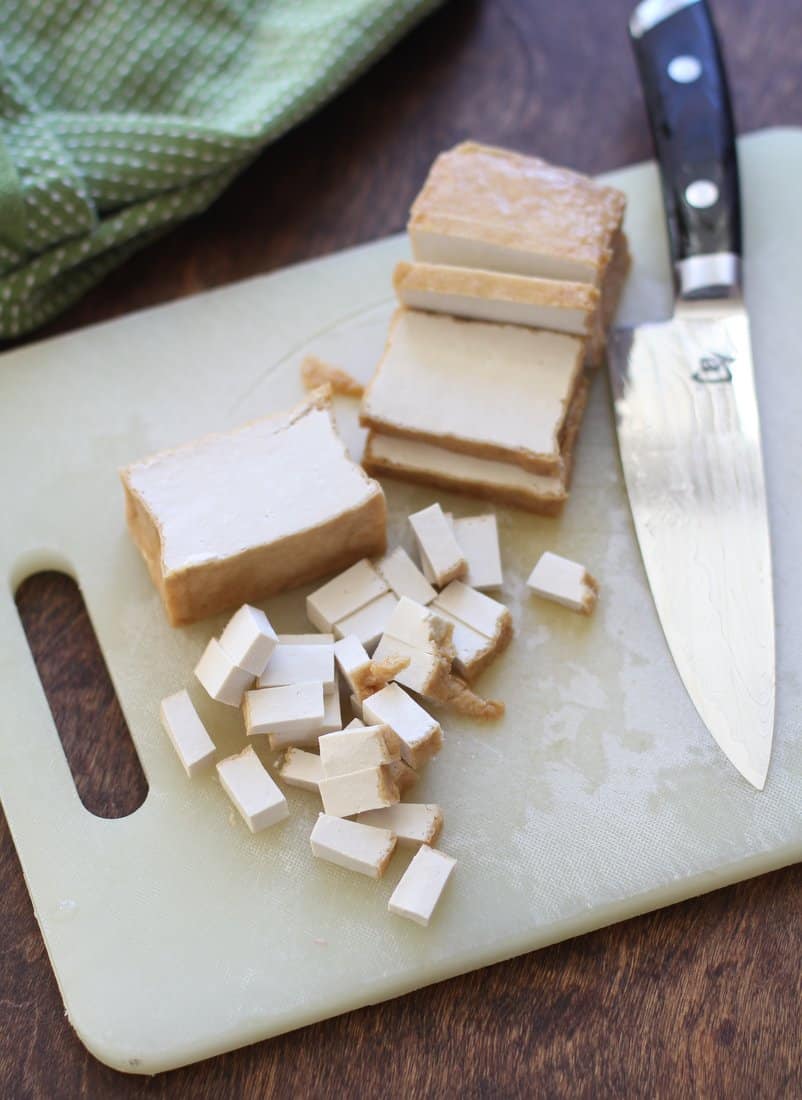 Use extra-firm or "pressed" tofu for Pad Thai. Cut it into small slivers. This adds a nice textural element to Pad Thai and soaks up a bit of the sauce to boost the flavor. If you're looking to skip an ingredient, this one can be skipped without much effect on the recipe.
Cooking Pad Thai
Cooking Pad Thai is a matter of using a hot wok and cooking it fast. All of your ingredients should be ready to go and sitting beside the stovetop before you start. Then it's just a matter of tossing everything together so that the noodles are tender at the sometime as the shrimp finishes cooking. The steps are outlined in the recipe below, but don't be afraid of the heat - a hot wok is key!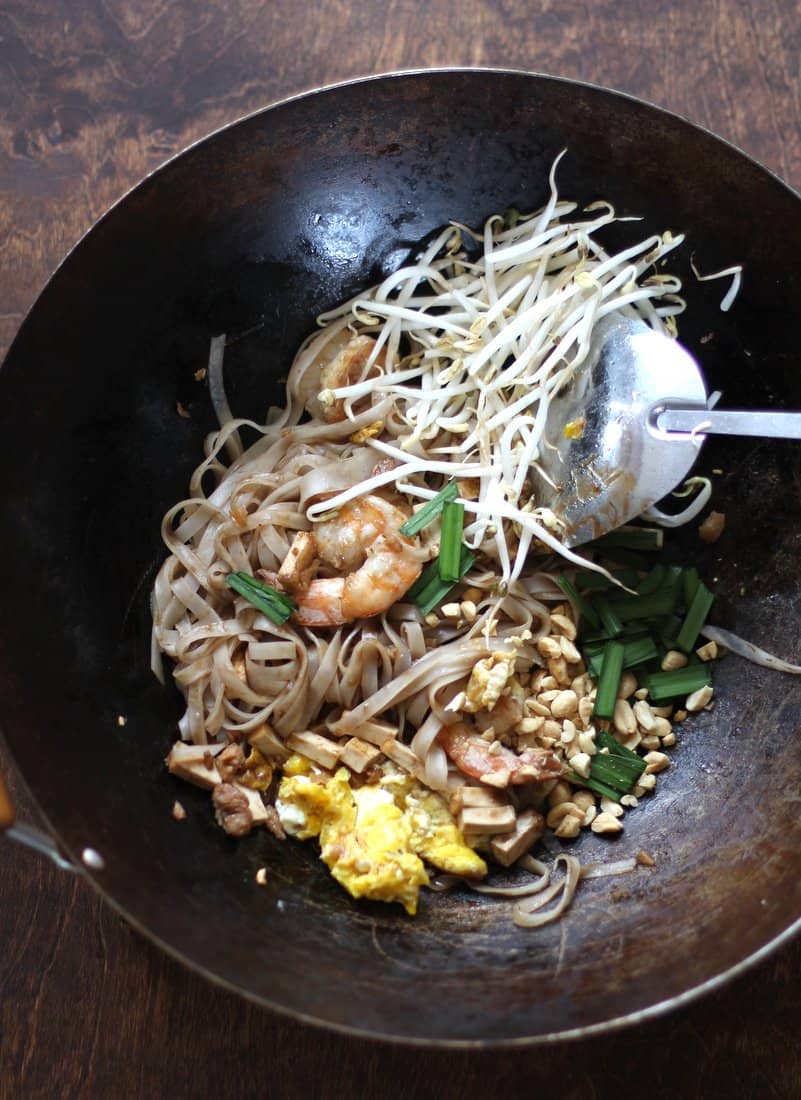 And there you have it! Everything you need to make this amazing, authentic dish at home! Give it a try and let us know what you think!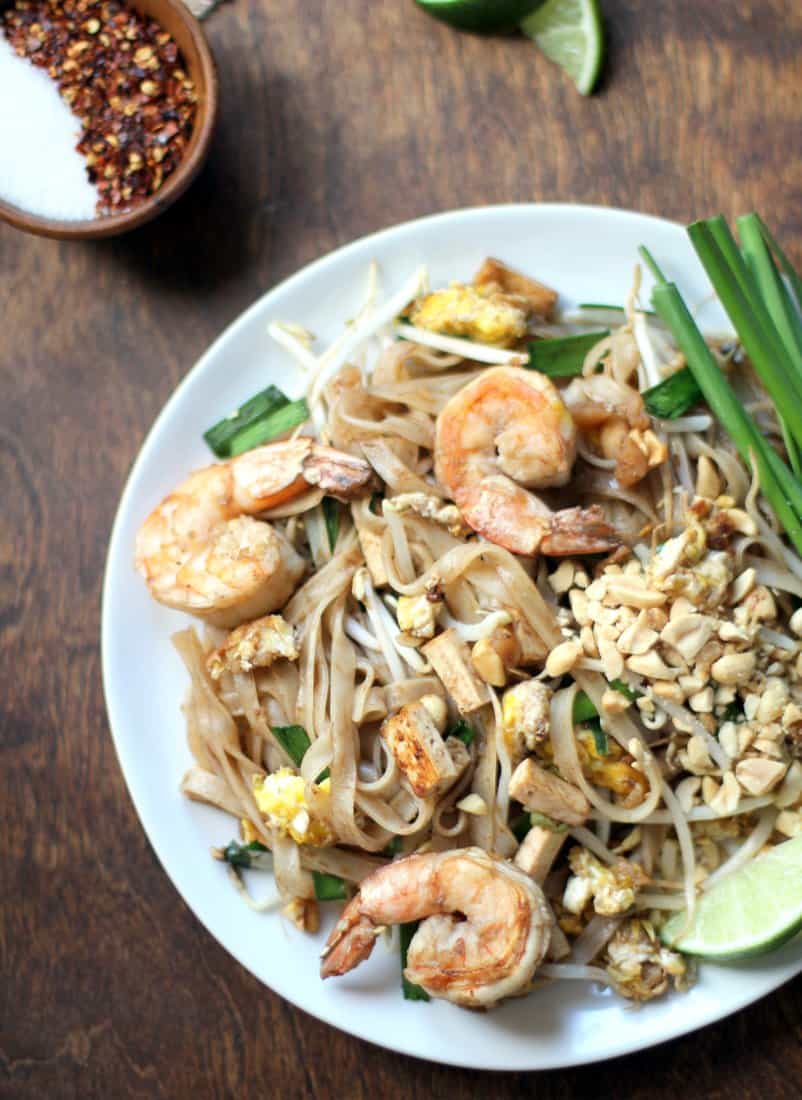 More Favorite Thai Recipes
Favorite Tools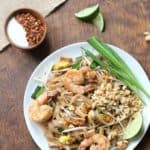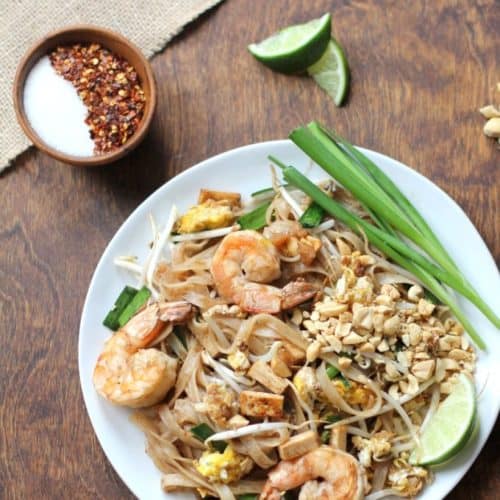 Print Recipe
How to Make Authentic Pad Thai
This well-loved sweet, sour, savory noodle dish is one of Thailand's favorite exports for good reason. We keep a batch of the sauce, tofu, and pickled radishes in the fridge all the time, so on any given night we can make a batch of Pad Thai for dinner in about 20 minutes. Once you get the hang of it, you'll find you like homemade Pad Thai better than any restaurant version!
Ingredients
For Pad Thai:
4

oz

Thin Rice Noodles

(sometimes labeled "rice stick" or "pad thai noodles")

2

oz

Extra Firm or "Pressed" Tofu

2

tablespoon

Pickled or Preserved Radish or Turnip

3

cloves

Garlic

8

large

Shrimp, peeled and deveined

4

stalks

Chinese Chives

¼

cup

Roasted and Unsalted Peanuts

1

Lime

1

Egg

1

cup

Bean Sprouts

½

cup

Pad Thai Sauce

(keep an extra ¼ cup of sauce close by in case you need it)

2

tablespoon

Peanut Oil, divided

(or any cooking oil)
For Serving:
Roasted and Unsalted Peanuts

White Sugar

Fish Sauce

Lime Wedges

Red Pepper Flakes
Instructions
Soak the noodles in hot tap water until they are tender enough to easily twist around the tines of a fork but still have a tiny bit of bite to them, about 10 minutes.

While the noodles soak, prep all other ingredients as follows and set them beside the stovetop:

Tofu - slice into thin 1-inch long rectangles.Pickled Radish / Turnip - If coated in salt or sugar, rinse the pickled radish or turnip under cool water. Chop into small pieces if not already minced.Garlic - Mince.Shrimp - Peel and devein the shrimp (if not already done), leaving the tails on. Lightly season with salt and pepper.Chinese chives - Chop the top half of each stalk into 1-inch lengths. Reserve the bottom halves for garnish.Peanuts - Finely chop and divide in half. Set half aside to serve as a garnish.Lime - Slice into wedges.

Set the egg, bean sprouts, Pad Thai sauce (make sure you have ½ cup measured out as well as extra sauce ready in case you need it), and vegetable oil beside the stovetop.

When the noodles are tender, rinse and drain them.

Place a large wok (or large skillet) over medium-high heat. Add 1 tablespoon of oil and when it begins to shimmer, add the noodles and ½ cup of Pad Thai Sauce. Saute, stirring constantly, until the noodles are warmed through and coated in sauce, 1 minute.

Move the noodles to one side of the pan and add 1 tablespoon of oil, tofu, pickled radish, garlic and shrimp. Saute just until the shrimp is pink on the outside (it will continue cooking as you add additional ingredients to the pan), 2 minutes. Stir to combine all of the ingredients. If the noodles look dry, at this point, add a couple tablespoons of additional Pad Thai Sauce.

Create a well in the center of the pan and add the egg. Scramble the egg until fully cooked and toss to combine all of the ingredients.

Turn off the heat and stir in the bean sprouts, chopped chives, and peanuts. Squeeze juice from one of the lime wedges over the top of the noodles.

Transfer to serving plates and top with more peanuts and the reserved Chinese chive stems. Serve immediately with all of the garnishes listed above, so that everyone can adjust to their taste at the table.
Notes
Pad Thai is best made in small batches, so this recipe is just designed to serve 2 people. This will help prevent the noodles from overcooking and turning soft. If you want to cook this for more people, prep extra ingredients and set them by the stovetop. It cooks so fast that you can make several batches in a row which will impress anyone nearby!
I am often asked if I recommend store-bought Pad Thai Sauce. And I say, if it will save you time and give you that boost you need to make Pad Thai at home, go for it! Look at the ingredients and make sure that tamarind and/or fish or shrimp sauce are high on the list. I've also seen some sauces that include makrut lime which isn't in traditional Pad Thai, but is a delicious addition!
Nutrition
Serving:
1
g
|
Calories:
561
kcal
|
Carbohydrates:
84
g
|
Protein:
20
g
|
Fat:
12
g
|
Saturated Fat:
2
g
|
Polyunsaturated Fat:
4
g
|
Cholesterol:
128
mg
|
Sodium:
1117
mg
|
Fiber:
4
g
|
Sugar:
16
g
Note on color: Have you ever had Pad Thai that had a reddish color to it? Authentic Pad Thai often uses a particular type of ground shrimp in oil which give it that color. I skip that in my recipe because it can be difficult to find in the U.S. and I prefer the balanced flavor in this version. If you come across a recipe that tells you to use ketchup to give Pad Thai a red color...well....just don't. Pad Thai should not taste like tomatoes.
I'm a little behind but working on an update post for Molly and Clara, who recently turned 21 months old. Which means we can almost refer to their age in years - yikes! Now if only I could get them to sit still and keep their socks on for a photo shoot.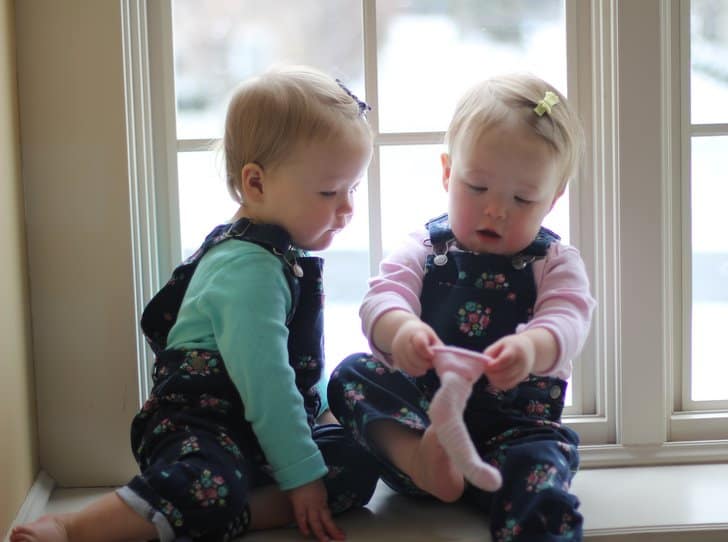 *This post contains affiliate links*