Thai Minced Chicken Salad (Laab / Larb Gai)
Published Feb 06, 2020•Updated Mar 24, 2022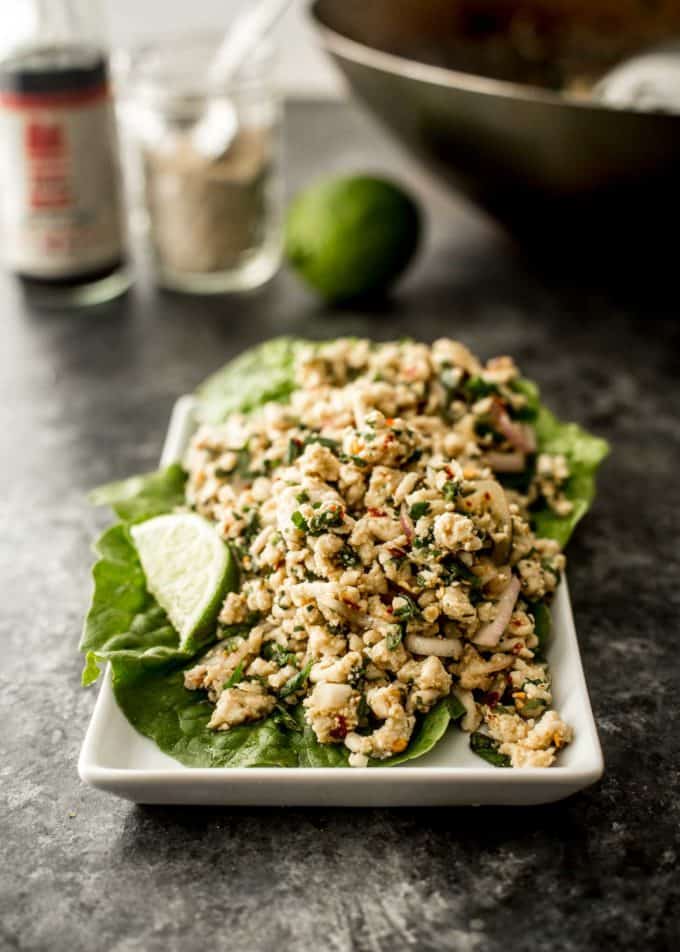 Whether you see it called larb, laab, larb, or laap, Thai Minced Chicken Salad is a light salad that is found in Northeastern Thailand and Laos. It's loaded with fresh herbs, spices, and lime juice and served with sticky rice.
No matter which of the many spellings for these dish you use (see below for why there are so many), all are slightly strange to Western ears. When I was first introduced to "larb" at a Thai restaurant in Washington, D.C., I was decidedly thrown off by the name. However, after living in Thailand for a few years, saying "larb" became second nature because we ordered it and made it at home all. the. time.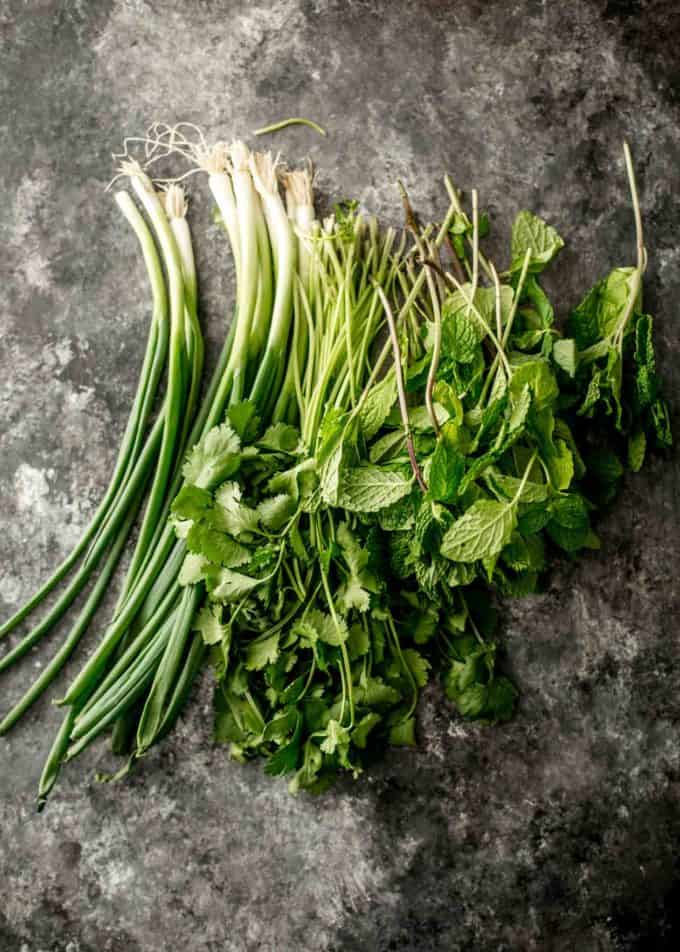 Larb remains one of Frank's favorite Thai dishes and every time we make a big batch we agree that we should make it more often. It's been back on regular rotation since we started making our own Toasted Rice Powder which took our homemade larb to a totally new level.
Thai Minced Chicken Salad is:
Savory (from fish sauce and shallots)

Tart (from lots of lime juice)

Spicy (from dried red chili flakes)

Fresh (from a good dose of fresh herbs)
It's great served on its own, in lettuce wraps, or in the traditional way with lots of sticky rice. Here's how it's done!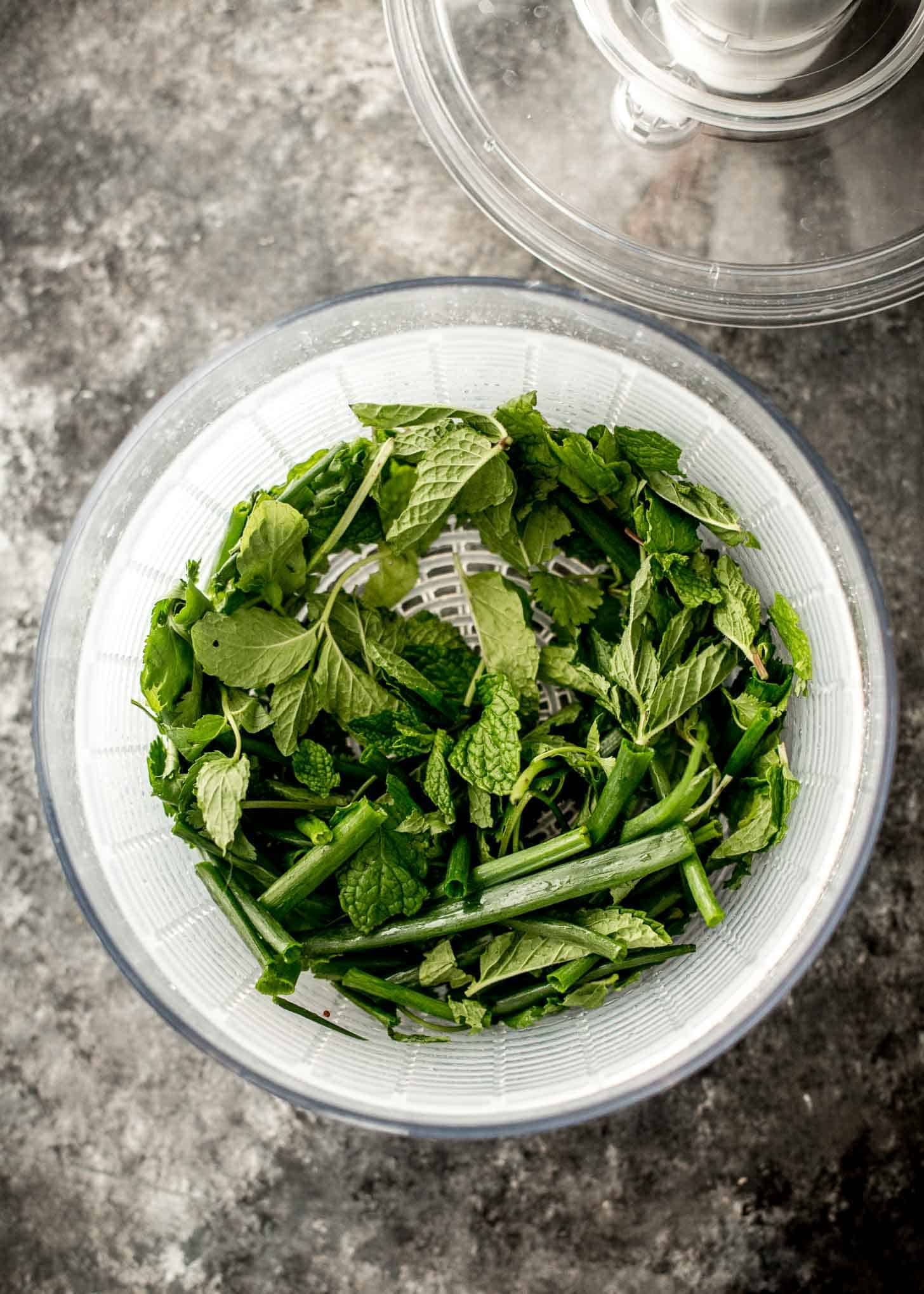 Thai Food Month
This recipe is part of Thai Food Month – an annual celebration of all things Thai food! Don't forget to enter to win a $100 Target Gift Card! Eat Thai food in February (make it yourself or eat it out) and share a picture on Instagram with #thaifoodmonth and @inquiringchef! (One entry per Instagram account. We'll draw a winner on March 1, 2020!)
Ingredients
Ground Chicken – This is the "gai" part of larb gai. I use store-bought ground chicken here. The more traditional method is to take fresh chicken (I like a combination of chicken breast and chicken thighs) and chop it into small, rough pieces with a cleaver.
Soy Sauce – For a bit of added flavor, cook the chicken in a small amount of soy sauce.

"Thin" Thai Soy Sauce works best, but any soy sauce you have on hand is fine. See the

Guide to Essential Thai Ingredients

for more on Thai soy sauces.

Fresh ingredients – Fresh ingredients are the key to great larb! Shallots, mint, cilantro, and green onions all come together to create the addictive fresh flavor of larb.
Fish sauce, lime juice, dried red pepper flakes – These ingredients create the flavor of larb, but they are best added to taste. Make the recipe below as described, but adjust any of these as you go. Fish sauce gives larb the most authentic, rich flavor, but soy sauce will work as a substitute.
Toasted rice powder – This nutty, fragrant ingredient adds texture and flavor to larb. (Here's how to make

Toasted Rice Powder

.)

Lemongrass – Finely chopped lemongrass adds an herby, slightly citrusy flavor. Since lemongrass can be a bit tough, be sure to chop it into very small pieces before adding it.
Makrut lime leaves – As with lemongrass, makrut lime leaves give this dish a totally unique, totally Thai flavor. And also as with lemongrass, they can be tough if left in large pieces. Remove the stems and slice them very finely before adding them. If you can't track these down, it's fine to skip them.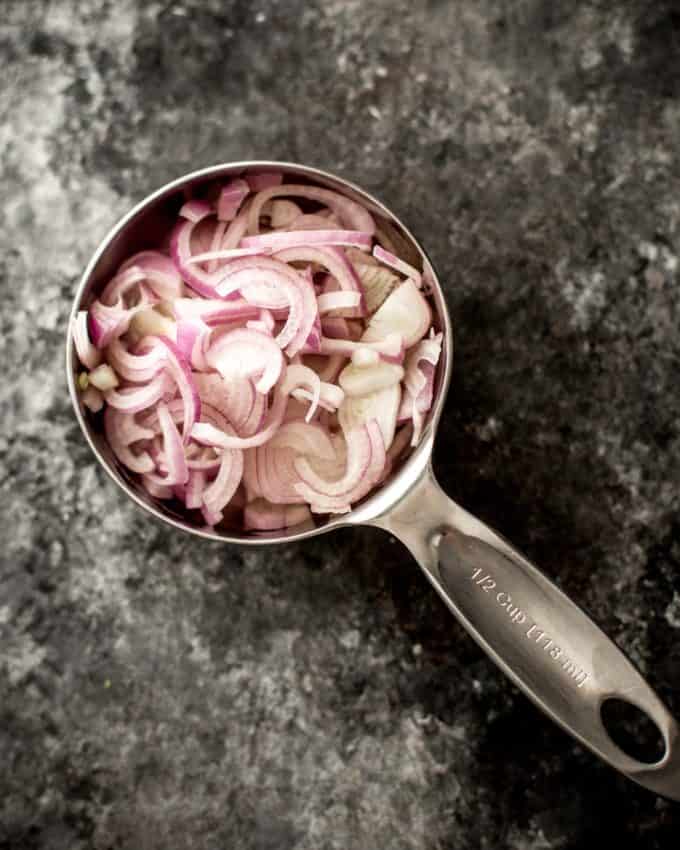 How to Make Larb Ahead
Larb is a great dish to make ahead. Prepare the dish as instructed, but leave out the mint, cilantro, green onions, and toasted rice powder. Add these four ingredients right before serving. And be sure to taste the larb again before serving it. The flavors can become muted in the fridge, so you might want to stir in some more lime juice or add a bit more spice.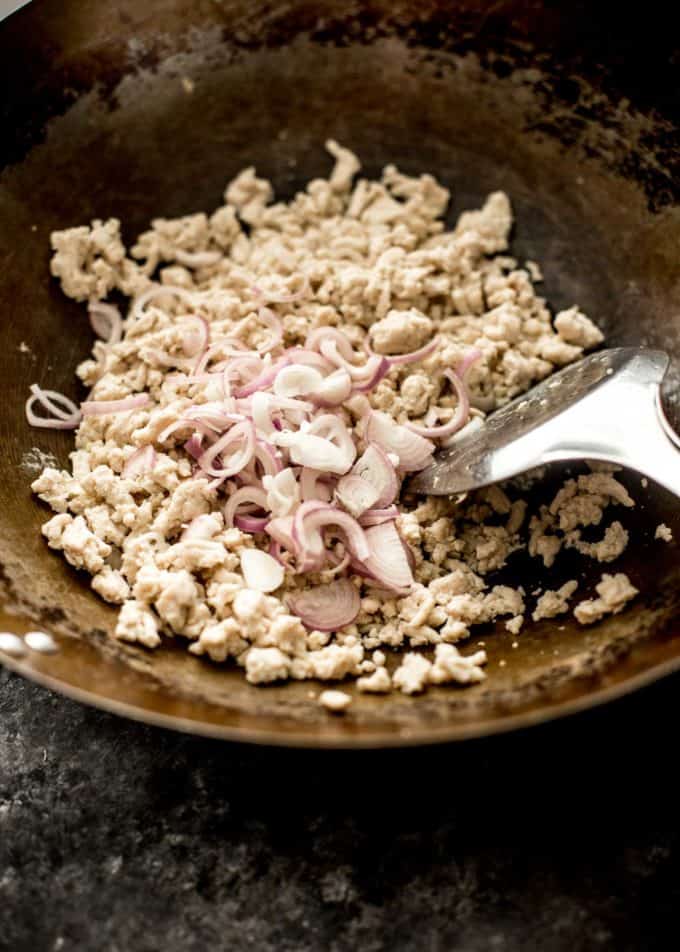 Larb / Laab / Larb / Laap – Which is Correct?
There is no one agreed-upon way to transliterate Thai, so there is no correct spelling for this dish in English. The way that the dish is actually pronounced in Thai includes an aspirated "h" in the middle and both a gentle "b" and "p at the end, so it sounds more like "lahbp". However, any of these spellings refer to the same dish – Thai Minced Meat Salad with Fresh Herbs.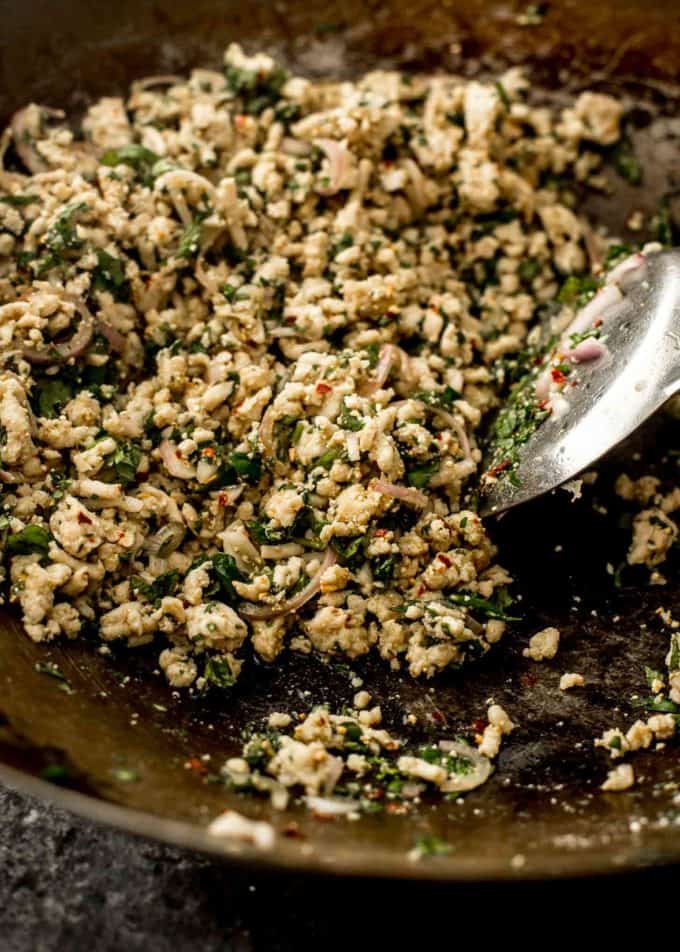 Variations on Larb
Change protein – This version of larb uses ground chicken ("gai") but it's often made with pork ("moo").
Make it vegetarian – Use minced mushrooms or tofu instead of ground meat for a vegetarian version. (Be sure to use soy sauce instead of fish sauce if you don't eat fish.)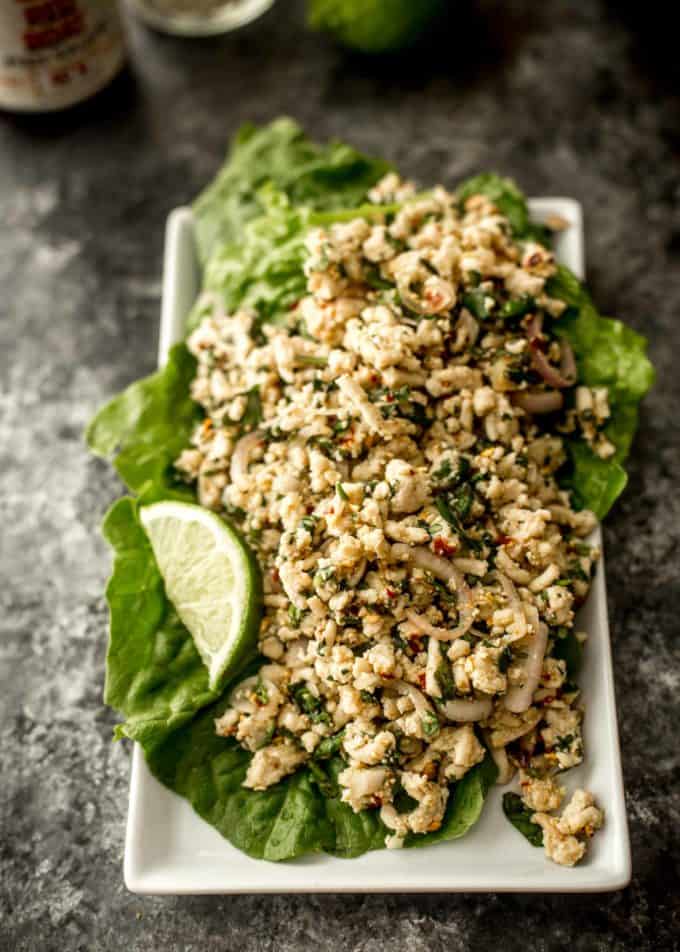 More Thai Favorites
Favorite Tools
Joyce Chen Carbon Steel Wok

– Almost any Thai recipe you can think of can be made in a wok. This inexpensive wok has been a staple in my kitchen for 5+ years. If you're not ready for a wok to take up space in your kitchen, a large heavy

skillet

or

Dutch oven

will work great as well.

Wok Spatula

– The rounded edge of this spatula helps to scrape the sides of a wok down as food cooks.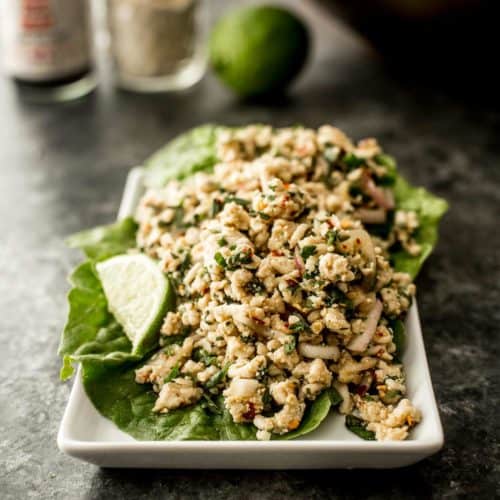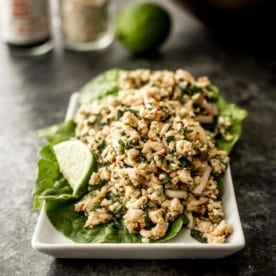 Thai Minced Chicken Salad (Larb Gai)
This herby, fragrant, beloved Thai salad (larb, laab, larb, laap) is great served on its own, or with other Thai dishes. You can serve it in lettuce wraps, in the traditional way with sticky rice, or over Jasmine rice with a fried egg on top.
This is a dish that is best made to taste. Start with the measurements below but adjust as you go. Add more fish sauce, more lime juice, more herbs, or more red pepper flakes to suit your tastes.
Want to adjust the servings in this recipe to make more or less? Just click on the number next to "servings" and you can easily scale the recipe.
Ingredients
1

lb

Ground Chicken

2

tsp

Soy Sauce

(preferably "Thin" Thai Soy Sauce, but any type of soy sauce will work)

1/2

cup

thinly sliced Shallots

2

tsp

Fish Sauce

2

Tbsp

Lime Juice

1/2

tsp

Dried Red Pepper Flakes

2

stalks

Lemongrass, finely chopped

(just use the bottom 2 inches, outer leaves removed and discarded)

2

Makrut lime leaves, stems discarded, very thinly sliced

(optional)

3/4

cup

chopped Fresh Herbs

(use a combination of fresh mint, cilantro, and green onions)

1

Tbsp

Toasted Rice Powder
Instructions
Heat a wok (or large skillet) over medium heat.

Add chicken and soy sauce to the heated wok (there is no need to add any oil for cooking the chicken). Saute chicken, breaking it apart as it cooks, until cooked all the way through, 8 to 10 minutes.

Turn the heat off under the chicken. Drain any excess liquid out of the pan.

While the chicken is still warm, stir in the shallots.

Set chicken aside and allow it to cool for about 5 minutes.

After chicken has cooled, stir in fish sauce, lime juice, dried red pepper flakes, lemongrass, lime leaves, fresh herbs, and toasted rice powder.
Notes
When chopping fresh herbs, use just the leaves of the fresh mint. Use the green and white parts of green onions. Use the leaves and stems of the cilantro. It's best to use a combination of all three of these herbs, but you can skip one if needed, making sure that you still have a total of 3/4 cup chopped fresh herbs.
Toasted Rice Powder is easy to make yourself. See this post on H
ow to Make Toasted Rice Powder
.
If making the larb ahead, add all ingredients except fresh herbs and toasted rice powder. Stir these ingredients in just before serving.
Nutrition
Calories:
295
kcal
|
Carbohydrates:
8
g
|
Protein:
50
g
|
Fat:
6
g
|
Saturated Fat:
1
g
|
Cholesterol:
145
mg
|
Sodium:
1092
mg
|
Potassium:
1072
mg
|
Fiber:
1
g
|
Sugar:
1
g
|
Vitamin A:
2112
IU
|
Vitamin C:
37
mg
|
Calcium:
52
mg
|
Iron:
4
mg
Nutrition information is automatically calculated, so should only be used as an approximation.
*This post contains affiliate links*