Nam Prik Pao (Thai Chili Paste)
Published Feb 17, 2011•Updated Jun 18, 2020
Update 3/2/2016: This recipe has been so popular that we have re-worked it for even more delicious flavor. The new post and revised recipe has even more step-by-step photos and tips and tricks. Click here to see the revised Nam Prik Pao recipe.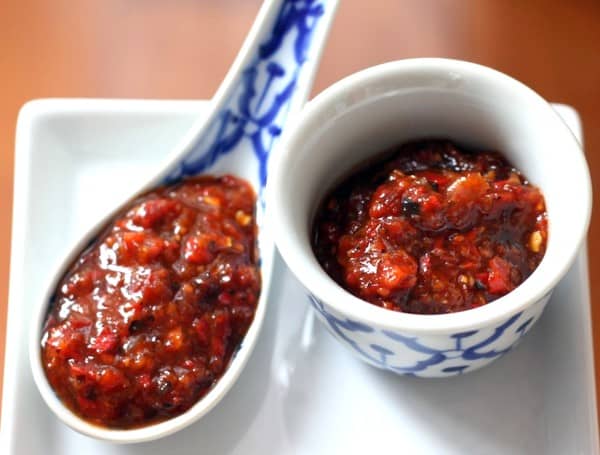 Nam Prik Pao (thai chili paste) is a common ingredient used in Thai cooking. It is spicy and sweet, with rich flavors of roasted vegetables and is often enriched with shrimp. I've used it in recipes on this site, and it is so common that you might be able to easily find in a jar outside of Thailand.
I have been on the hunt for a recipe for nam prik pao that doesn't require 7 hours of commitment but still offers all the flavor. Most recipes I found on the internet gave me a headache. One recipe actually required that you place all of the ingredients outside in the sun for several days to allow them to dry. (In Bangkok I suspect that this activity may lead to dried peppers that taste a bit like car exhaust fumes.)
Earlier this week I made a version from a Thai cookbook and it produced something much closer to the Red Pepper Jelly I make at Christmas – sweet with a hint of spice but none of the deep layers of flavor that come from roasting the vegetables first for an authentic-tasting nam prik pao.
I nearly came to the conclusion that I should stick with the stuff in a jar and give up on ever being able to produce my own. But what kind of foodie blogger would I be if I didn't try to tackle at least one or two ridiculous food endeavors and share them here. It also helped that finally I entered into this endeavor knowing that I would gladly sacrifice the pride of making nam prik pao the way it was made in this country 200 years ago, if it produced a recipe that I could (and would) actually make again.
Certainly there are people out there who are experts in authentic Thai cooking and can tell you all 76 steps that a Thai grandmother would take to make this stuff at home. What follows is not that sort of recipe, but this absolutely produces a flavorful, and very close approximation, of the nam prik pao I taste frequently here in Thailand.
My first step was a little taste test of just a few of the hundreds of Thai Chili Pastes available on the market at my local grocery store in Bangkok. There is an entire section of the grocery store dedicated to this product, so there's no shortage of options to try.
They vary quite a bit in taste, but I found that my favorite version (even when tasted amidst these other options) is the one on the middle right below, by Mae Praenom. It may just be that this suits my western palate because it is the least "fishy" of the options and the sweetest tasting.
These versions in the jar actually have very few ingredients. Primarily the ingredients are red chilis, onions, garlic, sugar, vinegar, oil and shrimp or shrimp paste. Using this as a guide, and with the knowledge that part of the richness in flavor of the paste comes from the roasting (or sometimes frying) of the ingredients, I set to work.
After several attempts, it became clear that I prefer to make nam prik pao vegetarian style, getting a savory element from mushrooms rather than ground shrimp. I tend to like the shrimp flavor, but found that in the following recipe, I preferred a non-fishy flavor.
If you prefer to use shrimp, simply substitute 2 tablespoons of dried shrimp for the mushrooms. Dried shrimp are shown below.
After all the effort and a few terrible batches, the recipe that follows met all of my expectations, and was easier to execute than any of the recipes I could find elsewhere. I actually liked the finished homemade paste much more than the kind I've been buying in a jar, although there will certainly be times that the convenience of the jar will win out.
And if you're looking for something to make with this super flavorful paste, try our totally addictive, 20-minute, vegan Crispy Tofu with Thai Chili Paste, Cashews and Kale.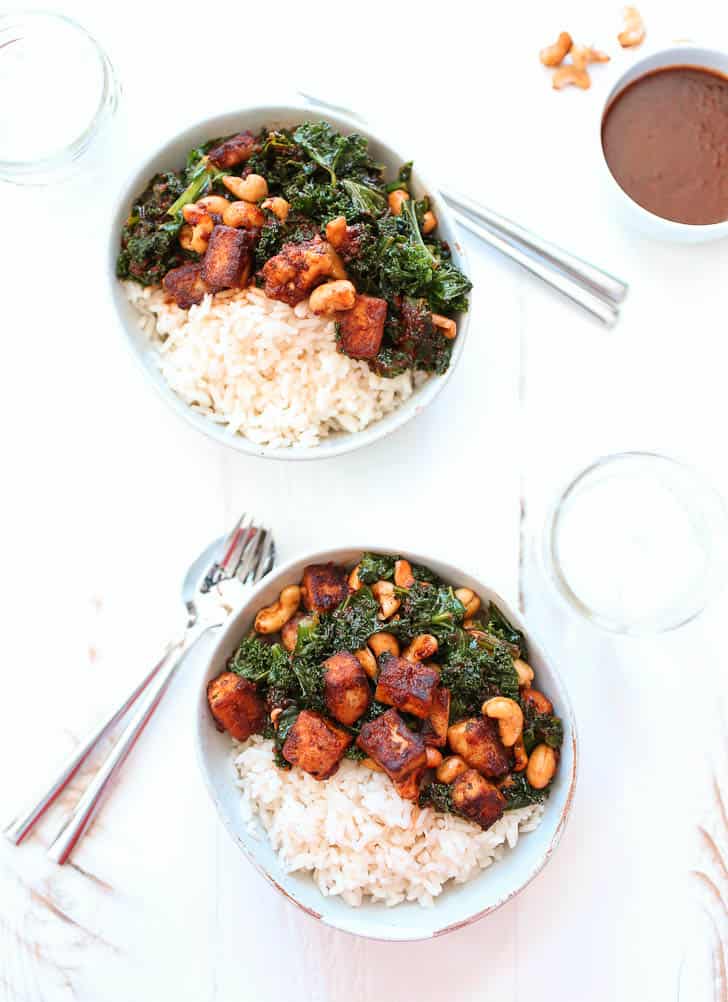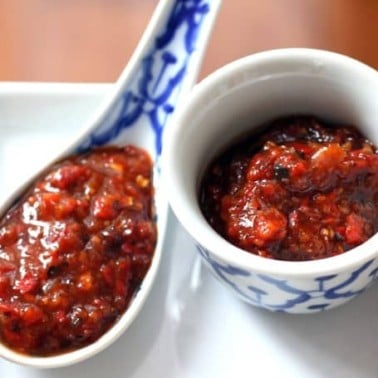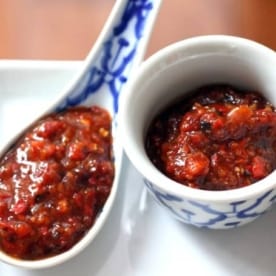 Nam Prik Pao (Thai Chili Paste)
Ingredients
13

large red Thai chilis, seperated (10 will be roasted, 3 will be used raw)

6

cloves

garlic

1/2

large onion (peeled and cut into quarters)

2

large dried shiitake mushrooms

1/2

cup

light brown sugar

1/4

cup

water

1/4

cup

tamarind paste (available in the international section of many grocery stores or any Asian market; if you cannot find this, you can omit this ingredient altogether as the vinegar below will still impart a different, but still delicious paste)

1/4

cup

distilled white vinegar
Instructions
Preheat the oven to 400 degrees. Slice 10 of the red chilis in half and place them face down on a baking sheet. Place garlic cloves and onion on the baking sheet, insuring that none of the vegetables are overlapping. Bake, without stirring, until chilis begin to blacken in spots, about 40 minutes (note: watch them closely and remove if they start to blacken earlier than the recommended timeframe; some reviewers have noted that their aromatics began to blacken after 10 to 15 minutes). Remove from the oven and allow to cool to room temperature.

Cut the 3 remaining chilis in half lengthwise. Gently remove the seeds and membranes from both the roasted and raw chilies (see note below). Gently squeeze the garlic cloves to extract the roasted garlic, and discard the peels.

Put garlic, chilis, onions and mushrooms in the bowl of a food processor. Pulse until the mixture is finely and evenly chopped. (It will be nearly smooth and ground to a paste in some spots.)

Place the chopped vegetables, sugar, water, tamarind paste and vinegar in a small pot over medium heat. If the mixture appears quite dry, add a splash more water so that it can easily come to a simmer.

Simmer, stirring frequently (reduce the heat if it begins to boil), until the mixture becomes smooth and thick, about 10 minutes. Remove from heat and allow to cool.

Store in the refrigerator for up to 2 weeks.
Notes
The chilis used in this version of Nam Prik Pao are spicy Thai chilis. They are about the length of my hand, from wrist to the tip of my pointer finger. Dried long chilis will work as a substitute, but they do not need to be roasted before being used in the recipe, and you will need to double the amount to about 20 chilis, taking extra care to remove the seeds and membranes before using them.
If you prefer to use fish to make a more traditional Nam Prik Pao, substitute 2 Tablespoons of small dried shrimp for the shitake mushrooms.
The membrane and seeds contain the majority of the spice in the chilis. If you remove all of the membrane and seeds, the resulting paste will still be spicy, but not as spicy as if you leave some of the seeds and membrane in. I recommend removing as much of the seeds and membrane as you can at this stage. Set them off to the side. When the paste is cooking on the stove later, you can taste it and gradually add some of the seeds back in to increase the heat.
The paste will keep for up to 2 weeks in an airtight container in the refrigerator.
Nutrition information is automatically calculated, so should only be used as an approximation.
SaveSave