Apple Cinnamon Pull-Apart Bread
Published Oct 08, 2012•Updated Apr 19, 2022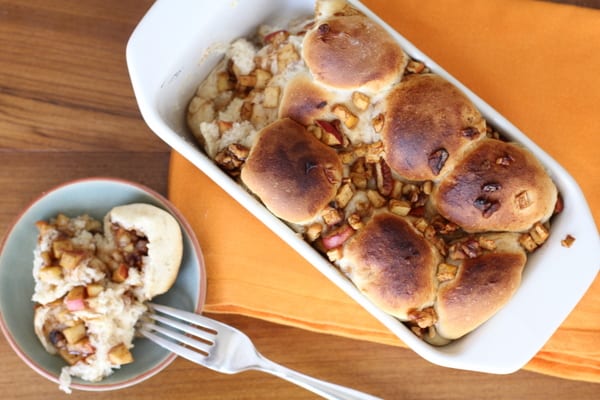 No-knead dough makes this apple cinnamon pull-apart bread an easy fall treat that bursts with apple, walnut, and cinnamon-sugar flavor.
We are back from Singapore, and I'm just popping in to say a quick hello on this Columbus Day! Columbus Day always took me by surprise back in the United States, but never did it feel quite as surprising as it does since we've moved to Bangkok. Frank and I both had work off today, and came back from a weekend in Singapore late this afternoon. We had an incredible time. I'll have all the goods on our trip in a couple days, but in the meantime, check out the incredible food we ate while we were there last year. I can't get enough of those "carrot cakes".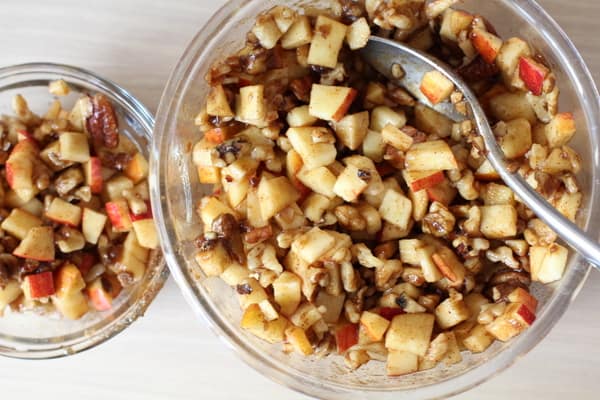 Before we left town on Saturday, there was one item on my to-do list that I was particularly excited to tackle. For October's Secret Recipe Club I was matched up with Ginny of Cooking with Chopin, Living with Elmo. I loved everything about her site – her simple, fun recipes, the sweet name of the blog, and her totally sweet family.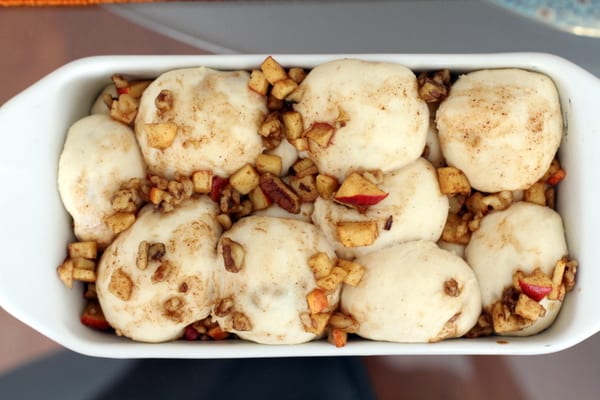 I'm battling a raging sweet tooth this week (maybe I sense all the Halloween candy on the horizon?), so it was her decadent sweets that caught my eye (like Nutella granola….hello, lover). Finally, I fell right into an obvious choice for the "fake fall" we're celebrating as much as possible – Apple-Cinnamon Pull-Apart Bread. This is a really special recipe.
I made a few adaptations to the original, including using a variation on a no-knead dough that I've used for other sweet breakfast breads. The dough for this pull-apart bread is not at all fussy, and it has a slight sweetness and hint of cinnamon that are a great compliment to the delicious filling. Inside each little pocket of dough is a burst of apple, walnut, and cinnamon-sugar.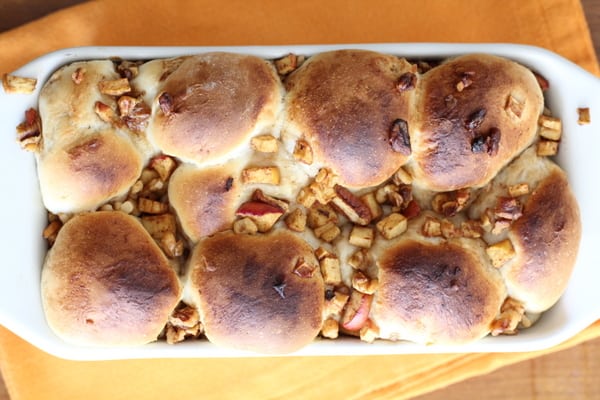 This bread is the autumnal cousin of monkey bread, but it is relatively easy on the sweetness, making it a nice treat for a chilly weekend morning. (Or, alternatively, a welcome treat for an extraordinarily hot Bangkok morning…whichever may be the case.)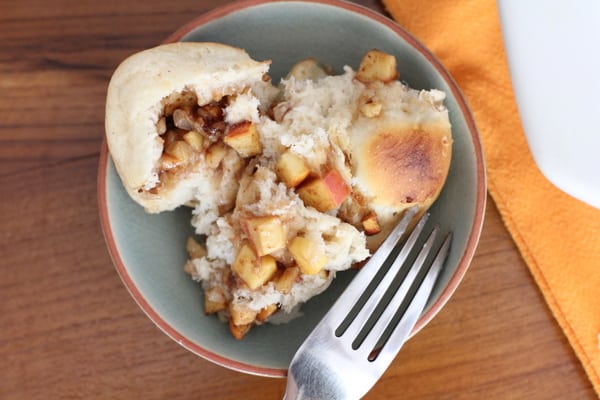 More Bread Recipes
Favorite Tools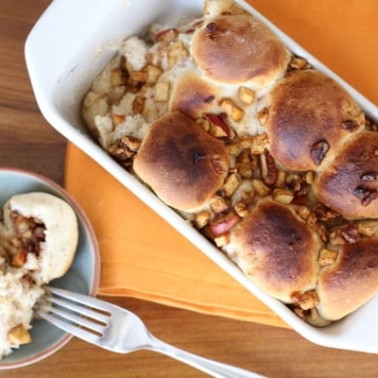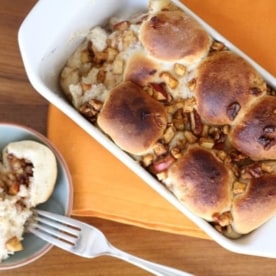 Apple Cinnamon Pull-Apart Bread
No-knead dough makes this apple cinnamon pull-apart bread an easy fall treat that bursts with apple, walnut, and cinnamon-sugar flavor.
Equipment
Bundt Pan or 2 Loaf Pans

Saucepan

Mixing Bowls
Ingredients
For the Dough:
1/3

cup

Water

1

Tbsp

Yeast

(1 package)

1

cup

Milk

1/4

cup

Butter

1/4

cup

Granulated Sugar

1 1/2

tsp

Kosher Salt

3

cups

All-Purpose Flour

(plus up to an additional 1/2 cup, to add to the dough if needed, and to dust hands while shaping dough)
For the Filling:
2

medium

Granny Smith Apples, finely chopped

1/3

cup

Brown Sugar

1/2

cup

chopped Pecans or Walnuts

(I used a combination)

1

tsp

Cinnamon

Zest and juice from half a lemon

(about 2 teaspoons of juice)
Instructions
Sprinkle the yeast over the water and let rest at room temperature for 5 minutes. Meanwhile, warm milk and butter in a small saucepan on the stove top until the butter is melted. Combine the milk and melted butter with sugar in a large heat-proof mixing bowl and whisk until the sugar is completely dissolved.

Let the milk mixture cool until it is just warm to the touch – NOT HOT.

Add the yeast and water to the milk mixture, stirring to combine. Add the salt and three cups of the flour all at once, stirring until all the flour has been absorbed. Use your hands to combine the ingredients if you're having trouble incorporating the last of the flour. The dough will be sticky, but should come together in a shaggy ball. If it's still more the consistency of cookie batter, work in up to an additional 1/2 cup of flour. Cover the dough and let it rise until it has doubled in size, about 1.5 hours.

Lightly grease 1 bundt pan or 2 loaf pans with butter (if using 2 loaf pans, you can cover and freeze one - just bring the frozen one to room temp before baking). Preheat the oven to 350 degrees F.

Combine apples, brown sugar, nuts, cinnamon, and lemon juice and zest, stirring to combine well.

Lightly dust your hands with flour to prevent the dough from sticking. Gently pull pieces of dough that are roughly 1/4 cup in size and flatten them into disks. (The dough will be sticky, but add a bit more flour to your palms if needed. No need to be terribly precise here.) Inside each disk of dough place 1 heaping tablespoon of apple filling, and pinch the edges closed around the filling to form a ball. Line the filled dough balls up in your prepared baking dish to form a base layer. Sprinkle about 1/4 cup of apple filling over the base layer of dough. Repeat, forming additional layers of dough and apple filling until the pan is filled to about 2 inches below the top. Scatter any remaining apple filling over the top.

Bake on the lowest rack, until golden brown on the surface, 30-35 minutes. If the surface begins to turn dark brown, lightly cover the pan with foil and continue baking until the bread is cooked through. Allow to cool for 10 minutes before serving.
Notes
Like most quick breads, this will refrigerate beautifully. Assemble the entire dish in the evening, put it in the refrigerator overnight, allow to rest on the counter for about an hour the next morning, and then bake. Breakfasts like this one never fail to impress guests!
Adapted from Cooking with Chopin, with dough adapted from these.
Nutrition information is automatically calculated, so should only be used as an approximation.
*This post contains affiliate links*