These quick, homemade crescent rolls are an easy (and buttery) addition to dinner or your next holiday party.  Make them at home instead of popping them out of a can and you will be surprised how much more delicious they are.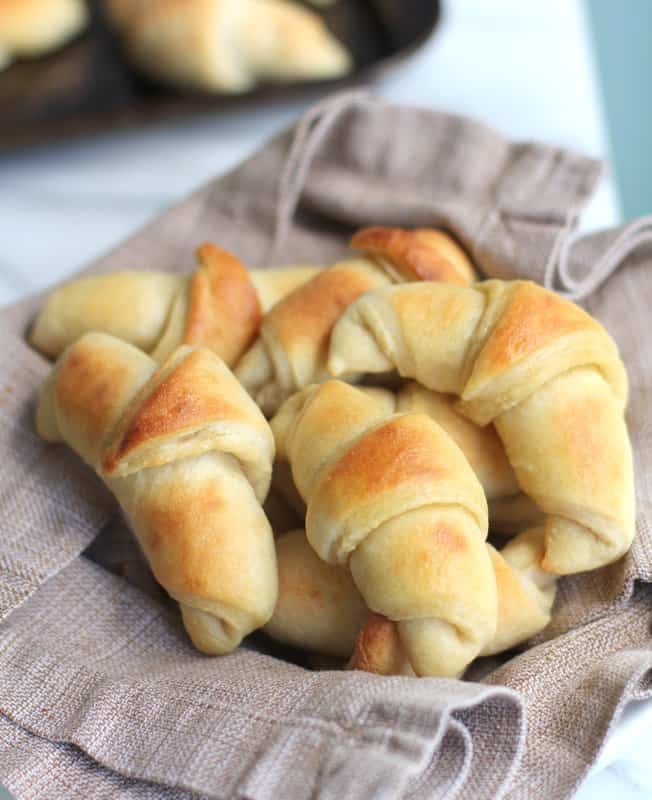 Thanksgiving Planning
I wish I could say that I've got my Thanksgiving menu all lined up, but that would be false.  I've barely had time to think about it, although it would take more than the usual life craziness to keep me from mashed potatoes and stuffing.
And rolls.  There must be rolls.  Ideally, light, buttery, and ready in 60 minutes.  Fortunately I've got that covered.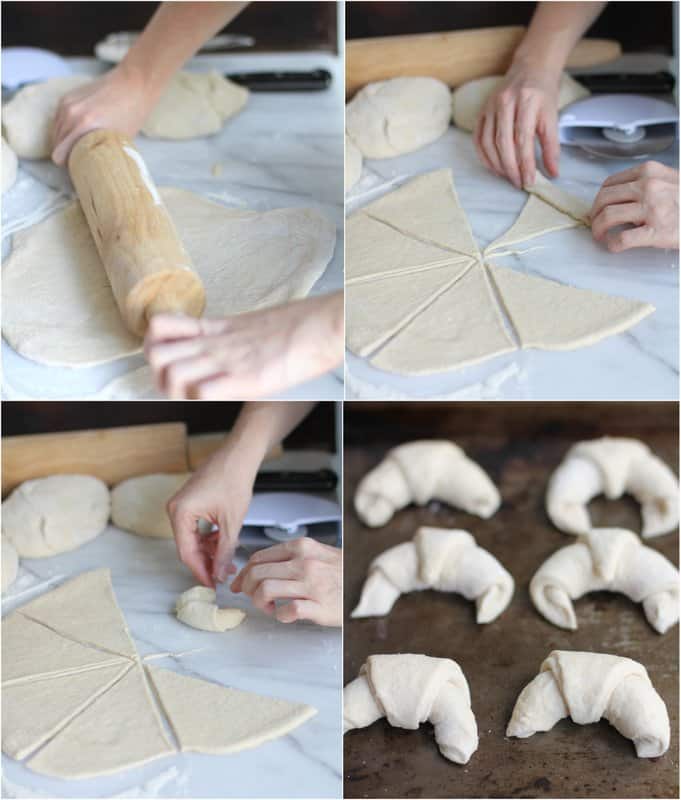 Quick Homemade Crescent Rolls
Since discovering the 1-Hour Light and Buttery Dinner Rolls, I've made them so often that they've become a holiday staple.  And they really are delicious – check out the comments on that page to see lots of love for these quick and easy rolls.
This year I thought I'd put a festive spin on them and roll them into crescents.  Crescents make for excellent holiday party food – all those light layers to pull apart and spread with cranberry sauce or sweet potatoes.
I froze a batch too.  So even if we have nothing else next Thursday, we'll have plenty of these, hot out of the oven.  Because that's when these little rolls are at their very best.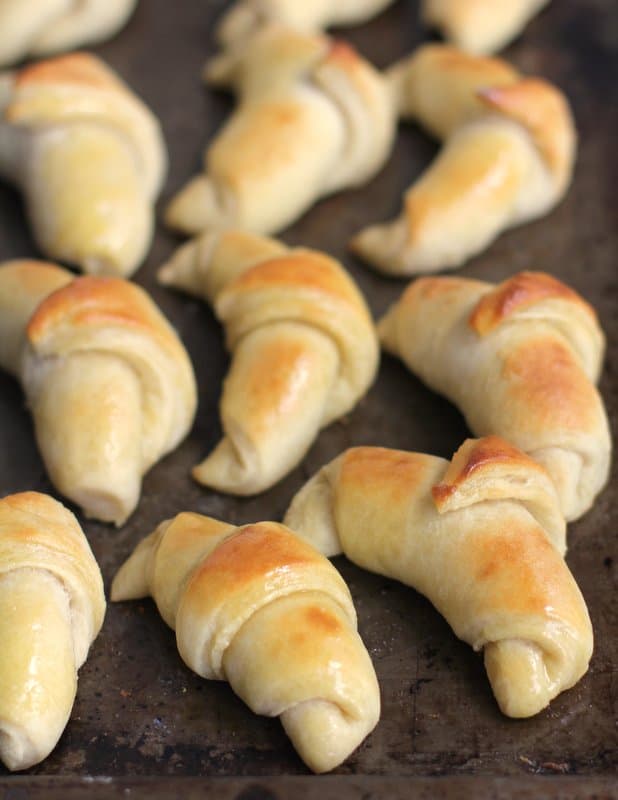 Hopefully you're way ahead of me and have your Thanksgiving meal all lined up.  If not, I'd recommend adding these quick and easy homemade crescent rolls to the list!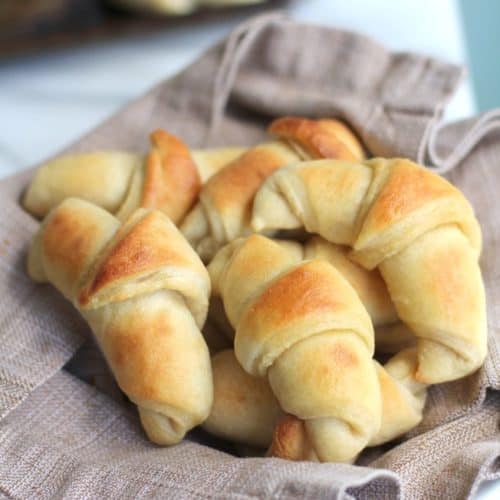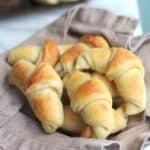 Print Recipe
1-Hour Light and Buttery Crescent Rolls
These rolls are a holiday staple - light, fluffy, buttery and ready in 60 minutes.
Ingredients
1½

cups

warm water (110 degrees F/45 degrees C)

1

Tbsp.

instant yeast

2

Tbsp.

granulated sugar

2

Tbsp.

(28g) unsalted butter, softened

1

tsp.

table salt

4

cups

(500g) all-purpose flour, lightly spooned into measuring cup and leveled off
For topping:
3

Tbsp.

(40g) unsalted butter, melted

1

tsp.

sea salt
Instructions
In the bowl of a stand mixer fitted with the dough hook, stir together warm water, yeast, and sugar. Let stand until creamy, about 5 minutes.

To the yeast mixture, add the butter, salt, and 2 cups of the flour. Mix on low-speed until the ingredients begin to come together. Still on low-speed, add 1 cup of the remaining flour and mix for 1 minute. Add the remaining 1 cup flour. Mix on low-speed until the final addition of flour is fully incorporated into the dough. Increase the speed to medium and knead until the dough is smooth and elastic, about 5 minutes. (Resist the urge to add additional flour unless the dough still refuses to come together after a couple minutes of kneading. The dough will still be slightly sticky, but uou will know it is ready when it starts to make a slapping sound as it hits the sides of the bowl.) Remove the bowl from the mixer and cover it with a dish towel. Let the dough rise in a warm place until doubled in volume, about 20 minutes.

Turn the dough out onto a lightly floured surface and form it into an even ball. Using a serrated knife, cut the dough into quarters. Roll each ball of dough into a rough circle about 15 inches in diameter (no need to be too precise). Using a pizza cutter or knife, slice the circle into 8 even triangles. Starting at the widest end, gently roll each triangle up into a crescent shape. Place 1-inch apart on two lightly greased baking sheets.

Set the baking sheets aside and let the rolls rise while your oven is preheating to 400 degrees F (200 degrees C) – about 20 minutes.

Lightly brush the rolls with about half of the melted butter before baking. Bake until golden brown, 13-15 minutes. Immediately after removing the rolls from the oven, brush them with the remaining melted butter and sprinkle with salt. Serve immediately.
Notes
These freeze very well. Freeze the rolls on a baking sheet before baking. Once frozen, transfer to a plastic bag and return to the freezer. Defrost at room temperature for 30 minutes before baking.
Adapted from these 1-Hour Light and Buttery Dinner Rolls originally from Phemomenon.
Clara and Molly aren't sure about this whole "Thanksgiving" thing.  We've been talking up turkey, but they're skeptical…