This tender, moist banana bread couldn't be easier to make - perfect for a weeknight. It starts with melted butter so everything can be mixed together by hand. No mixer required. Sour cream (or yogurt) gives the bread its soft texture.
Few types of recipes are passed around as much as banana bread recipes. My theory is that it's because every time you taste a new version you're reminded of just how delicious a genre this is. It's sweet enough to taste like a treat but somehow we give ourselves permission to eat it any time of day (fruit!). With the weather cooling, it feels like baking season has truly arrived. And, if we learned anything from March 2020, it's that baking is good therapy. And warm banana bread is inexpensive and effective therapy indeed.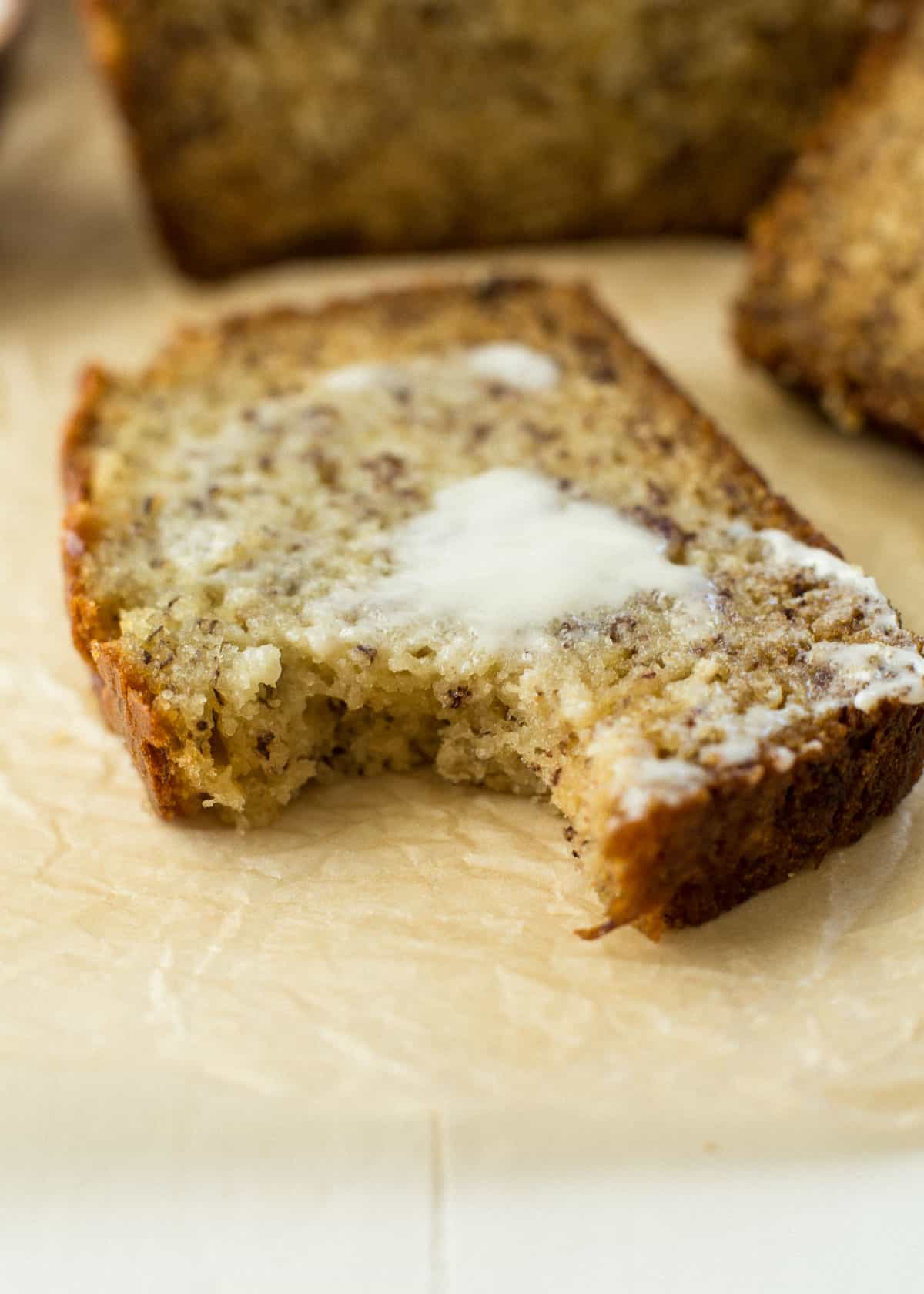 This version of banana bread is entirely my own, but borrows a bit from all the favorites I've gathered from family and friends. Sour cream for tang and moisture, a mix of white and brown sugar for a golden color inside and dark crust outside, a pinch of cinnamon to highlight the banana flavors.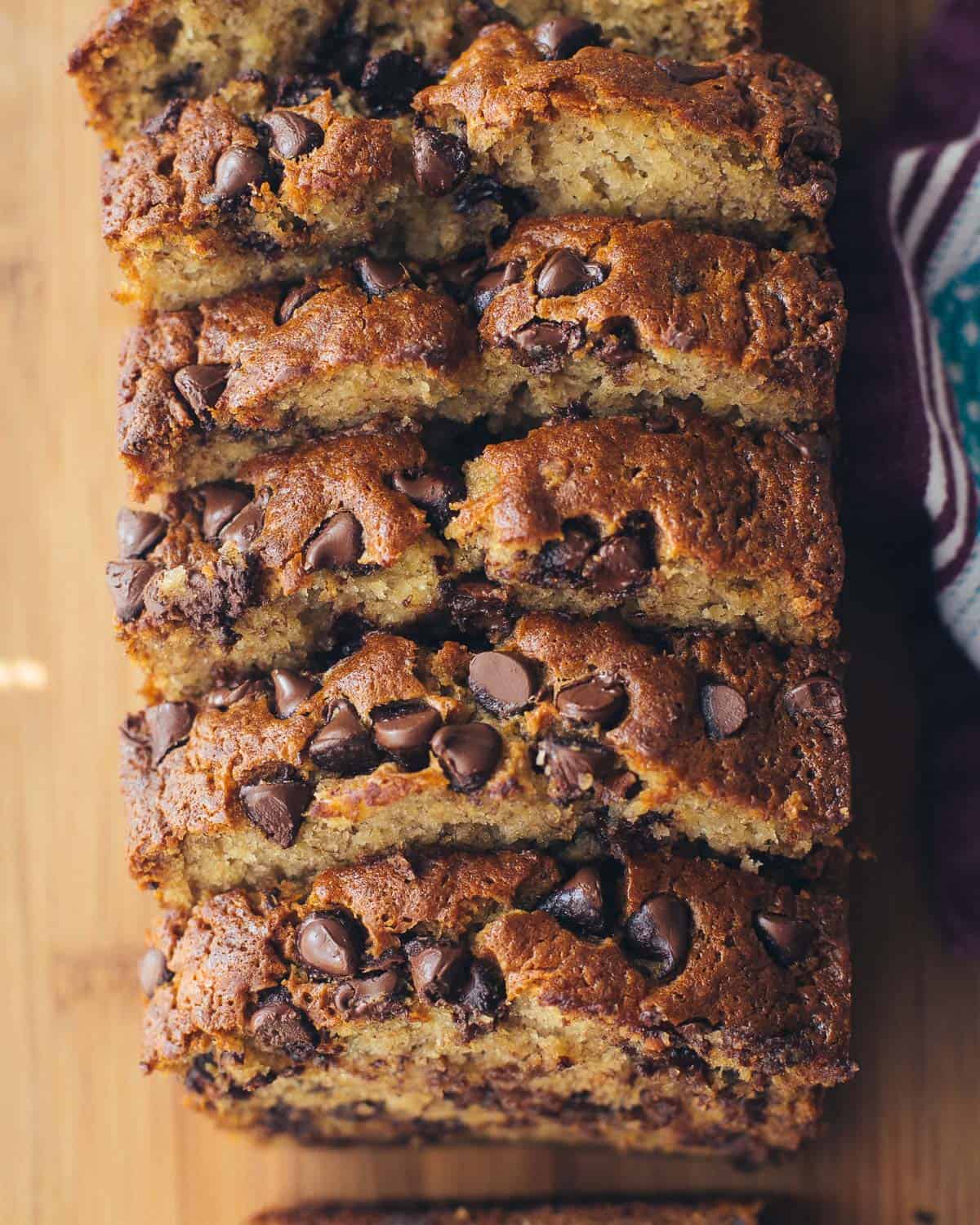 I tested nearly 15 versions of this bread in search of the right balance, because at the end of the day, I wanted this to be a recipe that feels easy. Just a reliably delicious quick bread that is no fuss, mixes up in a few minutes, and turns an overripe piece of produce into a bounty of warm, soft, banana goodness. I wanted this to be the recipe you mix up on a Tuesday while dinner is in the oven. It's weeknight-friendly (but great for a cozy weekend afternoon too).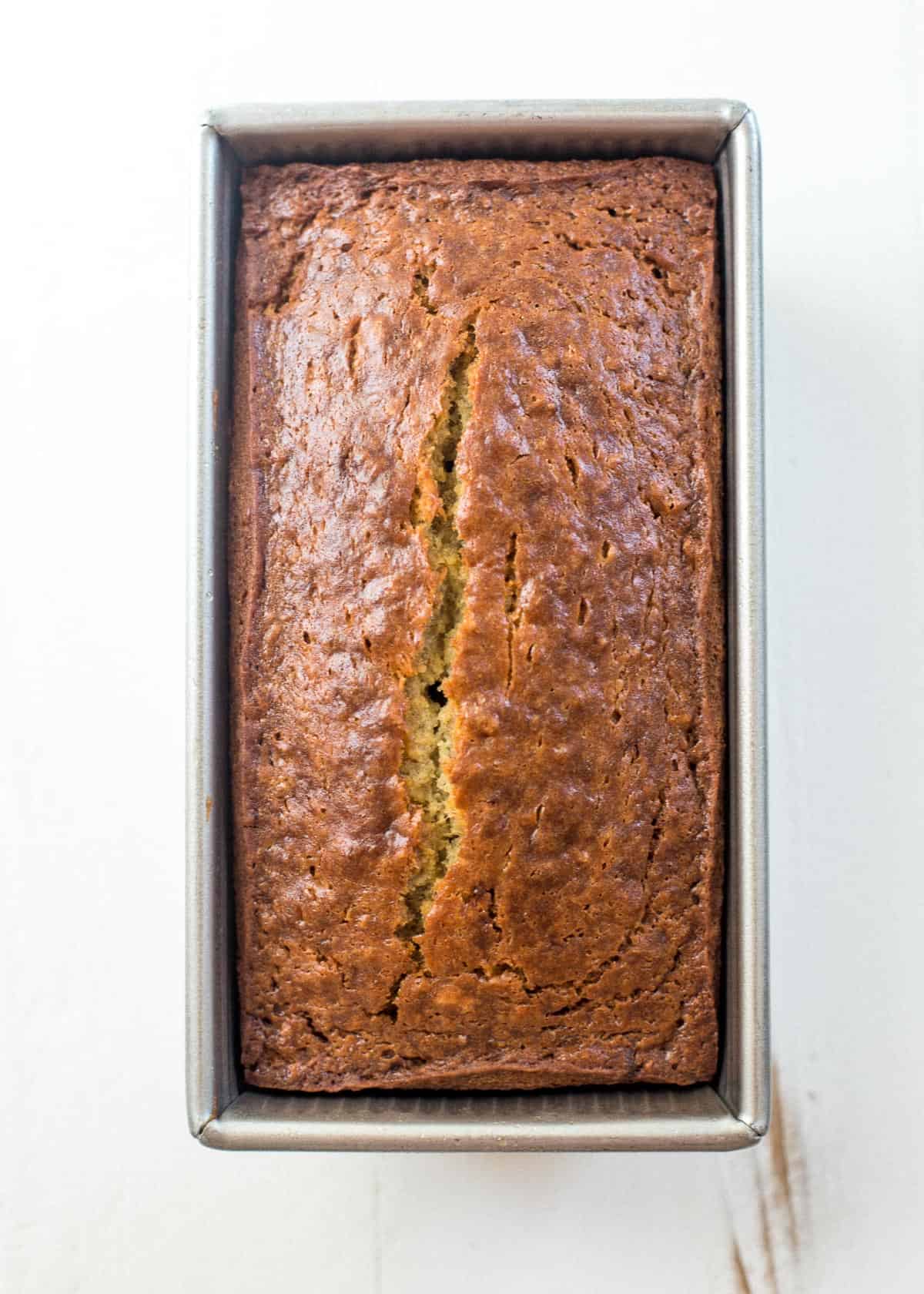 What you'll see throughout this post is the same recipe with both chocolate chips and without. I couldn't pick a favorite. Sometimes I love a plain warm slice of banana bread with a spread of butter. But sometimes you need the chocolate.
Ingredients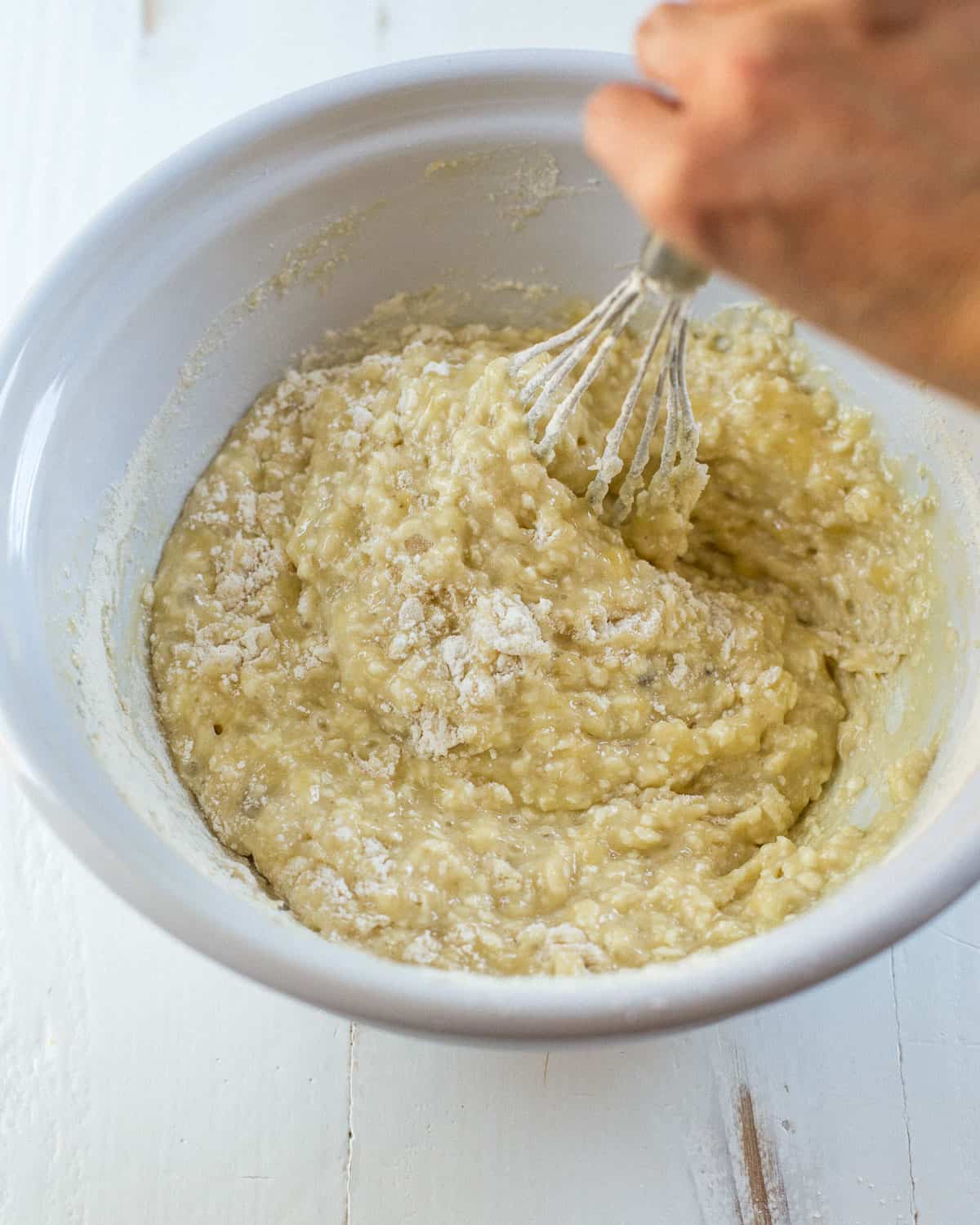 Melted vs. Softened Butter in Banana Bread
The texture and temperature of butter has a huge effect on the finished product of nearly all baking recipes that use it. Most cookie recipes require butter that is soft enough to blend but not melted. Softened butter can hold air and be whipped with sugar into that fluffy consistency that gives cookies a crumbly texture. With banana bread, that crumbly texture is less important since what most of us are looking for in banana bread is that it's moist and tender. Using melted butter gives this banana bread a less crumbly texture than using softened butter and a slightly more spongy texture.
When I first pictured this recipe, I wanted to be sure that it worked with melted butter - hence the "weeknight-friendly" title. I did not want to wait for butter to soften and wanted everything to mix together easily, without the need to "cream" the butter and sugar together with a mixer.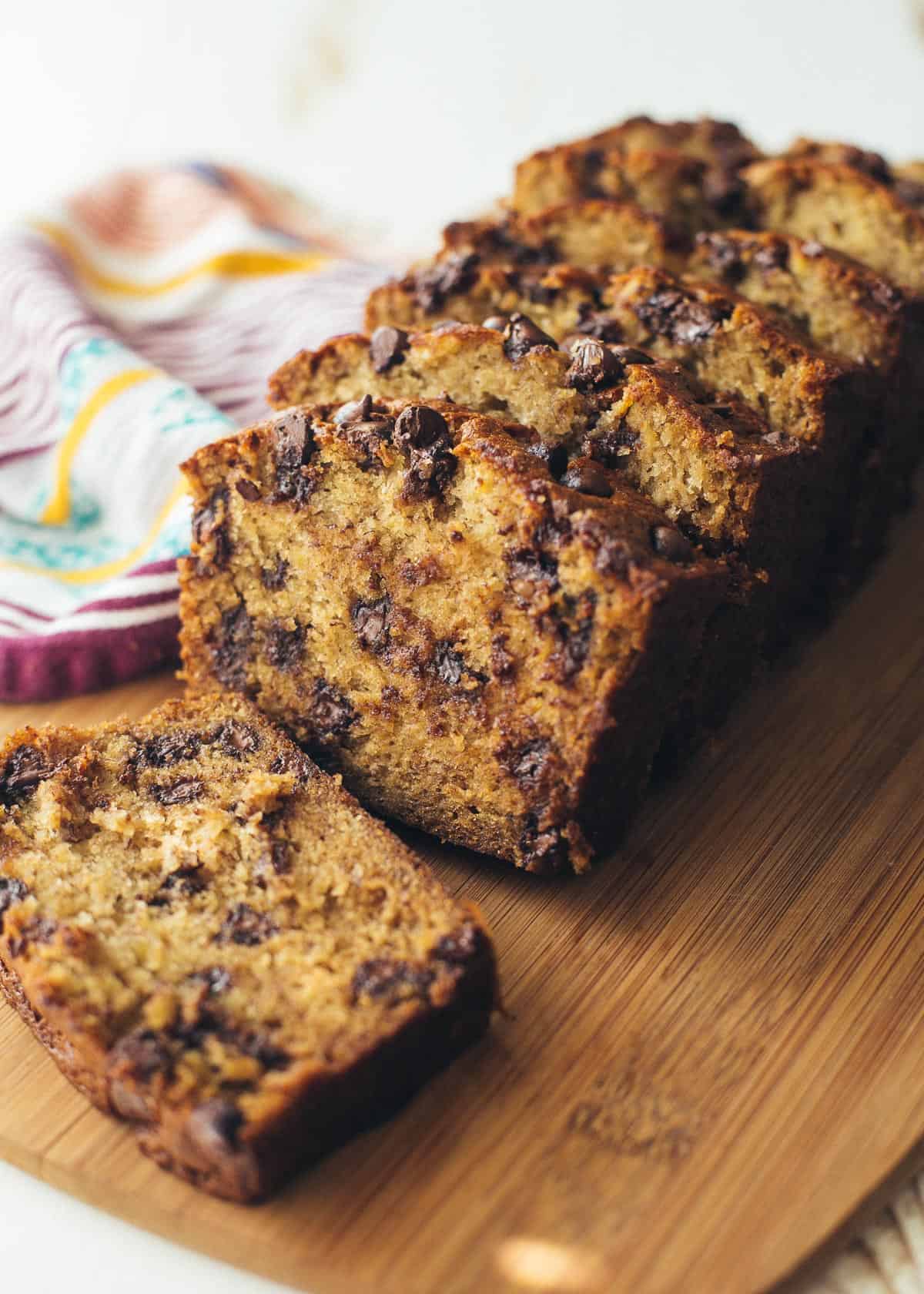 (Note: once I got this recipe just right, I went back and tested it with softened butter. The result? It's great either way. If you're in a rush, just melt that butter. If you have some extra time, feel free to wait until the butter softens.)
How Ripe Should the Bananas Be?
When ripe bananas are speckled with brown spots, they are ready for banana bread. Yellow bananas with brown spots on most of the surface will make a banana bread with a light crumb that holds its shape well. Very ripe bananas that are brown all over will lend more sweetness to the bread and will make a bread that is more dense and soft.
I often mash a bunch of bananas and freeze them in jars, so they're ready to be made into banana bread any time. Frozen and defrosted bananas behave a lot like very ripe bananas and the resulting bread is usually more dense than when using fresh bananas.
How to Freeze Mashed Bananas
Mash ripe bananas with a fork until nearly smooth. Transfer the mashed bananas into Mason jars, leaving about 1 inch of headspace at the top. Seal with a lid and freeze for up to 6 months.
I love to buy a bunch of extra bananas to let ripen and then freeze so that I can make banana bread any time. To mash a large portion of bananas, use the paddle attachment on a standing mixer and mix just until all of the large pieces are mashed.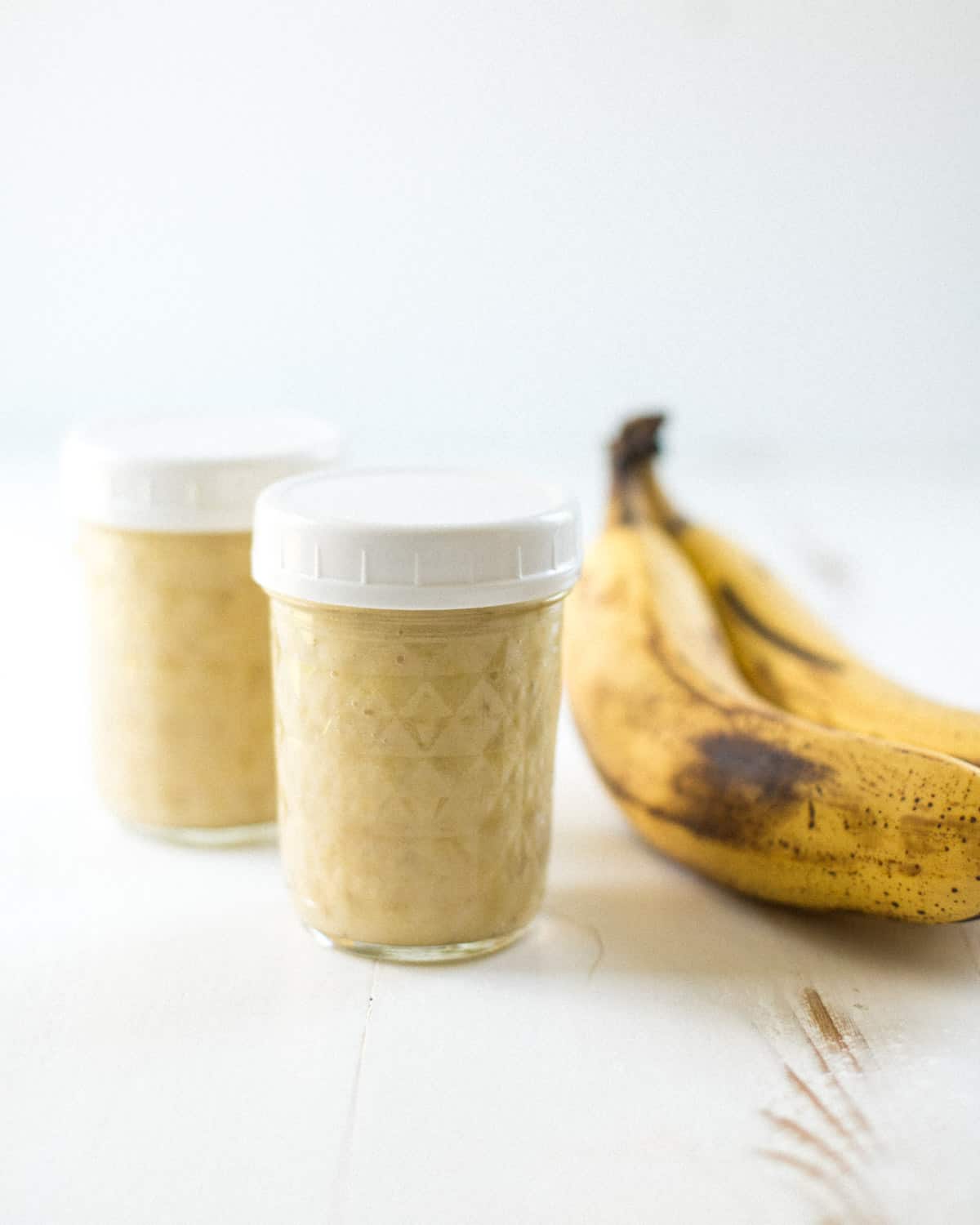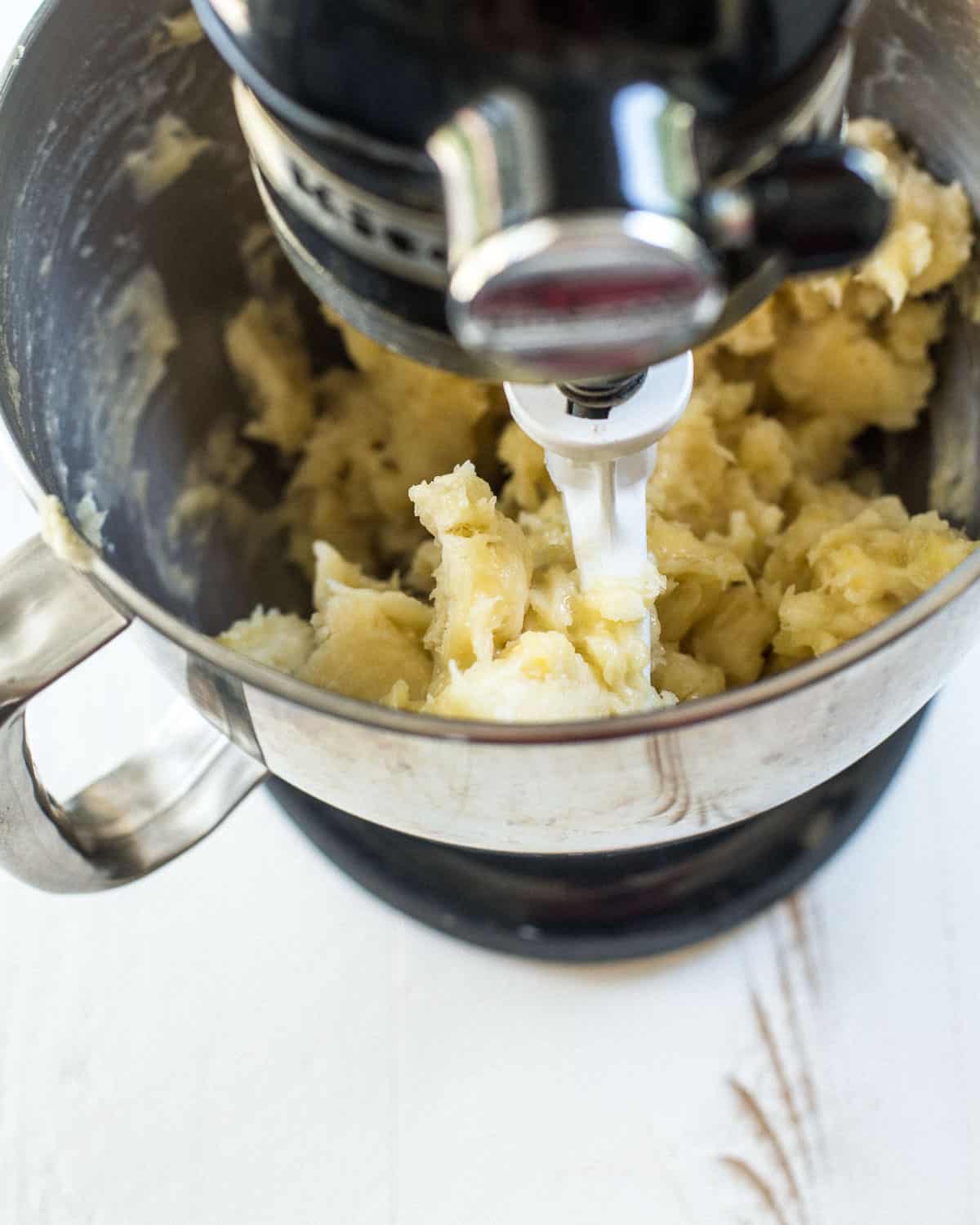 Best Mix-Ins for Banana Bread
Add any of these great mix-ins to your banana bread (use ¾ to 1 cup of mix-ins per loaf):
Other Banana Recipes
Favorite Tools
If you want to geek out on a whole variety of banana bread recipes, check out The Pancake Princess' Best Banana Bread Bake-Off. She did all the work to identify a recipe that will fit any type of banana bread your heart desires!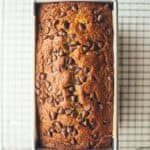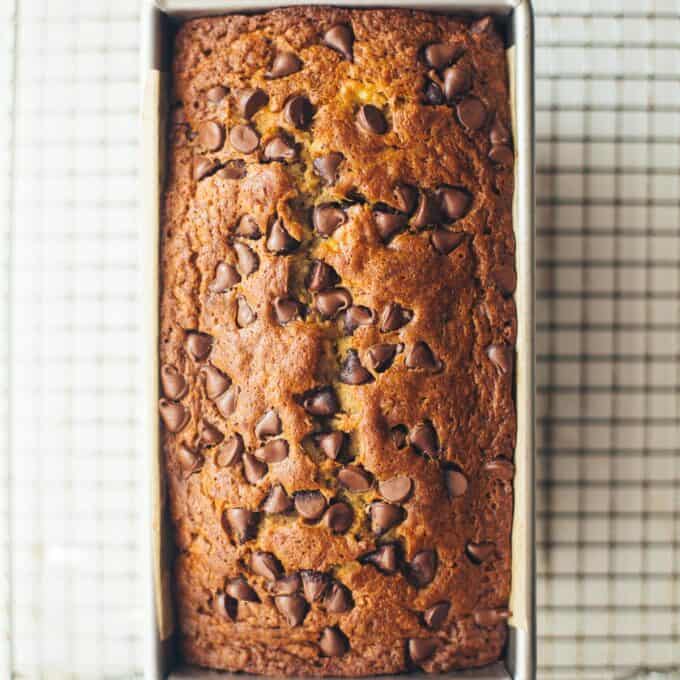 Print Recipe
Weeknight Banana Bread
This tender, moist banana bread couldn't be easier to make - perfect for a weeknight. It starts with melted butter so everything can be mixed together by hand. No mixer required. Sour cream (or yogurt) gives the bread its soft texture.
Equipment
Mixing Bowls

Loaf Pan

Whisk
Ingredients
1 ¾

cup (231 g)

All Purpose Flour

1

teaspoon

Baking Soda

½

teaspoon

Salt

¼

teaspoon

Ground Cinnamon

1

stick (8 Tbsp)

Unsalted Butter, melted and cooled slightly

1 ½

cups (350 mL)

Mashed Banana

(about 3 bananas)

½

cup (100 g)

White Sugar

½

cup (100 g)

lightly packed Brown Sugar

(light or dark will work)

¼

cup (60 mL)

Sour Cream

(or plain or Greek yogurt)

2

Eggs

1

teaspoon

Pure Vanilla Extract
Instructions
Preheat oven to 350°F / 177°C.

Spray a loaf pan with nonstick cooking spray. (I sometimes line the loaf pan with parchment to make the bread easier to lift out.)

In a medium mixing bowl, whisk together flour, baking soda, salt, and ground cinnamon. Set aside.

In a large mixing bowl, whisk together melted butter, mashed banana, both sugars, and sour cream until evenly combined. (The mixture will be lumpy.) Whisk in egg and vanilla.

Pour dry ingredients over wet and stir just until no dry spots remain. (Do not overmix.)

Pour batter into prepared loaf pan. Bake until a tester inserted in the center comes out clean, 60 to 65 minutes.

Allow to cool before slicing.
Notes
Feel free to add your favorite mix-ins after step 5. Chocolate chips and chopped pecans / walnuts are favorites at our house. Aim for ¾ cup to 1 cup of mix-inis per loaf of bread so you don't overwhelm the base of the bread or risk it spilling out of the top of the loaf pan as it bakes. The bread takes slightly longer to cook through if it contains chocolate chips, so expect it to take 65 minutes or even a couple minutes longer.
Nutrition
Calories:
312
kcal
|
Carbohydrates:
53
g
|
Protein:
5
g
|
Fat:
9
g
|
Saturated Fat:
5
g
|
Cholesterol:
49
mg
|
Sodium:
19
mg
|
Potassium:
176
mg
|
Fiber:
2
g
|
Sugar:
23
g
|
Vitamin A:
75
IU
|
Vitamin C:
3
mg
|
Calcium:
26
mg
|
Iron:
2
mg
Here's a very focussed June helping to test banana bread recipes!