No-Knead Cinnamon Crunch Bread
Published Oct 02, 2020•Updated Jun 27, 2022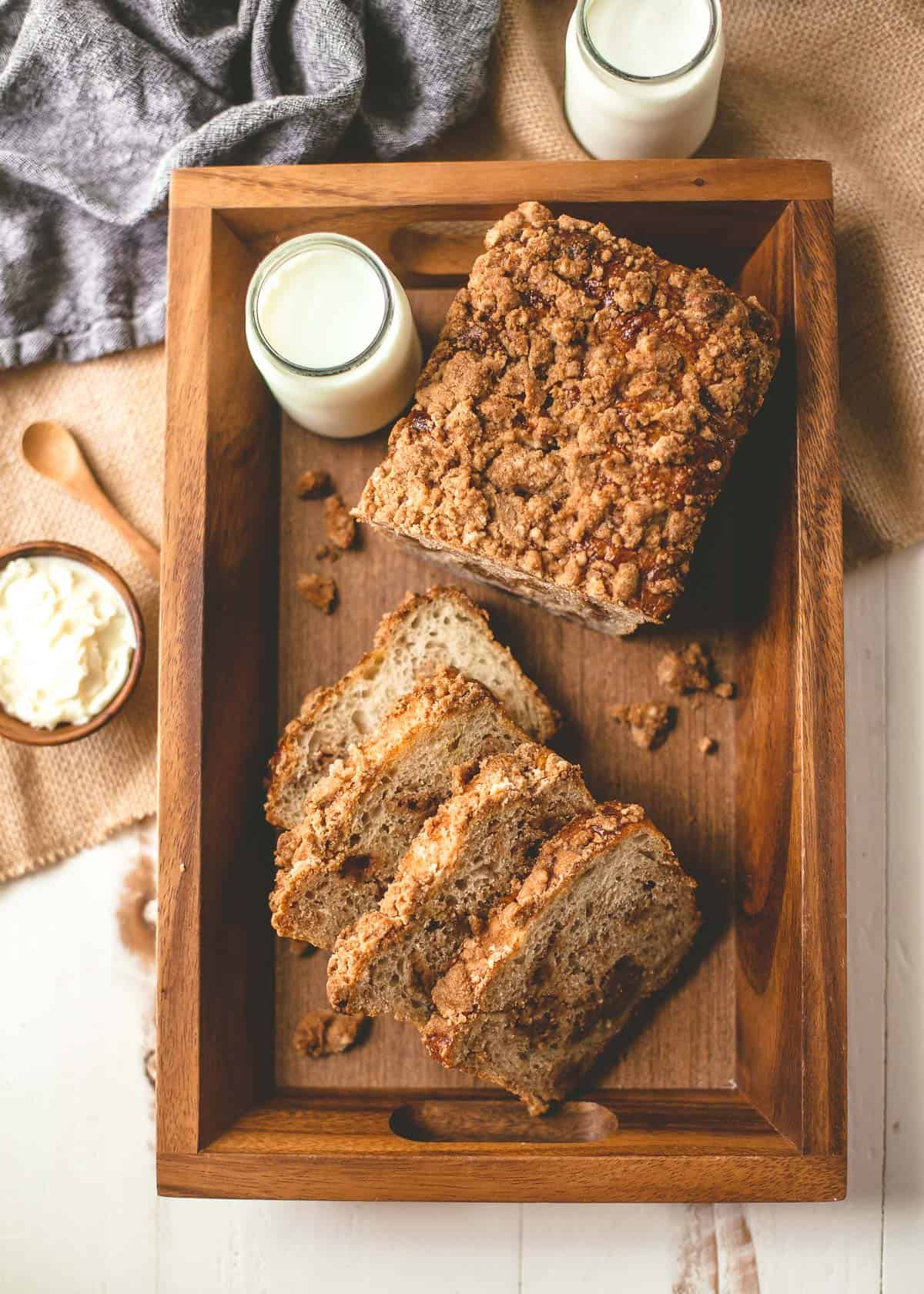 This easy cinnamon crunch bread has buttery bites of cinnamon streusel folded into the dough and sprinkled on top.
Have you heard of serving cinnamon rolls with chili? It's apparently a Midwestern thing. Since I was born and raised in Kansas, when I heard an entire story about this phenomenon on the radio I was intrigued. I don't remember eating this savory-sweet combo, but it also didn't sound all that weird. Which makes me think that it may have shown up on a cafeteria menu or two when I was a kid.
I can't say that I crave a sweet side to go with my latest favorite Slow Cooker Chili, but the idea did get me thinking that I should have a go-to cinnamon bread. The desire for easy, no-fuss baking lead me straight back to my favorite No-Knead Sandwich Bread which, as it turns out, didn't need much adaptation to be transformed into a sweet loaf of bread that is absolutely packed with cinnamon streusel.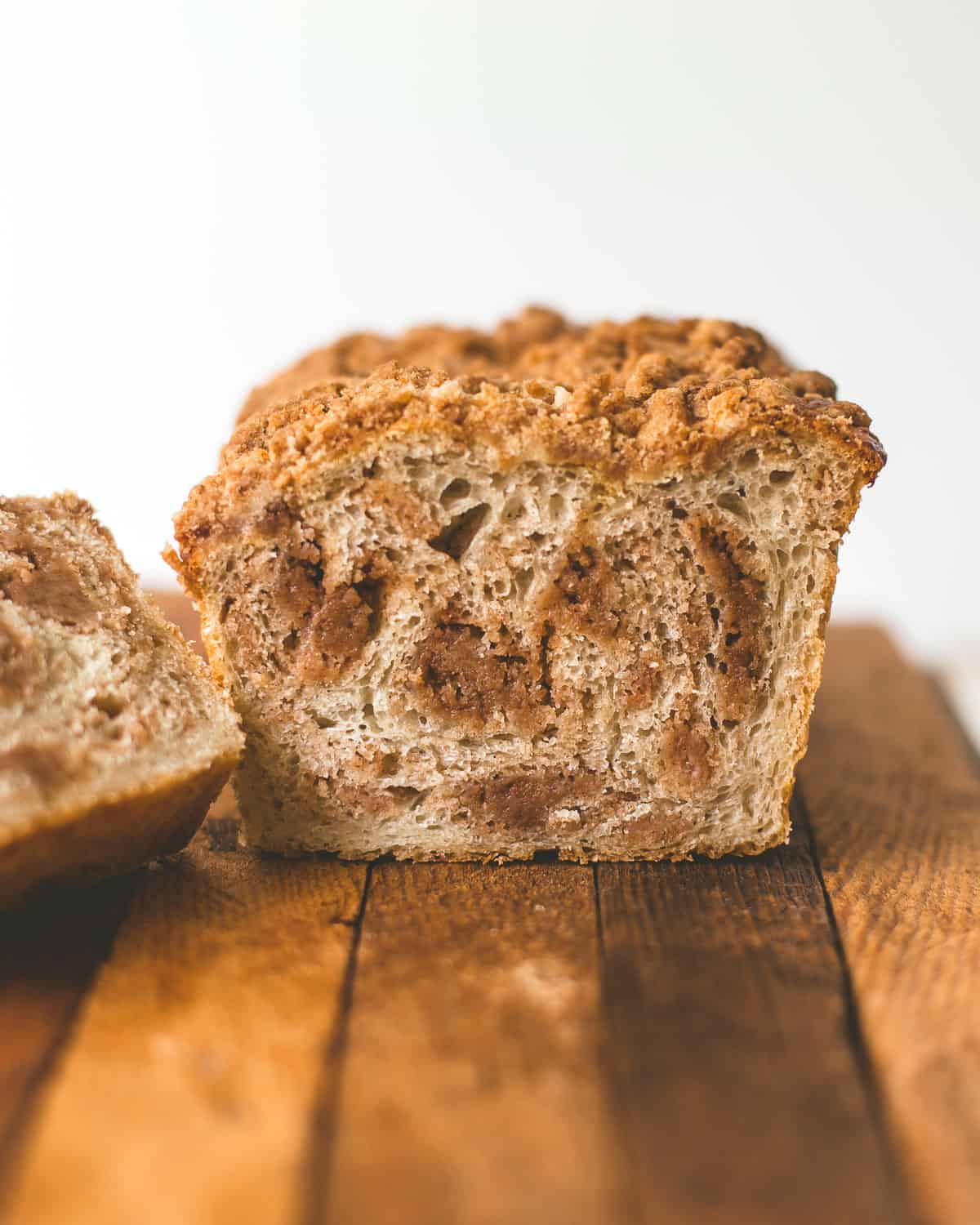 Not only did I fold cinnamon streusel into the bread itself, but I added more streusel on top. Be sure to bake this piled-high bread on a sheet pan in case any of those sweet crumbly cinnamon bites tumble off as it rises.
No needing or special equipment required. Just get out a mixing bowl and let's make Cinnamon Bread!
Ingredients
All-Purpose Flour

– No special flour needed – just regular all-purpose.

Fast-Acting or "Instant" Yeast

– The dough for this bread rises quickly (making it a go-to for new bread bakers or those of us who want this ready fast) and requires Fast-Acting (not "Active Dry") yeast.

Warm Water

– The water should feel warm, but not too hot to touch. Check the package on the yeast for the recommended temperature range. I usually heat tap water in the microwave for about 90 seconds until it reaches about 120°F / 49°C.

Olive oil or nonstick cooking spray

– You'll need to rub or spray the inside of the loaf pan to prevent the bread from sticking.

Egg

– Use one whisked egg to brush over the top of the bread before baking. This helps it to turn golden brown and encourages the cinnamon crunch to stick to the top.

White and Brown Sugar

– Use white sugar in the dough to activate the yeast. You'll also need both types of sugar to make the flavorful cinnamon crunch mixture.

Kosher Salt, Cinnamon, Melted Butter – You'll also need these baking staples to make the cinnamon streusel.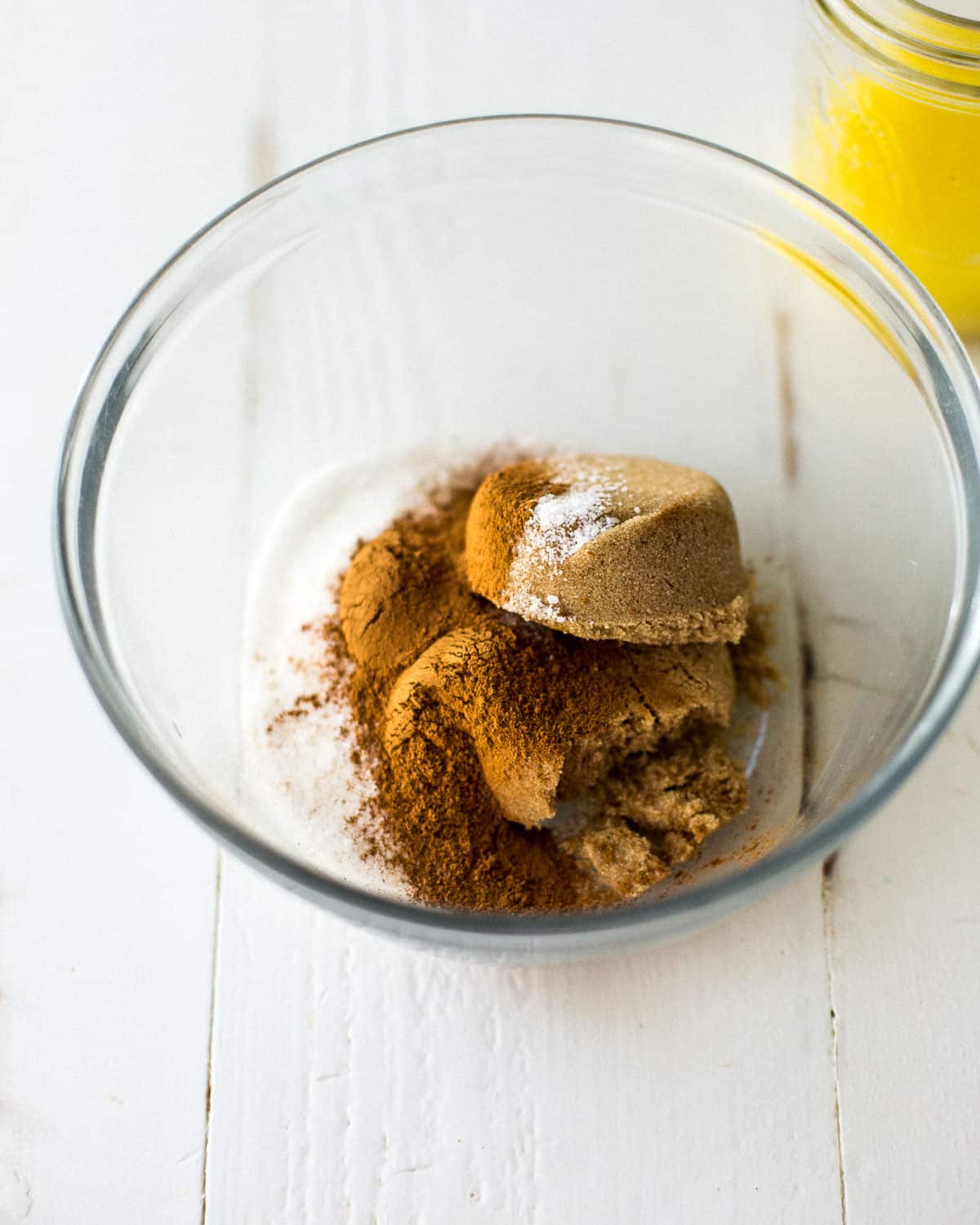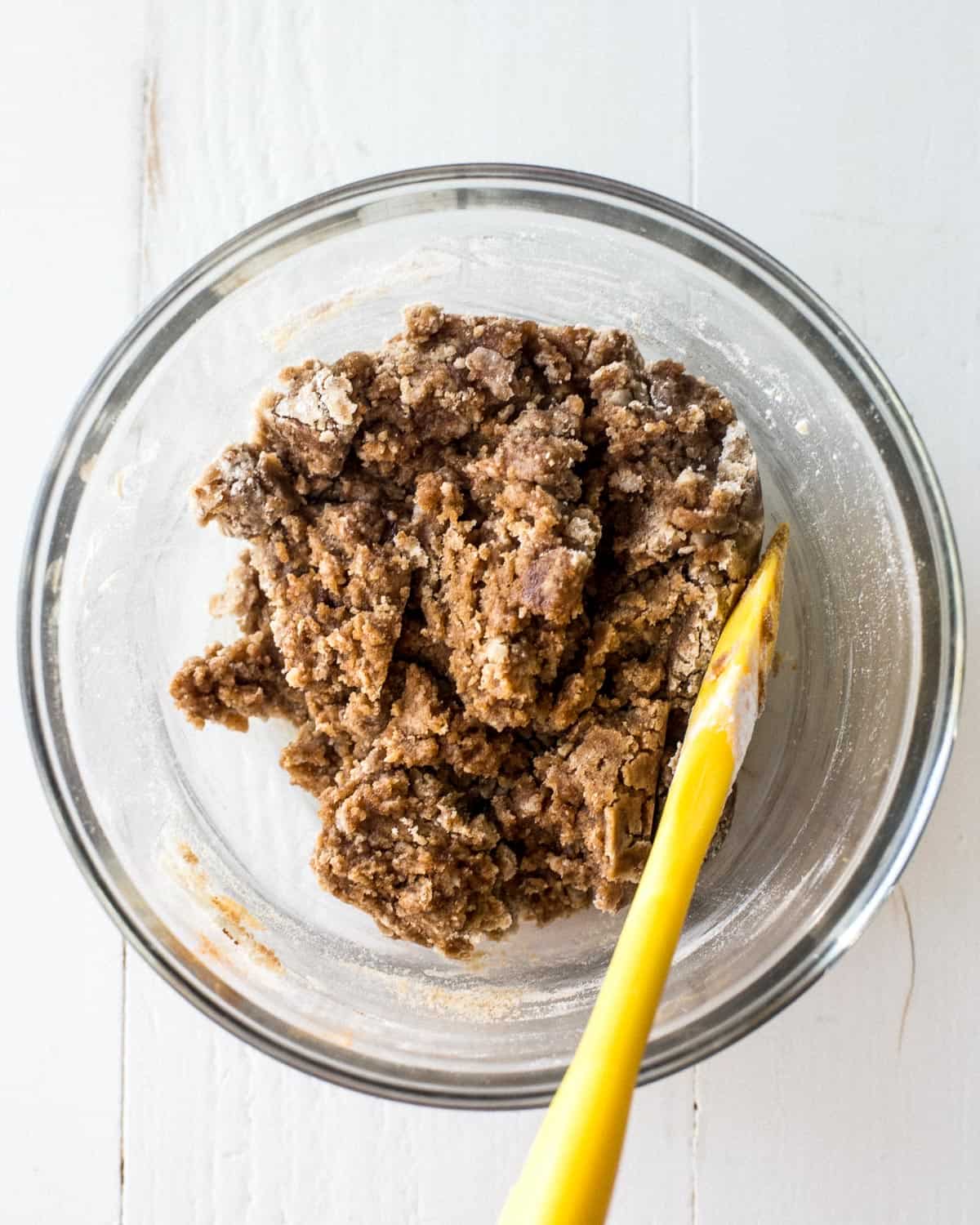 How to Make Cinnamon Streusel
To make cinnamon streusel combine brown sugar, white sugar, ground cinnamon, and a pinch of salt. Stir in melted butter until smooth. Fold in flour until the mixture is dry and holds together in large clumps. The streusel is now ready to fold into cakes and breads or crumble over top of baked goods.
For this cinnamon crunch bread, fold some of the streusel into the bread dough. It will melt into the dough, creating pockets of sweet buttery cinnamon. Add extra streusel on top to create the cinnamon crunch topping which will turn golden and crumbly as the bread bakes.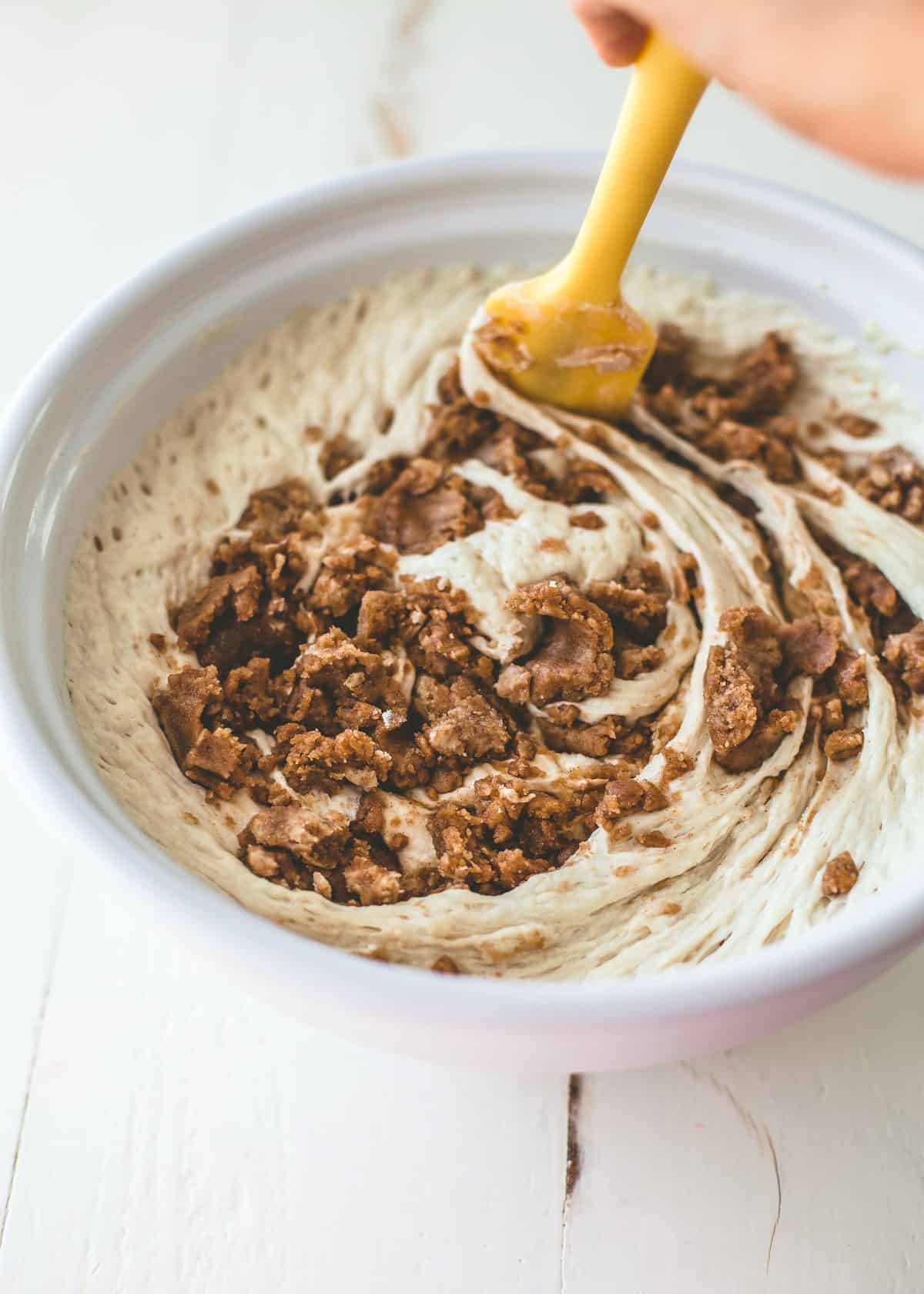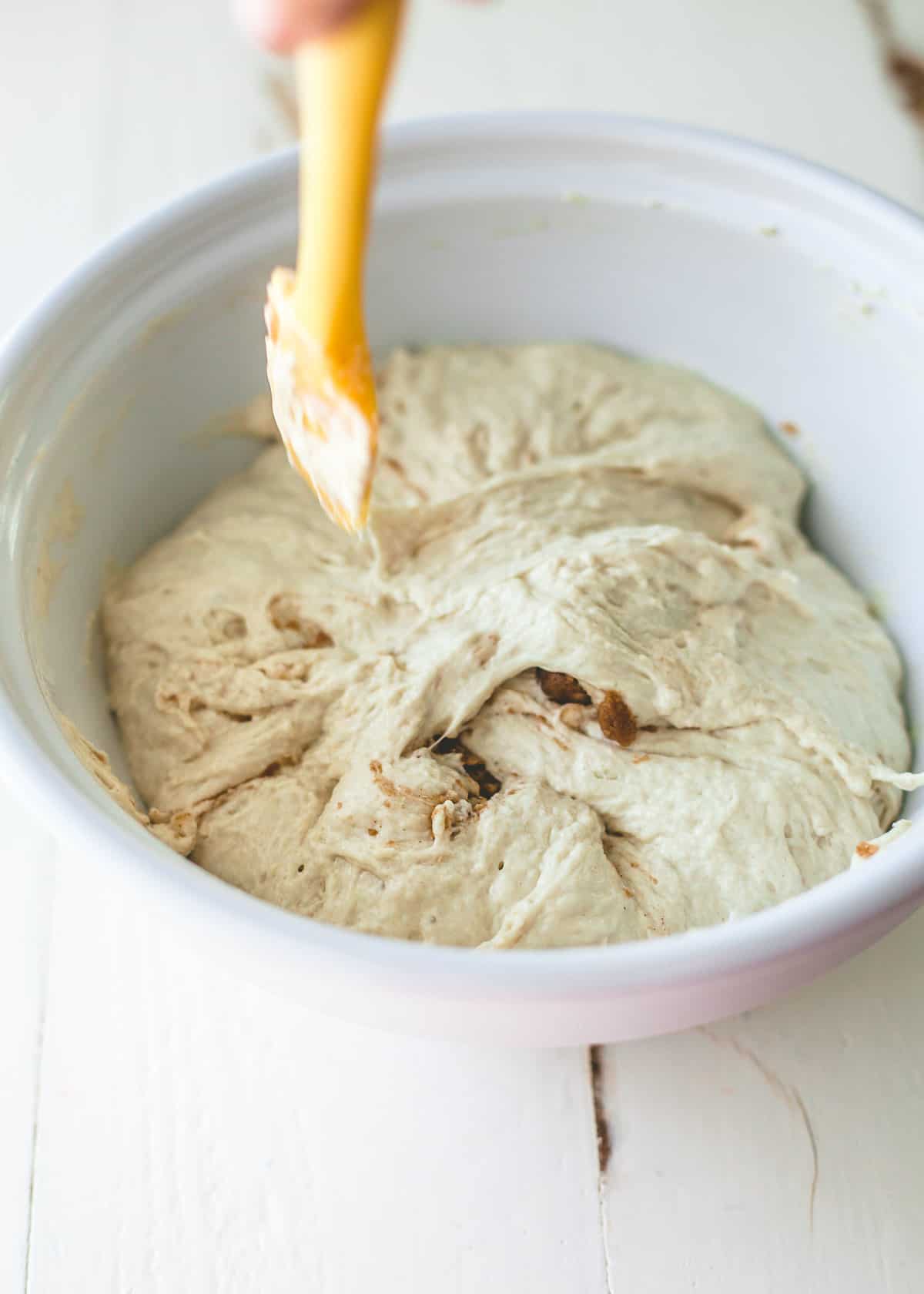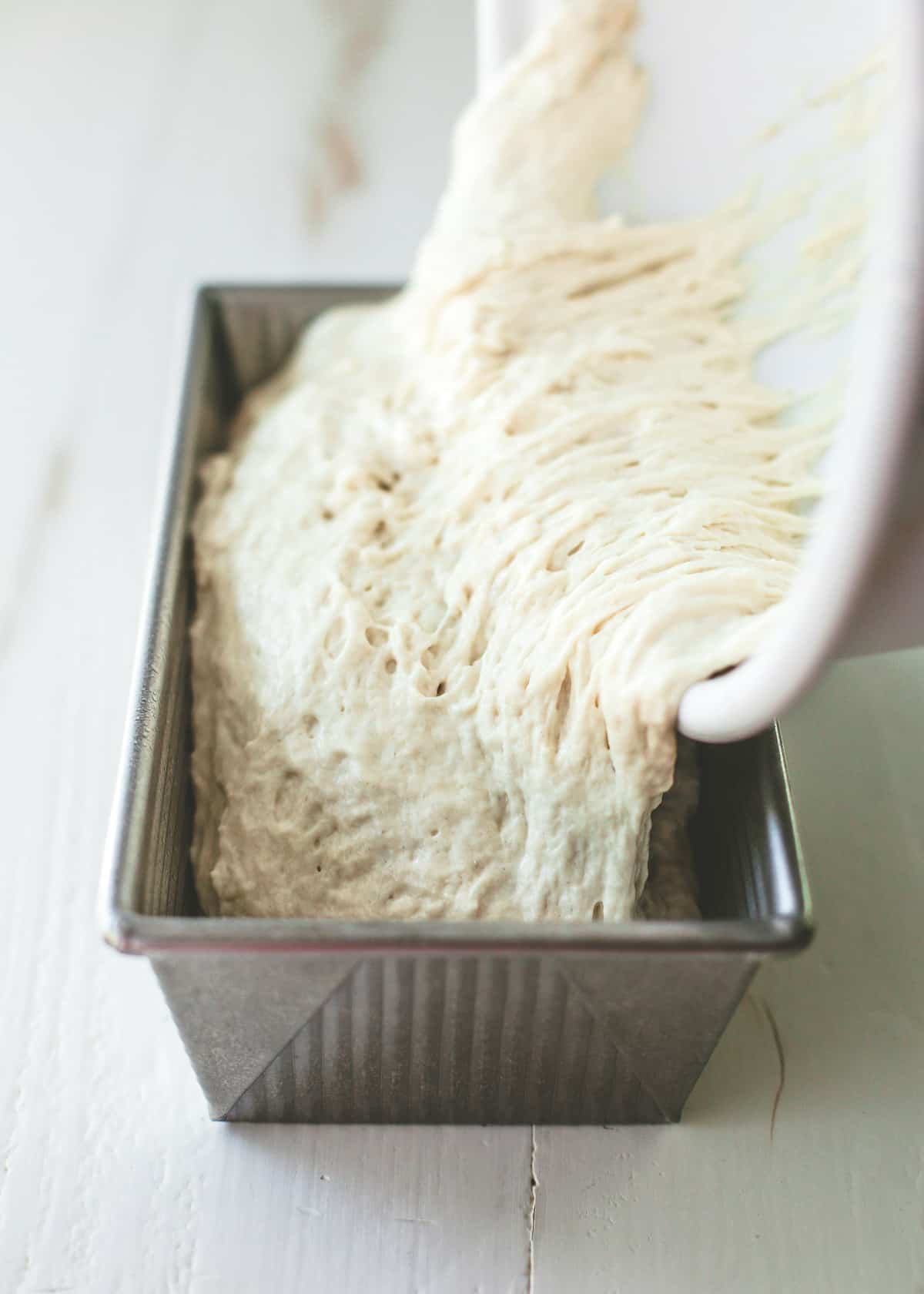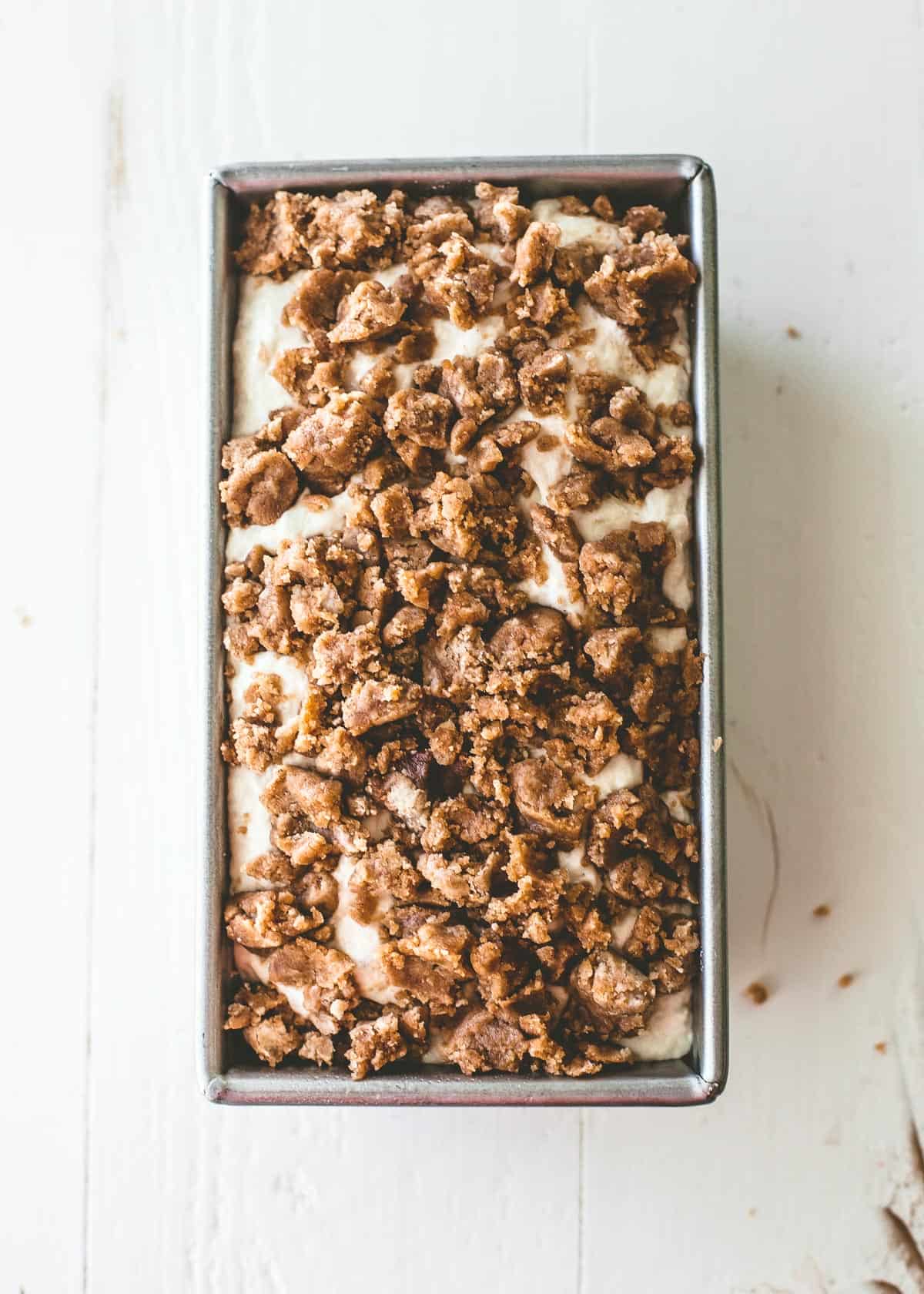 More No-Knead Bread Recipes
Favorite Tools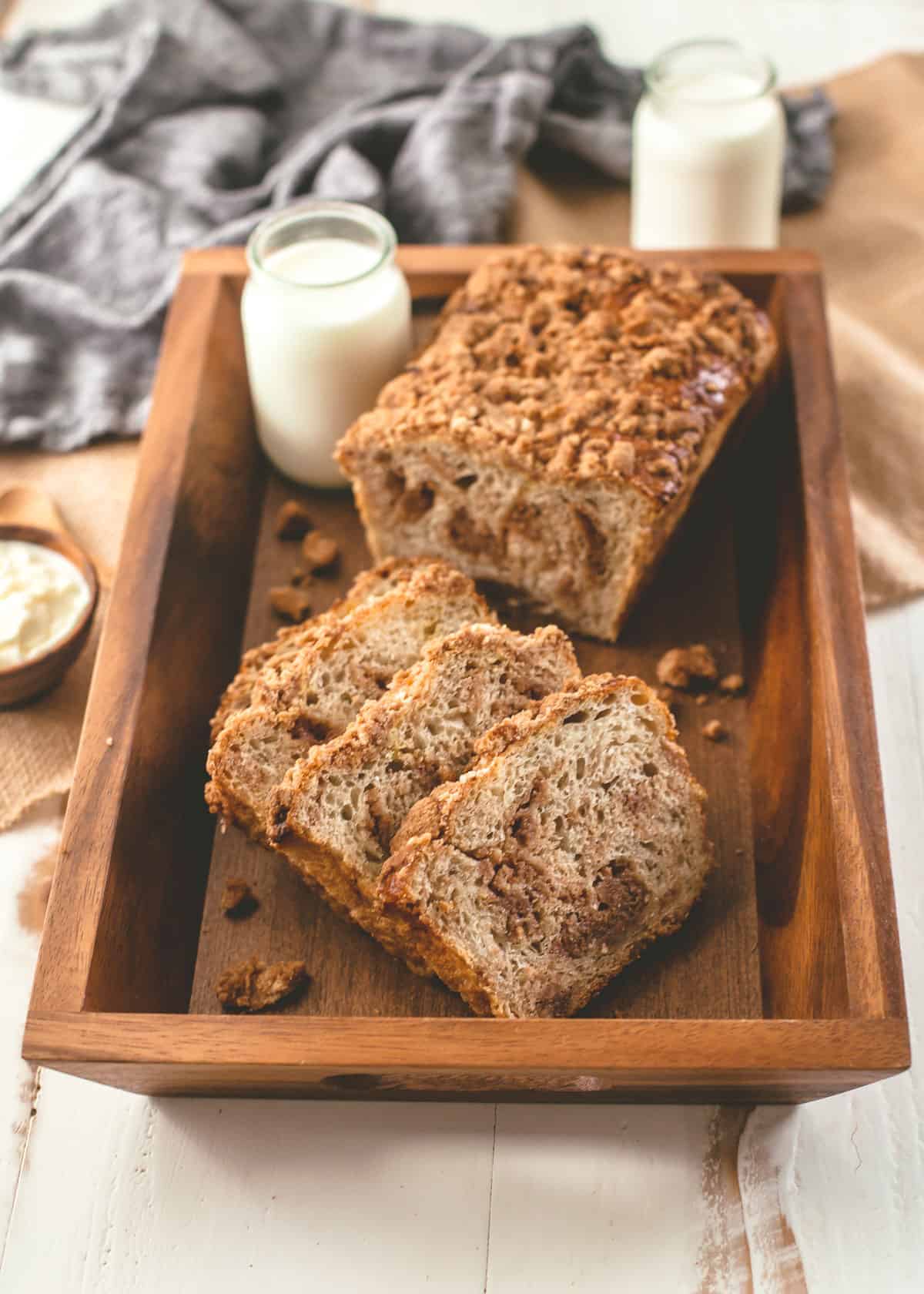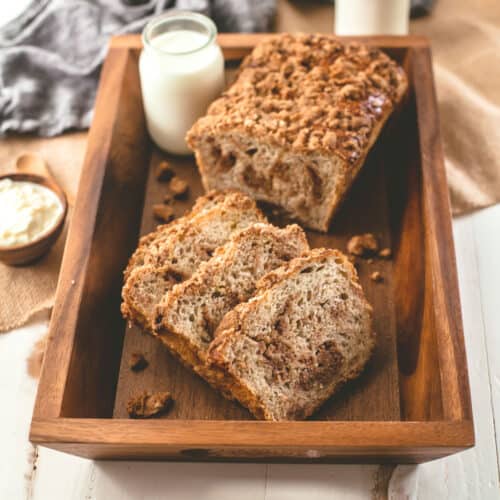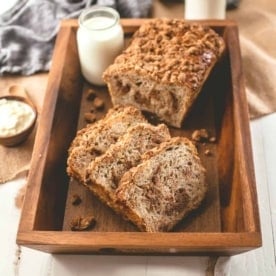 No-Knead Cinnamon Crunch Bread
Make breakfast extra fun with this easy, no-knead cinnamon crunch bread that has buttery bites of cinnamon streusel folded into the dough and sprinkled on top.
Ingredients
No-Knead Bread:
2

cups (250 g)

All-Purpose Flour

1

tsp

Kosher Salt

1

Tbsp

White Sugar

1 1/4

tsp

Fast Acting or "Instant" Yeast

(see note)

1

cup (236 mL)

Warm Water

(see note)

Cooking Oil or Nonstick Cooking Spray

1

Egg, whisked
Cinnamon Streusel:
1/2

cup (100 g)

Light Brown Sugar, packed

1/4

cup (50 g)

White Sugar

2

tsp

Ground Cinnamon

1/4

tsp

Kosher Salt

1

stick

Unsalted Butter, melted

(1 stick = 8 Tbsp= 1/2 cup)

1 1/4

cup (156 g)

All-Purpose Flour
Instructions
Make Dough: In a large mixing bowl, whisk together 2 cups flour, 1 tsp salt, 1 Tablespoon white sugar, and yeast. Add water and stir until no dry spots remain. The dough will be very stick, but just scrape down the sides and you stir.

First Rise (30 minutes): Cover the dough with a clean dish towel and leave it on the counter to rise until puffy, 30 minutes.

While dough is rising, brush a loaf pan with cooking oil or spray with nonstick cooking spray. Place the loaf pan on a sheet pan (this will just catch any cinnamon crunch pieces that fall off during baking).

Make Cinnamon Streusel: In a small mixing bowl, whisk together brown sugar, 1/4 cup white sugar, cinnamon, and 1/4 tsp salt. Add melted butter and stir until evenly combined. Add 1 1/4 cups flour and mix with a fork until the mixture is even (it will be thick and dry).

Assemble Bread: After dough has been rising for 30 minutes, use your hands to scatter about 3/4 of the cinnamon streusel mixture over top, breaking it apart with your hands as you go. Gently fold the cinnamon mixture into the dough until it is evenly combined.

Tip the dough into the prepared loaf pan, using a spatula if needed to help ease it out. Brush the surface of the loaf with whisked egg and then crumble the remaining cinnamon streusel over top.

Preheat oven to 375°F / 190°C.

Second Rise (30 minutes): Place the bread near the oven and leave to rise until it nears the top of the loaf pan, about 30 minutes.

Bake bread until the top is golden brown and crisp, 40 to 45 minutes. (The bread is done with it reaches 190°F / 88°C in the center.)

Allow the bread to cool for 10 minutes in the loaf pan. Gently turn it out onto a rack to cool completely. (Make sure to allow it to completely cool before slicing it - if it's still warm it may compress and that can give the center a gummy texture.)
Notes
Yeast
- Be sure to get yeast labeled as Fast Acting, Instant, Quick-Rise, Bread Machine, or RapidRise - any of these will work. Do NOT use "Active Dry Yeast" in this recipe; it needs to be dissolved in water before using and requires different rise times.
Water
- Check the label on the brand of yeast you use for the recommended water temperature. Water that is too hot will kill the yeast, water that is too cool will not "activate" it.
Storing Bread
- Sliced bread can be stored at room temperature for 2 days. (It's best warmed up in the toaster or oven after the first day.) It can also be sliced and frozen for up to 6 months.
This recipe is adapted from
No-Knead Sandwich Bread.
Nutrition
Calories:
369
kcal
|
Carbohydrates:
65
g
|
Protein:
7
g
|
Fat:
9
g
|
Saturated Fat:
5
g
|
Cholesterol:
34
mg
|
Sodium:
254
mg
|
Potassium:
91
mg
|
Fiber:
2
g
|
Sugar:
16
g
|
Vitamin A:
255
IU
|
Calcium:
26
mg
|
Iron:
3
mg
Nutrition information is automatically calculated, so should only be used as an approximation.