We have a new obsession, and it's light, fluffy cinnamon rolls with cream cheese icing.  The best part? These are easy cinnamon roles that you can have a pan of these cooling on your kitchen counter in 1 hour! Check out my step-by-step pictures below to have these 1 Hour Easy Cinnamon Rolls on your counter faster than you thought possible.
Funny thing: 1 hour was really about all the time I had to be in the kitchen this past week.  With family coming and going, Santa to visit with, hot cocoa to drink, and so much snacking to do, it felt like Christmas was here and gone in a flash.  As you can imagine, Molly and Clara enjoyed their first real Christmas (last year they were a bit young) in exuberant toddler style.
They tore open presents, shouted with joy when we lit candles at church on Christmas Eve, and ate cookies for dinner once.
Okay twice.
Maybe three times.
'Tis the season.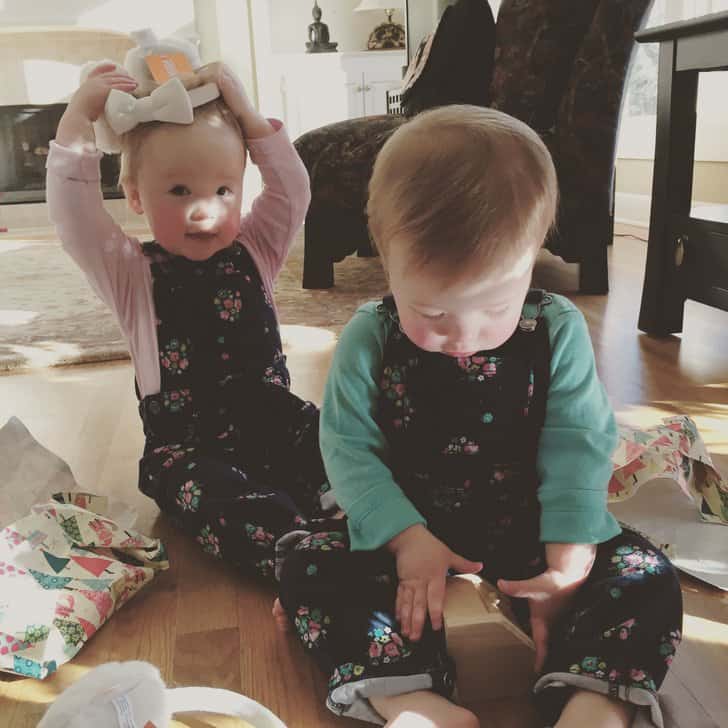 So this week, now that the wrapping and cookie dust have settled, we are relaxing.  Cooking for fun, lingering over breakfast together with several warm mugs of coffee.
Which is where these 1 hour easy cinnamon rolls come in.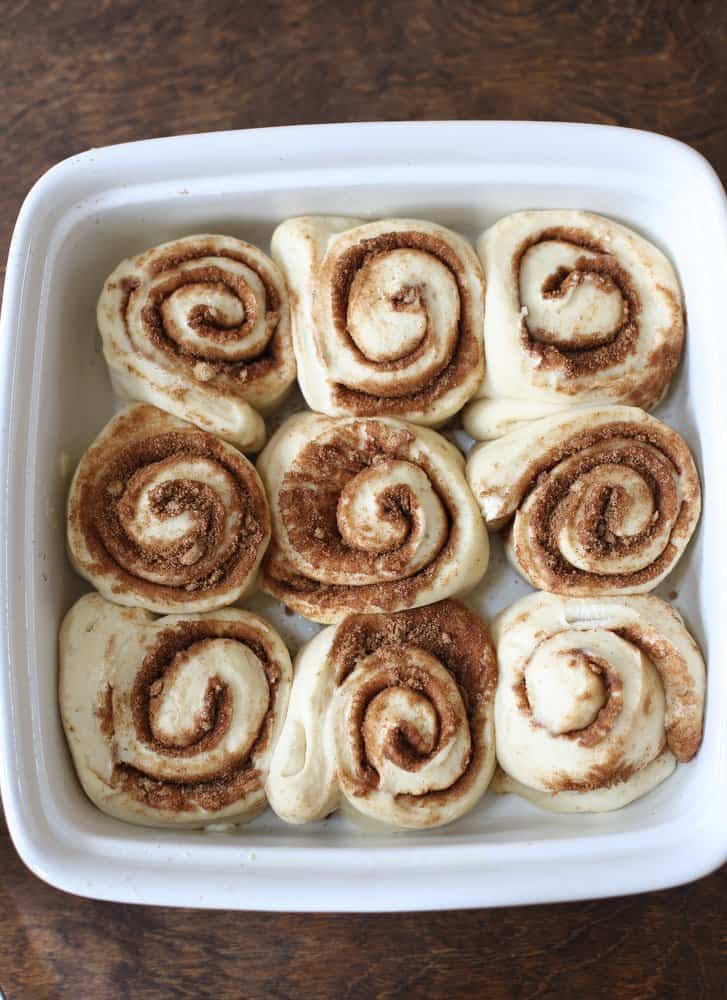 Thanks to the use of instant yeast, these sweet treats get to rising the moment the dough is mixed.  They rise a little more once you roll and slice them, and continue to rise once they hit the warm oven.
Steps for 1 Hour Easy Cinnamon Rolls
---
If you have never made cinnamon rolls from scratch, this is a great place to start.  It uses my all time favorite 1 hour dough which is the least finicky yeast dough of all time.  I have abused this dough, forgotten about it, made it by hand and in a mixer, and the results are always delicious.
The secret, especially if you've only got an hour, is not to overthink it.  Once the dough is mixed, don't worry about perfection, just roll and go.
Make the dough.
Roll on a floured surface so that one side is roughly as long as pan you're going to bake it in (in this case a 9-inch square dish), and the other side is double that.
Spread the surface with butter.
Top the butter with cinnamon and sugar.
Roll the dough into a tube and slice.
Bake those gorgeous 1 hour easy cinnamon rolls!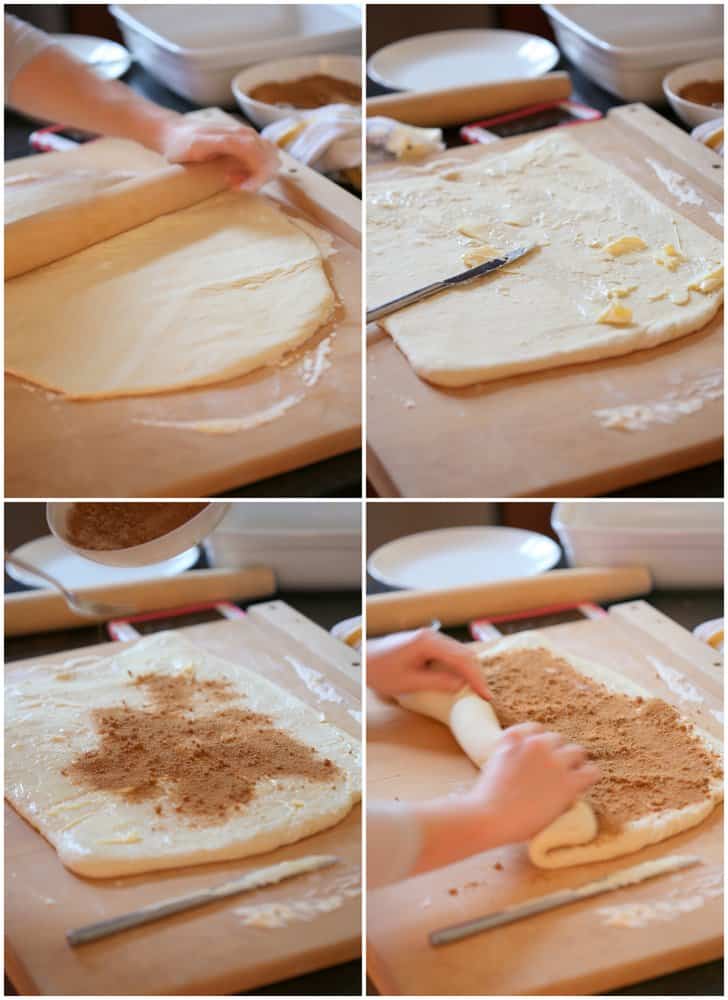 The Key Ingredient in Cinnamon Rolls
---
There is one true secret when it comes to great cinnamon rolls.  Saigon Cinnamon.  Ever wonder what makes those mall cinnamon rolls so irresistible?  It's Saigon Cinnamon.  The flavor is more intense, has a deeper spice, and is more sweet than the traditional cinnamon that most of us have in our pantry.  If you're making cinnamon rolls, this is well worth adding to your spice drawer.  You'll never go back.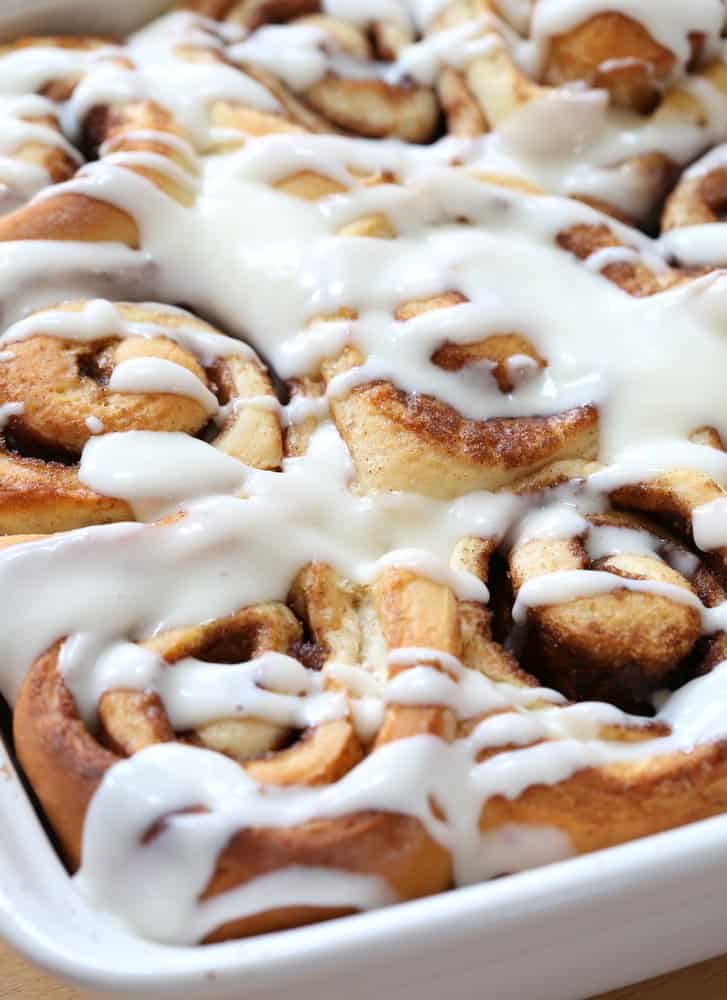 And once you have a taste of one of these 1 Hour Easy Cinnamon Rolls, you'll be ready to set aside an hour next weekend to make them again.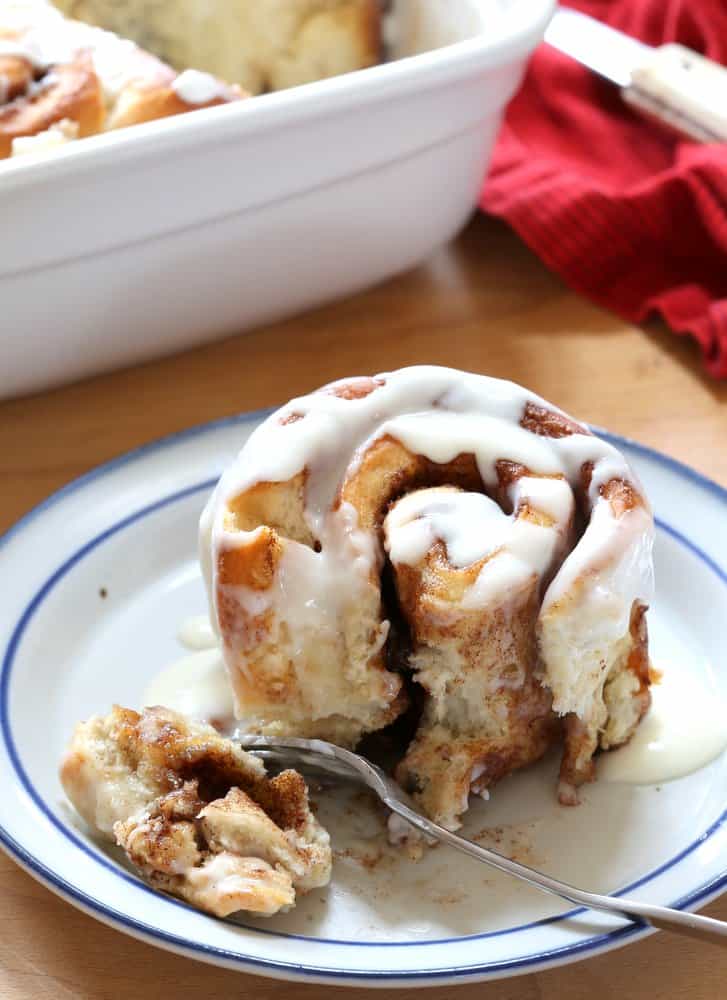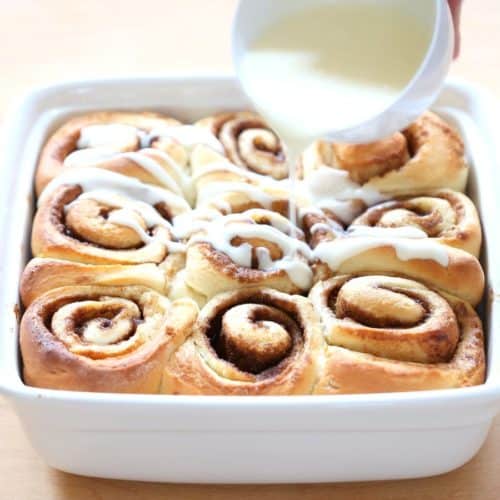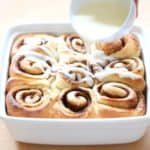 Print Recipe
1 Hour Easy Cinnamon Rolls
Light, fluffy cinnamon rolls in one hour. Thanks to instant yeast to raise the dough fast and Saigon Cinnamon which adds great flavor, this is our all time favorite recipe for cinnamon rolls. This recipe makes 9 large rolls.
Ingredients
Dough:
1½

cups

Water, slightly warm to the touch

1

Tbsp

Instant Yeast

2

Tbsp

Sugar

2

Tbsp

Unsalted Butter, softened

1

tsp

Salt

4

cups

All-Purpose Flour, plus more for rolling
Filling:
4

Tbsp

Unsalted Butter, softened

1/2

cup

Light Brown Sugar

1 1/2

Tbsp

Saigon Cinnamon
Icing:
3

Tbsp

Unsalted Butter, softened

3

oz

Cream Cheese, softened (or microwaved for 15 seconds)

1 1/4

cups

Confectioner's Sugar

1/2

tsp

Vanilla Extract

pinch

Salt
Instructions
Preheat oven to 400 F / 200 C.

In the bowl of a

stand mixer

fitted with the dough hook, combine warm water, yeast, and sugar. Let stand until creamy, about 5 minutes. Meanwhile, dust a kitchen counter lightly with flour and spray a

9"x9" baking dish

with nonstick cooking spray.

To the yeast mixture, add 2 Tbsp butter, salt, and 2 cups of flour. Mix on low until the ingredients come together. Continuing to mix on low, add 1 more cup of flour and mix for 1 minute. Add the remaining 1 cup flour. Mix on low until all the flour is mixed in and increase the speed to medium. Mix for 5 minutes, until the dough is smooth and elastic and begins to make a slapping sound as it hits the sides of the bowl. Remove the bowl from the mixer and let the dough rest (preferably near the warm oven), until the surface is smooth, about 5 minutes.

Turn the dough out on a floured surface and roll it a 9"x18" rectangle with a long side facing you. (Note: Don't worry about being precise; use the base of your 9"x9" baking dish as a general guide.) Use your hands to rub 4 Tbsp of butter over the surface of the dough. Combine the brown sugar and Saigon Cinnamon and sprinkle that over the top.

Starting with the side closest to you, roll the dough into a tube. Use a serrated knife to cut 9 even slices. Place the slices in the prepared baking dish and let rise in a warm place (preferably near the warm oven) until the edges of the rolls are touching, 20 minutes.

Bake until golden brown on top, 20 minutes.

While the rolls are baking, use a

hand mixer

to beat the butter and cream cheese until light and fluffy. Add confectioner's sugar, vanilla, and a pinch of salt. Continue mixing until icing is smooth.

When the rolls come out of the oven, let them cool for 5 minutes before topping with the icing (you can just spoon it over the top of the warm rolls or spoon it into a piping bag / plastic bag and squeeze it over the top for a more precise look).

Serve immediately (of course...who could wait!).
Notes
The recipe, including dough, filling and icing uses one whole stick of butter. If your butter is cold when you want to start baking, slice it into 1 Tablespoon pieces and microwave it in 10 second increments just until the outer edges show signs of melting.
Saigon Cinnamon makes the best cinnamon rolls, but you can use regular cinnamon as well (in which case, increase the measurement to 2 Tbsp of cinnamon).
You can easily make this dough by hand if you don't have a stand mixer. Follow the instructions as written, adding the flour in several increments and stirring it with a wooden spoon or spatula. When the flour is mostly mixed in, turn the dough out on a floured surface and knead by hand until smooth and elastic, 8-10 minutes.
Nutrition
Serving:
1
g
|
Calories:
446
kcal
|
Carbohydrates:
78
g
|
Protein:
6
g
|
Fat:
12
g
|
Saturated Fat:
7
g
|
Polyunsaturated Fat:
3
g
|
Cholesterol:
31
mg
|
Sodium:
269
mg
|
Fiber:
2
g
|
Sugar:
34
g
And because nothing I could tell you would describe the joy of Christmas as well as a picture, here is one more of Molly and Clara delighting in their holiday gifts.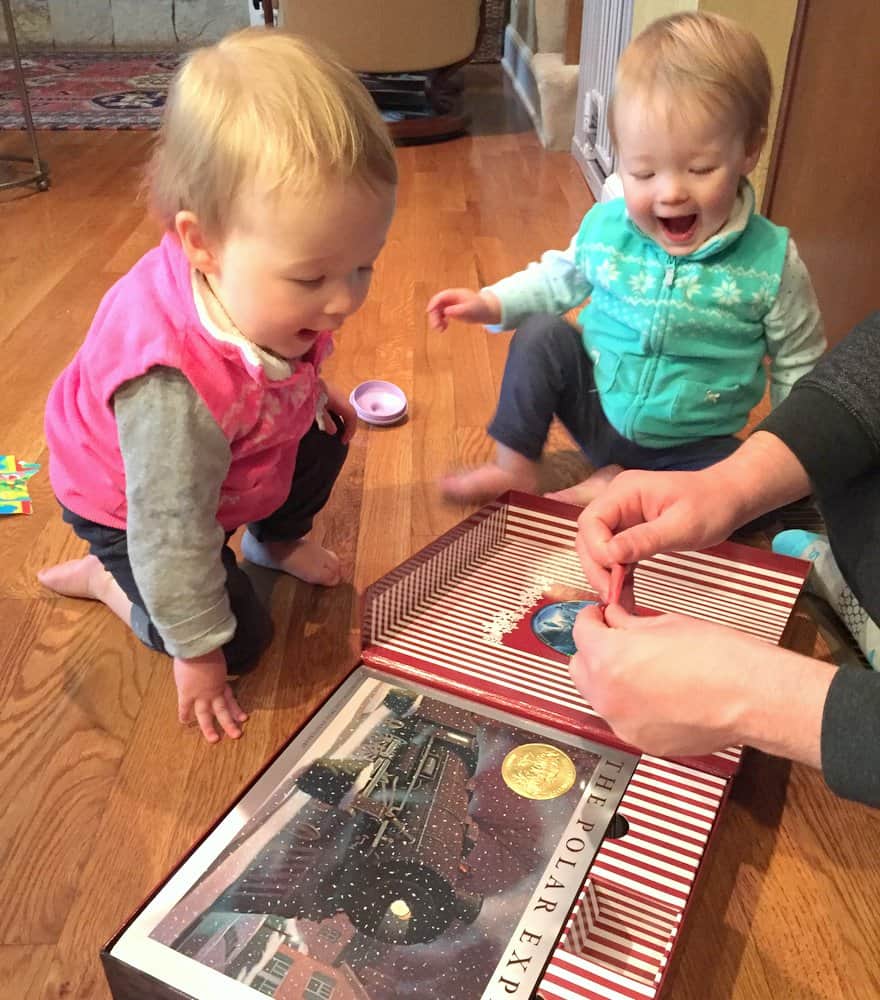 SaveSaveSaveSave