Thai Chicken Satay
Published Feb 19, 2019•Updated Jun 27, 2022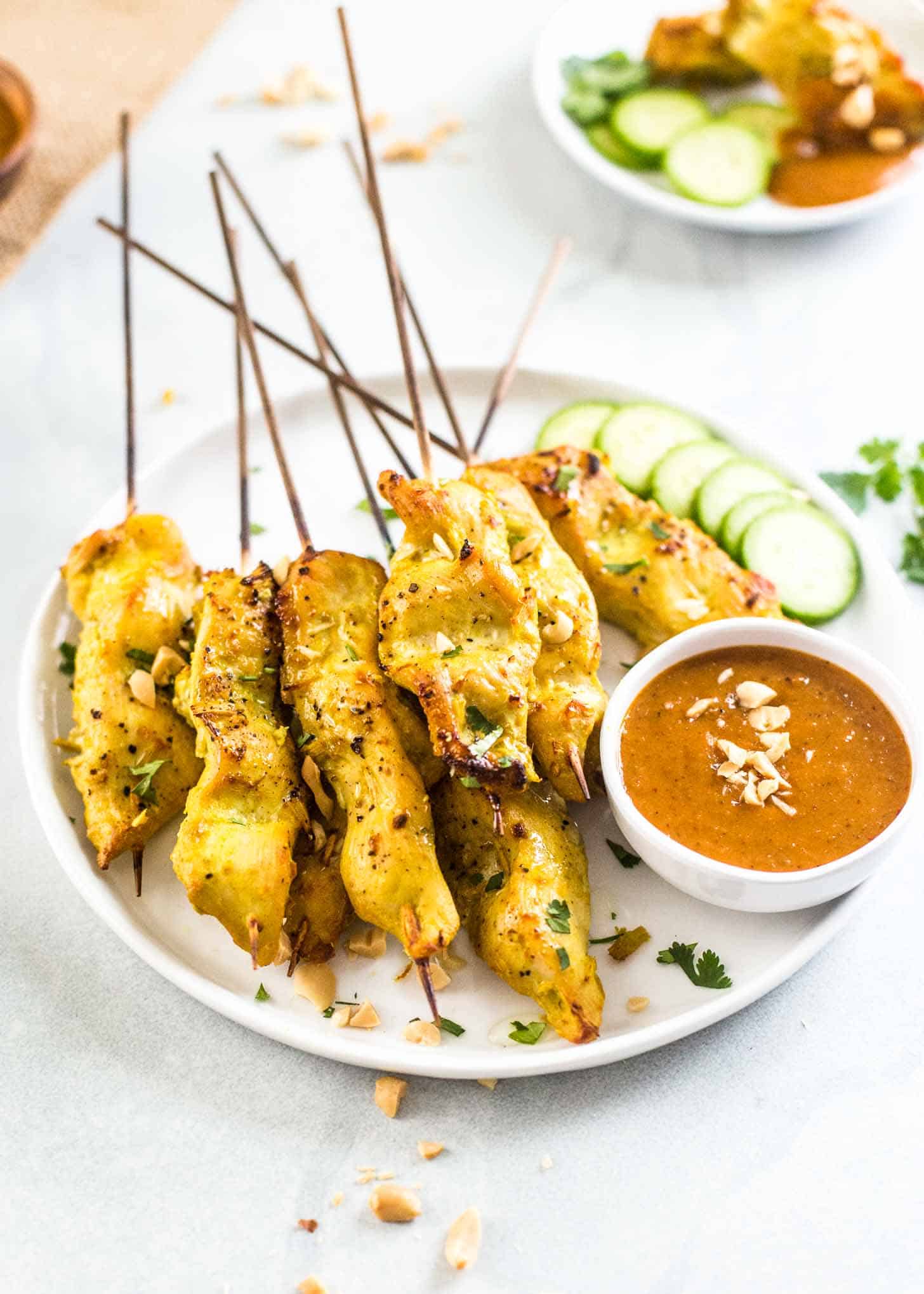 Tender chicken marinated in coconut milk and aromatics and threaded onto skewers is great grilled or roasted in the oven. Serve these authentic Thai Chicken Satay as an appetizer or main dish with Thai Peanut Sauce on the side.
True fact – of all the dishes we made year for Thai Food Month, Chicken Satay is the one that I could most likely eat every day without get bored. If all I could eat was this dish and my other favorite Thai chicken recipe (cashew chicken), I'd be just fine.
The leftovers are incredibly useful too. I'll slice leftover satay and serve the flavorful chicken in this Thai Chopped Chicken Salad or roll them with some lettuce and peanut sauce in a wrap or even put them in these Vietnamese Summer Rolls. And don't even get me started on the Peanut Sauce I recommend serving them with. I could drink that stuff. Chicken Satay is always a great Thai dish to serve to anyone who is spice-averse or hesitant about the unique and sometimes intense flavors of Thai food. The marinade used for the satay is made with aromatics and coconut milk that leave the chicken tender and with a subtle but delicious flavor.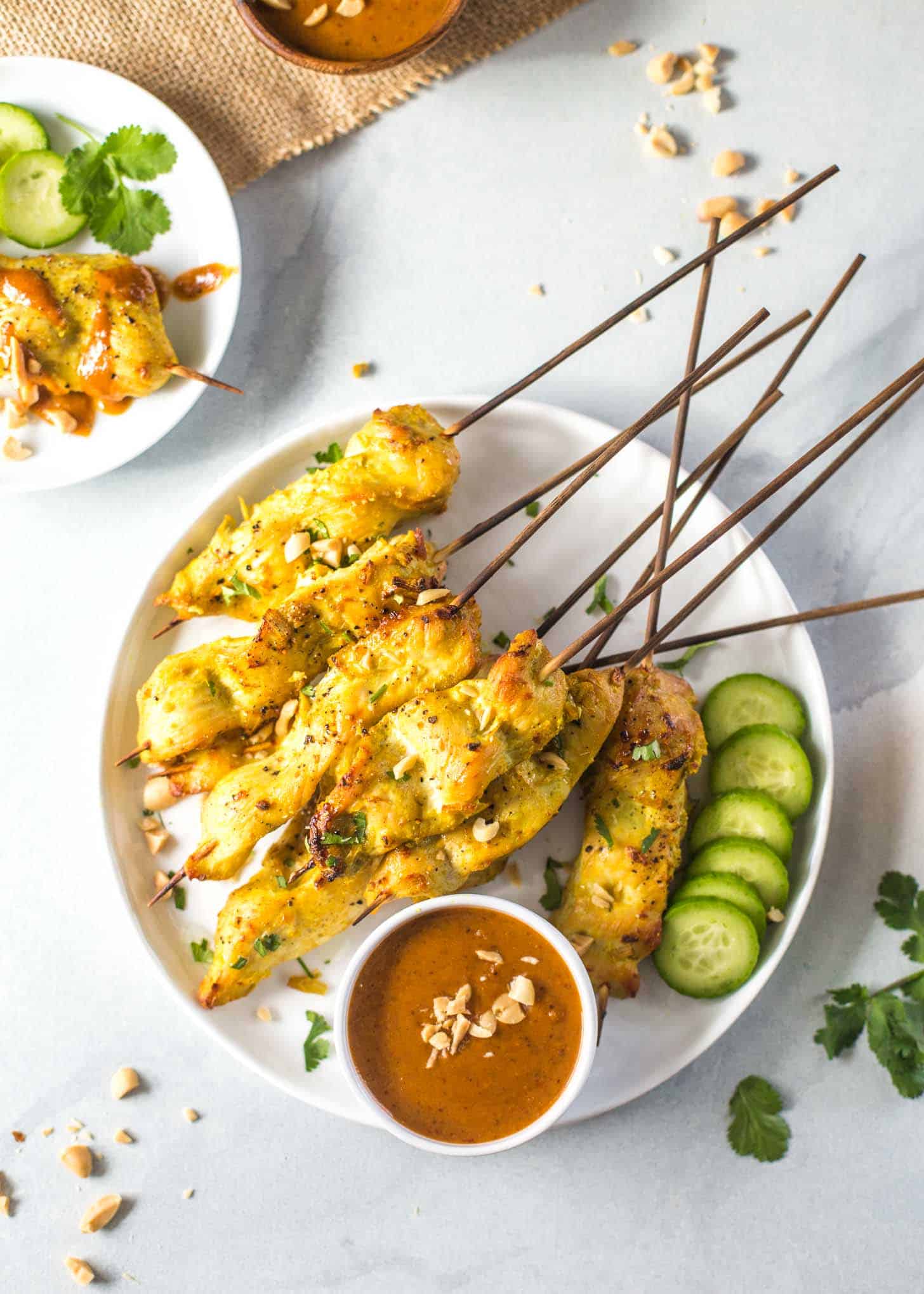 Thai Chicken Satay Ingredients
Lemongrass – If you've had chicken satay, lemongrass is most likely the ingredient that gives it the flavor that's hard to put your finger on that gives the satay its satay flavor.
Galangal – This root looks a lot like ginger, but the flavor is more fruity / subtle than ginger. Just like ginger, peel it before using it. If you can't find galangal, just skip this one. Ginger is too intense and spicy for this recipe.
Shallots and Garlic – These aromatics help to build flavor in the marinade.
Coconut Milk – Either regular or light coconut milk are fine here. If in doubt, go for the regular (full fat) version. You'll discard the marinade after you use it, but the coconut milk infuses the chicken with flavor and helps to tenderize it.
Lime Zest – Use a vegetable peeler or zester to zest just the outer green part of a lime. Try to limit the amount of white pith that goes into the marinade as it can be bitter.
Turmeric – Ground turmeric is what gives the satay its distinct yellow color. If you have access to fresh turmeric you can use that as well, but the ground / dried stuff works just fine here.
Soy Sauce and Spices – The rest of the marinade is just soy sauce and some basic spices that you likely already have in your pantry.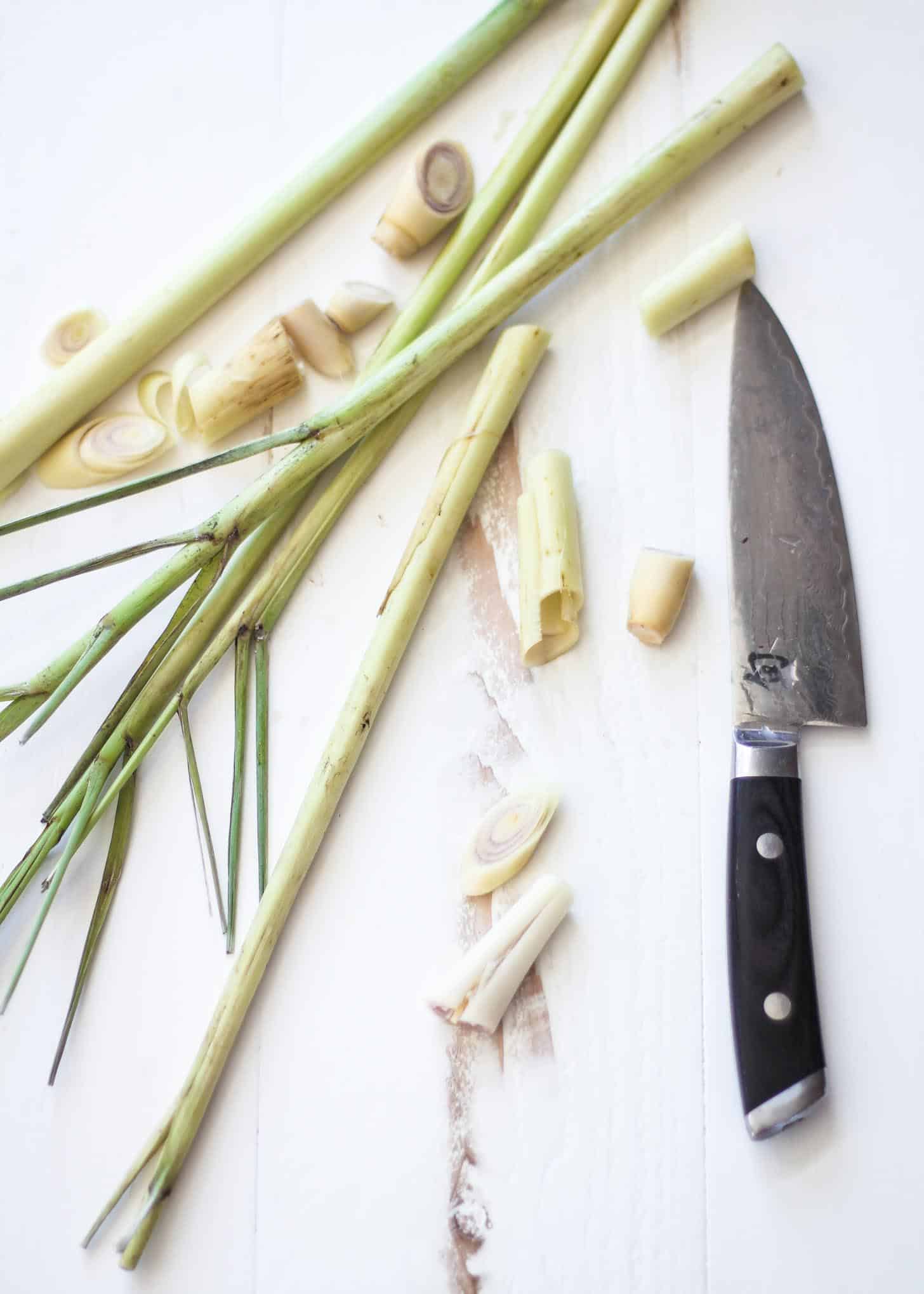 Soaking Skewers for Satay
Before you thread the chicken onto skewers to make satay, soak the skewers in water for 10 minutes. (If you're using metal skewers, skip this step.) The skewers will absorb some water and this will prevent them from burning while you cook the chicken – whether you're cooking it in the oven or on the grill.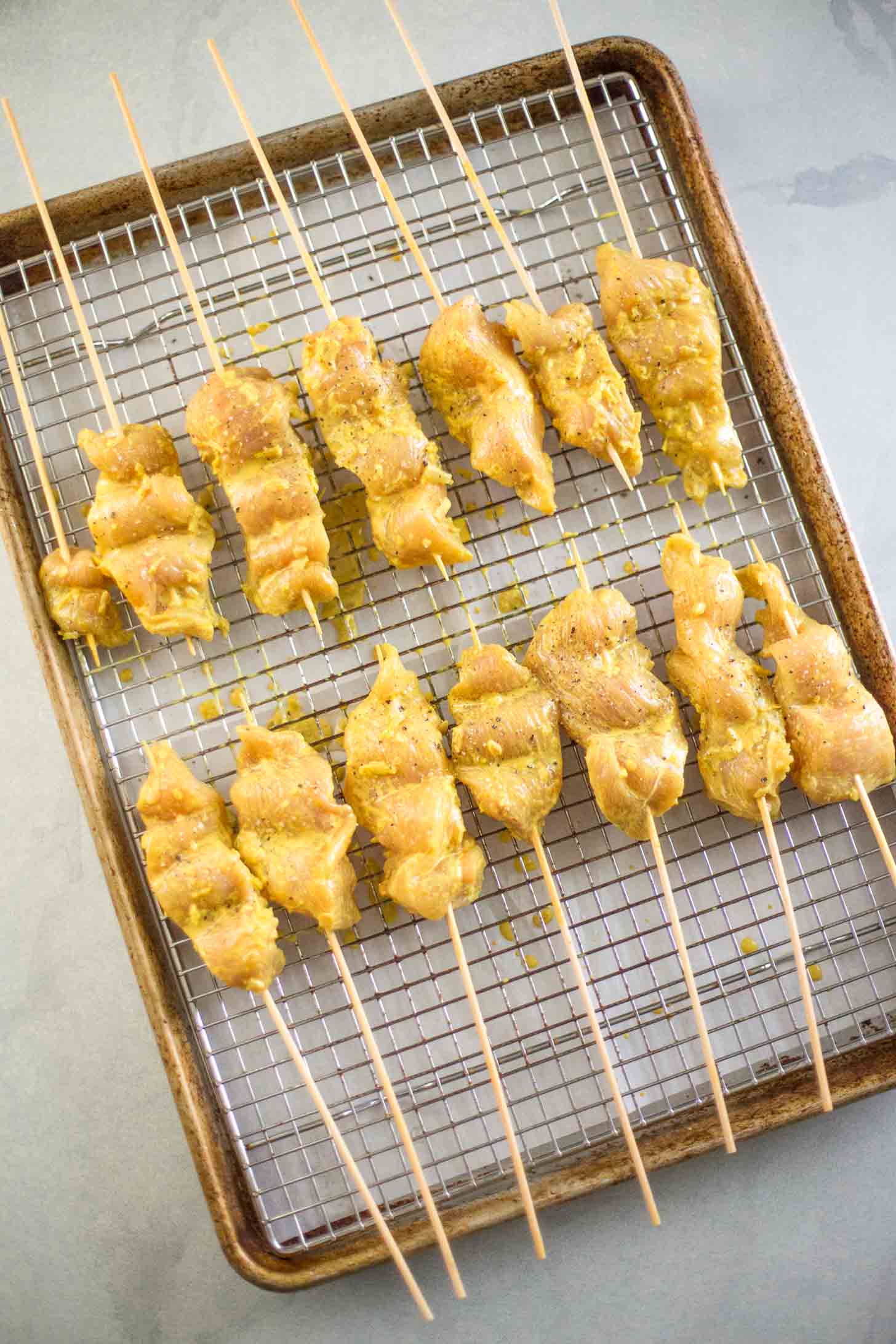 Making Satay Ahead
Threading the chicken onto skewers is the only time consuming part of making satay. To save yourself time before roasting or grilling the skewers, assemble them up to 3 hours ahead of time. Place them on a large sheet pan and cover lightly with foil or plastic wrap. Refrigerate until ready to cook.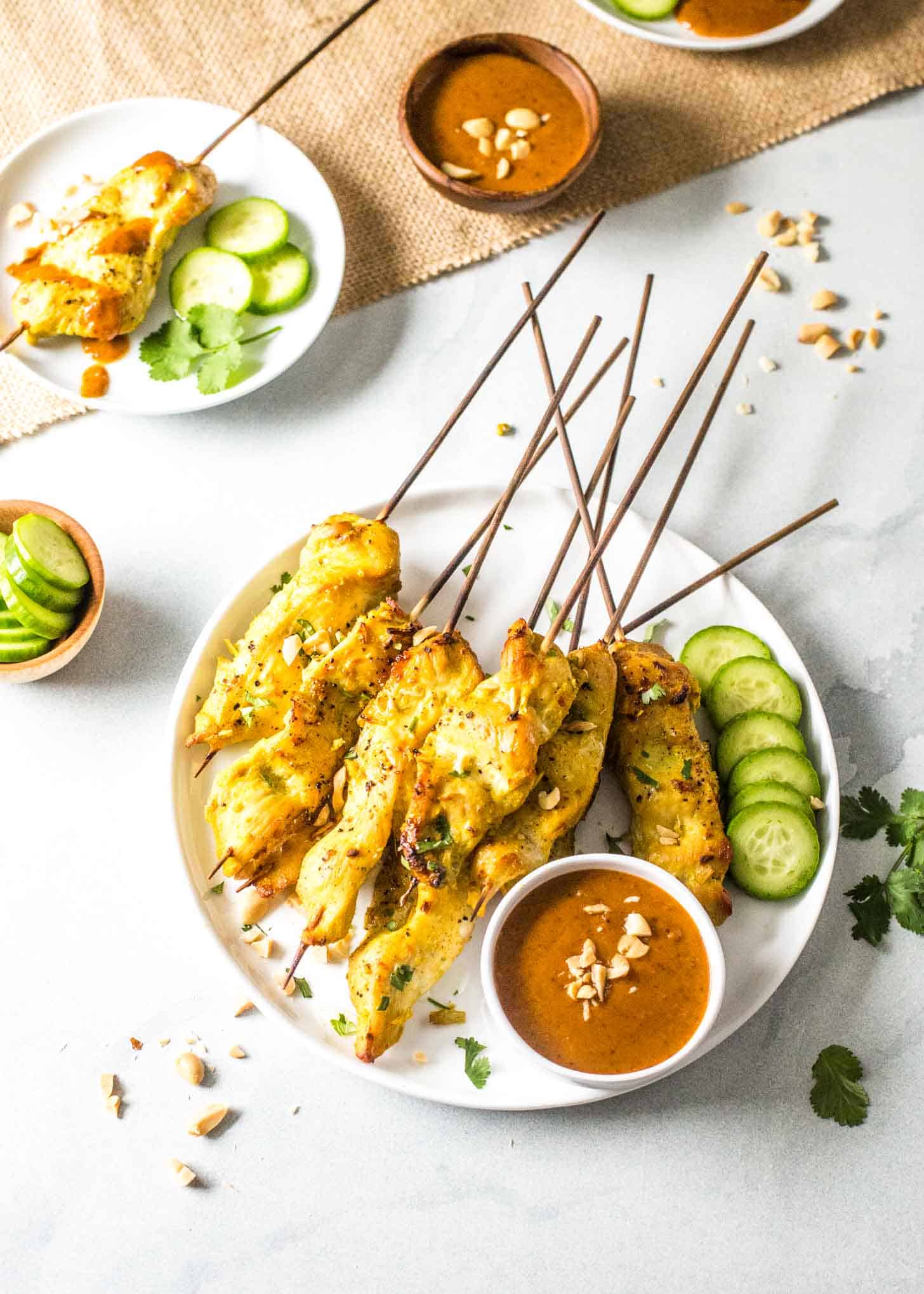 More Thai Chicken Favorites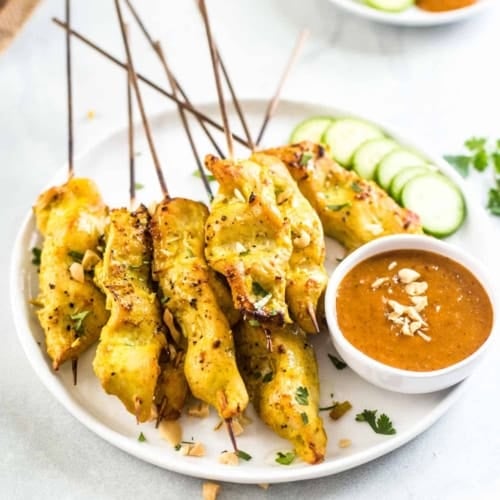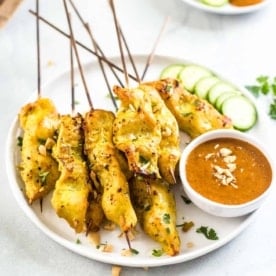 Thai Chicken Satay
Tender chicken marinated in coconut milk and aromatics and threaded onto skewers is great grilled or roasted in the oven. Serve the skewers as an appetizer or main dish with Thai Peanut Sauce on the side.
Equipment
Half Sheet Pan

Bamboo or Metal Skewers

Parchment Paper
Ingredients
Chicken Satay Marinade:
1

stalk Lemongrass, outer layers discarded

(see note)

1

square inch Galangal, peeled

(see note)

1

clove

Shallots

2

cloves

Garlic

5

Tbsp

Coconut Milk

(regular or light)

1

Tbsp

Soy Sauce

1

tsp

Ground Coriander

1

tsp

Granulated Sugar

½

tsp

Lime zest

(just use the outer green peel of the lime)

½

tsp

Ground Cumin

½

tsp

Ground Turmeric
Chicken Satay:
2

lbs

Boneless, Skinless Chicken Breasts, sliced into thin strips

16

Wooden / Bamboo Skewers
Instructions
Combine all marinade ingredients in the bowl of a food processor or blender. Blend until smooth. (Note: If using a blender, you may need to add some more coconut milk to help everything break down.)

Transfer marinade to a bowl and add chicken. Toss to coat. Cover bowl and refrigerate for at least 30 minutes and preferably 24 hours (or overnight).

Before cooking the satay, soak the skewers in water (this will help to prevent them from burning). If cooking over a grill, heat up the grill. If cooking in the oven, heat the oven to 400 degrees F.

Thread the chicken onto the skewers (discard marinade). Set chicken out on a baking sheet. Season the tops of the chicken with some salt and black pepper.

To grill the skewers: Place skewers over direct heat until grill marks appear on both sides. Transfer skewers to indirect heat and continue cooking until chicken is cooked through, 5 to 8 minutes.

To cook skewers in the oven: Roast skewers in the 400 degree F oven, turning with tongs halfway through cooking, until cooked through, 12 to 18 minutes (depending on the thickness of the chicken).
Notes
To prepare lemongrass, just use the lower, thick portion of the stalk, ~4 inches or so (this portion should have a hint of purple in the center; some grocery stores now just sell this lower portion of the stalk). Discard the tough, outer layers.
Galangal has a more mild flavor than ginger, but looks very similar. If you can find galangal, it gives the satay a truly authentic flavor. If you can't find it, just skip this – the satay is delicious without it. Do not substitute ginger in this recipe – the flavor is too spicy / intense and will overwhelm the other flavors.
Nutrition
Calories:
335
kcal
|
Carbohydrates:
8
g
|
Protein:
49
g
|
Fat:
11
g
|
Saturated Fat:
5
g
|
Cholesterol:
145
mg
|
Sodium:
519
mg
|
Potassium:
928
mg
|
Fiber:
1
g
|
Sugar:
2
g
|
Vitamin A:
68
IU
|
Vitamin C:
4
mg
|
Calcium:
20
mg
|
Iron:
2
mg
Nutrition information is automatically calculated, so should only be used as an approximation.