Thai Red Curry is a spicy, savory, coconut curry flavored with lemongrass, galangal, and dried red chili peppers. This easy one-pan recipe can be made with homemade or store-bought curry paste.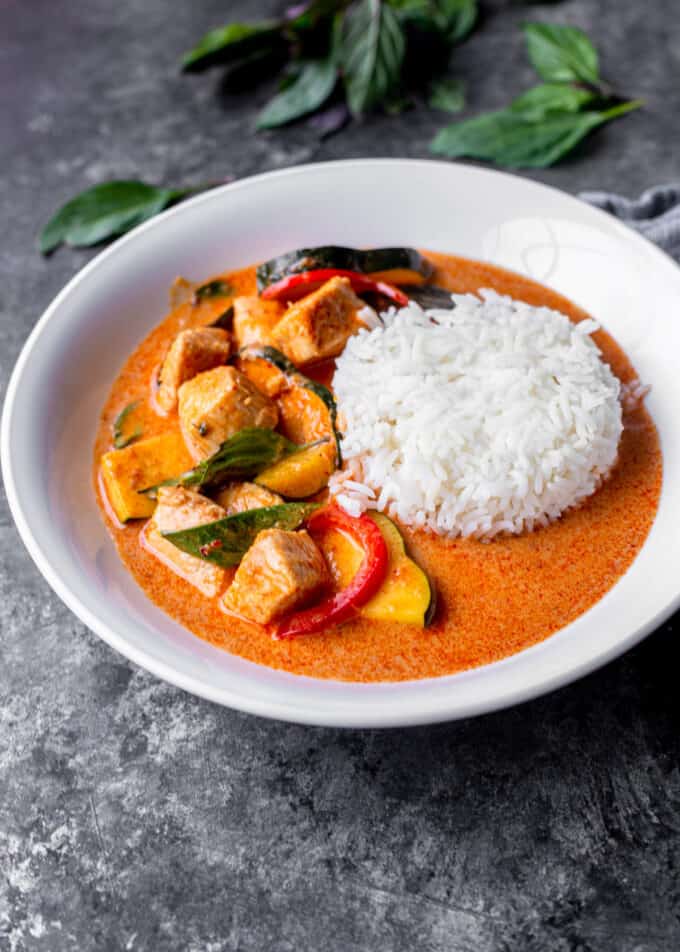 Yesterday we talked green curry, so today it's all about red curry. Curry paste forms the foundation of flavor in all Thai curries, and Thai Red Curry is one of the most popular. It's also the easiest curry paste to make from scratch if you're feeling ambitious. Store-bought curry paste can cut the prep time down considerably. It's also widely available and makes for a quick and easy weeknight-friendly meal.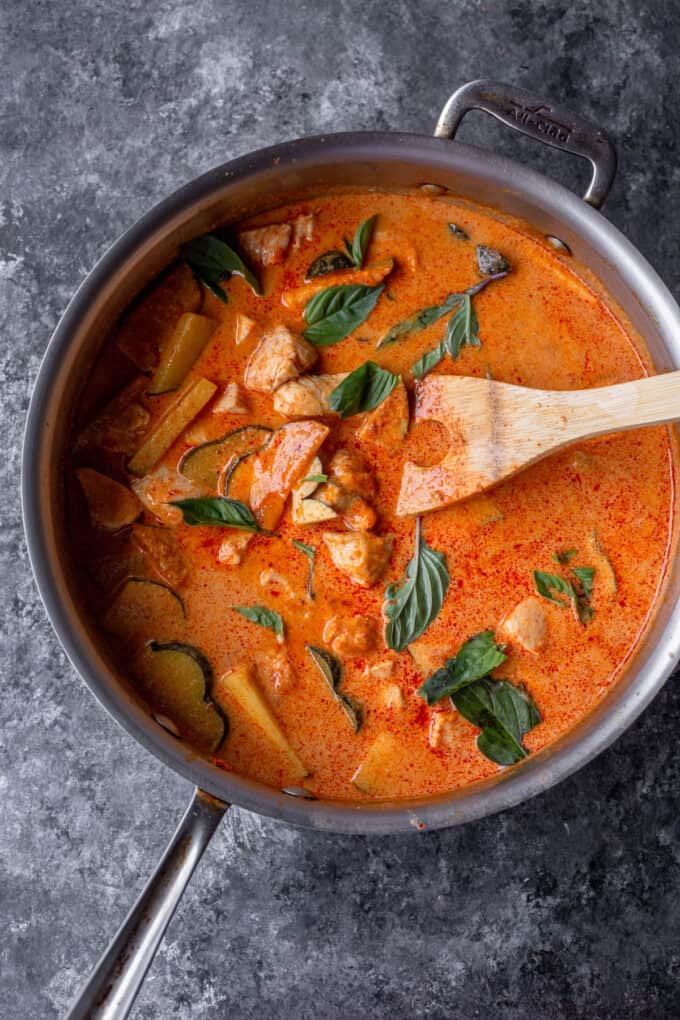 One of the best things about this recipe is that it's so easy to customize. The Thai red curry recipe below uses chicken breast and squash. The squash adds a natural sweetness that balances the heat of the chili paste, so I love that combination. If that combination doesn't interest you, this can be easily customized using any proteins or vegetables.
What does Thai Red Curry Taste like?
Thai red curry is spicy. The key flavors come from dried red chili peppers, lemongrass, and galangal. Like many other Thai curry pastes, it is often combined with coconut milk to make a rich, creamy base for chicken and vegetables.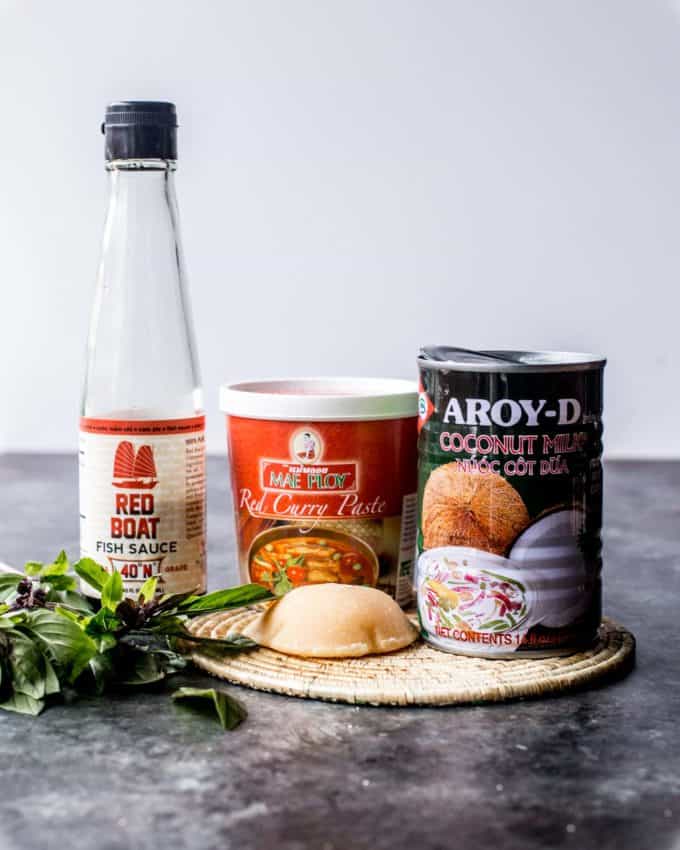 Ingredients in Thai Red Curry
Coconut Milk - Use regular (not light) coconut milk. You'll use some of the coconut milk to cook the curry paste in at the beginning and some will be added later to simmer all of the ingredients together.
Thai Red Curry Paste - This firm red paste gives the curry all the flavor it needs. You can use store-bought or homemade curry paste (see below for details).
Chicken - Boneless, skinless chicken breast stays tender as it simmers in the flavorful coconut broth. There are lots of other options you can use instead of chicken breast, so keep reading if you'd like to use a substitute.
Squash - The naturally sweet flavor of squash is a great fit for Thai Red Curry. You can use any type of squash here - kabocha, acorn, or butternut. Look for fresh, pre-cubed butternut squash to save time.
Palm Sugar - This is a lightly sweet, subtly citrus sugar that comes from coconut palm or sugar palm trees. It is sold in small dried cakes. It is easiest to measure if it is grated or soaked in a small amount of warm water for about 10 minutes until soft. Light brown sugar will work as a substitute in this curry.
Fish Sauce - Fish sauce provides the authentic flavor of a true Thai Red Curry recipe. It adds a savory umami richness that rounds out the dish. If making a vegetarian version, soy sauce can be used as a substitute.
Thai Basil Leaves - Be sure to add these leaves at the very end of cooking. They will wilt into the finished curry and add a bright, fresh flavor. Thai Basil is a different variety than the Italian-style basil sold at most grocery stores in the West. Do NOT use Italian basil in a Thai curry. It's better to just skip this ingredient if you can't find Thai Basil. If you have extra Thai basil from this recipe, try this Easy Thai Basil Chicken.
How to Make Thai Red Curry Paste
The steps for making Thai red curry paste are:
Soak dried red chili peppers

Roast Shrimp Paste

Combine chilis, aromatics, and shrimp paste in a mortar and pestle, blender, or food processor and blend until smooth
Note: The easiest way to roast the shrimp paste is to wrap it in foil and fully enclose it. Then place the packet of shrimp paste on a hot skillet and cook on both sides until fragrant, 2 to 3 minutes on each side. This helps to release the flavors.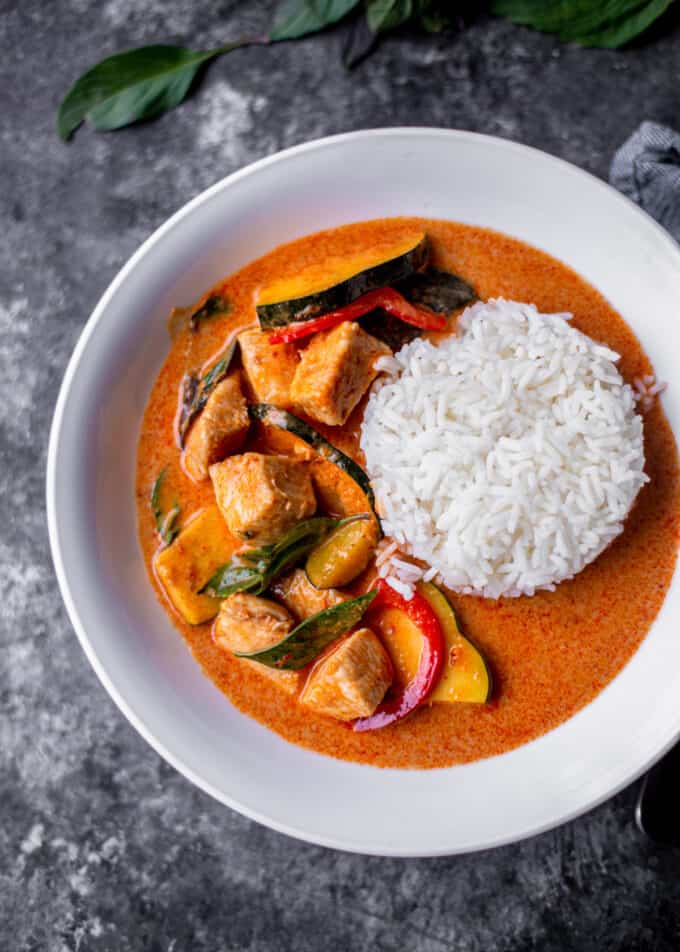 Ingredients for Thai Red Curry Paste
The ingredients for Thai Red Curry Paste are:
Dried Red Chili Peppers

Shrimp Paste

Lemongrass

Galangal

Cilantro Roots

Shallots

Garlic

White Peppercorns (or ground white pepper)

Salt
If shopping outside of Thailand, lemongrass stalks are available at well-stocked or specialty grocery stores. Galangal and cilantro roots (you're looking for the actual root of the herb, but can use the stems if needed; do not use cilantro leaves) are often sold frozen at Asian or international grocery stores. The frozen versions work very well if fresh are not available.
Generally speaking, the smaller the dried chili peppers, the more spicy they are. To make your own red curry paste, use dried chili peppers that are about 6 to 8 inches in length. These are easy to work with and are more mild than the very small Thai Bird's Eye Chilis. The nice thing about starting with more mild chili peppers is that you can always use red pepper flakes to add more spice to the curry paste. Outside of Thailand, the larger chilis that you want to use are typically from North America and are labeled "California Chilis", "Southwestern Chilis", or "New Mexico Chilis". I actually get them from a Mexican grocery store.
For more information on all of the ingredients needed for Thai Curry Paste, check out the Guide to Essential Thai Ingredients.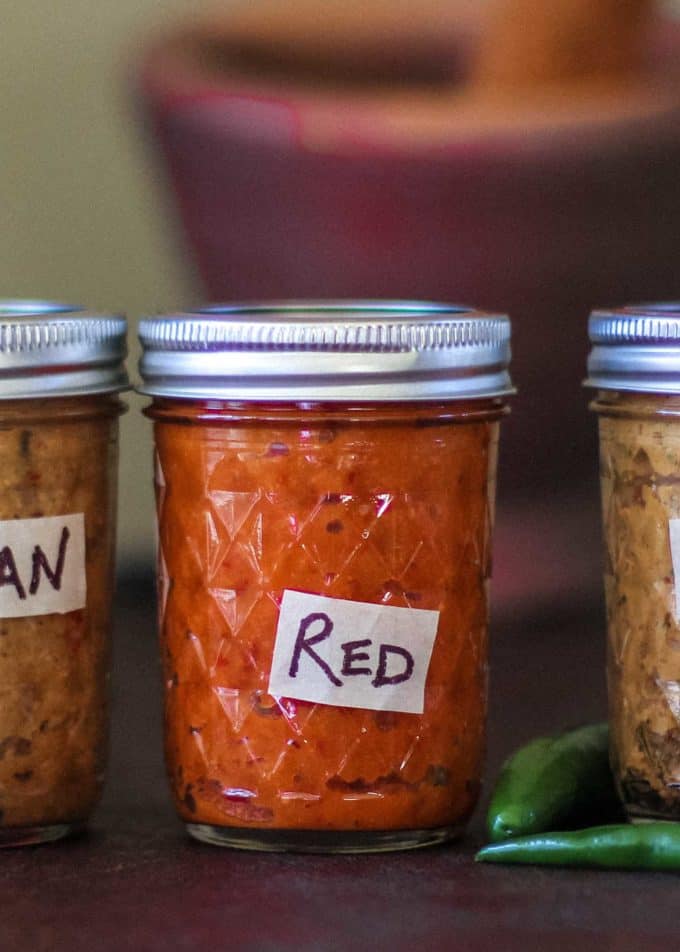 Store-Bought vs. Homemade Thai Curry Paste
While it can be rewarding and delicious to make your own red curry paste, if you're just starting to explore Thai red curry, store-bought curry paste makes the process a breeze. Many commercial versions of Thai curry paste are very good and will give you an excellent curry. Here are the two types of store-bought curry paste I use most often.
Thai Kitchen - Walk down the international aisle at any well-stocked grocery store and you'll likely find Thai Kitchen Curry Paste in small 4-oz jars. It's super affordable and these small jars are great if you just plan to make a batch or two of curry over the next few months. American-made versions of Thai curry paste like this one are significantly less spicy than their Thai-made counterparts, so this is a great brand to start with if you're hesitant about spice. I find this brand of red curry paste to be fairly spicy and to have a clean, fairly straightforward red curry flavor.
Mae Ploy - This is the tried-and-true Thai brand of curry paste that I used when I lived in Bangkok and have reliably found at Asian / international grocery stores. It comes in larger 14-oz tubs, so if you plan to make a lot of curry, it's worth tracking down. Because this is a Thai brand, it is significantly more spicy than Thai Kitchen mentioned above. The flavor has more of the shrimp / seafood elements and more aromatic flavor from lemongrass and galangal than Thai Kitchen.
"Breaking" Coconut Milk for Thai Curry
Every authentic recipe for Thai curry starts with "breaking" the coconut milk. This step separates out the natural oils in the coconut milk and is the reason that many Thai curries have a layer of oil on the top. This surface oil is usually a sign that the curry has been prepared correctly. To break the coconut milk, add small amount of coconut milk to a hot pan. Cook the coconut milk until the natural oils in the coconut milk start to separate out, 3 to 4 minutes.
The curry paste is then added to this oily coconut mixture. It's the same idea as sautéing aromatics in oil for Western-style recipes.
Below is what the coconut milk starts to look like as it is breaking. If you are making Thai curry and the coconut milk does not break within the first 5 minutes of cooking, don't worry! Just proceed with the recipe as written. You'll still get a delicious curry.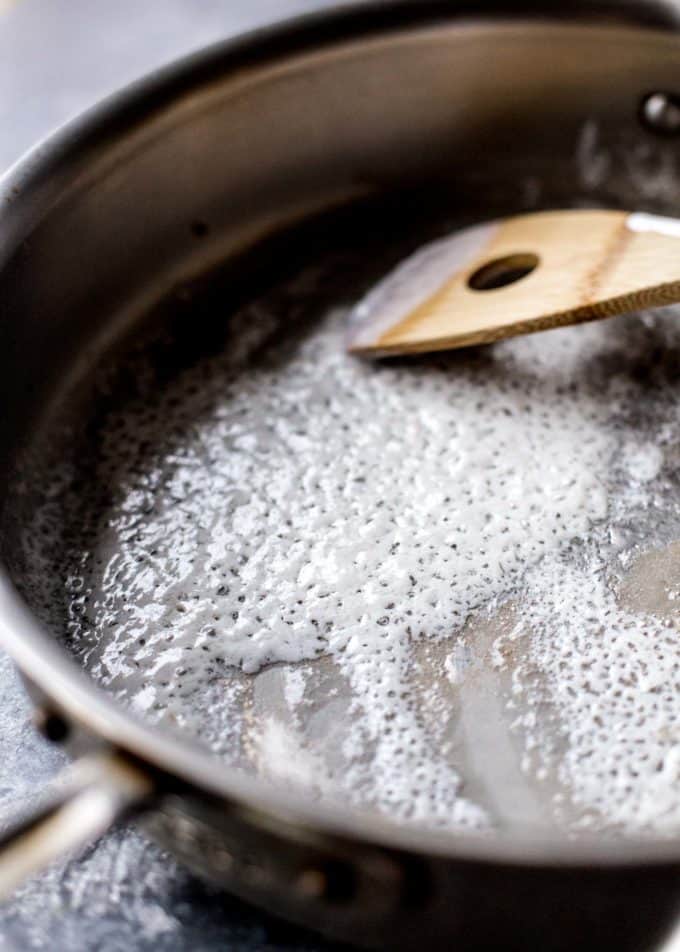 Variations on Thai Red Curry
Vegetarian

- Easily make a vegetarian version of Thai Red Curry by using tofu or mushrooms and adding even more vegetables if you'd like. The curry includes fish sauce, but for a vegetarian version soy sauce can be used as a substitute. You'll also need to track down a curry paste that does not include shrimp paste (or make your own red curry paste and omit the shrimp paste).

Change the Vegetables

- This version of red curry uses squash. Feel free to use any other vegetables you'd like - bell peppers, eggplant, green beans, mushrooms, potatoes, or snow peas would all be great.

Change the Protein

- Instead of chicken breast, try this with chicken thighs, pork, beef, fish, or tofu.
Some other Thai recipes:
I love Thai food! Here are some other favorite Thai recipes.
Favorite Tools
High-Walled Pot for Cooking - Curry can be easily made in any pot with tall sides. A

Dutch oven

,

wok

, or

saute pan

will work well.
If you are going to make red curry paste from scratch, using the recipe below, you'll need these tools:
Mortar and Pestle

or

Spice Grinder

- You'll need one of these tools if you will be grinding up whole white peppercorns. The whole peppercorns have the most flavor, but you can use pre-ground white pepper as a substitute.

High Power Blender

,

Food Processor

, or Mortar and Pestle - You'll need one of these tools to blend the curry paste. A blender or food processor are, of course, not traditional but they are very fast. A blender will produce the most smooth curry paste while a food processor typically produces a curry paste that is even but has a rougher texture. A mortar and pestle like the one linked above is a more traditional method and is a great investment if you make a lot of Thai food from scratch.
📖 Recipe
Print Recipe
Thai Red Curry with Chicken and Squash (Kaeng Phed)
Thai Red Curry is a spicy, savory, coconut-based curry made with lemongrass, galangal, and dried red chili peppers. This recipe includes the option to make your own curry paste from scratch or use store-bought for an easy weeknight meal.
Want to adjust the servings in this recipe to make more or less? Just click on the number next to "servings" and you can easily scale the recipe.
Equipment
Dutch oven, wok or saute pan
Ingredients
1 ¾

cup

Coconut Milk, divided

3

tablespoon

Thai Red Curry Paste

(see note)

1

lb

Boneless, Skinless Chicken Breast, cubed

2

cups

Chicken Stock

12

oz

Squash, cubed or thinly sliced

(see note)

½

Red Bell Pepper, thinly sliced

1

tablespoon

Palm Sugar

(see note)

1 ½

tablespoon

Fish Sauce

1

cup

Thai Basil leaves

Thai Jasmine Rice, for serving
Instructions
Heat a Dutch oven, wok, or saute pan over medium heat. Add ¾ cup coconut milk (if using canned coconut milk that has separated, use the top, thicker portion of the milk) to the pan. Simmer coconut milk, stirring constantly, until it has reduced by half and you can see oil separating from the milk, 5 to 6 minutes. (Note: This step to "break" the coconut milk is part of the traditional process, but don't worry if your coconut milk doesn't show signs of separating after this initial cook time - just proceed with the recipe.)

Add curry paste and saute until fragrant, 2 to 3 minutes.

Add chicken breast and stir to coat in the curry paste.

Pour chicken stock and 1 cup coconut milk over chicken.

Stir in squash, bell pepper, palm sugar, and fish sauce. Bring to a simmer and let curry simmer gently until chicken is cooked through, 10 to 15 minutes. (Reduce heat as needed to prevent the curry from reaching a hard boil.)

Taste the curry and adjust the flavor, adding more sugar or fish sauce if needed.

Remove curry from heat and stir in Thai Basil leaves.
Notes
Thai Red Curry Paste - Feel free to adjust the amount of curry paste, increasing for more spice and decreasing for less spice. American-made curry paste like Thai Kitchen (which is widely available in the international aisle of regular grocery stores), tends to be much less spicy than Thai brands which can be found at international or Asian grocery stores. If you prefer to make your own Thai Red Curry Paste see below for the recipe.
Squash - Any type of squash will work in this recipe. I like kabocha, butternut, or acorn squash. Acorn squash is used in the photos shown here - it is easy to prepare because you can leave the skin on (it gets very tender when cooked).
Palm Sugar - Grate the palm sugar for the most accurate measurement. You can substitute light brown sugar, but reduce to 2 tsp.
Nutrition
Calories:
426
kcal
|
Carbohydrates:
19
g
|
Protein:
31
g
|
Fat:
26
g
|
Saturated Fat:
20
g
|
Cholesterol:
76
mg
|
Sodium:
855
mg
|
Potassium:
1047
mg
|
Fiber:
2
g
|
Sugar:
7
g
|
Vitamin A:
9563
IU
|
Vitamin C:
19
mg
|
Calcium:
90
mg
|
Iron:
5
mg
📖 Recipe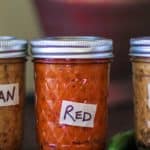 Print Recipe
Thai Red Curry Paste
Thai red curry paste is a spicy, fragrant curry paste that includes dried red chilis, aromatics like lemongrass, galangal, and makrut lime peel. This is one of the easiest Thai Curry Paste varieties to make from scratch.
This makes about 1 cup of curry paste.
Want to adjust the servings in this recipe to make more or less? Just click on the number next to "servings" and you can easily scale the recipe.
Equipment
High Powered Blender or Food Processor
Ingredients
8

large

Dried Red Chili Peppers

(preferably New Mexico or California dried peppers)

1

teaspoon

Shrimp Paste

(see note)

1

teaspoon

Salt

½

teaspoon

White Peppercorns

(sub pre-ground white pepper)

2

tablespoon

very thinly sliced Lemongrass

1

tablespoon

diced Galangal

¼

cup

Diced Shallots

3

tablespoon

thinly sliced Garlic

1

teaspoon

diced Cilantro Root

(sub finely chopped cilantro stem if cilantro root is not available)
Instructions
Use kitchen shears to chop chili peppers into large pieces (about 4 pieces per pepper). Shake the seeds out of the peppers (the more seeds you remove the less spicy the curry paste will be). Soak peppers in warm water for 10 minutes to soften.

While peppers soak, place shrimp paste on a small piece of foil and then fold the foil up to form a packet that completely encloses the shrimp paste.

Heat a skillet over medium-high heat. Place shrimp paste packet onto heated skillet and toast for about 2 to 3 minutes on each side, until fragrant. Set aside.

Return to dried peppers and drain off as much water as possible.

If using white peppercorns, grind them to a fine powder in a mortar and pestle or spice grinder. (You can skip this step if you are using pre-ground white pepper.)

If using a mortar and pestle:

Combine soaked chili peppers and salt in a mortar and pestle and grind until smooth.

Add lemongrass, galangal, shallots, garlic, and cilantro root. Grind again until smooth.

Add shrimp paste and ground white peppercorn. Continue to grind / mix everything together until even.

If using a blender or food processor:

In a blender or food processor, combine soaked chili peppers, salt, ground white peppercorn, lemongrass, galangal, shallots, garlic, and cilantro root. Blend until the mixture forms a paste that still has a small amount of texture, pausing to scrape down the sides as needed. (Note: if the mixture does not blend easily, add water a bit at a time, as needed, to help it blend.)

Taste curry paste and season with some additional salt, if needed.

Curry paste can be stored in the refrigerator for about 1 week or frozen for up to a year.
Notes
Shrimp paste (typically labeled as "kapi" or "gapi") can be found at an Asian / international grocery store. It is most often sold in a jar with a good amount of oil. It can sometimes be found in firm blocks that might need to be slightly hydrated before using. Jarred or tinned anchovies are the Western equivalent and could be used as a substitute to give the curry paste the same rich, seafood, umami flavors. To make Thai curries, the shrimp paste is always roasted before cooking to release its flavor. For simplicity, we wrap the paste in foil and just toast it in a skillet before using it.
Want to make a vegan or vegetarian curry? Just skip the shrimp paste.
Nutrition
Calories:
6
kcal
|
Carbohydrates:
1
g
|
Protein:
1
g
|
Fat:
1
g
|
Saturated Fat:
1
g
|
Cholesterol:
3
mg
|
Sodium:
126
mg
|
Potassium:
18
mg
|
Fiber:
1
g
|
Sugar:
1
g
|
Vitamin A:
53
IU
|
Vitamin C:
1
mg
|
Calcium:
4
mg
|
Iron:
1
mg