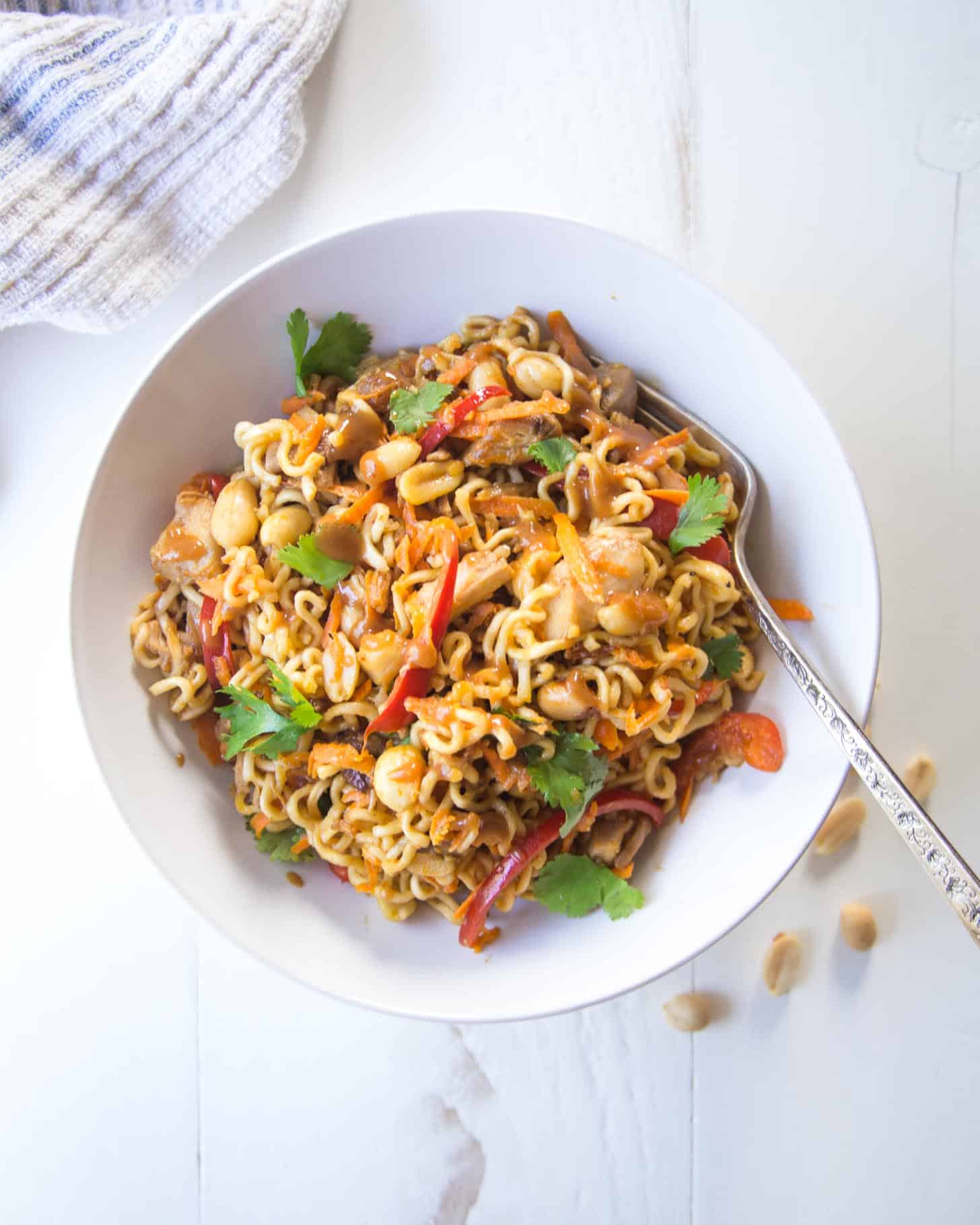 Saucy Thai Chicken Peanut Noodles are made with quick cooking instant ramen noodles and are coated in peanut sauce for a dinner that can be on the table in under 20 minutes.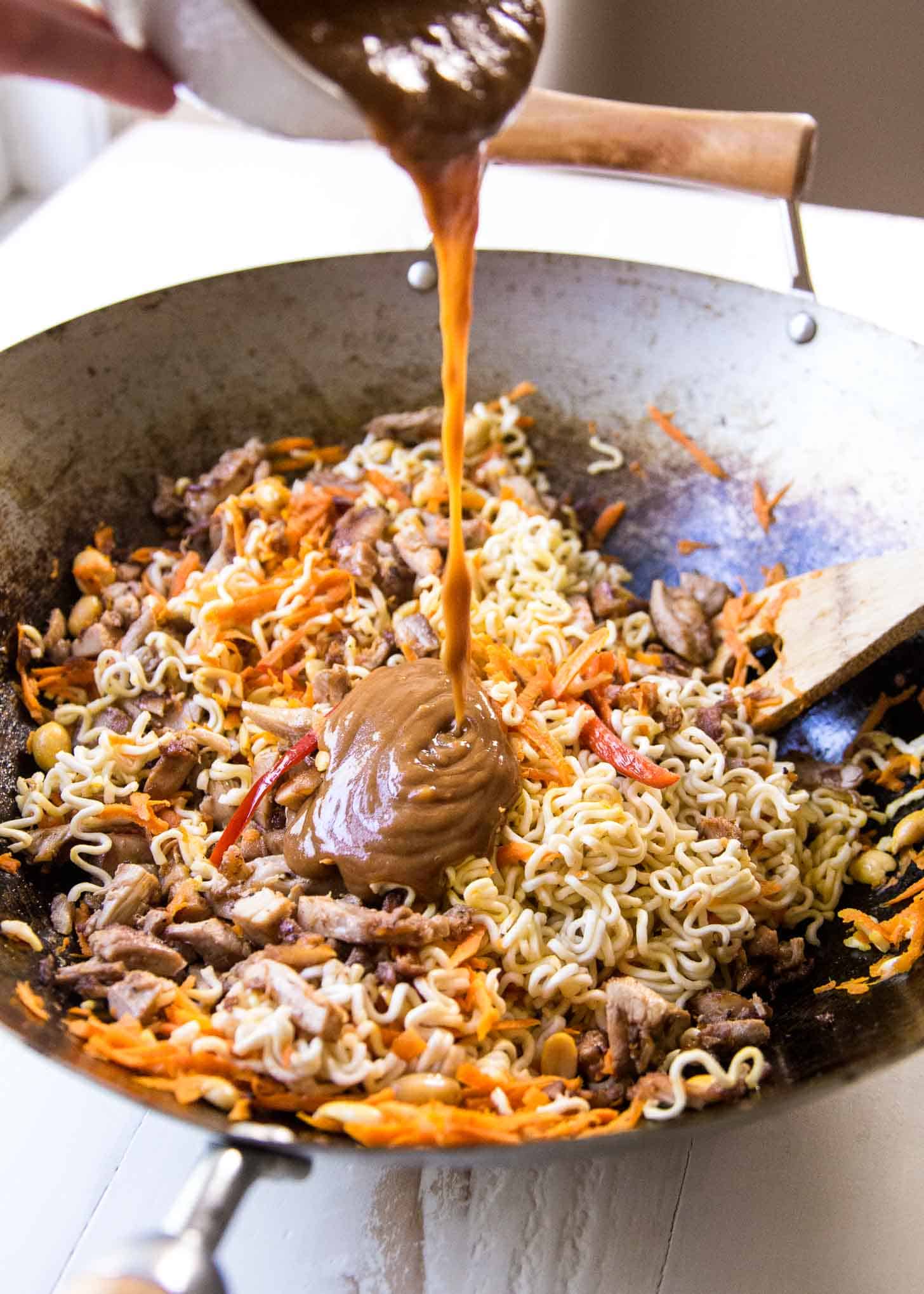 This post is part of our series
Dinner Tonight
where we share our favorite weeknight-friendly dinners. Just doing our part to help answer the question "what's for dinner"?
I'm not sure anyone in Kansas City knows what to talk about now that the eclipse is over.
But I have a few ideas. Let's talk about a creamy, rich, spicy (or not) Thai Peanut Sauce that I never get tired of. If we're cooking Thai-inspired food for friends, including Thai Peanut Sauce makes the whole dinner a guaranteed winner. We use it to toss with salads, for dipping satay or alongside summer rolls. This stuff is impossible not to love.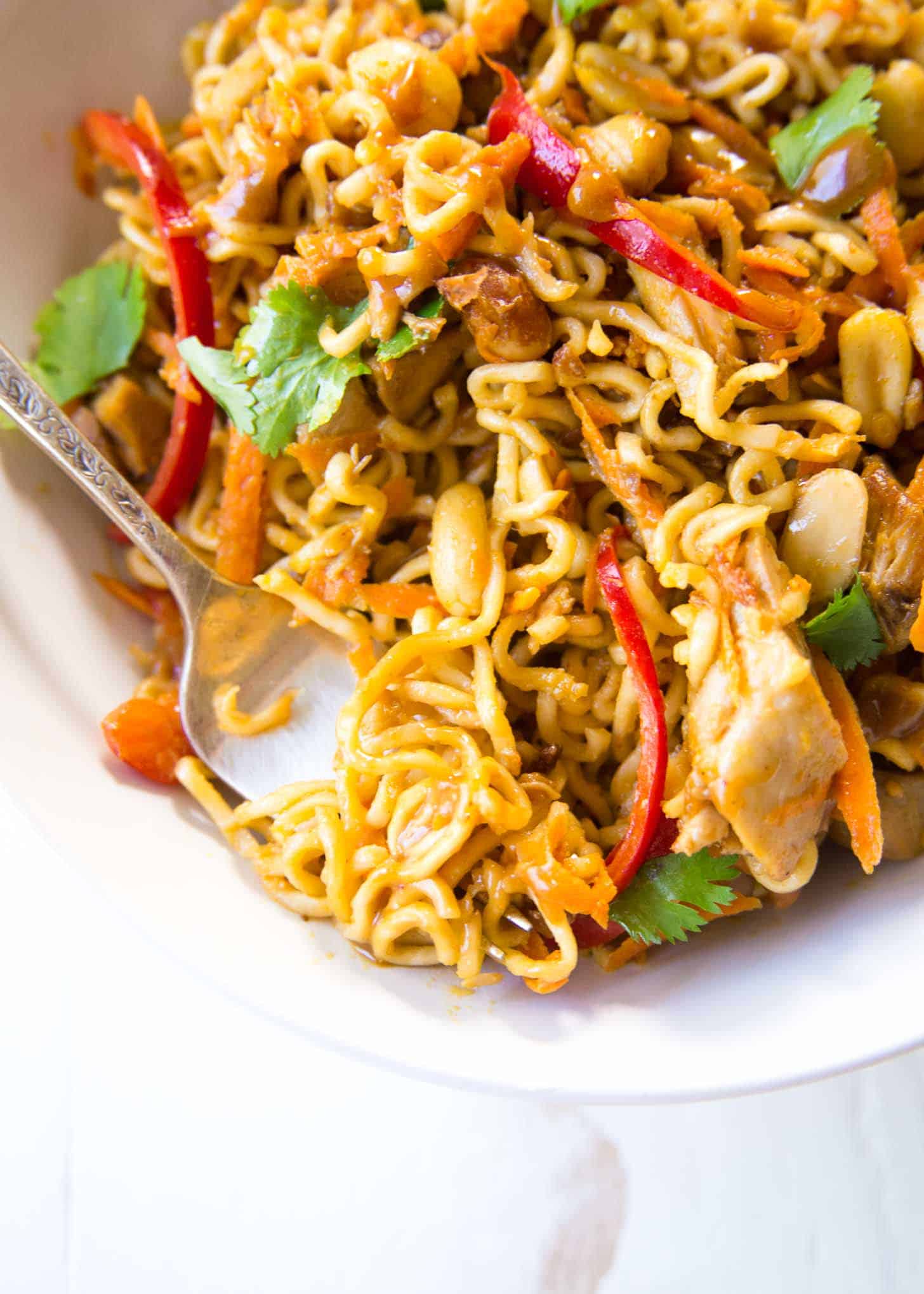 How to Make Thai Peanut Sauce
This Thai Peanut Sauce has layers of sweet and savory flavor rather than just one note of peanut butter. Just whisk together:
1 tsp Ginger, grated
2 cloves Garlic, chopped
1/4 cup Peanut Butter
3 Tbsp Soy Sauce
2 Tbsp Rice Vinegar
2 Tbsp Water
1 Tbsp Toasted Sesame Oil
1 Tbsp Brown Sugar
2 tsp Sriracha Hot Sauce (optional)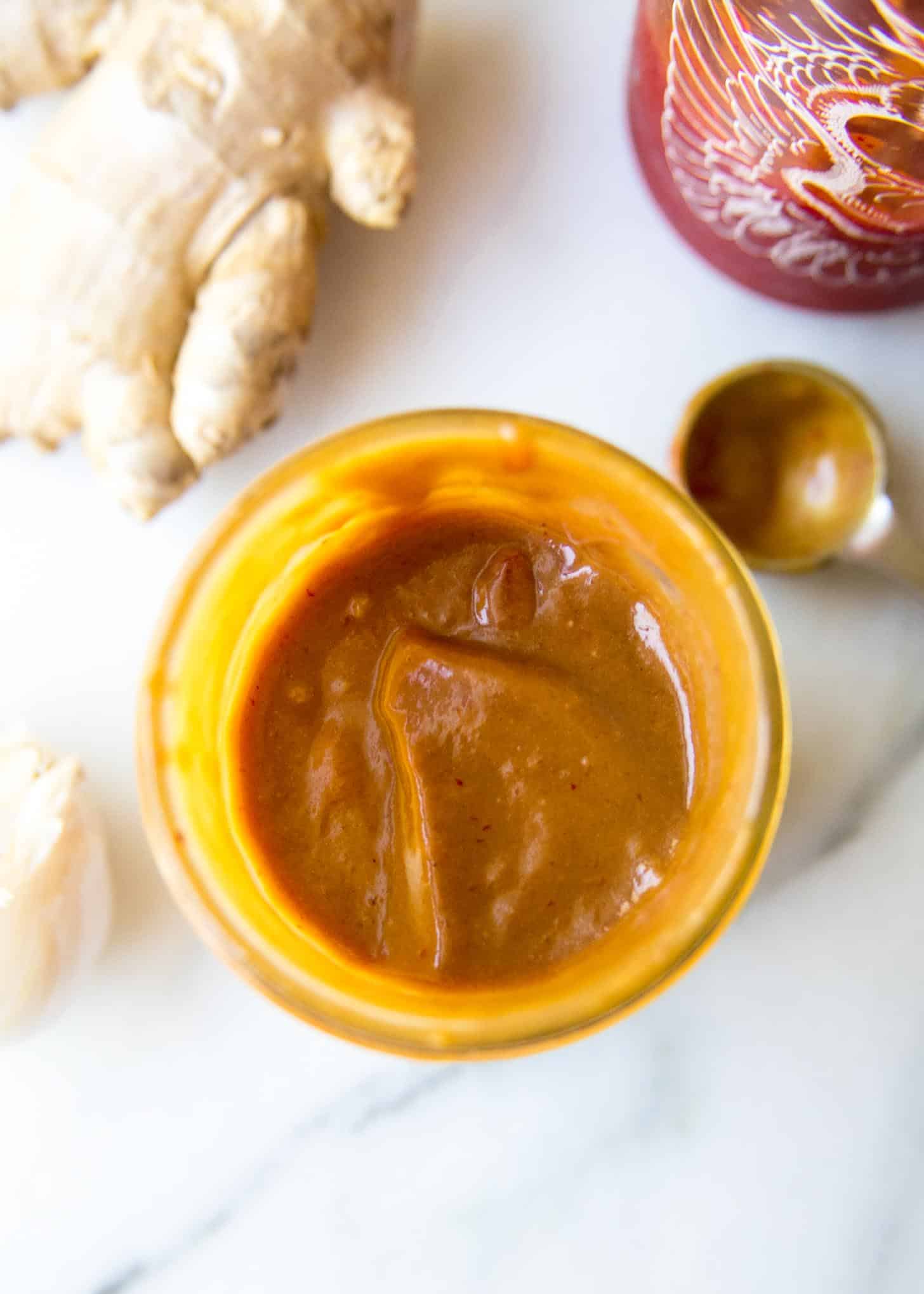 The rest of the dish comes together incredibly fast. Rotisserie chicken and a vegetable or two (we like a sliced bell pepper and some shredded carrots) make this a one pan dinner with a good dose of nutrition. Chicken is definitely optional, so just leave it out or use tofu if you'd prefer this to be vegetarian. The dish has plenty of protein even with out the addition of chicken.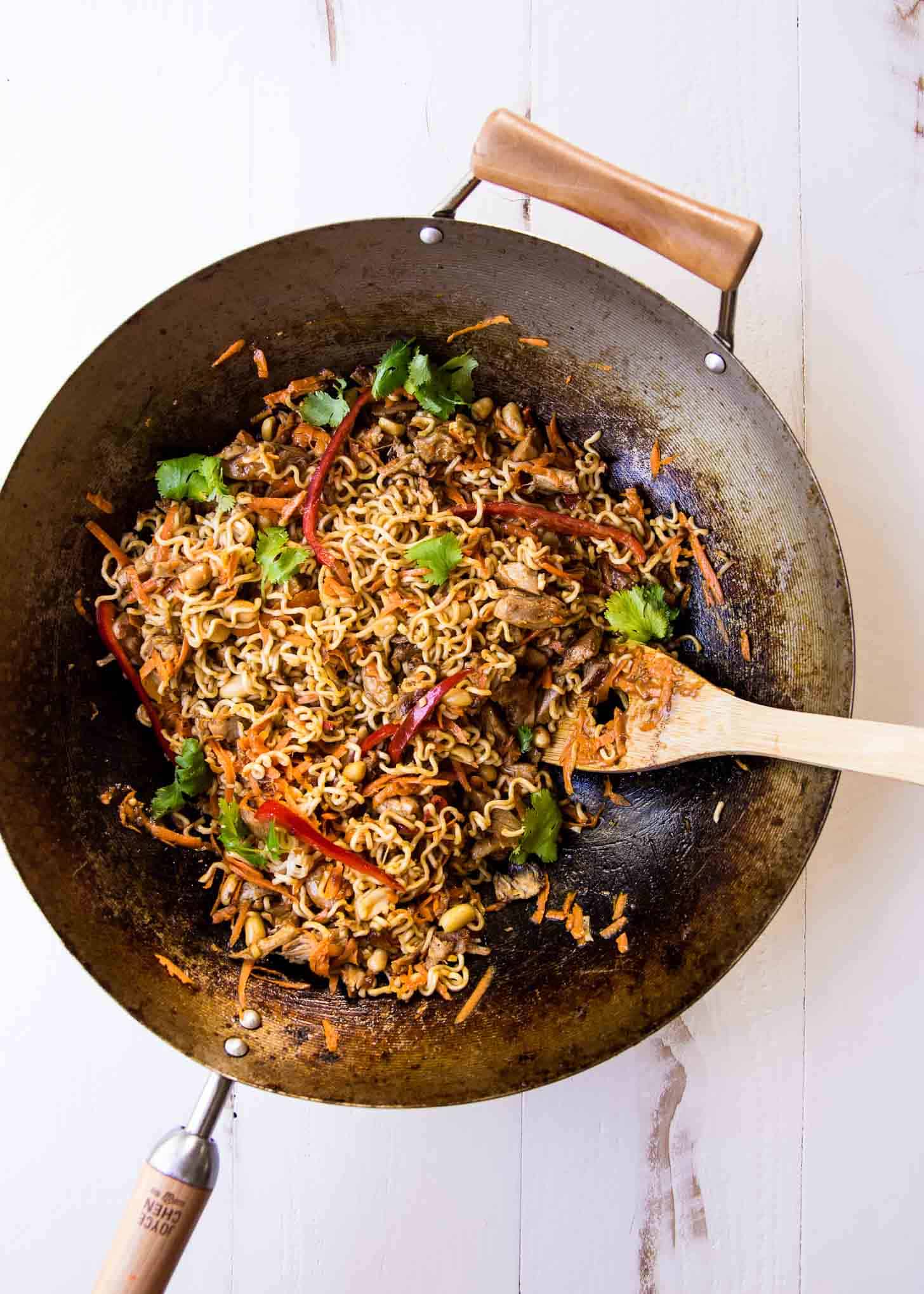 Instant ramen noodles are the other secret behind the speed with which this dinner comes together. Soak those noodles in hot water for 3-4 minutes just until they are tender and they'll be ready to go. (Just be sure to toss any flavor packets that come with the ramen – those fake seasonings have nothing on homemade peanut sauce!)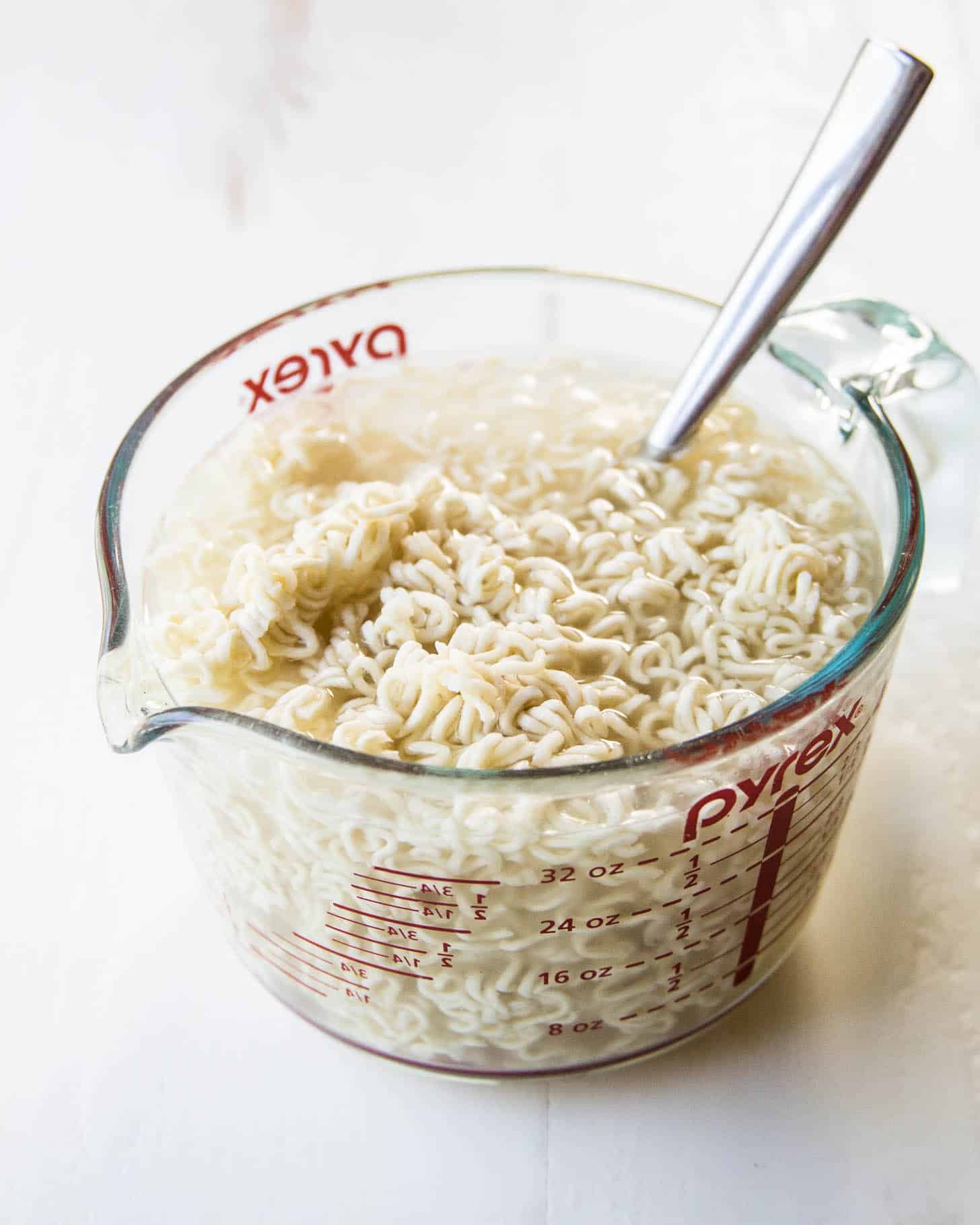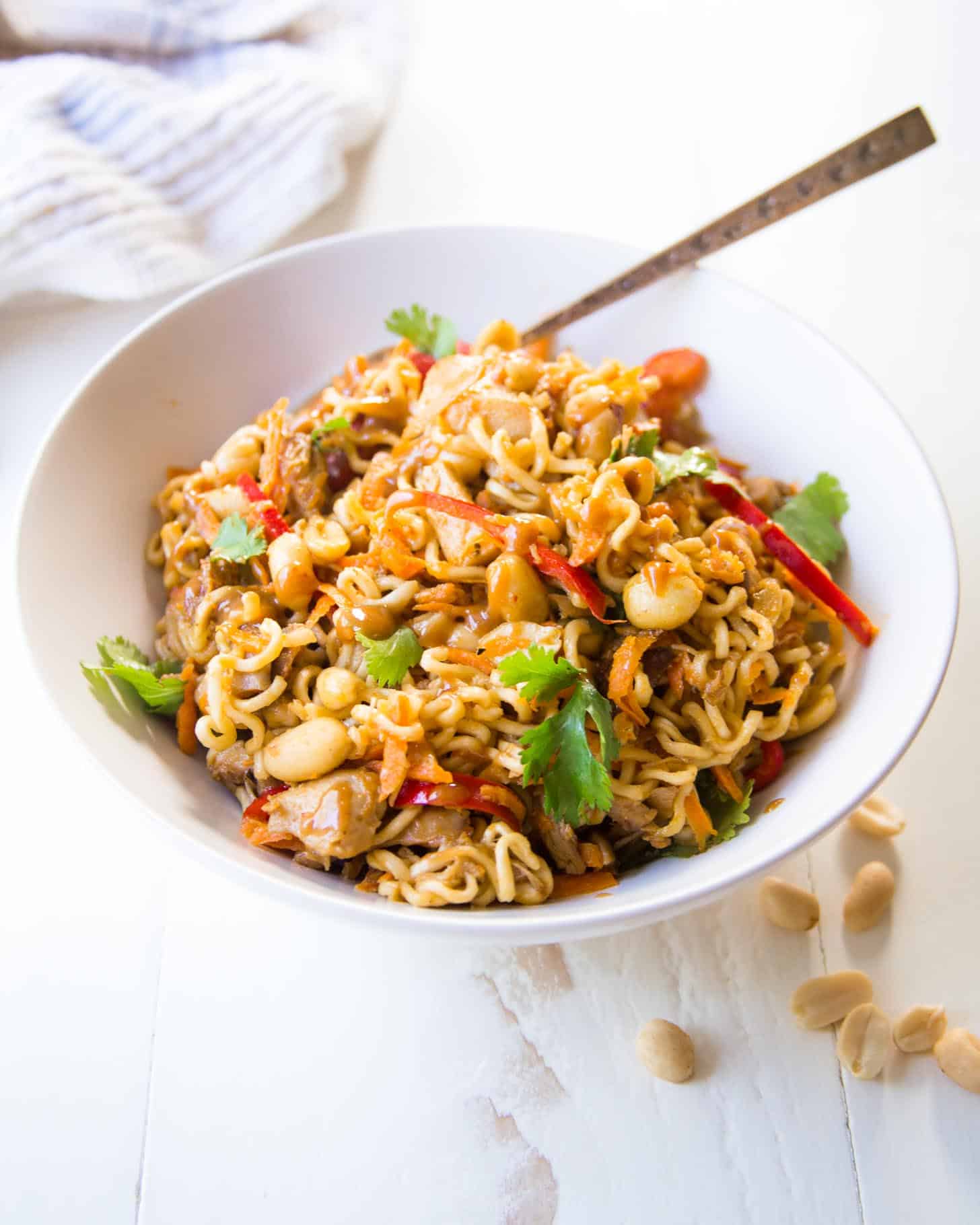 More of our favorite Thai recipes
Favorite Tools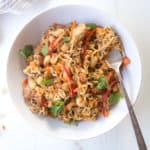 Print Recipe
20 Minute Thai Chicken Peanut Noodles
These saucy Thai Chicken Peanut Noodles are made from quick cooking instant ramen noodles coated in peanut sauce for a dinner that can be on the table in under 20 minutes.
Ingredients
For the Thai Peanut Sauce:
1

tsp

Ginger, grated

2

cloves

Garlic, chopped

1/4

cup

Peanut Butter

(see note)

3

Tbsp

Soy Sauce

2

Tbsp

Rice Vinegar

2

Tbsp

Water

1

Tbsp

Toasted Sesame Oil

1

Tbsp

Brown Sugar

2

tsp

Sriracha Hot Sauce

(optional)
For the Noodles:
6

oz

Instant Ramen Noodles

(if they came with flavor packets, discard the packets)

1

Tbsp

Oil

(I like grapeseed, vegetable or peanut)

6

oz

Shredded Carrots

(You can use pre-shredded to save time)

1

Bell Pepper, finely sliced

2

cups

Cooked Shredded Chicken

(rotisserie chicken is great here)

1/4

cup

Roasted, Unsalted Peanuts

Chopped Cilantro or Green Onions, for garnish

(optional)
Instructions
Make the sauce:

(sauce can be made and refrigerated for up to a week) Whisk together ginger, garlic, peanut butter, soy sauce, vinegar, water, toasted sesame oil, brown sugar and Sriracha. (I usually combine everything in a mason jar and shake it to combine.) Taste the sauce and add a bit more sugar, soy sauce or hot sauce until you like the balance of flavors.

Soak noodles in hot tap water (or water that is heated in the microwave) until noodles are tender, 3 to 4 minutes. Do not let them soak too long because they will cook a bit more when added to the hot wok. Drain and set aside.

Heat a wok over medium-high heat. Add oil and then carrots and bell pepper. Saute until vegetables are tender, 2 to 3 minutes. Add peanut sauce and chicken and cook for a minute to heat everything through.

Remove wok from the heat and stir in noodles and peanuts. Top noodles with cilantro or green onions.
Notes
Use creamy or chunky peanut butter. This recipe was tested with standard commercial peanut butter (JIF). You can also make the sauce with natural (or unsweetened / unsalted) peanut butter, in which case you'll want to taste and adjust to your liking. With natural peanut butter, I find that the sauce needs a bit more sugar and a pinch of salt.
As written, the noodles and vegetables are coated in Thai Peanut Sauce. If you like your noodles extra saucy, definitely double the sauce and add it until the noodles are dressed to your liking. If you have peanut sauce leftover, it makes a great dipping sauce for veggies later in the week!
Nutrition
Calories:
532
kcal
|
Carbohydrates:
42
g
|
Protein:
30
g
|
Fat:
28
g
|
Saturated Fat:
7
g
|
Cholesterol:
53
mg
|
Sodium:
1832
mg
|
Potassium:
629
mg
|
Fiber:
5
g
|
Sugar:
9
g
|
Vitamin A:
8064
IU
|
Vitamin C:
42
mg
|
Calcium:
52
mg
|
Iron:
4
mg
These two BFFs would still take good old boxed mac and cheese over "fancy" noodles any day.
Also all the rage in 3-year-old land: sharing secrets, chasing butterflies and the dresses they're wearing for our picnic below (everything else in their closet is getting the cold shoulder at the moment).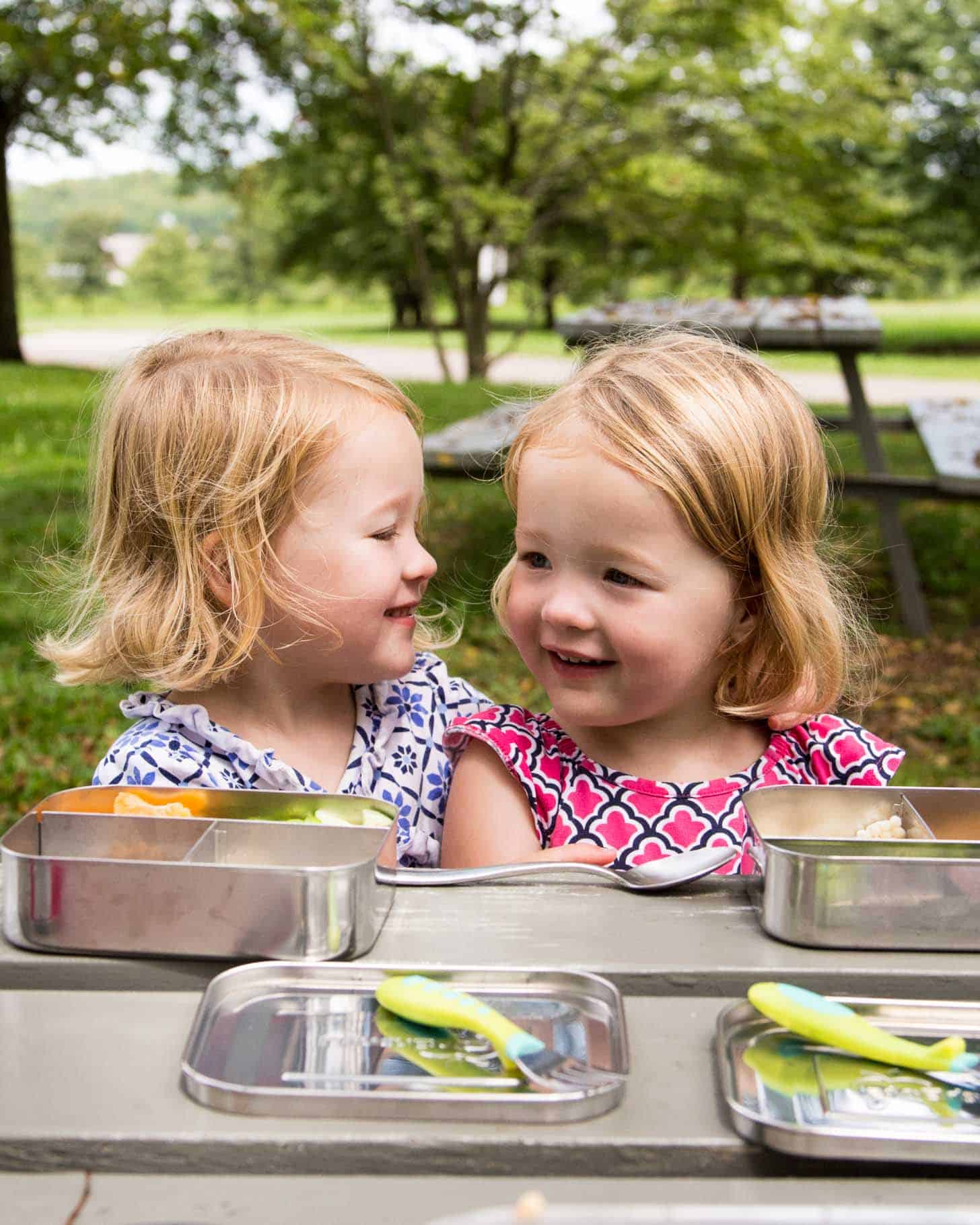 *This post contains affiliate links*
SaveSave
SaveSave
SaveSave
SaveSave
SaveSave
SaveSave