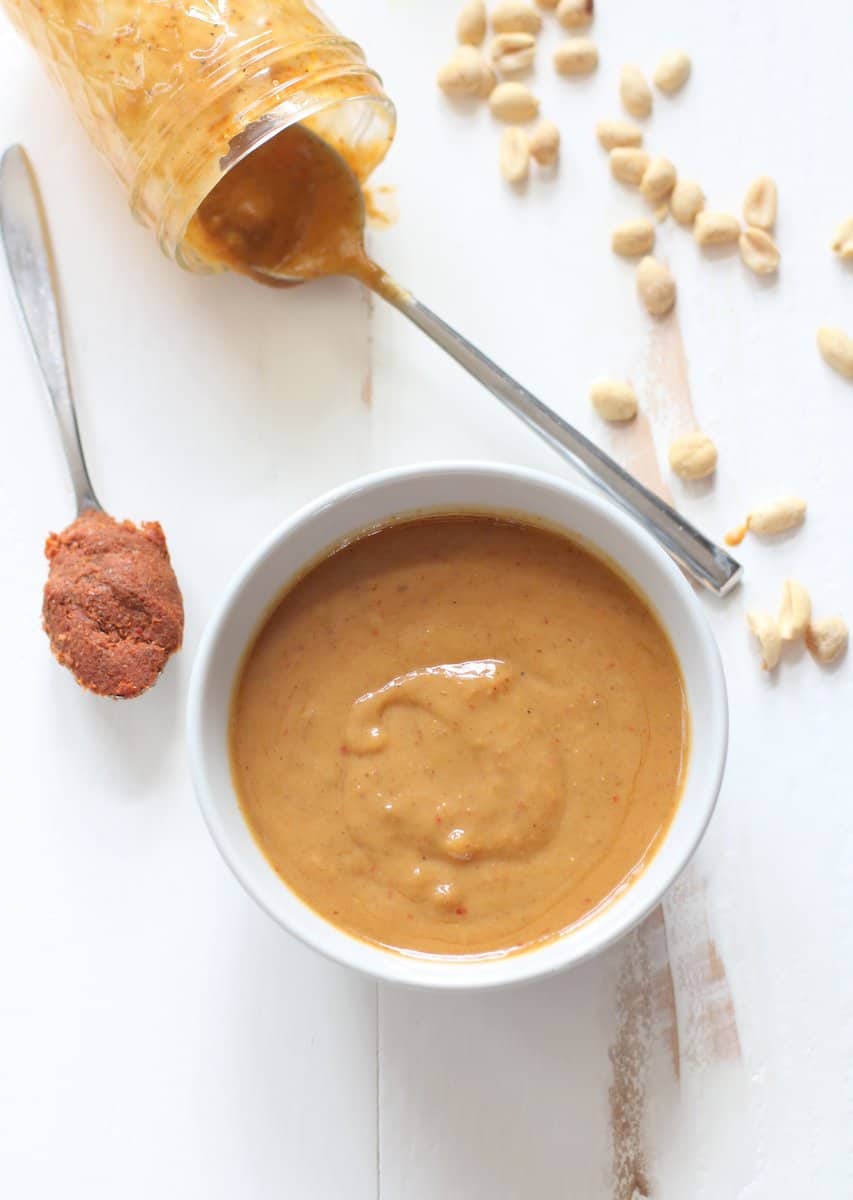 Sweet, creamy and flavored with curry spices, there's a reason Thai Peanut Sauce has become one of the most well-known sauces of Thai cuisine.  It's great as a dipping sauce for satay, but also delicious tossed with noodles or simmered with coconut milk and chicken, pork or tofu.  
I probably don't even need to tell you why it's a great idea to have a jar of this peanut sauce in your fridge at all times.  You are guaranteed to find a hundred uses for this stuff.  It helps that it takes 10 minutes to make, is gluten-free, and is absolutely, totally delicious.
This peanut sauce is the stuff that is so often served for dipping satay, but I also find it to be one of the most delicious sauces for dunking spring rolls, fried wontons and sticky rice (if you happen to have sticky rice sitting around your kitchen).
Thai Peanut Sauce Ingredients
---
Curry Paste – The ingredients list here is short and sweet. The sauce gets tons of flavor from curry paste, which is pretty adaptable. Many recipes use Red Curry Paste
which yields a sauce with a bit of a kick. I prefer to make it with Massaman Curry Paste which is more mild and has a few spices in it that go well with the peanut flavor. Red Curry Paste tends to be more widely available at grocery stores, but Massaman can be ordered on Amazon or found at Asian markets. In any case, either curry paste will work.
Coconut Milk – The other key ingredient is coconut milk.  Just make sure that you use the regular (not "light") variety.  Regular coconut milk will insure your peanut sauce is extra creamy and rich.
Peanut Butter – And the peanut element? No need to get fancy. Any kind of peanut butter you have in your pantry is just fine. The only thing to keep in mind that, since peanut butters have vastly different levels of saltiness / sweetness, you should taste the finished sauce and adjust with extra sugar or fish sauce (you can use soy sauce or gluten-free tamari as well).
Fish Sauce – I use fish sauce for a salty, umami flavor in the sauce. While sometimes I do think fish sauce is the only way to go in a recipe, that's not the case here. Soy sauce or tamari (if you need a gluten-free option) will work as well. As noted above, just be sure to taste the finished product and adjust. Since peanut butter can vary in salt / sugar content, you may need more or less of this salty element.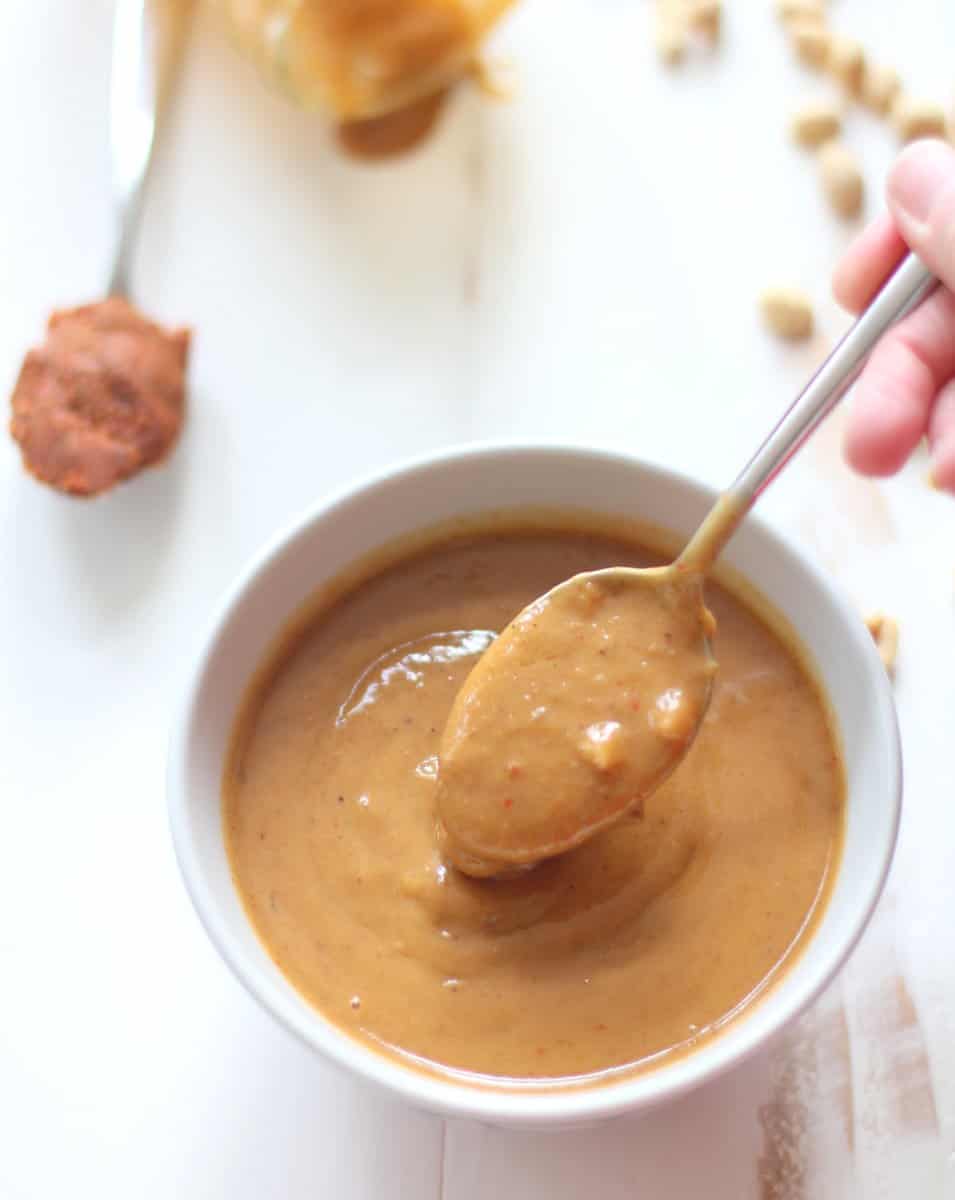 We've got lots of great ways to serve this sauce coming up all month long!
In the meantime, we'd love for you to join us in this Thai food month! Make or eat Thai food and share it on social media with #thaifoodmonth and #inquiringchef so we can find you! And check out all our other Thai Recipes here.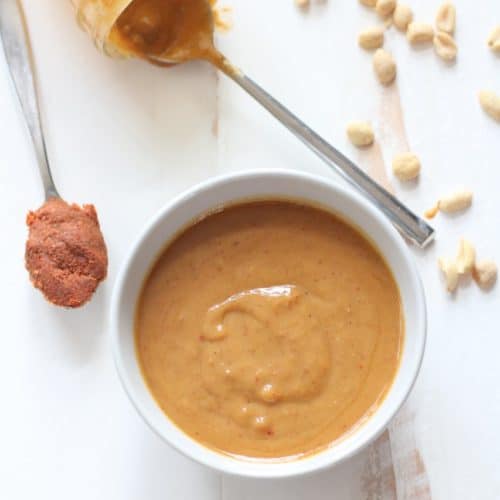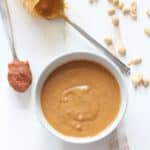 Print Recipe
Thai Peanut Sauce
Creamy, rich peanut sauce is flavored with curry paste and coconut milk. Store it in the refrigerator for up to 3 weeks and serve it tossed with noodles or as a dipping sauce for satay or other meats.
Makes approximately 1.5 cups.
Ingredients
1

(13.5 oz) can Unsweetened Coconut Milk

(regular, not "light")

5

Tbsp

Massaman Curry Paste

(substitute red curry paste)

3/4

cup

Peanut Butter

(it's great with creamy or chunky versions)

1/4

cup

packed Dark Brown Sugar

1

Tbsp

Fish Sauce

(substitute soy sauce / gluten-free tamari)
Instructions
Combine coconut milk and curry paste in a small sauce pan over low-medium heat, whisking constantly as it begins to warm up.

When the mixture begins to simmer, whisk in peanut butter, brown sugar and fish sauce (or soy sauce / tamari).

Continue to simmer, whisking constantly, until the sauce thickens slightly and has a smooth consistency, about 4 minutes. (Note: If the sauce starts to boil or simmer vigourously, reduce the heat. Cooking the sauce over high heat can cause it to separate.)

Taste the sauce and adjust with extra sugar or fish sauce, if needed. Serve warm.

Peanut sauce will keep in the refrigerator for up to 3 weeks. Reheat it slightly before serving.
SaveSave