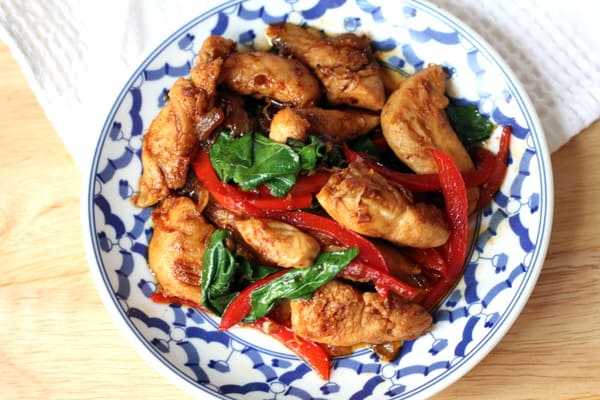 I have been on a stir fry kick of late. I love that there are so many ways to put a stir fry together for a quick lunch or dinner. They often use few ingredients, and can be adapted to whatever vegetables are in the refrigerator. I suddenly understand how it is that so many of our neighborhood Thai restaurants are able to have hundreds of dishes on their menu. There are endless ways to combine a few key ingredients.
This dish is a popular way to use Thai holy basil, which, to me, tastes more tart than sweet basil and has almost a citrus quality to it. The flavor of the holy basil is fantastic here, so if you can track some down, you'll be glad you did. In addition, Thai chefs around the world would tell you that there is no substitute for the flavor of holy basil...something that they have been vocalizing quite loudly of late.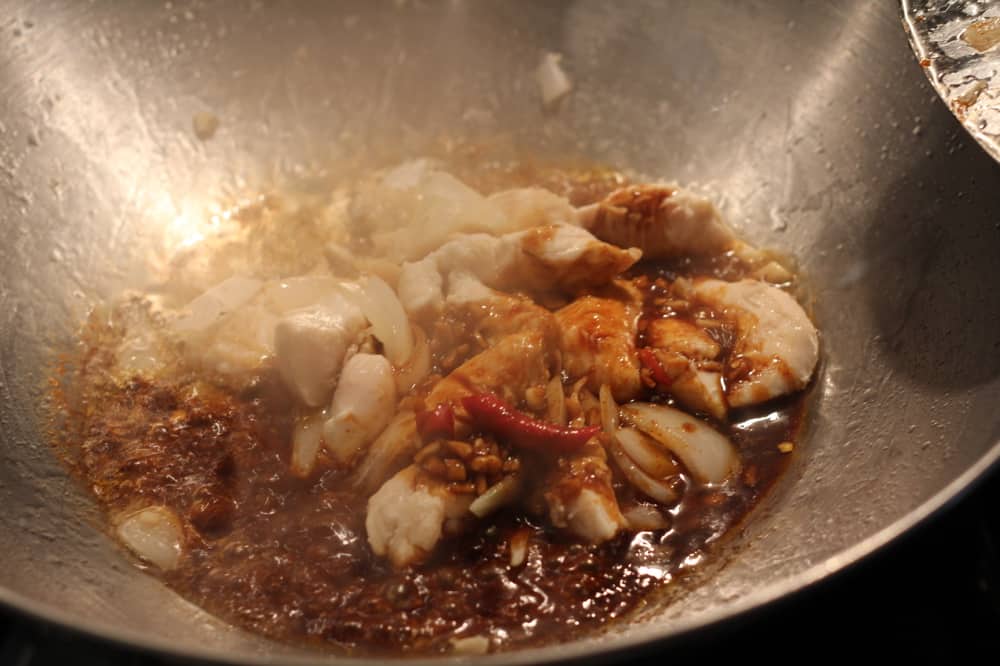 I've never read as much about varieties of basil as I have in the past couple months since the EU placed a ban on several types of imported produce from Thailand, causing Thai chefs around the world to speak out about the importance of using authentic ingredients in their signature dishes. To me, this raises larger questions about the distances that we ship food. It is incredible to me that we expect fresh produce to arrive in perfect condition after traveling from Thailand to the EU. With so many Thai restaurants in the EU, how is that these ingredients are not being grown in greater quantities in Europe, minimizing the distance they must travel?
I also realize that this is a debate that is currently discussed from many angles all over the world. Thailand benefits a great deal from exporting its unique ingredients and is, I would imagine, able to produce them here at a lower cost than they could be produced elsewhere. And this, of course, is at the heart of the one of the many complex issues we face about the production of our food these days.
Fortunately though, there is nothing terribly unusual in this delicious stir fry. Except, of course the holy basil. And, at the risk of contradicting the international Thai cooking community (which, as I've mentioned, is already pretty fired up), I think it's pretty tasty with any type of basil you can get your hands on.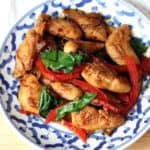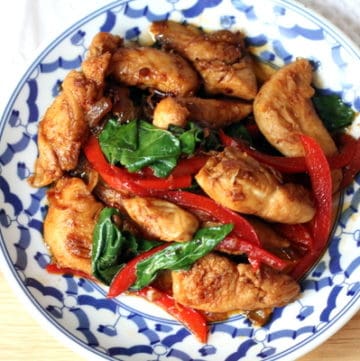 Print Recipe
Chicken with Thai Holy Basil
Ingredients
1

chicken breast, sliced into small pieces

1

small birds eye chili, crushed to expose seeds (optional)

½

onion, thinly sliced

1

clove

garlic, minced

1

Tbsp.

fish sauce

2

tsp.

thai chili paste

2

tsp.

soy sauce

½

red pepper, thinly sliced

10

thai holy basil leaves
Instructions
Heat ½ Tbsp. of vegetable oil in a wok over medium-high heat. Add chicken and cook, stirring, until just cooked through.

Add chili, onion, garlic, fish sauce, chili paste and soy sauce to the pan. Cook stirring constantly, until onions begin to soften and liquids thicken slightly, 3-4 minutes.

Add red pepper and basil leaves, cooking until basil leaves wilt slightly, about 2 minutes. Remove from heat and serve immediately.
Notes
This recipe serves just one, but can be easily doubled.