Thai Chicken Flatbread
Published Dec 31, 2010•Updated Apr 19, 2022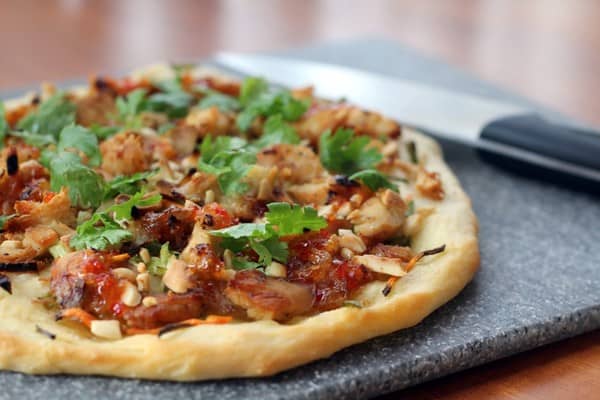 Okay, okay – I know what you're thinking. Right about now, you're probably rolling your eyes and saying to yourself "alright already, we know you live in Thailand – but Thai Chicken Flatbread – give me a break." But hear me out on this one.
Pizza in our house is a tradition that started long ago when my parents deemed Fridays to be make-your-own pizza nights, in which we would load up homemade dough with a cacophony of toppings and tasty cheeses. My husband and I frequently made pizzas together while we were dating and, since we got married, one of our favorite things to do is open a bottle of wine and experiment with pizza toppings. Now that we find ourselves living in Thailand, Thai chicken pizza is one of the few pizzas that truly seems to make sense. You see, neither cheese nor tomatoes are exceedingly common. Although we can find them, they're often not the best and sometimes a bit pricey. Thai chicken pizza, on the other hand, is topped with all sorts of ingredients that we can pick up at the grocery store for less than a couple dollars. It is also a great way to use the leftover chicken (or, dare I even say it – turkey) that you may have in your fridge.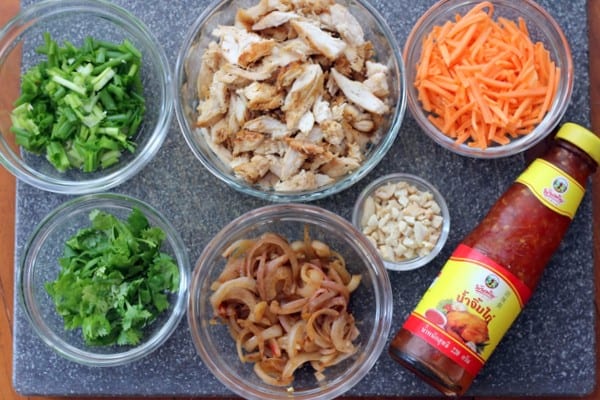 It has been quite some time since I had Thai Chicken Pizza, but with one bite I remembered why it has such appeal that you can now find it at all sorts of pizza chains US. Most recipes I have seen on-line over-complicate this pizza. I promise that there is no need for sticky peanut sauce or cheese – try this recipe that honors the ingredients in their simplest form and you won't regret it.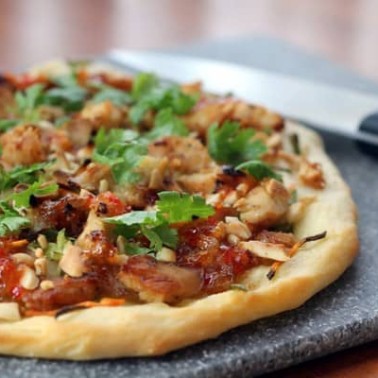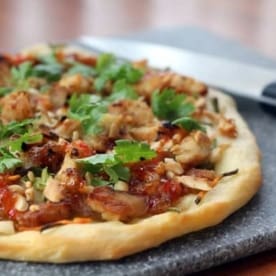 Thai Chicken Flatbread
With chicken, carrots, and sweet Thai Chili Sauce this Thai Chicken flatbread is served like pizza but gives pizza night a whole new twist.
Ingredients
1

pizza dough recipe, enough for at least 3 medium pizzas (I love The Pioneer Woman's easy recipe)

3

Tbsp.

olive oil (divided)

1

red onion, cut into thin strips

1

cup

green onion (white and green parts) roughly chopped

2

and 1/2 cups chicken, roasted or sauteed and shredded

1

cup

raw carrots shredded or cut into 1-inch matchsticks

1/4

cup

roasted peanuts, roughly chopped

1/2

cup

sweet and spicy Thai Chili Dipping Sauce

1

cup

cilantro leaves, roughly chopped
Instructions
Preheat oven to 450 degrees.

Heat 1/2 Tbps. olive oil over medium-high heat in a small pan. Add red onion and saute just until onions begin to soften. Remove from heat.

Divide pizza dough into 3 equal portions. Roll or stretch the first portion into a 12-inch circle on a baking sheet. Drizzle liberally with olive oil.

Top pizza, beginning with red onion, followed by green onion, chicken, carrots, peanuts, and finally ending with a generous drizzle of Thai Chili Dipping Sauce. Bake for 10-12 minutes until crust is golden brown. Remove and immediately sprinkle with cilantro leaves. Slice and enjoy.
Notes
The Thai Chili Dipping Sauce referenced in this recipe is available in the Asian aisle of nearly every grocery store in the United States and is a critical element of this recipe. Just be sure that what you get has a smooth, liquid texture and says that it is sweet and spicy. It should look just like the contents in the bottle shown above (in Thailand they tend to label it "dipping sauce for chicken"). I do not find this to be overwhelmingly spicy, but adjust the measurements to your taste.
Nutrition information is automatically calculated, so should only be used as an approximation.