This spicy breakfast strata is a delicious breakfast casserole that can be made-ahead and is freezer-friendly which makes it a host's dream come true.  A spicy kick from chorizo is balanced by sharp cheddar cheese and bread cubes.  Always a hit with guests, this is a family brunch favorite.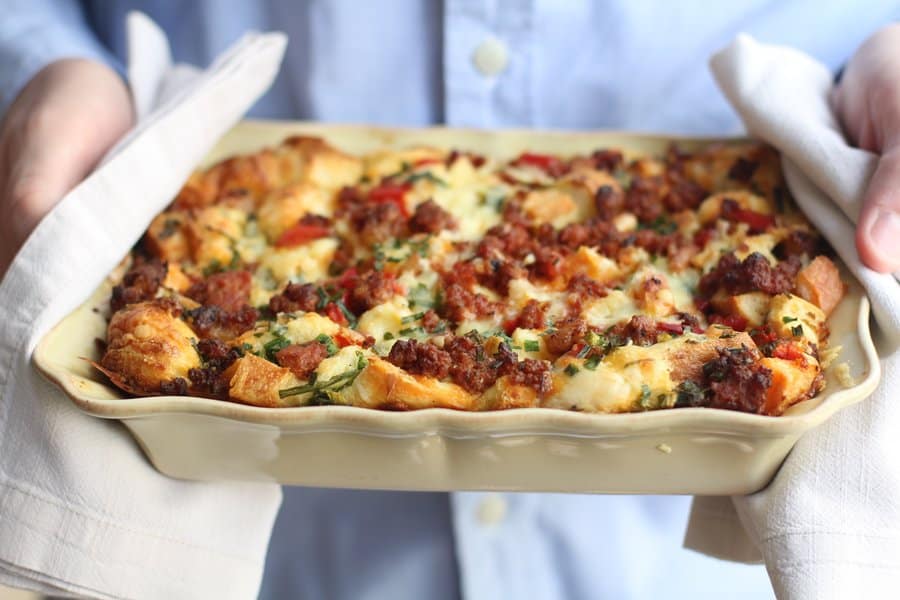 There is a fancy grocery store near my office that I sometimes stop by when I need some particularly hard-to-find ingredient (read: overpriced and imported) that I will inevitably carry around in my purse all day long.  (This sometimes results in disaster like that time I broke an entire bottle of kalamata olives.)
On Thursday I stopped by the fancy grocery store for Sloane's ridiculously good (and local!) chorizo and impulse-bought two U.S.-import peaches for $10.  Worst carbon footprint ever, and I'm not even sorry.  You won't see a peach recipe here anytime soon because, for $10 you better believe I ate those peaches straight-up with juice running down my chin.
But the chorizo was destined for this beauty.  Although we've tried hard to get ourselves back into our weekend breakfast routine with pancakes or bagels or some other leisurely Saturday fare, we're still often dealing with baby-imposed distractions that result in burnt toast and cold coffee.   But if you've been to our house for brunch since the girls were born (or come by any time soon…sorry to ruin the surprise all you future brunch guests), you'll know this dish.  We're not high on creativity these days, but we know a good breakfast dish when we see one.  And this breakfast casserole, adapted from Bon Appetit, is the real deal.  We prep it a day in advance, let it soak in the fridge overnight, and toss it in the oven 30 minutes before people are due to arrive.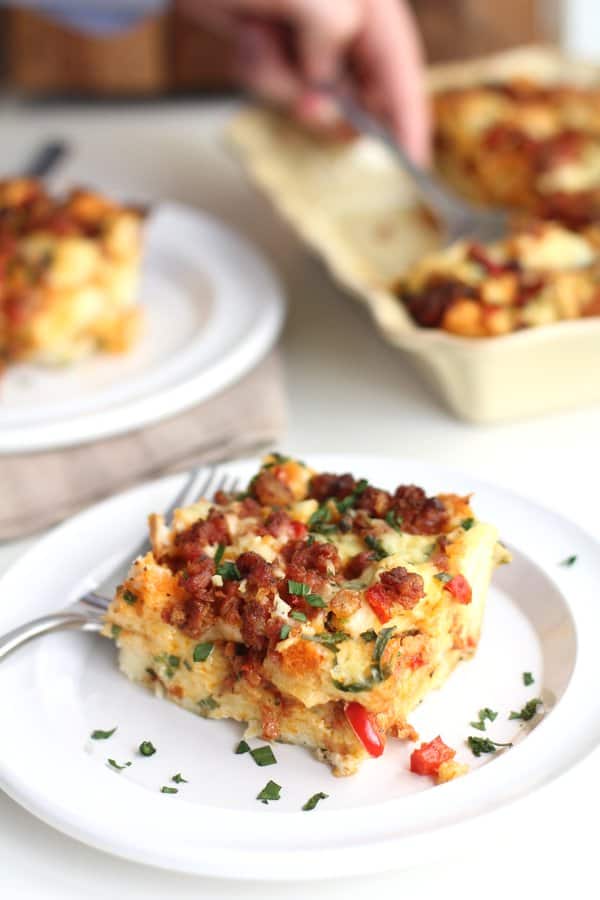 30 minutes before people are due to arrive, I'm also likely running around the apartment, still in my pajamas having not yet brushed my teeth, with a baby in my arms, shoving toys in random bins.
But pulling that spicy breakfast strata out of the oven in all its savory glory is like magic – ta da (!), we've totally got our act together around here.  😉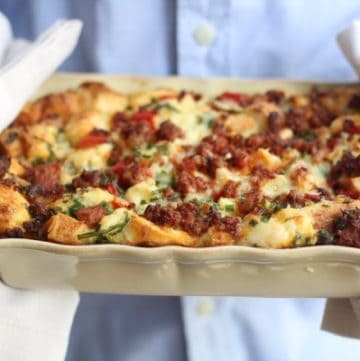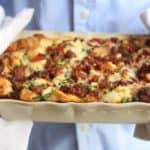 Print Recipe
Spicy Breakfast Strata with Chorizo, Red Pepper, and Cheddar
A make-ahead breakfast casserole favorite with a spicy kick from chorizo. (Eggs, cream, cheese...what's not to like?)
Ingredients
6

large eggs

2 1/2

cups

milk (I use 2%)

1/2

cup

(about 3 stalks) sliced green onions

1/2

cup

whipping cream

1/2

teaspoon

salt

1

pound

chorizo, casings removed

1

large red bell pepper, halved, seeded, cut into 1/2-inch wide-strips

1 1-

pound

loaf rustic French bread, cut into 1/2-inch cubes

2

cups

(loosely packed) grated sharp cheddar cheese
Instructions
Place sausage in large nonstick skillet; push to 1 side. Add bell pepper to other side of skillet. Sauté over high heat, breaking up sausage with fork, until sausage is cooked through and bell peppers are brown in spots, about 7 minutes.

Arrange half of bread cubes in prepared dish. Pour half of egg mixture over. Sprinkle with half of cheese, then half of sausage-pepper mixture. Repeat layering. Let stand 20 minutes or refrigerate overnight, occasionally pressing on bread to submerge.

Bake strata until puffed and brown, about 1 hour. Cool slightly.