I was up in the Northeastern region of Thailand last week for work. It was a fantastic trip. As is true most everywhere, things are so very different when you leave a big city. In rural areas, people know one another and recognize a visitor. People take time just to sit and talk – they move more slowly and seem to enjoy simple things more deeply. While up North I had the chance to visit with local people and witness the amazing hand-made crafts that are often sold in pristine, fancy stores here in Bangkok.
As I love to do when visiting any new place, I woke up early one morning and went to see the outdoor market.  I followed the monks carrying bowls in which they collect offerings of food.  (I could spot their orange robes from the window of my room in the hotel.)  This is a surefire way to find a market first thing in the morning in Thailand.  Follow the monks.
The outdoor market in Khon Kaen was a long stretch of road and several bustling alleys that were full of people selling and buying bright, fragrant produce and meat.
I thought these carts, pulled by men on bikes, were far more charming than the noisy motor-propelled tuk-tuks of Bangkok.
The trip was short, and I was back to busy Bangkok in time for the weekend. Unfortunately, I picked up a bit of a bug on the trip, and I have been recovering these past few days. It has left me craving simple, comforting foods, and made me appreciate that we had a quiet weekend to relax, watch movies, and enjoy the aroma of cinnamon and honey-laced oatmeal baking away in the oven.
Baked oatmeal is a wonderful thing. The oatmeal cooks up light and fluffy. As it bakes it sends of the distinctive smell of blueberry cobbler and the flavor, slightly sweet and with the richness of pecans, is somehow more profound than in a regular old bowl of oatmeal.
In the past I have made this in an 8×8 pan but since seeing them baked in petite little jelly jars over at Sprouted Kitchen, this is my new favorite method.
I popped the tops on the jars and put them in the fridge for breakfast later this week.
Except for this one.  This one was calling my name.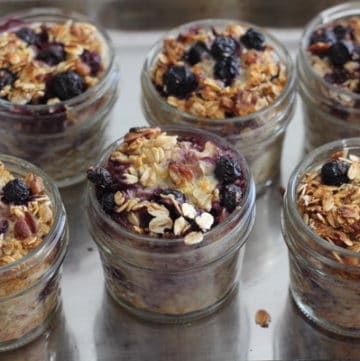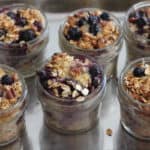 Print Recipe
Baked Blueberry Oatmeal
Baked oatmeal takes just a few minutes to mix up and then the oven does the rest of the work. It's great for make-ahead / meal prep breakfasts or for serving a crowd.
Ingredients
2

cups

Milk

(see note)

2

Eggs

1/3

cup

lightly packed Brown Sugar

(substitute honey or maple syrup)

2

tsp

Ground Cinnamon

1

tsp

Baking Powder

2 1/2

cups

Rolled Oats

(sometimes labeled "Old-Fashioned Oats; do not use Instant or Quick-Cook Oats"

2

cups

Blueberries, fresh or frozen

1/2

cup

Pecans, roughly chopped

(optional)

Maple syrup or honey

(optional, for serving)
Instructions
Preheat oven to 350 degrees. Spray an 8x8 baking dish (or similar-sized baking dish) with nonstick cooking spray or rub with some oil.

In a mixing bowl, whisk together milk, egg, brown sugar, cinnamon, and baking powder.

Stir in oats, blueberries, and pecans. (Reserve some of the blueberries and pecans if you'd like to sprinkle them on top.)

Pour mixture to the prepared baking dish.

Bake oatmeal until firm in the middle, 40 to 45 minutes.

Let oatmeal cool slightly before serving (it will continue to firm up as it rests). Serve with some maple syrup or honey drizzled over top.
Notes
Milk - Any type of milk will work in this recipe (almond, cow's milk, coconut, or oat milk). Apple juice works well too.
Meal Prep - If making the oatmeal ahead to serve throughout the week, let it cool completely before slicing into individual portions.