Brioche Baked Egg in a Hole
Published Jun 19, 2018•Updated Apr 04, 2022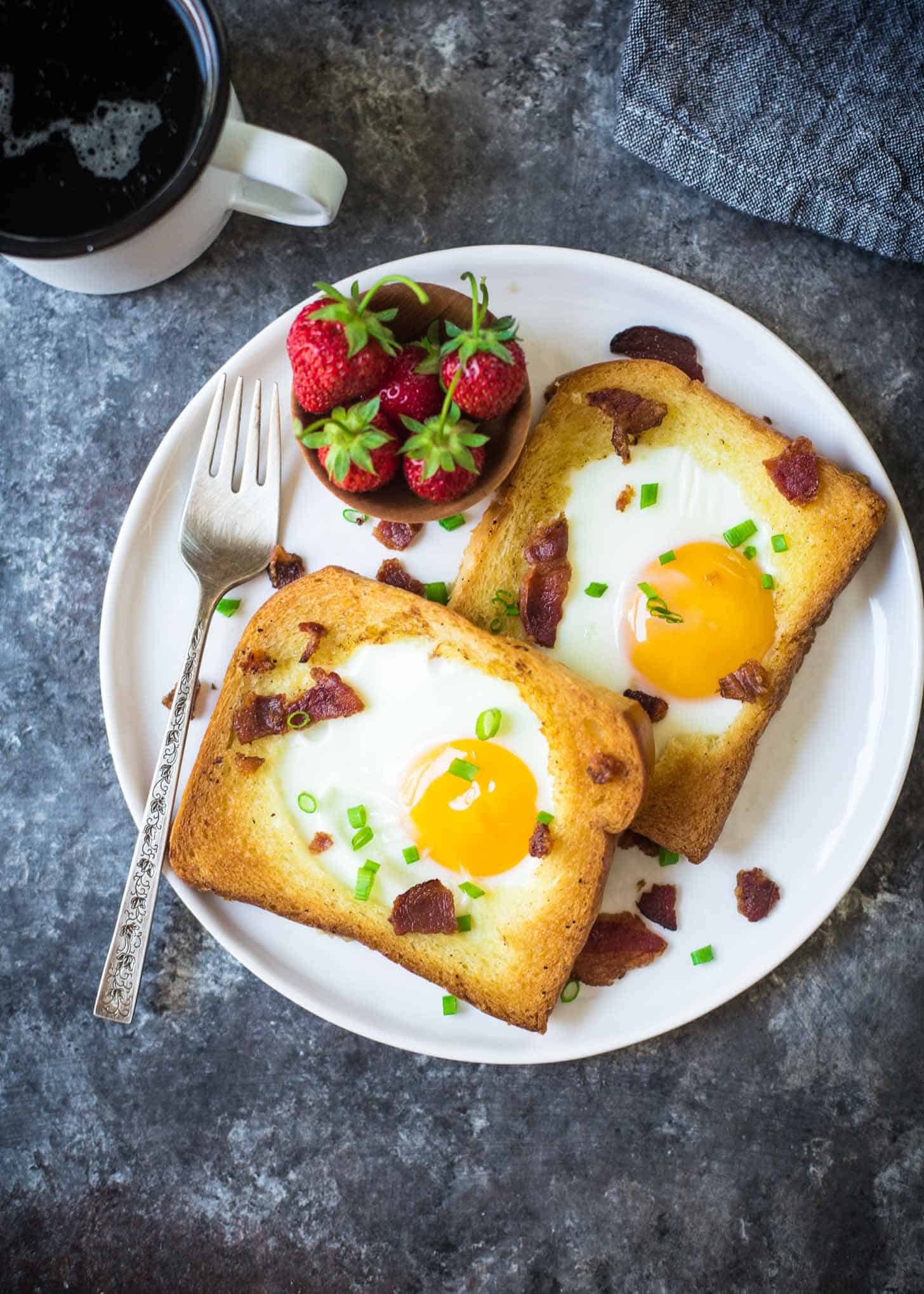 Egg in a Hole is a classic diner dish that can be easily scaled up for a crowd using this baked version. Take it to the next level with bacon and buttery brioche bread!
Hello, hello from Kansas City where it's only mid-June but it feels like we are deep into summer. Is it this hot everywhere? Or is it just that my nearly-nine-months pregnant self is extra aware of it?
As far as I can tell, this weather is good for only two things:
a) soaking in my girls' kiddie pool with an cold ice tea in hand or
b) hanging out inside the air-conditioned house
Or maybe Molly and Clara will let me join them in world's smallest water-table-turned-soaking-tub.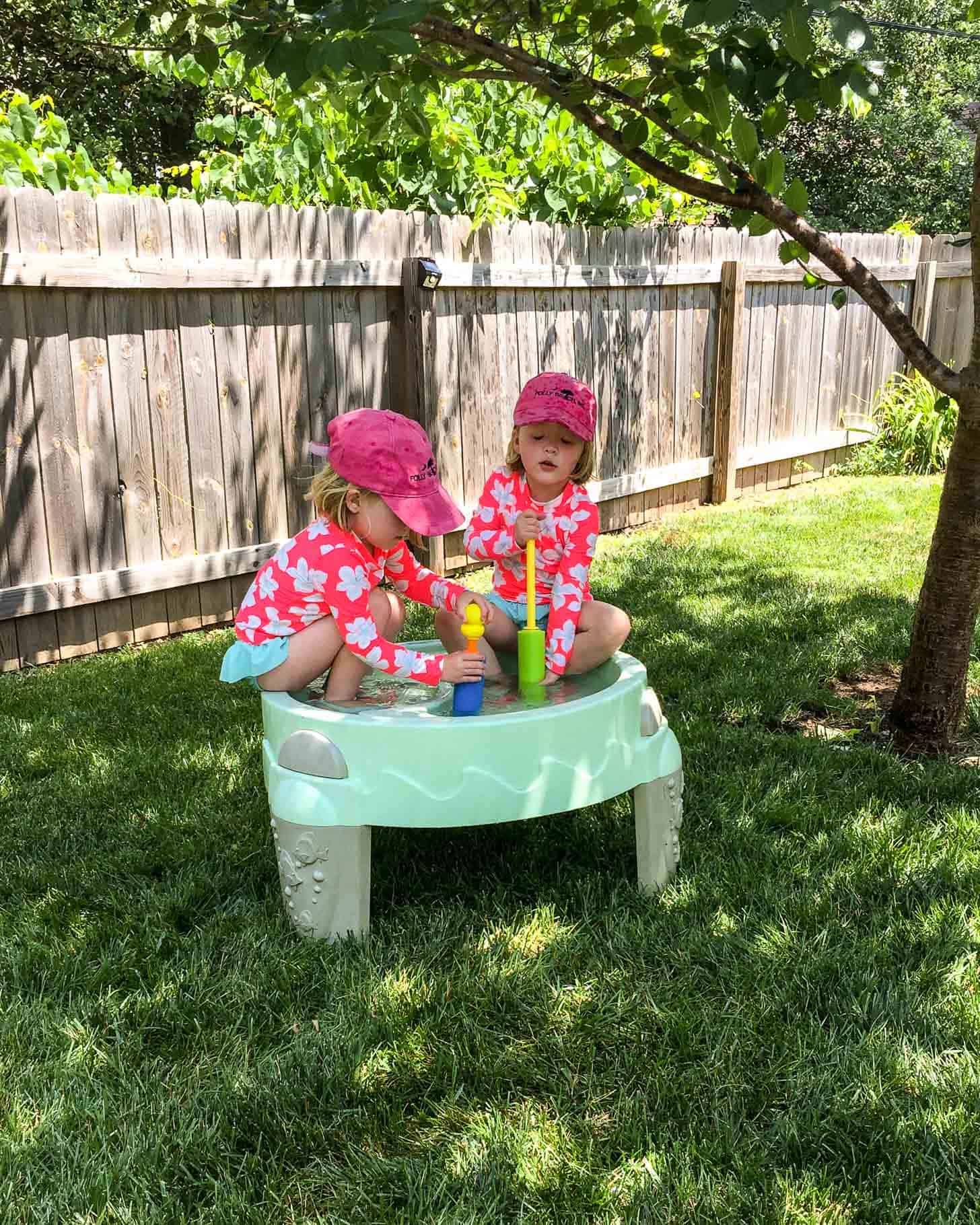 Despite (or perhaps in conjunction with) a quiet stretch here on the blog, things are busy behind the scenes. We did our standard pre-baby IKEA run to pick up a few things for the nursery. Baby Girl #3 seems to be growing right along schedule and is on track for her due date in late July. We're excited and feeling (reasonably) ready. I'm feeling….very pregnant. (But not nearly as pregnant as I did at this stage while pregnant with twins!)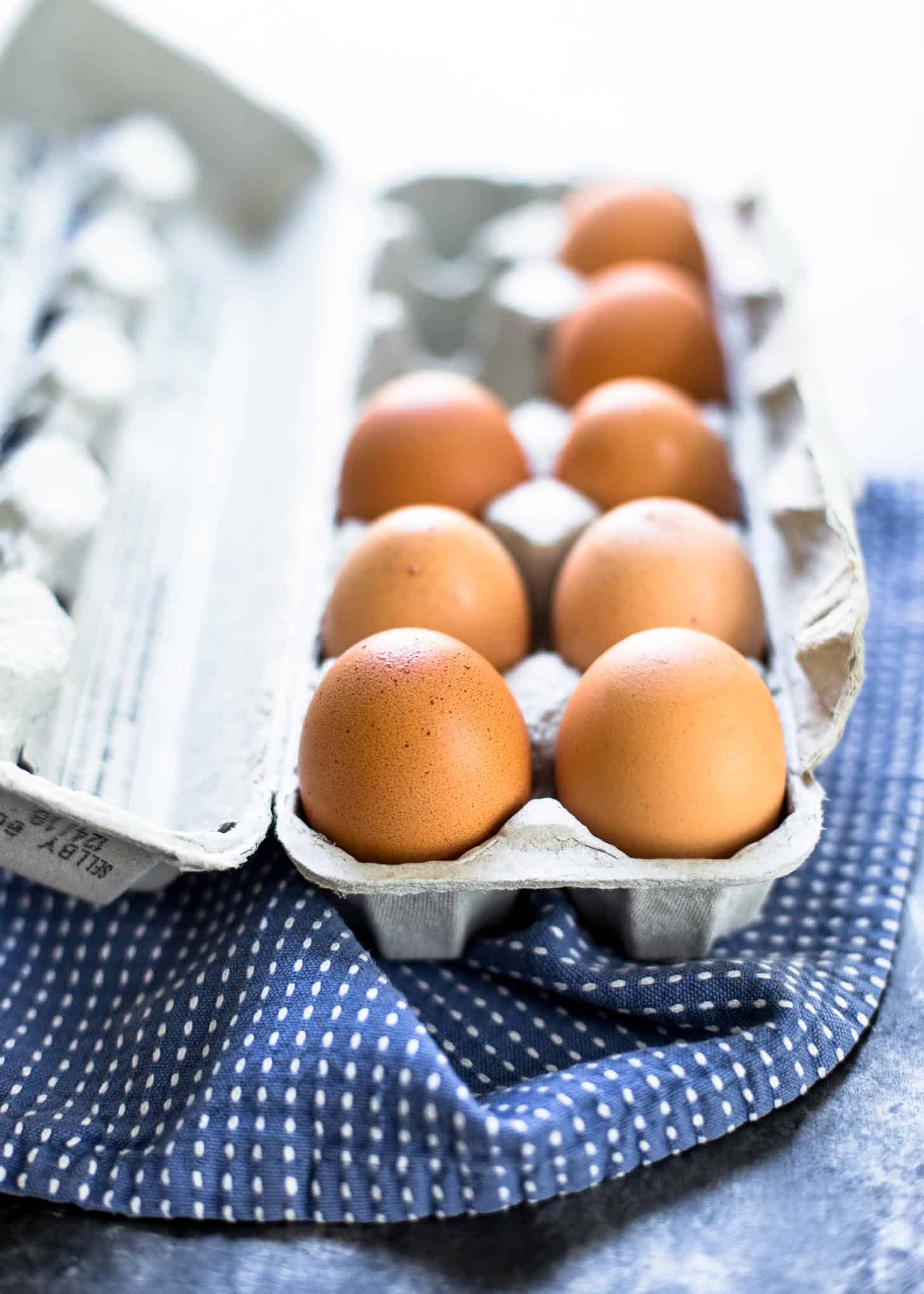 We are settled into our new house and loving it. We decided to knock out a master bathroom renovation which wraps up this week. It's been exciting (and SO noisy / dusty) making a few changes to the new house to make it really feel like ours, but we'll be glad to have home improvement tasks behind us for the rest of the summer. I'm hoping to do a home tour for the blog in the coming weeks for those of you that like that sort of thing!
Egg in a Hole
So about this Egg in a Hole. Do you call it that? I've heard them referred to as Toad in a Hole. My grandpa and dad always called this Gashouse Eggs which has a certain 1950s-roadtrip charm to it.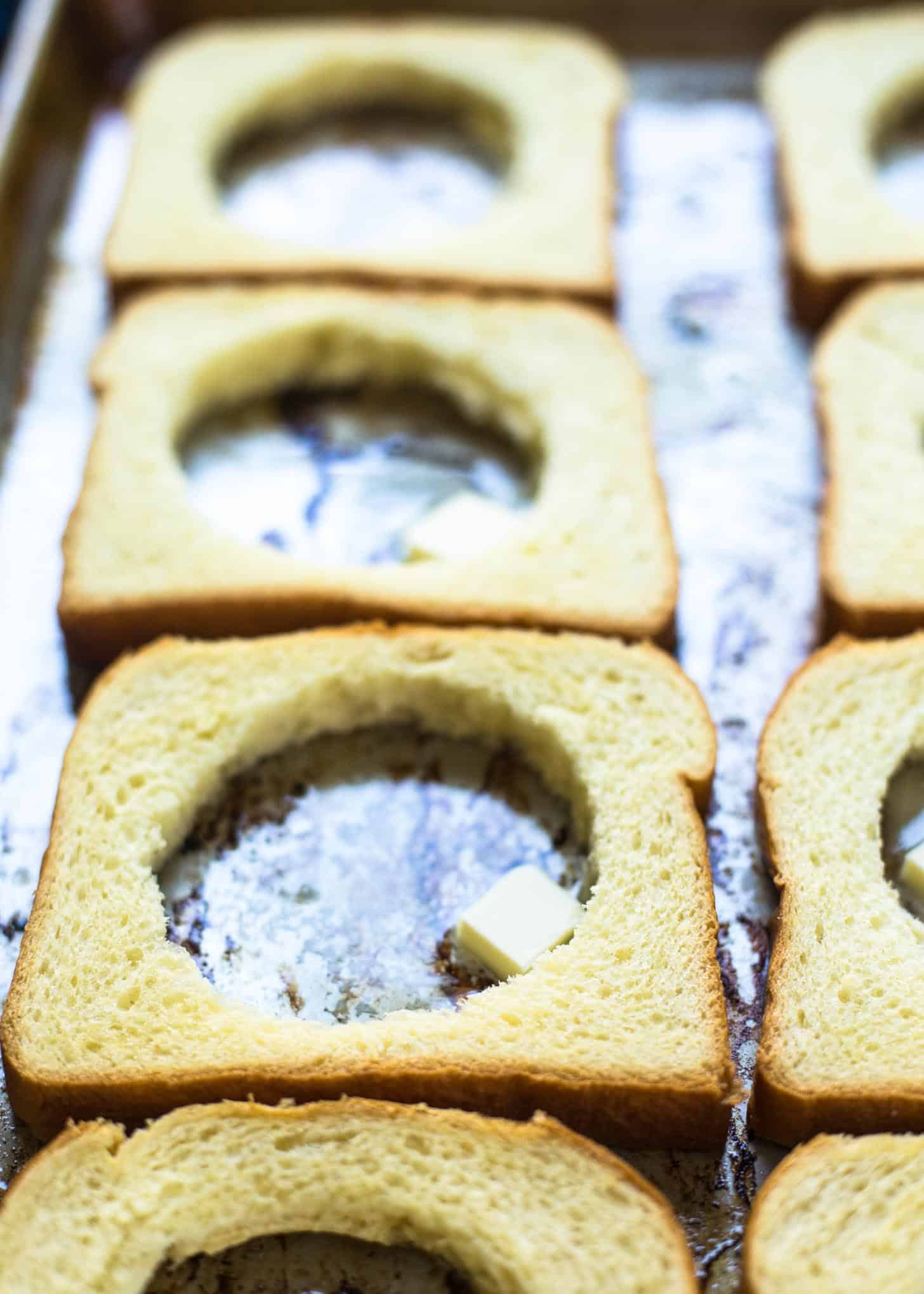 This recipe came about largely because this dish is one of our favorite weekend breakfasts. Frank and I have always been eggs + toast people on the weekends, but we got on an Egg in a Hole kick about a year ago and have never looked back. The only problem is that it's hard to cook this dish for more than two people at a time. Usually we make it on a griddle on the stove, but it's hard to track the cooking progress on more than four eggs.
Baking solves that problem!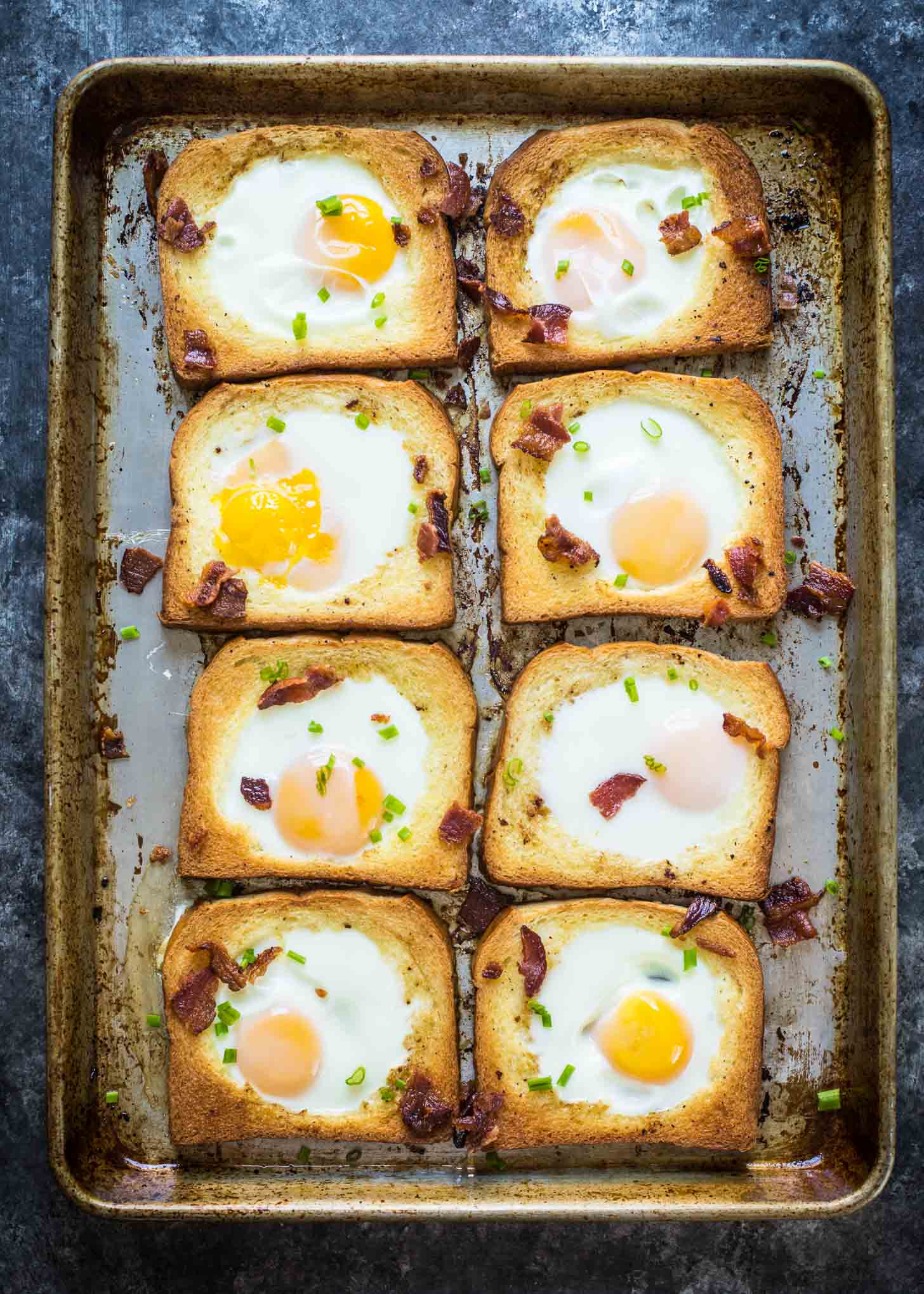 There's something so simple and delicious about a perfectly cooked egg tucked inside a hole cut out of a piece of bread. The bread gets golden brown and crisp. In my version, the bread is toasted in a big of bacon grease which….need I even tell you how delicious that is? The whites are evenly cooked to firm while the yolks are slightly runny. Best of all, you get all these little toast rounds to use for dipping in the yolks or slathering with jam. Or giving to your children…because they always want the toast rounds (Molly and Clara call them "baby toast").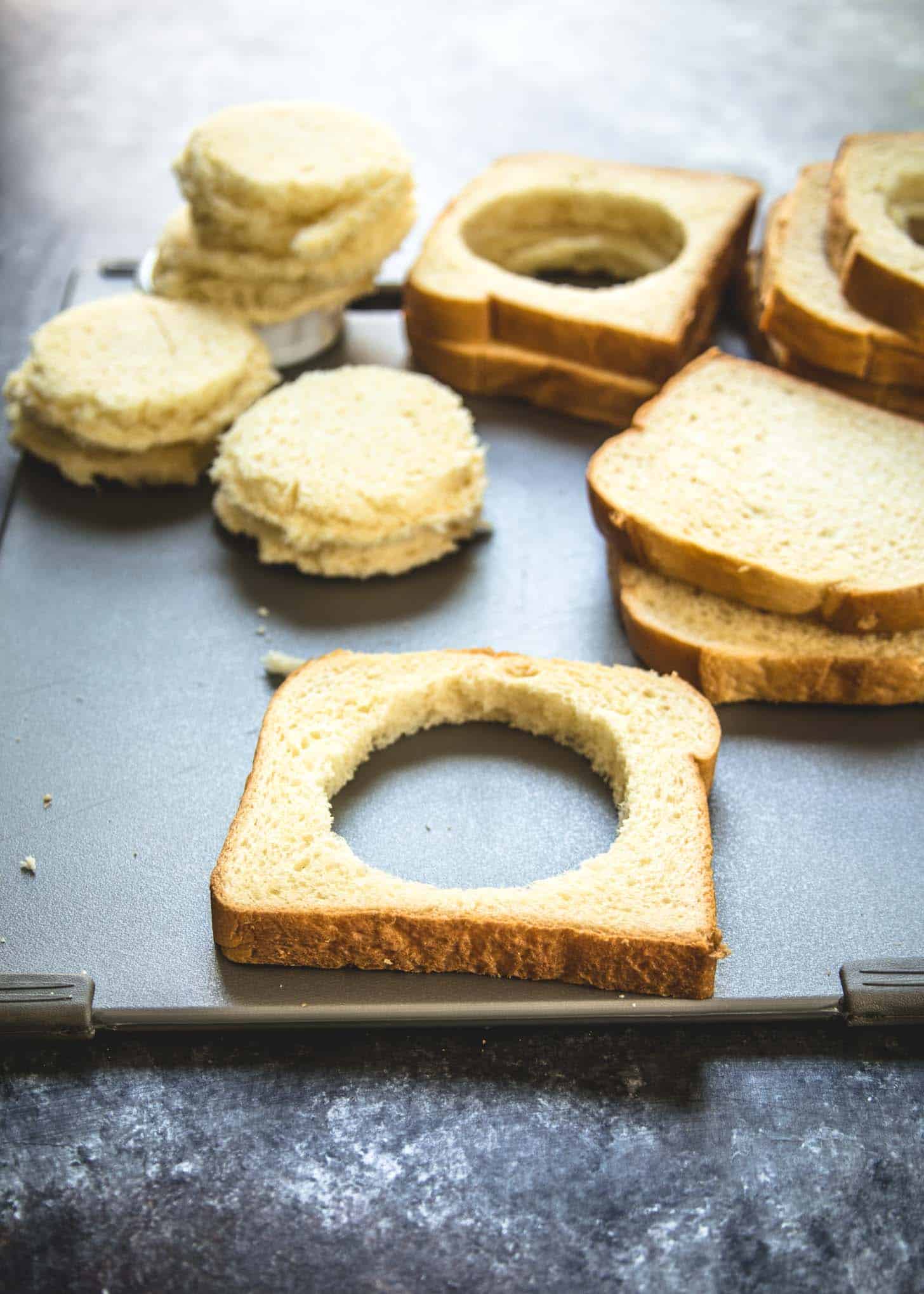 In addition to the ease of baking in the oven, one thing that puts this version of Egg in a Hole over the top is the use of brioche for the bread. You can absolutely use any type of bread, but I'm telling you that brioche is the way to go. Brioche is that buttery, slightly sweet baked loaf that tastes like heaven. I've noticed pre-sliced loaves of brioche popping up at the grocery store. (Trader Joe's has a really good version.) I can hardly walk past a grocery store bakery without grabbing a loaf of brioche, but I'm always looking for new ways to use it.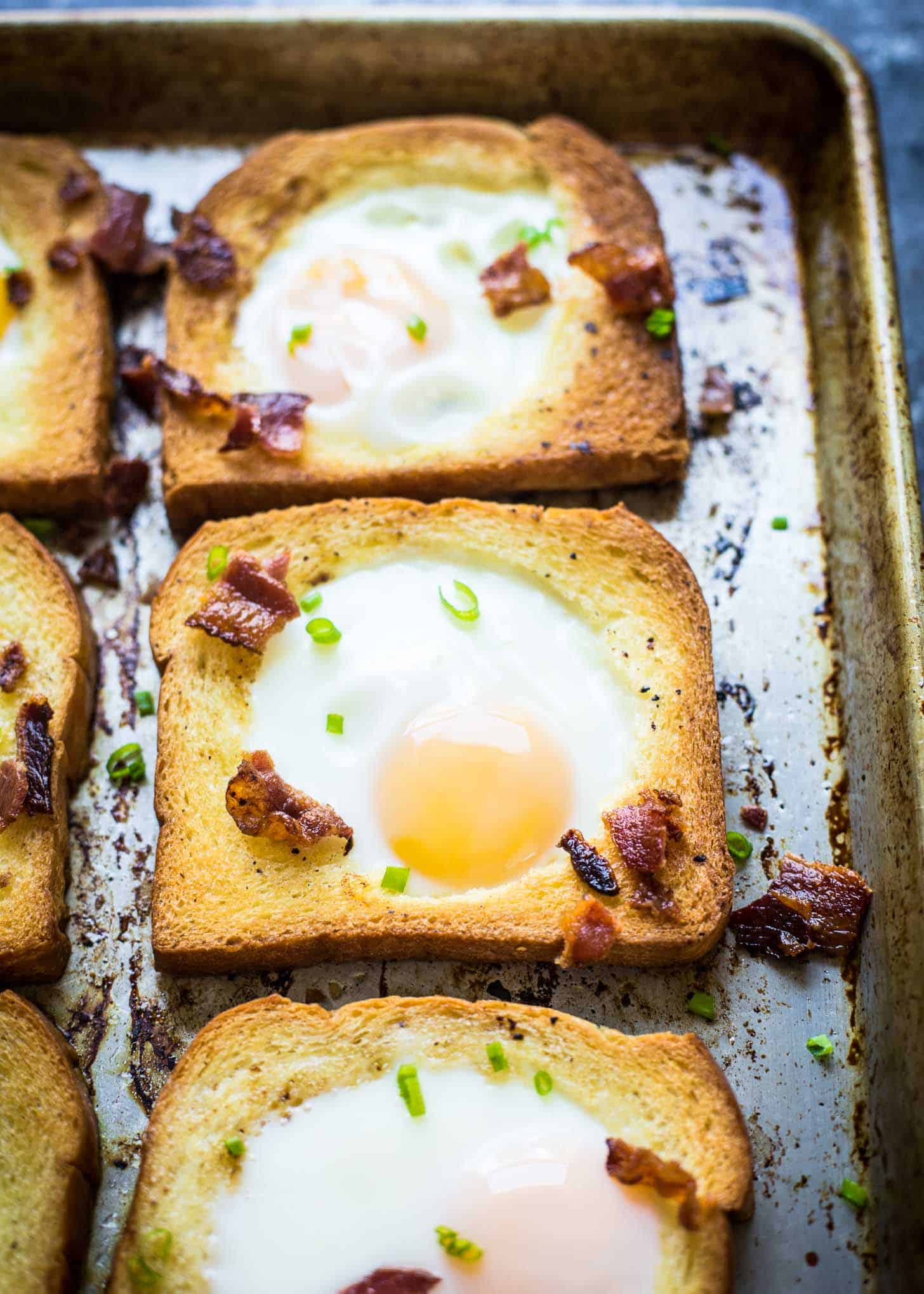 For the record, brioche also makes amazing Crispy Baked Cinnamon French Toast Sticks.
This Egg in a Hole is:
Fast
Easy to make for a crowd
Baked in the same pan as bacon (who doesn't love bacon!?)
Simple (uses a couple ingredients you probably already have)
Anyone have another name for this dish? I think there are many!
Some Fun Breakfast Ideas
Favorite Tools
Aluminum Foil
Biscuit Cutter or Small Jar or Drinking Glass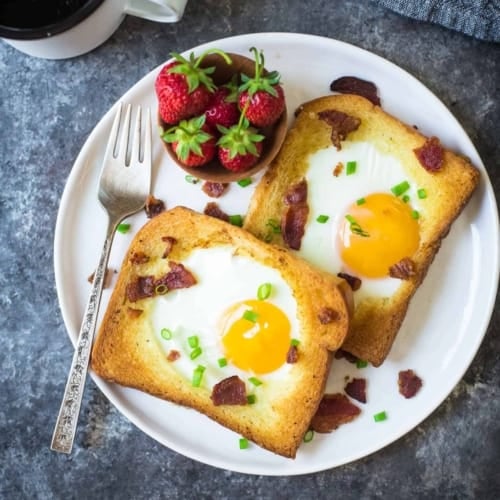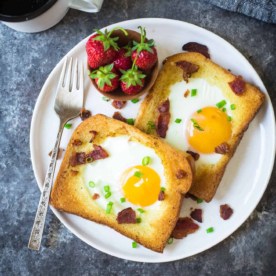 Brioche Baked Egg in a Hole
Egg in a Hole is a classic diner dish that can be easily scaled up for a crowd using this baked version. Take it to the next level with bacon and buttery brioche bread!
Equipment
sheet pan

aluminum foil

Biscuit Cutter, Small Jar or Drinking Glass
Ingredients
4

slices

Bacon

8

slices

Thick-cut Brioche Bread

(sub any sandwich bread)

2

Tbsp

Butter

8

Eggs

Chopped chives or parsley, for topping

(optional)
Instructions
Preheat oven to 425 degrees F.

Line a large sheet pan with foil (to prevent sticking). (Note: the sheet pan should be large enough to hold all of the bread in a single layer; use two pans if needed.)

Place bacon in a single layer on pan and bake until bacon is crisp, flipping halfway through cooking, about 12 to 18 minutes total (depending on the thickness of the bacon). Transfer to a paper-towel lined plate and allow to cool.

While bacon is cooking, use a 3-inch biscuit cutter (or the top of a small jar or drinking glass) to cut a circle in each slice of bread.

Drain off as much bacon fat from the sheet pan as possible. Place the bread in a single layer on the pan. Place a small piece of butter in the circle in each slice of bread. Bake for 5 minutes and then flip the bread slices.

Crack eggs into the circles.

Return to oven and bake until egg whites have set but the yolks are still soft, 10 to 12 minutes.

Top eggs with crumbled bacon and chives. Season with salt and pepper. Serve immediately.
Notes
If you prefer, you can cook and crumble the bacon ahead of time (use the oven method listed above or fry on the stovetop). Just add some cooking spray or a bit more butter when you bake the eggs / bread since the bacon fat won't be there to prevent sticking.
Nutrition
Serving:
2
g
|
Calories:
518
kcal
|
Carbohydrates:
33
g
|
Protein:
22
g
|
Fat:
33
g
|
Saturated Fat:
15
g
|
Cholesterol:
462
mg
|
Sodium:
591
mg
|
Potassium:
165
mg
|
Sugar:
1
g
|
Vitamin A:
1075
IU
|
Calcium:
89
mg
|
Iron:
2
mg
Nutrition information is automatically calculated, so should only be used as an approximation.
The crib is all ready for Baby Girl #3. As long as we can get Molly and Clara out of there by the time she needs to sleep in it.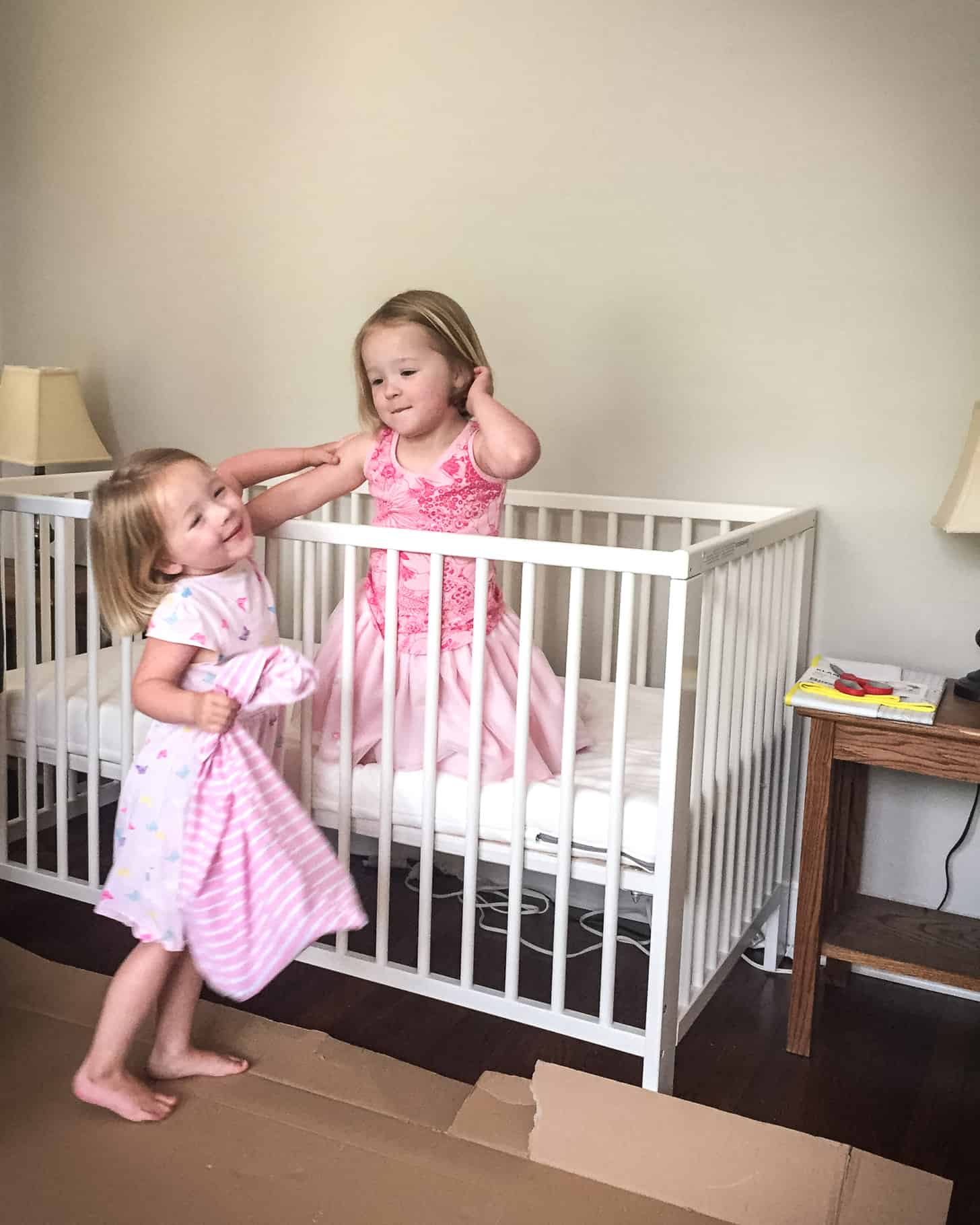 *This post contains affiliate links*
SaveSave