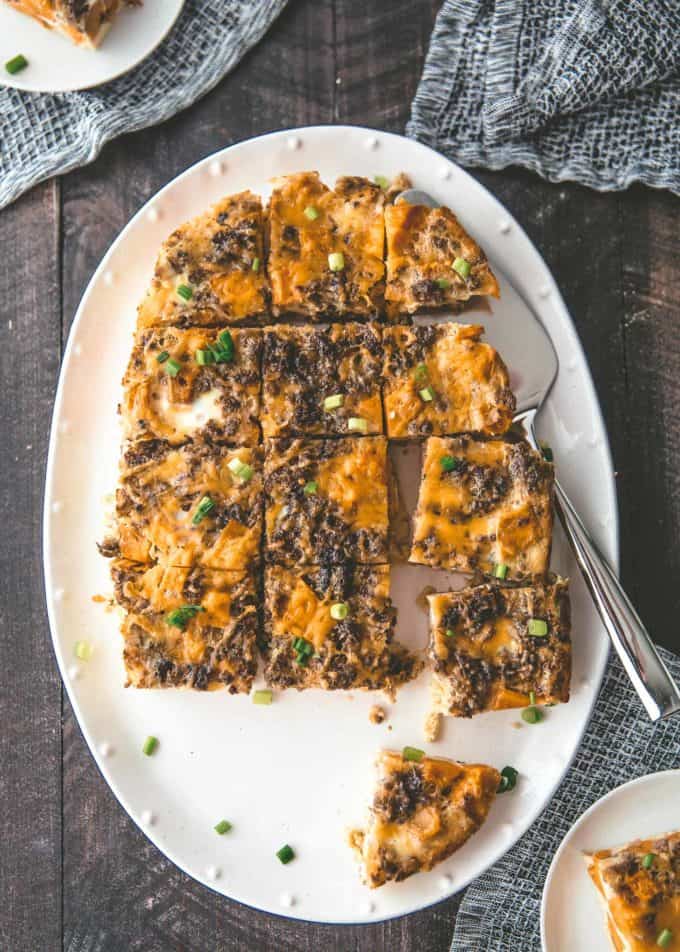 This classic breakfast casserole is filled with eggs, sausage, sweet potatoes, and cheese and can be made in the slow cooker! It's low carb and keto-friendly. Prepare it at night to serve first thing in the morning (or prepare first thing in the morning to serve for brunch or lunch).
The original Slow Cooker Breakfast Casserole became an instant classic around our house. We took it to work, served it to friends, and made it just for fun. But then we wanted a low carb version that was a bit lighter and could work for weekday mornings. This low carb version even feels like it would make a great dinner. It's a bit savory and would be great with a simple green salad on the side.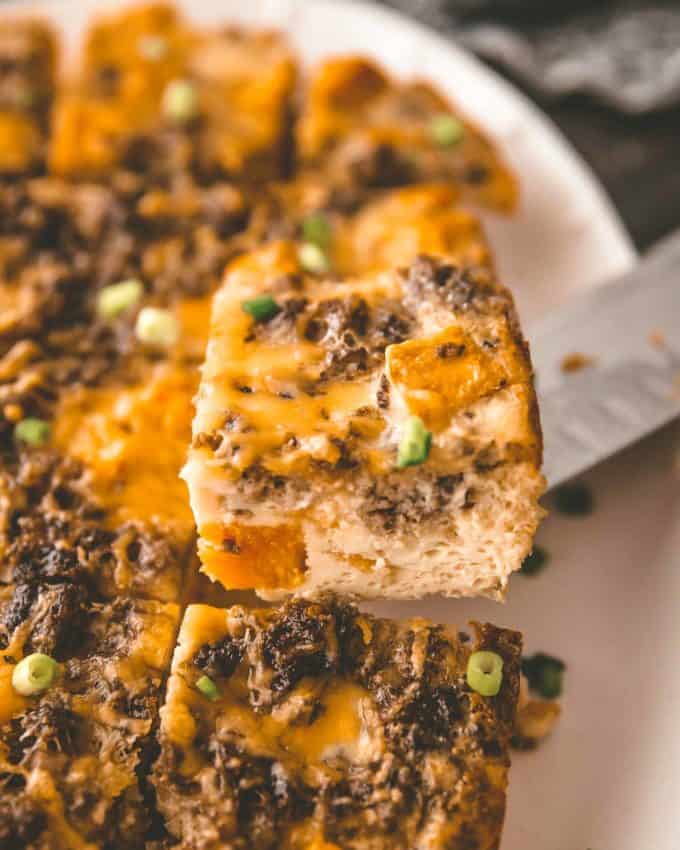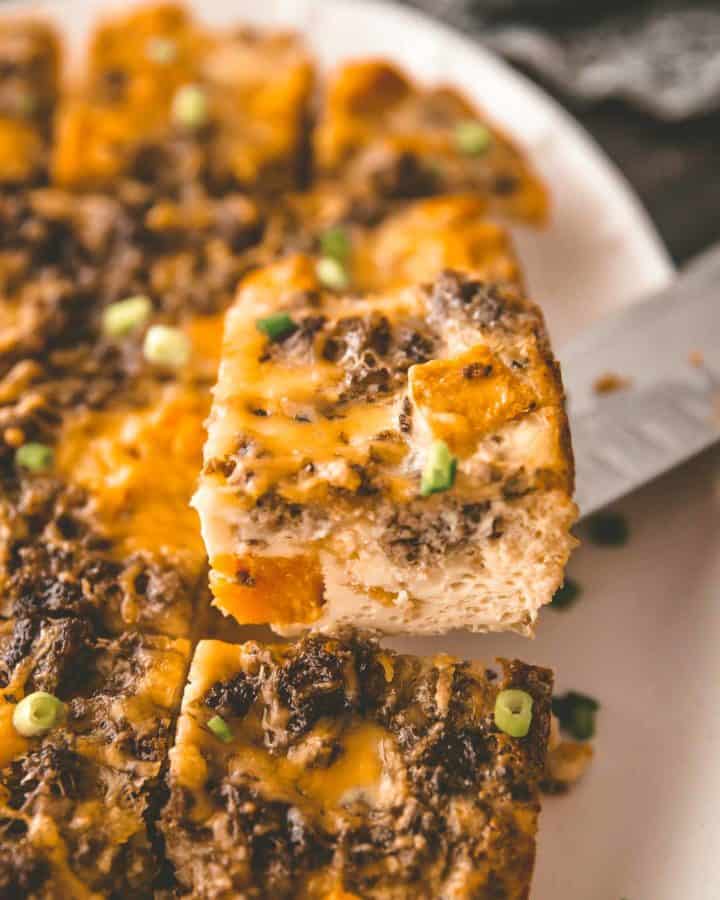 Why Make Breakfast Casserole in the Slow Cooker?
The low temperature of the slow cooker helps to keep the eggs in this casserole from over-cooking. They get a tender, almost custard-like texture that balances well with the savory sausage and the tender sweet potatoes.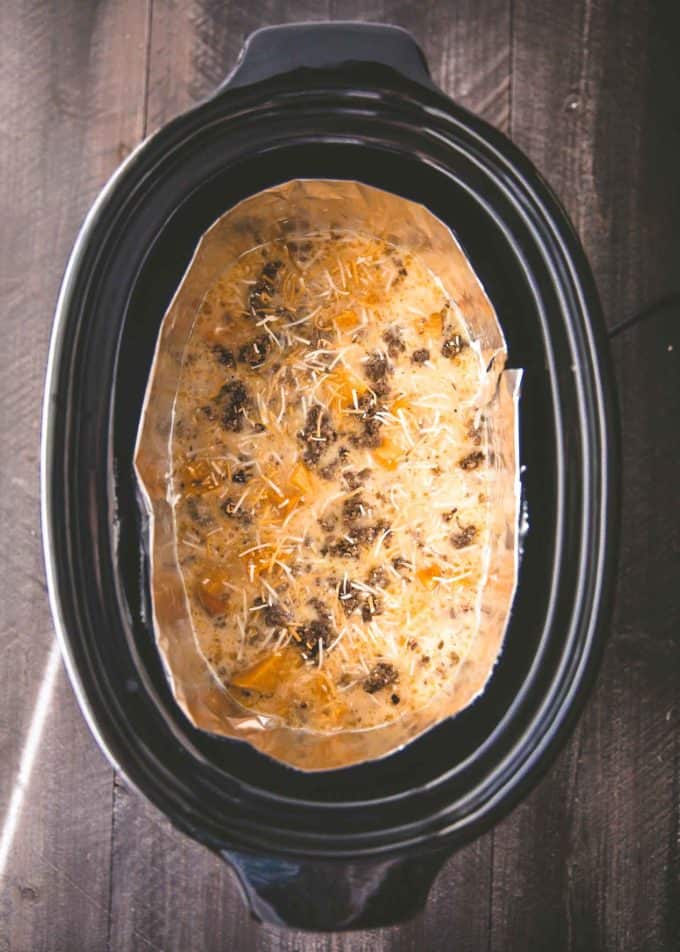 Ingredients
Butter - Use softened butter rubbed on the inside of the slow cooker to prevent sticking.
Breakfast Sausage - Be sure to grab either mild or spicy breakfast sausage, depending on your spice preference.
Sweet Potatoes - These add a great flavor to the casserole. Steam them in the microwave first to be sure they are nice and tender in the finished dish.
Eggs - Use large eggs for the protein-packed base of the casserole.
Milk - Any type of milk will work. 2% or whole milk will give the dish a slightly richer flavor and creamier texture. Even an alternative milk like almond should be fine (though we didn't test it this way).
Cheese - White or yellow cheddar is classic, but any type of cheese you'd like works well. Gruyere, fontina, goat cheese, or feta would be great. You can use pre-shredded cheese here to save time.
Salt and Pepper - Don't forget the salt and pepper - eggs taste bland without them!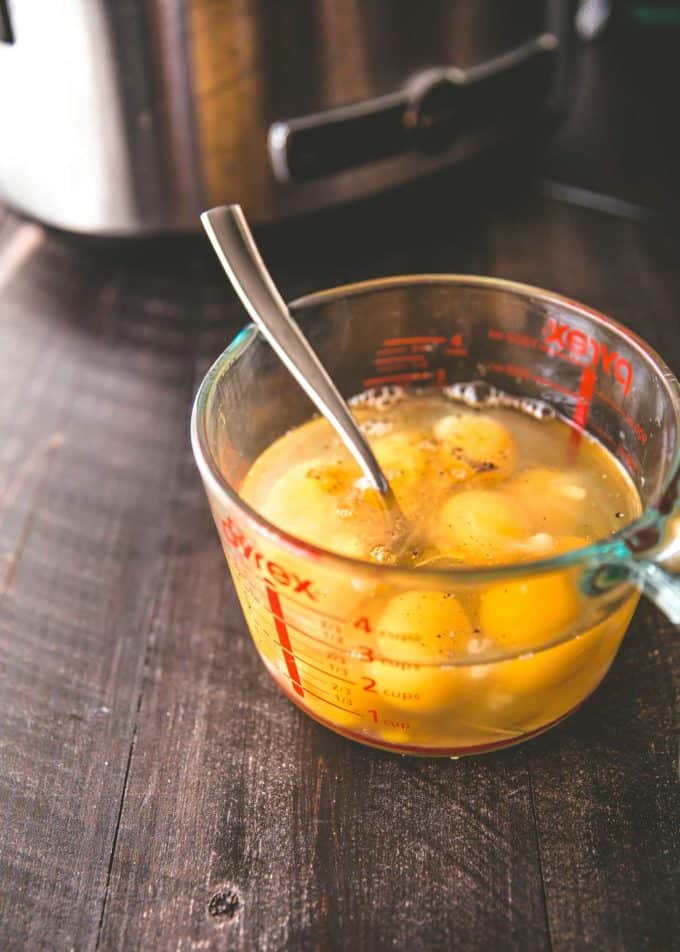 How to Make Slow Cooker Breakfast Casserole
Prepare a 6-Quart Slow Cooker. Line the slow cooker with a foil collar. (See below for details.) Rub the inside of the foil collar and bottom of the slow cooker with softened butter to prevent sticking.
Brown Sausage. Brown the breakfast sausage in a skillet and then transfer to a paper towel-lined plate to drain.
Steam Sweet Potatoes. The sweet potatoes will need a bit of a head start so they come out tender in the finished casserole. To do this, place them in a microwave-safe bowl with some water. Cover with a paper towel and microwave on high until potatoes are tender, ~3 minutes.
Combine Everything. Place sweet potatoes and sausage in the slow cooker. Mix together eggs, milk, salt, black pepper, and cheese. Pour the liquids into the slow cooker.
Add Paper Towel Layer. Place a double layer of paper towels on top of the slow cooker and then add the lid. The paper towels will prevent moisture from dripping down on the casserole and making it soggy.
Cook. Slow cook on high for 2 hours. In this time the eggs will firm up. Then the slow cooker can be left on the warm setting for up to 6 hours more. (Great if you want to prepare this at night and have it ready in the morning.)
Slice and serve!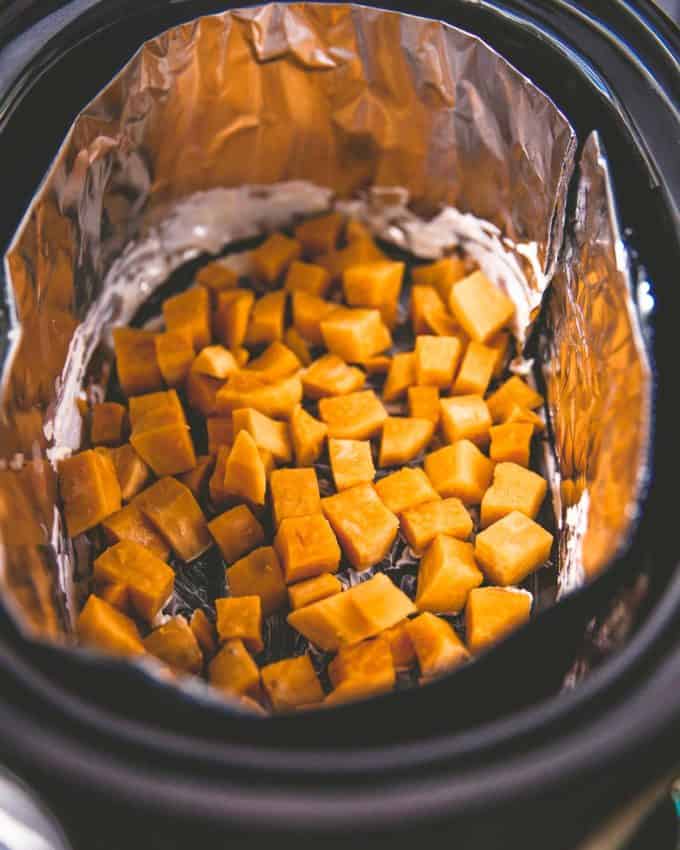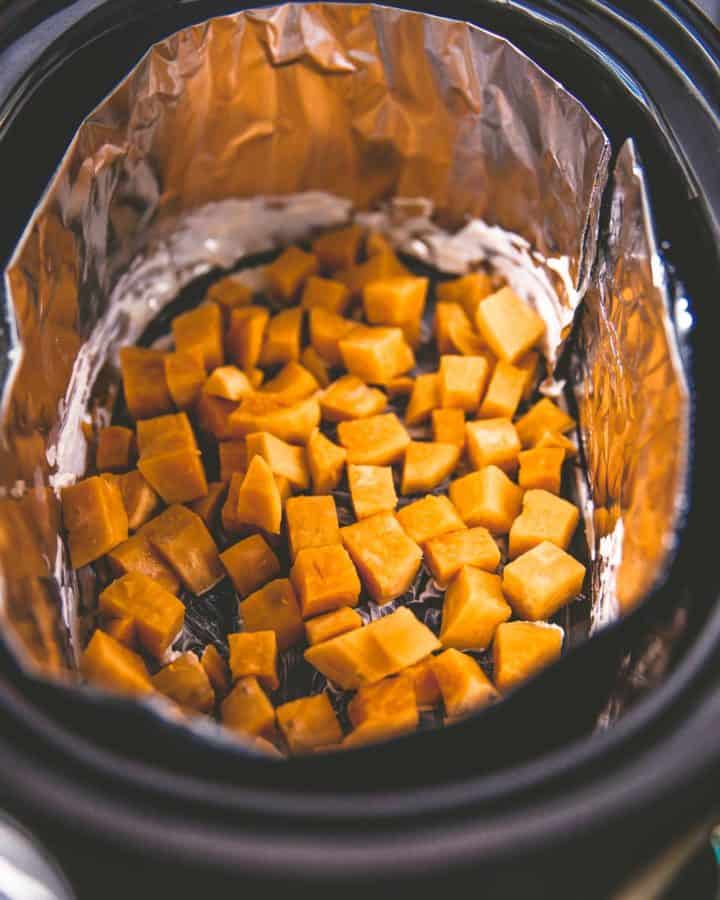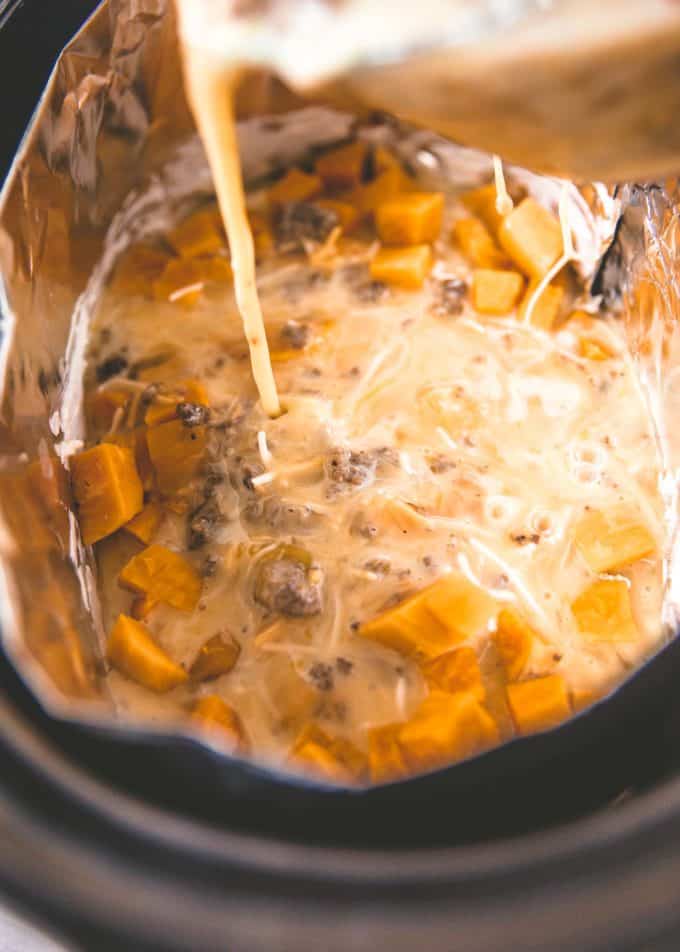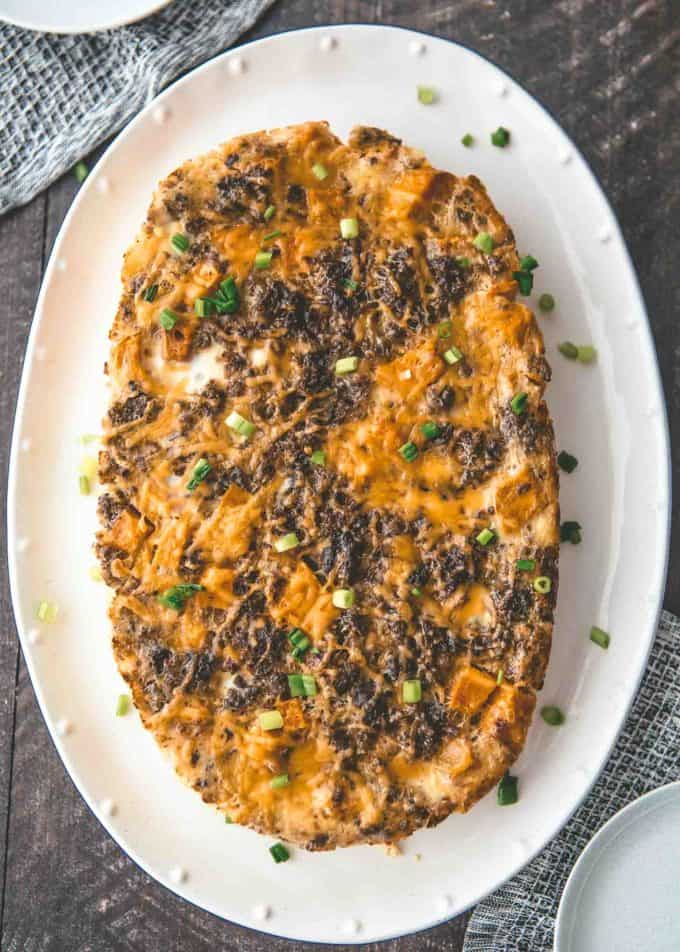 How (and why) Make a Foil Collar for the Slow Cooker
The challenge with baking right inside the bowl of the slow cooker is that most slow cookers get very hot on the side that's closest to the heating element. The fix is easy. A layer of foil between the food and the heat helps to insulate it from the high heat.
To make a foil collar, take a sheet of foil that is long enough to wrap around the inside of the machine and fold it into thirds. Place it inside the slow cooker and assemble the casserole inside the foil. This will prevent the sides of the casserole from burning and will also make it easier to remove the casserole when it's done cooking.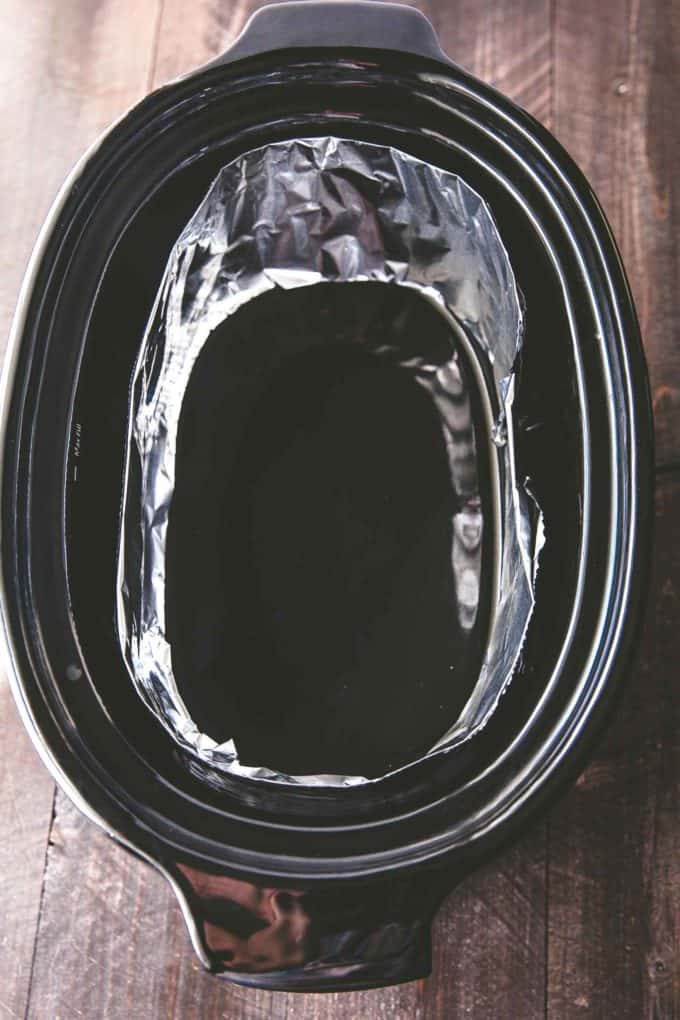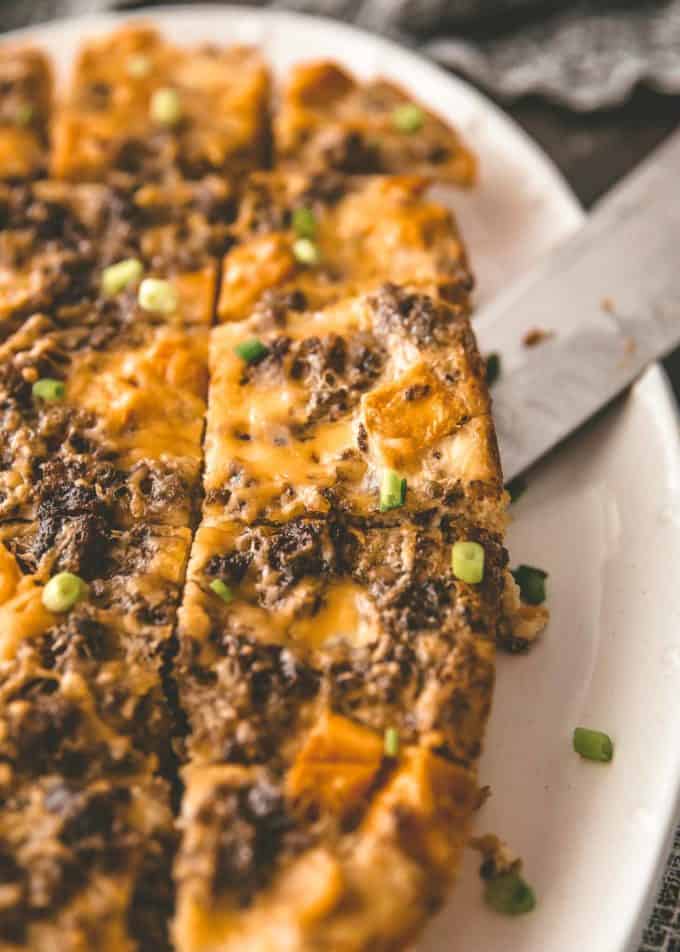 More Breakfast Casseroles
Slow Cooker Breakfast Casserole -

This alternative version of a breakfast casserole uses sliced bagels as a base.

Spicy Breakfast Strata

- Chorizo gives this baked breakfast casserole with eggs and bread cubes a spicy kick.

Bagel and Egg Breakfast Bake

- This breakfast casserole is like a bagel and lox breakfast using a casserole instead of whole bagels. The recipe includes whipped scallion cream cheese (so easy to make!) and is great with lox and capers.
Favorite Tools
KitchenAid Slow Cooker

- This recipe should be made in a 6-quart Slow Cooker (this is a link to the I have and love).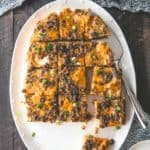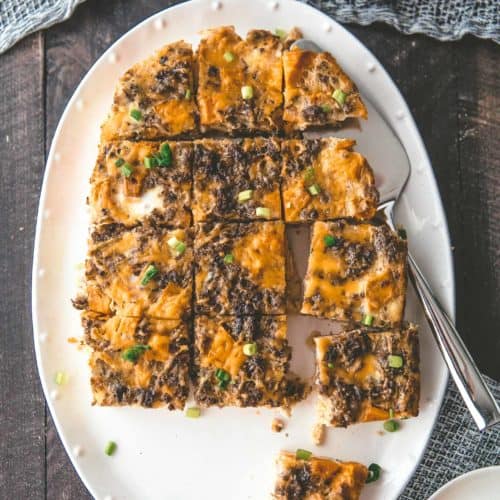 Print Recipe
Slow Cooker Breakfast Casserole with Sausage and Cheese
This classic breakfast casserole with eggs, sausage, and cheese has the addition of sweet potatoes for substance and flavor. It's low carb and keto-friendly. And can be prepared at night and left in the slow cooker to serve first thing in the morning.
This recipe requires a 6-quart slow cooker.
Ingredients
2

tablespoon

Butter, softened

8

oz

Breakfast Sausage

(loose sausage from the deli counter or sold in a roll)

1

lb

Sweet Potatoes, peeled and cubed

12

Eggs

1

cup

Milk

(any type)

¾

teaspoon

Salt

¼

teaspoon

Black Pepper

4

oz

Shredded Mild Cheddar Cheese
Instructions
Prepare a 6-quart slow cooker with a foil collar. Do this by folding a sheet of foil in thirds and wrapping it all the way around the inside of the bowl of the slow cooker. (This is where the heating element is on most slow cookers, so this extra layer will prevent the casserole from overcooking.)

Rub the bottom of the slow cooker and the inside of the foil collar with softened butter.

In a large skillet over medium heat, saute the breakfast sausage until cooked through and browned, 5 to 7 minutes.

Transfer the cooked sausage to a paper towel-lined plate to let it drain.

Place sweet potatoes in a microwave-safe bowl. Add 1 tablespoon water and cover bowl with a damp paper towel and microwave on high until sweet potatoes are tender, about 3 minutes.

Spread sausage and sweet potatoes out in the bottom of the slow cooker.

Whisk together eggs, milk, salt, and black pepper. Add cheese and stir to combine.

Pour egg / cheese mixture over sweet potatoes and sausage.

Place two layers of paper towels underneath the slow cooker lid before you close the slow cooker. (The paper towels will absorb moisture that collects on the lid, preventing it from dripping down onto the casserole and making it seem soggy at the end of cooking.)

Cook on high for 2 hours. Serve immediately or let the slow cooker switch to warm for up to 6 hours. (Note: This is to allow you to let it sit overnight. Check the manual of your slow cooker to be sure that the warm function will stay on for the full 6 hours so it stays warm until morning.)

Turn the casserole out onto a cutting board. Transfer to a serving platter.

Slice and serve. (It's great with some hot sauce, if you like that sort of thing.)
Nutrition
Calories:
326
kcal
|
Carbohydrates:
14
g
|
Protein:
18
g
|
Fat:
22
g
|
Saturated Fat:
10
g
|
Cholesterol:
291
mg
|
Sodium:
650
mg
|
Potassium:
408
mg
|
Fiber:
2
g
|
Sugar:
4
g
|
Vitamin A:
8681
IU
|
Vitamin C:
2
mg
|
Calcium:
194
mg
|
Iron:
2
mg