Thai-style satay spices are used to marinate salmon for this versatile Thai-Style Salmon Satay with Peanut Sauce. Serve with peanut sauce on the side for an extra flavorful addition.
The longer I live in Thailand the more I realize how much I have to learn. It's the ironic plight of expats - the longer you live in a place, the more aware you become of how much there still is to know.
Fortunately, this is a nation of people who are very patient and exceedingly kind. After two and a half years, a discussion with my Thai language teacher made me realize that the way I was saying that I didn't want plastic bags at my grocery store check-out really wasn't all that polite. In fact, he said, it sounded very strange. For 30 months, at least twice a week, I've been saying it wrong.
So I did what any hapless, determined expat does in these situations and soldiered on. I adapted, and I've been getting bigger smiles than usual when I buy my bags full of mangos and cereal and assorted basil.
(And really, despite my language issues, between the blog and the amount of cooking I do just for Frank and I, that grocery store should name a wing after me.)
The same goes for the food of Thailand. The more I taste, the more I realize how many foods and flavors I still don't know. At lunch, I walk out into the wonderland of street vendors and roadside cafés and people toting bright, saucy things in plastic bags (always in a plastic bag) and want to taste it all.
But just like language, food is filtered through the lens of my cultural roots, and I can never hope to get it all right. This is actually a rather liberating thought. I worry less about getting it *just* right, and let all this great inspiration around me lead wherever it may.
This week that was in the direction of salmon satay.
Satay, you may already know, is a Southeast Asian style of grilled protein, coated in a mixture of spices, served on a stick. Thai satay includes turmeric to give it a bright yellow hue. Chicken satay was a favorite of mine long before I had any clue I would live in Thailand. But it's not just the smoky, well-seasoned skewers that are so good. It's that peanut sauce on the side that no one can ever seem to get enough of. Peanut sauce may be the number one request I hear from tourists in restaurants around Thailand, but it's not terribly common. The one way to be sure you'll get it is to order satay.
This satay and peanut sauce combination goes so well with salmon that it's great all on its own. I also love it over ramen noodles (I made a simplified version of Ginger Scallion Noodles, and piled the salmon right on top.)
Adaptation can be a very good thing.
More Thai Recipes
Favorite Tools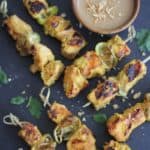 Print Recipe
Thai-Style Salmon Satay
Thai-style satay spices are used to marinate salmon for this versatile grilled dish. Serve with peanut sauce on the side for dipping!
Equipment
Bamboo Skewers

Grill or Grill Pan

Grater or Microplane
Ingredients
1

stalk

Lemongrass, outer leaves, base and top stalk discarded

2

1" pieces

Fresh Turmeric, peeled

(or substitute 2 tsp. ground dried turmeric and 1 teaspoon warm water)

1

teaspoon

fresh Grated Ginger

1

teaspoon

minced Fresh Lime Zest

½

teaspoon

Ground Goriander

1

teaspoon

Light Brown Sugar

3

tablespoon

Light Coconut Milk

1

tablespoon

Soy Sauce

1

tablespoon

finely chopped Roasted Peanuts

(use Tamari for gluten free)

1 ½

lb

Fresh Salmon, cut into 1-inch cubes

1

Lime, thinly sliced
Instructions
Using the finest slats of a grater (I use a Microplane), grate the lemongrass, turmeric, and ginger into a mixing bowl. Add the lime zest, cumin, brown sugar, coconut milk, soy sauce and peanuts and whisk to combine. Add the salmon cubes to the bowl, stirring to coat in marinade and refrigerate for 30 minutes.

Prepare a grill (or a grill pan on the stove) over medium heat. Thread the salmon and lime slices evenly onto bamboo skewers. Grill until fish is opaque in the center, turning halfway through cooking, 5-8 minutes.

Serve with peanut dipping sauce (below).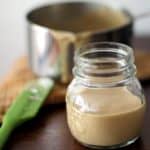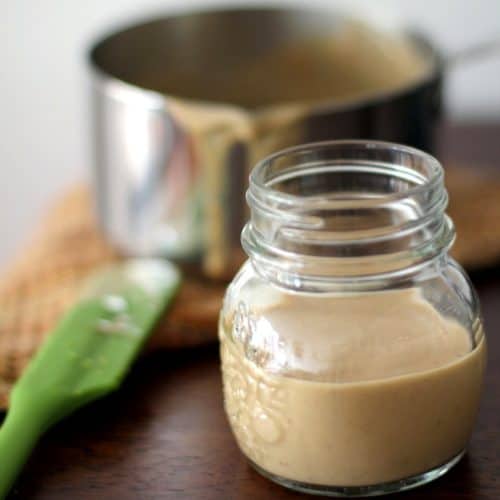 Print Recipe
Thai Peanut Dipping Sauce
Serve this slightly sweet and subtly spicy Thai-inspired dipping sauce with spring rolls, grilled meat, over noodles, or just about anything!
Ingredients
1

cup

Light coconut milk

(235 mL)

⅓

cup

Natural Creamy Peanut Butter

2

teaspoon

Light Brown Sugar

1

tablespoon

Soy Sauce

(use Tamari for gluten free)

1

teaspoon

Sriracha

(Asian chili sauce - use more or less, to taste)
Instructions
Pour coconut milk into a small saucepan over medium heat. When the coconut milk begins to boil, reduce heat and whisk in remaining ingredients. Simmer for 5 minutes, until thickens slightly. Remove from heat. Serve immediately or refrigerate until ready to serve.
*This post contains affiliate links*