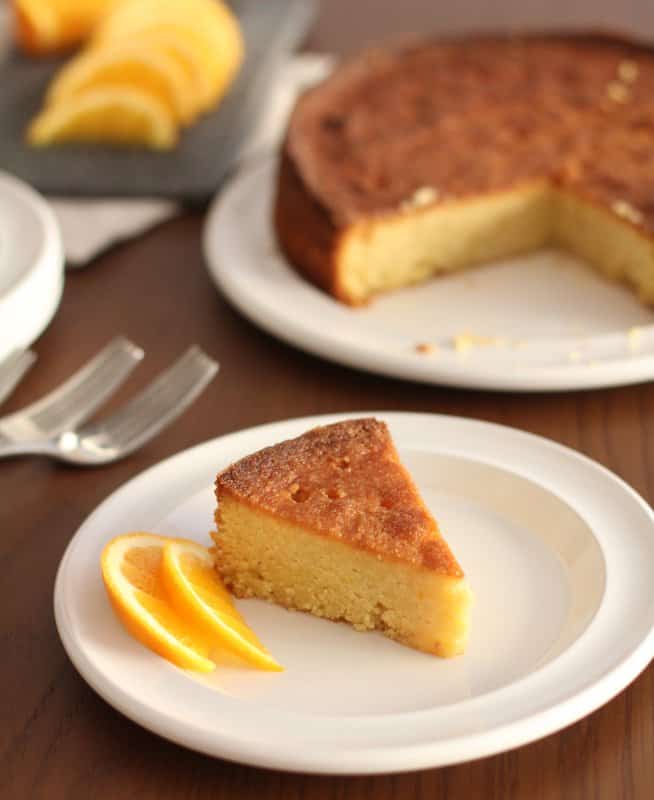 Orange and Honey Polenta Cake is a fragrant and sticky cake made with almond flour, polenta, and cardamom and drizzled with citrus syrup while still warm. It is gluten free. I was inspired to make this polenta cake when dreaming of trips to India, so it is no surprise that it is perfect alongside a cup of tea.
Date Night Inspiration
Every Wednesday since the year before our wedding, Frank and I have a date-night. Except in the cases of soak-you-to-the-bone rainstorms or illness, we go out for dinner on those nights. And on those Wednesday nights, over fragrant Szechuan, spicy Thai salads, or plates of tapas, we hit pause on the week and do some of our best catching-up.
Sometimes, of course, we gripe about work or the mini-dramas of life abroad, but most often on our date nights we talk about the big things. The important things. It's our time for reflecting and dreaming. Often, our talk turns to travel. We talk about parts of the world we haven't seen and places we long to visit. We recall our recent trip to India, or the last-minute beach getaway we had last fall. On occasion we talk about our shared love of Istanbul - a place we've both visited, although never together.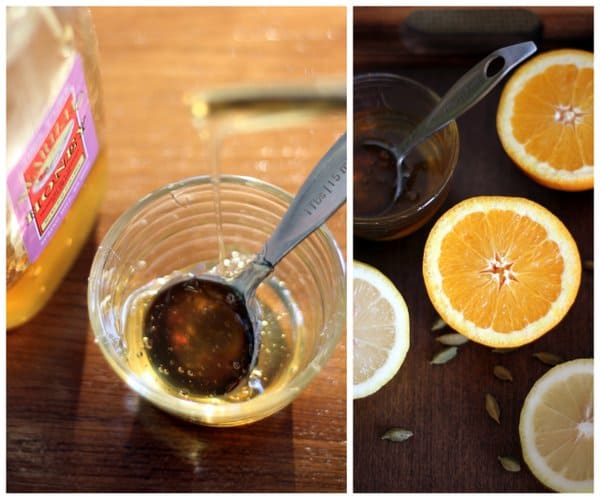 This Wednesday we lost ourselves in the act of traveling the world with words - planning trips that may or may not ever become reality. We put ourselves in a cabin in a cool, dewy forest or in a city room with windows open to the call to prayer.
Inspired by Memories of India
This Wednesday we talked too about the quiet mornings we spent on the top of the world in India. There were no locks on the doors and no clocks to tell time by when we stayed at Glenburn tea plantation in Northern India. We woke with the sun (with the exception of the day we woke to a knock on our door and an excited groundsman who did not want us to miss the sunrise view of the world's third tallest mountain). In India, before breakfast, and before dinner, we were served tea and a tiny plate of snacks. Perhaps it was because the snacks came in such small bites - just enough to incite hunger for the next meal - or perhaps they were just well-suited to the time of day and tea, but those nibbles between sips of tea were magnificent. Most were slightly sweet, but sometimes they were savory - tiny samosas or spinach fritters. I loved the buttery cookies they served us occasionally first thing in the morning.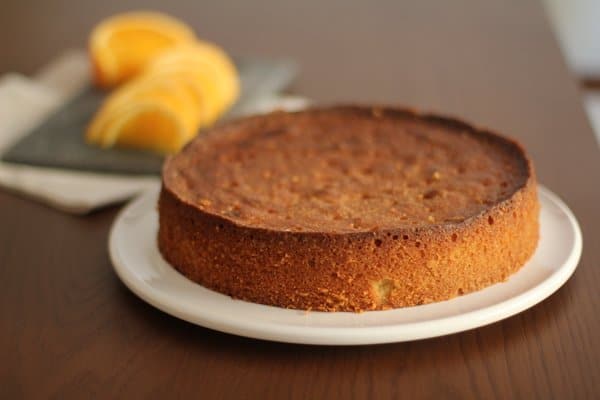 In my most essential nature, I am a homebody. I like the comfort of home and the sustaining feel of preparing meals in my kitchen and taking care of our small space. But travel inspires me, and makes me understand myself and our world much more deeply than I ever could from one spot.
Last night I found myself caught up in the magic of our Wednesday-night musings. I was glad to be home, but still somehow wished I could be served tea while looking out my window at Mt. Kangchenjunga.
The only solution was to bake a cake. A polenta cake that was destined to be served in small slices, preferably alongside a cup of hot tea. I sat at the window today, breathing deep of the cardamom, orange, and honey that define this moist but still crumbly citrus cake, drinking tea and looking out at the world.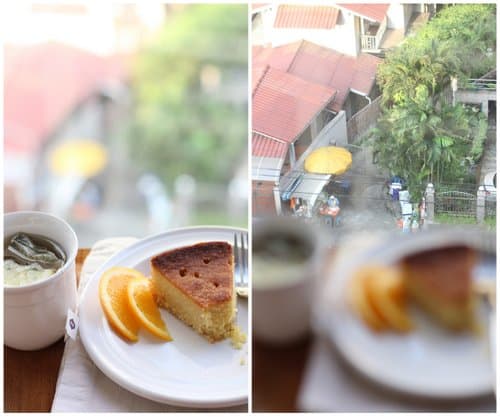 There were no mountains. But there was sound, and activity, and a sustaining sense of liveliness in a world that contains countless surprises.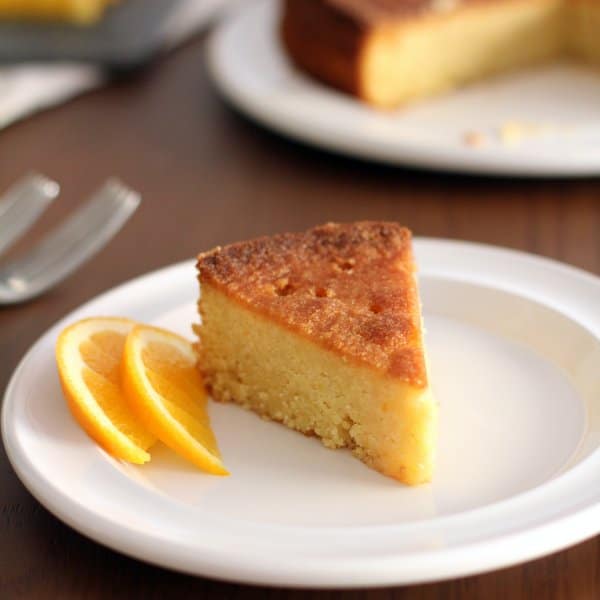 More Cake Recipes
Favorite Tools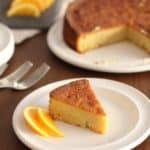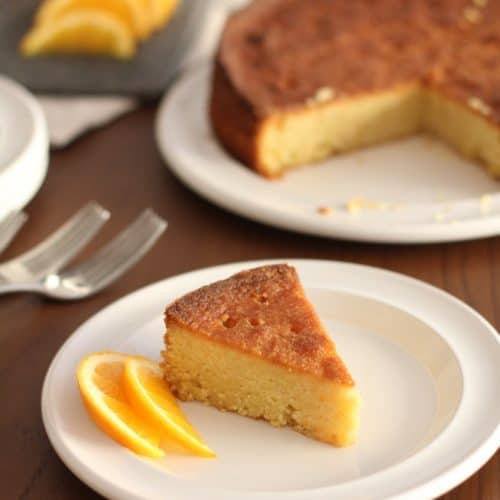 Print Recipe
Orange and Honey Polenta Cake
A fragrant, sticky cake made with almond flour, polenta, and cardamom and drizzled with citrus syrup while still warm. Perfect alongside a cup of tea.
Equipment
8-inch Cake Pan

Parchment Paper

Stand Mixer

Mixing Bowl

Saucepan
Ingredients
For the Cake:
1

cup

Butter, softened

(220 g)

1 ¼

cup

Cane Sugar

(220 g)

3

cups

Almond Flour

(300 g)

3

large

Eggs, lightly beaten

finely grated zest and juice of a large Orange

1

cup

Polenta

(150 g)

1

teaspoon

Baking Powder

½

teaspoon

Ground Cardamom

(see note)
For the Syrup:
Juice of 2 lemons, juice of 2 oranges, 4 tablespoon honey
Instructions
Grease an 8-inch cake tin with softened butter and line the bottom with parchment paper. Preheat the oven to 350 degrees F (180 degrees C).

In a standing mixer, beat the butter and sugar on high until light and fluffy. Add the almond flour to the mixer and beat on low until just combined. Remove the mixer bowl from the stand and, using a wooden spoon, gently stir the eggs and zest and juice of an orange into the batter. In a seperate small bowl, whisk together the polenta, baking powder, and ground cardamom. Fold these dry ingredients into the batter, just until combined.

Pour the batter into the lined tin and smooth the top. Bake for 30 minutes, and then reduce the oven's heat to 320 degrees F (160 degrees C) and bake for another 25 -30 minutes or until the cake is firm and deep golden brown on top.

To make the syrup, squeeze the lemon and orange juice into a stainless steel saucepan, bring to a boil and add the honey, stirring to combine. Keep the liquid boiling until it has formed a thin syrup (4-5 minutes).

Spike holes into the top of the cake (still warm and in its pan) with a skewer then spoon the hot citrus syrup evenly over the top. Leave in the pan until nearly cool, then lift out of the tin.

Serve in thick slices with thinly sliced fresh oranges.
Notes
Generously adapted from Nigel Slater's recipe in the Observer and discovered thanks to this beautiful blog post on Rachel Eats. Nigel Slater's original recipe advises that you use 12 whole cardamom pods for this recipe. Crush them and grind the extracted black seeds for a more deeply complex cardamom flavor than you will get with the pre-ground variety. Cardamom does not retain its intense flavor for as long as some spices, so I too would recommend grinding your own, although I would argue this cake is every bit worth making even if you prefer to skip that step.
SaveSave
SaveSave
SaveSave