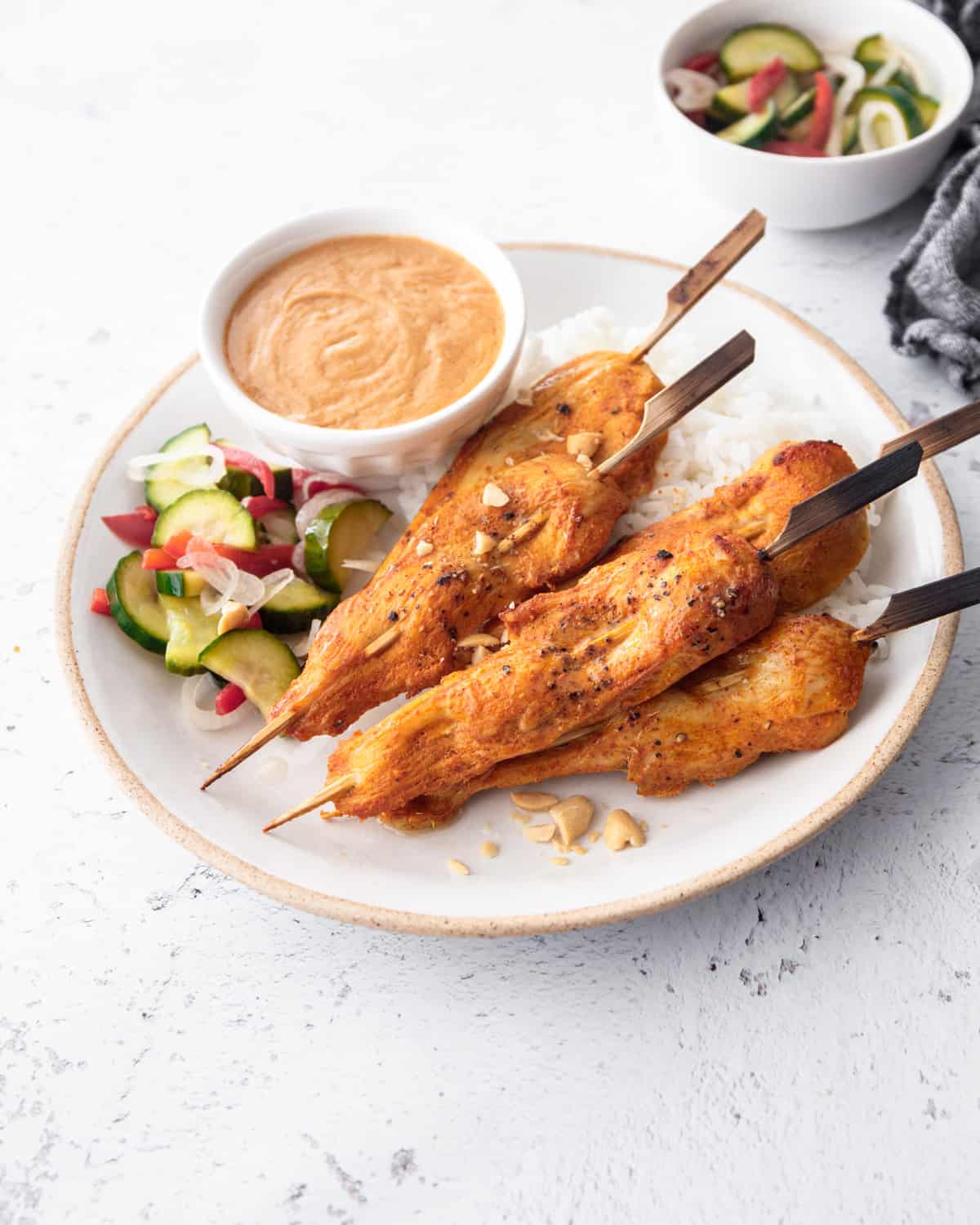 If you love tender-marinated Thai Chicken Satay with Peanut Dipping Sauce but want a version that is easy enough to make at home with grocery store staples, this one is for you! Serve the satay with rice and some quick pickled cucumbers and dinner is done.
It feels a little silly to be sharing another version of chicken satay, when a delicious version already lives on the site (here), but there's a story. Last summer my extended family took our longstanding summer trip to the Outer Banks in North Carolina. I have five siblings and many of them have partners and children and the house is generally loud, crazy, and so much fun. As you might guess from my chosen career, I come from a family of people who love food, and dinners at the beach are a major event. I plan my night of cooking way ahead, looking through favorite recipes, making grocery lists, and polling the family to see what everyone else is making.
This past summer, I decided I would cook a Thai-themed meal, but having access to only a beach grocery store, I knew I needed to simplify. (Galangal and lemongrass are not typical vacation-grocery-store ingredients.) And so this recipe was born. Not only is the satay a simplified version that is still tender, juicy, and packed with flavor, but I included the peanut dipping sauce right in the recipe. Since they use similar ingredients, it makes sense to make these side-by-side, and I even scaled them so you just need one can of coconut milk divided between the satay marinade and the sauce.
It's easy, delicious, and all of your instructions are right on one page. Great if you happen to be making this at a beach house…or if you just want to make it for dinner this week. Pair this with an Asian Chopped Salad and you've got a flavorful, healthy and quick weeknight dinner.
Looking for more chicken inspiration to spice up your dinner routine? Try this easy, flavorful Blackened Chicken recipe.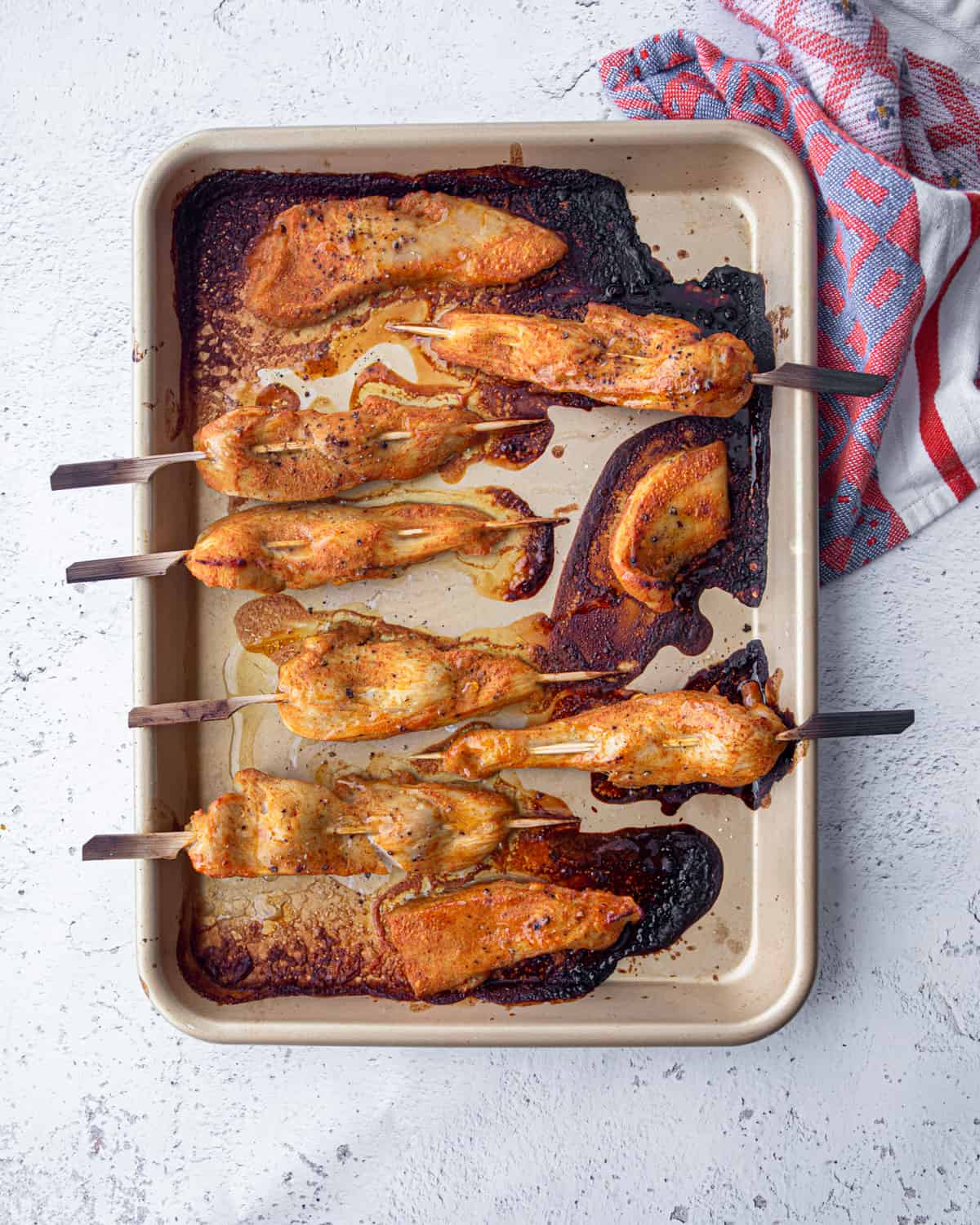 Don't have Skewers?
You absolutely do not need to use the skewers to make chicken satay. While threading the chicken onto skewers and grilling them is traditional, you'll get the same delicious result if you just slice the chicken into strips and cook them in the oven or place the strips of chicken directly on the grill.
Will Turmeric Stain Your Hands?
YES! Ground turmeric should come with a warning - it will turn everything it comes in contact with a bright yellow-orange color. It will eventually wash off but will stain your fingers and fingernails orange for a couple of days. If you're sensitive to this, wear latex gloves (the type that are designed for cooking), outsource the handling of the satay to another member of your household, or skip the skewers (which will minimize the contact your hands have with the marinade). I don't recommend skipping the ground turmeric because it will give the chicken its signature color and flavor, but you can.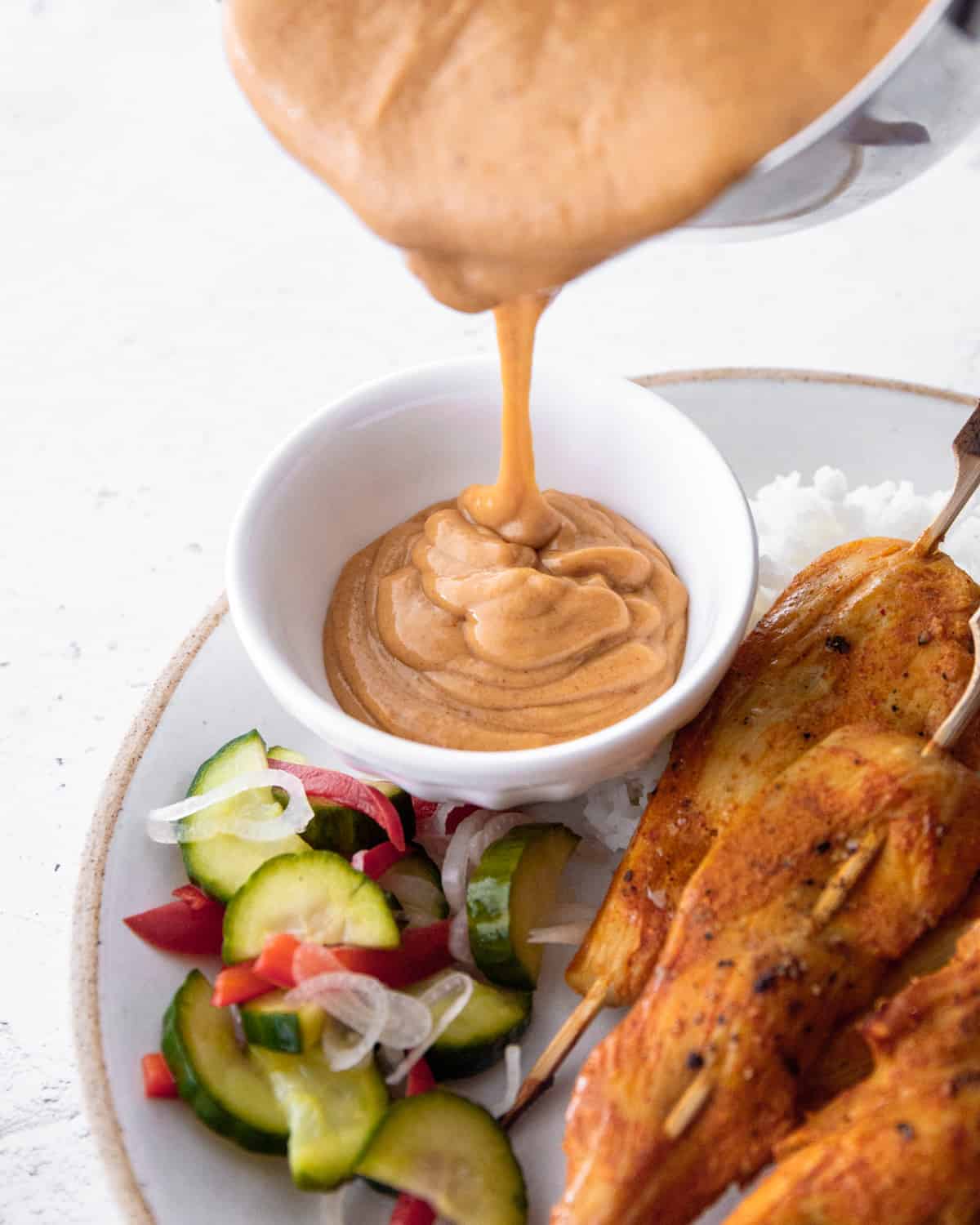 Other Thai Chicken Recipes
Favorite Tools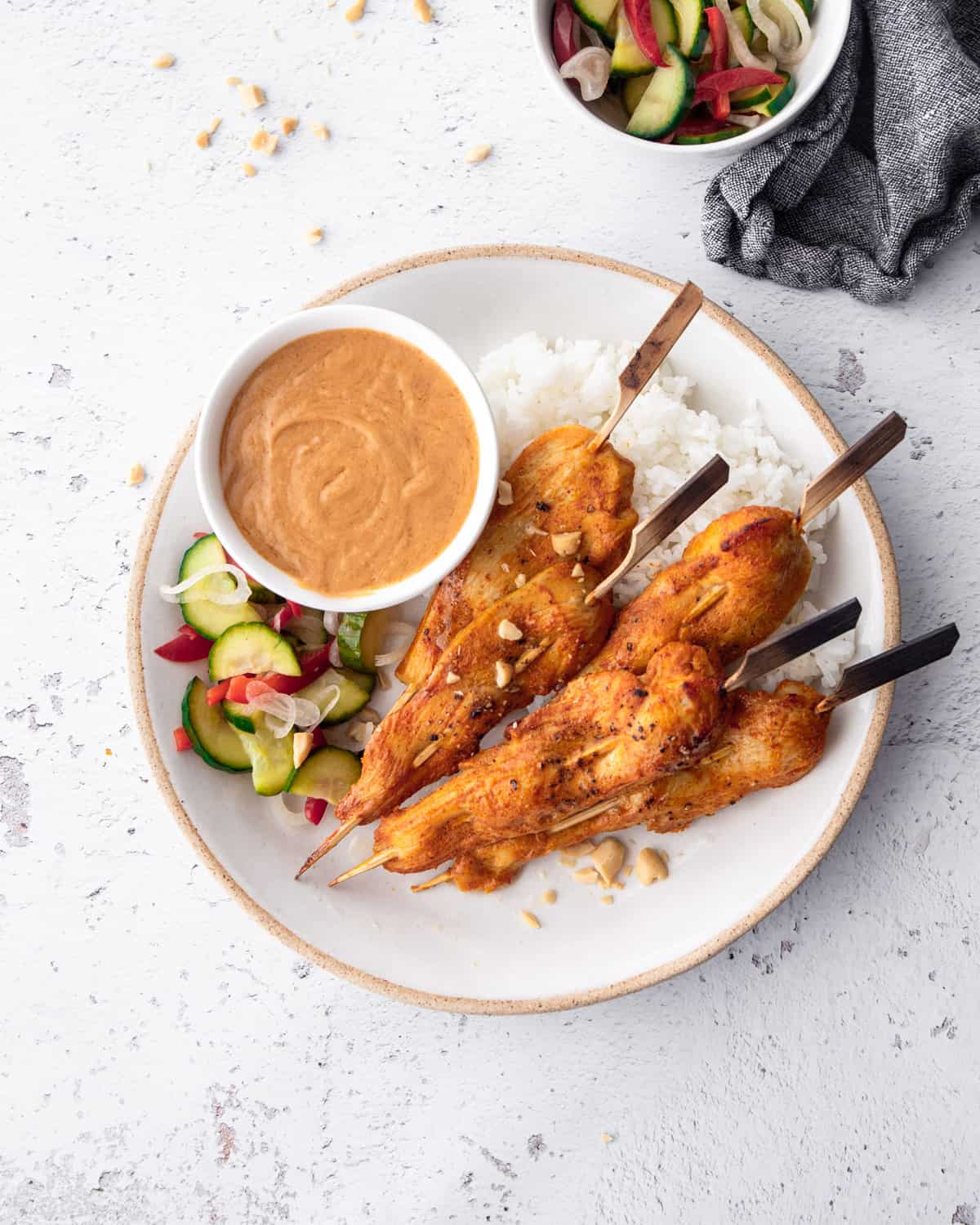 📖 Recipe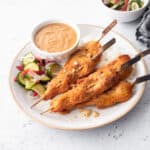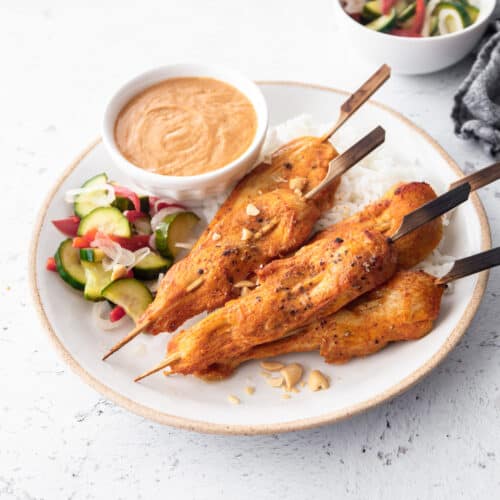 Print Recipe
Easy Chicken Satay with Peanut Dipping Sauce
If you love tender-marinated Thai Chicken Satay with Peanut Dipping Sauce but want a version that is easy enough to make at home with grocery store staples, this one is for you! Serve the satay with rice and some quick pickled cucumbers and dinner is done.
To adjust the servings in this recipe, click on the number next to servings.
Equipment
Saucepan

Skewers

Half Sheet Pan
Ingredients
Chicken Satay:
½

cup

Coconut Milk

(see note)

2

teaspoons

Red Curry Paste

(see note)

1 ½

teaspoons

Ground Turmeric

1

teaspoon

Sugar

1

teaspoon

Kosher Salt

1 ½

pounds

Boneless, Skinless Chicken Breast, sliced into thin strips

12

Skewers

(use wooden / bamboo skewers, metal skewers, or just skip this step and cook the chicken satay directly on a sheet pan or on the grill)
Thai Peanut Sauce:
1

cup

Coconut Milk

(see note)

2

Tablespoons

Red Curry Paste

(see note)

½

cup

Peanut Butter

1

Tablespoon

Sugar

1

Tablespoon

Fish Sauce
For Serving (optional):
Steamed White Rice or Coconut Rice

Thinly Sliced Cucumbers or Quick Pickled Cucumbers

Chopped Roasted Peanuts

Cilantro Sprigs

Lime Wedges
Instructions
Marinate Chicken: In a zip-top plastic bag, combine ¼ cup coconut milk, 1 Tablespoon red curry paste, ground turmeric, 1 teaspoon sugar, and 1 teaspoon salt. Add chicken and seal bag. Squeeze bag gently to press marinade into chicken. Marinate chicken for at least 10 minutes and up to a day (if it will be more than 10 minutes, refrigerate chicken while it marinates).

If using wooden / bamboo skewers, soak them in water for 10 minutes to minimize burning.

Make Peanut Sauce: Combine 1 ¼ cups coconut milk and 2 Tablespoons red curry paste in a small saucepan over low-medium heat, whisking constantly as it begins to warm up. When the mixture begins to bubble, reduce heat to a low simmer (don't let it boil vigorously). Whisk in peanut butter, sugar, and fish sauce. Continue to simmer, whisking frequently, until thick, 4 to 5 minutes more. Move off the heat to cool slightly.

Heat Grill or Broiler: If cooking on a grill, heat grill. If using the oven, turn on the oven's broiler.

Spray a rimmed sheet pan with nonstick cooking spray (you can also line it with foil first to make clean-up even easier).

Working with one at a time, thread chicken onto skewers. Place the skewers in a single layer on the sheet pan with the end of each skewer propped up on the rims of the pan so that the chicken sits slightly above the pan. (Discard any leftover marinade.)

Cook Satay: Grill satay until golden on the outside and cooked through. Or, if using the broiler, slide the pan under the broiler and cook, flipping halfway through cooking, until chicken is browned on both sides and cooked through, 5 to 10 minutes total. (Important: If using the broiler, turn on your oven fan before cooking and keep a close eye on the satay. Broiling the satay can cause some splatter / smoking.)

Serve satay over rice with peanut sauce for dipping and any optional garnishes. Enjoy!
Notes
Coconut Milk
- For the most flavor, use regular (not light) coconut milk in this recipe. You will just need one can for this recipe, divided between the satay marinade and peanut sauce. Shake the can well before using.
Red Curry Paste
- This can vary dramatically in the level of spice it contains. Typically, American brands like Thai Kitchen are much less spicy than the Thai brands you find at the Asian grocery store. Remember that you can always add more spice using Sriracha or your favorite hot sauce, so I purchase Thai Kitchen and add spice to-taste as I go.
Ground Turmeric
- If you use your hands to work with any recipe that uses ground turmeric it will dye your hands an orange-yellow color. Turmeric is the ingredient that gives the satay its unique color, but keep in mind that it will leave that color on your hands. Use gloves to handle the chicken or outsource the task of assembling the skewers to someone in your household. 😉
Nutrition
Calories:
622
kcal
|
Carbohydrates:
17
g
|
Protein:
47
g
|
Fat:
43
g
|
Saturated Fat:
24
g
|
Polyunsaturated Fat:
6
g
|
Monounsaturated Fat:
10
g
|
Trans Fat:
1
g
|
Cholesterol:
109
mg
|
Sodium:
1294
mg
|
Potassium:
1107
mg
|
Fiber:
4
g
|
Sugar:
11
g
|
Vitamin A:
1627
IU
|
Vitamin C:
6
mg
|
Calcium:
54
mg
|
Iron:
3
mg