These quick, flavorful Ginger Scallion Ramen Noodles will rival any Chinese take-out variety. Add a soft-boiled egg or cooked sliced chicken for a simple week-night dinner.
Meals for "Winter"
This is now our third Superbowl spent away from the U.S. I miss the football a bit, and I miss the weekend getaway we had with friends the weekend before the Superbowl a lot, and of course, I miss the snacks that are everywhere this time of year. Who doesn't love an excuse to eat fried things and dips on a cold Sunday evening?
I may not have had a sufficient dose of the commercials or the game this weekend, but I'm surely getting a good dose of America. It's peak tourism season here, and I think there's more English being spoken on Bangkok's streets than Thai. Last night I may have been on the skytrain with the cast of The Jersey Shore.
With the Superbowl behind us, I am reminded that Thailand is really just getting started with its own holiday season. Next up - Chinese New Year. Chinese New Year is a big deal here - fireworks, parties, parades, and great food.
I still haven't decided exactly what I will be making for our Chinese New Year dinner this year, but these Ginger Scallion Ramen Noodles are definitely in the running.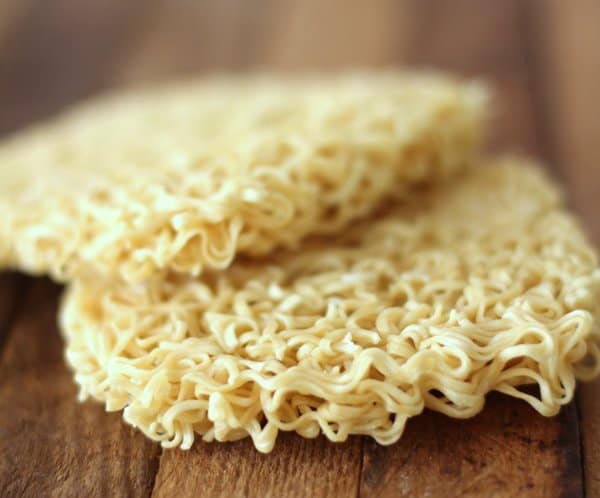 Finding the Recipe for Ginger Scallion Ramen Noodles
Lisa's version of
Ginger Scallion Ramen Noodles
have an amazingly simple sauce of fresh herbs, ginger, shallots, and a few Asian pantry staples. Lisa stressed that these are not the famous ginger scallion noodles by David Chang, so in solidarity, I will echo that statement. And though I've never tried David Chang's version, I will tell you that Lisa's version is the only one I could ever imagine needing.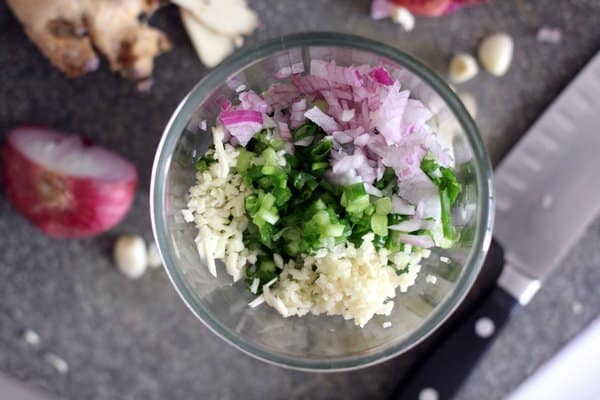 Inspiration & Modifications
Inspired by the many noodle bowls I have had since arriving in Thailand (and there have been many), I served my ginger scallion ramen noodles in bowls with soft-boiled eggs (duck in my case, but chicken will do the trick).
These noodle bowls could never pass as traditional Superbowl fare, but something about them certainly seems celebratory.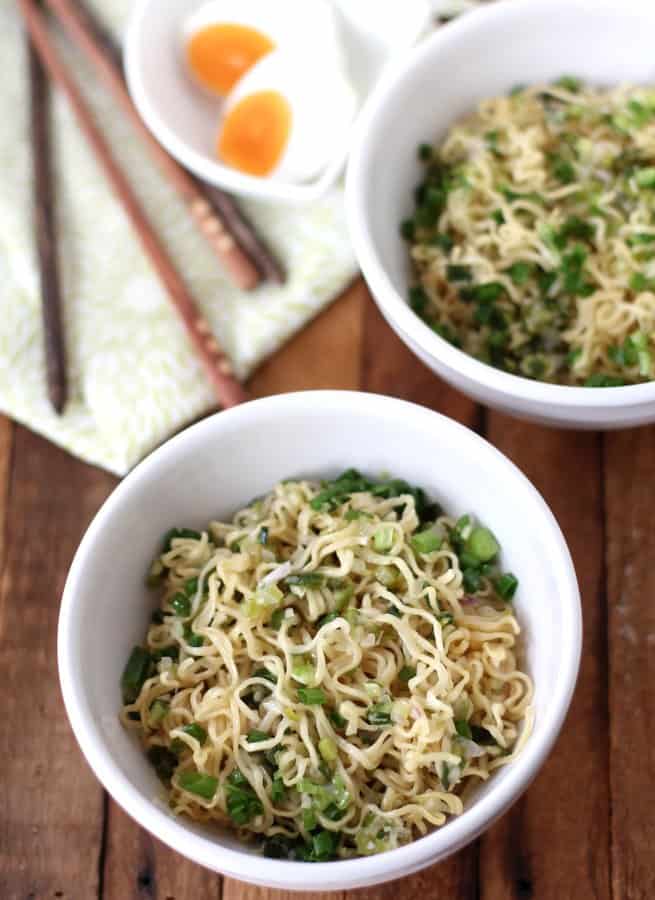 More Ways to Use Ramen Noodles
Favorite Tools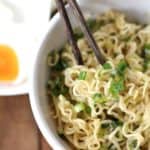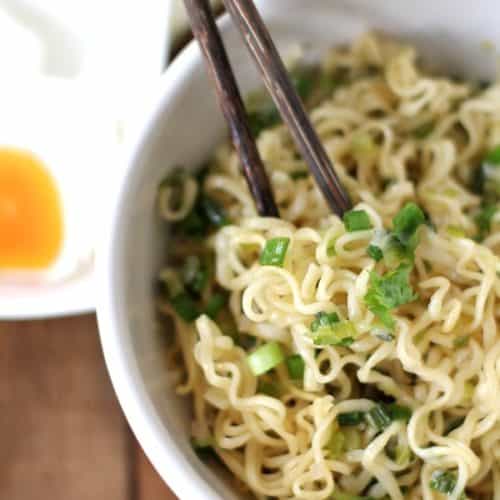 Print Recipe
Ginger Scallion Noodles
These quick, flavorful ginger scallion ramen noodles will rival any Chinese take-out variety. Add a soft-boiled egg or cooked sliced chicken for a simple week-night dinner.
Ingredients
2

tablespoon

Grapeseed Oil

(vegetable or canola will also work)

1

large bunch

Green Onions, sliced

2

tablespoon

Roughly Chopped Cilantro

2

tablespoon

Ginger, finely minced

1

tablespoon

Chopped Garlic

1

tablespoon

Chopped Shallots

2

teaspoon

Fish Sauce

1

tablespoon

Toasted Sesame Oil

1

tablespoon

Honey

1

teaspoon

Rice Wine Vinegar

2

teaspoon

Soy Sauce

1

teaspoon

Dried Red Chili Flakes

Kosher Salt to taste

10

oz

Noodles of your Choice, cooked according to package directions and drained

(see note)
Instructions
Heat up the grapeseed oil in a saucepan over high heat until the oil is shimmery and hot, but not smoking.

Add the green onions, cilantro, ginger, garlic and shallots at once, but be careful, the oil will bubble and splatter. Stir the ingredients quickly, to coat them in the hot oil, and immediately take the pan off the heat. (The onions will sizzle and wilt almost immediately - pull them off the heat as soon as they turn a bright green.)

Add the fish sauce, sesame seed oil, rice wine vinegar, soy sauce, honey, crushed red chile pepper and salt to taste.

Let sit for 15 minutes. Toss with noodles. Serve immediately.
Notes
Any variety of noodles will work with this sauce, but I loved the thin, curly ramen-style noodles I used in the photos here. These noodles can often be found on their own in Asian markets, but you can simply buy a few packets of inexpensive ramen noodles and discard the seasoning packets. This ginger-scallion sauce beats those fake flavors hands-down. Recipe adapted slightly from Parsley, Sage and Sweet.
Nutrition
Serving:
5
g
|
Calories:
461
kcal
|
Carbohydrates:
55
g
|
Protein:
9
g
|
Fat:
24
g
|
Saturated Fat:
3
g
|
Cholesterol:
41
mg
|
Fiber:
4
g
|
Sugar:
11
g
*This post contains affiliate links*