Tuna Niçoise Salad
Published Oct 23, 2023•Updated Nov 08, 2023
Bright, fresh Tuna Niçoise Salad will forever change the way you think about canned tuna. With its tangy red wine vinaigrette, crunchy green beans, tender potatoes, deliciously briny olives, and flakes of chunky tuna, this simple French salad is the ultimate summer meal.
You don't need to travel to the South of France to enjoy all of the fresh, coastal flavors of the French Riviera. While the French Riviera immediately brings to mind fancy hotels with fancy people, the Tuna Niçoise Salad is actually made with simple, everyday ingredients, and is pretty easy to assemble.
You can cook the potatoes, hard-boiled eggs, and green beans the day before, and whip up the vinaigrette ahead of time too. Using canned tuna means there's no need to prep and sear the fish either. With so many time-saving tricks, you can have one of summer's most popular salads ready and on the table in no time.
And if you're building out a summer table,
What is a Niçoise Salad (Salade Niçoise)?
Tuna Niçoise Salad is a composed salad that was developed in the French coastal town of Nice, which is located in the French Riviera. This light, refreshing salad is usually made with tuna or anchovies, hard boiled eggs, and vegetables like green beans (or haricot vert), tomatoes, potatoes, shallots, and briny olives.
It's called a composed salad because the ingredients are all carefully placed (or composed) on a platter or plate and drizzled with a simple vinaigrette, rather than tossed together. Serving a salad this way, with so many colorful veggies on display, makes for an especially fun presentation if you're serving a crowd.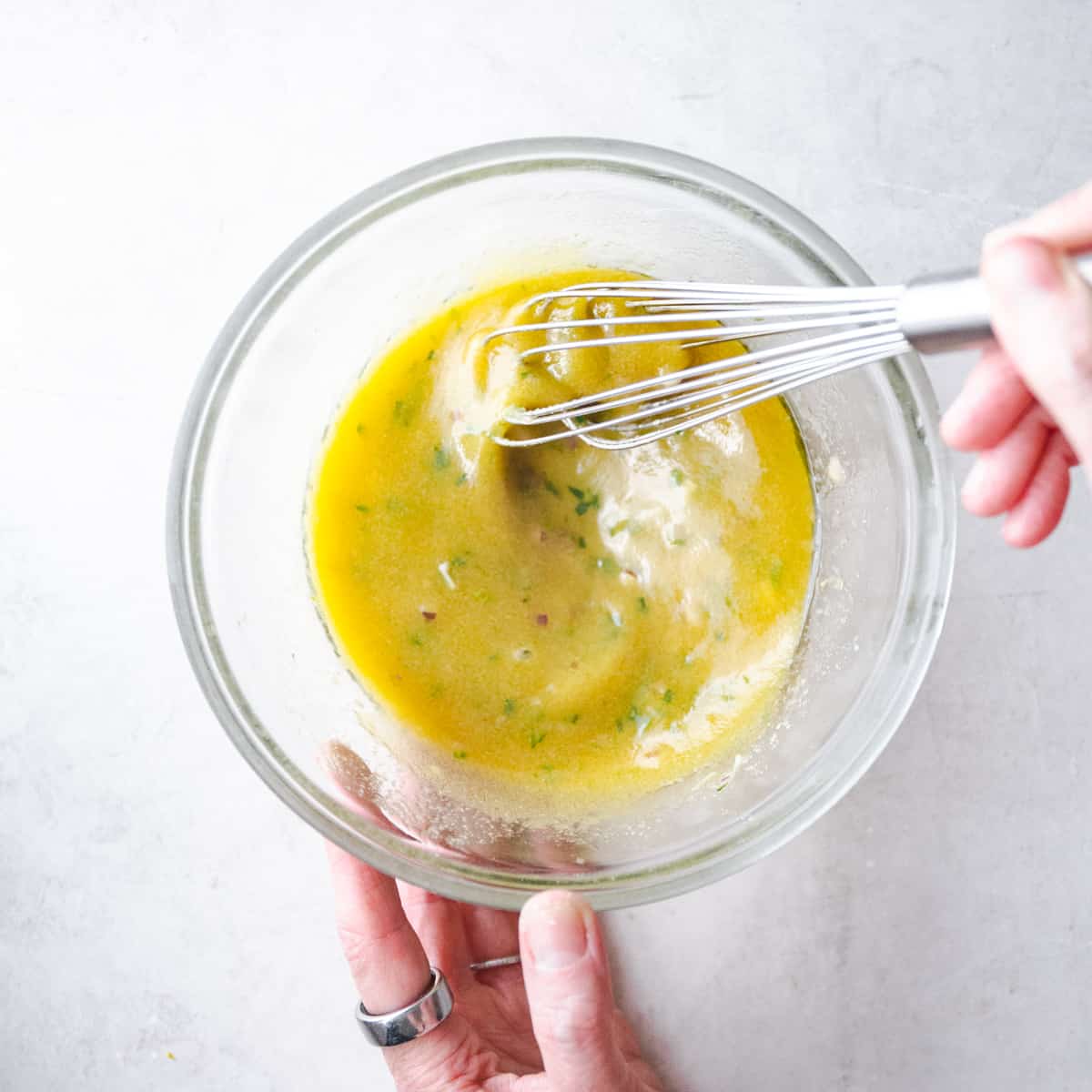 How to Make Niçoise Salad
Cook the potatoes, green beans, and eggs. Bring one large pot of water and one small pot of water to a boil. To the larger pot, add the potatoes and cook for 15 minutes. To the smaller pot, add the eggs and cook for 8 minutes. Add green beans to the pot with the potatoes and simmer together for 4 to 5 minutes more.
Make the vinaigrette. Whisk together the shallots, chives, vinegar, mustard, honey, salt, and olive oil.
Season the potatoes. Slice the potatoes and toss with a touch of vinaigrette.
Assemble the salad. Spread the mixed greens out on a large serving platter or in a large salad bowl, then arrange the potatoes, green beans, canned tuna, olives, and tomatoes. Add the sliced eggs, then season with salt and pepper.
Finish with vinaigrette. Drizzle the salad with vinaigrette, scatter capers over the top, and serve.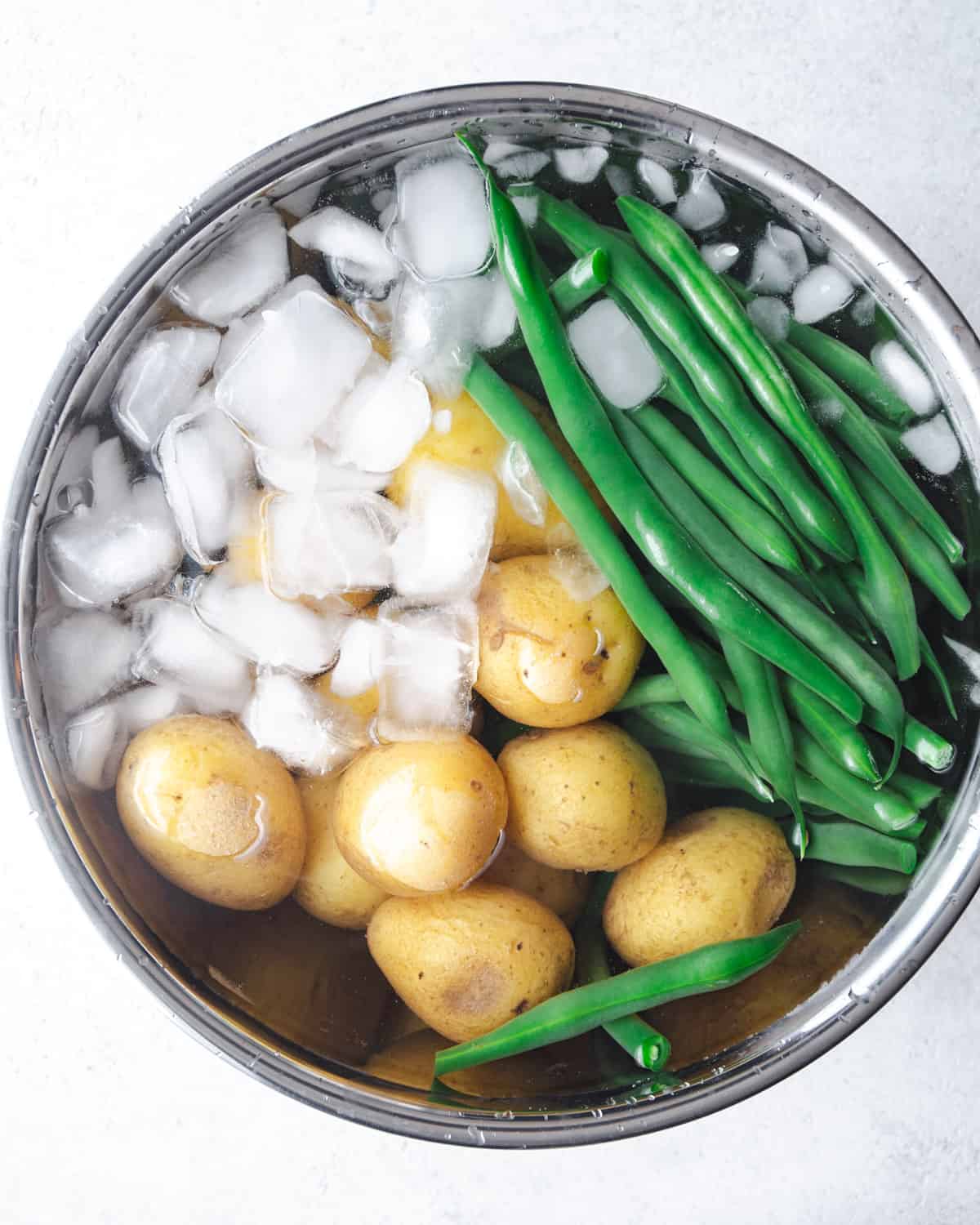 What Goes into a Niçoise Salad
Shallots, Chives, Sherry Vinegar, Dijon Mustard, Honey, Kosher Salt, Olive Oil – Ingredients for a classic French vinaigrette that is a balanced combination of sweet, salty, tangy, and invigorating spice, thanks to the Dijon mustard.
Eggs – We are hard boiling the eggs in this recipe for clean, easy cutting, but if you prefer an egg with a slightly softer yolk, cut the cook time down by a minute.
Baby or New Potatoes – Boiled baby potatoes are a newer addition to the classic Niçoise Salad, and they provide a hearty bite to the other fresh ingredients.
Green Beans – Traditional green beans are available in every grocery store, but if you want the complete French-inspired experience, track down some haricot vert, which is a slender variety of French green bean.
Mixed Greens – There are lots of mixed greens out there, with the most popular blends a mix of baby green leaf lettuce, spinach, red oak, chard, arugula, and butter lettuce.
Canned Tuna Packed in Oil – Quality tuna is crucial to pulling off a great Niçoise Salad. Use a solid, packed tuna like albacore, rather than "chunk light" for nice flaky pieces of fish.
Cherry or Grape Tomatoes – To reduce prep, choose petite tomatoes like cherry or grape varieties that are easy to slice in half. When tomatoes are in season, a great heirloom tomato is a perfect addition – just slice it into bite-sized pieces.
Olives – Black olives, Kalamata olives, and Niçoise olives are all great choices.
Capers – Capers are a staple in Mediterranean cooking. These tiny brined and salted wonders are actually unripe flower buds, and they tie this dish together perfectly.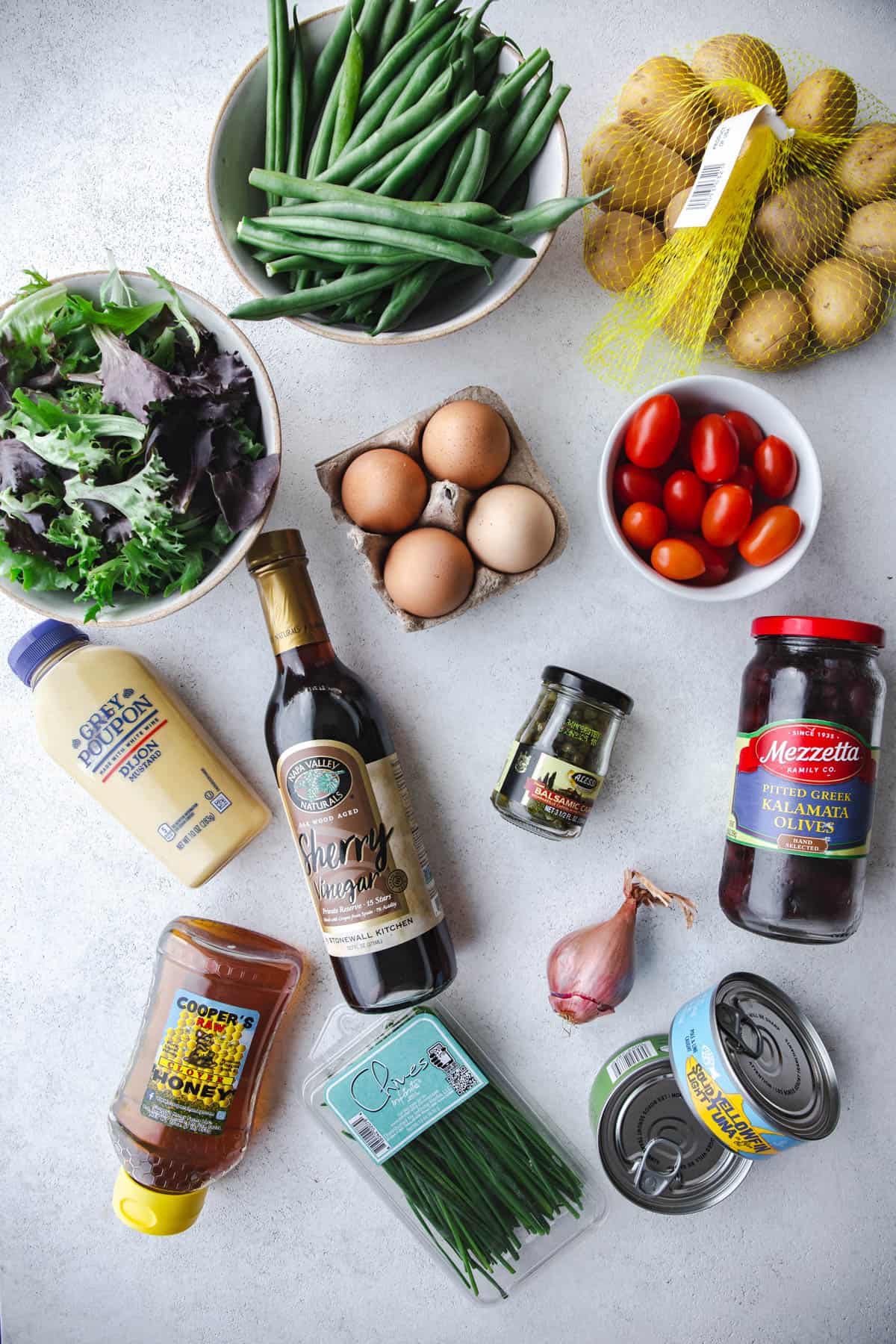 How to Make it Ahead
The dressing can be made 3 days ahead. You can also boil the eggs and potatoes the day before using, and blanch the green beans the day before. Store these components separately in an airtight container to preserve each ingredient's freshness and flavor. Leave the potatoes and eggs intact until you're ready to slice and serve.
Recipe Tips
Your grocer's olive bar is the perfect place to get a variety of olives, without purchasing whole jars. This allows you to get a nice mix of olives, rather than committing to just one variety.
If you're making the vinaigrette ahead, combine all of the ingredients in a jar, shake well, and store in the fridge until you're ready to use.
Variations
Try a different protein – Anchovies are a popular substitution for fresh or canned tuna. This seaside staple will make the salad a bit more briney.
Mix and match vegetables – This Mediterranean salad was created around the idea of utilizing the fresh, in-season ingredients. Feel free to try adding radish, different lettuces, cucumber, artichoke hearts, or red peppers.
FAQs
Is Niçoise Salad salad healthy?
If you're looking for a healthy summer salad, this is a great option. From the homemade vinaigrette, to the light protein, and the colorful mix of veggies, each ingredient is fresh and wholesome.
Do I cook tuna for Niçoise Salad?
To make this recipe easy, we recommend using a high quality canned tuna, so all you need to do is open the can, drain the oil, and arrange the fish on the plate with the other ingredients. If you want to try using raw tuna, cook an Ahi tuna steak in a lightly oiled pan over medium-high heat for about 2 minutes per side. Allow to cool slightly, then thinly slice and add to the salad.
What should I serve with Niçoise Salad?
This is an entree salad that feels quite complete all on its own. It's hearty and packed with protein. If you want to serve something on the side, try a baguette or other crusty bread. A chilled soup is also delicious served on the side, especially if it uses other fresh summer ingredients like cucumbers or tomatoes.
More Entree Salad Recipes
Affiliate Links
Description goes here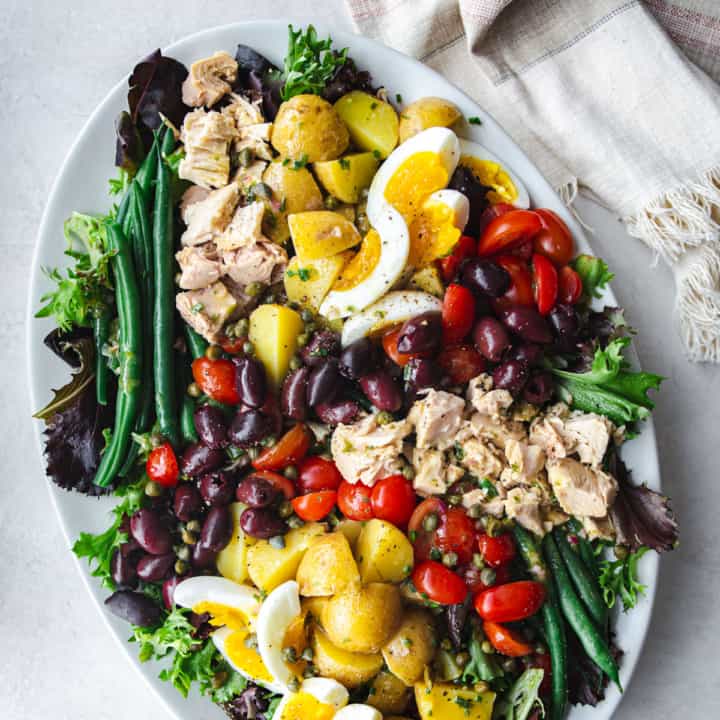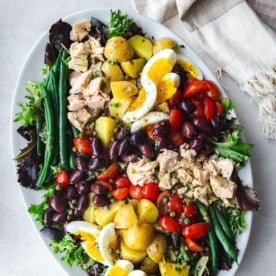 Tuna Niçoise Salad
Tuna Niçoise Salad is summer on a plate, and packed with fresh vegetables, light tuna, and drizzled with a flavorful, herb-based vinaigrette.
To adjust the servings in this recipe, click on the number next to servings.
Equipment
Stockpot

Large Saucepan

Mixing Bowls
Ingredients
1

tablespoon

finely chopped shallots

1

tablespoon

finely chopped chives

3

tablespoons

sherry vinegar

1

tablespoon

Dijon mustard

1/2

teaspoon

honey

1/2

teaspoon

kosher salt

1/2

cup

olive oil

4

large

eggs

12

ounces

baby or new potatoes

12

ounces

green beans, trimmed

10

ounces

mixed greens

3

4.5 ounce cans

tuna packed in oil

1

pint

cherry or grape tomatoes, sliced in half

1

cup

olives

(any variety will work; a mix from the olive bar works great)

2

tablespoons

capers, rinsed
Instructions
Fill two pots with water – one large one for the potatoes and green beans; one small one for the eggs. Place them both over high heat and bring them to a boil.

Whisk together the shallots, chives, vinegar, mustard, honey, and salt. Add the olive oil while whisking. (Or combine all of the ingredients in a jar and shake well.)

When the small pot of water is boiling, reduce the heat under the small pot of boiling water to a low simmer. Use a spoon to gently lower the eggs into the simmering water. Set a timer for 8 minutes. After 8 minutes, drain the eggs well and run them under cool water.

Meanwhile, season the large pot of boiling water well with salt (for a large pot of salt, you'll want about 2 tablespoons of kosher salt – it will seem like a lot but that's how much you need to give the potatoes flavor). Add the potatoes and simmer until they're nearly tender, about 15 minutes. Add green beans and simmer them both together until tender (this should take 4 to 5 minutes more). Drain well.

Spread the mixed greens out on a large serving platter or in a large salad bowl.

Slice the potatoes in half and toss them with 2 Tablespoons of the vinaigrette. Taste the potatoes and add more salt if needed (potatoes need to be seasoned well for the best flavor). Add them to the salad along with the green beans, tuna, olives, and tomatoes. Slice the eggs in half and add them on top. Season the eggs with some salt and pepper.

Just before serving, drizzle the salad with vinaigrette. Scatter capers over the entire dish.
Nutrition
Calories:
256
kcal
|
Carbohydrates:
31
g
|
Protein:
12
g
|
Fat:
11
g
|
Saturated Fat:
2
g
|
Polyunsaturated Fat:
2
g
|
Monounsaturated Fat:
6
g
|
Trans Fat:
0.02
g
|
Cholesterol:
186
mg
|
Sodium:
1079
mg
|
Potassium:
1048
mg
|
Fiber:
7
g
|
Sugar:
8
g
|
Vitamin A:
2823
IU
|
Vitamin C:
61
mg
|
Calcium:
115
mg
|
Iron:
4
mg
Nutrition information is automatically calculated, so should only be used as an approximation.