Soft peanut butter cookie cups stuffed with chocolate peanut butter cups – these are always a crowd favorite. We keep the dough in the freezer to bake throughout the holidays.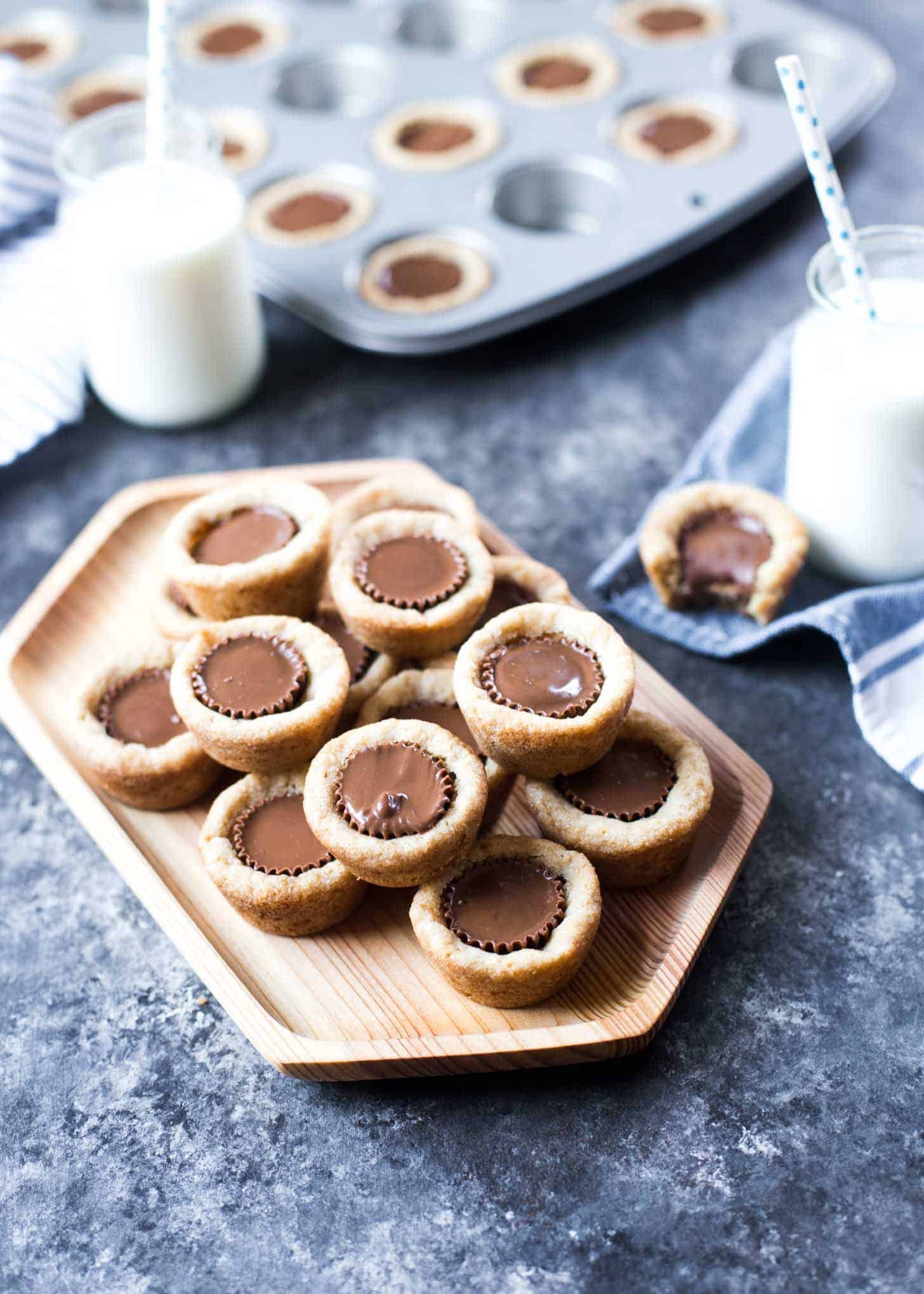 I don't like to play favorites, but peanut butter cookie cups are definitely a contender. I love them best shown just as they are above and below. Still a bit warm and filled with melty chocolate.
The recipe for this peanut butter dough is printed on an old card from my mom's recipe box. "From the kitchen of Shirley S." It is usually the base for peanut blossom cookies (with a Hershey's kiss on top), but makes amazing, super soft Peanut Butter Cup Cookies. I have no idea who Shirley S. is (thank you for the great recipe, if you're out there Shirley!), but we've made some version of these cookies every year as long as I can remember. It's a great one for kids to assist with. No matter what age, everyone always loves the job of unwrapping the peanut butter cups.
And sneaking a few…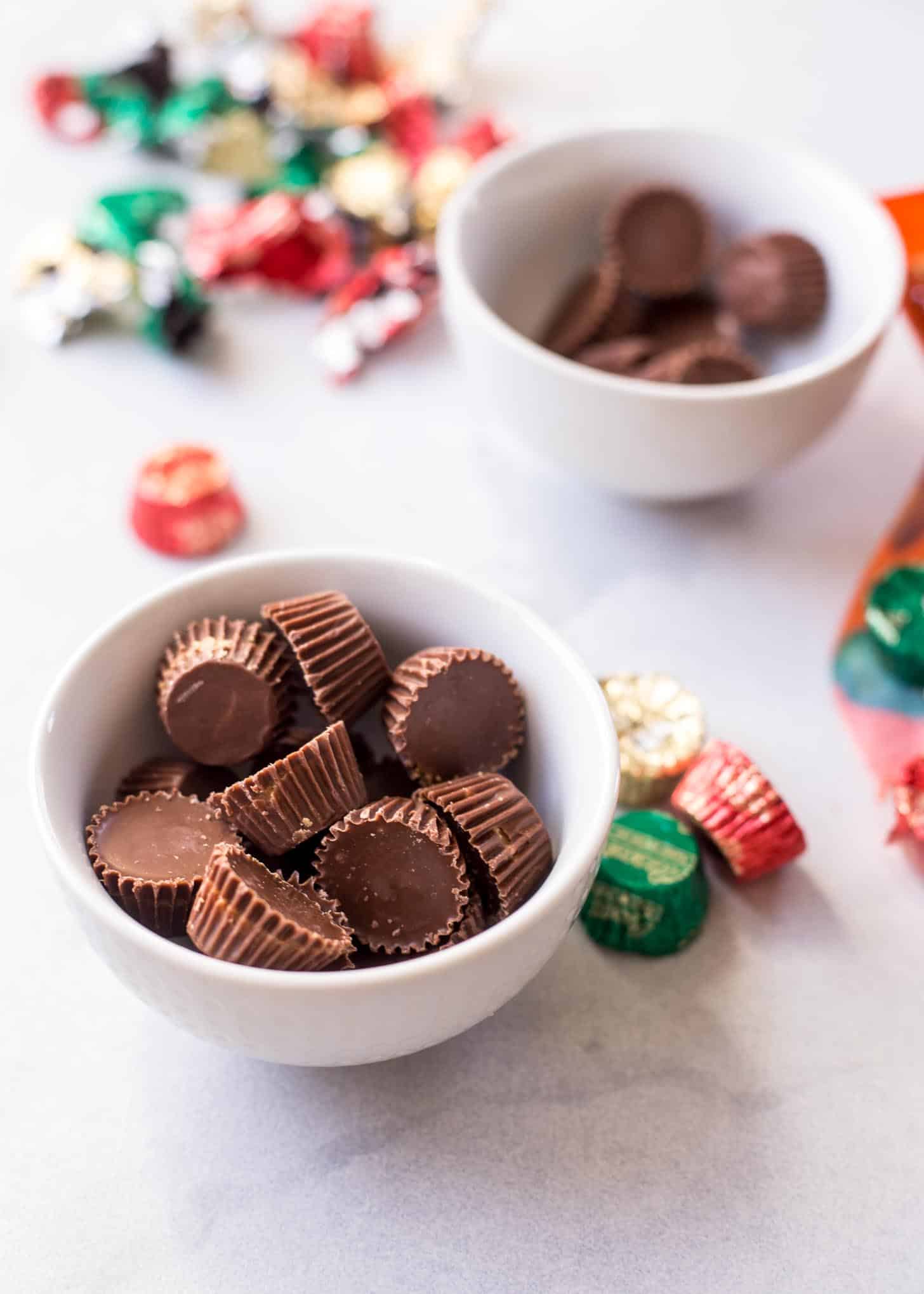 As I mentioned, this dough is super soft. It is rolled in a bit of sugar and baked in a mini muffin tin which makes it bake into perfectly shaped cups.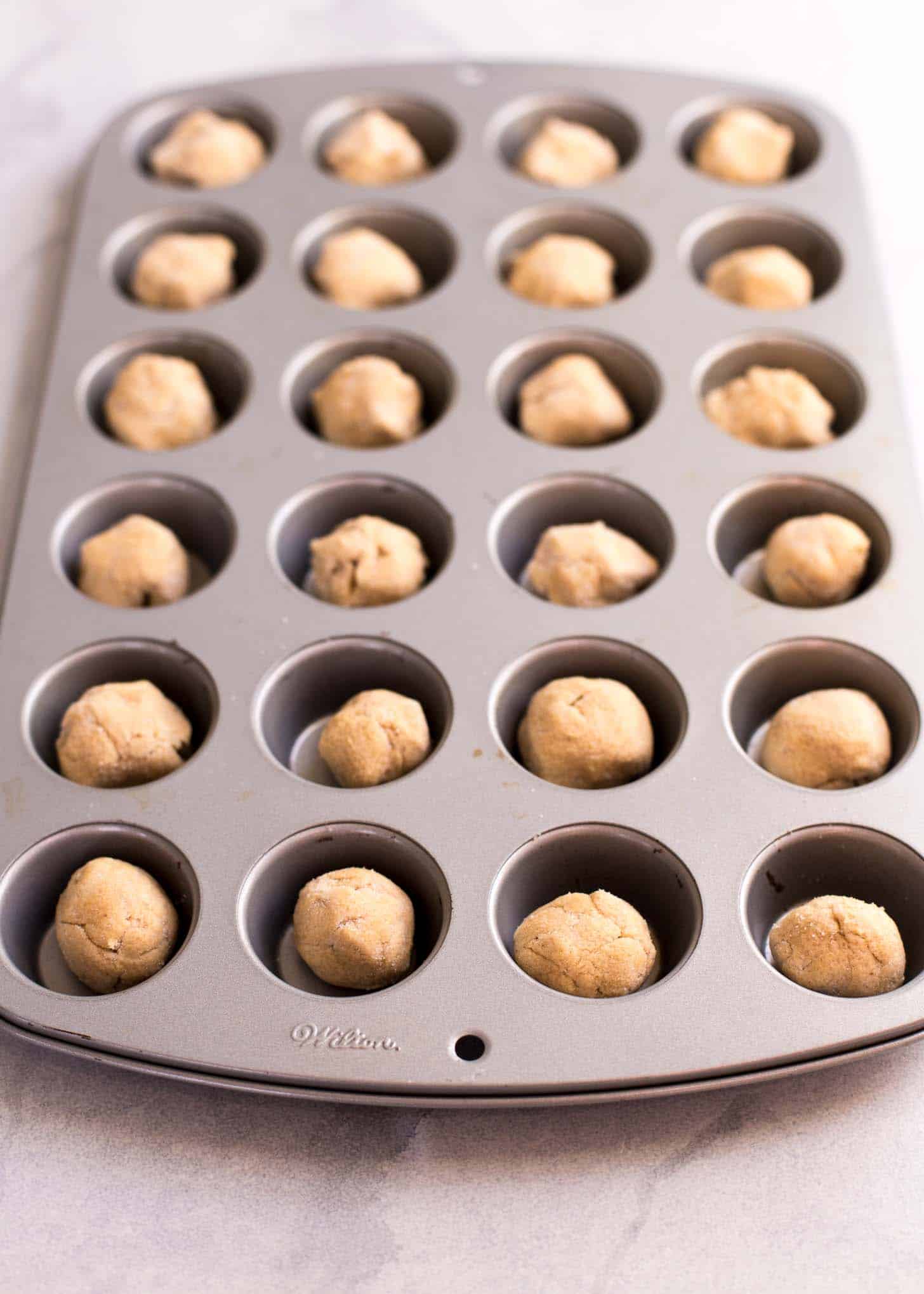 And a chocolate peanut butter cup is pressed into the warm cookies just after baking.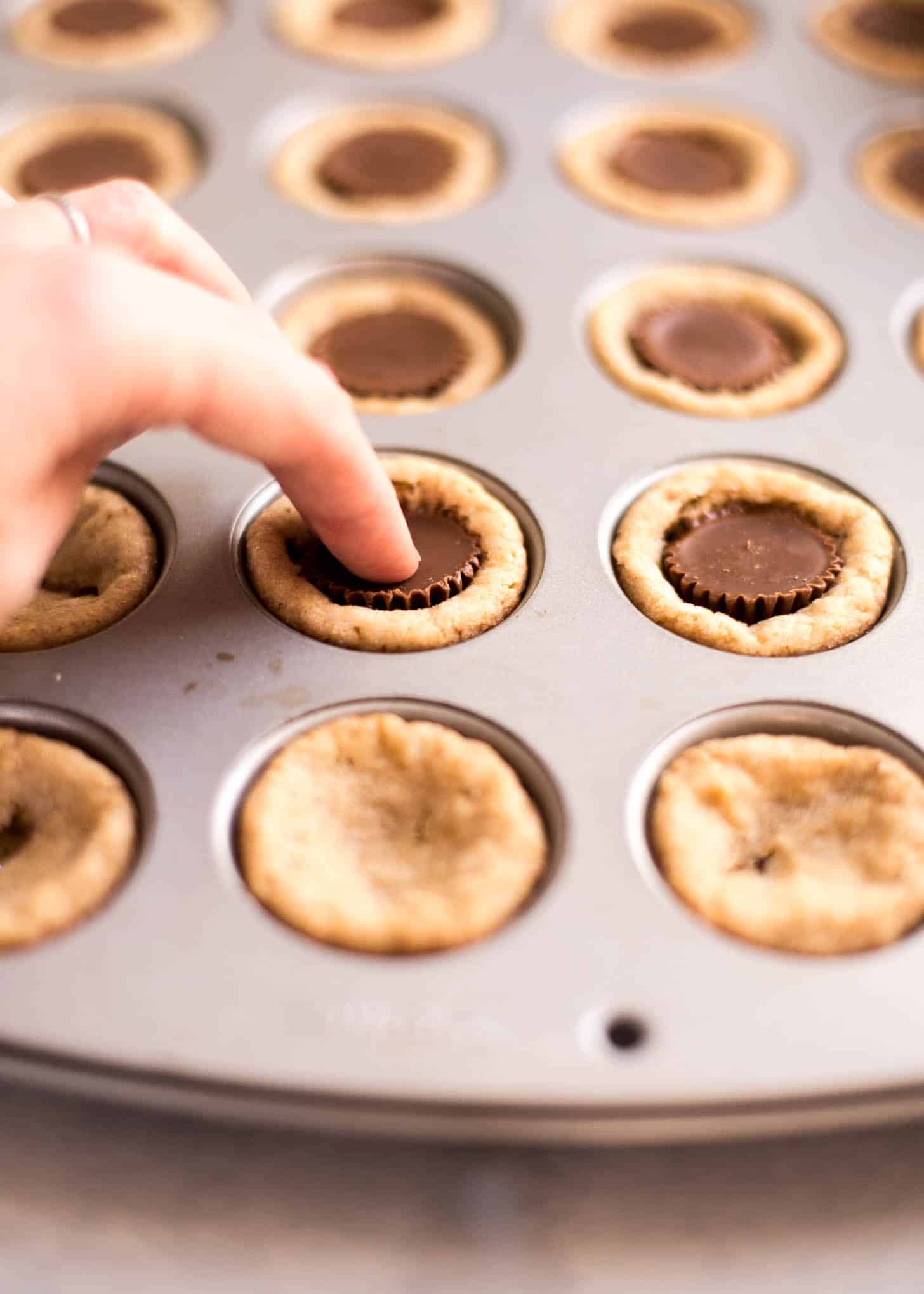 Instant gooey chocolate goodness…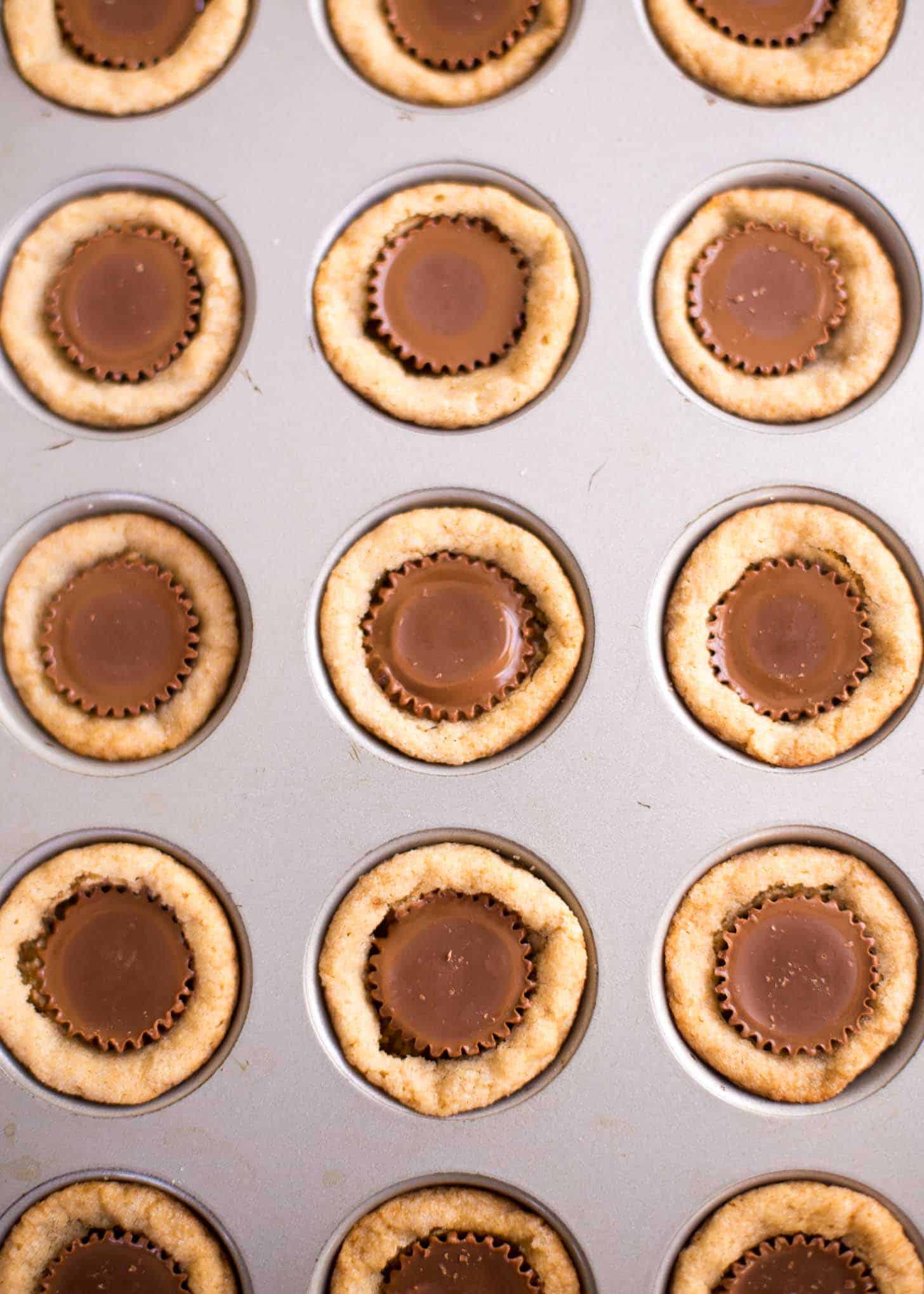 To Freeze
These cookies are great for freezing. Roll the dough into balls and roll the balls in sugar per the directions. Place the balls close together on a sheet pan and freeze until solid. Transfer to a plastic zip-top bag and freeze for up to 3 months. I also unwrap the peanut butter cups and freeze those in a separate bag so they're ready to go.
Just bake the dough straight out of the freezer (add 1 to 2 minutes t the bake time).
And serve with a glass of cold milk.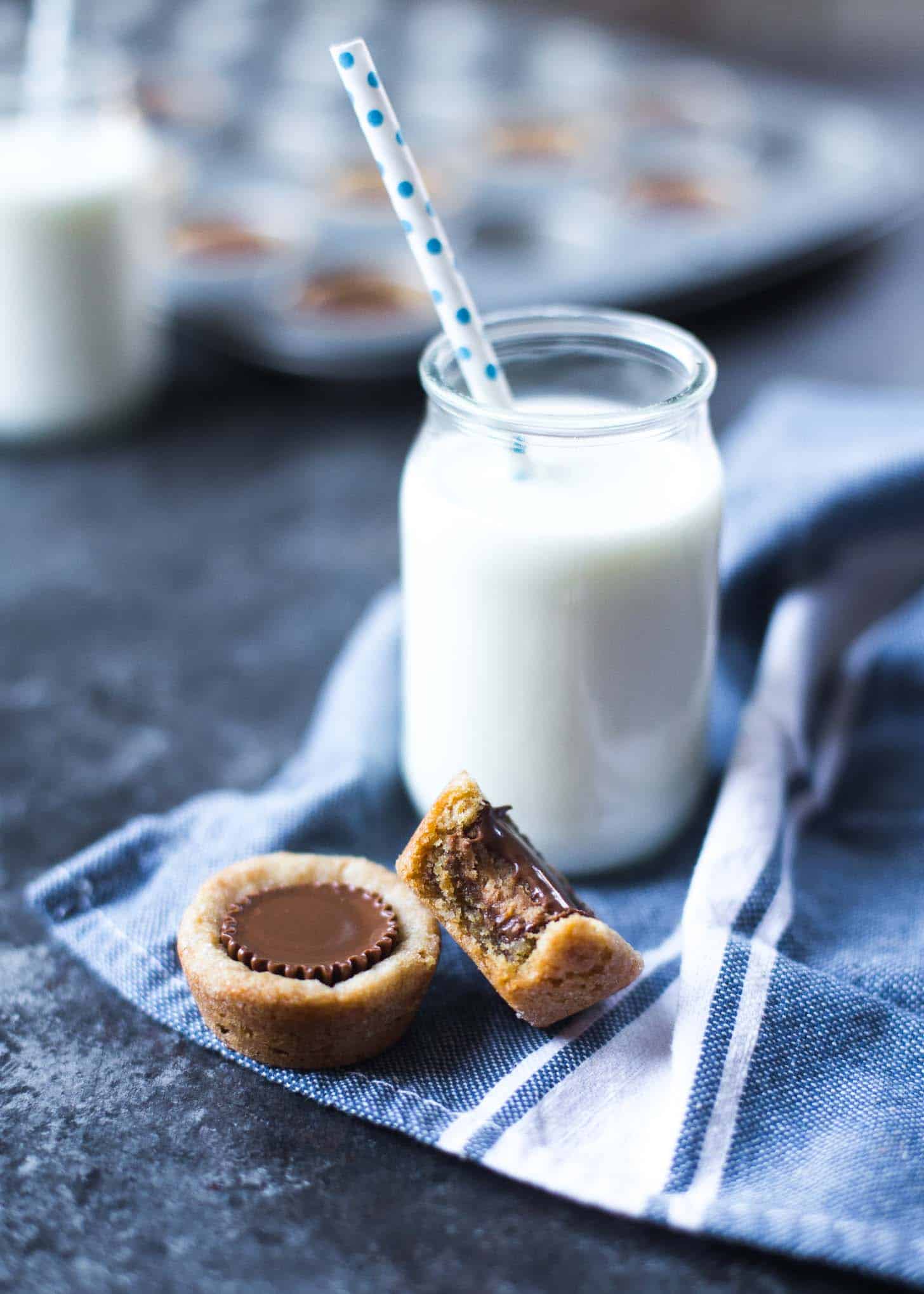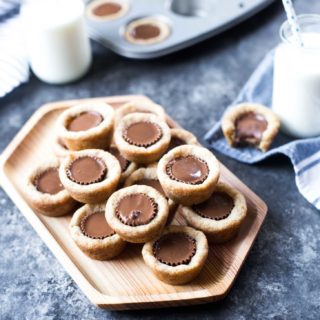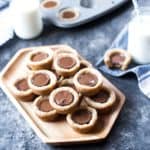 Print Recipe
Peanut Butter Cookie Cups
Ingredients
1 3/4

cup

All-Purpose Flour

1

tsp

Baking Soda

1/2

tsp

Salt

1/2

cup

Butter, unsalted and softened to room temperature

1/2

cup

Granulated Sugar, plus more for rolling dough

1/2

cup

Light Brown Sugar

1

Egg

1

tsp

Vanilla Extract

1/2

cup

Peanut Butter (see note)

48

Chocolate Peanut Butter Cups, unwrapped
Instructions
Whisk together flour, baking soda and salt.

In the bowl of a standing mixer or with a handheld mixer (or by hand) beat the butter until soft and smooth, ~2 minutes. Add both sugars and continue beating until light and fluffy, 2 to 3 minutes.

Add egg and mix on medium until smooth. Add vanilla and mix for 1 minute more.

Add peanut butter and mix until smooth.

Pour dry ingredients in the bowl and mix on low just until the dry ingredients are fully incorporated.

Refrigerate the dough until it is firm enough to roll into balls, ~1 hour (see note).

If you haven't already, remove chocolate peanut butter cups from their wrappers and set aside.

Heat oven to 350 degrees F. Spray a mini muffin tin with nonstick cooking spray.

Fill a shallow bowl or dish with granulated sugar. Roll dough into balls 1 1/2 inch in diameter (they should be about 1 Tbsp of dough each).

Place dough balls into prepared mini muffin tin. Bake until dough has filled out the tin and is just barely golden on top, 6 to 8 minutes.

As soon as you remove the dough balls, press chocolate peanut butter cups into the dough. Let cool for a few minutes and then remove cookie cups from the baking tin. Transfer to a cooling rack and let cool completely.
Notes
I prefer creamy peanut butter for these. Note that this recipe does not work as well if using natural peanut butter.
When I'm in a rush, I often roll this dough into balls right away and skip the refrigeration step. The dough is very soft without the refrigeration, so I use a spoon to scoop out even sized portions of dough and drop them straight into the sugar. Once they are gently rolled in sugar, they are easier to pick up and roll into balls. They can be baked right away, but will be done on the lower end of the cook time, likely right at 6 minutes.
To freeze, form the dough into balls and roll them in sugar. Place the dough balls on a sheet pan and freeze until firm. Transfer to a plastic zip-top bag and freeze for up to three months. They can be baked straight out of the freezer but will need an extra minute or two added to the bake time.


One more from decorating the Christmas tree this weekend!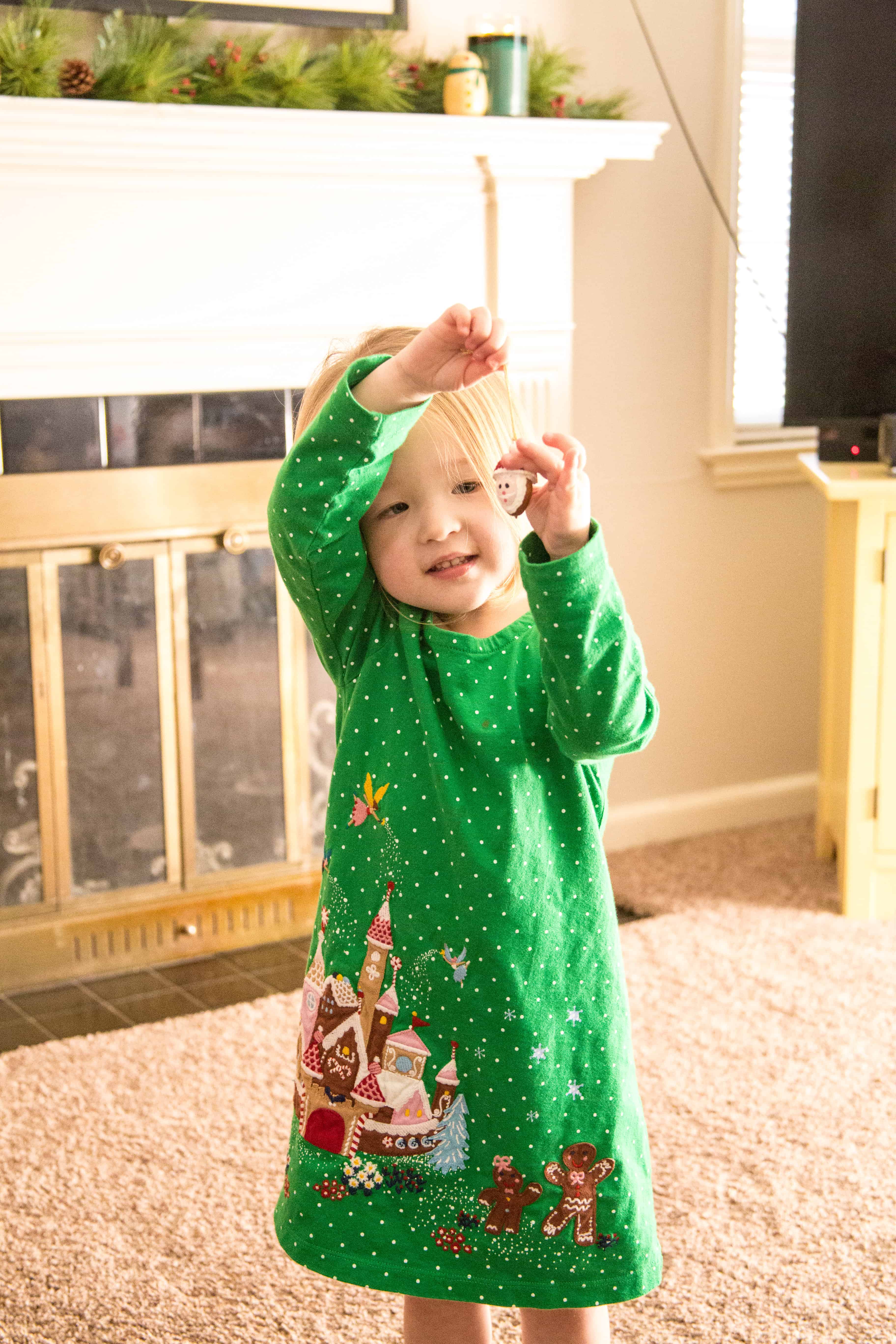 This post contains affiliate links. The price you pay as a consumer does not change, but we may make a small commission based on your purchase. That income keeps the wheels turning over here. Thank you for your support!
SaveSave
SaveSave
SaveSave