How to Host a Cookie Exchange (with free printables)
Get ready to host the best cookie exchange! We've got everything you need, from step-by-step instructions on how to host a cookie exchange to tons of free printables for invitations, instructions, labels, and even scorecards if you're feeling competitive.
Nothing is more festive than good friends and Christmas cookies around the holidays. And at this time of year, nothing says celebration like a cookie exchange! Put together your guest list, send out your invitations (grab a template for free below), and in no time you'll be catching up with friends while you all enjoy a beautiful spread of cookies.
Read on for everything you need to make hosting a cookie exchange this year a breeze or jump to any section in the post by clicking the link below.
What Is a Cookie Exchange / Cookie Swap?
A cookie exchange / swap is where each guest brings a certain predetermined number of one type of cookie to a party. Guests then swap cookies and you go home with a beautiful platter of assorted cookies (minus any that you eat while at the party!). The host usually provides drinks and savory appetizers to go along with the cookies. It's a fun time to socialize with friends and take home some treats to share with family, or even to use on a cookie platter you give to neighbors, teachers, etc.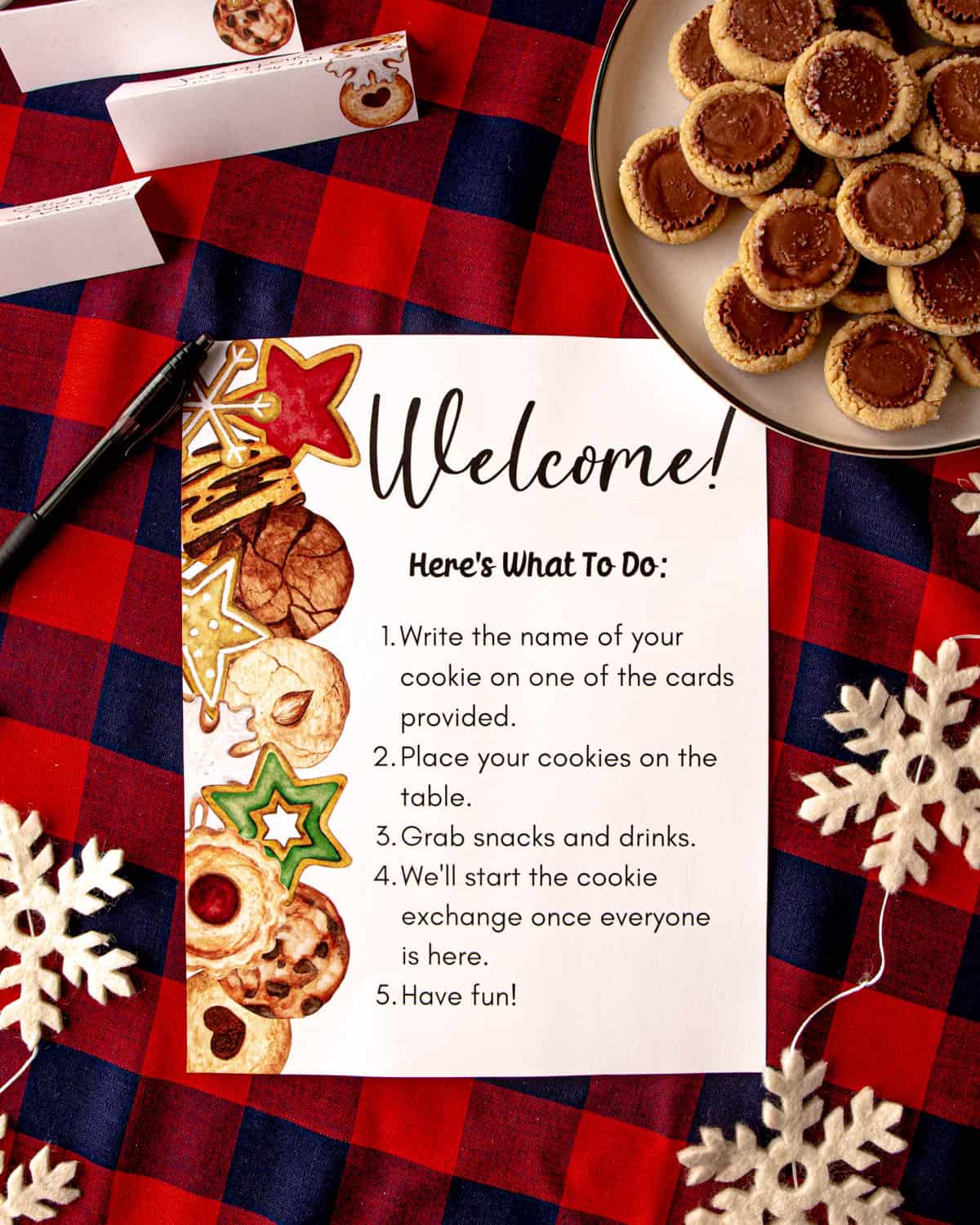 Step #1: Set the Ground Rules
If you are hosting a cookie exchange for the first time, it's important to think about what ground rules you want to set before reaching out to your guests. Communicate these rules up front as part of the invitation, to avoid any confusion. Here are some things to consider:
How many cookies should people bring? (See note below for recommendations).
Should people bring only homemade cookies or are slice-and-bake or store-bought cookies okay? Some people get serious about their cookies, so it's best to establish this up front.
How are you asking people to bring their cookies? I recommend asking them to bring them in a disposable container and then ask guests to bring a second disposable container to gather their cookies to take home. This helps with logistics, especially if anyone has to leave early.
Are there any allergies or dietary restrictions in the group? If so, decide in advance how you want to handle that.
Do you want guests to share what type of cookie they are making in advance? The pro of this is that you can watch for too much overlap (you don't want half the group making the same cookie!), but it also adds another logistical step for you as the host. If you are using an electronic invitation, this can be done easily by asking people to add a comment or respond to the invite group with their cookie choice.
Do you want people to bring copies of their recipe with them? Or if you are doing electronic invitations, do you want them to post their recipe in the Evite or email/text you their recipe so that you can share it after the party? This is not necessary but can be fun!
Do you want to make it a friendly competition? You know the group you invited to know if this is a good idea or not. You want to keep it light and fun. I would recommend only doing this if it's a bigger group of at least 10+ guests. If you do want to add this element, scroll down for a printable voting card and consider getting a small prize for the winner. Don't forget to have enough pens or pencils!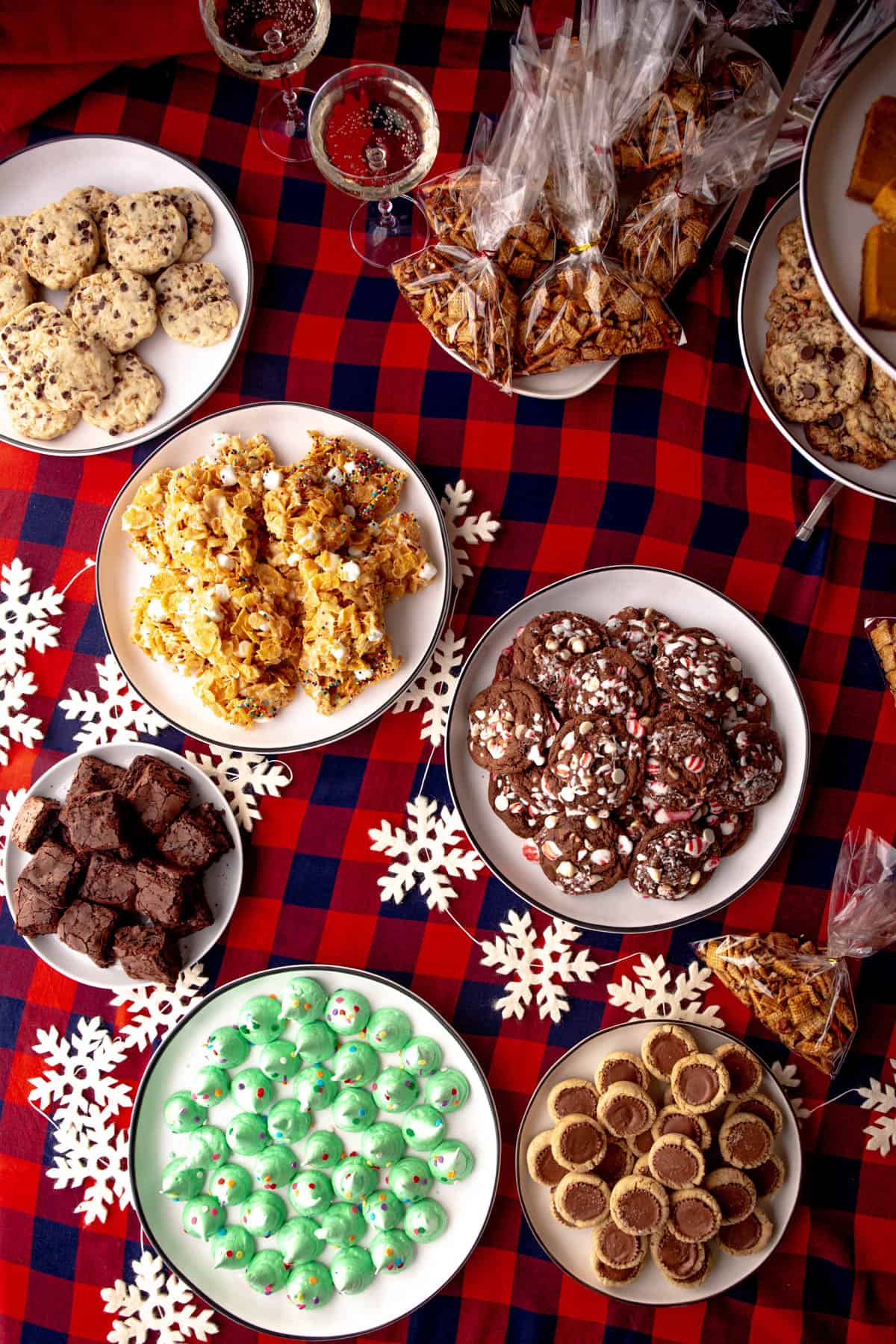 Step #2 Decide How Many Cookies to Make / Cookie Exchange Math
This really depends on the size of your group. For a group of 5-10, I would recommend a half dozen cookies per guest. You'll see some recommendations to bring a full dozen cookies per guest, but that requires a lot of baking and can be a barrier for some people to come. If in doubt about how many cookies to ask people to bring, shoot a couple people in your group a text to see what they think. If your group is larger than 10, I would recommend asking each person to make 4 dozen. (Example: If each person brings 48 cookies and you have 15 guests, then each person will bring home 3 of each cookie.)
Step #3: Decide What to Serve (besides cookies!)
Cookies are really the star of this show, so think about what's going to compliment all of these cookies. I recommend making several savory appetizers to help soak up some of that sugar. Here are some ideas: Cheese Pinwheels with Crispy Prosciutto, Black Bean and Corn Salsa, Baked Chicken Cheesy Wontons, Pretzel Wrapped Pigs in a Blanket, and Pasta Salad Skewers. In terms of drinks, consider making a hot chocolate bar or keep it simple with water, tea and coffee. If you want to serve alcoholic drinks, set out a self-serve bar with wine and beer and possibly a batch cocktail so that everyone can serve themselves.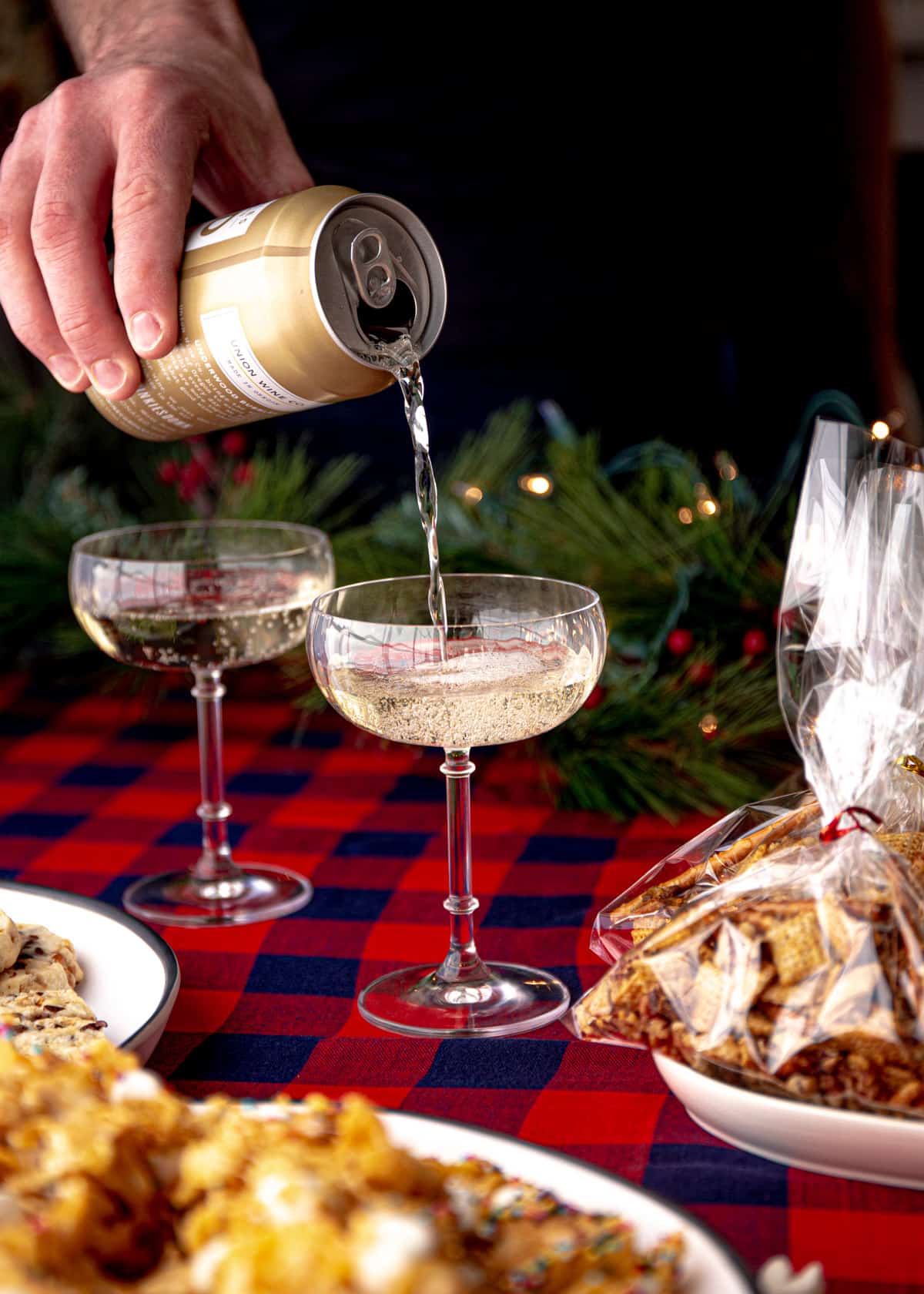 Hosting Tips
Try to send invitations out 3-4 weeks in advance, especially around the holidays when everyone's calendars fill up. Whether you are mailing hard copy invites (see below for a printable version), sending an email/Evite or simply texting some friends, don't let this step hold you back. It doesn't have to be fancy. Just brainstorm a list of friends and reach out to them! But be sure to include important items from the ground rules.
Have some extra disposable containers or plates/foil available for anyone who forgot to bring something to take their cookies home in.
Make your cookies ahead of time and freeze them. You don't want to be stressed baking cookies at the last minute. Here's some ideas for Freezer Friendly Cookies.
When guests arrive, direct them where to place their cookies and have them put the name of their cookies on one of the labels below. Invite them to enjoy drinks and appetizers and let them know you will start the cookie exchange once everyone has arrived. Communicating these instructions clearly is important because you don't want people starting to eat cookies or exchanging cookies before everyone arrives or someone might not get to participate.
If you have a bigger group where you won't be able to greet each guest as they arrive (especially in the case of 20+ people at a church/school/work), print out the Cookie Exchange Instructions below and hang them up where people can see them when they arrive.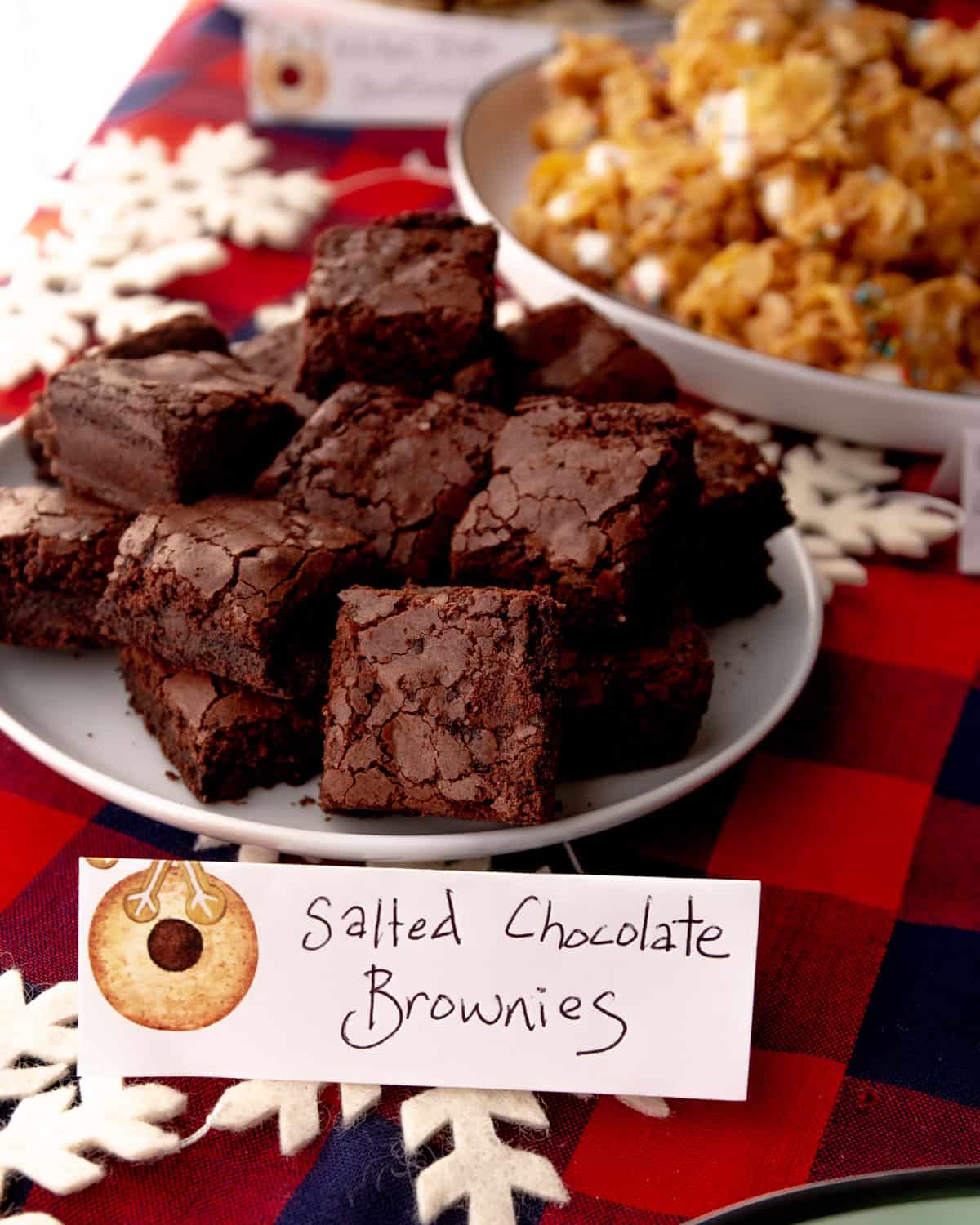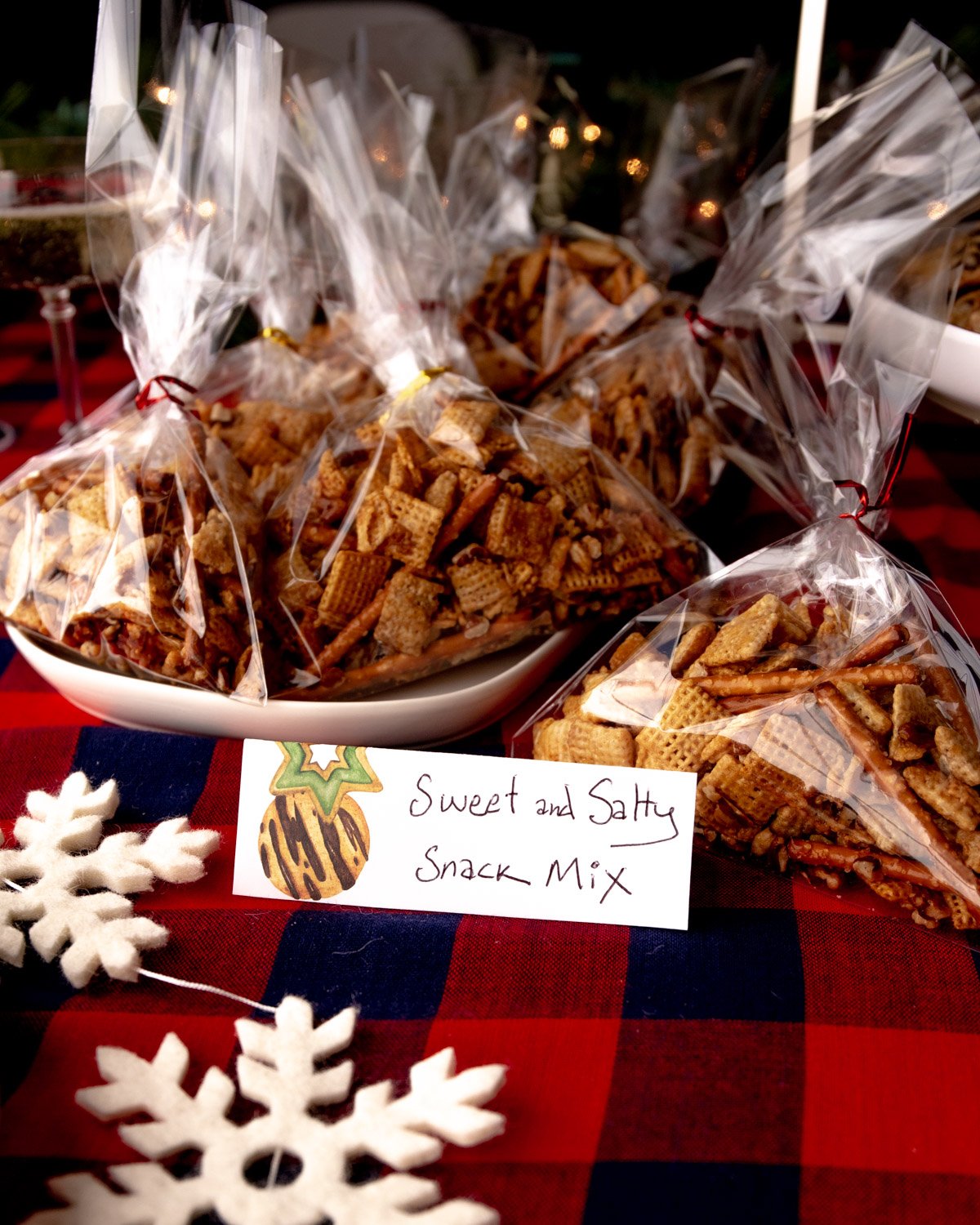 FAQs
What is the ideal number for a cookie exchange?
There really isn't an "ideal" number of guests for a cookie exchange. The main thing the number of guests impacts for a cookie exchange is the number of cookies you are asking people to make, so as long as you are making sure to inform guests of how many cookies to make then you can't go wrong with any size. I've done cookie exchanges with small groups of 5-6 and large groups of 30-40 and they were all fun and enjoyable.
When is National Cookie Exchange Day?
December 22 is National Cookie Exchange Day in the United States. While it might be fun to host a cookie swap on that day, absolutely any day around the holidays is great for a cookie exchange.

What are some alternatives to a cookie exchange?
Try a pie or cake party where every dessert is sliced into thin pieces, an appetizer party with everyone bringing their favorite bite-sized hors d'oeuvres, or a charcuterie party where everyone brings their favorite cheese and cracker combo.

What is the best cookie to make for a cookie exchange?
This a great time to pull out your favorite Christmas cookie recipe. And you don't have to stick just to cookies. Other individually portioned baked goods like brownies, bars, mini cupcakes, tarts, cake pops, and truffles fit right in. Everyone loves individual bags of snack mix on the dessert table, even if they are not "cookies". This resource that has something for everyone: The 50 Best Christmas Cookies (and other treats) to Make for a Cookie Exchange.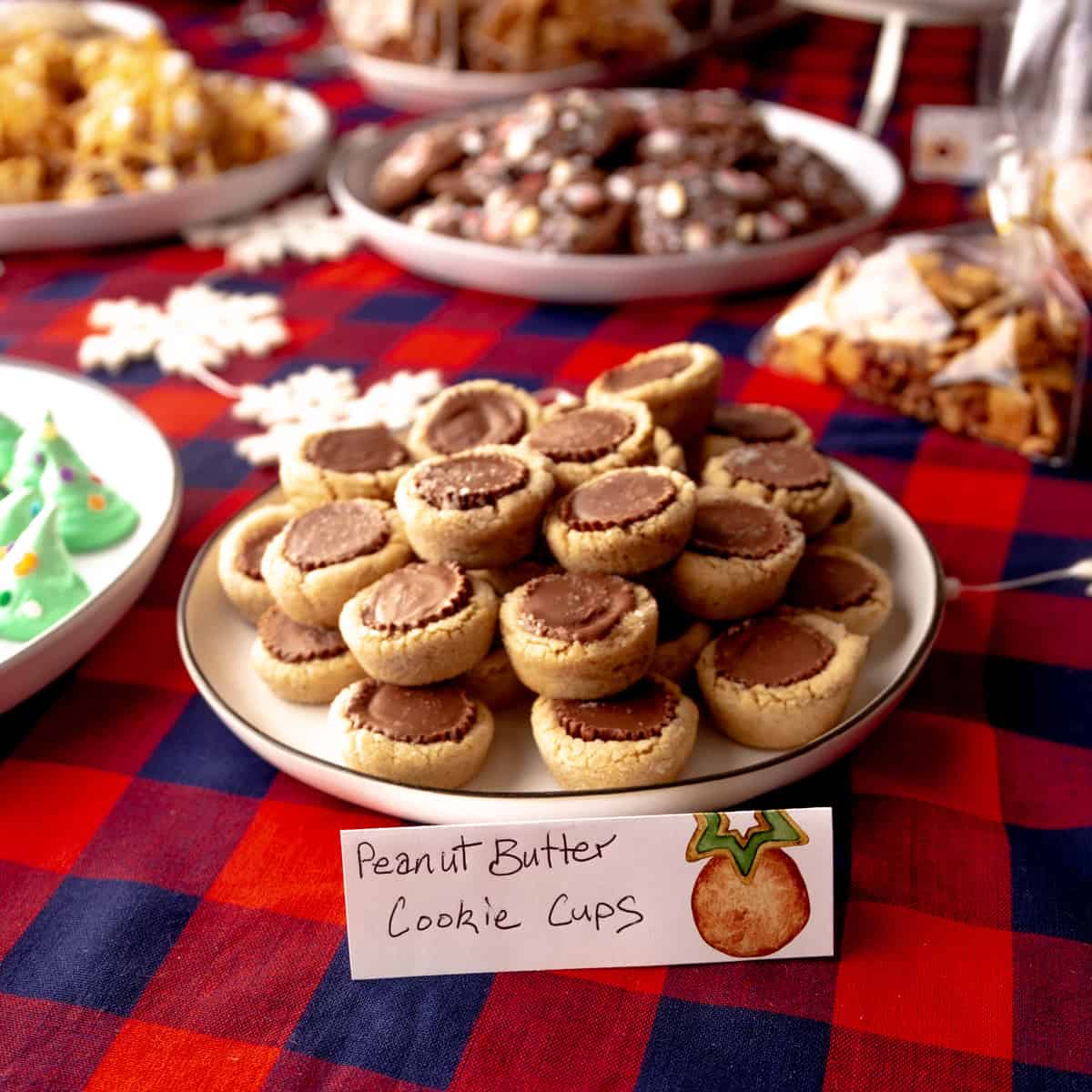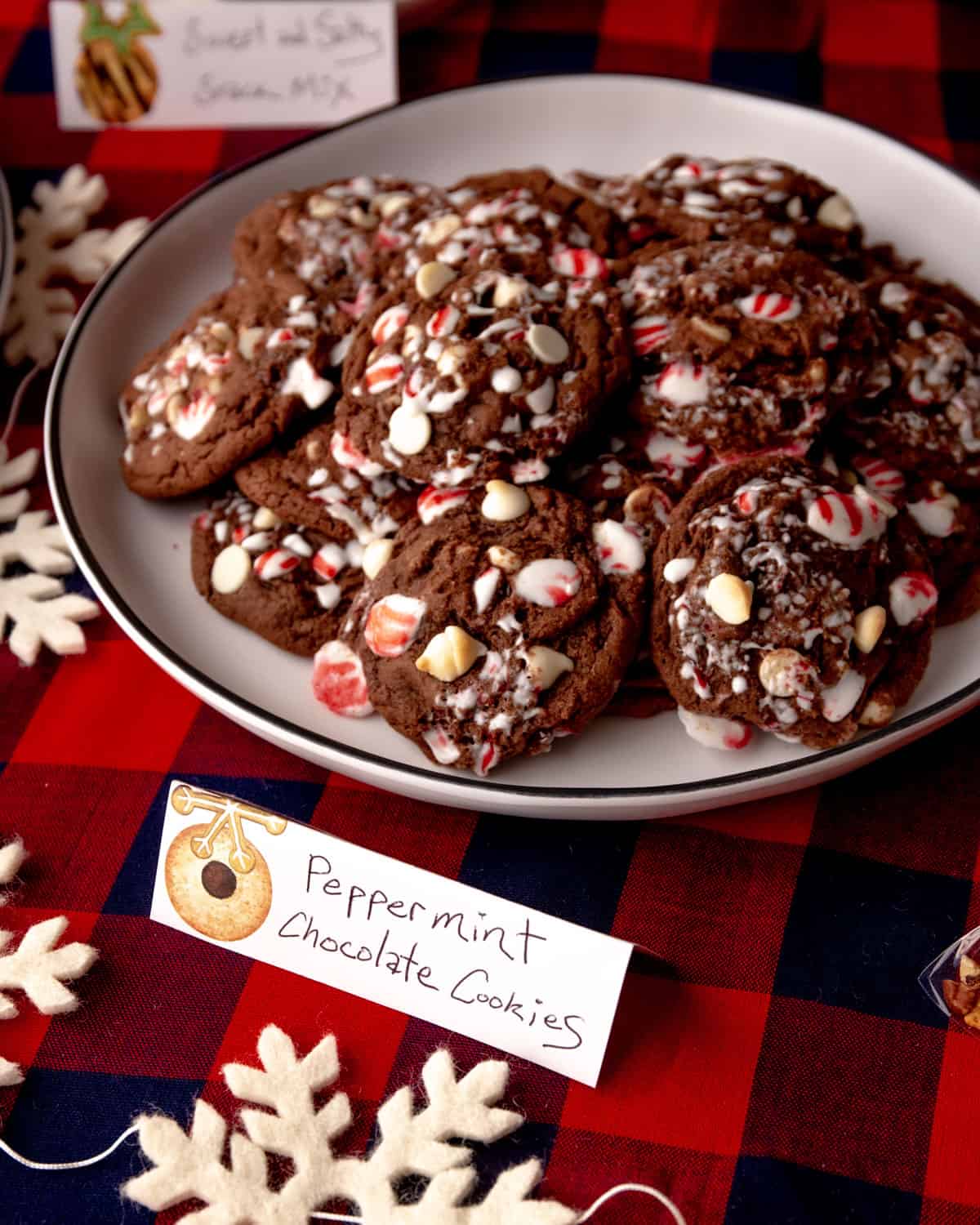 Free Printables
When you're ready to host your cookie exchange, you'll need a few things, and they're all provided below.
You have two options to access all of these documents:
Click on the Canva template link. You need to set up a free Canva account and then can edit the document to add your personalized text directly into the file.
Right click on the image, click 'open image in new tab' and jump to a printer-friendly version of the document. These cannot be edited, but you can print them and write in the details for your event.
I printed these on 110-weight card stock which was a nice weight for mailing the invitations and for the images I used at the party.
---
Invitation (Option #1) – 8.5×11 inches
This version is best for printing and sending in the mail. It prints two per page. Click here for the Canva template.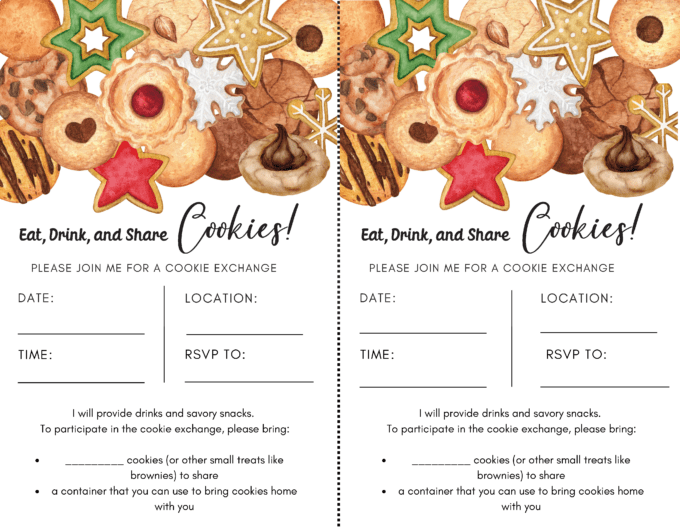 ---
Invitation (Option #2) – 8.5×11 inches
This version is best for sending as an email attachment. Click here for the Canva template.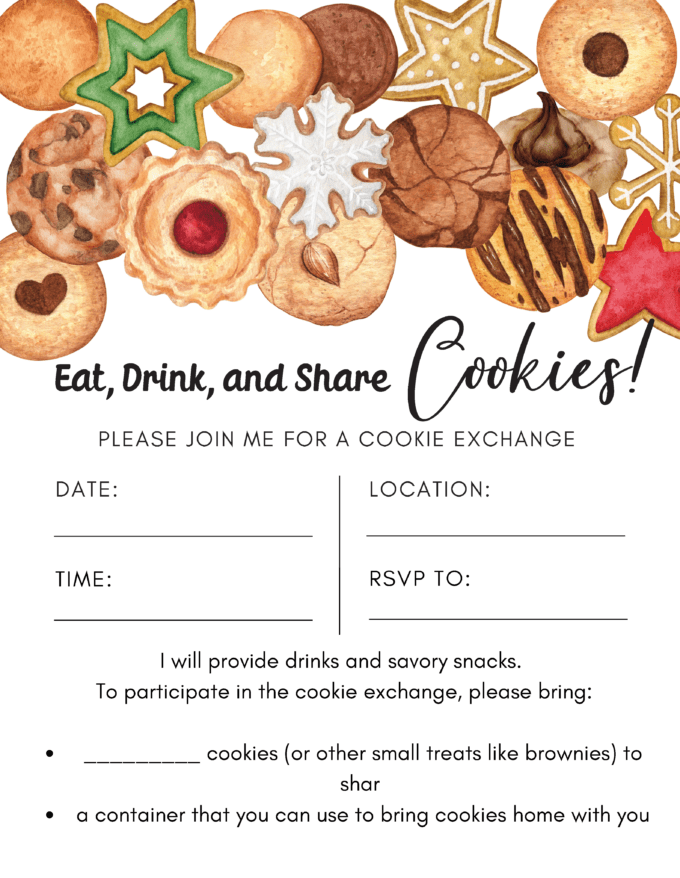 ---
Invitation (Option #3) – 5×5 inches
Use this version if you want to have the invitations printed onto 5×5 square cards. You'll need to print on both sides. Click here for the Canva template.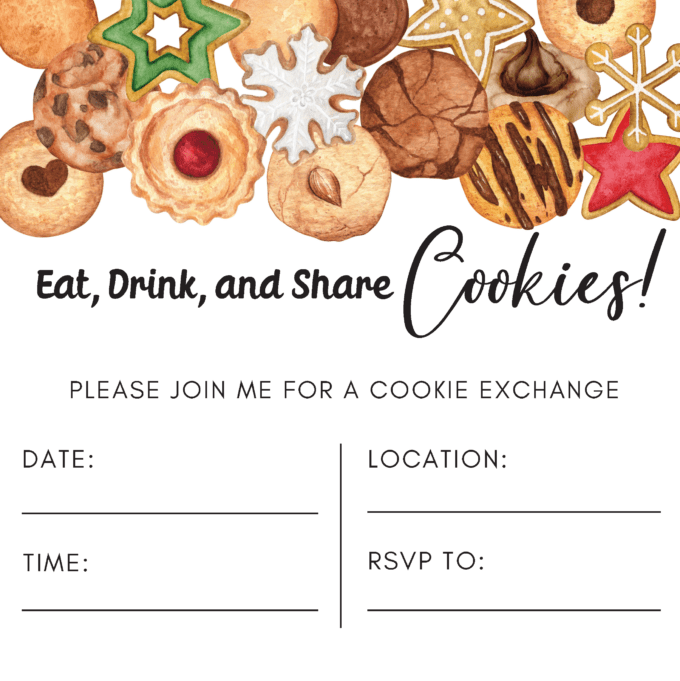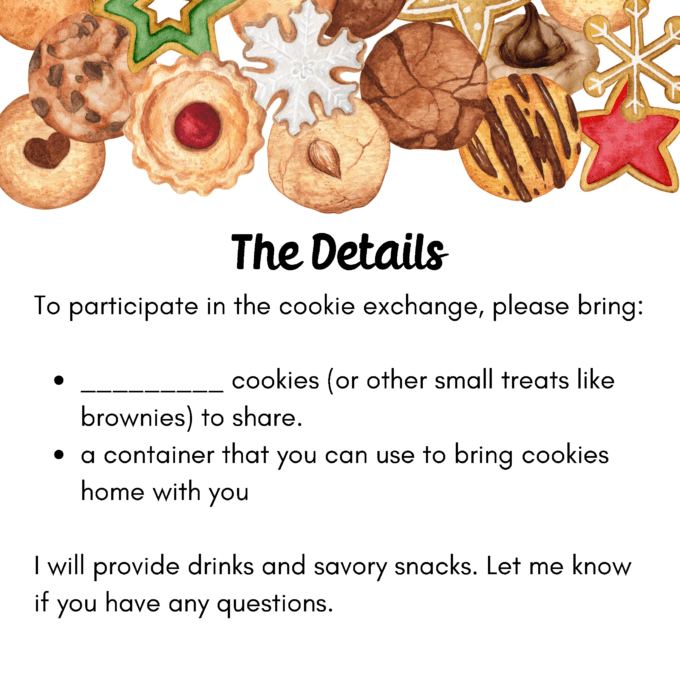 ---
Cookie Labels (Option #1) – 8.5×11 inches
These labels can be cut out and folded in half to form table tents. Cut out the labels before guests arrive so that they can write down the name of their cookies. Click here for the Canva template.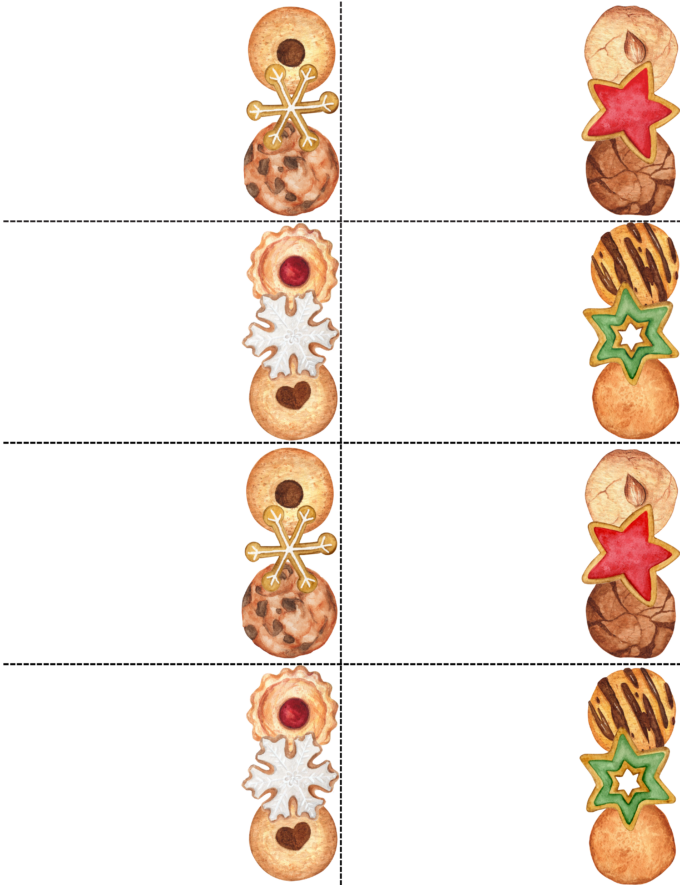 ---
Cookie Labels (Option #2) – 8.5×11 inches
These labels can be cut out and hung on the wall or table. Cut out the labels before guests arrive so that they can write down the name of their cookies and then tape them up. Click here for the Canva template.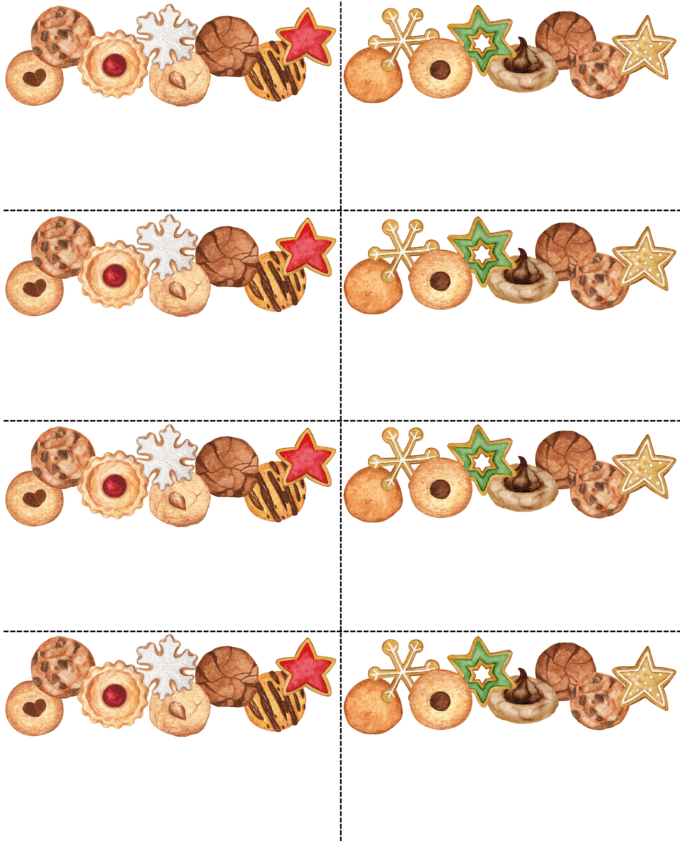 ---
Instructions for Guests – 8x5x11 inches
Hang this sign near the labels so that everyone knows what to do when they arrive. Click here for the Canva template.
---
Scorecard – 8.5×11 inches
If you're feeling competitive, try making a game out of the cookie swap and have guests rank their favorite with these scorecards. Have a few fun prizes ready for the winners. This prints two per page. Click here for the Canva template.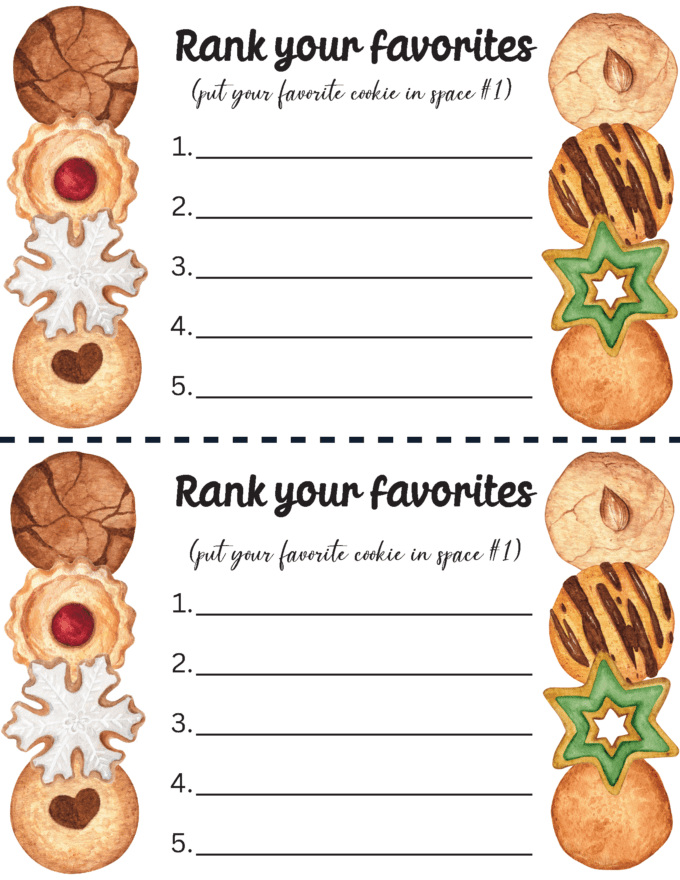 ---
More Cookie Exchange Ideas