Looks like dessert right? But with only 211 calories per serving and packed with 15 grams of protein, we were a happy crew sipping on Peanut Butter Chocolate Oat Smoothies more than once this week. Possibly more than once on one particular day…
Come by our house on any afternoon and you may find us blending up a batch of smoothies for an afternoon snack. Or, as Molly and Clara say "Moothie, Moothie!"
They're such a frequent part of our breakfast and snack rotation that I'm always on the hunt for new flavors and new ways to add a little extra nutrition. Which was why I was thrilled to create an original smoothie recipe with two companies whose products are regulars in our pantry and fridge.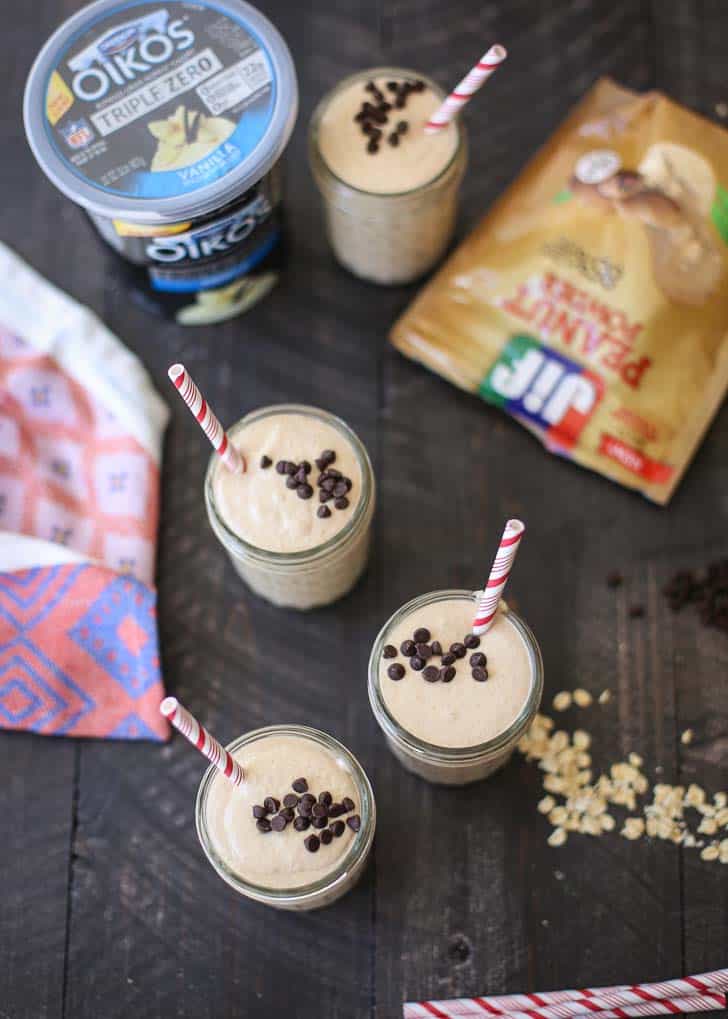 Enter oat smoothies. Ever tried adding oats to your smoothies? Apart from the obvious boost of whole grains, oats give smoothies a hearty texture that makes them resemble a thick milkshake.
And who doesn't love a milkshake?
Peanut powder is the dominant flavor here. We were first introduced to peanut powder by our friends Alyssa and Amy who took the long (LONG) trip to visit us in Bangkok a few years ago. Packed in their bags were all sorts of creative snacks including peanut powder.
I was immediately hooked. Peanut powder has all the flavor of peanut butter but 85% less fat. As it turns out, it's also one of those perfect instant-snacks. Stir it into milk or yogurt for added flavor and protein.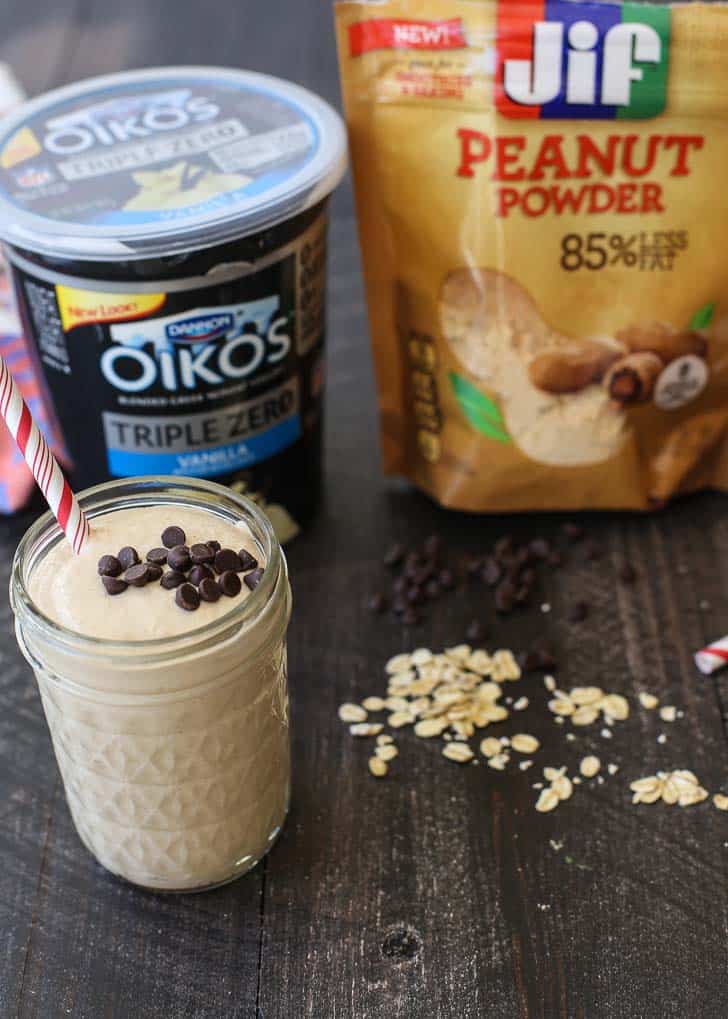 Or stir it into a batch of brownies. Which is what I recommended to the friendly cashier (hi Lorraine!) at my local Walmart when she asked about the bag of Jif™ Peanut Powder (original flavor) I bought for this post. I also told her that I was making smoothies for a blog. Which I think confused her nearly as much as I confused the folks stocking the produce while I took shameless selfies in the yogurt aisle (see below). #foodbloggerproblems
No brownies today, though seriously, these smoothies are sort of the second best thing. Smooth, with a hint of vanilla from Oikos (Vanilla) Triple Zero Greek Nonfat Yogurt and a few chocolate chips sprinkled on top because…why not?
Happy "moothie!" making friends!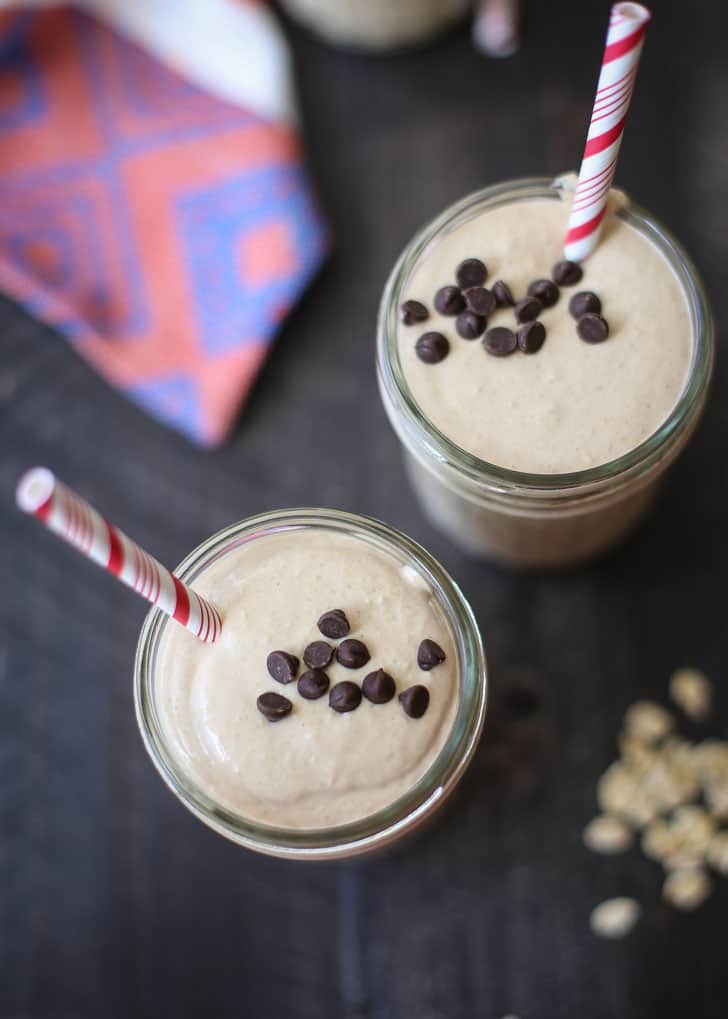 I'm in Minneapolis today eating delicious food and hanging with other food photography-obsessed folks at the Pinch of Yum Workshop! It's professional development (of the most fun sort) for my day job photographing dinners over at Cook Smarts! Follow along on Instagram if you please.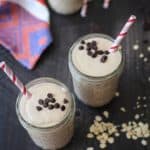 Print Recipe
Peanut Butter Chocolate Oat Smoothie
Thick and creamy like a milkshake, but packed with protein and good-for-you ingredients, this is a peanut butter chocolate smoothie you can feel good about enjoying...even for breakfast.
Ingredients
3

Tbsp

Rolled Oats

2

cups

Greek Yogurt

2

cups

Milk (any type)

1

cup

Ice

3

Tbsp

Peanut Powder

3

Tbsp

Chocolate Syrup

Mini Chocolate Chips, for topping (opt)
Instructions
Blend rolled oats in a blender until they form a fine powder. Add yogurt, milk and ice and blend until smooth. Add peanut powder and chocolate syrup and blend just until everything is combined. Pour into glasses and top with mini chocolate chips.
Nutrition
Calories:
211
kcal
|
Carbohydrates:
35
g
|
Protein:
15
g
|
Fat:
1
g
|
Cholesterol:
8
mg
|
Sodium:
174
mg
|
Fiber:
2
g
|
Sugar:
27
g