How to Make Soy Candles
Published Dec 01, 2012•Updated Oct 03, 2023
Making homemade soy candles is one of the easiest crafts projects around, and these little beauties make awesome gifts.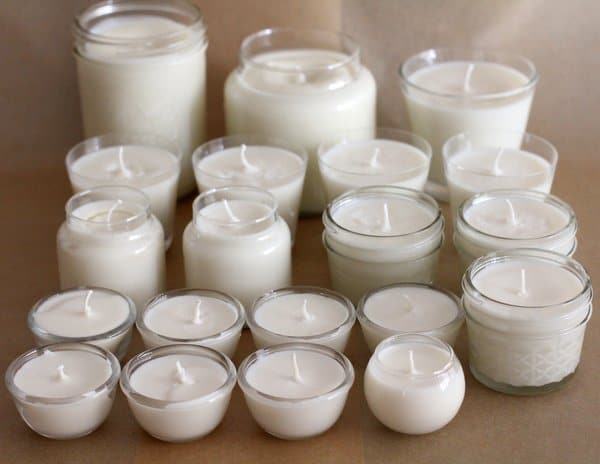 In case you ever wondered what $15 worth of soy wax and 30 minutes in the kitchen will get you…
It all starts with a bag of soy wax.

You would be shocked to know how fast we blow through candles around here. I mean fast. I think it's the coziness factor.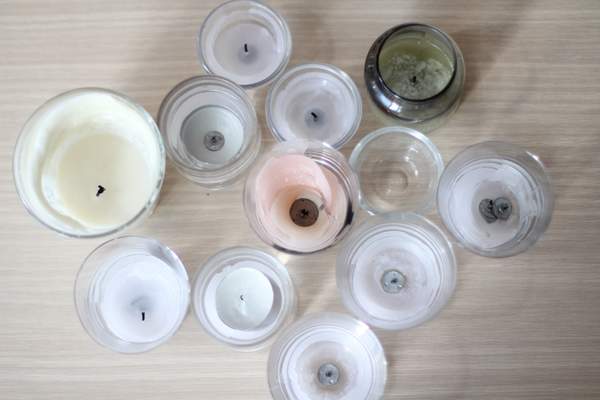 Thanks to all that candle-burning, my collection was looking pretty haggard
But then (probably thanks to Pinterest), I discovered that making soy candles is super easy.
About a month ago, I had friends over and we experimented with making soy candles in all sorts of sizes and "flavors" (using essential oils).
They all worked great, although they don't project aroma as much as most commercial candles. (Purchasing special oils designed for candles helps to increase the intensity of the scents.)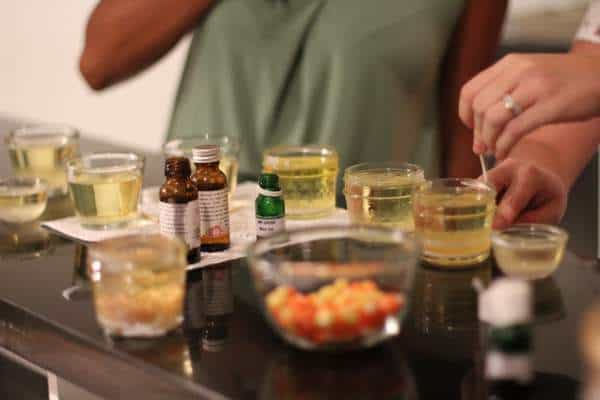 (Can you spy the candy corns? We made a fall-themed night of it.)
Paraffin vs. Soy Wax
Making these candles is particularly easy because soy wax is not nearly as sticky as the paraffin used in most commercial candles. Soy wax washes right off of everything. If you google paraffin vs. soy wax, there are lots of people out there who will tell you that soy candles burn cleaner than paraffin, but to me, the biggest advantage is how easy and clean these are to make at home.
The Tools
It doesn't cost a lot of money to make soy candles. All you need are these totally affordable, basic tools.
I often use mason jars like those linked above (especially if making these for gifts), but any jar will work. Candle wicks (also found on Amazon), a wooden skewer (or pencil), scissors, and double-sided tape (or glue) are also good to have around.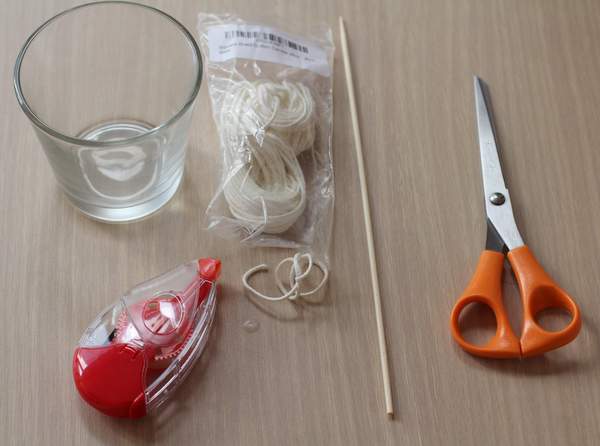 The Steps
First, measure a piece of the wick so that it is about 4 inches longer than your jar is tall. Tie a knot in one end. Secure the knot to the bottom of the jar with a piece of double-sided tape. Use a skewer or pencil to push it down and secure it. I get a bunch of these ready at once, so I can pour the melted wax right in.
(Note: you can also buy fancy wicks with a metal piece for the bottom of the jar
…not necessary, but makes them a bit easier to secure to the jar.)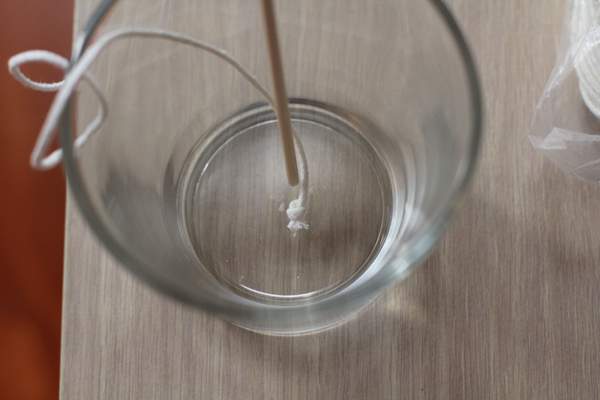 Next, melt the wax. The soy wax comes in these nice white flakes.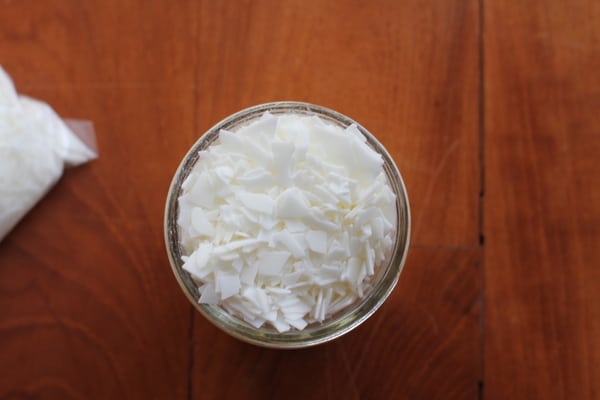 Melt the wax in a pan over medium heat or in a microwave-safe container and on high (it only takes 90 seconds in my microwave).
4 cups of soy wax flakes = 2 cups melted wax.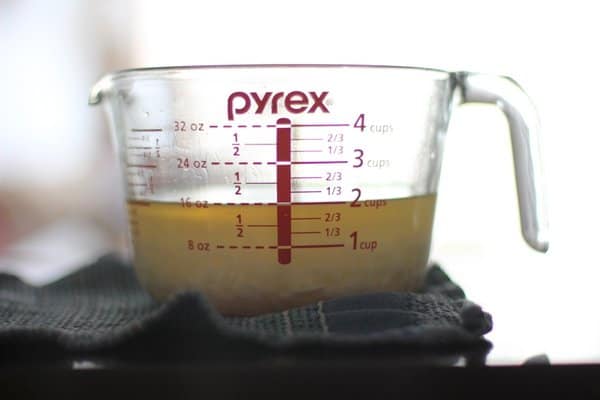 When it's all nice and melted, let it cool just a bit. Then stir in essential oils (about 4 drops per cup of melted wax) to scent the wax.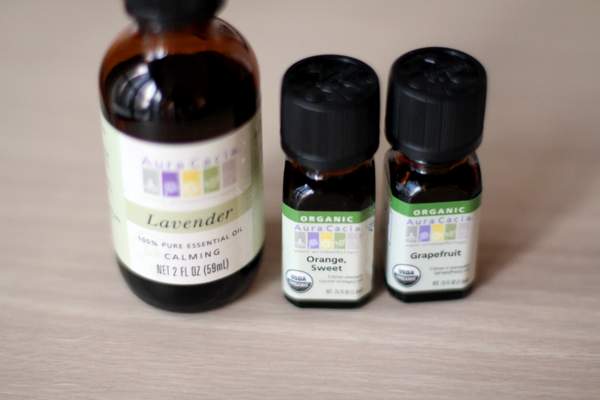 Pour the warm wax into the prepared jars, leaving about 1 inch of space at the top.
Twist the wick around a skewer or pencil and set it on top of the jar so the wick stays centered.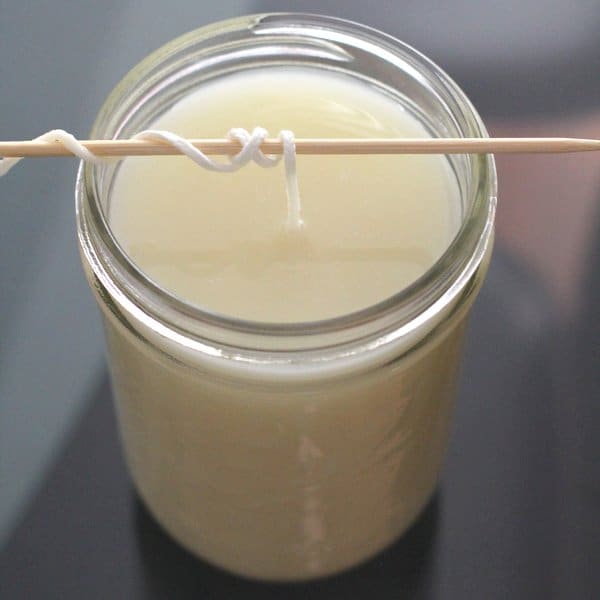 When the wax is cool (about an hour), trim the wick so about 1 inch of wick remains.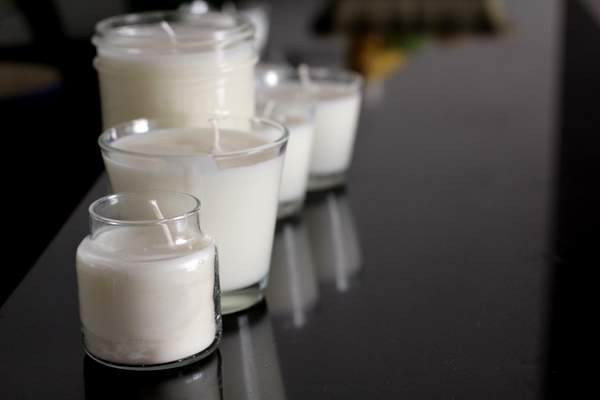 Pretty, aren't they?
And even nicer once lit…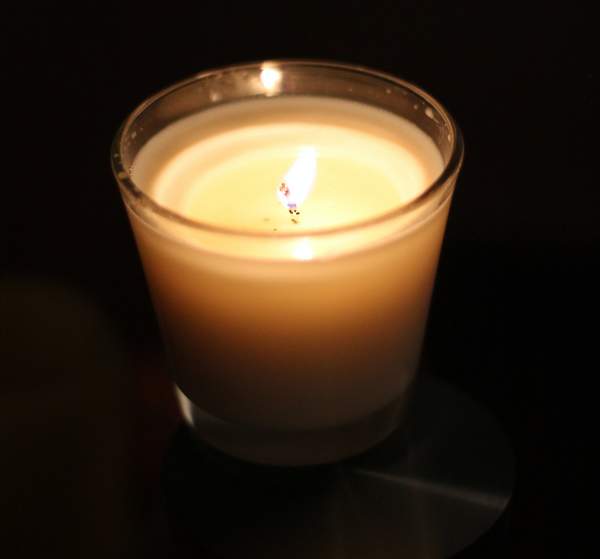 Wouldn't these be nice as Christmas gifts?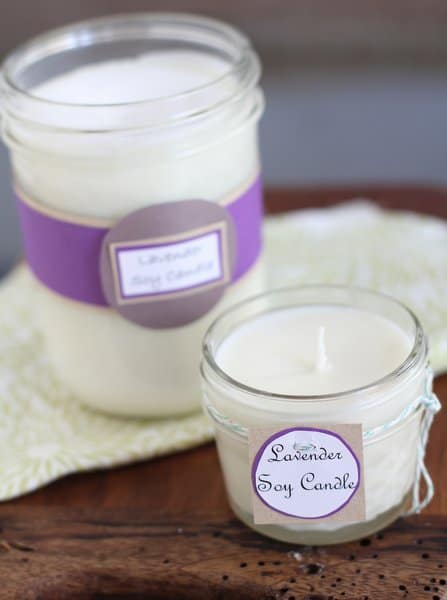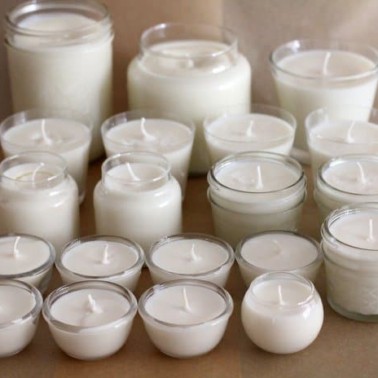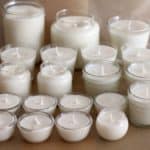 Print Recipe
How to Make Soy Candles
Inexpensive and surprisingly easy, this "recipe" for soy candles can be easily multiplied to make many candles at once. These make great gifts.
Servings:
1
16oz. candle, or smaller candles to equal abmout 16oz.
Ingredients
Clean, dry containers

(any combination of sizes that will hold approximately 16 fluid oz. of liquid; i.e; two 8-oz. or one 12-oz. jar and one 4-oz. jar)

Candle wicks

(I use these)

4

cups

soy wax flakes

(I use these)

Essential Oils (4 drops per cup of melted wax), optional
Instructions
Set the glass containers on a clean, dry dishtowel. Cut a piece of wick for each container that is 4 inches longer than the container is tall. Place a small piece of double-sided tape in the bottom center of each container. Tie a knot at the end of each wick. Press the knot firmly into the double-sided tape to lightly secure. Leave the free end of the wick hanging over the side of the container.

Fill a sauce pan to the top with soy wax flakes. Place the pan over medium heat. As the wax begins to melt, after about 5 minutes, gently stir it until all of the wax becomes smooth and pourable. (Alternatively, melt the wax in the microwave.)

Remove the wax from the heat and let it cool for about 5 minutes. Add essential oils, if using, and stir to combine.

Pour wax into prepared jars, leaving 1 inch of space at the top of each jar. Center the free end of the wick in the wax. Twist the wick around a pencil or wooden skewer. Let the wax dry for at least an hour. Cut the wick short so that only about 1 inch remains.
Notes
Soy wax has a much lower melting point than parafin, and comes out easily in hot water and soap. It will wash easily out of pots and pans and out of most fabrics when put through a regular wash cycle. To be safe, I use older dishtowels for this project, but I've never had the wax damage the towels or my cooking tools.