Chai Spice Granola with Almonds and Coconut is a fragrant granola with a good amount of chai spice, coconut, and almonds.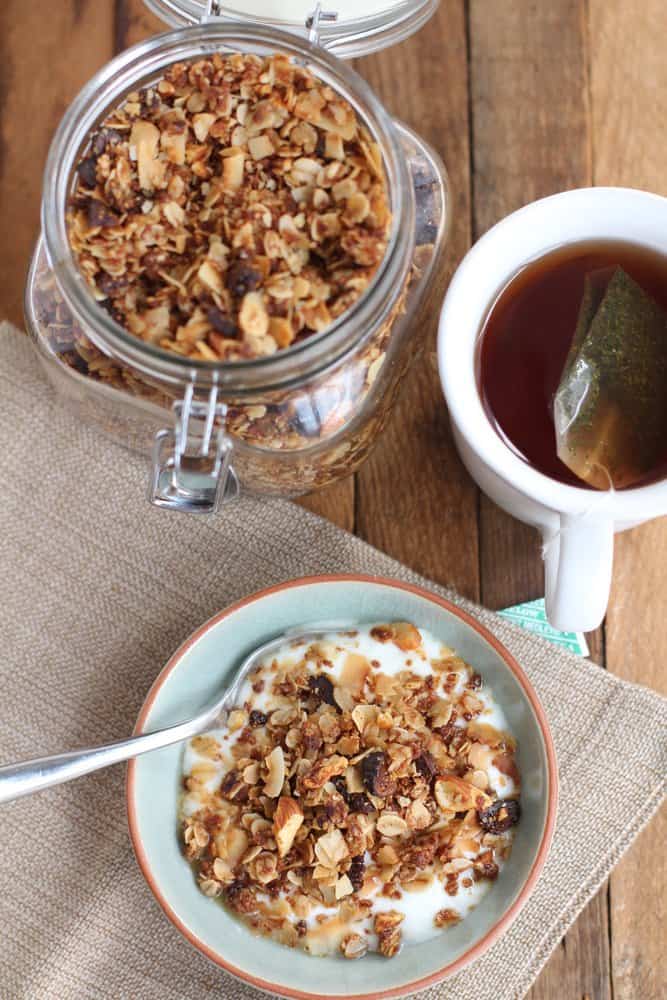 I'm in a haphazard place with dinner-making this week. We've been great about menu-planning and stocking the fridge on Sundays. But on my commute home from work, I keep deciding to stray from the plan. It's resulting in a lot of improvisational meals. Last night I planned a vegetarian stew and instead made miso soup and baked spring rolls. Tonight it was supposed to be broth-y asian greens (a recipe from Fine Cooking) but ended up whole wheat pasta with a variation on this pesto.
I'm usually such a planner. This is a strange turn of events.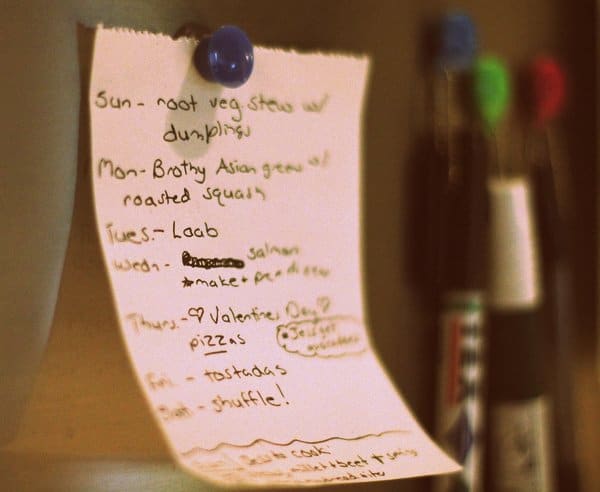 Maybe I'm just liking that every night feels like my own personal quick-fire challenge.
Is anyone else feeling certain they could survive off of nothing more than Alaskan salmon and sourdough bread after last week's Top Chef?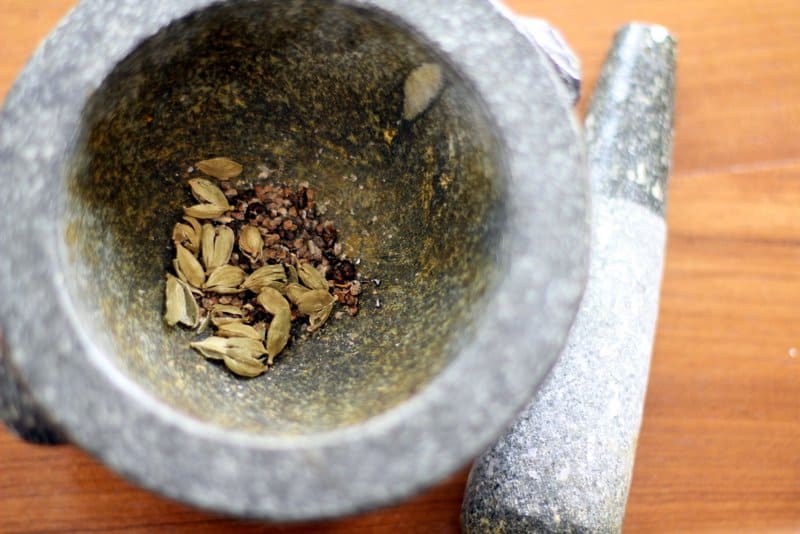 What was I talking about?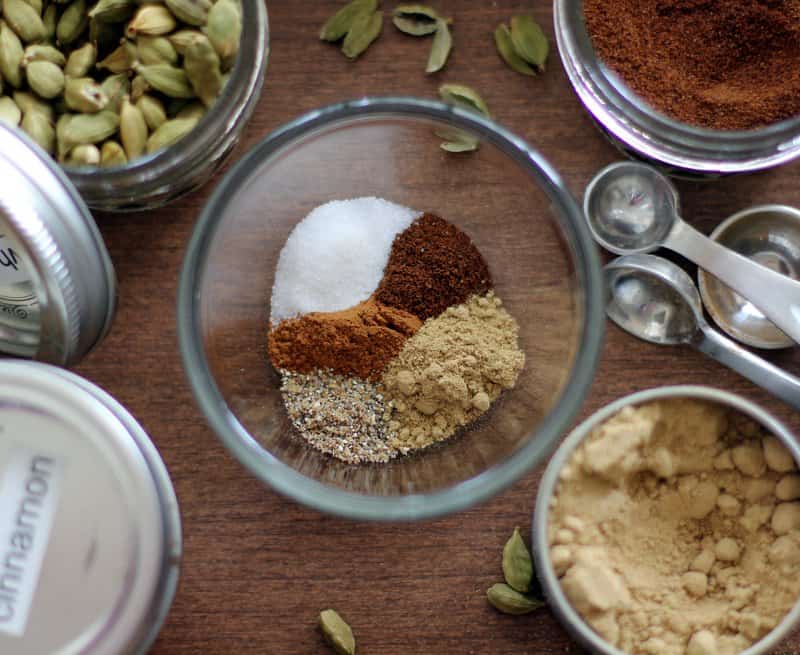 Oh right.
Most of these winging-it dinners are turning out okay, although meals that consist of throwing "a little of this" and "a little of that" into a pot and hoping for the best hardly translate well to blogging.
The only thing saving the pages of this blog from silence at the moment is that I spent quality time over the weekend up to my elbows in oats, almonds, coconut and chai spice. (I used actual measurements, so as to keep the extemporaneous work limited to dinnertime.)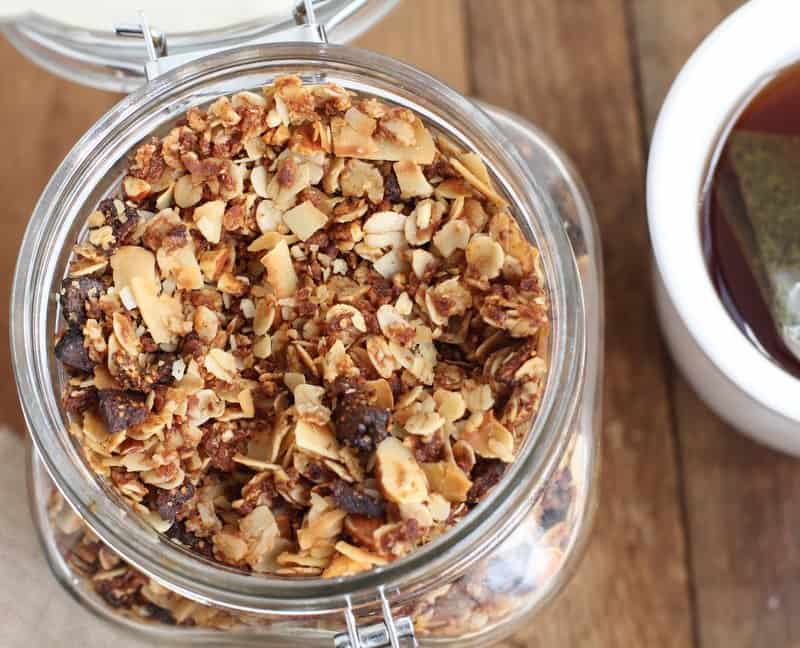 Chai-spiced granola has been on my mind for months. The memory of the fragrant chai we drank on a few vivid mornings in India last April or the addictive batch of granola by this name that I bought in the U.S. last September have kept it simmering in the back of my mind. I find granola recipes to be a fickle sort. They might taste great on their own, but do they taste just as good over plain yogurt? Are they adaptable enough to embrace any sort of dried fruit I happen to have on hand? Is the balance of salty and sweet just right?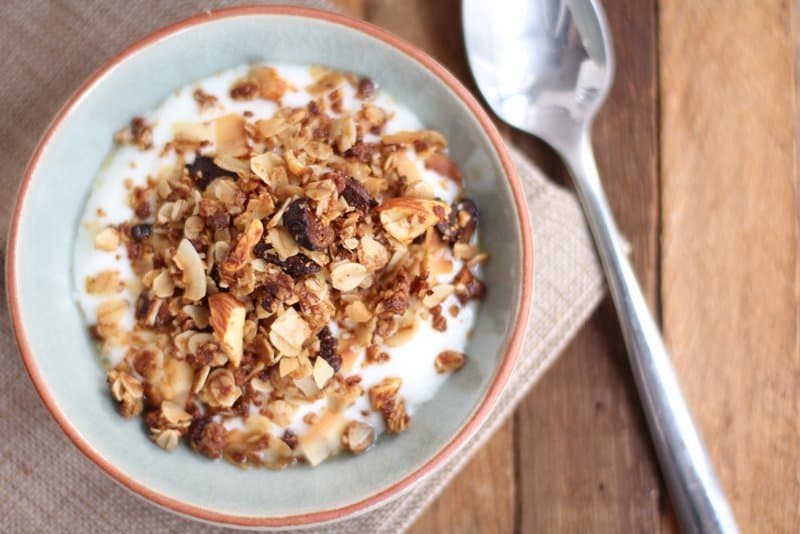 After several batches (all of which we will still, of course, happily eat), the one below was exactly the granola I had in mind.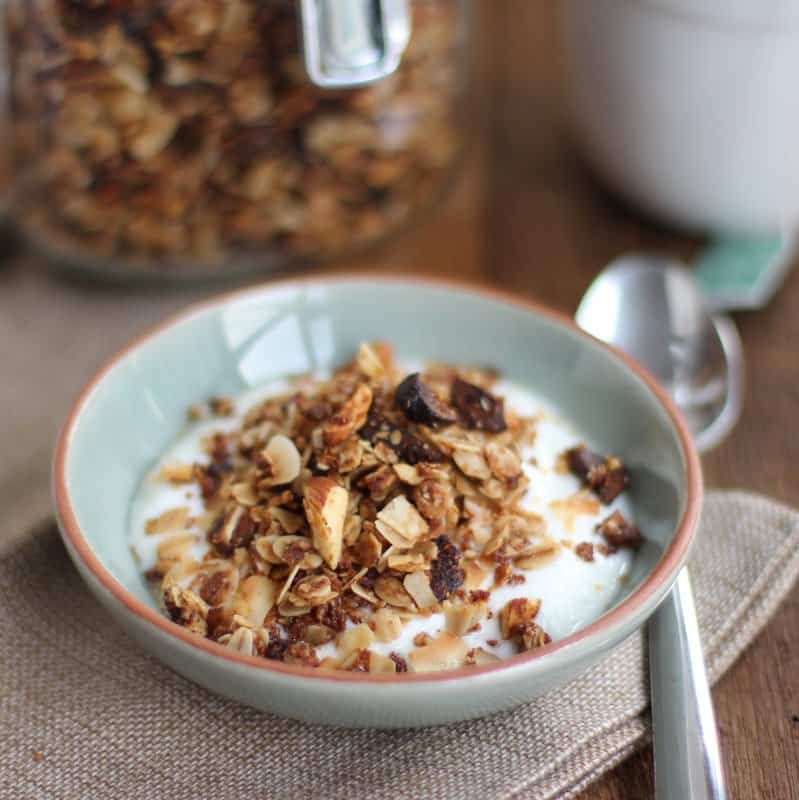 I should offer one quick note on the finished recipe. The chai flavor in this granola really shines. It does not slink off to hide behind the toasty-ness of the oats, the subtle sweetness of the coconut, or the crunch of almond. It is present and assertive, and I loved it this way. Frank preferred this exact recipe with a more understated spice. If you think you'd fall into his camp, this granola is certainly still worth making, but I would recommend using half of the spice mixture as presented below. (Hold on to the rest - it would be great stirred into warm milk with honey, mixed into a batch of banana bread, or saved for a future batch of granola.)
Good thing that if one of these improv dinners should fail, we're well-stocked in tasty granola and yogurt.
More Granola Recipes
Favorite Tools
Half Sheet Pan - The perfect size pan for everything from roasting vegetables to baking cookies.
Mixing Bowls - These are classic and always my favorite.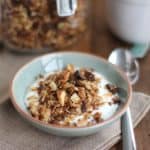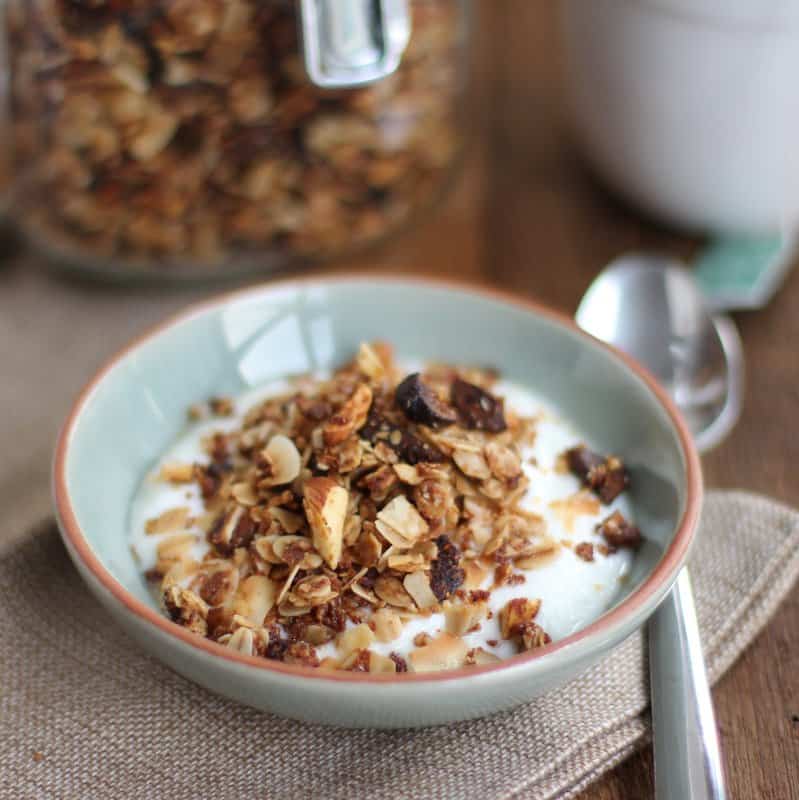 Print Recipe
Chai Spice Granola with Almonds and Coconut Recipe
A fragrant granola with a good amount of chai spice, coconut, and almonds.
Equipment
Mixing Bowls

Half Sheet Pan
Ingredients
Chai Spice Mix:
1 ½

teaspoon

Ground Cinnamon

1

teaspoon

Ground Cloves

½

teaspoon

Ginger Powder

½

teaspoon

Ground Cardamom
Granola:
1 ½

cups

Rolled Oats

¼

cup

Quick-Cook Oats

1

cup

Unsweetened Coconut Flakes

½

cup

Whole Unsalted Almonds, roughly chopped

¼

cup

Honey

2

Tablespoons

Coconut Oil

1

Tablespoon

Light Brown Sugar

½

teaspoon

Almond Extract

½

teaspoon

Salt

½

cup

roughly chopped Dried Figs

(optional)
Instructions
Preheat oven to 350 degrees.

In a small bowl, whisk together ground cinnamon, ground cloves, ginger powder, and ground cardamom. Set aside.

In a large mixing bowl, combine rolled oats, quick-cook oats, coconut flakes, and almonds. In another small bowl, mix honey, coconut oil, light brown sugar, almond extract, and salt until fully combined. Add wet mixture and spice mixture to dry ingredients and mix until evenly combined. (The mixture will come together in clumps. I find it is easiest to use my hands.)

Spread mixture out an ungreased baking sheet. Bake, stirring halfway through, until light golden and fragrant, 20-22 minutes. Watch the granola carefully in the last few minutes of baking and remove if it gets darker than a golden brown.

Remove granola from oven and immediately add figs (if using), stirring to combine. Allow to cool completely at room temperature. (Granola will be soft when it comes out of the oven but will crisp as it cools.) Once cooled, store in an airtight container at room temperature for up to a week.
Nutrition
Serving:
1
g
|
Calories:
164
kcal
|
Carbohydrates:
16
g
|
Protein:
4
g
|
Fat:
11
g
|
Saturated Fat:
5
g
|
Sodium:
4
mg
|
Fiber:
2
g
|
Sugar:
7
g