The easiest holiday snack on our list this year is Dark Chocolate Peppermint Popcorn — fresh popcorn with dark chocolate, a pinch of salt and crushed candy canes. Light enough to snack on all season long, it's a new favorite in our house!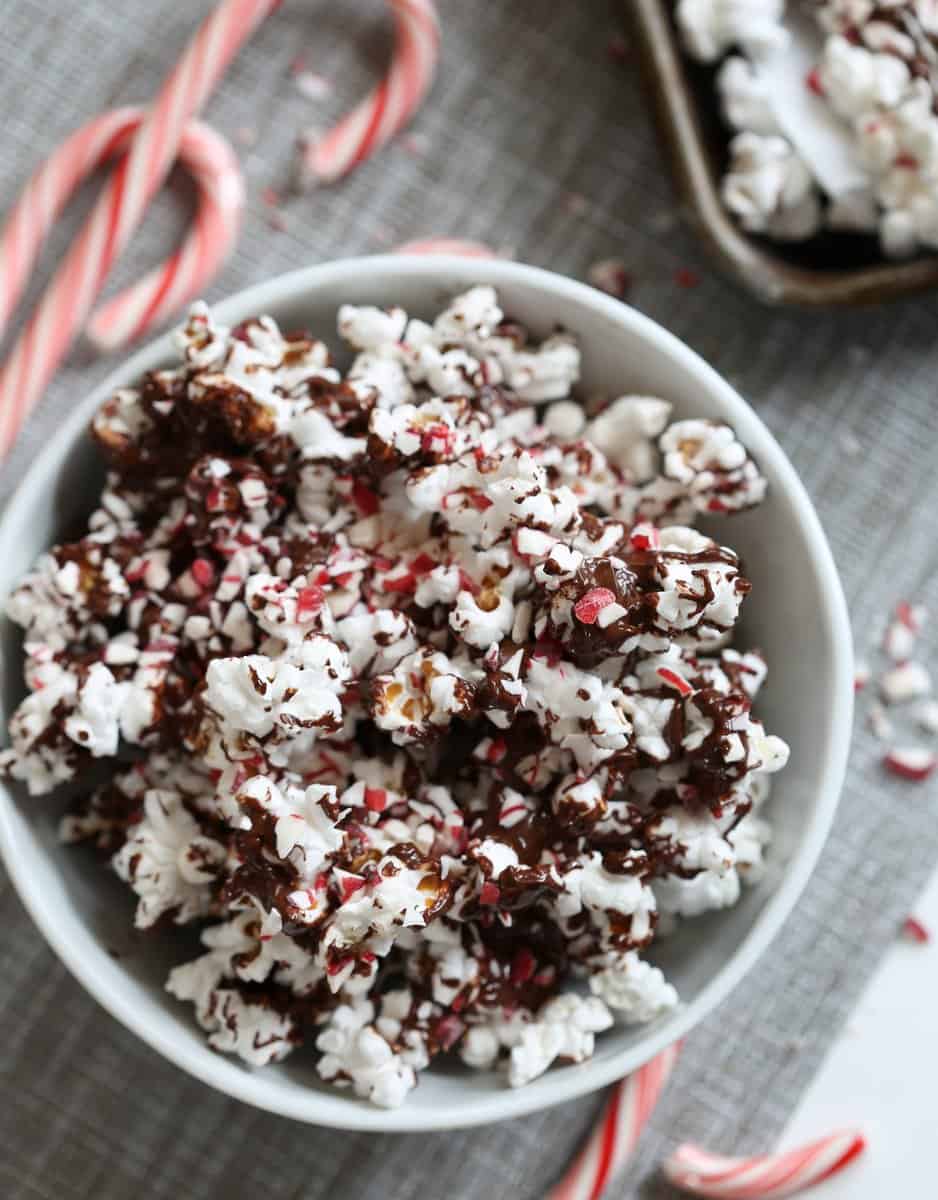 Okay, so I officially remember winter. After living in Thailand for five years, I really sort of forgot what this is like. Just how cold it is in the morning. And equally, just how good it is to hit the snooze and stay under the warm covers.
My girls didn't get that memo. Those two are up and ready to tackle the Christmas tree and eat their weight in steel cut oats no matter how cold it is out.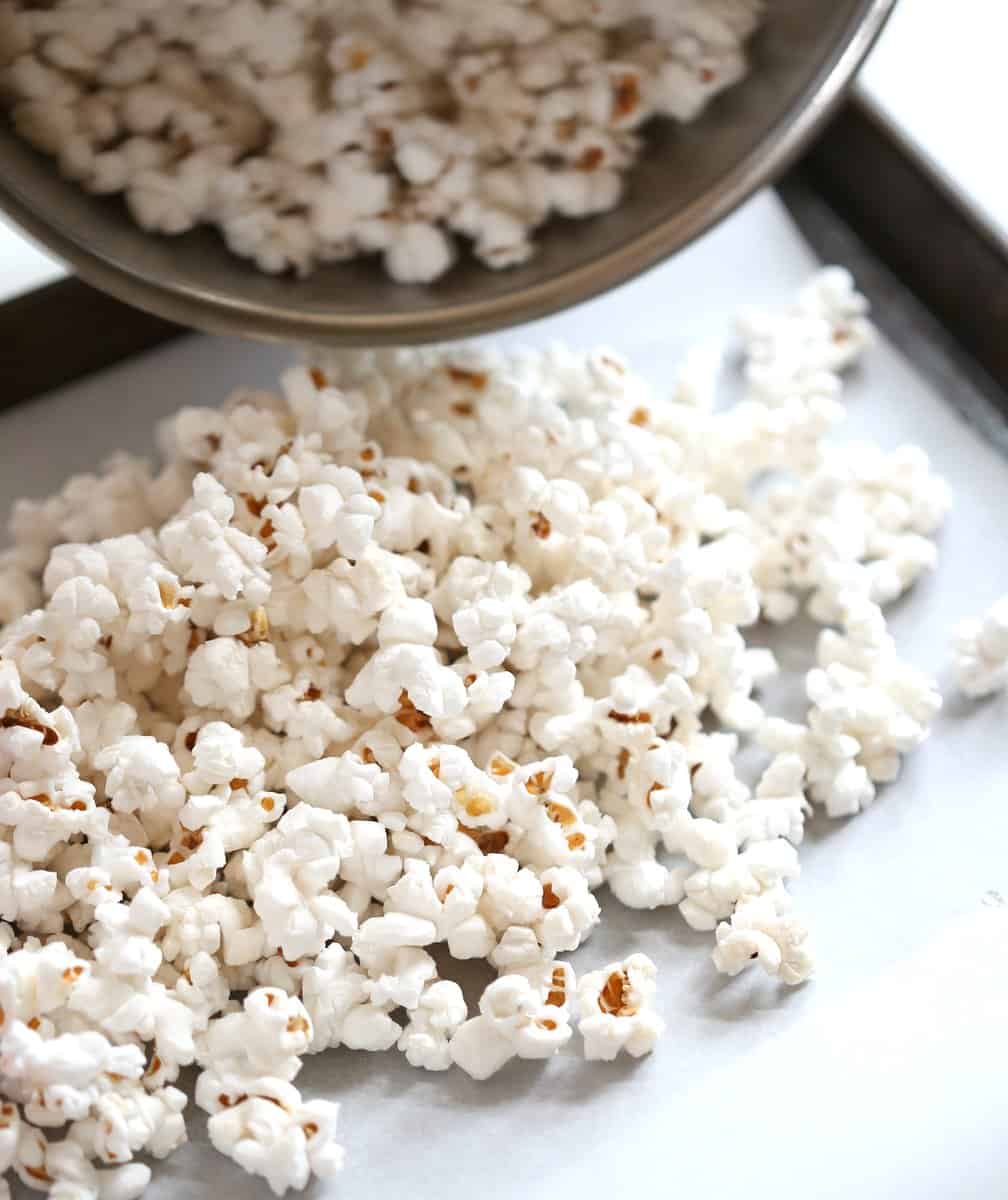 We packed in all sorts of holiday fun this weekend. We had a babysitter on Friday night so that Frank and I could go to see a Christmas concert and have a late dinner. Saturday, we all bundled up and went to a luminary walk at the local Overland Park Arboretum. We thought it would be a ten minute undertaking, but we spent almost an hour there. There were thousands of candles! Thousands!
And we did a bit of baking. Well...if you can call pouring warm bittersweet chocolate over popcorn baking.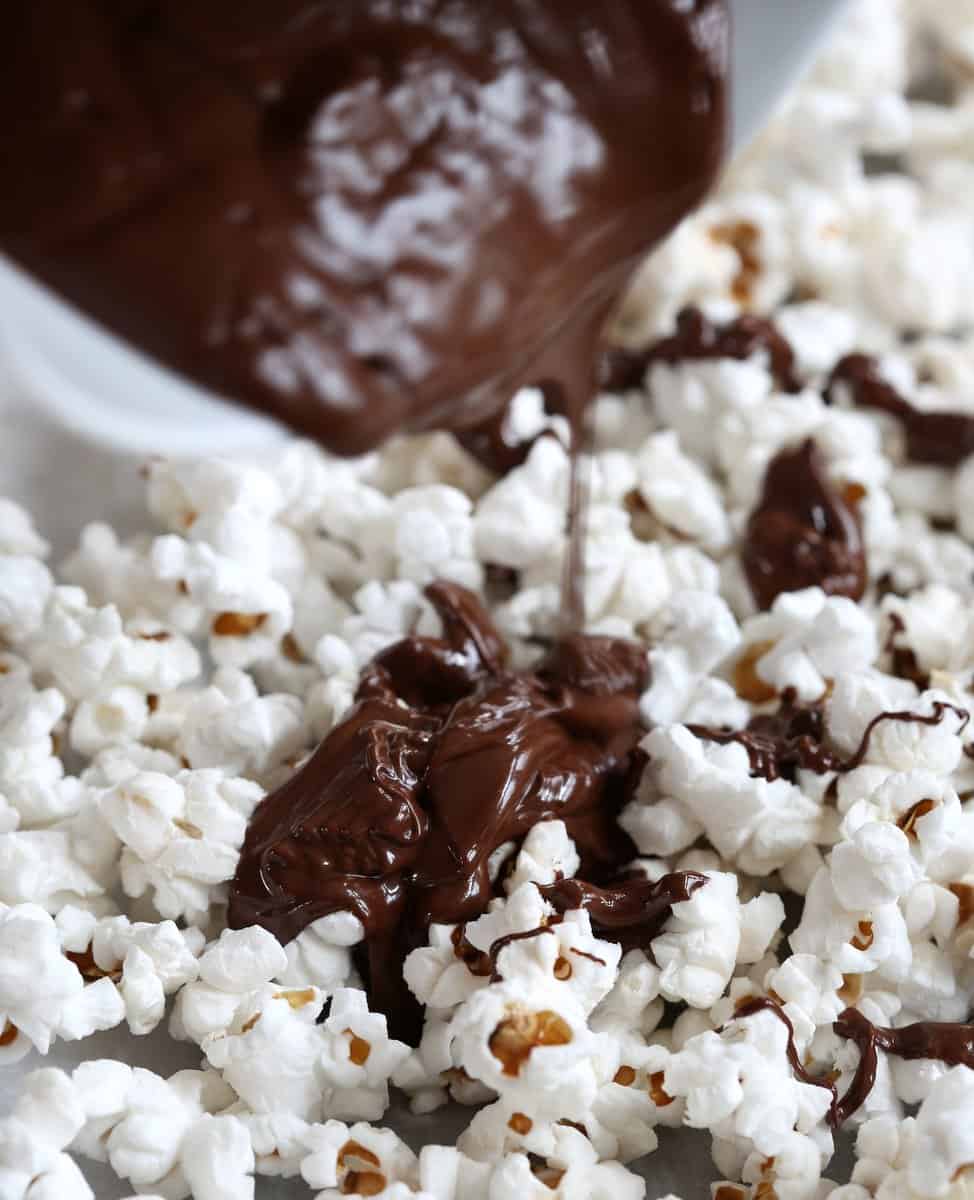 Whether it counts as baking or not, this is the easiest holiday snack or dessert on my list this year. It's the sort of thing that would be great for young kids to lend a hand with since it doesn't use the oven.
And you get to crush candy canes with a rolling pin. Fun for kids (or adults who need a little stress relief this time of year!)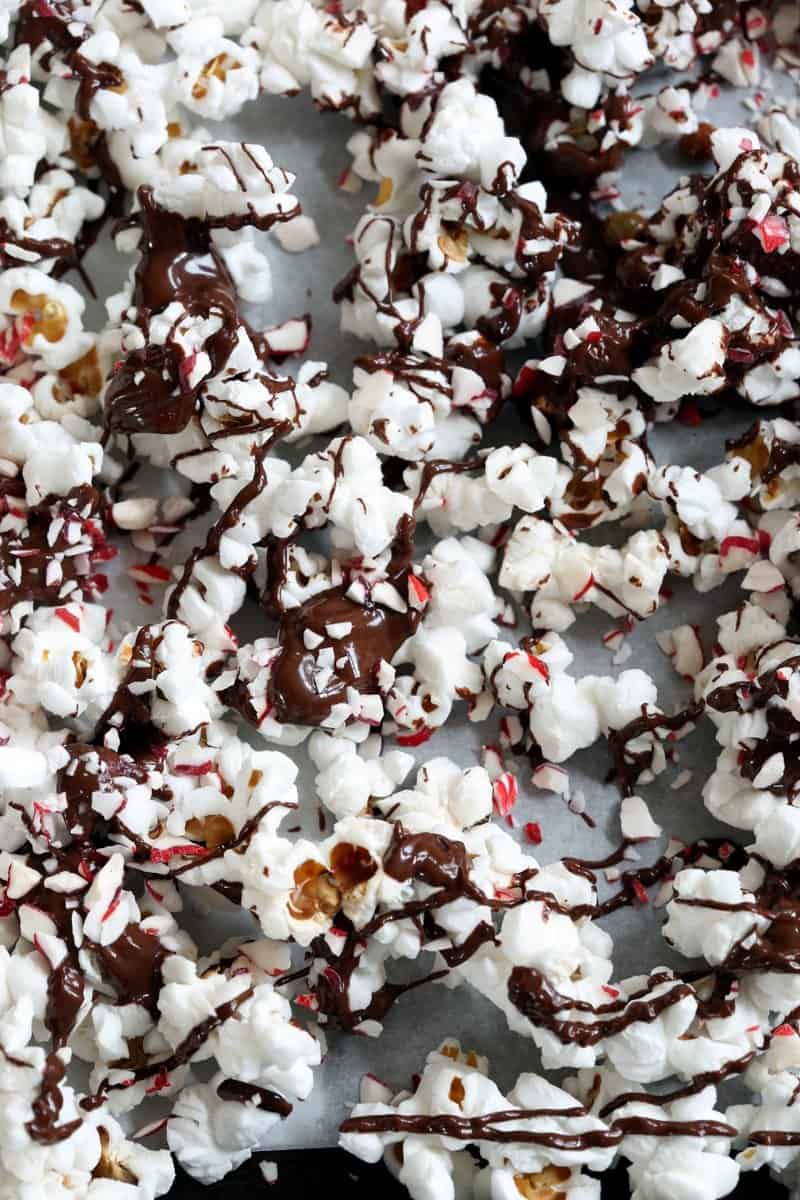 This Dark Chocolate Peppermint Popcorn lasted all of an hour in my busy household. None of us could walk by it without grabbing a kernel...or two...or ten.
More Holiday Recipes
Favorite Tools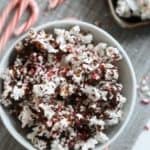 Print Recipe
Dark Chocolate Peppermint Popcorn
A fast, easy holiday recipes with fresh popped popcorn, dark chocolate and sweet, crunchy chopped candy canes.
Equipment
Half Sheet Pan

Parchment Paper

Microwave Safe Mixing Bowl
Ingredients
8

Candy Canes, crushed

(or about 1 cup crushed candy canes)

3

Tablespoons

Vegetable Oil

½

cup

Popcorn Kernels

(see note)

¼

teaspoon

Salt

6

ounces

Bittersweet Chocolate

(use chips or roughly chop bar chocolate)
Instructions
Line a large baking sheet with parchment paper.

Break the candy canes apart into crumbs by putting them in a plastic bag and breaking them apart with a rolling pin.

Pour the oil into a large pot with a tight-fitting lid. Add three popcorn kernels to the oil and place the pan over medium-high heat (do not put the lid on the pot yet). When one kernel pops (the signal that the oil is hot enough), immediately pour the remaining kernels into the pan and put the lid on the pot. Take the pan off the heat for 30 seconds. (Literally, count to 30.)

Put the pot back over the heat and sprinkle the kernels with salt. Hold the lid on the pot so that it is slightly ajar (you just want a small space to be open so that steam, but not popcorn can escape). Vigourously swirl the pan so that the oil evenly coats the kernels.

With the pot over medium-high heat and the lid held slightly ajar, gently shake the pot every few seconds until nearly all of the kernels have popped and there is a 2 second break between "pops." Pour the popcorn on the prepared baking sheet.

Melt the chocolate in the microwave, stirring every 10 seconds to prevent burning. When the chocolate is melted, pour it evenly over the popcorn. While the chocolate is still hot, scatter the peppermint over the top. Leave the popcorn at room temperature until the chocolate completely cools and hardens, about 1 hour.

Break the popcorn apart with your hands and transfer it to an air-tight container. Store at room temperature for up to 3 days (if it lasts that long!).
Notes
This recipe includes instructions for popping fresh popcorn on the stovetop, but any pre-popped variety of popcorn will work just fine.
Nutrition
Calories:
348
kcal
|
Carbohydrates:
43
g
|
Protein:
3
g
|
Fat:
18
g
|
Saturated Fat:
12
g
|
Trans Fat:
1
g
|
Cholesterol:
2
mg
|
Sodium:
101
mg
|
Potassium:
198
mg
|
Fiber:
4
g
|
Sugar:
24
g
|
Vitamin A:
14
IU
|
Calcium:
18
mg
|
Iron:
2
mg
We had a great time taking new photos for the site over the weekend! Molly and Clara were especially delighted because they were allowed to play with all the food props.