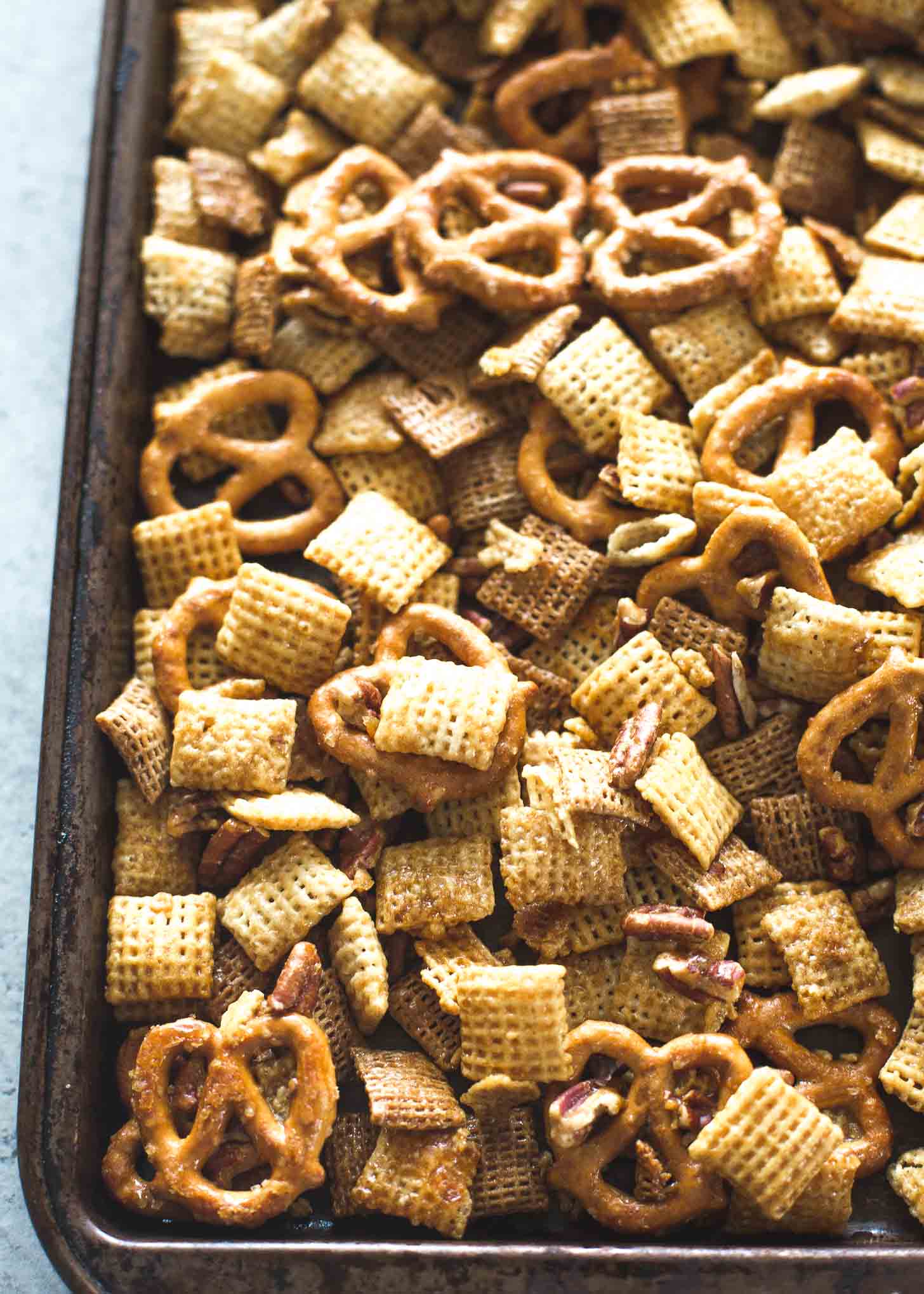 A little sweet, a little salty and with tons of crunch, this snack mix is totally addictive. Cook it low and slow to get that praline coating into every awesome nook and cranny.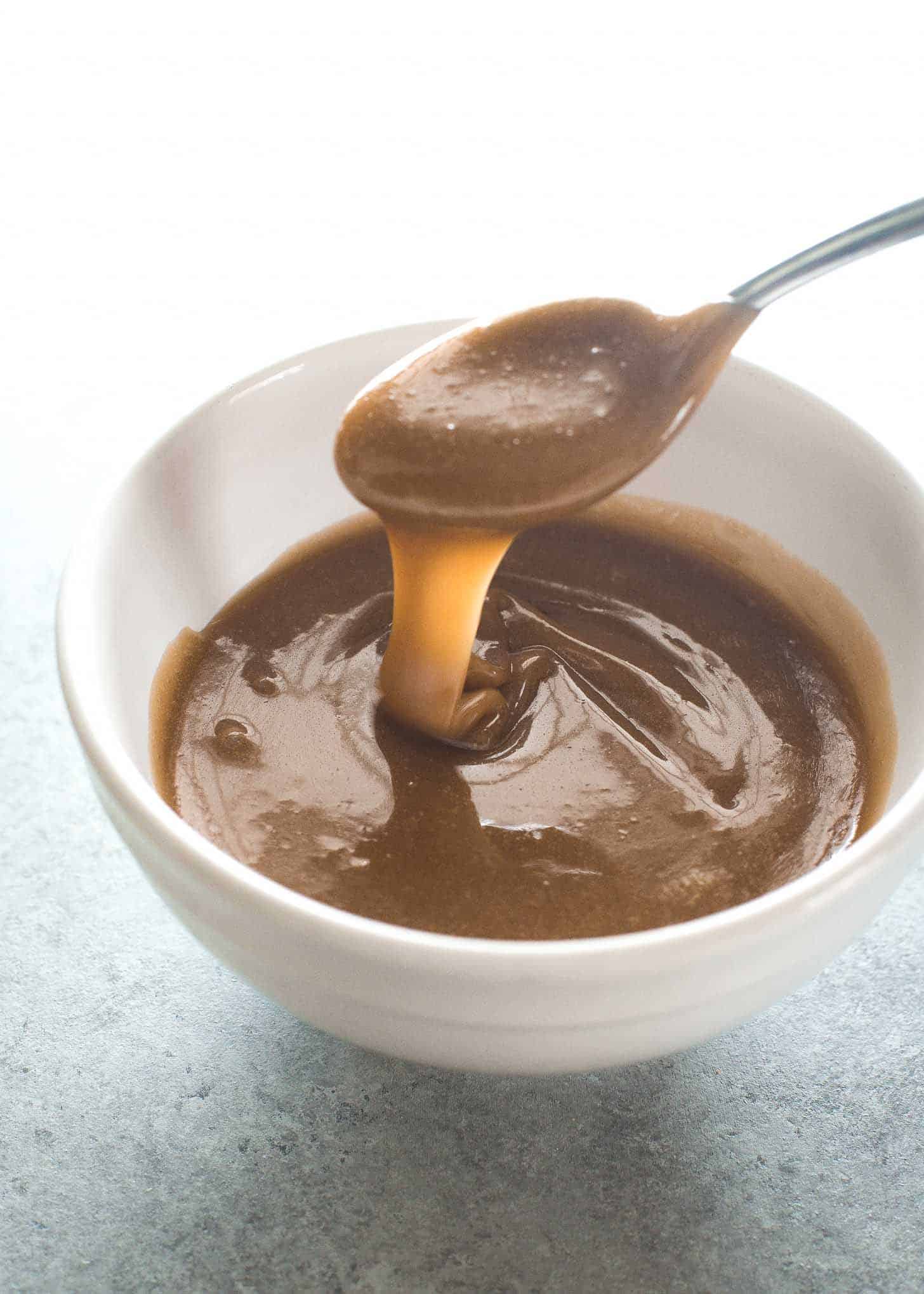 Can't you just tell it's going to be good? Sweet and salty, crunchy and slightly sticky in the best way possible. This is the perfect, easy recipe to kick off the holiday baking season around here. It's entirely likely that everything you need to make a bowl of this snack mix is already lurking in your pantry.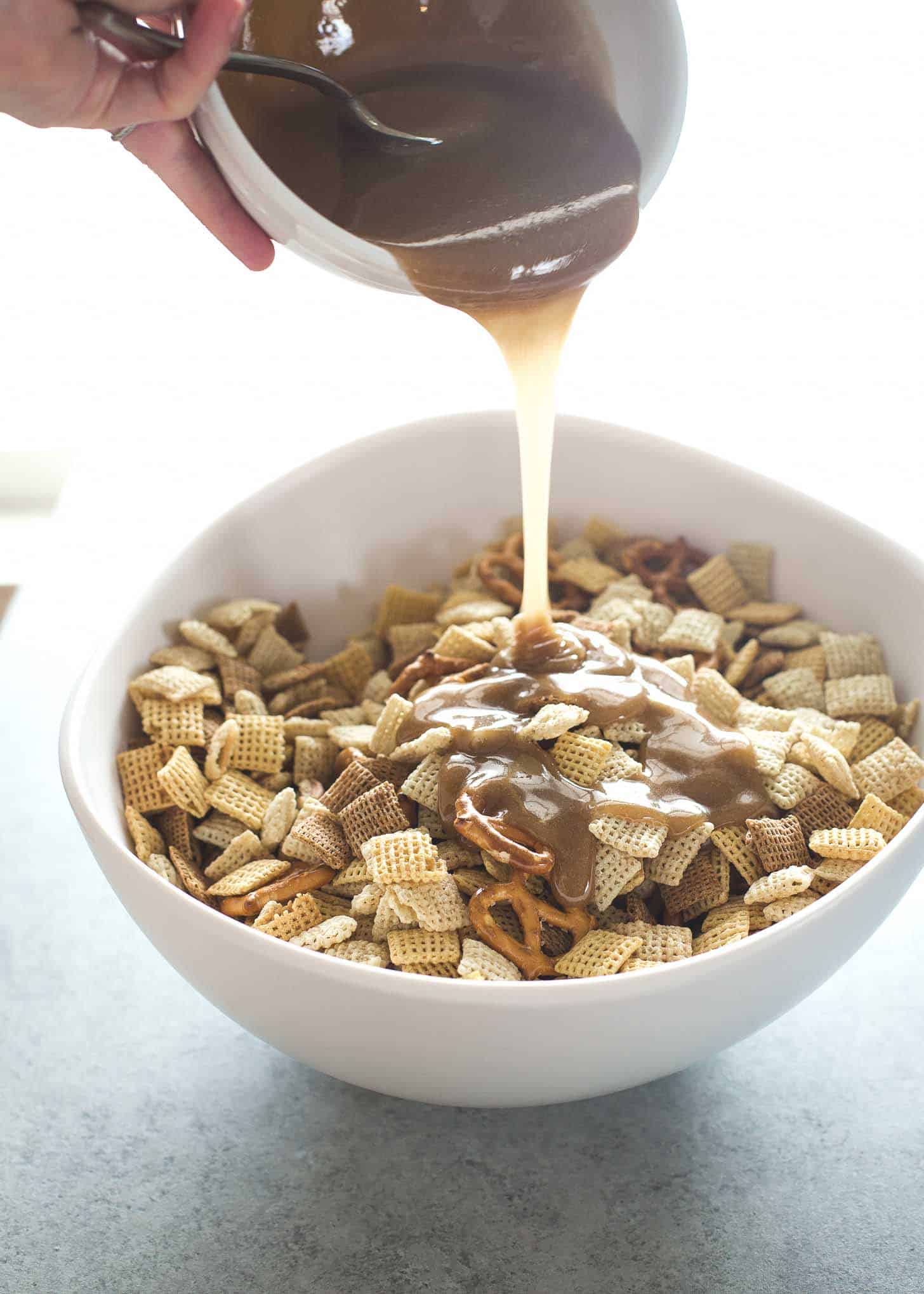 And it was for me…except for butter. When I went to make the first test batch of this mix, there was no butter to be found. I think that means I need to up my mom game. Pro moms always seem to have everything needed for baking. A fully stocked pantry. Extra butter in the freezer.
I've been failing at baking prep.
But with the holidays here, I'm getting it together. The oven is going to be cranking out delicious things all season long. And this is a good place to start.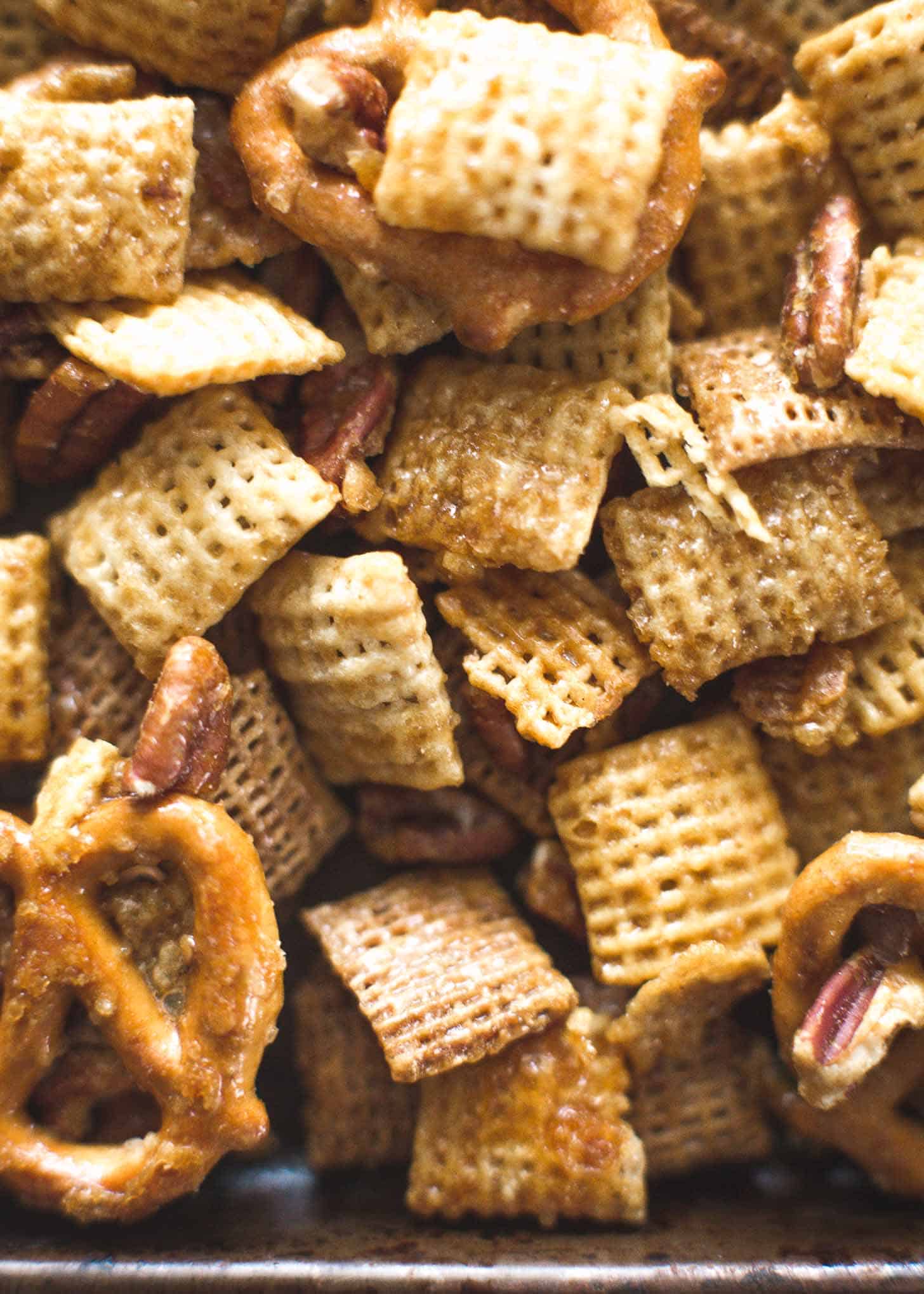 This is the kind of thing that goes fast. A handful here, a handful there.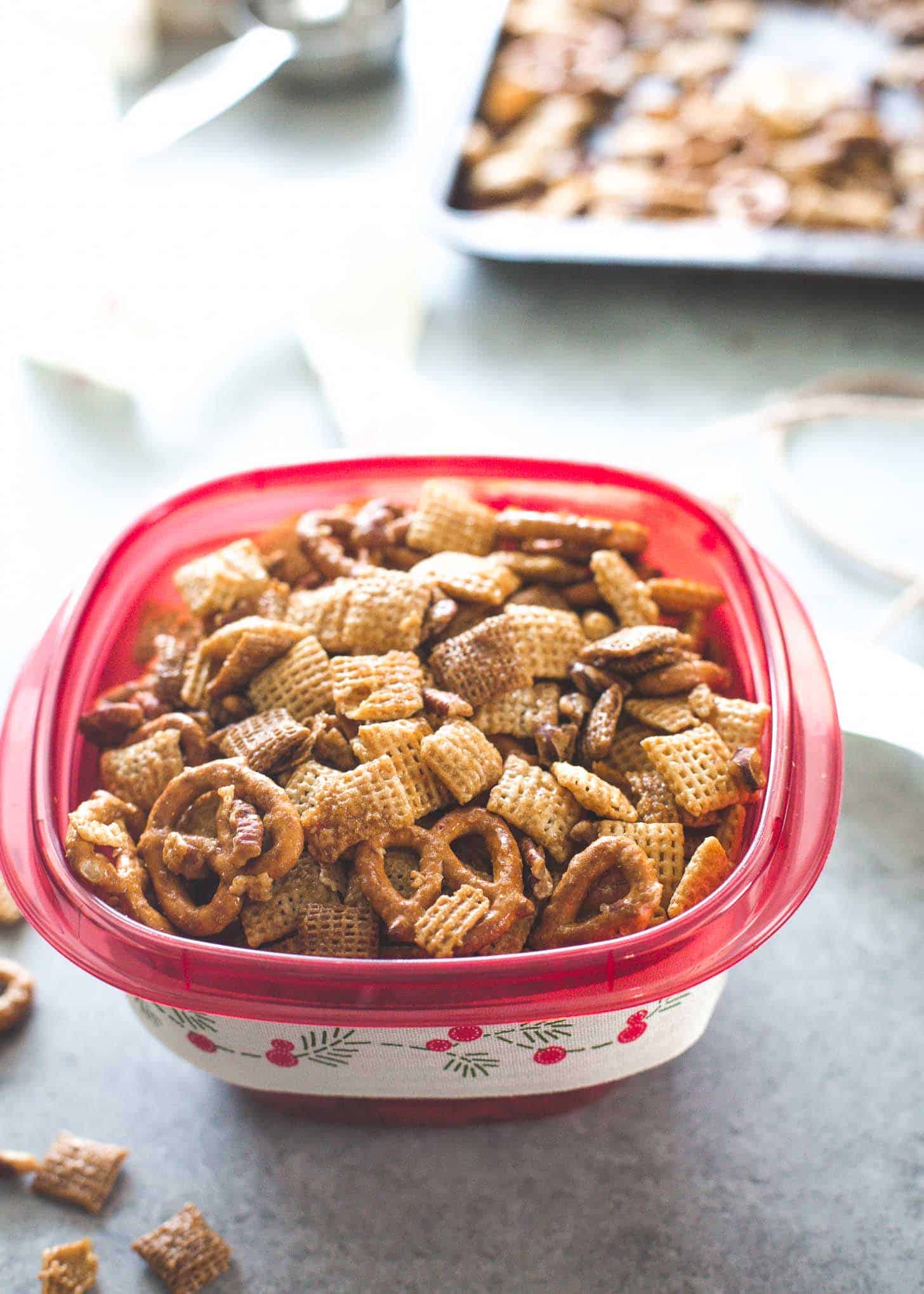 Heads up friends and family. I just may be knocking on your door in the coming weeks. Bringing festive cheer and a batch of this crunchy goodness.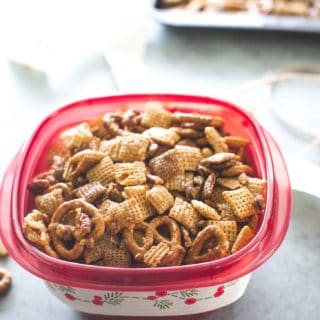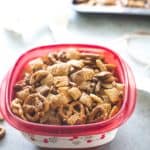 Print Recipe
Sweet and Salty Snack Mix
A sweet and salty praline-like coating adds addictive crunch to this snack mix. It makes a great snack for a crowd or stores nicely to give as a gift.
Ingredients
6

cups

Cereal (any mix will work)

2

cups

Pretzels

1 1/2

cups

Chopped Pecans

1

⁄2 cup Light Brown Sugar

1

⁄2 cup Light Corn Syrup

4

Tbsp

Unsalted Butter

1

tsp

Vanilla Extract

1

⁄2 tsp Baking Soda

1/2

tsp

Kosher Salt
Instructions
Heat oven to 250 degrees F. Spray a large sheet pan with nonstick cooking spray.

In a large mixing bowl, combine cereal, pretzels and pecans.

In a separate microwave-safe bowl, combine brown sugar, corn syrup and butter. Microwave until butter melts, about 1 minute. Continue microwaving in 30 second increments, stirring each time, until mixture is smooth and begins to boil. Stir in vanilla, baking soda and salt.

Pour syrup over cereal mixture. Stir to coat. (I find it easier to mix this by hand, so I let it cool slightly and then mix.)

Spread cereal over sheet pan and bake 1 hour, stirring every 15 minutes.

Cool completely. Once cooled, gently break cereal apart. Store, covered, at room temperature for up to a week.