This five-ingredient no-pectin Red Pepper Jelly is sweet, can be spicy (or not), and is the perfect thing to serve over soft cheese in the fall and over the holidays. It also makes a great homemade gift at Christmas!
Whether you are an experienced jelly-maker or this is your first batch, simple no-pectin Red Pepper Jelly is for you. You can preserve the jelly in a hot water bath, save it in the fridge for a few weeks, or freeze it for simple preservation until the winter months.
You'll not only love how delicious this jelly is but you'll love finding bright and cheerful cherry-red jars tucked away in your freezer or pantry.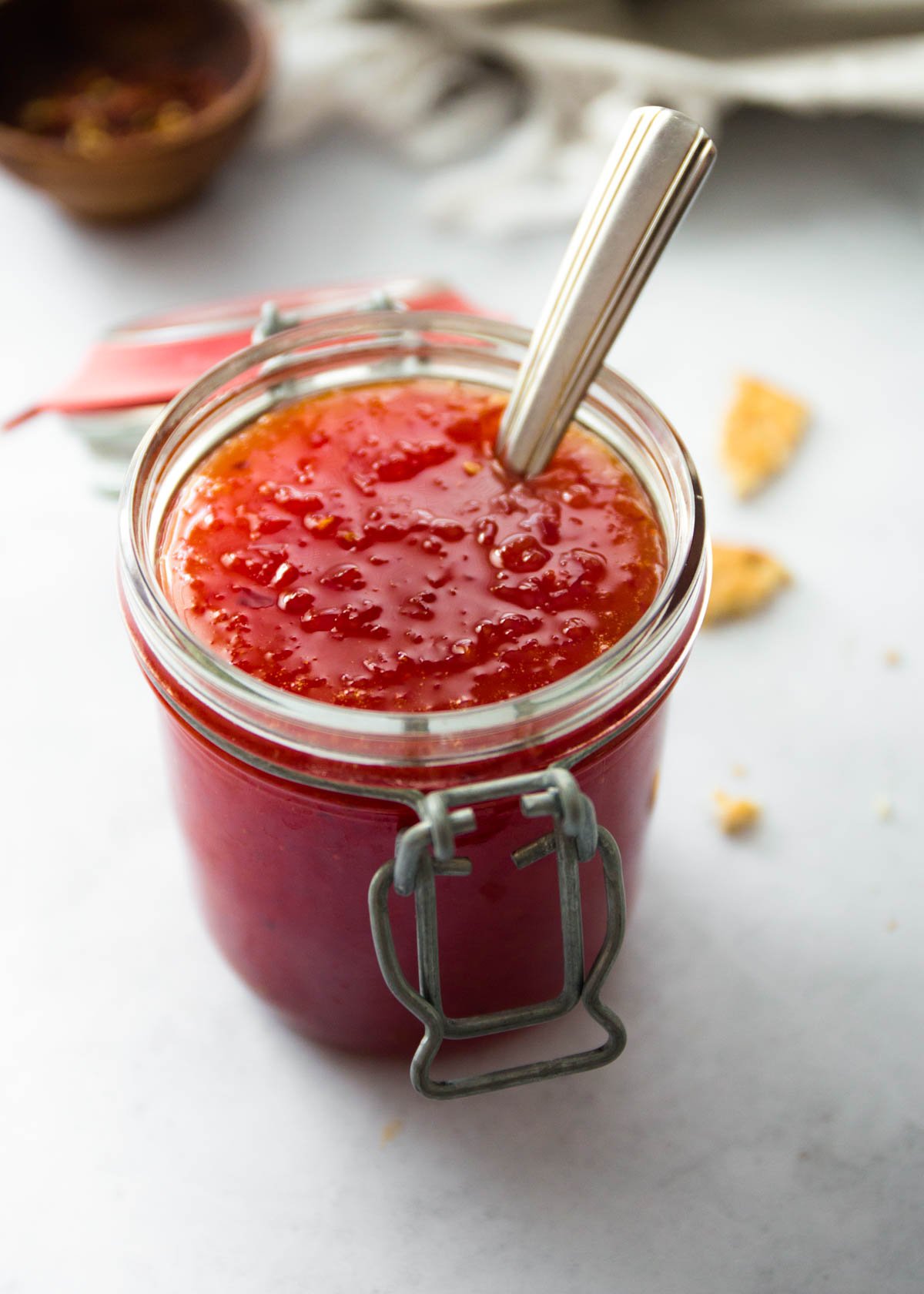 Love for Red Pepper Jelly
This recipe is one of the first I ever made and preserved using water bath "hot water" canning. I was living in a shoebox apartment in Washington, D.C., reading Barbara Kingsolver's book about life on a Virginia farm, and quietly plotting my escape to a life of farming and canning. Those plans never materialized (instead I ended up in Kansas City by way of Bangkok), but this Red Pepper Jelly recipe stood the test of time. I make it every year when red bell peppers are abundant at the farmer's market (September here) and serve it throughout the fall and winter holidays.
Preserving Red Pepper Jelly
The high amount of sugar in the jelly makes it a fail-proof recipe for hot water canning. Find instructions for that process included in the recipe below. But if you're not up for a canning project, do not worry! This jelly can easily be stored in the fridge for a few weeks or in the freezer for up to 6 months.
Using Green Bell Peppers
Don't have red bell peppers? You can absolutely make this jelly using green bell peppers. While the difference in flavor is very subtle, it's the color that will dramatically change. This no-pectin recipe boils for about 15 minutes, so the jelly will lose its bright green color and be a dark green shade. If you use a combination of red and green bell peppers, the result will be a dark brownish-red.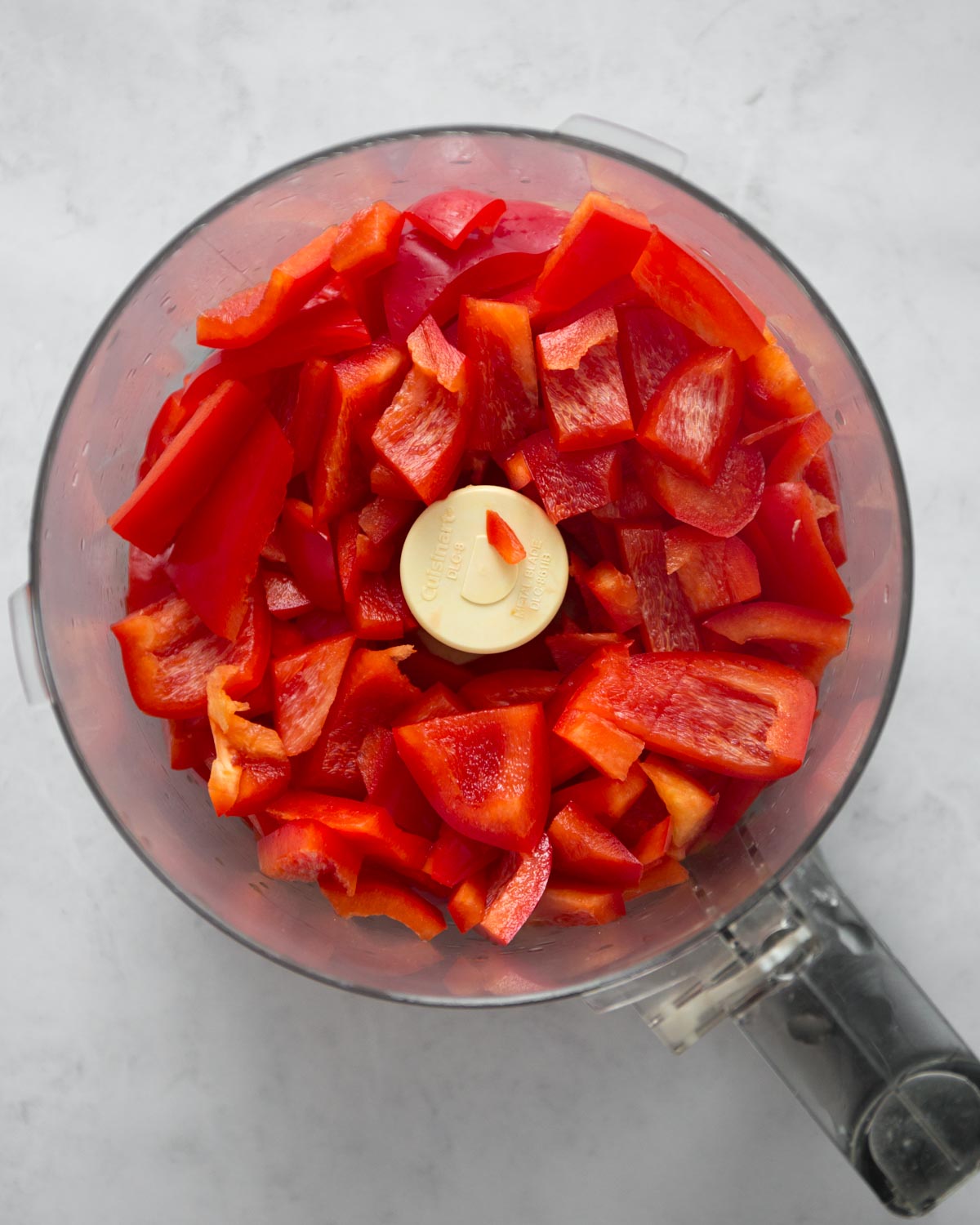 What if the Jelly is too Thin or Thick?
Because jelly thickens as it cools, you may find that the consistency does not turn out the way you'd like. This is easy to correct. Simply return all of the jelly to a heavy-bottomed pot and bring it back to a boil. If it was too thin, let it boil for about 5 minutes to thicken. If it was too thick, add about some additional water (⅓ cup should be about right for one batch) and boil just for 1 minute.
Note: This is very simple to do if you're using the refrigerator or freezer method for preserving your jelly, but keep in mind that you'll have to repeat all of the steps for sterilizing and sealing the jars if you used a hot water bath to preserve them.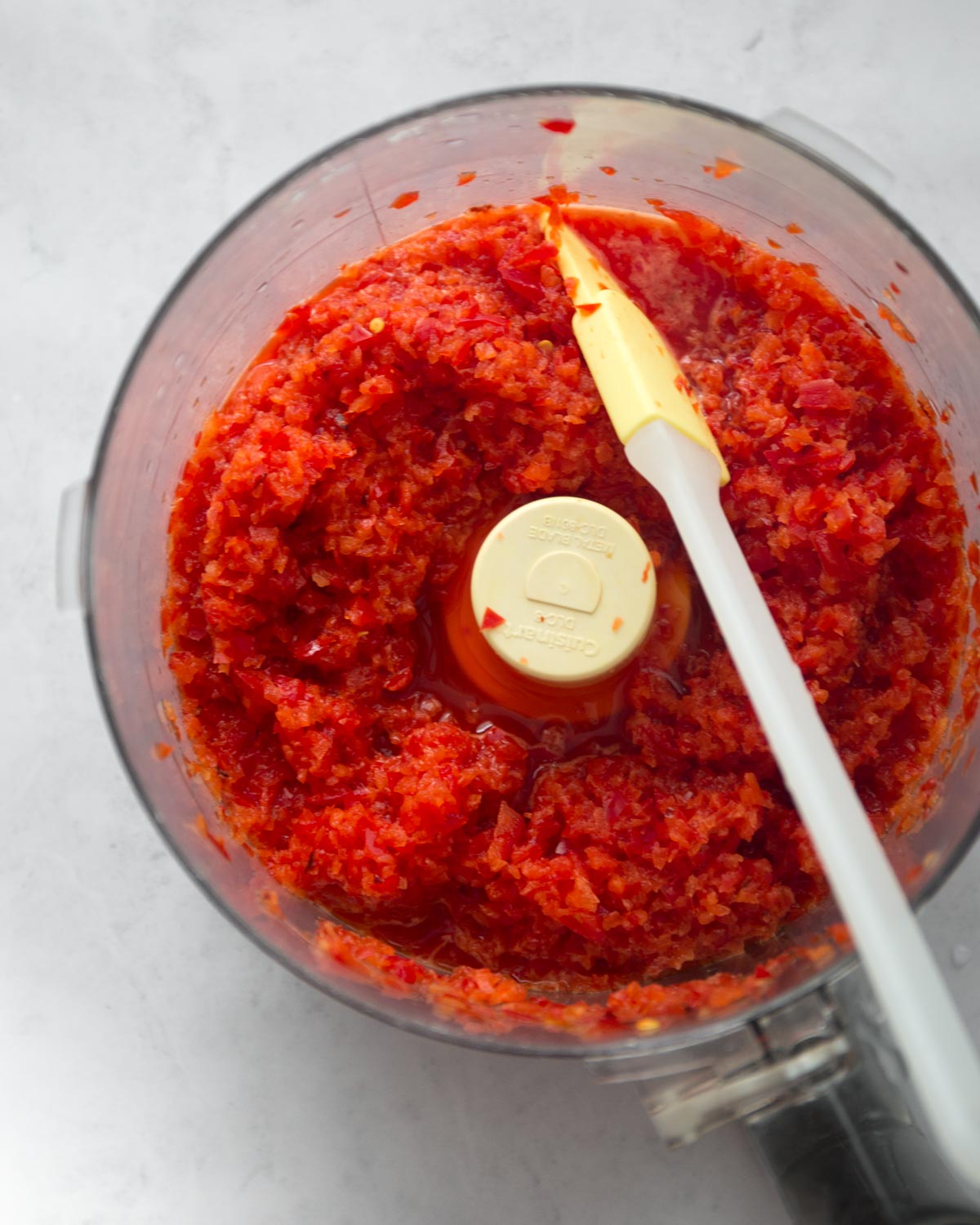 What to Do with Pepper Jelly
Serve it over cream cheese or brie with crackers on the side (my favorite!)

Use it to glaze chicken or pork (my grandma's favorite!)

Whisk it into vinaigrettes

Simmer cocktail meatballs in it (serve as an appetizer)

Use it as a dip for chicken tenders or fish sticks

Spread on cornbread or

soft rolls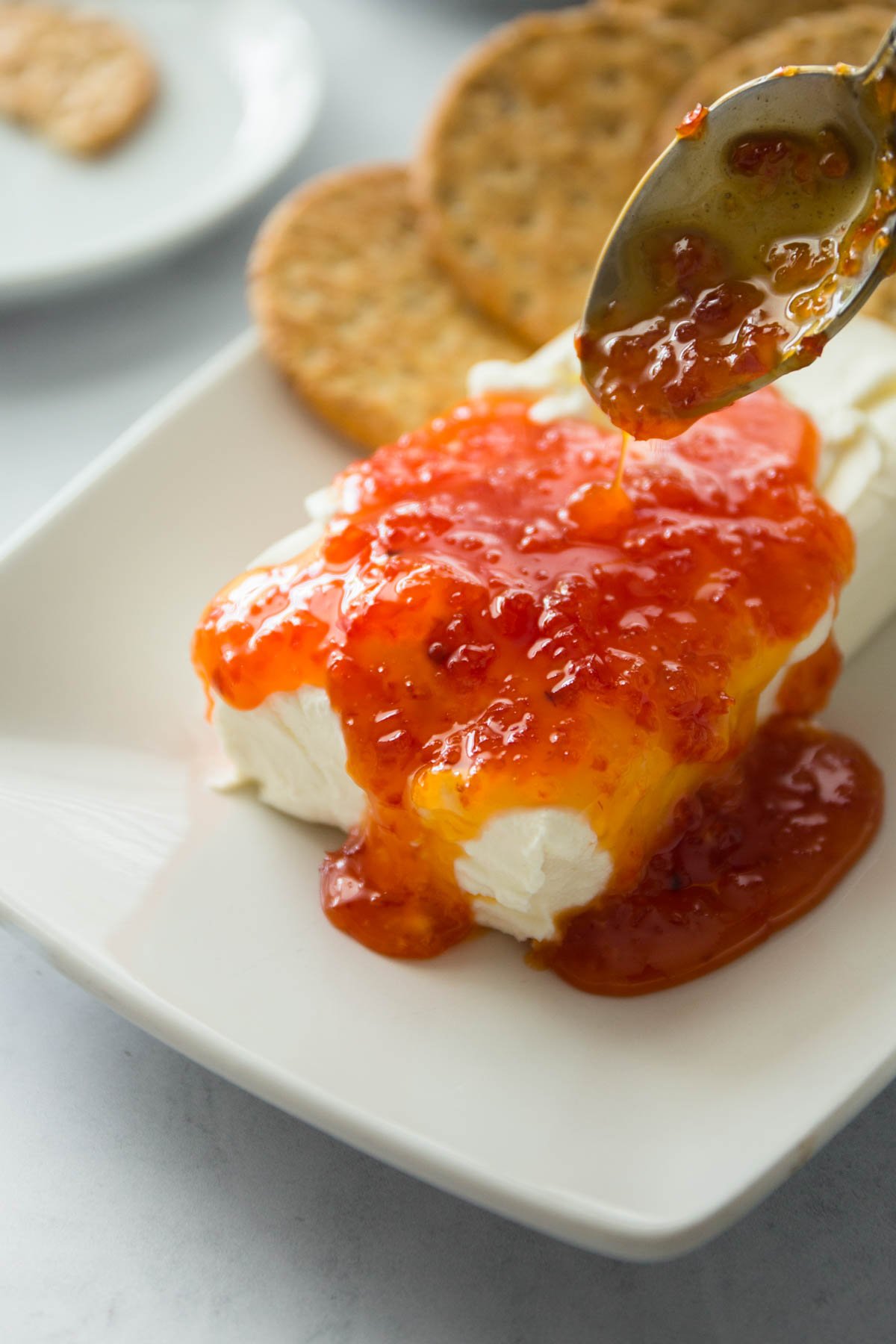 Ingredients
Red Bell Peppers

- Remove the stems and core of the peppers and then chop them before using them in this recipe. You'll need about 4 regular-sized bell peppers, but the most reliable way to measure them is to weigh them

after

the core and stems have been removed. You should have one pound of bell pepper pieces for the most consistent results.

Red Pepper Flakes

- Adjust this to your spice preference. You can always taste the jelly after it has cooked and stir in more red pepper flakes at the end.

Sugar

- Like all jelly, this one uses lots of sugar! To maintain the bright red color, be sure to use white sugar here.

White Wine Vinegar

- Any type of vinegar will work, but white wine vinegar gives the jelly an interesting, rich flavor. In a pinch I have used distilled white vinegar and it works just fine, though I find the flavor to be a bit more flat than when using white wine vinegar.

Unsalted Butter and Kosher Salt

- Standard pantry / fridge ingredients.
More Recipes that Use Bell Peppers
Favorite Tools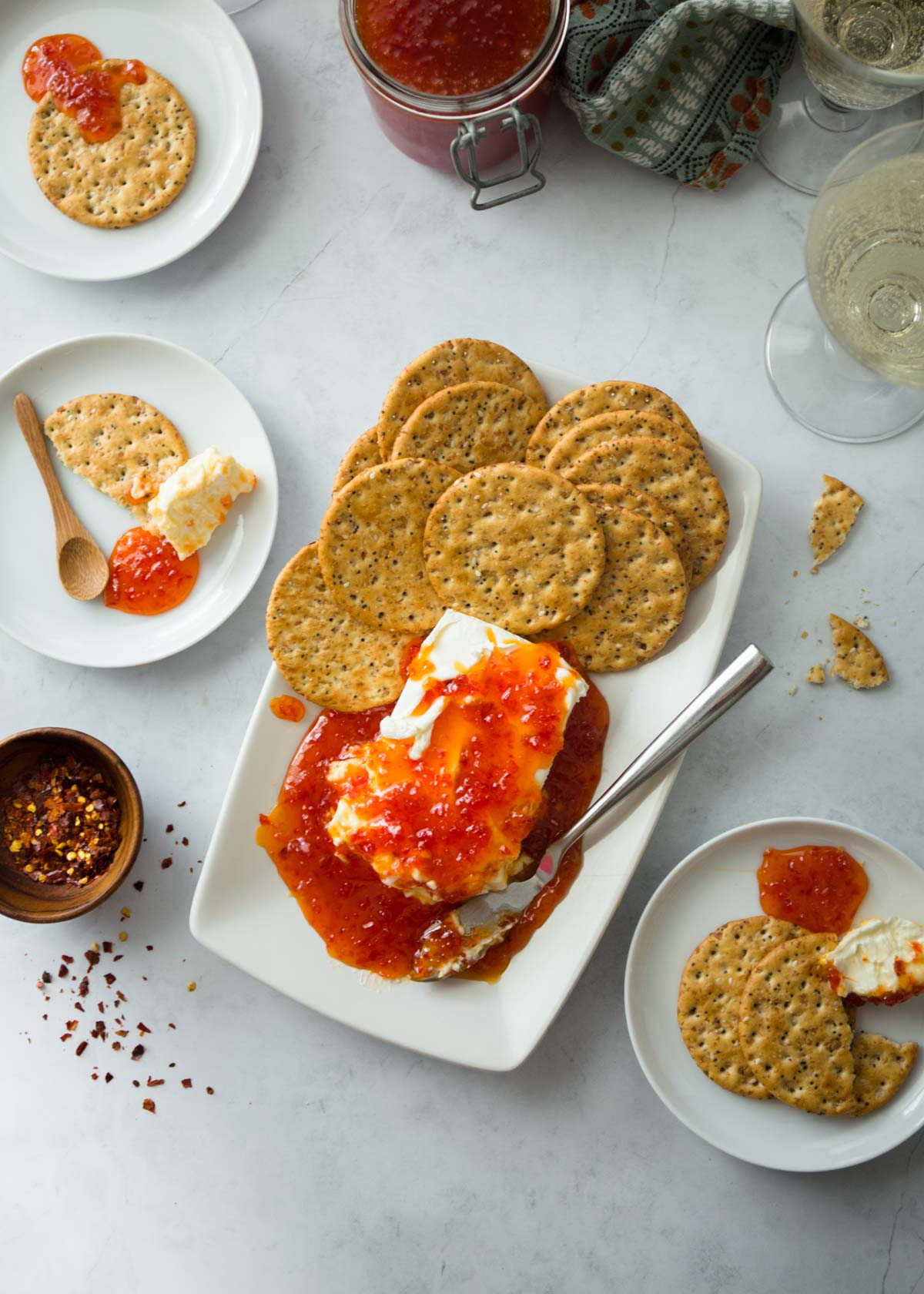 📖 Recipe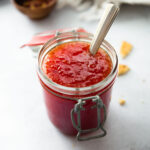 Print Recipe
Red Pepper Jelly
Red Pepper Jelly has just three-ingredients, is sweet, can be spicy (or not), and is the perfect thing to serve over soft cheese and set out with crackers in the fall and over the holidays. It also makes a wonderful homemade gift at Christmas.
This recipe makes enough jelly to fill about three 8-oz jars (or six 4-oz jars). To adjust, click on the number next to servings.
Equipment
Knife

Cutting Board

Mason Jars

Food Processor

Heavy Bottomed Pot
Ingredients
1

lb

Red Bell Peppers, cut into 1-inch pieces

(important - weigh the bell peppers after the stems and cores have been removed; you should need about 4 regular bell peppers)

1

teaspoon

Red Pepper Flakes

(add more or less according to your spice preference; you can always taste and add more after cooking)

3

cups

White Sugar

1

cup

White Wine Vinegar

1

tablespoon

Unsalted Butter

¾

teaspoon

Kosher Salt

(I use Morton's)
Instructions
In a food processor, combine red bell peppers and red pepper flakes. Pulse until very finely chopped.

Combine bell pepper mixture, sugar, vinegar, butter, and salt in a heavy-bottomed pot. Bring to a vigorous boil over high heat. Boil mixture for 10 to 15 minutes (the longer it boils the thicker it will be - 10 minutes will give you a very loose jelly; 15 minutes will give you a more spreadable consistency). The jelly will thicken as it cools, so don't worry if it seems loose right after boiling.

Divide jelly between jars, leaving at least ⅓-inch of headspace at the top (this is especially important if you are planning to freeze the jelly because it will expand as it freezes).

Let jelly come to room temperature and then add lids.

Refrigerate or freeze jelly until ready to use. (Jelly will keep for several weeks in the fridge and up to six months in the freezer.)
Notes
This recipe was adapted from
Gourmet magazine, December 2006
. The original recipe uses pectin, but over the years I've found that I prefer the consistency and flavor of the jelly made without pectin and thickened by boiling for longer than recommended in the original.
Jars for Canning -
I use
Ball 4-oz Mason Jars
or
Ball 8-oz Mason Jars
for this recipe. I also keep tons of these mason jars on-hand for making sauces, vinaigrettes and dips. My kids use the 8-oz jars as juice glasses.
Warming to serve:
If you would like to serve the jelly warm (I highly recommend this if you are going to serve it over cream cheese or brie), reheat it on the stovetop or in the microwave until warm to the touch.
Hot Water Can / Preserve Red Pepper Jelly:
Note: Be sure to familiarize yourself with and use the
USDA's guidelines
to insure safe preserving methods. I am not an expert in this area, but have always had great success using the USDA guidelines and my handy
Ball Blue Book
.
Before making the jelly, sterilize your jars and lids. To do this, wash jars, lids, and bands in hot soapy water. Rinse and dry well. Put empty jars on a rack in a boiling-water canner and add enough hot water to cover by 2 inches. Bring to a boil, covered, then boil 10 minutes. Meanwhile, place lids in a small saucepan and cover by at least 2 inches of water. Heat until a thermometer registers 180°F / 82°C. Remove jars and lids from heat, leaving them in hot water, covered, until ready to use.

Make jelly according to instructions above.

Carefully remove warm jars and lids with canning tongs. Drain jars upside down on a clean kitchen towel and quickly dry lids. Invert jars and immediately ladle hot jelly into jars, leaving ⅓-inch of headspace at top. (If you have a partially-full jar, refrigerate it and use within a few weeks.) Gently tap the jars on the counter to release air bubbles. Wipe off rims with a damp, clean kitchen towel. Firmly screw on lids with screw bands.

Put sealed jars on rack in canner and add more hot water to cover by 2 inches. Bring to a full boil, covered, and then continue boiling with the lid on for 15 minutes. Transfer jars with canning tongs to a towel-lined surface to cool. Let cool completely, 12 to 24 hours. You will know the jars have sealed if the lids are concave. (Put any jars that haven't sealed properly in the refrigerator and use within a few weeks.)
Nutrition
Calories:
87
kcal
|
Carbohydrates:
21
g
|
Protein:
1
g
|
Fat:
1
g
|
Saturated Fat:
1
g
|
Polyunsaturated Fat:
1
g
|
Monounsaturated Fat:
1
g
|
Trans Fat:
1
g
|
Cholesterol:
1
mg
|
Sodium:
61
mg
|
Potassium:
37
mg
|
Fiber:
1
g
|
Sugar:
21
g
|
Vitamin A:
505
IU
|
Vitamin C:
19
mg
|
Calcium:
2
mg
|
Iron:
1
mg