For the past few years I have made many batches of Red Pepper Jelly when red peppers were at their peak at the farmers' market.  I love seeing little jars filled with the festive jelly all lined up on the kitchen counter in early fall, hinting that the holidays are around the corner.  The 4 oz. ruby red jars make great host gifts, and the spicy/sweet combination is pretty impossible to top when it's poured over softened brie or cream cheese and served with pita chips.  It has become a recurring character for holiday festivities at our house, and is always a huge hit.  (In truth, I've been known to make myself a dinner snack of the stuff – no holiday crowd neccesary.)
Although I typically make this in September and preserve it to use throughout the holidays, it will keep in the refrigerator for a good long while even without the need for breaking out the hot water bath.  No canning ability neccesary!  This year, since red pepper season doesn't exist in Thailand (to my knowledge at least), I'll just make small batches whenever I want them.  It only requires a few red peppers, so it's easy to whip up a few jars of the deliciously addictive stuff on a whim.  Stock your fridge with some of this to bring to holiday parties with cheese and pita chips and I can guarantee you'll be glad you did.
Though I have never done more with jelly than serve it straight-up, I've been thinking that I might branch out a bit for the holidays of 2011.  Equally tempting are these inspired Red Pepper Jelly Popovers from the Serendipity Diary that I've had flagged since last year and this Oven Roasted Chicken with Pepper Jelly Glaze.
Mmmmm…come to think of it, I might need to make another batch.
___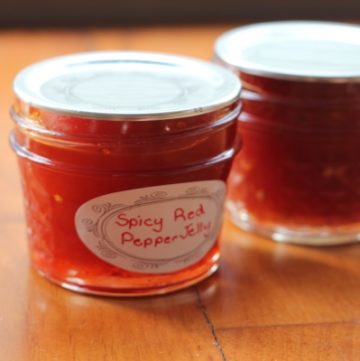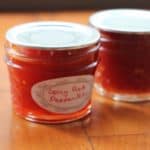 Print Recipe
Red Pepper Jelly
Serve this sweet, spicy jelly over soft cheese, with pita chips or crackers -it's a guaranteed crowd pleaser, and a welcome holiday treat.
Ingredients
1 1/2

lb

red bell peppers (about 3), cut into 1-inch pieces (6 cups)

2

teaspoons

dried hot red-pepper flakes

3

cups

sugar

1

cup

white-wine vinegar

1

tablespoon

unsalted butter

3/4

teaspoon

salt

-Canning supplies (including 8 - 4 oz. canning jars), optional
Instructions
Sterilize jars and lids. Wash jars, lids, and screw bands in hot, soapy water, then rinse well. Dry screw bands. Put empty jars on a rack in a boiling-water canner or a deep 8- to 10-quart pot and add enough hot water to cover by 2 inches. Bring to a boil, covered, then boil 10 minutes. Remove canner from heat, leaving jars in water, covered. Heat lids in water to cover by 2 inches in a small saucepan until thermometer registers 180°F (do not let boil). Remove from heat. Keep jars and lids submerged in hot water, covered, until ready to use.

Make jelly. Pulse bell peppers with red-pepper flakes in a food processor until finely chopped. (Mixture will measure about 2 1/2 cups.) Stir together pepper mixture, vinegar, butter, salt, and sugar in a 5- to 6-quart heavy pot. Bring to a vigorous boil over high heat, then continue to boil vigorously, stirring frequently, until the mixture thickens, about 20 minutes. (The longer it cooks, the thicker the jelly will be, but 20 minutes produces the right consistency for me.)

At this point you can pour the jelly into containers and refrigerate until ready to use, or continue on for canning instructions.

Fill jars. Carefully remove jars and lids with canning tongs, then drain jars upside down on a clean kitchen towel and quickly dry lids. Invert jars and immediately ladle hot jelly into jars, leaving 1/4 inch of space at top. (Last jar may not be full.) Run a clean plastic spatula between jelly and sides of jars to eliminate air bubbles. Wipe off rims of filled jars with a damp clean kitchen towel, then firmly screw on lids with screw bands.

Seal and process jars. Put sealed jars on rack in canner or pot and add enough hot water to cover by 2 inches. (If you have a jar that is partially full, do not process it. Cover it with a lid and screw band, then keep in refrigerator.) Bring to a full boil, covered, then boil jelly, covered, 15 minutes. Transfer jars with canning tongs to a towel-lined surface to cool. Jars will seal; if you hear a ping, that means that the vacuum formed above the cooling jelly has made the lid concave. Remember that you may or may not be around to hear the ping. The important thing is for the jars to eventually have concave lids. Jelly will thicken as it cools.

After jars have cooled, 12 to 24 hours, press center of each lid to check that it's concave, then remove screw band and try to lift lid with your fingertips. If you can't, the lid has a good seal. Replace screw band. Put any jars that haven't sealed properly in the refrigerator and use them first (along with jar that was only partially full).
Notes
Adapted from Gourmet magazine, December 2006. The recipe includes the original instructions for canning this jelly, but it can easily be made and stored in the refrigerator for a couple of weeks without the need to pull out the canning equipment. The original recipe uses pectin, but having made this recipe year after year, I prefer it without pectin. The result without pectin is far less firm, but has a consistency perfect for pouring over brie or cream cheese. I adapted the recipe to thicken without pectin, requiring a much longer cooking time and a lower yield.