Homemade Blackening Seasoning
Published Jun 06, 2022•Updated Oct 11, 2022
Homemade Blackening Seasoning gives your favorite chicken, fish, or tofu a flavor-packed crisp, dark crust. Make this seasoning blend yourself so you can adjust the level of spice without sacrificing any of the bold, zesty flavor.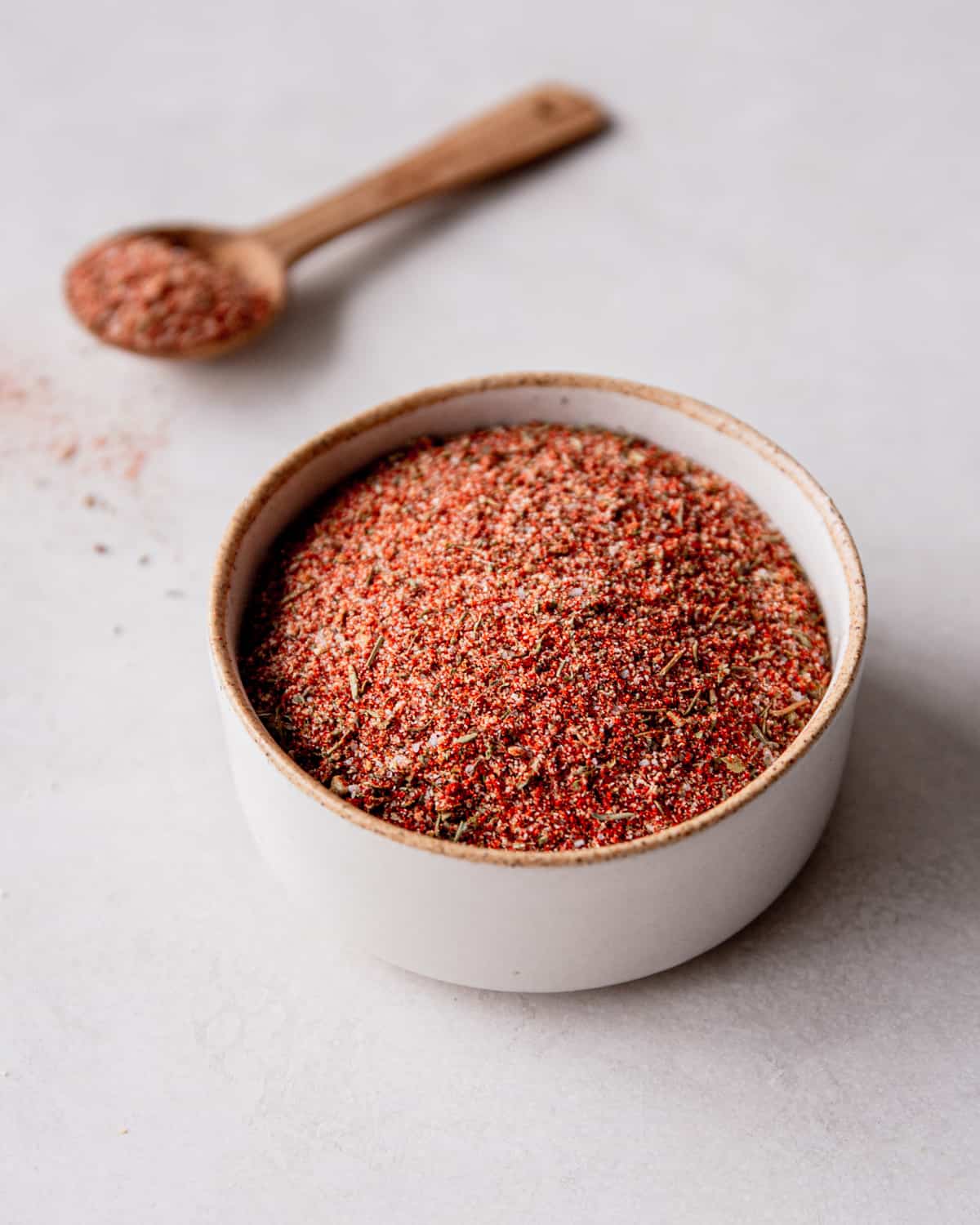 Let's talk blackening seasoning! I've been wanting to do a deep dive into this versatile seasoning ever since I shared my go-to Cajun Fish Recipe in the spring. I heard from so many of you who love blackened flavors as much as I do that I wanted to give this delicious preparation a bit more attention. It's a versatile seasoning to use for proteins on the stovetop or grill.
As I note below, Cajun and Blackening Seasoning are interchangeable terms for similar seasoning blends that combine paprika, dried thyme, dried oregano, onion and garlic powders, and cayenne pepper for spice. While store-bought Cajun seasoning usually tends to be spicier, if you make the blend yourself, you are completely in control. You can easily adjust the level of spice to fit your preference.
Once you've made the spice blend, you're ready to make a "blackened" dish. Here's how to do it!
How to make a "blackened" protein
This method works with chicken, shrimp, fish, tofu, and many other proteins.
Step 1: Combine seasoning with a cooking fat (melted butter, neutral oil, or mayonnaise)
Step 2: Coat protein on all sides in the seasoning-fat mixture. You can cook it right away or marinate it, refrigerated, for up to a day.
Step 3: Brush a skillet or grill with cooking oil or melted butter.
Step 4: Sear protein until a dark crust appears on both sides and the protein is cooked through.
Why homemade spice blends are just better
You can buy pre-mixed versions of many spice blends, but making them at home has many advantages. It's also incredibly easy!
Control the salt. Some store-bought spice blends contain a lot of salt. Making them at home allows you to adjust this to your preference.
Control the spice. It's easy to adjust the spice ingredients to make the blend more or less spicy.
More flavor. There's no way to know how long those store-bought spice blends have been sitting on the grocery store shelf. If the spices you have at home are reasonably fresh, you'll likely get more flavor by using them.
Saves money. Stock your pantry with some good, fresh dried spices and herbs and you can make almost every spice blend you might need at a much lower cost.
What is "blackened" food?
The term blackened is most often used for proteins like chicken, fish, shrimp, or tofu that are coated in a Cajun or Blackening seasoning blend and then seared or grilled until a dark, brown-black crust forms on the outside. Blackened food is not burned, but the heat darkens the spices in the seasoning blend as they cook.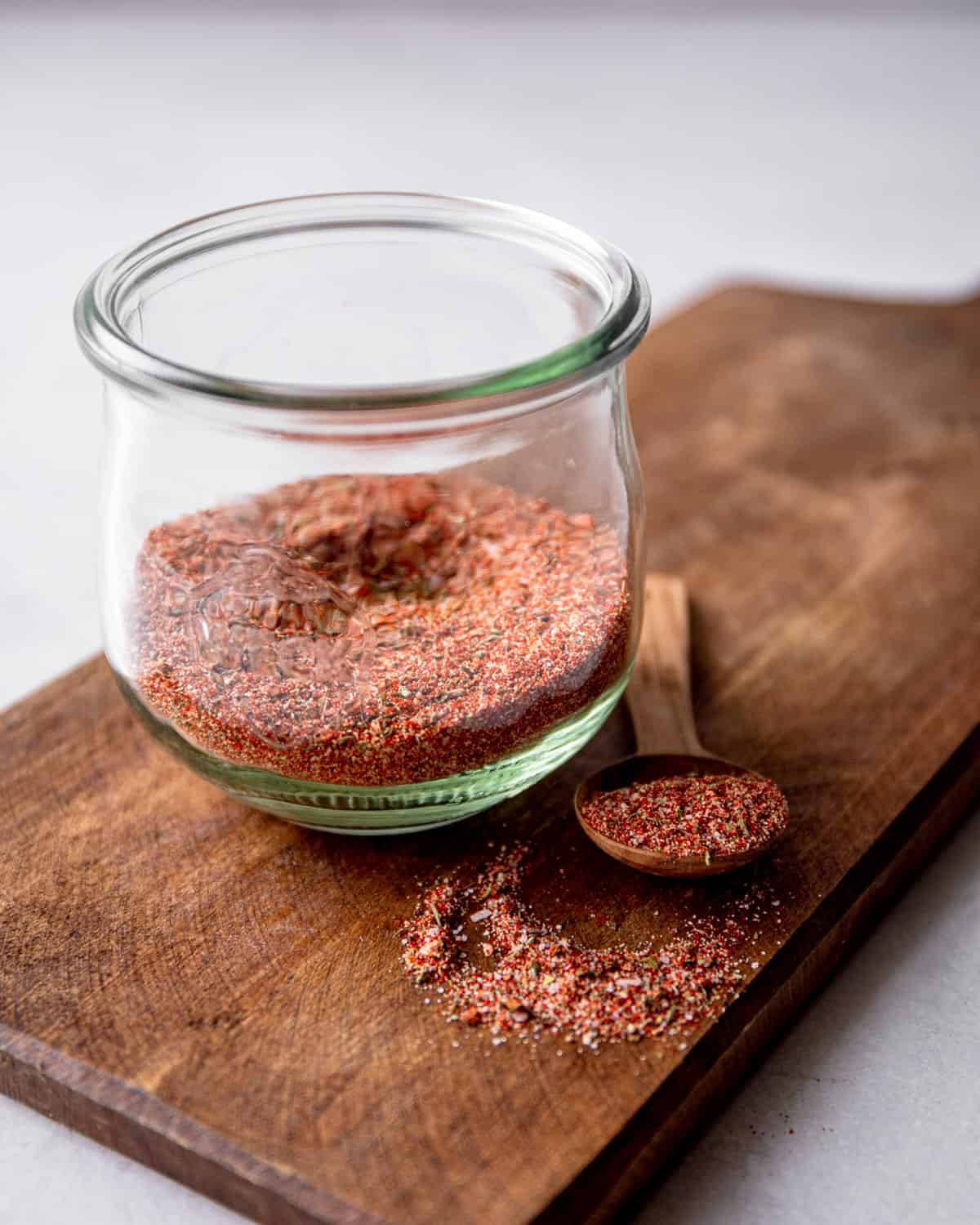 Cajun vs. Blackening Seasoning
Cajun and Blackening Seasoning refer to seasoning blends which have similar flavors but vary in the level of spice they include. Cajun seasoning is typically more spicy than Blackening seasoning. While Cajun seasoning can be used with almost any type of cooking (including recipes that are boiled, like Shrimp Boil), Blackening seasoning is intended for recipes that are seared or grilled to give them a dark "blackened" crust.
What flavors are in Cajun / Blackening seasoning?
Cajun / blackening seasoning includes a mix of dried herbs and spices with cayenne pepper to give it heat. The key flavors are paprika, onion powder, dried thyme, garlic powder, and salt and black pepper. This seasoning blend is usually spicy, but if making the seasoning blend yourself, you can adjust the amount of cayenne pepper to make it more or less spicy.
More easy homemade seasoning and spice blends
Favorite Tools
Lodge Cast Iron Skillet

– I use this 10.5-inch cast iron skillet nearly every day. To keep it seasoned, just be sure to dry it well and rub it with some oil before storing it (this will prevent rust and keep it seasoned).

Global Chef's Knife

– You only really need one chef's knife to use for everything and this is my favorite. I've had it for 7+ years. It's incredibly lightweight. If you, like me, are under 5'4″, the 6-inch is a perfect size (if you're taller, get the 8-inch).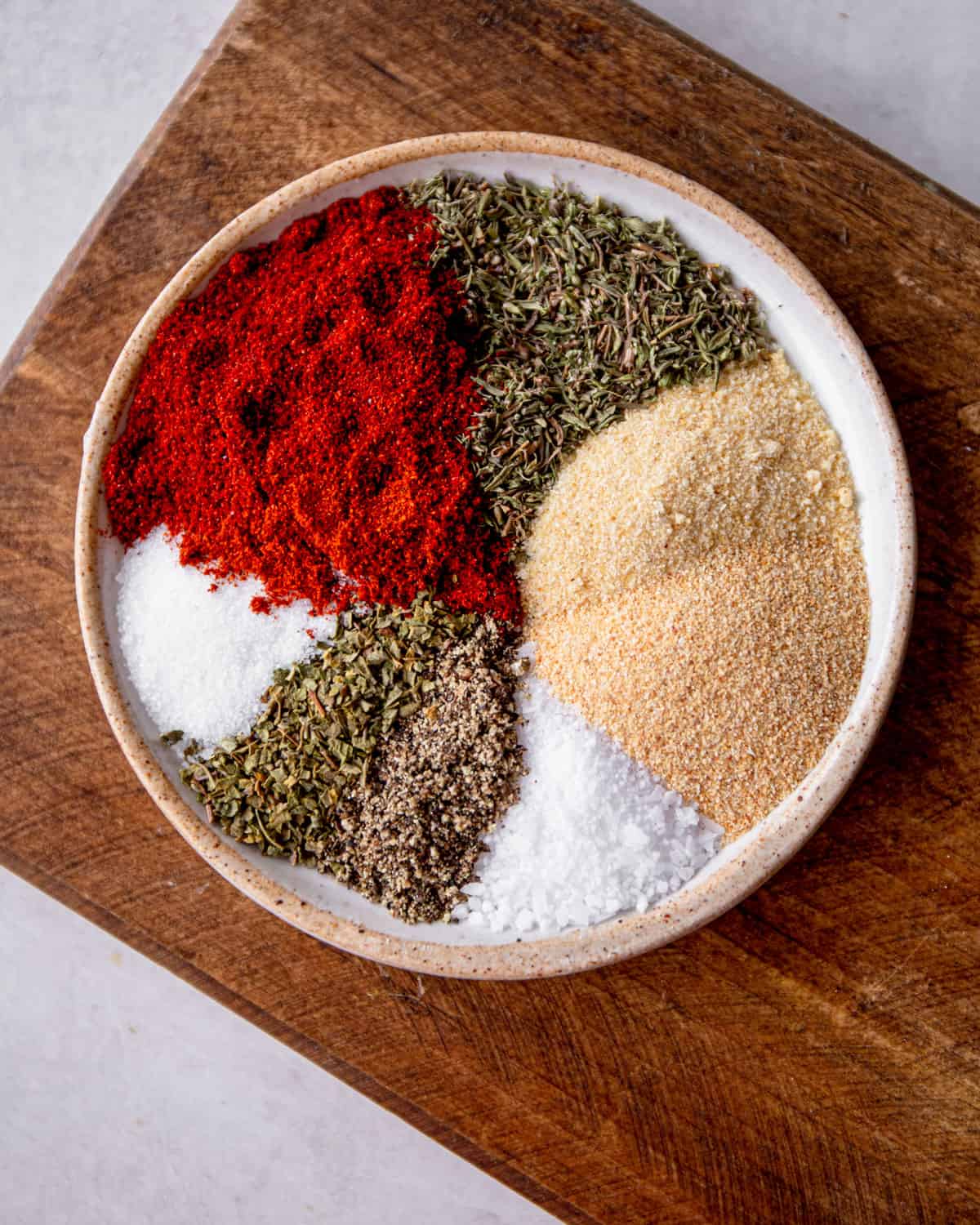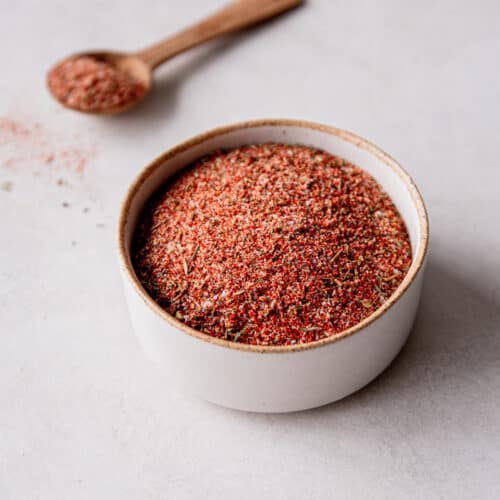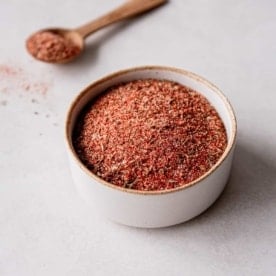 Homemade Blackening Seasoning Recipe
Homemade Blackening Seasoning gives your favorite chicken, fish, or tofu a flavor-packed crisp, dark crust. Make this seasoning blend yourself so you can adjust the level of spice without sacrificing any of the bold, zesty flavor.
This makes enough seasoning to use with 1 pound of meat. To adjust the servings in this recipe, click on the number next to servings.
Ingredients
1 1/2

Tablespoons

Paprika

1

teaspoon

Kosher Salt

1

teaspoon

Dried Thyme

1

teaspoon

Onion Powder

(not onion salt)

3/4

teaspoon

Garlic Powder

(not garlic salt)

1/2

teaspoon

Black Pepper

(preferably fresh-cracked)

1/2

teaspoon

Dried Oregano

1/4

teaspoon

Sugar

(optional)

1/8

teaspoon

Cayenne Pepper

(see note)
Instructions
Combine all ingredients in an airtight container.

Store at room temperature. Best if used within 3 months.
Notes
Kosher Salt
– I use Morton's Kosher Salt to test recipes. If using table salt, reduce by half. If using Diamond Kosher Salt, increase by 25%.
Sugar
– Sugar in the blend is optional, but it will caramelize when exposed to high heat and will help to give the dish you are cooking a deep, dark crust. It also subtly balances the spice of the cayenne.
Cayenne Pepper
– This will make a seasoning that is noticeably spicy and should work for most spice preferences. If you are sensitive to spice (or serving people who are), reduce or omit the cayenne. You can also increase the cayenne if you like spicier dishes.
Nutrition
Calories:
6
kcal
|
Carbohydrates:
1
g
|
Protein:
1
g
|
Fat:
1
g
|
Saturated Fat:
1
g
|
Polyunsaturated Fat:
1
g
|
Monounsaturated Fat:
1
g
|
Sodium:
437
mg
|
Potassium:
31
mg
|
Fiber:
1
g
|
Sugar:
1
g
|
Vitamin A:
404
IU
|
Vitamin C:
1
mg
|
Calcium:
9
mg
|
Iron:
1
mg
Nutrition information is automatically calculated, so should only be used as an approximation.