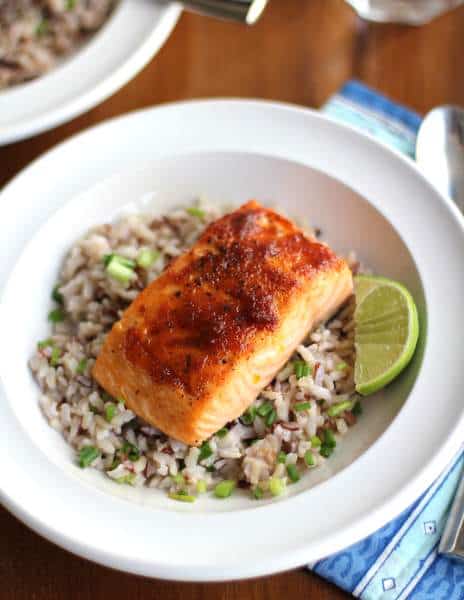 Thai red curry paste adds a delicious glaze to the top of roasted red curry salmon. Pair the salmon with slightly sweet coconut brown rice and you have a delicious dinner on your hands.
With Halloween just a day away, I'm noticing that the October obsession with all things pumpkin has shifted to an obsession with butternut squash. Two weeks ago I actually found locally grown butternut squash at our grocery store. They were about the size of my hand, but totally cheap. I haven't had a butternut squash since we left the U.S. almost exactly two years ago, so I swept a bunch into my cart without giving it a second thought and roasted them in my oven within 24 hours.
Over the weekend, I thought I'd do something else with that sweet, sweet little squash, but they were already gone. The butternut squash are likely never to be seen again. That's how things work at our local grocery store. We can find plenty of things that are not typically Thai, but many items seem to show up by momentary mistake rather than by long-term decision.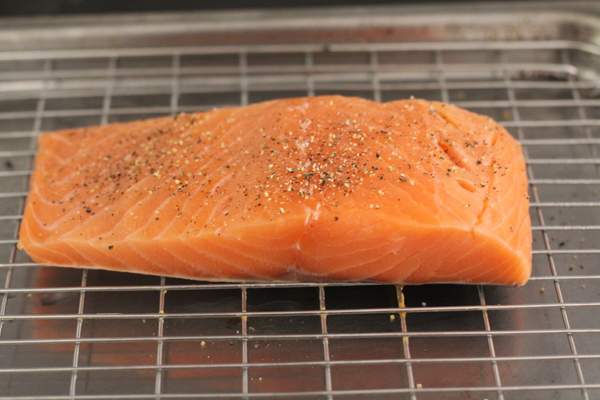 The flip side of grocery shopping here is the abundance of flavorful sauces, curry pastes, and fresh herbs that are, of course, always available. Our refrigerator is rarely without several types of basil and a healthy stock of shrimp paste, fish sauce, and soy sauces in various levels of sweetness. Even now, I'm still working my way through the aisle of Thai condiments.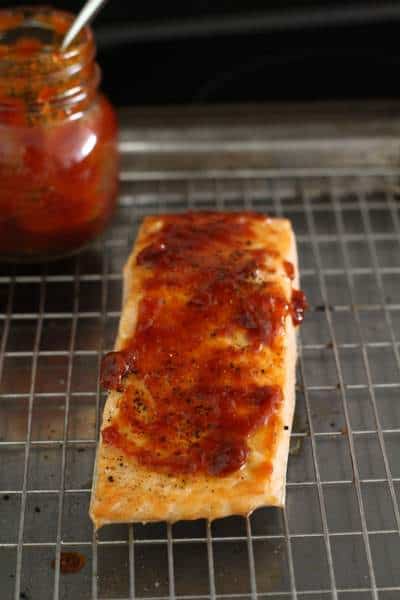 All of those Thai ingredients come in handy to create quick dinners with lots of flavor. Prepared Thai curry pastes make the work easy. For this dinner I used red curry paste which has got a bit of a kick. You could easily substitute any paste you can find - panang curry, green curry, massaman curry - all would be delicious. Coconut rice is far more popular here as a dessert (sometimes served with mango), but without sugar, it is a great complement to savory or spicy dishes. It added so much flavor to the brown rice, that I'm not sure I would ever do this with the white variety, but you certainly could.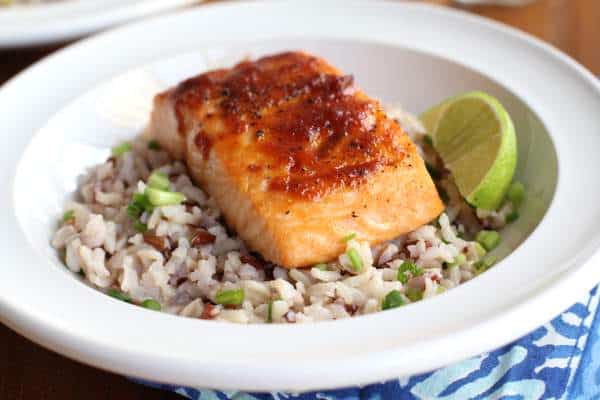 I am already predicting that the red curry glaze on top of this salmon will become a favorite - it would be delicious on top of other types of fish, chicken, or brushed onto tofu slices for a variation on this deliciousness.
More Salmon Recipes
Favorite Tools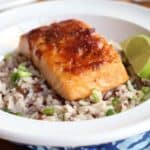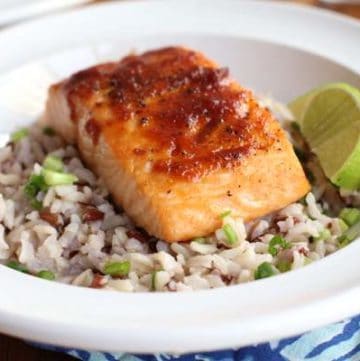 Print Recipe
Red Curry Salmon with Coconut Brown Rice
Thai red curry paste adds a delicious glaze to the top of roasted salmon. Pair the red curry salmon with slightly sweet coconut brown rice and you have a delicious dinner on your hands.
Equipment
Saucepan

Oven-Safe Wire Rack

Half Sheet Pan

Mixing Bowl
Ingredients
For the Rice:
1

cup

Brown Rice

1

cup

Light Coconut Milk

1 ½

cups

Water

4

Scallions, green parts only, thinly sliced

(green onions)
For the Salmon:
4

5 oz

Salmon Filets

1

tablespoon

Thai Red Curry Paste

(see note)

2

teaspoon

Light Brown Sugar

1

teaspoon

Soy Sauce

1

teaspoon

Olive Oil

1

Lime, cut into quarters
Instructions
Combine the brown rice, coconut milk, and water in a large, heavy-bottomed pot. Over high heat, bring the mixture to a boil. As soon as it begins to boil, reduce the heat to a very low simmer. Put the lid on the pot and allow to simmer for 40-45 minutes, or until all of the liquid is absorbed. Remove the pot from the heat and allow to rest, covered, for at least 5 minutes, or until you are ready to serve. Just before serving, stir in the sliced scallions.

Turn on the oven's broiler. Place a wire rack on top of a foil-lined baking sheet. Brush the wire rack with olive oil to prevent the salmon from sticking. Place the salmon filets about 3 inches apart on the wire rack. Sprinkle the salmon with salt and pepper. Put the salmon filets under the broiler for 4 minutes. Meanwhile, whisk together the red curry paste, light brown sugar, soy sauce, and olive oil. Remove the partially-cooked salmon filets from the oven and brush the red curry mixture evenly over the top of each. Return the filets to the broiler and continue broiling until the tops turn brown and the salmon is cooked through, 2-4 minutes more.

Serve each salmon filet over about ¾ cup brown rice. Serve each with a quarter of lime for squeezing over the top.
Notes
Thai red curry paste usually contains some combination of shallot, lemongrass, chilies, garlic, cilantro, and galangal (a root that tastes different than, but looks similar to ginger). Red curry paste is available in the international section of many grocery stores, although it may be either in the refrigerated section (often near the herbs) or in a shelf-stable variety near the other Asian dried goods.
*This post contains affiliate links*