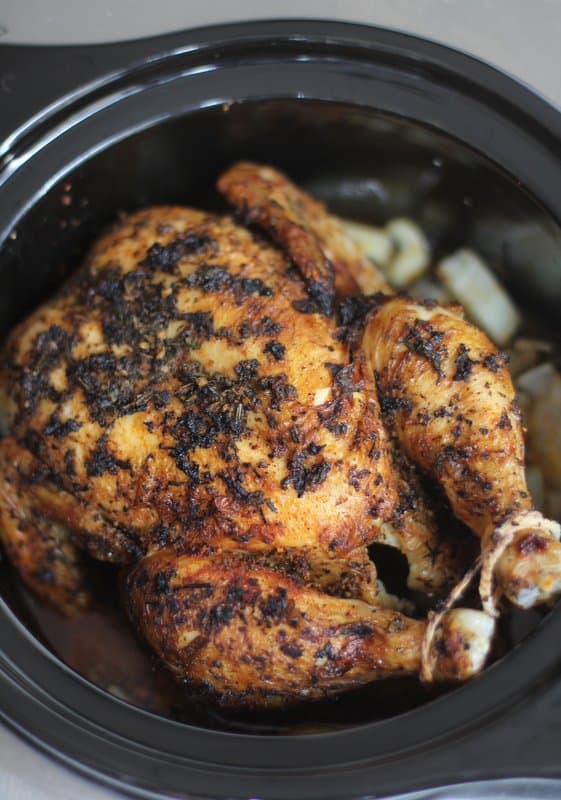 There's a reason that it's nearly impossible to leave Costco without a rotisserie chicken. They smell so good! Bring all that delicious roasting-chicken aroma right into your kitchen with Crock-pot Rotisserie Chicken.
Now this is a good idea. Chicken that looks and tastes like rotisserie, but cooked in the crockpot. Here in hot Bangkok at 34 weeks pregnant with these twins of ours, crock-pot cooking is about all I have the energy for. We have a three day weekend (Monday is a Thai holiday), and filled the house on Sunday with the smell of roasting chicken and fresh herbs thanks to 20 minutes of work and our handy little crock-pot.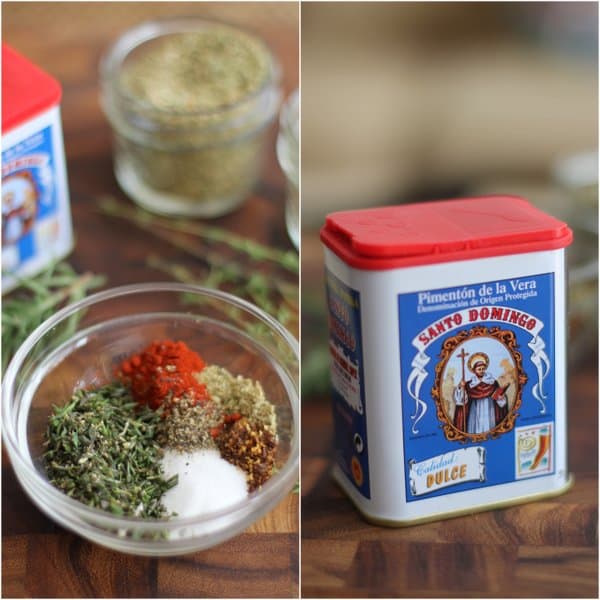 When I was searching for rotisserie-inspired spice blends for the chicken over the weekend, I stumbled across Bon Appetit's Herbed "Faux-tisserie" Chicken recipe (which is, essentially, chicken with all the flavor of rotisserie but cooked in the oven). This recipe takes the faux-tisserie chicken and simplifies it even further by making it in the crockpot – an idea that came from my assignment for this month's Secret Recipe Club, Food Ramblings.
The spice blend I settled on used fresh herbs and a few spices, including that amazing paprika that Frank brought back from Spain last fall.
A quick turn under the broiler gives the chicken skin that golden color and crisp texture and locks in moisture before it finishes cooking in the crockpot.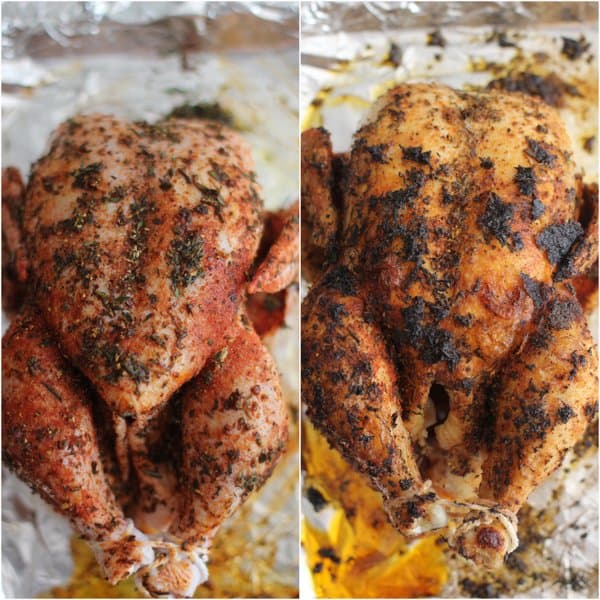 The idea for Crock-Pot Rotisserie Chicken came from Elizabeth in Virginia. I could not have been assigned a better fit for Secret Recipe Club this month – Elizabeth's site is packed full of delicious recipes, many of which are so simple that I knew I could pull them off even in my pregnant state. There were tons of great casseroles that could be made ahead, but I was particularly drawn to the slow-cooker recipes – many of which were extremely simple and unique.
As if the spice mixture didn't pack enough flavor, the chicken goes into the crock-pot over a mixture of herbs, potatoes, onions, and a bit of broth.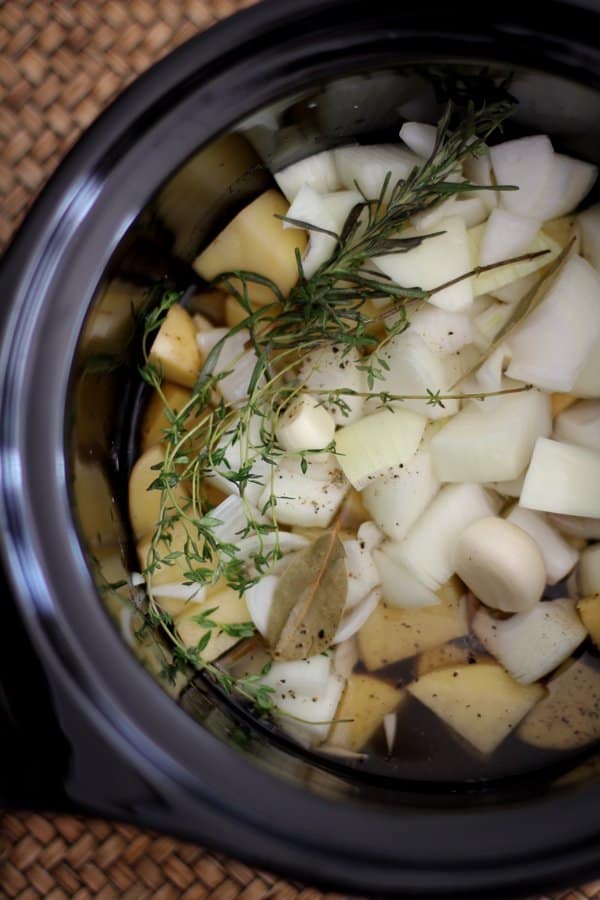 Thanks so much for the great recipe, Elizabeth!
More Slow Cooker Chicken Recipes
Favorite Tools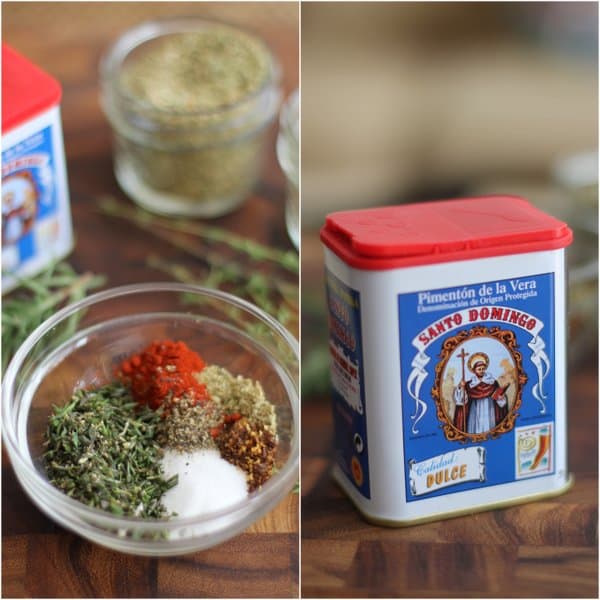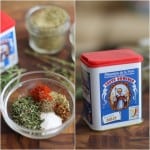 Print Recipe
Crock-pot Rotisserie-Style Chicken
All the flavor of rotisserie chicken straight from the crock-pot.
Equipment
Spice Grinder or Knife

Half Sheet Pan

6-quart Slow Cooker
Ingredients
2

tsp

Fennel Seeds

1

tsp

Crushed Red Pepper Flakes

(optional)

2

Tbsp

finely chopped Fresh Rosemary, plus 2 whole sprigs

2

Tbsp

finely chopped Fresh Thyme, plus 2 whole sprigs

1

Tbsp

Paprika

1

Tbsp

Kosher Salt

½

tsp

Freshly Ground Black Pepper

3

Tbsp

Olive Oil

1

large or 2 small

Baking Potatoes, cut into 2-inch pieces

1

Onion, cut into 2-inch pieces

2

cloves

Garlic, peeled

2

Bay Leaves

1

cup

Chicken Broth

1

Whole Chicken, 2-4 pounds

(just be sure it will fit in your slow cooker)
Instructions
Preheat broiler. Line a baking sheet with foil.

To make the spice blend, crush the fennel seeds and red pepper flakes in a spice grinder or chop them very finely with a knife. In a small bowl, combine the chopped fennel seeds, red pepper flakes, chopped fresh rosemary, chopped fresh thyme, paprika, kosher salt, and black pepper.

Place the chicken on the prepared baking sheet and tie the legs together (optional). Rub the outside of the chicken, first with the olive oil and then with the spice mixture, until evenly covered. Place under the broiler until the skin becomes crisp and dark golden brown.

While the chicken is under the broiler, prepare the crock-pot by adding the potato, onion, garlic, bay leaves, chicken broth, rosemary sprigs, and thyme sprigs to the pot. Finally, place the chicken on top and put the lid on the crock-pot. Cook on high for 4-5 hours or until the chicken is tender and cooked through. Serve immediately or shred and save for later.
*This post contains affiliate links*