Slow Cooker Hawaiian Chicken
Published Jul 20, 2020•Updated Oct 13, 2023
Easy slow cooker Hawaiian chicken is a saucy, savory, and sweet weeknight meal that takes minutes to prep, and will make everyone happy. The chicken is irresistibly tender and coated in an island-inspired sauce of pineapple, soy sauce, and BBQ sauce that is perfect with rice, or on sandwich buns.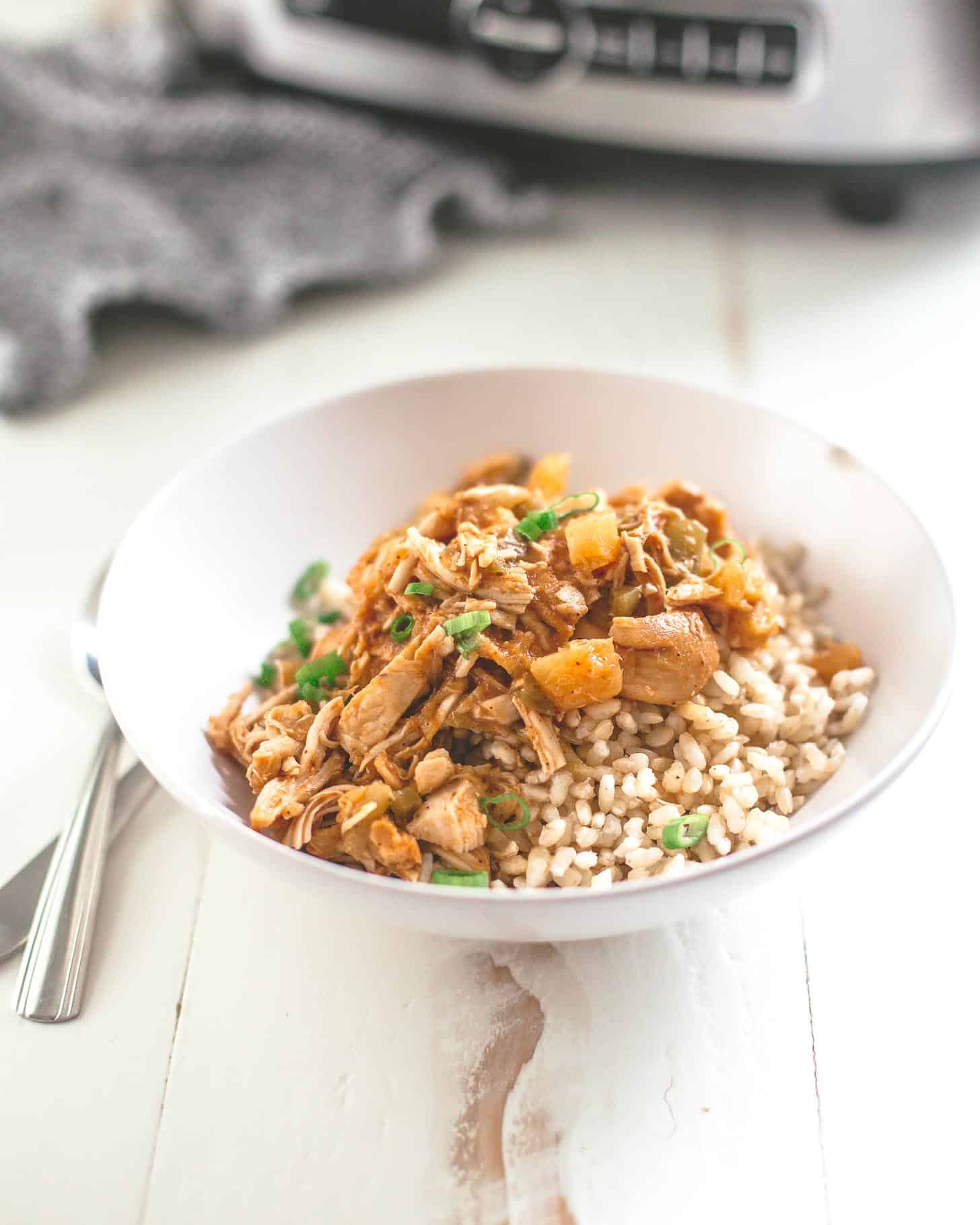 There are so many amazing things about this recipe, it's hard to know where to start. There is no marinating required, and the only prep you need to do is gather your ingredients and then place them in the slow cooker or crockpot. Cook up some rice or grab some fluffy sandwich buns, and you have a mouthwatering weeknight meal that's ready in minutes.
The secret to super moist and juicy chicken is to let the meat soak in the Hawaiian sauce for an extra 10 minutes to add even more flavor.
When you make slow cooker Hawaiian chicken for the first time, you are going to ask yourself, what did homecooks do before these handy countertop devices? Add this dish to your list of easy chicken recipes when you want to make a tasty game day snack or you want to save time in the kitchen.
What is Hawaiian Chicken?
Hawaiian chicken is a sweet, savory, and tangy dish inspired by the relaxed island foods of Hawaii. Chicken breasts are cooked in a flavorful sauce of pineapple, BBQ sauce, and soy sauce until the meat is fork-tender, and then served with fluffy rice or on sandwich buns.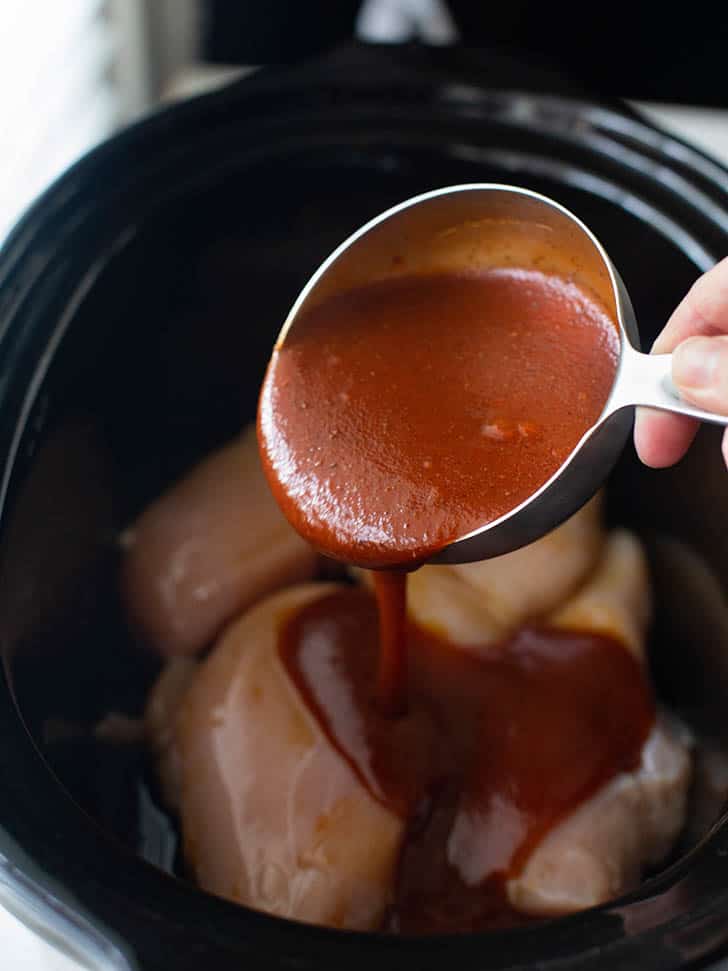 How to Make It
Combine all of the ingredients in the slow cooker.
Cook on low for 5 hours or high for 2 to 3 hours.
Shred or chop the chicken, then recombine with the liquid in the slow cooker.
Soak the chicken in the cooking liquid for 10 minutes.
Serve over rice or on buns for sandwiches.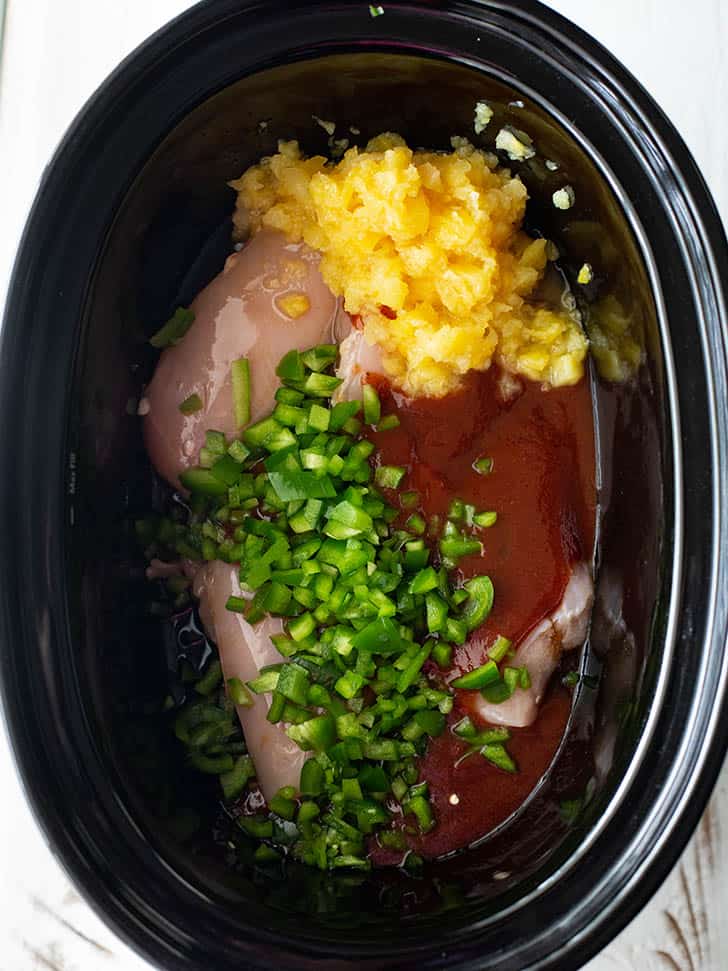 Ingredients
Green Bell Pepper – This is a colorful addition that also adds a nice crunch to each delicious bite.
Boneless, Skinless Chicken Breasts – Lean chicken breasts are so good at soaking up the flavors in the teriyaki-like sauce.
BBQ Sauce – Whether your BBQ style is Kansas City, Carolina, Texas, or Memphis BBQ, they all work with this recipe.
Soy Sauce, Worcestershire Sauce – The combination of these two sauces adds a savory, smokiness to the chicken and the Hawaiian sauce.
Garlic Powder – Aromatic garlic powder brings all of the sweet, savory and smoky flavors together. Use garlic powder, rather than garlic salt, so the dish doesn't get too salty.
Crushed Pineapple – Pineapple is a really juicy tropical fruit, so be sure to drain as much liquid as possible from the can before adding it to the slow cooker.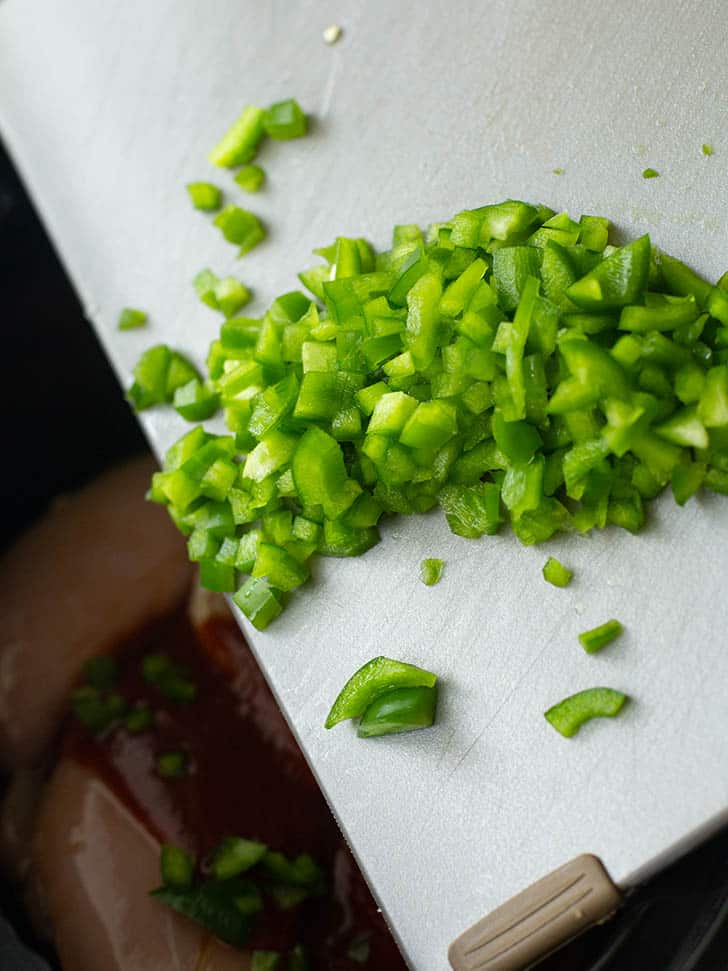 Make Ahead
Make this meal ahead by shedding the cooked chicken and transferring it along with all of the cooking liquid to an aluminum plan or plastic freezer bag. Once everything is completely cooled, store in the refrigerator for up to 3 days, or freeze for up to 4 months.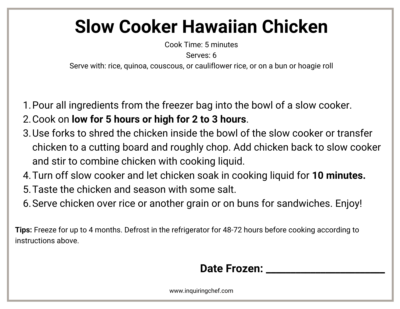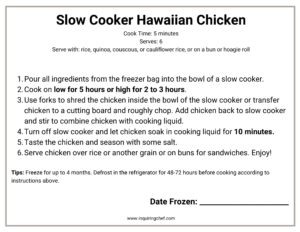 Printable Freezer Label
Print and attach the label below so cooking instructions are ready when you are!
Print Freezer Label
How to Serve
Serve this dish over rice with an extra spoonful of the cooking liquid, so you can enjoy tasty bites of super saucy chicken. If serving on sandwiches, drain the chicken before placing the meat on the buns so they don't get too soggy. For more flavor, add a little extra BBQ sauce.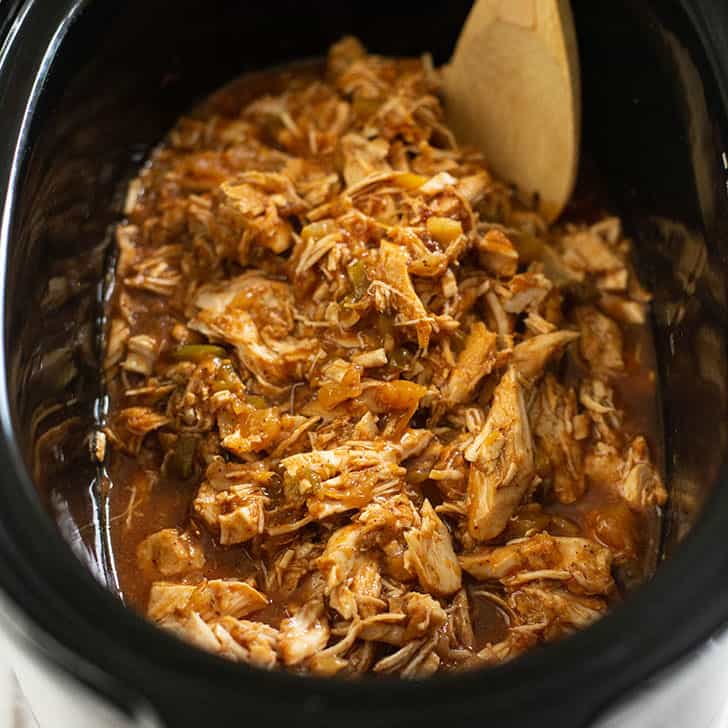 Recipe Tips
The trick to perfect slow cooker Hawaiian chicken is keeping all of the flavors in balance. Because some BBQ sauces have more salt than others, taste the chicken before you start seasoning it with salt.
Go all in on the Hawaiian theme and serve the saucy chicken on sweet Hawaiian rolls.
Substitutions
Make it spicy – A dash of red pepper flakes will add a little spiciness to this sweet and savory chicken recipe.
Try a different rice – Substitute brown rice for white rice for extra nutrients. You can also use quinoa, or any grain you like.
Add more veggies – Try yellow or red bell pepper in place of green bell pepper, or use a mix of all three for a dish that is big on color and flavor. Steamed broccoli florets can also be added.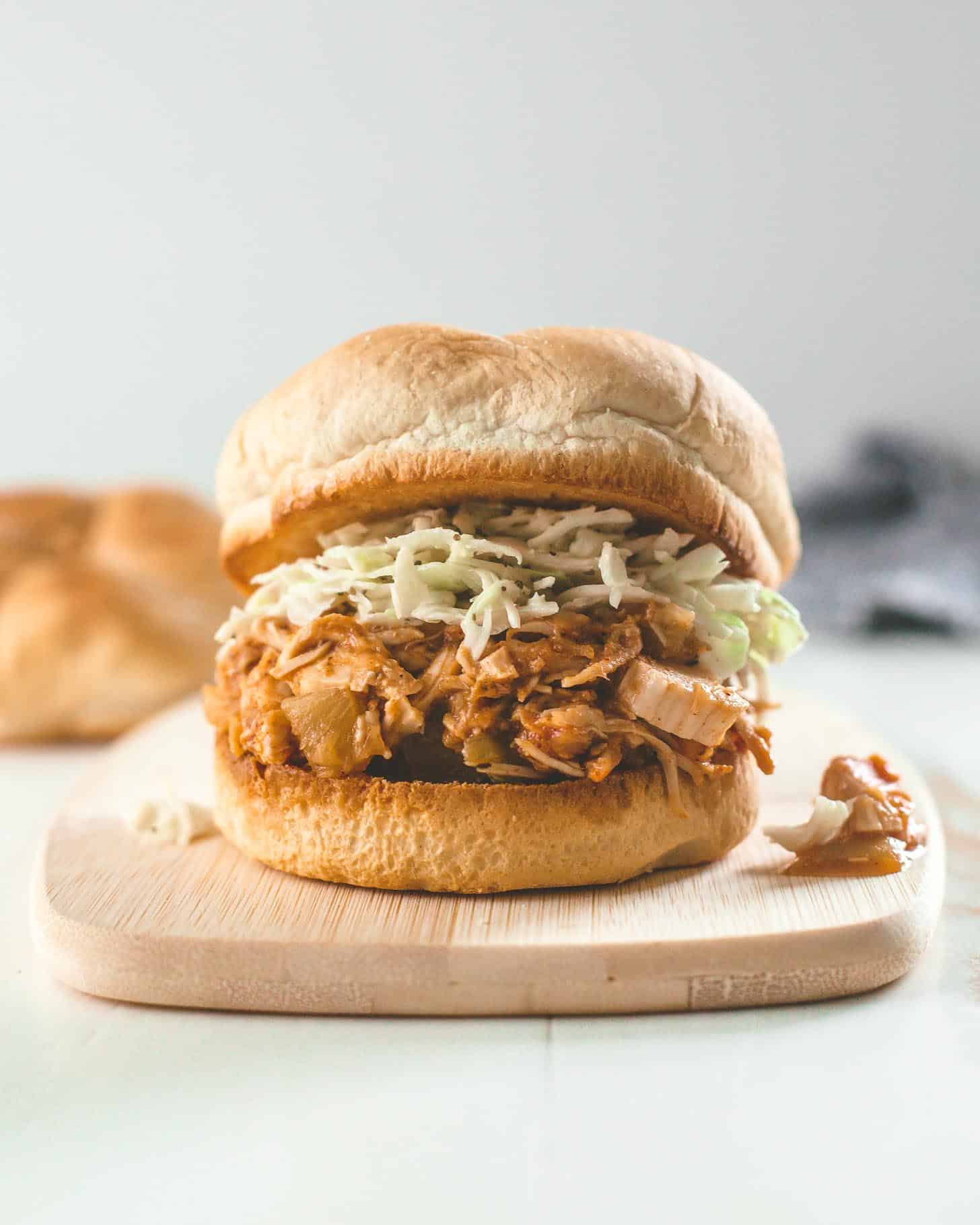 FAQs
Can I use chicken thighs?
You can use chicken thighs in this recipe, but because chicken thighs are richer and fattier than chicken breast, that may result in an oiler dish.
Do I need to brown the chicken before it goes in the slow cooker?
No! What makes this recipe so easy is that you simply place all of the ingredients in your slow cooker, and let that convenient countertop appliance do all of the work for you.
More Easy Slow Cooker Recipes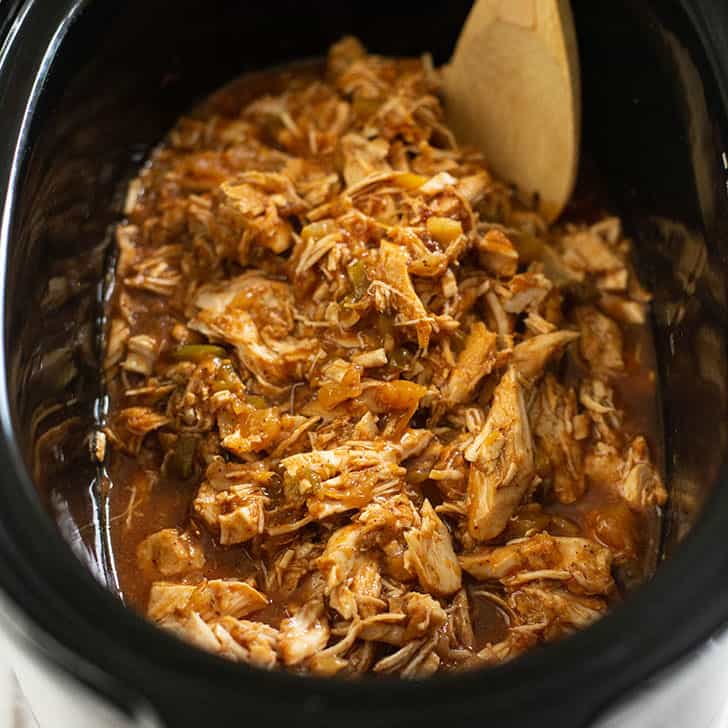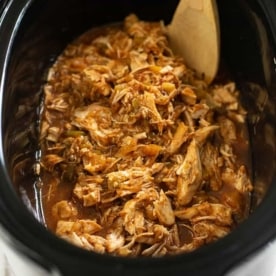 Slow Cooker Hawaiian Chicken
There's no pre-cooking needed for this easy Slow Cooker Hawaiian Chicken that is sweet and savory with BBQ sauce, pineapple, and soy sauce. Just combine everything in the bowl of a slow cooker and serve the saucy chicken over rice or on sandwich buns.
This recipe can be made in a 4-quart or 6-quart slow cooker.
Equipment
6-quart Slow Cooker

Cutting Board

Knife
Ingredients
1

green bell pepper, diced

2

pounds

boneless, skinless chicken breasts

1

cup

BBQ sauce

1

tablespoon

soy sauce

1

tablespoon

Worcestershire sauce

1/2

teaspoon

garlic powder

16

ounces

crushed pineapple, drained well
Instructions
Place all ingredients in the bowl of a slow cooker. Stir to combine.

Slow cook until chicken is cooked through, on low for 5 hours or high for 2 to 3 hours.

Use forks to shred the chicken inside the bowl of the slow cooker or transfer chicken to a cutting board and roughly chop. Add chicken back to slow cooker and stir to combine chicken with cooking liquid.

Turn off slow cooker and let chicken soak in cooking liquid for 10 minutes.

Taste the chicken and season with some salt. (Note: The saltiness of the dish will vary depending on the amount of salt in the BBQ sauce you used, so this may need some added salt at the end.)

Serve chicken over rice or on buns for sandwiches (see serving notes below).
Notes
If serving the chicken over rice, serve it with the cooking liquid since the rice will soak it up. If serving on sandwiches, drain the chicken well before putting it on sandwich buns. In either case, you can add some extra BBQ sauce to the finished chicken if you'd like more of that flavor.
Nutrition
Calories:
309
kcal
|
Carbohydrates:
33
g
|
Protein:
33
g
|
Fat:
4
g
|
Saturated Fat:
1
g
|
Cholesterol:
97
mg
|
Sodium:
862
mg
|
Potassium:
827
mg
|
Fiber:
2
g
|
Sugar:
27
g
|
Vitamin A:
263
IU
|
Vitamin C:
26
mg
|
Calcium:
40
mg
|
Iron:
1
mg
Nutrition information is automatically calculated, so should only be used as an approximation.