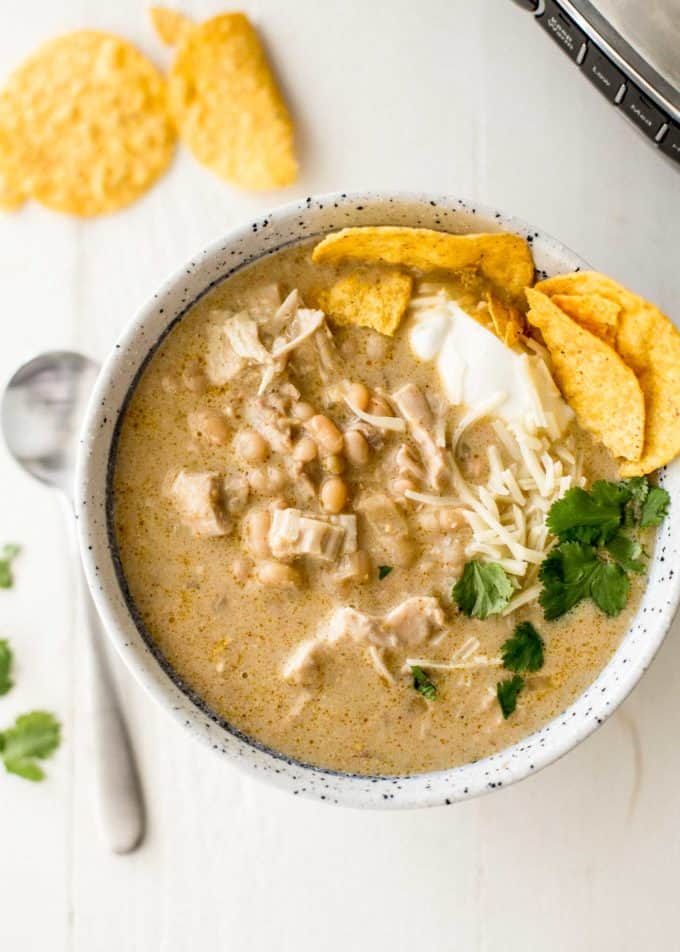 With just a handful of ingredients and no pre-cooking required, slow cooker white chicken chili is every bit as satisfying as it is simple. This is rich and creamy (without condensed soup), gluten-free, and has a dairy-free option.
Can we all agree that sometimes white chicken chili is not really like chili at all? Sometimes it's more like soup - brothy and delicious - but soup. Not this white chicken chili. This one is thick, creamy, loaded with tender white beans and hearty chicken and it's about as simple as they come. Just eight ingredients (plus an optional addition) and the slow cooker does all the work.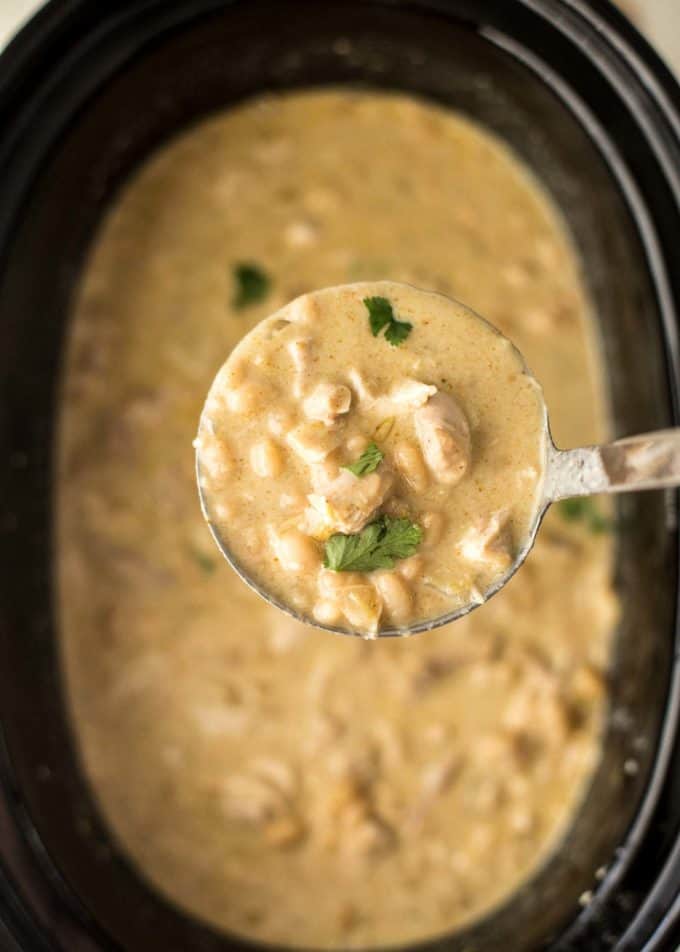 If you have time to chop an onion, you have time to make this meal in the slow cooker and walk away. At dinner, thicken the chili, chop the chicken, and set out the toppings. Creamy, thick, cozy slow cooker white chicken chili is here for you. Here's all you need to get this dinner done…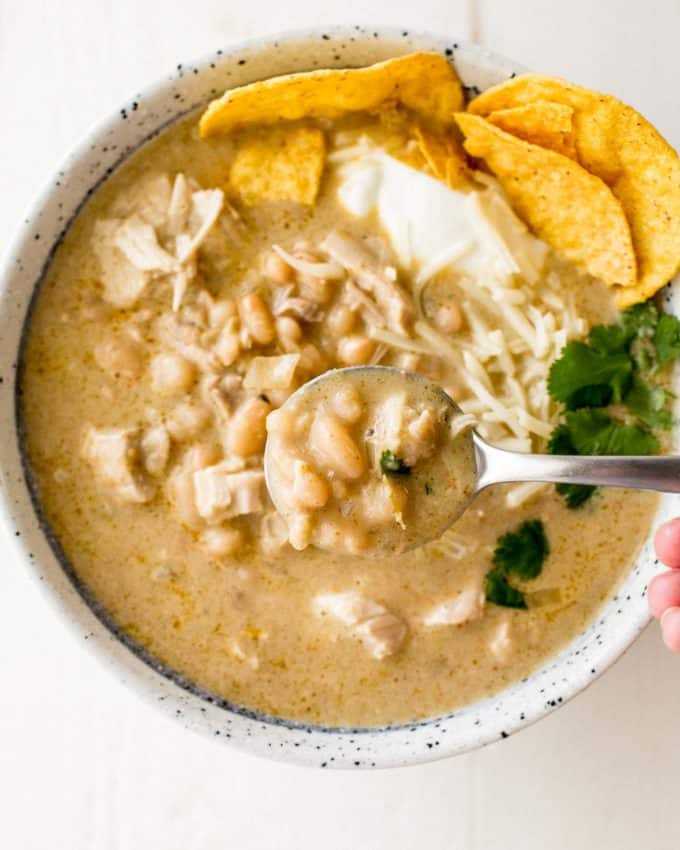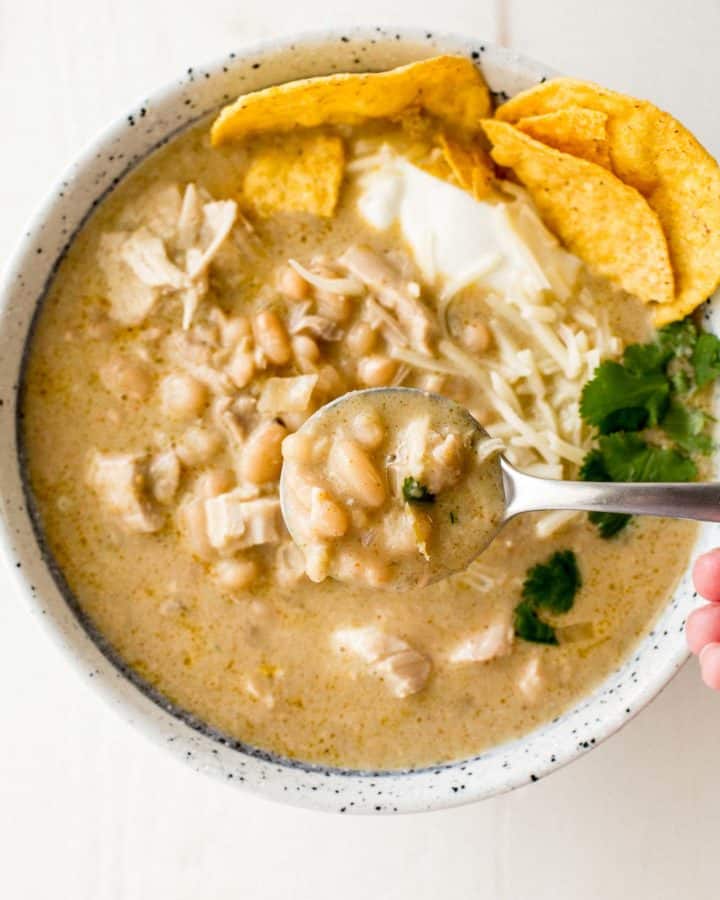 White Chicken Chili Ingredients
Dried Navy Beans

- This chili starts with dried white (Navy) beans. They're inexpensive, easy to store in the pantry, and soak up all of the flavor of the chili as they cook. Just rinse the beans and put them right in the slow cooker. There's no need to soak them ahead of time (see below for more on that). If you have canned Navy beans around, you can rinse them and use them instead, but dried beans will have the most flavor.

Chicken Thighs

- Feel free to use boneless, skinless chicken breasts if you prefer. I find that chicken thighs stay a bit more tender, but chicken breasts work just fine.

Salsa Verde

- A jar of salsa verde is the star of this recipe, giving it all of its flavor. Be sure to grab mild if you don't want the chili to be spicy.

Chicken Broth, Onion, Ground Cumin, Chili Powder

- These pantry basics help to add even more flavor to the chili. You can use either chicken broth or chicken stock (I find that "chicken broth" has a bit more flavor, so use that if you have both options in front of you). Be sure that you use Chili Powder NOT Cayenne which is much spicier.

Salt

- Don't forget to taste the chili at the end of cooking and add some more salt if needed. The amount of salt in the salsa can vary, and adding some more salt at the end will really help to bring out all of the flavors of the chili.

Sour Cream

- Sour cream is optional in this recipe, but it gives the soup a tangy flavor and creamy texture that really rounds it out. For a dairy-free option you can follow the instructions to blend some of the soup to thicken it.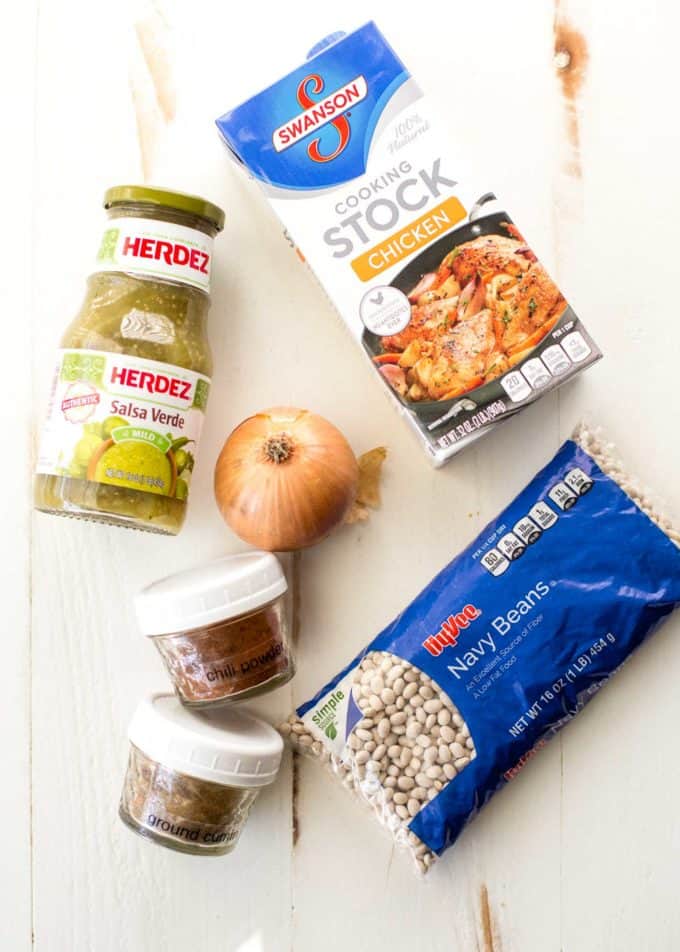 No. White beans do not need to be pre-soaked before adding them to the chili. The slow cooker provides the beans with plenty of time to soften and turn tender. Be sure to rinse them well before using them.
Bon Appetit has a lot to say on the subject, but testing this in my own kitchen indicates that the dried beans are actually best if added right to the slow cooker. As they cook, they soak up the flavors of the other ingredients and help to make the chili broth more rich and flavorful.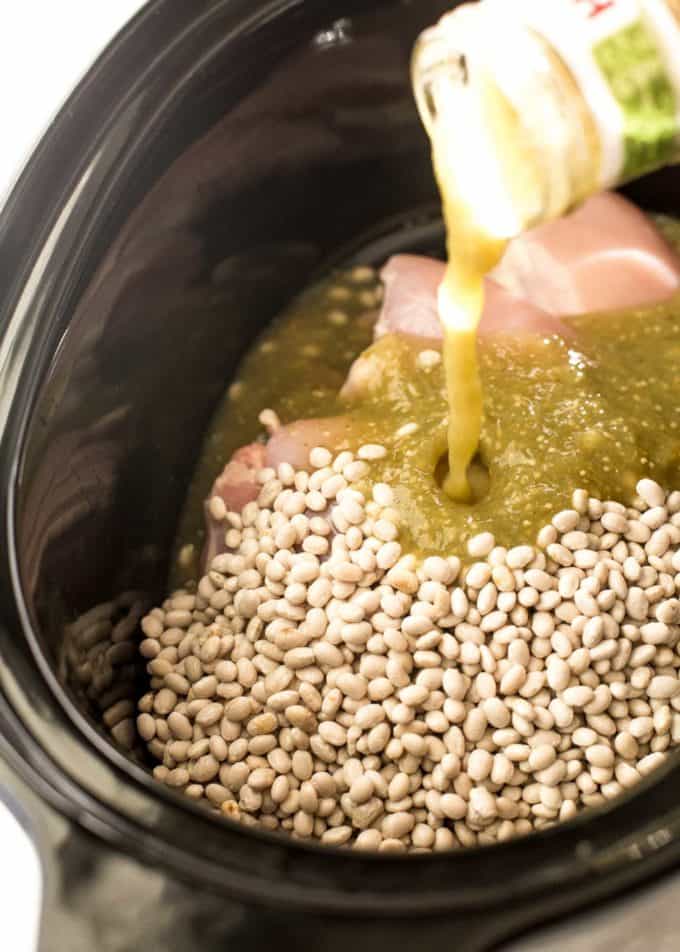 How to Thicken Chili
There are two options for thickening this chili:
Sour Cream - At the end of cooking, whisk together some of the cooking liquid from the chili and some sour cream. Pour it back into the chili and it will give the chili a tangy flavor and creamy texture.

Immersion Blender - When you take the chicken out to shred it, use an

immersion blender

(or you can transfer about 2 cups of the chili to a standing blender) to blend some of the chili until smooth. The blended beans serve as a natural thickener. This is a great dairy-free option.
If you'd like, you can combine these for a super creamy, thick chili.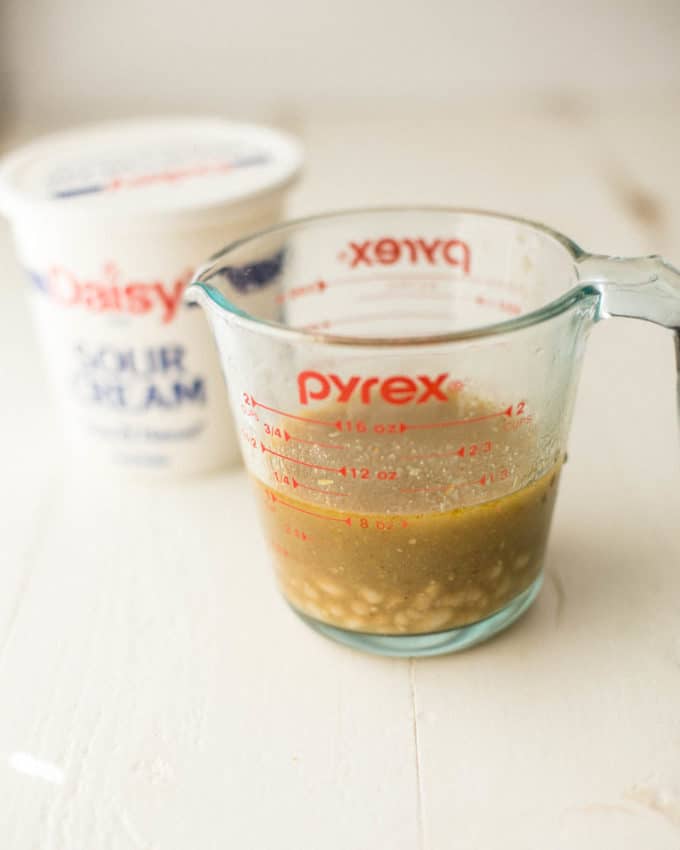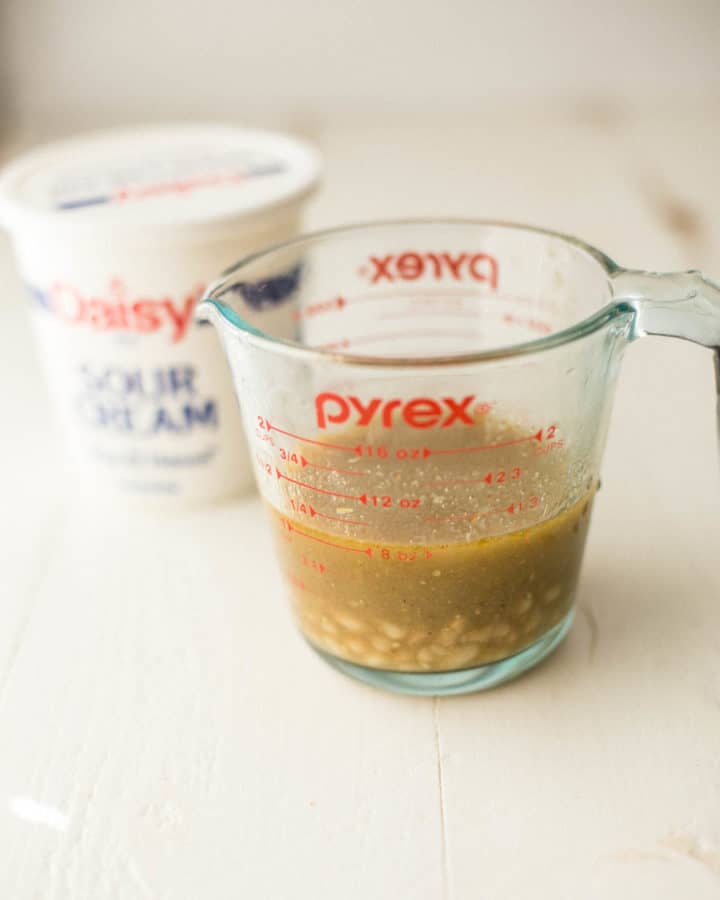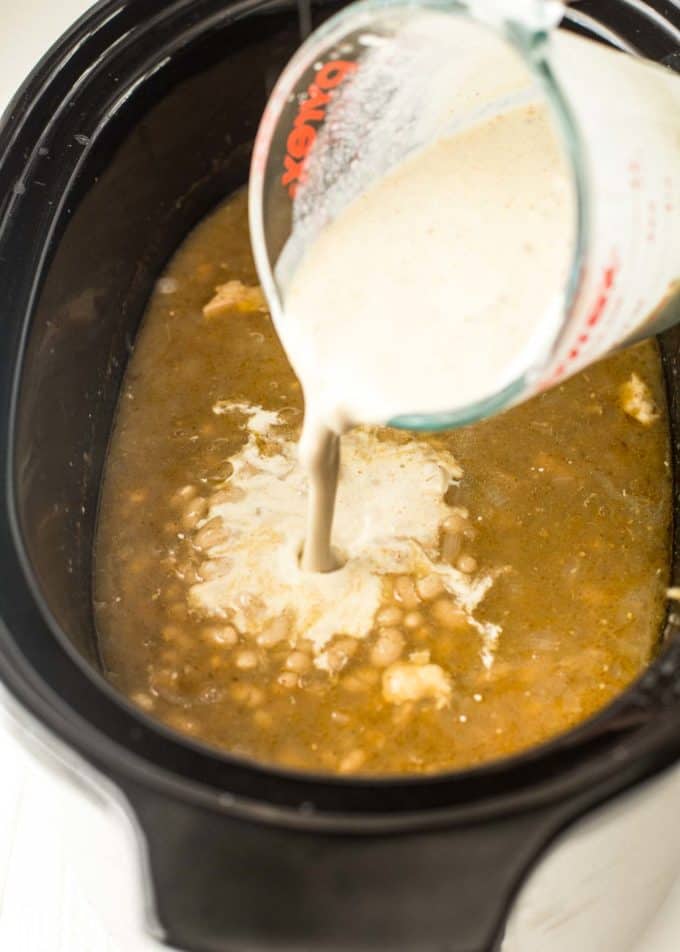 Variations on White Chicken Chili
Use chicken breasts - As noted above, chicken breasts will work fine in this recipe if you prefer them over chicken thighs.

Add vegetables - This is a simple white chicken chili, but it can be a blank slate for additional flavors. Try adding diced green bell peppers or frozen corn.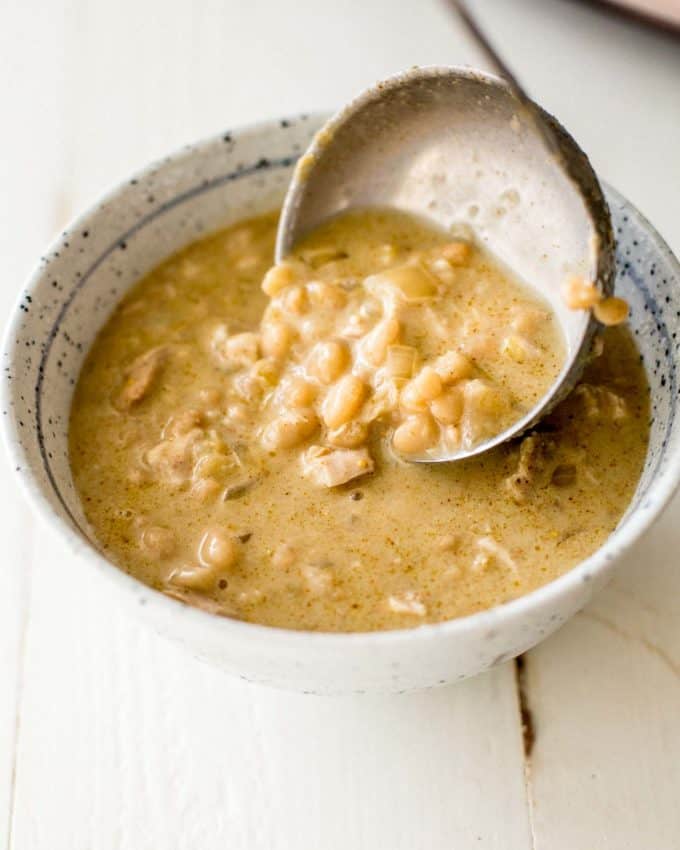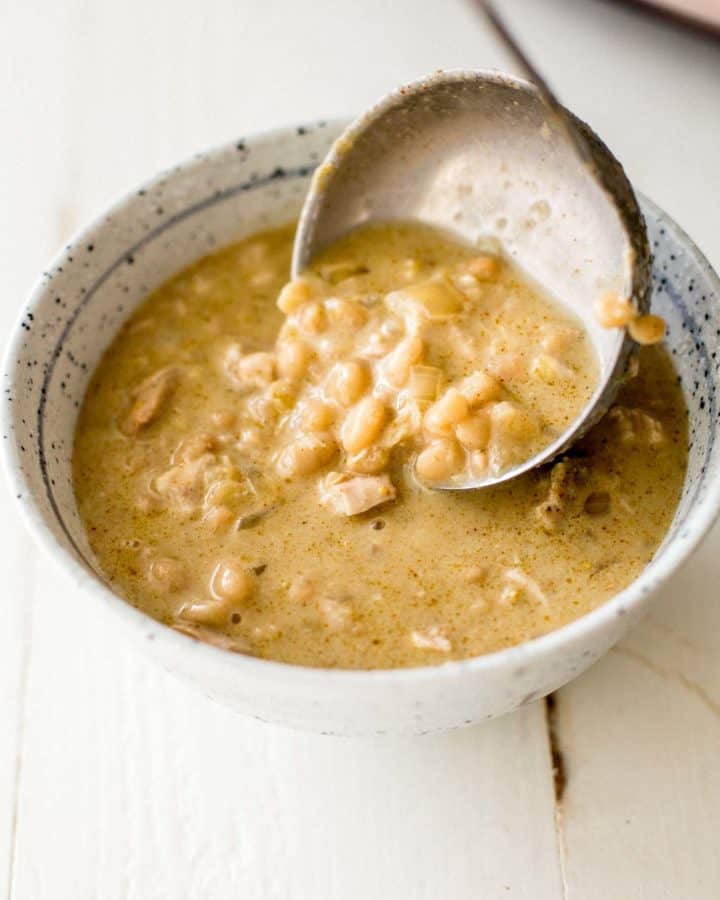 Other Similar Meals / Serving Suggestions
Favorite Tools
KitchenAid 6-Quart Slow Cooker -

When I was testing slow cooker recipes last fall, I got a lot of questions about the "best" slow cooker. The truth is, I just followed the advice of other experts (including America's Test Kitchen and

Food and Wine

). This $99 machine has been a staple in my kitchen for years and works better than any other slow cooker I've used.

Immersion Blender

- I love this little tool for making pureed soups and sauces. It's so much easier to clean than using my standard blender.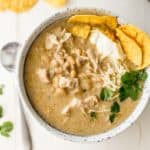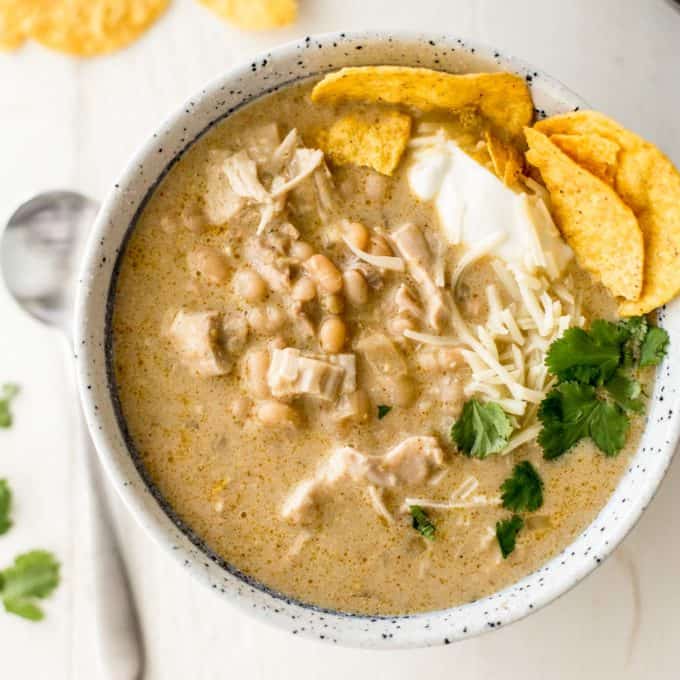 Print Recipe
Slow Cooker White Chicken Chili
With just a handful of ingredients and no pre-cooking required, slow cooker white chicken chili is every bit as satisfying as it is simple. Check the recipe notes for two options for thickening the chili with or without dairy and lots of options for toppings.
This recipe should be made in a 6-quart slow cooker.
Ingredients
1

lb

Dried Navy Beans, rinsed

(see note)

1 ½

lb

Boneless, Skinless Chicken Thighs

(you can use boneless, skinless chicken breast)

1

16oz jar

Mild Salsa Verde

(use a spicy salsa verde if you want your chili spicy)

1

small

Yellow or White Onion, diced

(about 1 cup)

2

teaspoon

Ground Cumin

1

teaspoon

Salt

1

teaspoon

Chili Powder

4

cups

Chicken Broth

(or chicken stock)

1

cup

Water

1

cup

Sour Cream

(optional, see note)
For Serving (optional):
Shredded Monterey Jack Cheese

Avocado

Chopped Cilantro

Sour Cream

Tortilla Chips
Instructions
Combine dried beans, chicken, salsa, onion, cumin, salt, chili powder, broth, and water in the bowl of a 6-quart slow cooker and give it a stir to combine. Cook until the beans are tender and the chicken falls apart easily, 4 hours on high or 7-8 hours on low. (Note: dried beans can vary in cook time depending on how long they've been stored, so plan for the higher end of the cook time range if you think yours might have been on the shelf or stuck in the back of the pantry for a bit.)

Remove chicken from the slow cooker and transfer to a cutting board.

Optional step to thicken (see note): Remove 1 cup of liquid from the chili. Whisk 1 cup sour cream into this cooking liquid. Pour the thickened liquid back into the chili and stir to combine.

Roughly chop the chicken and stir it back into the chili.

Taste the chili and season with some more salt, if needed.

Ladle soup into bowls and serve with any (or all!) the toppings you like.
Notes
Beans - It is not necessary to soak the beans before cooking. The first couple hours in the slow cooker will take the place of pre-soaking the beans. Just be sure to rinse the beans well before adding them to the chili.
Thickening the chili - Adding sour cream to the chili in the optional step above yields a creamy, thick chili. If you want to skip the sour cream for a lighter or dairy-free option, use an immersion blender to blend a small portion of the chili before adding the chopped chicken back in. (The beans will naturally thicken the chili once blended.)
Nutrition
Calories:
480
kcal
|
Carbohydrates:
49
g
|
Protein:
40
g
|
Fat:
14
g
|
Saturated Fat:
6
g
|
Cholesterol:
128
mg
|
Sodium:
1107
mg
|
Potassium:
1389
mg
|
Fiber:
19
g
|
Sugar:
5
g
|
Vitamin A:
373
IU
|
Vitamin C:
12
mg
|
Calcium:
182
mg
|
Iron:
6
mg
*This post contains affiliate links*