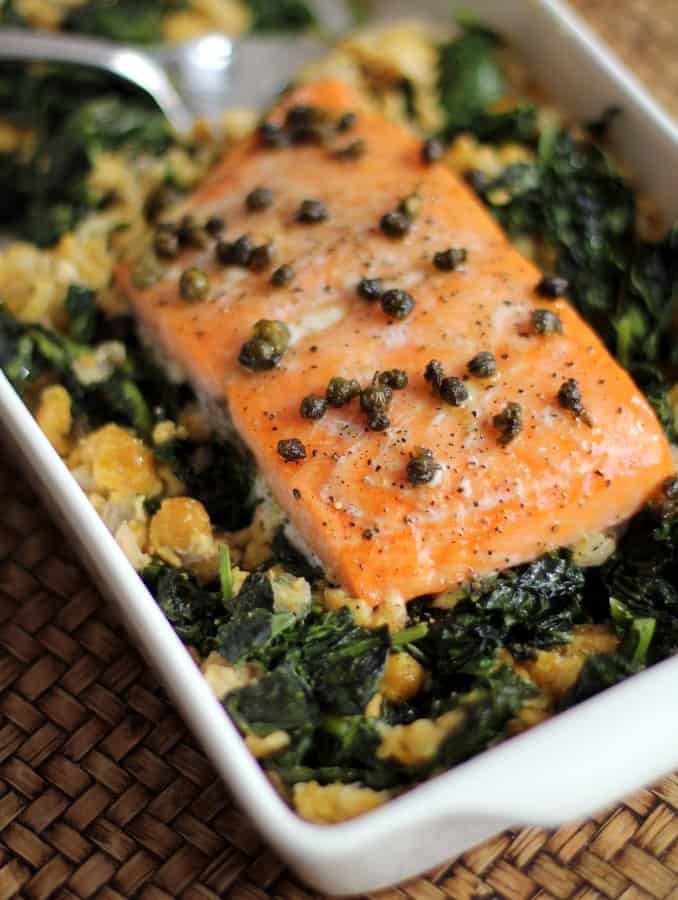 We leave for Madrid in 48 hours.  While there, I plan to eat my weight in cheese, ham, and bread, so I figured I should pack in a few relatively healthy dinners now.  Enter this salmon with chickpeas and greens.  Healthy, easy, and so good, I made it twice in two weeks.
Figuring out what to pack for international travel with two infants requires higher-level math.  (4 daytime diapers + 1 nighttime diaper) x number of days in Spain x 2 babies + innumerable blow-out insurance diapers = A LOT OF DIAPERS.  I was glad we had a packing trial run for our beach trip a month ago, but truthfully our strategy on that trip was to throw everything the girls own in the back of a rented van.  This time around there are weight restrictions to contend with.  And winter weather to plan for.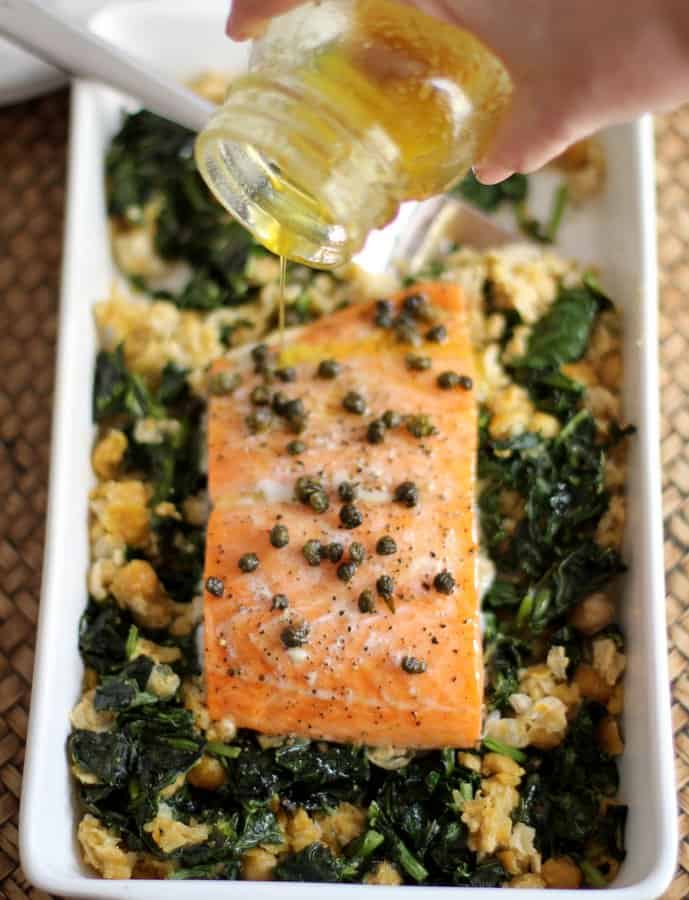 Packing aside, I am overwhelmed with excitement for our first extended vacation as a family and the chance to soak up another culture and hang out with family members who are meeting us in Madrid.
But before I go finish packing…this salmon.  I had never slow-cooked salmon.  I usually blast it under the broiler which works well but is less forgiving.  This slow-cooking method means you can cook the salmon a few minutes too little or too many without much issue.  The added addition of a simple vinaigrette lends a bit of flavor and moisture to the finished dish that gets topped off with crispy capers.  All the components can be made and assembled a day in advance which means all you have to do is slide it in the oven when you're ready for it.
Slow-cooking produces a salmon that is nice and flakey.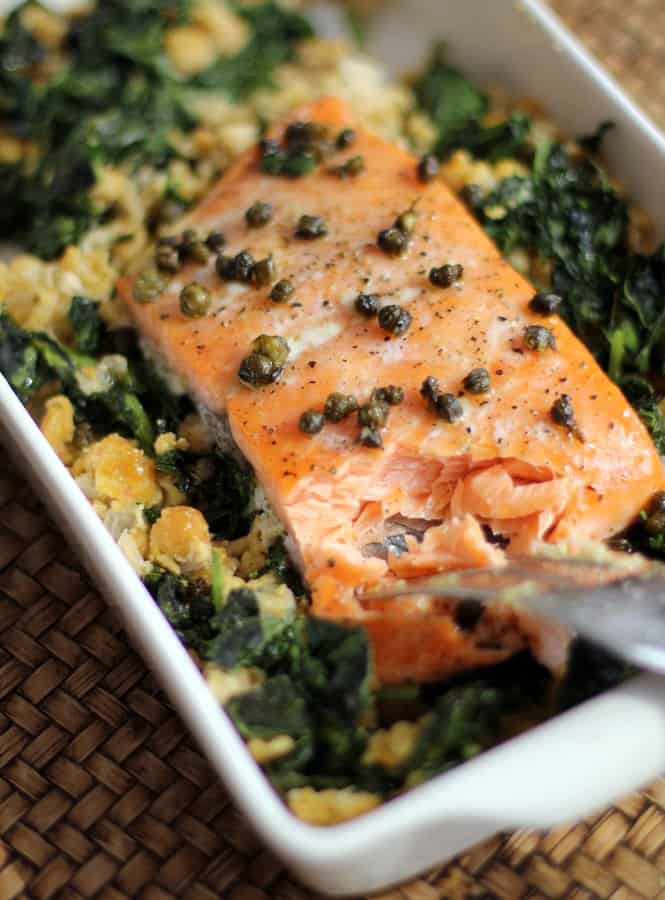 And speaking of the pending holidays, my friend Katie just put together an awesome round-up of edible holiday gifts – check out this list if you're looking for ideas for homemade gifts this season!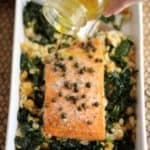 Print Recipe
Slow-Cooked Salmon with Chickpeas and Greens
Ingredients
Salmon:
2

tablespoons

olive oil, plus more

1 15.5-

oz.

can chickpeas, rinsed

½

teaspoon

ground cumin

Kosher salt and freshly ground black pepper

1

garlic clove, thinly sliced

1

bunch small mustard greens, ribs and stems removed, leaves coarsely chopped

1

teaspoon

honey

4 6-

oz.

skinless salmon fillets
Vinaigrette and Assembly:
½

small shallot, very finely chopped

2

tablespoons

fresh lemon juice

1

teaspoon

Dijon mustard

½

teaspoon

honey

Kosher salt and freshly ground black pepper

¼

cup

olive oil

¼

cup

vegetable oil

2

tablespoons

capers, rinsed, patted dry
Instructions
Salmon

Preheat oven to 250°. Brush a large baking dish with oil. Combine chickpeas, cumin, and 1 Tbsp. oil in a medium bowl. Mash about half of chickpeas with a fork; season with salt and pepper. Transfer chickpea mixture to prepared dish.

Heat remaining 1 Tbsp. oil in a large skillet over medium-high heat. Cook garlic, stirring, until fragrant, about 30 seconds. Add mustard greens and cook, tossing, until slightly wilted, about 1 minute. Add honey and ¼ cup water; season with salt and pepper. Cook, tossing, until greens are completely wilted, about 2 minutes. Transfer to dish with chickpea mixture.

Season salmon with salt and pepper; arrange over greens and chickpea mixture and drizzle with oil. Bake until salmon is opaque in the center, 30–35 minutes.

Vinaigrette And Assembly

Whisk shallot, lemon juice, mustard, and honey in a small bowl; season with salt and pepper. Gradually whisk in olive oil; season with salt and pepper.

Heat vegetable oil in a small saucepan over medium-high heat. Cook capers until opened and crisp, about 30 seconds; drain on paper towels.

Drizzle salmon with vinaigrette and top with capers.
Stadium seating for Clara and Molly…